Banana Chocolate Chip Cookies are my new favorite cookie. Chewy, soft, and the best flavor combination of banana and chocolate. It's like banana bread in cookie form!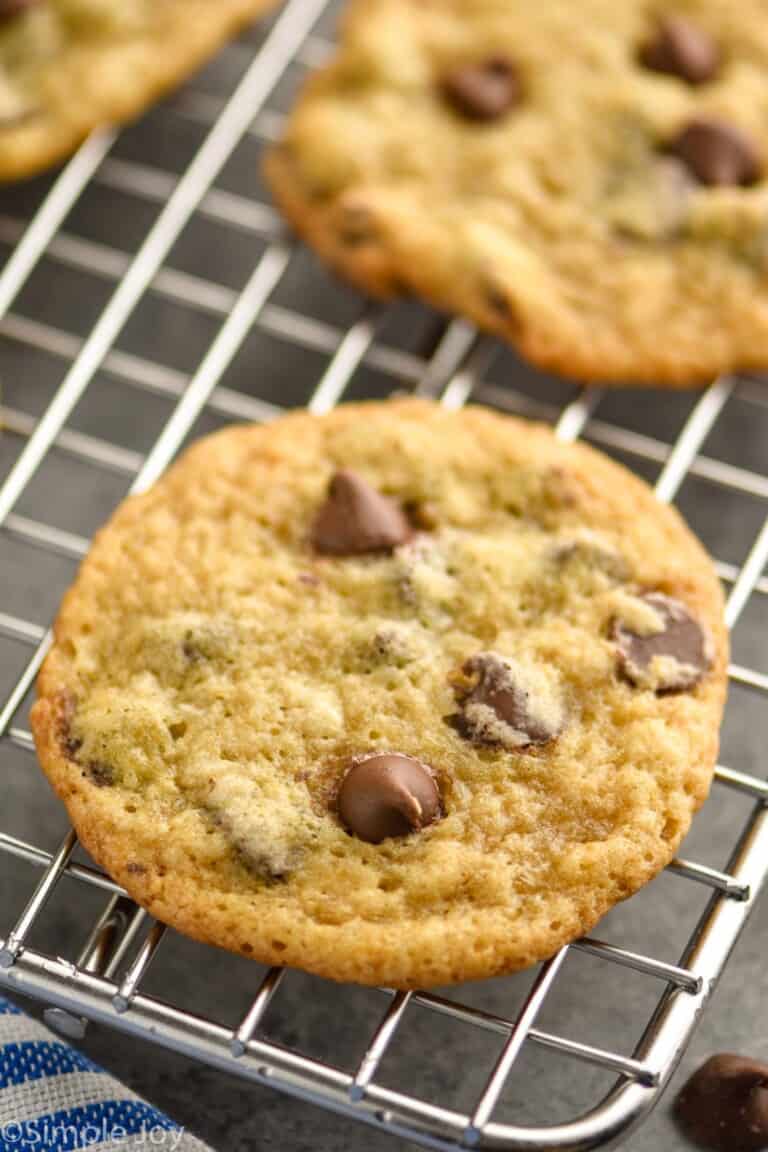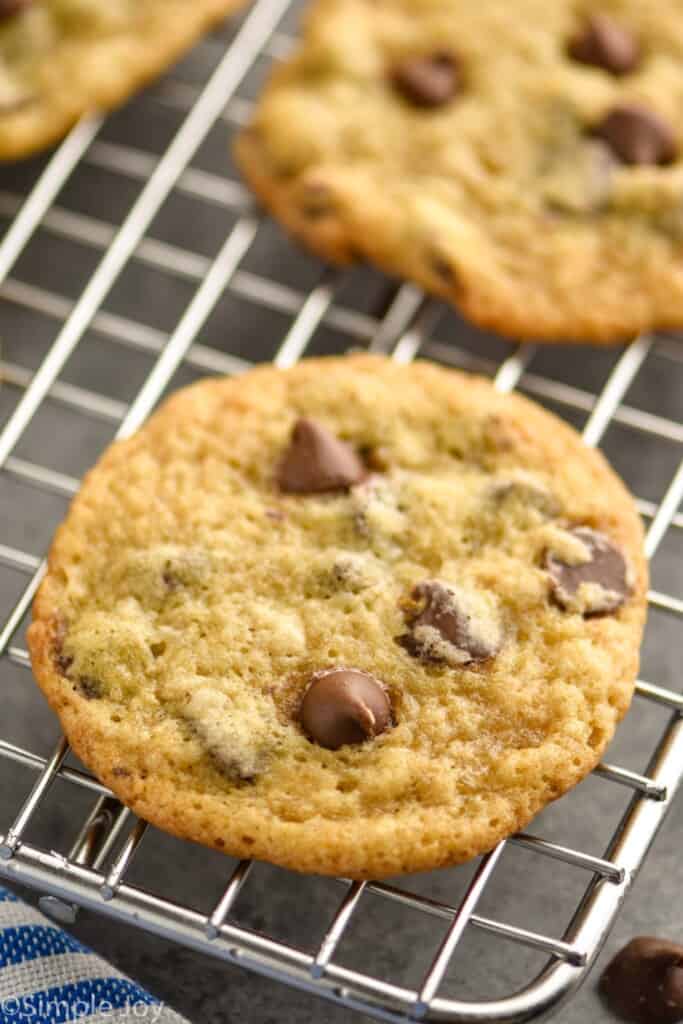 There is something about the combination of banana and chocolate that makes me happy in a way no other flavor combination does. It is perhaps why my Chocolate Chip Banana Bread is so loved. Coming up with a good Banana Chocolate Chip Cookie recipe seemed a must.
The problem with some Banana Chocolate Chip Cookie recipes is that they are cakey. They almost taste like a muffin top. After a few trials and tweaks of this recipe, I consulted with my good friend, Dorothy. She gave me a few more suggestions that lead to these perfect Banana Chocolate Chip Cookies.
These are just slightly crisp on the outside, buttery soft on the inside, and they have the most perfect banana flavor to them.
Reader Review
This recipe is a huge success at my home and office! I have to bring these to every potluck. Great recipe as usual!
How to Make Banana Chocolate Chip Cookies
I love baking cookies, but they do require following instructions more closely than my dinner recipes. Baking is a science after all.
Here is a brief overview of the instructions, make sure to find all the measurements in the recipe card in the bottom of the post.
Whisk together dry ingredients: Mix the flour, baking soda, and salt in a large bowl. Set it aside.
Beat the butter and sugar: We are using both brown sugar and granulated sugar. Beat that with the butter until it is light and fluffy, about 3 to 6 minutes.
Add in the remaining wet ingredients one at a time: First add the mashed bananas, then the egg yolk, and finally the vanilla.
Add the dry ingredients: Pour in the flour mixture. Beat on low for a few seconds, then turn the mixer on high and beat until it is just combined. Be careful not to over mix. Stir in the chocolate chips.
Scoop: Using a cookie scoop, form 1 1/2 tablespoon balls. Place on parchment lined baking sheets and bake.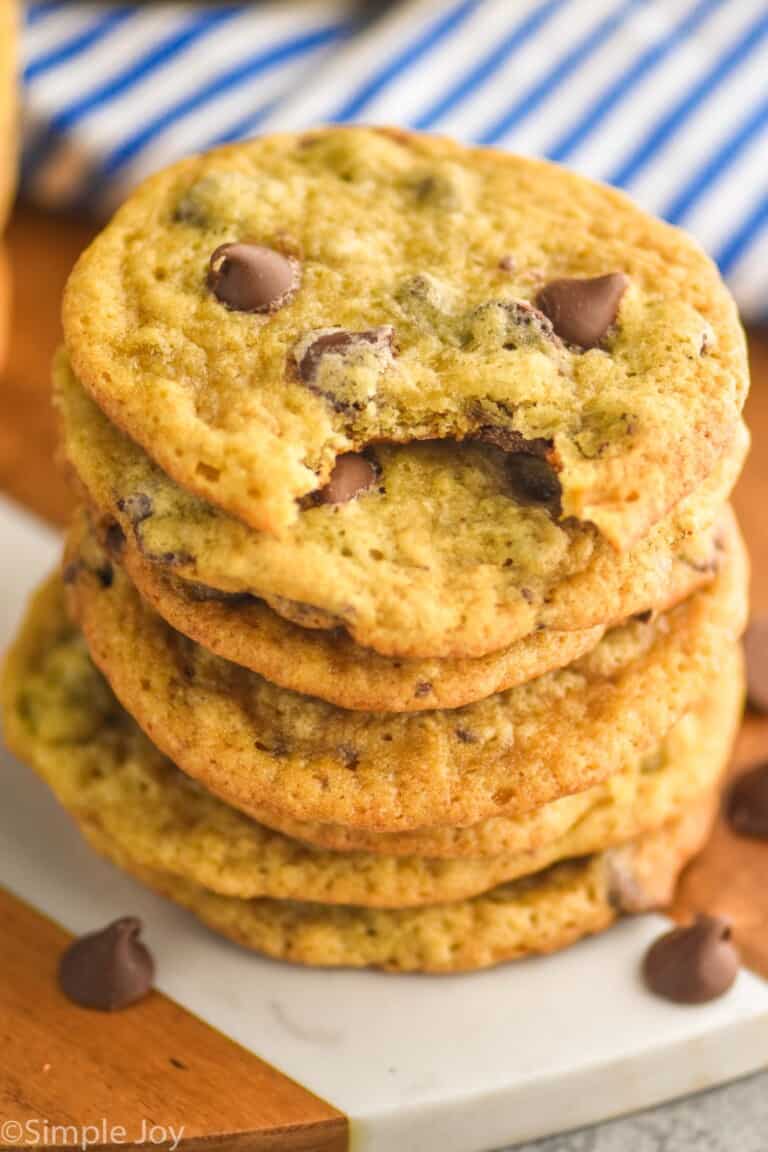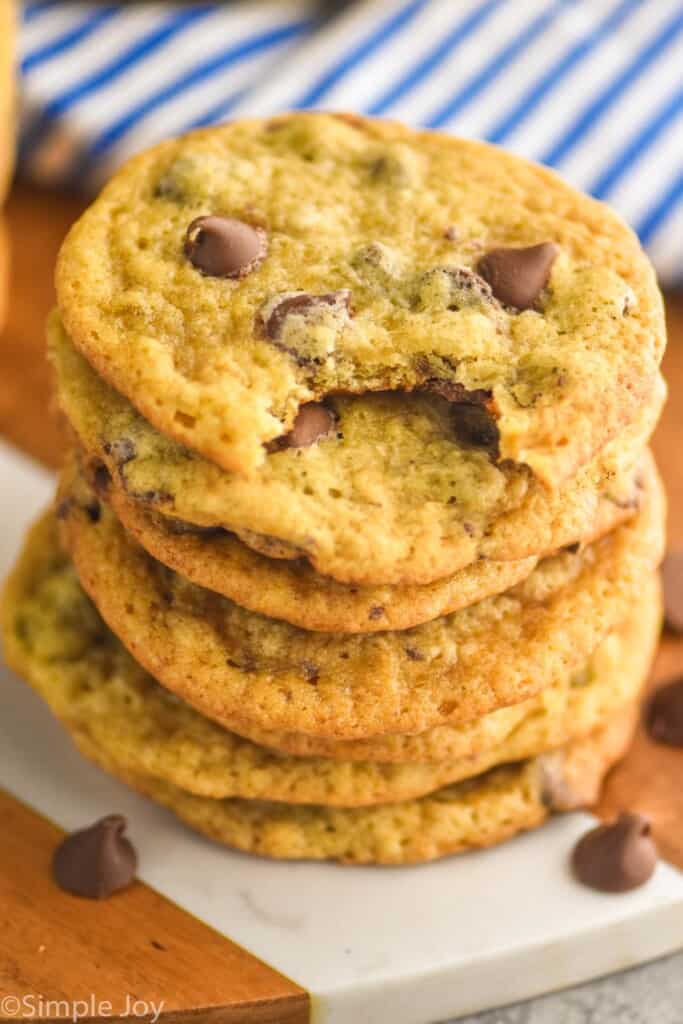 Why Your Bananas Need to be Ripe
You'll notice all of my banana bread recipes call for extra ripe bananas. While many people think that this is so they are easier to mash, it is actually also an issue of taste.
The longer a banana ripens, the sweeter it gets. If you use a banana that isn't at least a little over ripe, you won't have the taste you are looking for in these cookies. Additionally, browning them in the oven will give you the right texture, but not the added sweetness.
Your bananas do not need to be solid brown and on the verge of melting into your counter. If they are half speckled brown they are ready for these cookies.
Measuring Flour for Cookies
One of the common mishaps readers report to me in making cookies is in measuring flour. Follow these tips to ensure you have the correct amount:
Use a plastic or metal dry measuring cup. Do not measure with a liquid (or glass) measuring cup.
Scoop the flour from the container into a measuring cup.
Level the flour off with the flat edge of a spatula.
If you scoop directly from the flour container with your measuring cup, you could end up with up to 25% more flour. That can make for very dry cookies.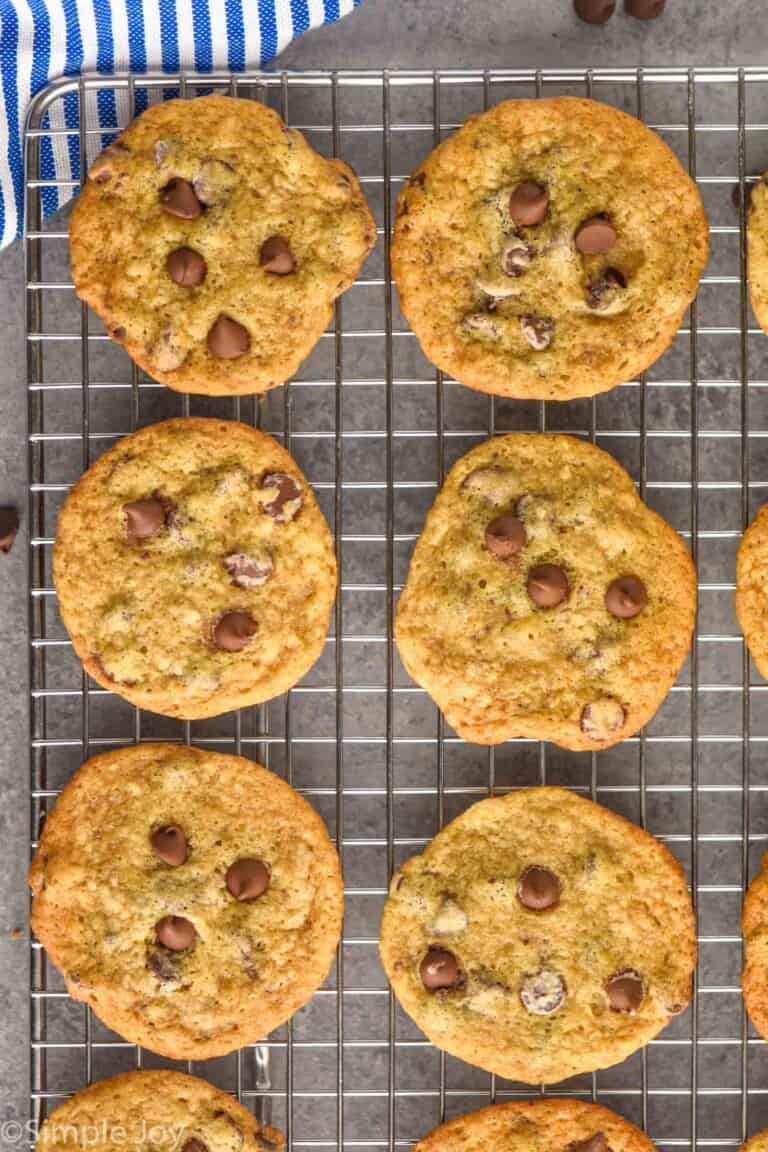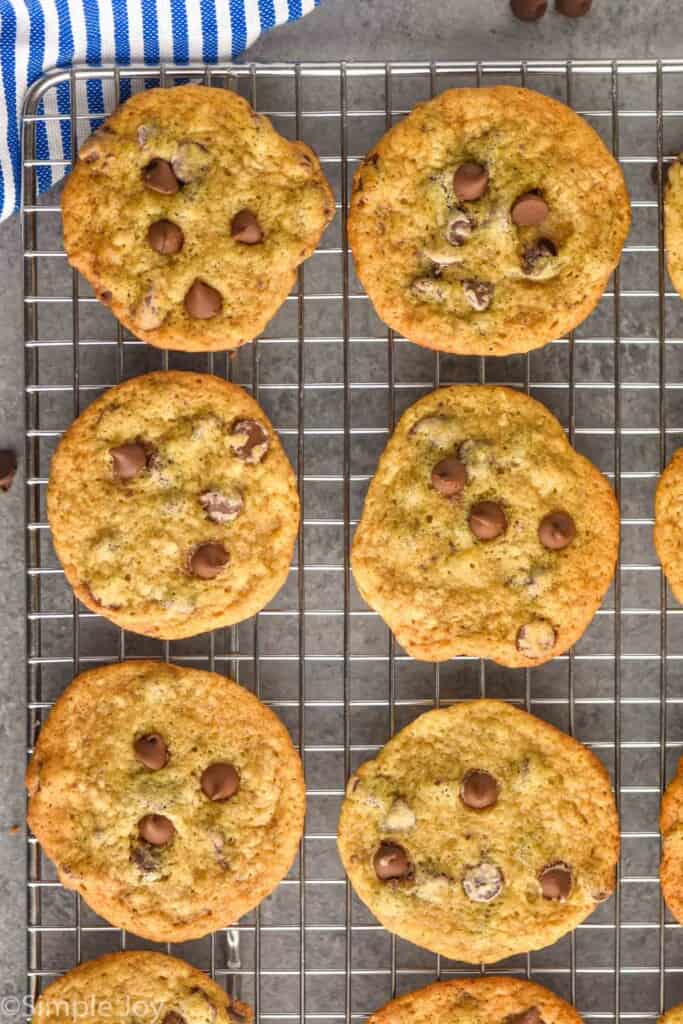 Room Temperature Butter
Another key to this recipe is room temperature butter. Having your butter the correct temperature allows you to beat it with the sugar and create wonderful little pockets of air.
Room temperature butter will still feel cold to the touch. You should be able to easily dent it, without pushing your finger all the way through.
Resist the urge to microwave your butter to soften it. Instead, cut it into one inch pieces and leave it on your counter for 30 minutes.
Measuring Banana
For most of my banana bread recipes, I simply call for the number of bananas you need. Those recipes don't need to have the banana measured. Three medium sized bananas and the recipes come out perfect every time.
Cookies are a little bit different. For this recipe I do recommend that you measure the mashed banana and you not use more than 1 cup.
Storing these Cookies
I recommend that you store these cookies in an air tight container for up to one week. These cookies can be stacked once they are fully cooled, but after a week they begin to stick together. You may want to use wax paper between layers.
Freezing
This banana chocolate chip cookie recipe freezes well. Freeze them for an hour in a single layer. Then transfer to an airtight container where they can be stacked and frozen for up to 3 months.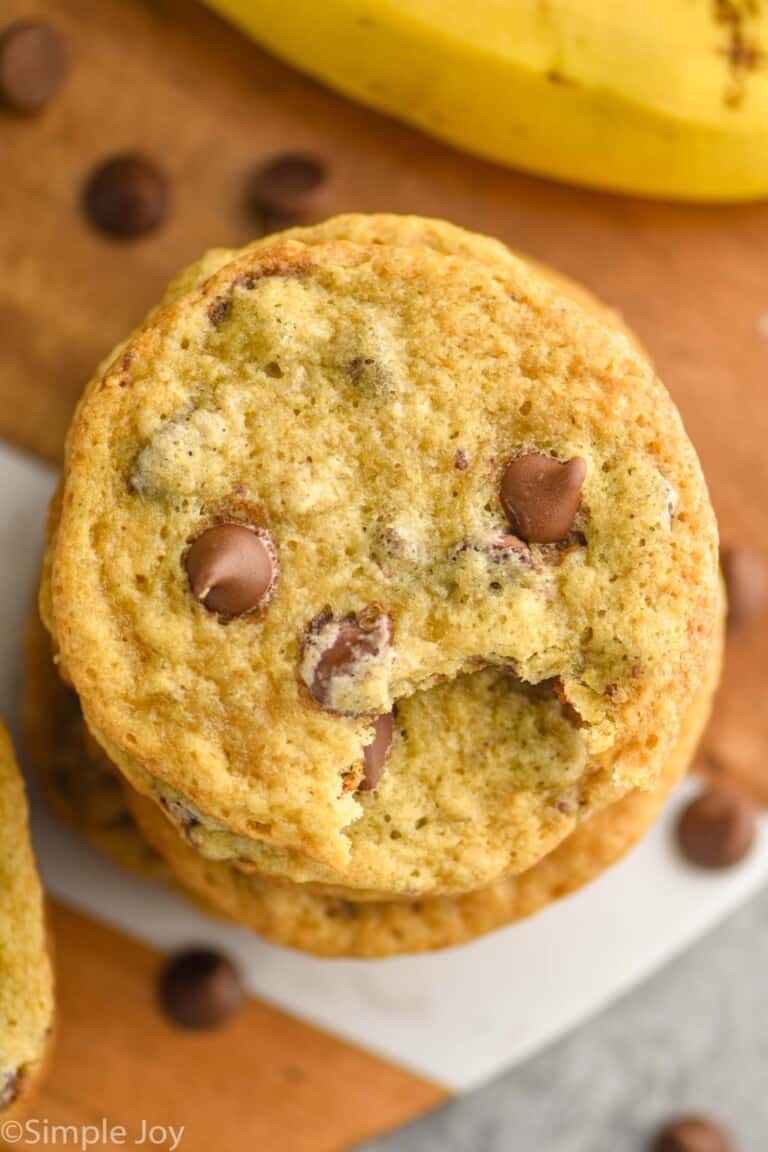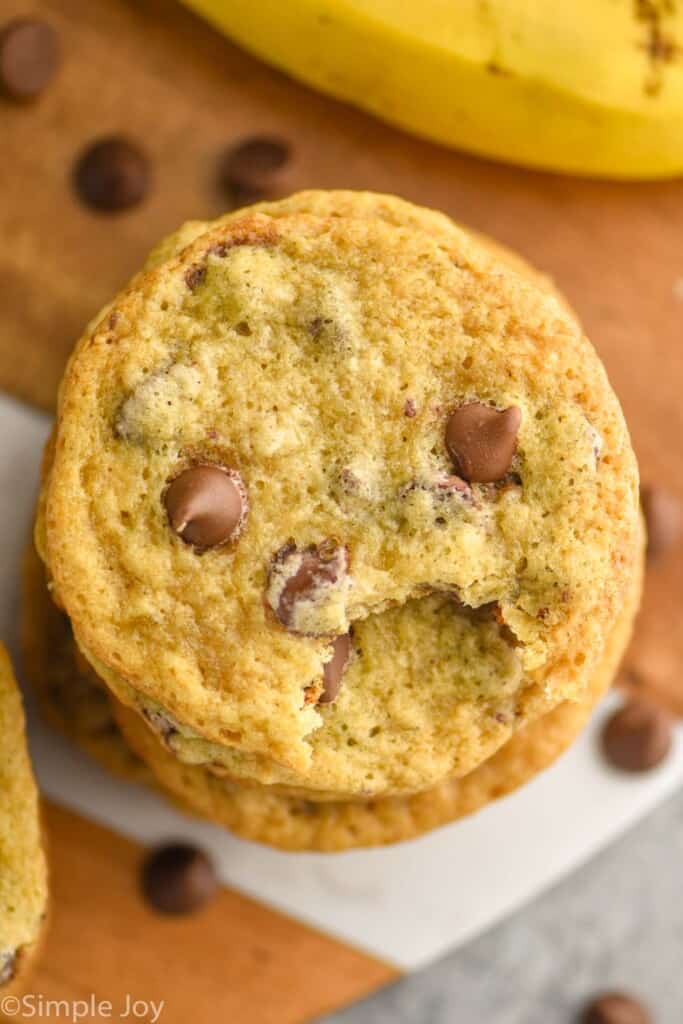 Recommended Tools
The tools you use in baking can make a huge difference. Particularly when it comes to baking sheets. Here are what I recommend.
Baking Sheets – I love these. They cook my baked goods so evenly.
Cookie Scoop – Using this scoop helps all my cookies be the same size so they cook evenly. You can definitely make this recipe without this, but it's helpful.
If you make this cookie recipe, leave me a comment and let me know what you think!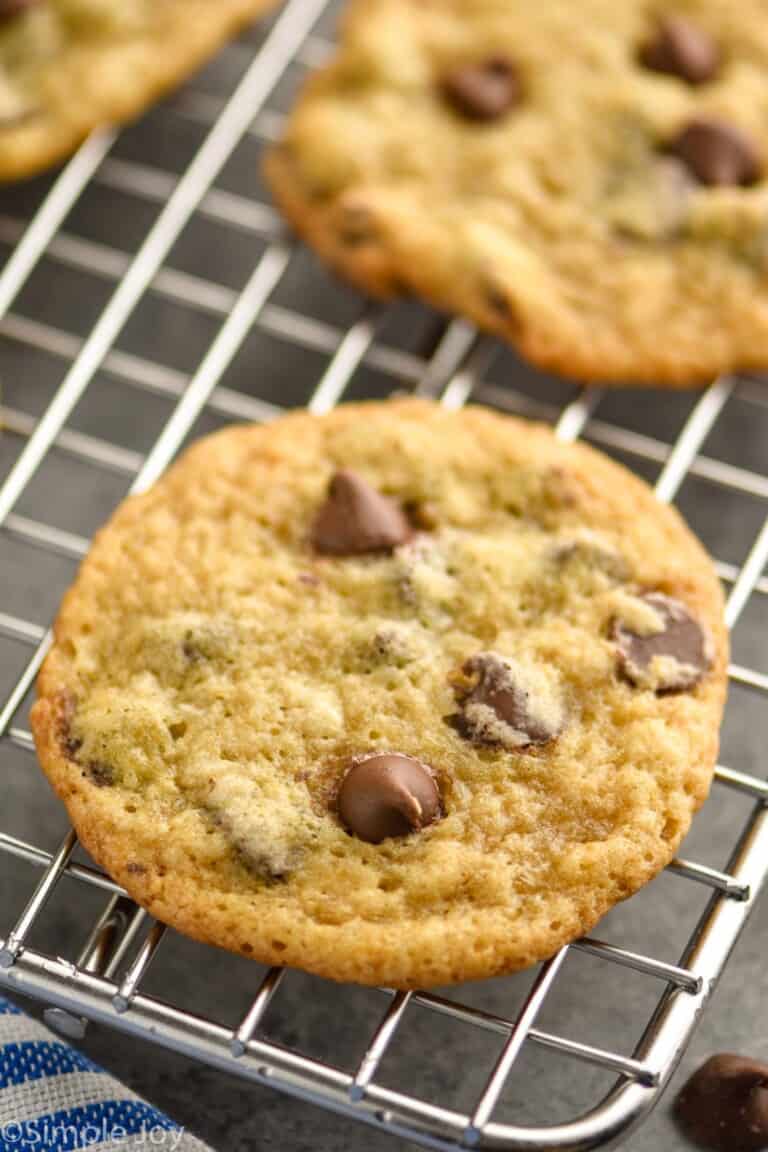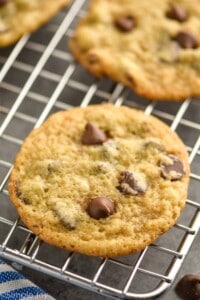 Banana Chocolate Chip Cookies
Banana Chocolate Chip Cookies are my new favorite cookie. Chewy, soft, and the best flavor combination of banana and chocolate. It's like banana bread in cookie form!
Ingredients
2 1/2

cups

all purpose flour

1

teaspoon

baking soda

1/2

teaspoon

salt

3/4

cup

granulated sugar

3/4

cup

light brown sugar

packed

8

tablespoons

unsalted butter

room temperature

1

egg yolk

1

teaspoon

vanilla extract

2

ripe bananas

mashed (approximately 1 cup)

1 1/2

cups

milk chocolate chips
Instructions
Preheat your oven to 350 degrees and line a rimmed baking sheet with parchment paper.

In a large bowl whisk together flour, baking soda and salt. Set aside.

In a large bowl with a hand mixer or in the bowl of a stand mixer fit with the paddle attachement, beat together the butter, granulated sugar, and brown sugar. Beat until the sugar is light and fluffy about 3 to 6 minutes.

Add in the mashed banana until fully combined. Then beat in the egg yolk. Finally beat in the vanilla extract.

Add the flour mixture all at once. Beat on low until combined enough that you can turn the mixer on high. Stop mixing when just combined. Be careful not to over mix.

Stir in the chocolate chips. Using a 1 1/2 tablespoon cookie scoop, scoop the cookies into balls and drop them on the prepared baking sheets. Bake for 10 to 12 minutes, rotating the pan once during baking.

Remove from the oven. Allow to cool on the pans for 2 minutes before transfering to cooling racks to cool completely. Once cooled, store in an airtight container for up to 1 week.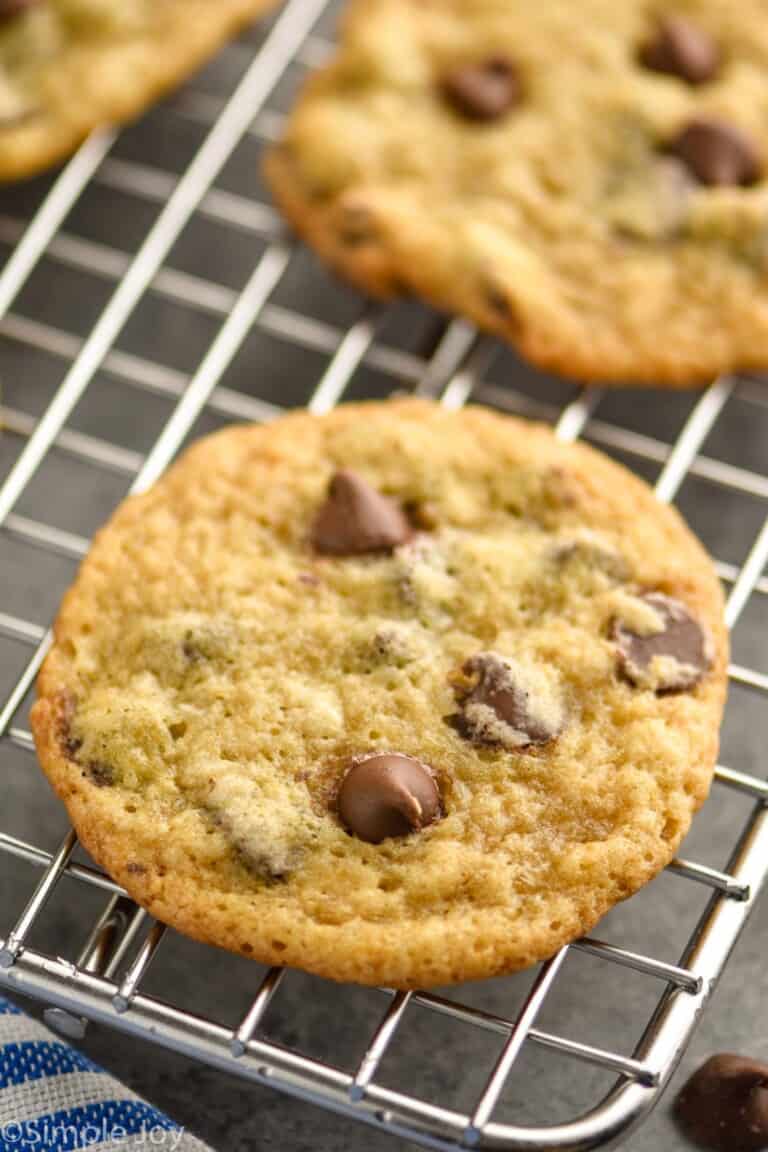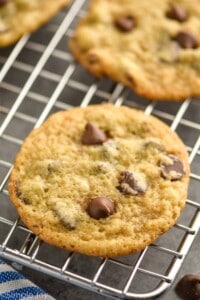 did you make this
Banana Chocolate Chip Cookies