Banana Monkey Bread with Nutella Ganache | Delicious monkey bread with the taste of banana, smothered with a rich Nutella ganache.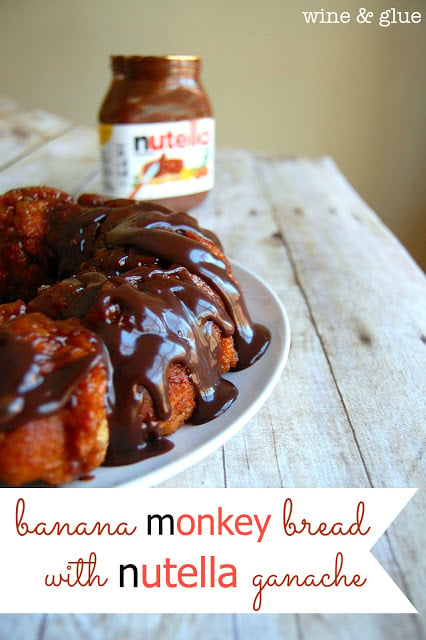 So do you want to hear my latest addition to my new series (i.e. every blog post): Ramblings of a Mad Woman??
Of course you do.

The other day I was watching TV while I was working out, so I was already a little ornery, you know, because I was working out. Well, and also because a commercial came on. TV with commercials? #superfirstworldproblem
Suddenly a commercial came on and the screen was almost entirely white. There was this skinny pretty thing, wearing a white cowboy hat and some ridiculous skin tight white outfit. Her hair, her make up, her waist line? Perfect, perfect, perfect.
She's supposed to be dressed like a cowboy or something. She is flinging wipes like the gun slinger she surely is, and they pan down to show that she is changing the diaper of a child who is laying perfectly still and cooing. She changes the diaper like a pro. And her perfect white outfit, complete with matching stilettos is still unscathed. Not a stray poop streak to be found.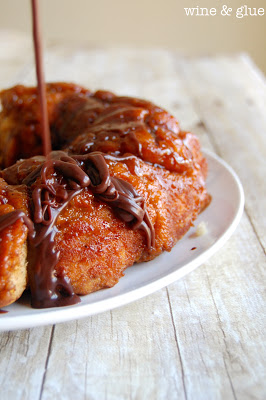 I was livid. As I reasonably should be. I mean, who the hell does Target (it was a commercial for Target, did I mention that?) think they are?? Aren't they trying to get me to buy their wipes? Don't they want me to relate to this woman? This woman with a tiny waist, perky chest, super clean outfit, and happy baby. Pah!
I was outraged. (You know, I can see your eye rolls through my computer screen.)  I quickly fired off an email to the good people at Target. (Okay, I am realizing this sounds insane.)  I told them how offensive and unsettling that ad was. How I love their products, but how dare they draw attention to my snot stained pants, less than (ahem) perfect chest and waist, and seriously imperfect child who wouldn't lay still for a diaper change if you paid her in M&M's.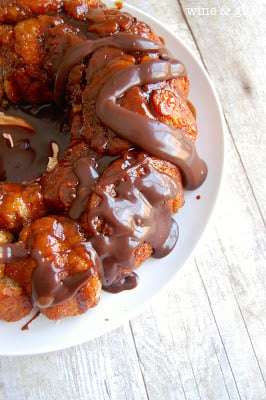 The hastily fired off email was less than satisfying. I sat stewing on the elliptical. Well, that didn't make much sense. I stewed and I elliptied. Elliptied and stewed. I thought about the commercial. The perfect woman. The perfect baby. The wipes.
Crap. I'm almost out of wipes.
I got off the elliptical and headed off to Target.
To buy more wipes.
The good news is that if you aren't dressed perfectly in all white with perfect children, I have the perfect breakfast for you. Sticky, sweet, chocolate Nutelly and delicious.
Though to eat it, you may need some wipes.
Banana Monkey Bread with Nutella Ganache
For Ganache
1/4 cup semi sweet chocolate morsels
3/4 cup Nutella
1/2 pint heavy whipping cream
For Bread Dough
1/3 cup of milk
2 TBSPs butter
1 package of active dry yeast
2 TBSPs sugar
3 1/2 cups flour
3 overripe bananas
1/2 tsp salt
1 egg
1/2 tsp of nutmeg
For Rolling the Dough
1 cup sugar
1 tsp cinnamon
For Caramel Sauce Filling
1/2 cup brown sugar
1/2 cup butter
First make the ganache by bringing the heavy cream to a slow boil over medium heat. Pour it over the morsels and Nutella in a separate bowl and stir until combined. You may need to whisk it at the end to make it smooth. Pop it in the refrigerator.
Microwave the milk for about 30 seconds. When you take it out, pop in the butter. You want the milk to be warm enough that it melts the butter, but not so warm that it kills the yeast that you add. (If need be, pop it in the microwave for another five to ten seconds.)  Pour the sugar over the yeast, butter, milk mixture.
While the yeast starts to grow, combine the flour, bananas, salt, egg, and nutmeg in a stand mixer and mix with your bread hook attachment.
After about five minutes the yeast milk mixture will be ready to go. Pour it into the stand mixer and knead for about five more minutes. The mixture will seem wet, but it will come together. Scrape down with a spatula as needed.
Cover your dough with plastic wrap and let it rest in the mixing bowl for an hour.
Combine the sugar and cinnamon in a medium sized bowl. Spray a bunt pan with cooking spray.
Make one inch sized dough balls, and drop them into the sugar and cinnamon mixture, and then into the bunt pan. The dough is going to be super sticky, so you might want to just drop a chunk into the sugar mixture and then when you pull it out it will be easier to work with. Add it to the bunt pan. Continue until all the dough is in balls and in the bunt pan.
Cover the bunt pan and let it rest and grow for an hour.
At the end of the hour preheat the oven to 375 and melt the butter and whisk in the brown sugar. Pour over the dough and stick it in the oven for 30 minutes. Take it out of the oven, cover it with foil, and bake for an additional 10 minutes. Take it out of the oven and let it rest for 10 minutes.
During that time, take the ganache out of the refrigerator and make sure that it is liquid enough to pour. If it isn't, put it in the microwave at half power for about 30 seconds at a time until you can easily pour it but before it is super thin.
Flip the Monkey Bread on to a plate, top with the ganache, and enjoy! Best served straight from the oven.
Looking for more Nutella Ganache Awesomeness?
Note:  This post is getting an insane amount of spam. Please email me at lisa (at) wineandglue (dot) com with any questions. Thank you!!