Nutella Banana Bread is a simple twist on classic banana bread, that everyone in your house will love. Nutella and bananas are a match made in heaven.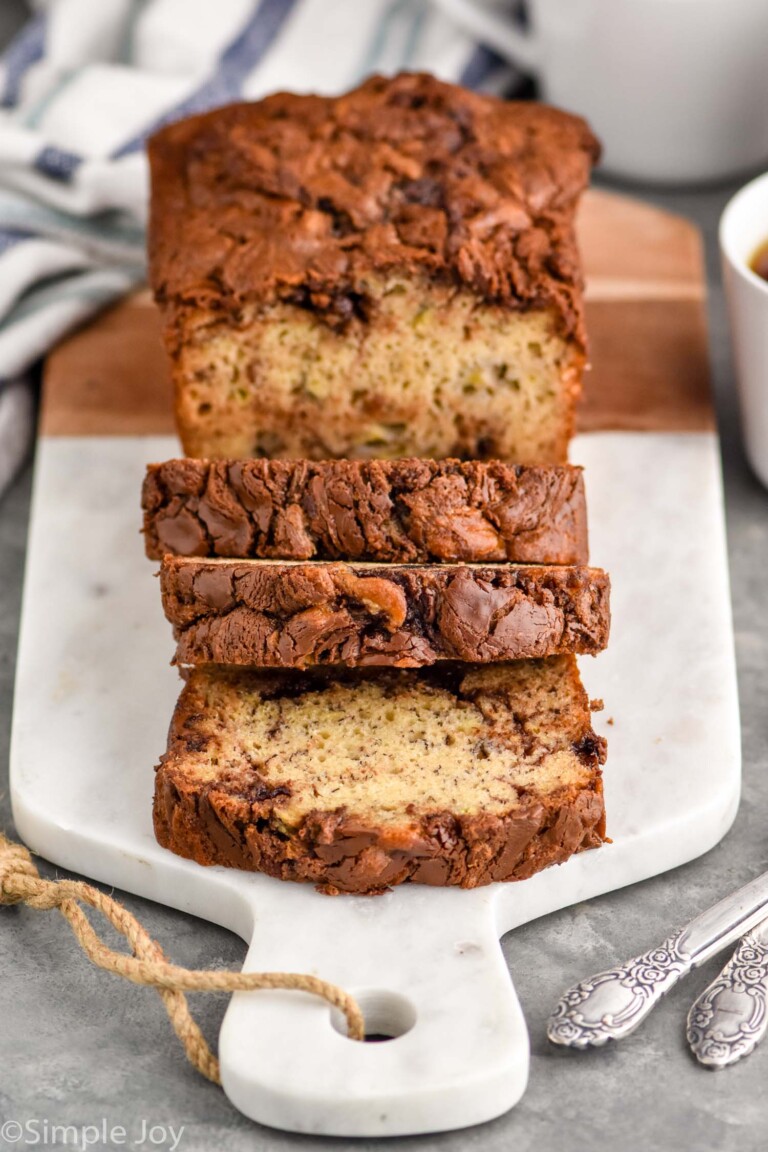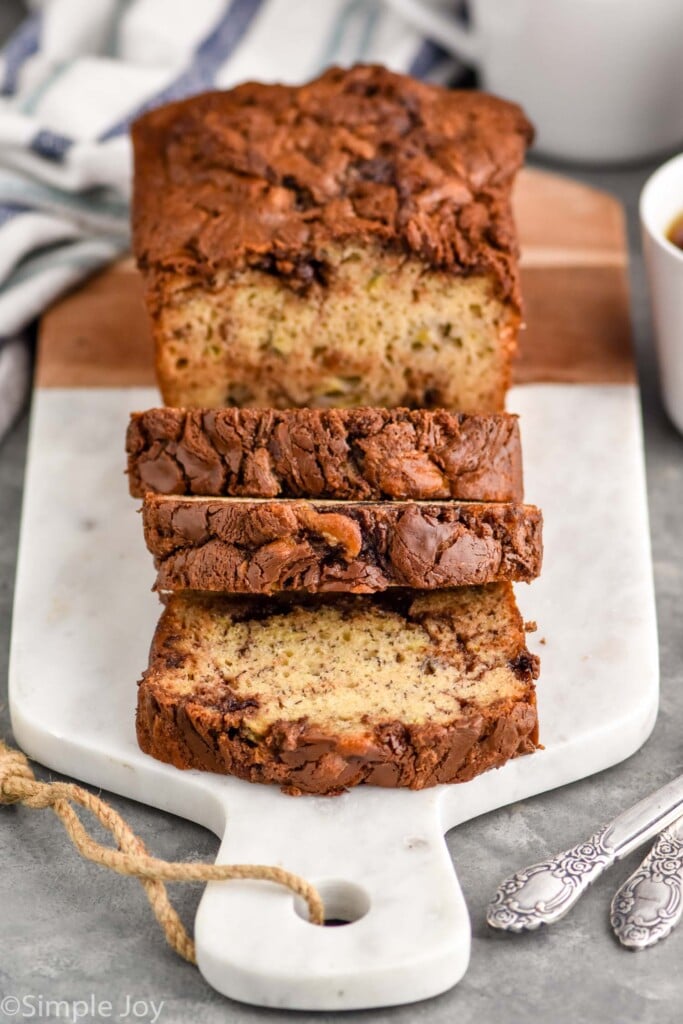 My kiddos love it when I make them banana bread. In fact, even the kids who don't love bananas, love my banana bread recipe. They were big fans of this simple twist on that recipe where we throw in a little bit of Nutella. It's an easy recipe, but makes a great after school snack or addition to a brunch table.
How to Make Nutella Banana Bread
Whisk together the dry ingredients. In a large bowl combine the flour, baking soda, and salt.
Mix together the wet ingredients. In a smaller bowl combine the bananas, melted and cooled butter, eggs, sour cream, sugar, and vanilla.
Combine the ingredients. Mix the wet ingredients into the dry, stirring only until just combined.
Layer the batter with Nutella. Put half the batter in a prepared bread pan. Add the Nutella and swirl it into the batter. Add the remaining batter and then swirl in the rest of the Nutella.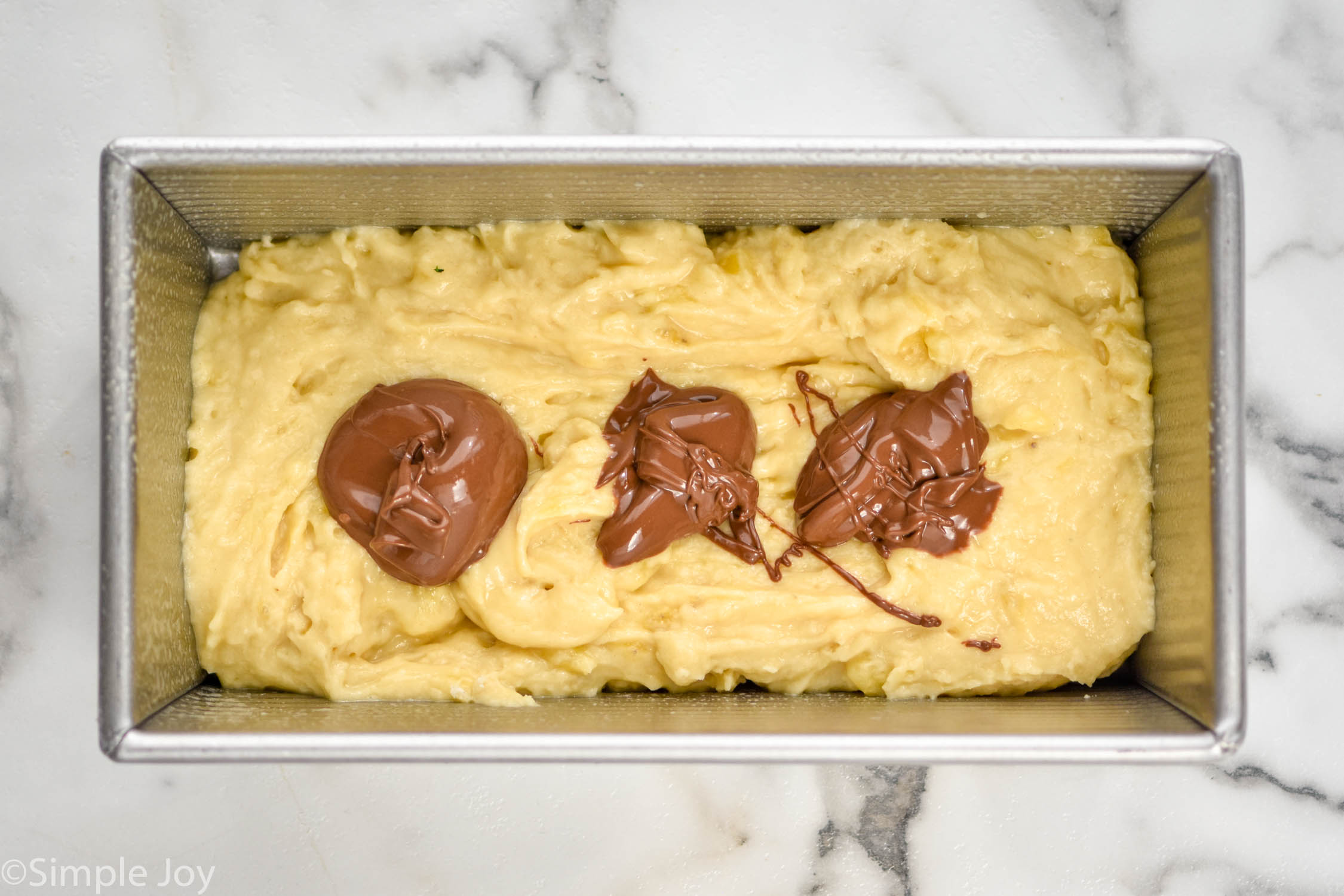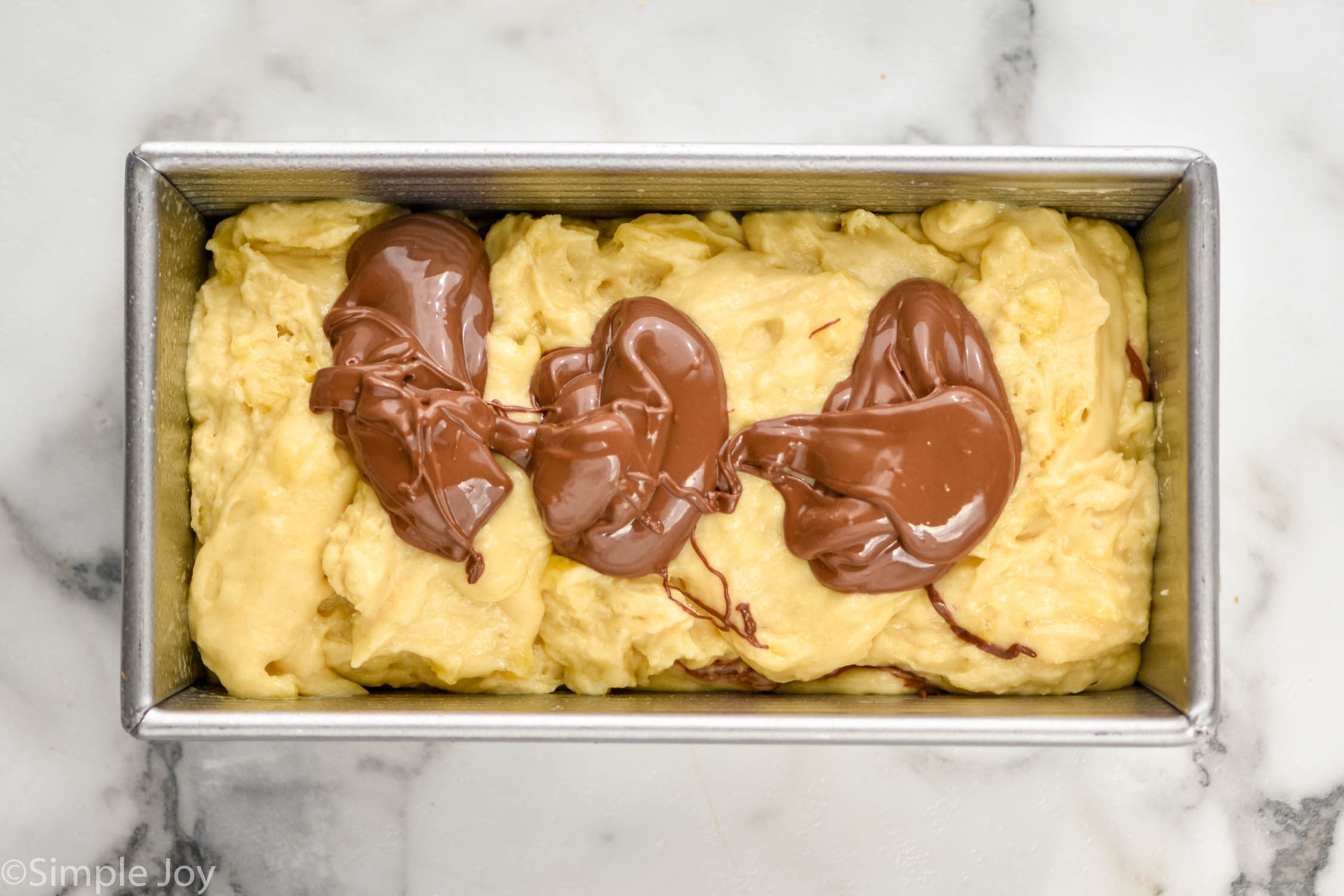 Picking the Right Bread Pan
Whenever I get the stray comment that my Banana Bread recipe didn't turn out well for a reader, my first question is: Tell me about your bread pan.
Bread pans can make or break a recipe. I've had bread pans that produced absolutely beautiful loaves of bread and pans that were and utter disappointment. I recently purchased this pan, and I can verify that it is fantastic. All of my pans from USA Baking have been fantastic.
Tips and Tricks for Banana Bread
With any baking recipe, there are a few things to keep in mind.
Measure your flour correctly. Whisk your flour in the container your store it in to aerate it (this new tip comes from Julianne at Beyond Frosting). Then scoop the flour from the container into a dry measuring cup and level it off. Measuring this way will prevent your flour from packing, adding too much flour to the recipe, and leaving you with dry bread.
Grab baking soda, not baking powder. These two are both used in baking recipes, but they behave very differently, so it's important you use the correct one. Because we are using sour cream (which is acidic) we can use baking soda in this recipe.
Make sure your baking soda is still active. Baking soda needs to be replaced regularly to ensure that it will still react with the other ingredients in your baked goods. To test your baking soda, toss a little in some vinegar. It should bubble immediately. If it doesn't, it's time to replace it.
Cool the butter. After melting the butter, you need to let it cool for a minute or two. If you don't, when you combine it with the eggs, it will start to cook them. We don't want our eggs to cook until they hit the oven.
Use sour cream or yogurt. If your family doesn't love sour cream, you can also use yogurt in this recipe and it will still work perfectly. Any flavor yogurt will work.
Let your bananas ripen naturally. Read more on this below.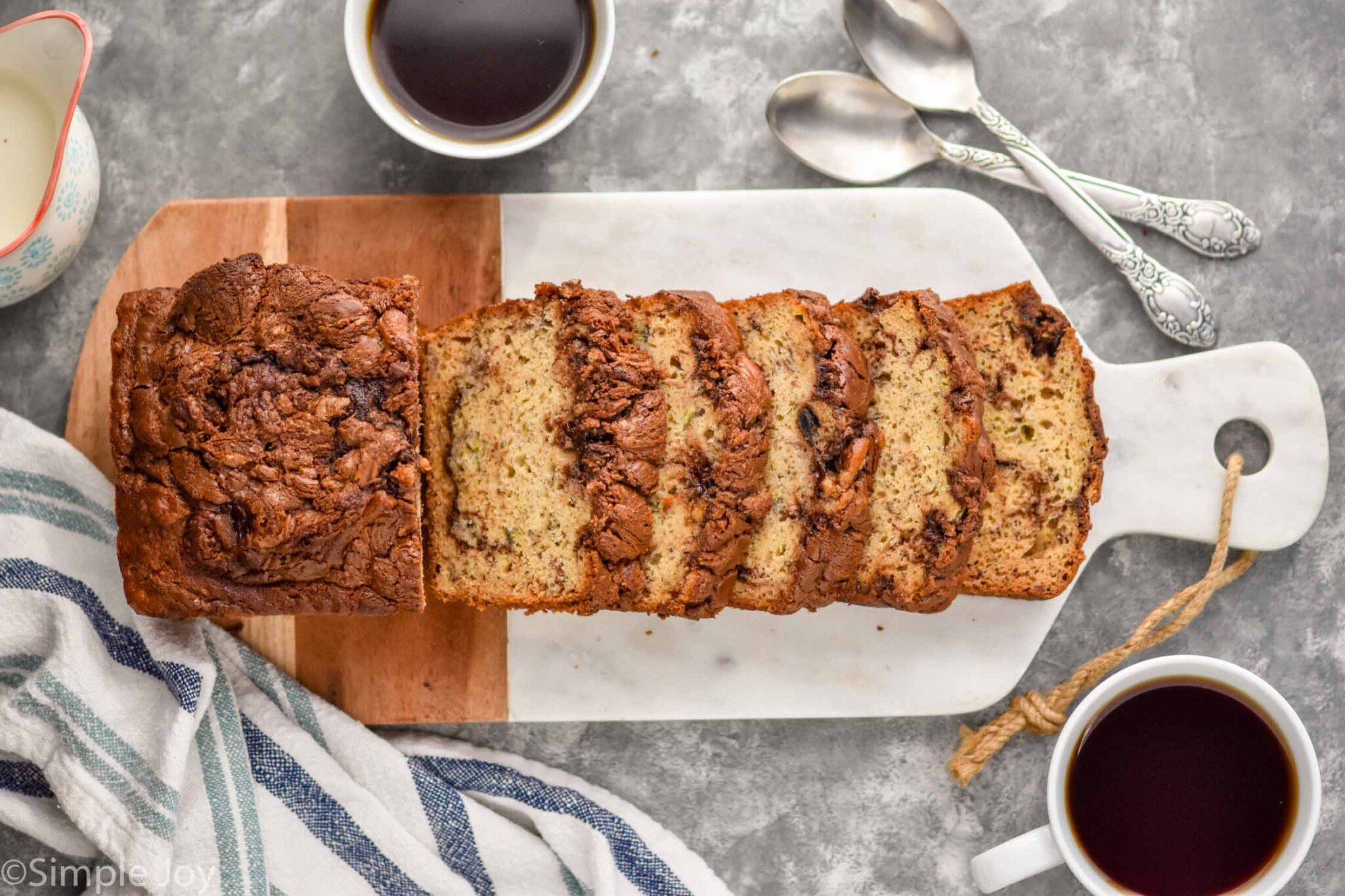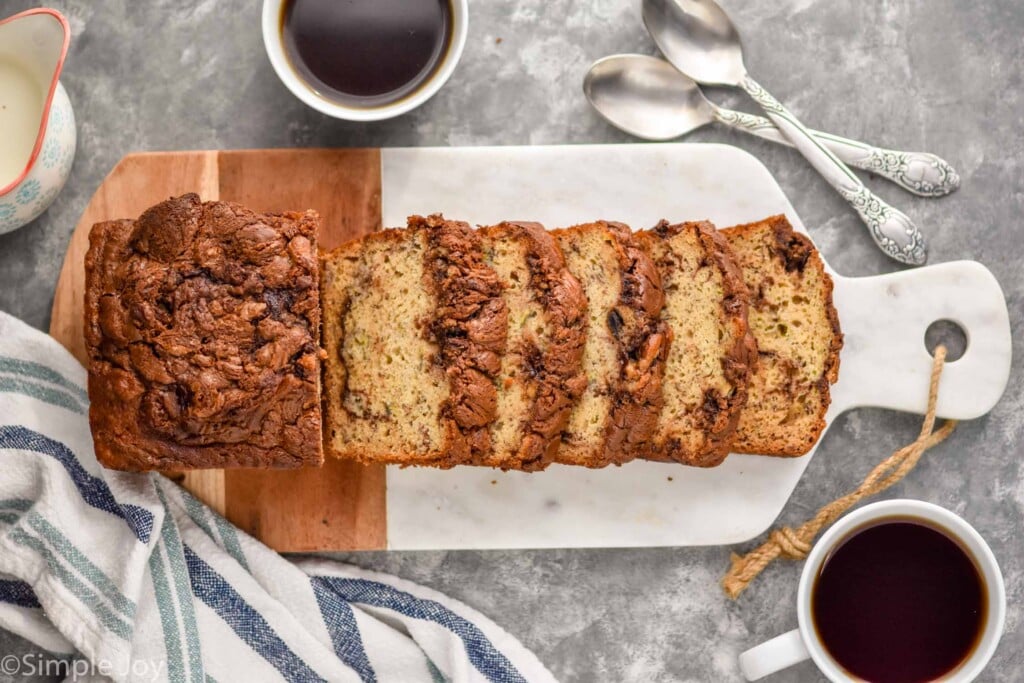 Using Over Ripe Bananas in Banana Bread
Some banana bread recipes will tell you that if you want you can just toss them in an oven to ripen them quickly. This is both true and not true.
Yes, tossing bananas in the oven will brown them and get them to be the right consistency for this bread.
But, part of what happens when bananas ripen naturally is that they release more sugar. Over ripe bananas are sweeter than just barely ripe bananas. So the over ripe banana brings more sweetness to your bread. If you use your oven to ripen them, you are missing out on that sweetness.
Storing Nutella Banana Bread
This recipe can be stored at room temperature in an air tight container for three to four days. Make sure the bread has cooled completely before it is stored. It can be stored at room temperature, but in a cool dry place. Always use your best discretion when it comes to leftovers.
Freezing Banana Bread
To prolong the shelf life of this bread, you can freeze it. I like to freeze banana bread by the slice, so that single servings can be thawed. To freeze:
After allowing the bread to cool, cut into 10 slices.
Place the slices on a wax paper lined baking sheet or plate.
Freeze for 3 to 4 hours.
Transfer the slices to an airtight container and freeze for up to 3 months.
When you are ready to eat, the slice of banana bread can be left at room temperature and will thaw in 30 to 60 minutes.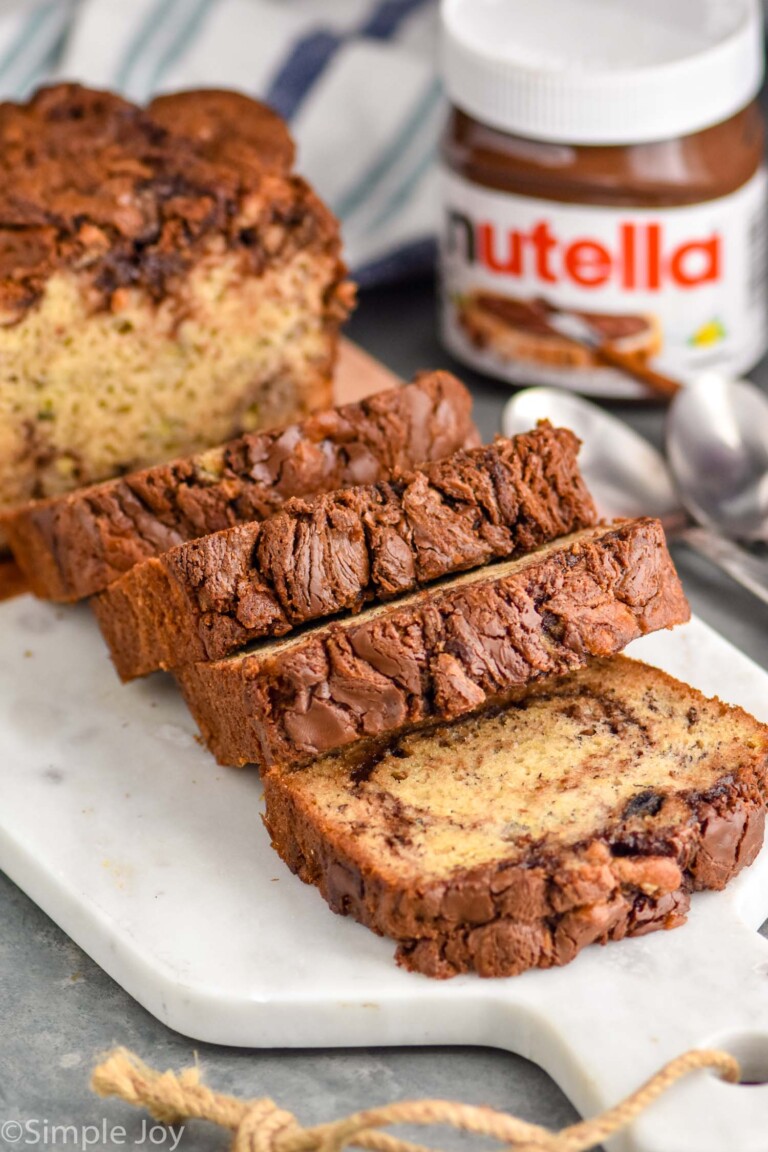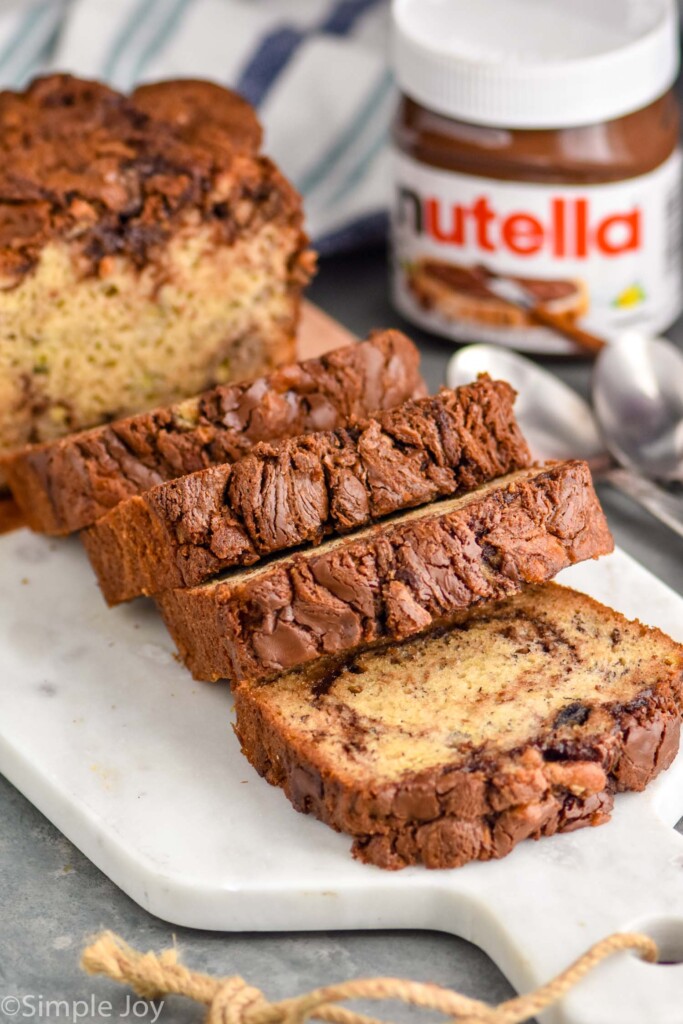 Other Banana Bread Variations
If you make this Nutella Banana Bread or any of my other recipes, leave me a comment and let me know what you think!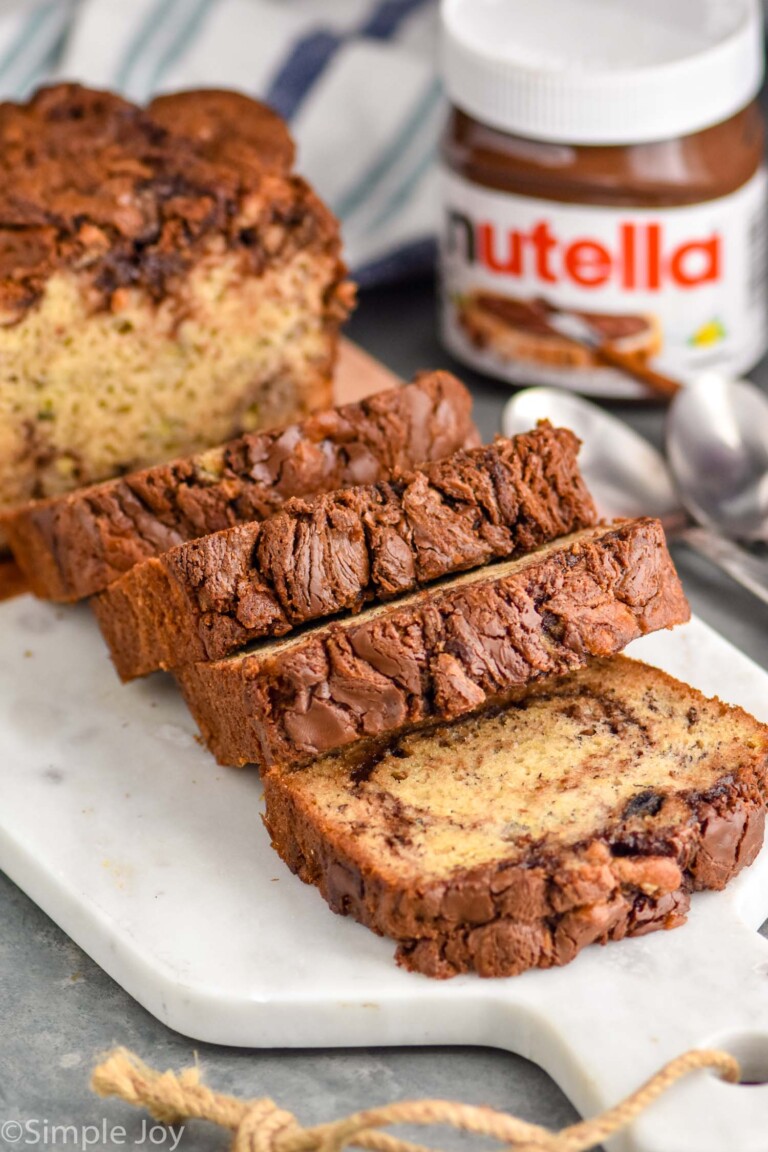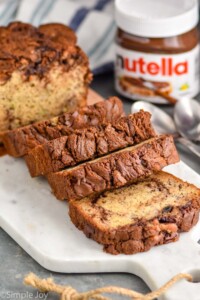 Nutella Banana Bread
Nutella Banana Bread is a simple twist on classic banana bread, that everyone in your house will love. Nutella and bananas are a match made in heaven.
Ingredients
2

cups

all purpose flour

3/4

teaspoon

baking soda

1/2

teaspoon

salt

3

over ripe bananas

mashed

3/4

cup

sugar

6

tablespoons

unsalted butter

melted and cooled

2

eggs

at room temperature

1/4

cup

sour cream

(or yogurt)

1

teaspoon

vanilla extract

1/2

cup

Nutella

softened in the microwave
Instructions
Preheat your oven to 350 degrees. Spray a 9 by 5 inch loaf pan with cooking spray.

In a large bowl whisk together the flour, baking soda, and salt.

In a smaller bowl whisk together the bananas, cooled butter, eggs, sour cream, sugar, and vanilla.

Gently fould the wet ingredients into the dry ingredients. Stir until they are just combined.

Pour half the batter into the preapred baking pan. Spoon half the softened Nutella onto the top of the batter in three different scoops. Using a butter knife, swirl the Nutella into the batter. Repeat with the remaining batter and the remaining Nutella.

Bake for 55 to 65 minutes or until a toothpick inserted into the middle of the bread pan comes out clean.

Let the bread cool in the bread pan for 10 minutes before removing it and transferring it to a wire cooling rack. Cool completely (about an hour) before slicing. Enjoy or store in an airtight container for three to four days. See instructions in the post for freezing.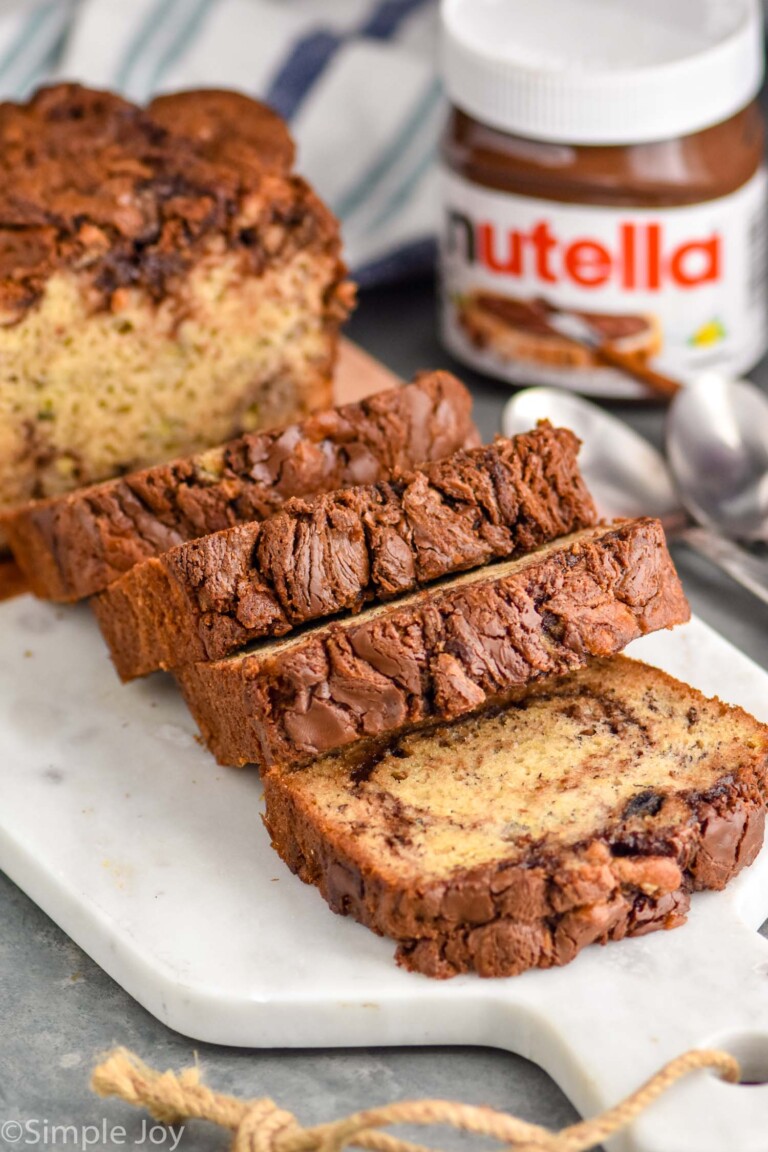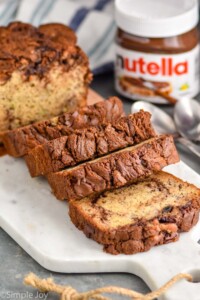 did you make this
Nutella Banana Bread