This Banana Zucchini Bread is such a simple, no rise, quick bread recipe that your family will love. Moist with a crisp exterior and the perfect balance of flavors.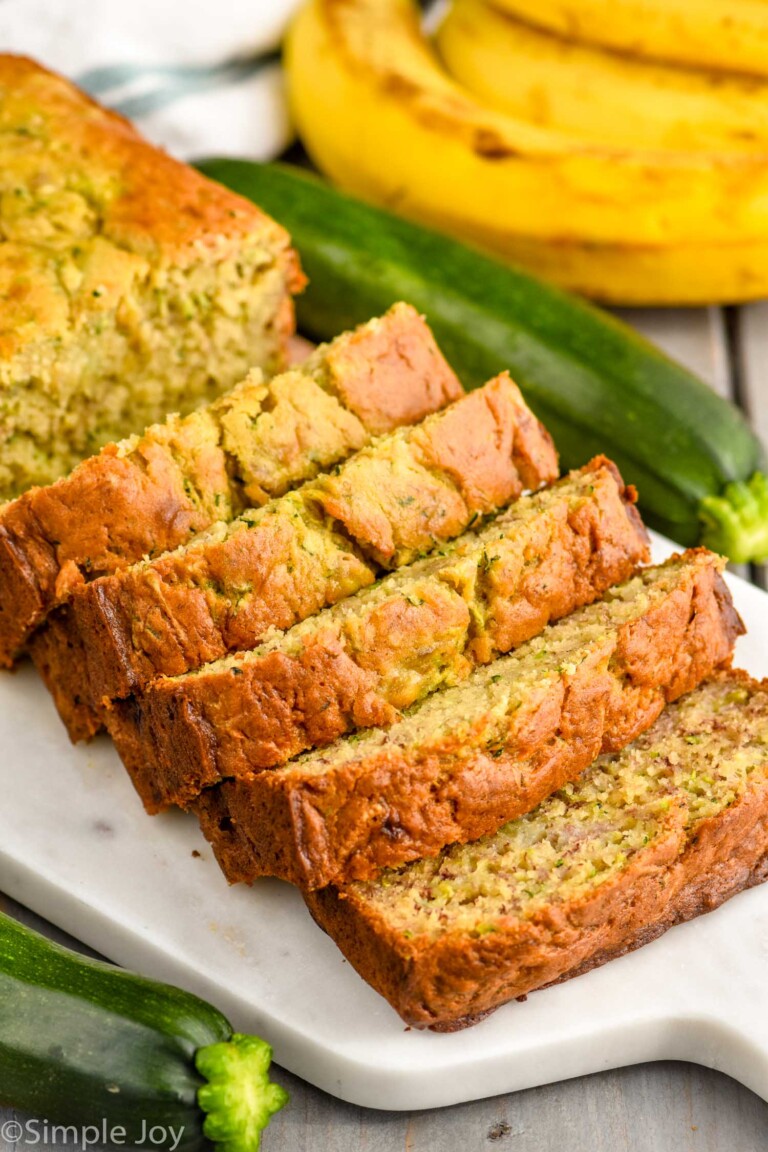 Zucchini Banana Bread is such a delicious and fun twist on the classic banana bread recipe. It will be a great and delicious way to use the zucchinis from your garden this summer. I think you are going to love this spin.
How to Make Zucchini Banana Bread
This is just a brief overview of how to make this delicious bread recipe. For the full recipe with all of the ingredients, see the recipe card at the bottom of the post.
Whisk together the dry ingredients. In a large bowl, whisk together the flour, baking soda, and salt.
Combine the wet ingredients. In a medium bowl combine the mashed bananas, butter, eggs, yogurt, sugar, and vanilla.
Mix together the dry and wet ingredients. Pour the wet ingredients into the dry ingredients. Mix until just combined.
Add in the zucchini. Without squeezing the moisture out of the zucchini, add it to the batter.
Bake the bread and enjoy.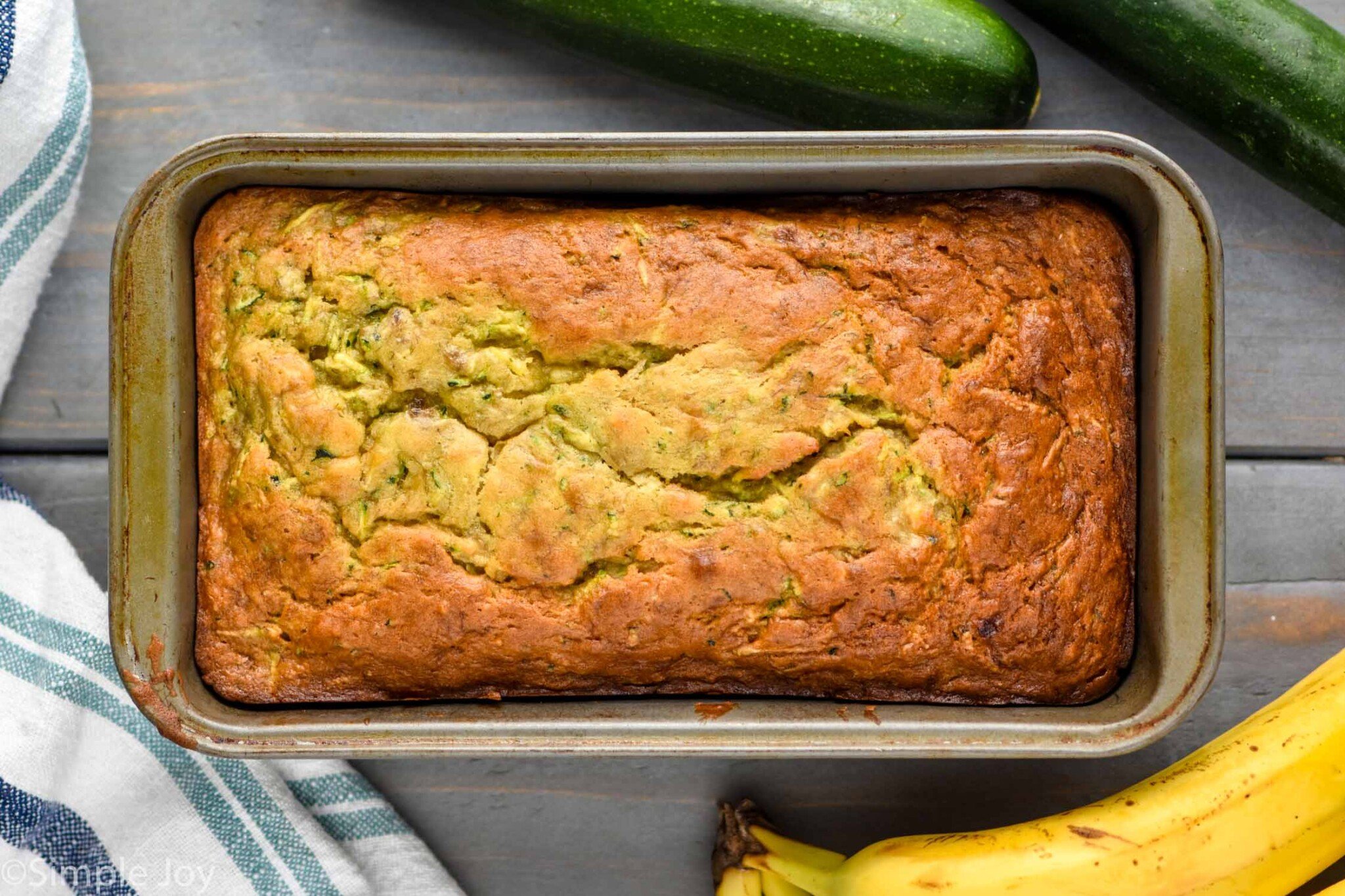 Best Bread Pan
As I mention below, one of the things that can greatly impact how well a recipe bakes is the pan that you bake it in. Metal pans conduct heat better and lead to better results. But not all metal pans are created equal. You can see my favorite one linked below.
TOP PICK
Best Bread Pan
This pan is such a favorite that I own two of them so I can double my bread recipes!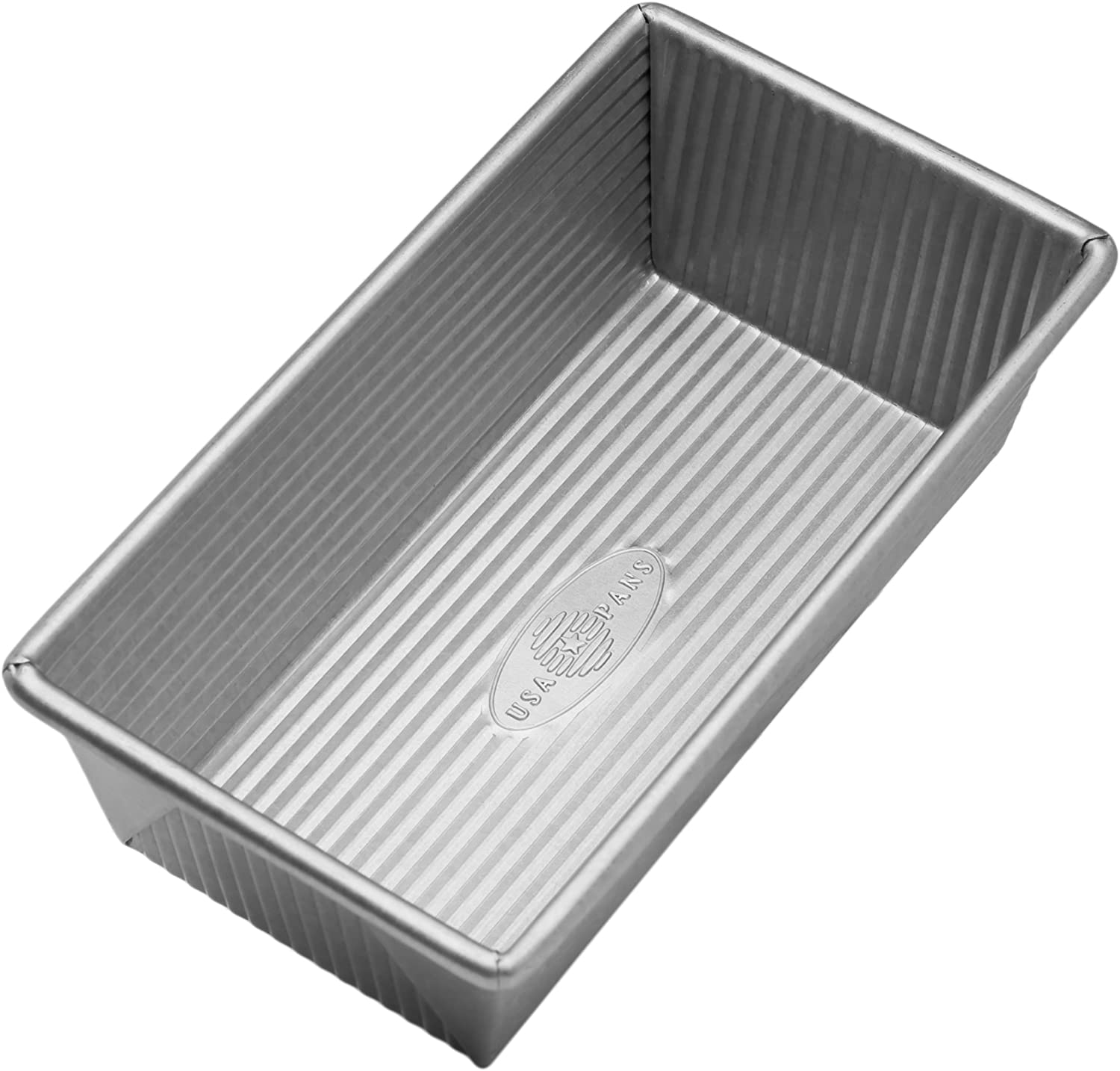 Bananas for Banana Bread
You will notice that all banana bread recipes call for ripened bananas. There are two reasons for this.
First, they bring the right texture to the bread.
Second, the riper a banana is, the sweeter it is, so it brings more sweetness to the recipe.
You want to use bananas that are lightly speckled brown to all the way brown. Resist the urge to roast the bananas in the oven to speed up the browning process. Browning in the oven will bring the right texture but not the right level of sweetness.
Tips for this Banana Bread Recipe
Measure your flour properly. This is such an important step that it gets a whole section below.
Make sure your baking soda is fresh. To do this, drop a little in some vinegar. It should bubble up right away.
Double check that you are using baking soda and NOT baking powder. They aren't interchangeable.
Melt your butter and then let it cool before mixing it into the remaining ingredients. This will keep the hot butter from starting the cooking process before the dough hits the oven.
Measuring Flour for Baking
Just like in any baking recipe, measuring flour is a key step in making this banana bread. If your flour measurement is off (usually too much flour), your baked goods can be overly dry.
Your best bet for measuring flour is to weigh it, but since not everyone has a kitchen scale on hand, these steps will ensure that you get the exact amount of flour you need for this recipe.
Whisk the flour. In the container that you store the flour (even just the bag), give it a light whisk. This will loosen it up. Our whole goal in this process is to avoid packing, and this is a great first step.
Use a spoon to scoop the flour. Avoid scooping the flour with your measuring cup as this will lead to packing. Packed flour can lead to up to 25% more flour in your recipes.
Level the flour off with the flat edge of a spatula. Once you have scooped it into the measuring cup, level it off.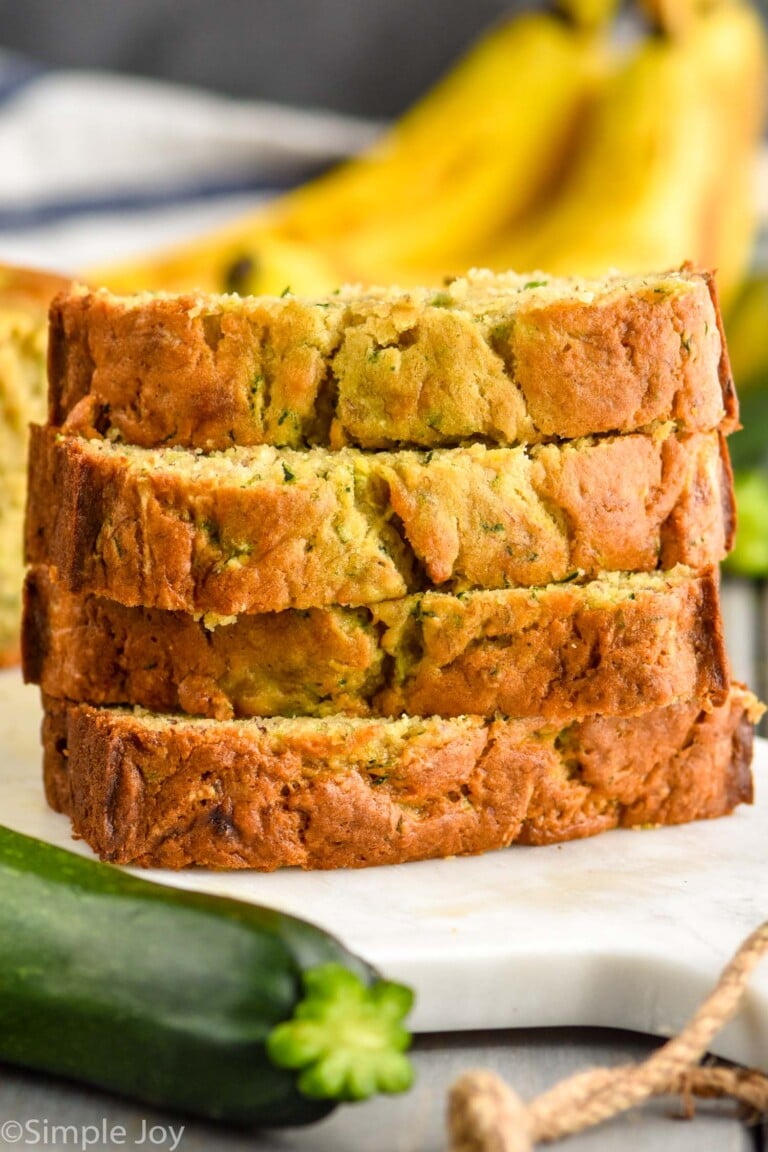 FAQ
Can I use oil in banana bread?
Yes. I choose to use melted and cooled butter in my banana bread because it brings better flavor to the bread than oil. That being said, the exact same amount of oil will also work in this recipe.
Do I have to use unsalted butter?
No. The reason I use unsalted butter in baking recipes is because the amount of salt in butter varies from brand to brand. By using unsalted you can control the salt in the recipe. That being said, you can use salted butter and then leave out the salt called for.
What can I use instead of yogurt?
Sour cream is a perfect replacement for yogurt in this recipe.
Why does my banana bread sink in the middle?
It is usually because it wasn't baked long enough. Make sure to put a toothpick in the middle of the bread at the end of baking. It should come out with just a few crumbs. If not, bake it longer.

It could also be because of the pan you used. If you used a glass pan or a ceramic pan, it will not conduct the heat as well as a metal bread pan. You can see my recommendation in the post.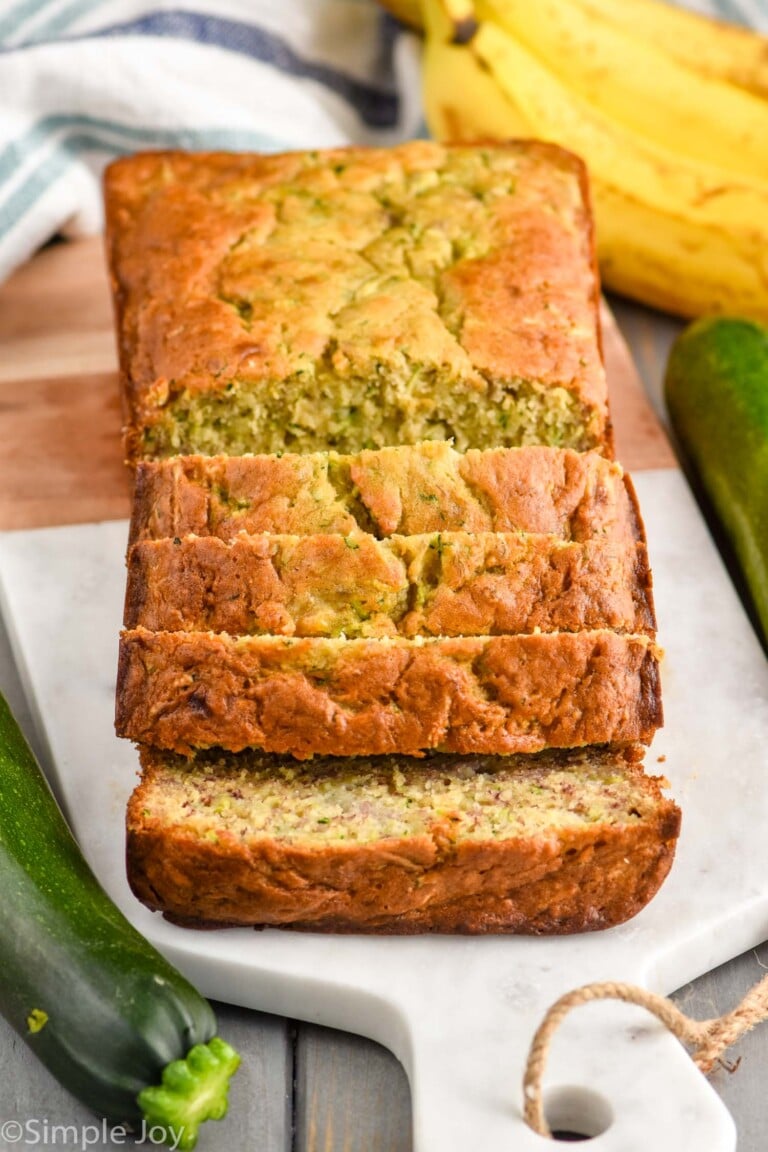 Other Spins on Banana Bread
I will never tire of making spins on banana bread. It's such a great base to play with. Here are some of our favorites!
If you make this banana-zucchini bread or any of my other recipes, leave me a comment and let me know what you think!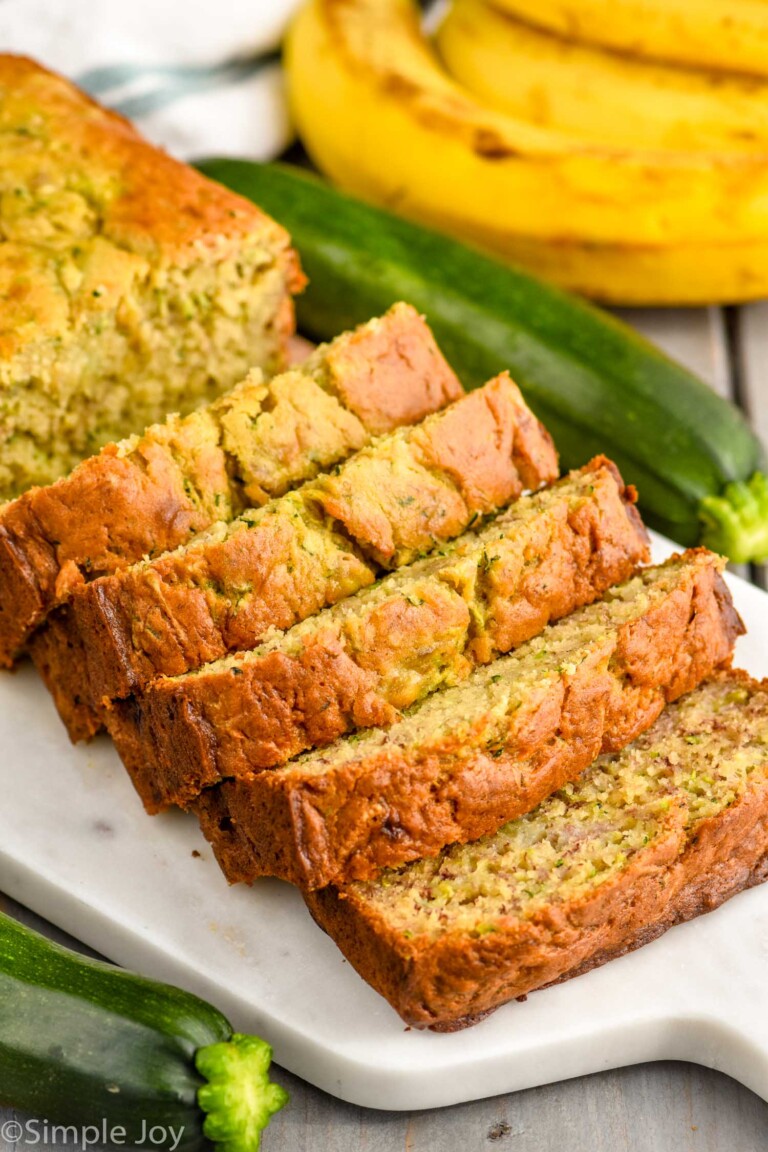 Banana Zucchini Bread
This Banana Zucchini Bread is such a simple, no rise, quick bread recipe that your family will love. Moist with a crisp exterior and the perfect balance of flavors.
Ingredients
2

cups

all-purpose flour

(240 grams) (read about measuring flour for baked goods here)

3/4

teaspoons

baking soda

(4.5 grams)

1/2

teaspoon

table salt

(3 grams)

3

very ripe bananas

mashed

3/4

cup

granulated sugar

(170 grams)

6

tablespoons

unsalted butter

(84.75 grams) melted and cooled

2

large eggs

at room temperature

1/4

cup

plain yogurt

(56.75 grams)

1

teaspoon

vanilla extract

(4.6 grams)

1

medium

zucchini

(should be about 2 cups grated, do not squeeze out the liquid)
Instructions
In a large bowl, whisk together the flour, baking soda, and salt.

In a medium bowl, whisk together the bananas, cooled butter, eggs, yogurt, sugar, and vanilla. 

Gently fold the wet ingredients into the dry ingredients. Be careful not to overmix.

Stir in the shredded zucchini until just combined.

Pour the bread batter into the prepared pan. Bake for 65 minutes or until a toothpick inserted slightly off-center in the bread comes out with just a few crumbs.

Allow the bread to cool in the pan for 10 minutes. Then remove and allow to cool on a cooling rack for 35 minutes before slicing and enjoying.
Serving:
1
slice
Calories:
263
kcal
(13%)
Carbohydrates:
42
g
(14%)
Protein:
5
g
(10%)
Fat:
9
g
(14%)
Saturated Fat:
5
g
(31%)
Monounsaturated Fat:
2
g
Cholesterol:
56
mg
(19%)
Sodium:
230
mg
(10%)
Potassium:
209
mg
(6%)
Fiber:
2
g
(8%)
Sugar:
21
g
(23%)
Vitamin A:
500
IU
(10%)
Vitamin C:
5.8
mg
(7%)
Calcium:
20
mg
(2%)
Iron:
0.4
mg
(2%)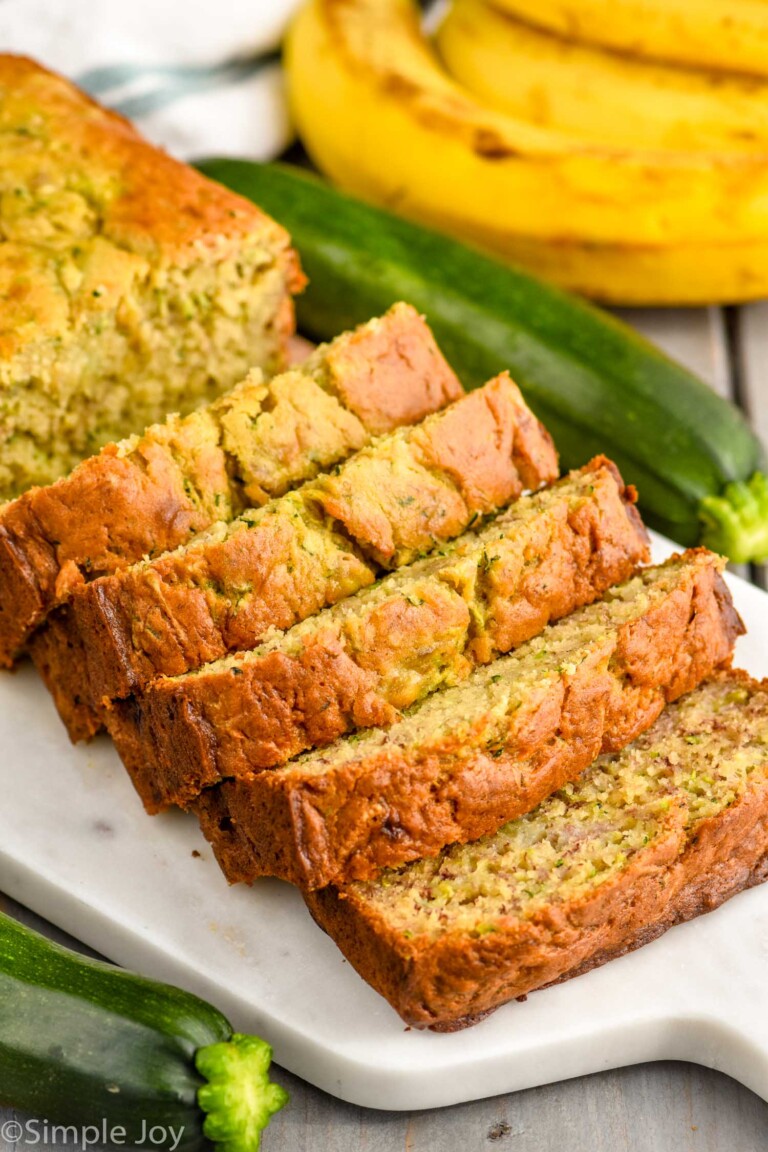 did you make this
Banana Zucchini Bread