This easy Beef and Broccoli recipe is made on the stovetop and is done in under 25 minutes. Your family will love this simple and easy recipe.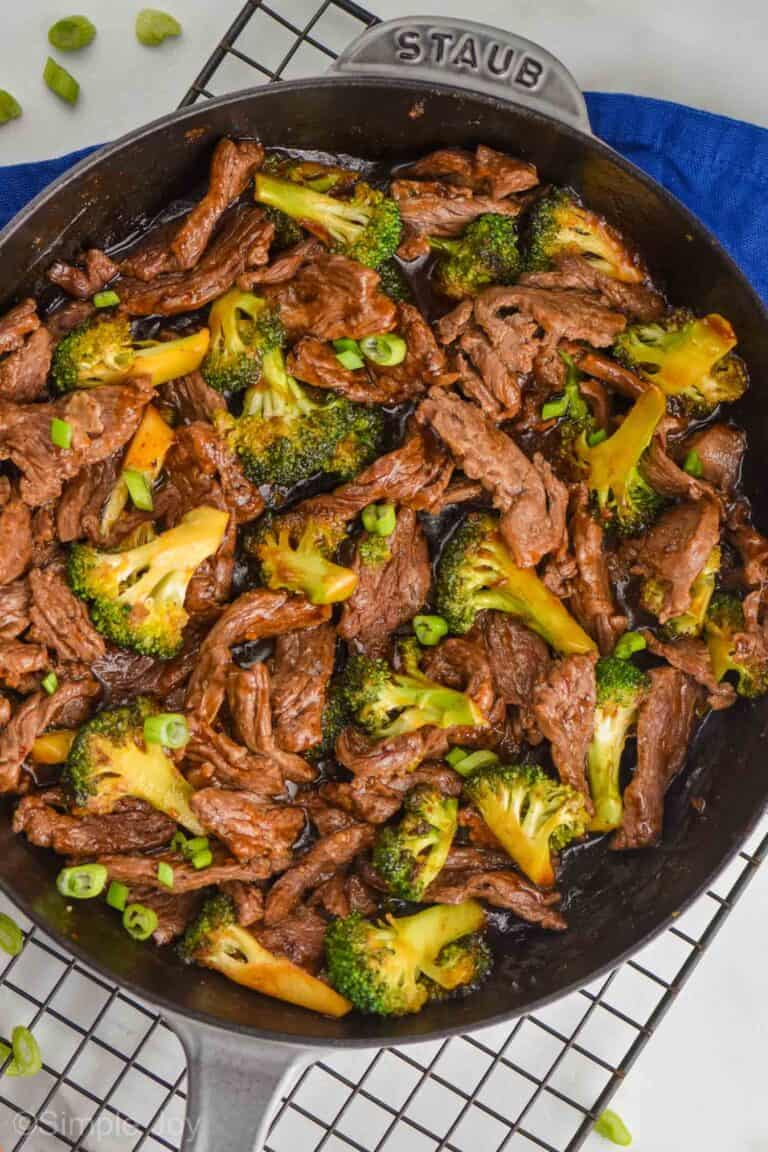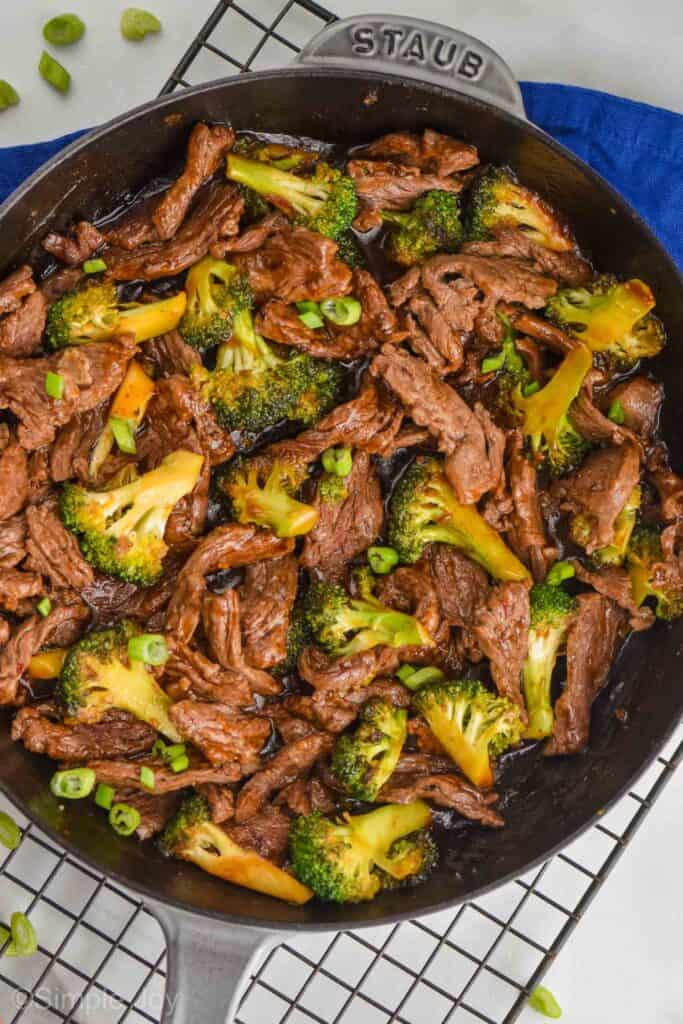 I don't know if I can think about broccoli at all – for the rest of time – without remembering the time I convinced my daughter (age 2 at the time) to think of her broccoli as zebras running for their lives from a lion.
She was the lion.
She literally started growling at her broccoli and devoured every last piece.
Now she eats broccoli without morphing into a predator. And she absolutely loved this Beef and Broccoli Stir Fry. She devoured it. Like a lion.
This easy skillet dinner is going to become a huge win in your house too. My favorite part about it is that it is done in just under 25 minutes! It will make you feel like no matter how busy your life is, you can create a warm home cooked meal for the family.
Reader Review
I have made this a couple or more times. It's easy & quick to prepare. I like this for a quick meal. It will be my go to recipe.
How to Make Beef and Broccoli
This fast dinner comes together in a skillet right on the stove top. This is a brief overview of the recipe. For the full recipe, see the recipe card at the bottom of the post.
Cook the beef. Heat the oil in the skillet and then add the thinly cut flat iron steak. Just stir it occasionally and cook it until it is no longer pink, about 2 to 3 minutes.
Make the sauce. I like to whisk together the sauce for this recipe while the beef is cooking. It cuts a little of the prep time on this recipe.
Cook the broccoli. Remove the beef from the skillet. Add in the chopped broccoli. You may need to add a little more oil to the skillet if the broccoli starts to brown too quickly.
Combine everything. After the broccoli is tender, about four minutes, add the beef back in and then add in the sauce. You are going to cook just until the sauce thickens up, about two to three minutes. Serve over rice and enjoy.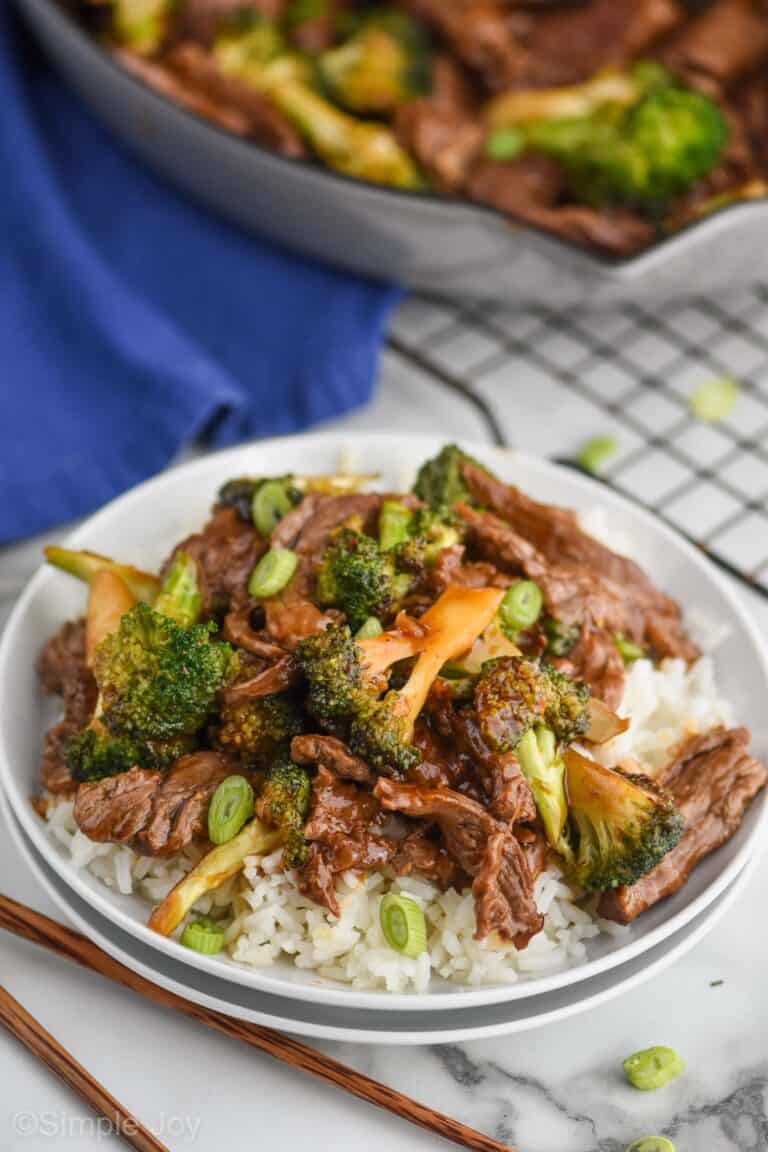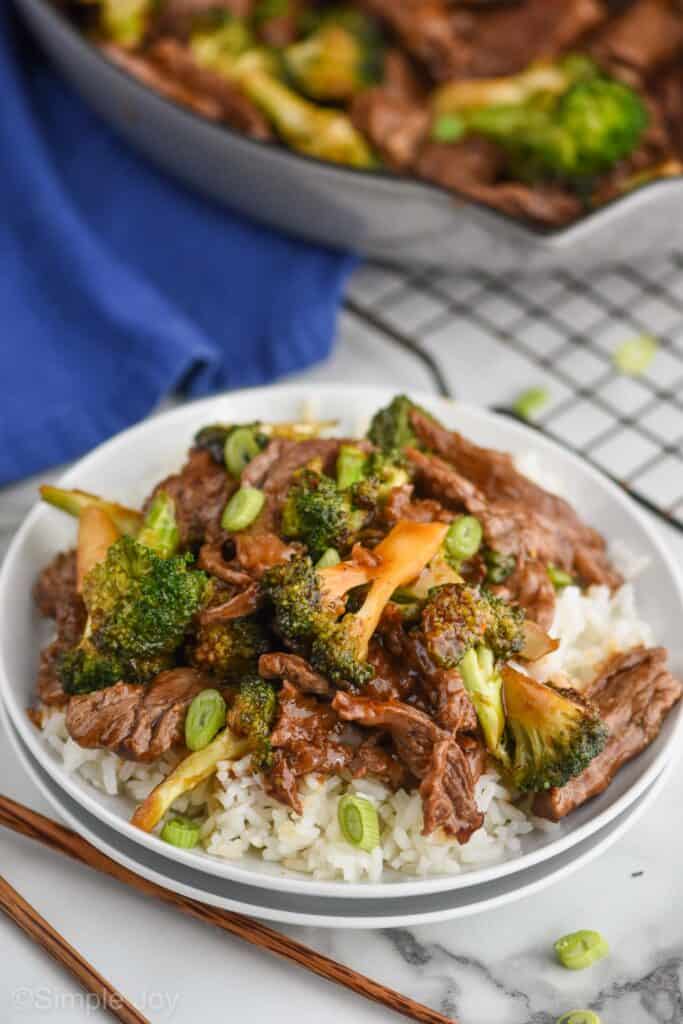 Which Cut of Beef to Use for Beef and Broccoli Stir Fry
In this recipe we are using Flat Iron Steak because of how tender and well marbled it is. By using this cut of meat, we are able to skip marinading it, cutting down on the time necessary for this recipe. This cut of meat is best when it is sliced thin and cooked to medium, so be careful not to over cook it.
If you are unable to find Flat Iron, you could also use skirt steak or flank steak in this recipe. In that case you will want to marinate the beef for at least six hours. Duplicate the sauce for this recipe and use that as a marinade. Remove the beef before cooking, and discard the marinade.
Budget Friendly Beef and Broccoli
If you love this recipe but Flat Iron Steak just isn't in the budget for you, you can make this great recipe with ground beef. It is still a fast, easy, and delicious dinner that your family will fall in love with.
Ground Beef and Broccoli
Ground Beef and Broccoli is the perfect easy dinner recipe. Your family will love this simple weeknight dinner.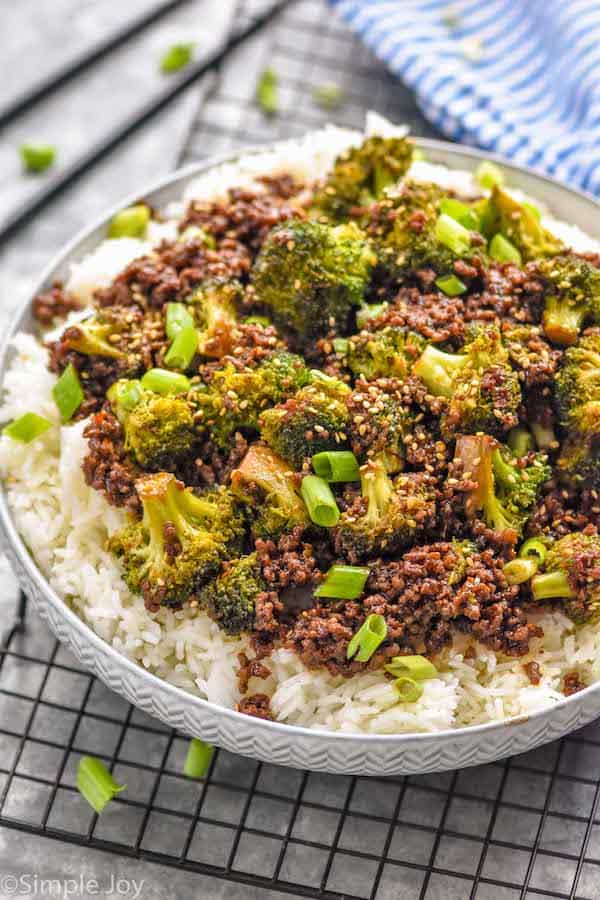 A Note About Soy Sauce
Salt is that great ingredient that can pull an entire recipe together. But over do it and you have something you can't even eat.
The same thing goes for soy sauce, the base of the beef and broccoli sauce. Because of that, you want to use a low sodium soy sauce.
If that is not something you have on hand, no need to worry, just replace some of the regular soy sauce with water.
Replace the 1/2 cup of low sodium sauce with 1/3 cup regular soy sauce + 2 2/3 tablespoons water. In other words, fill up a 1 cup class measuring cup with soy sauce to the 1/3 mark and then fill it up to 1/2 cup mark with water.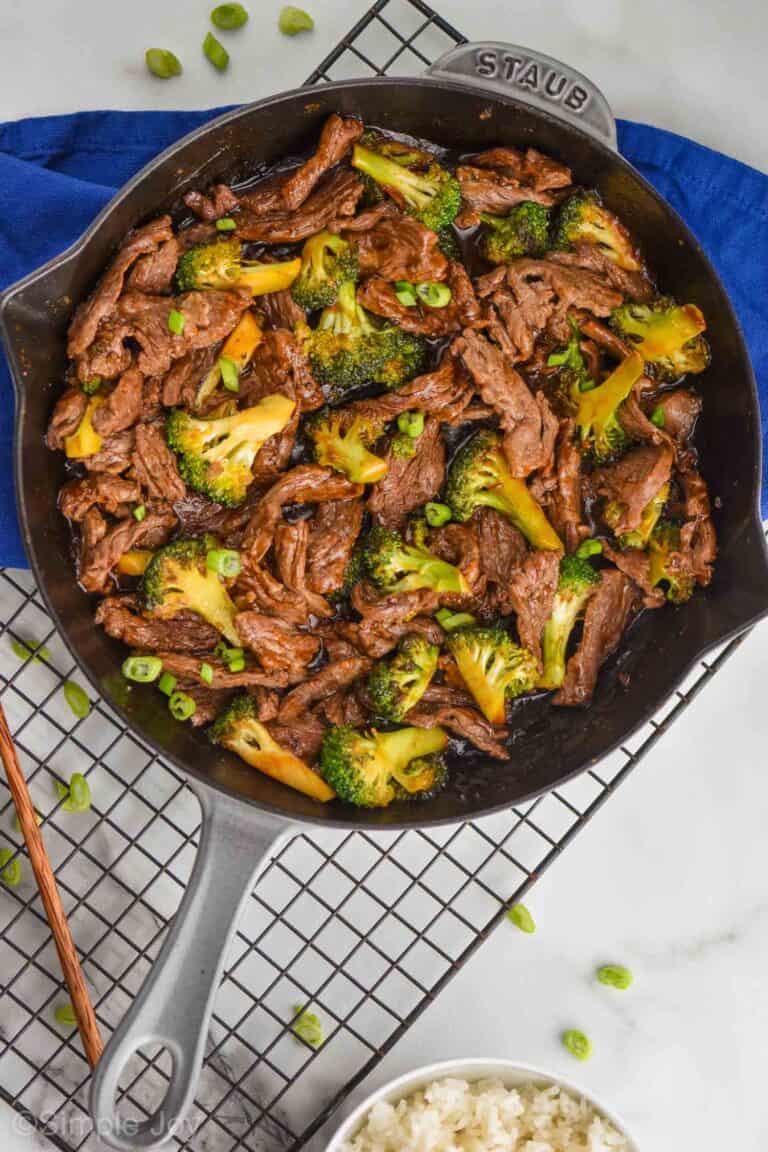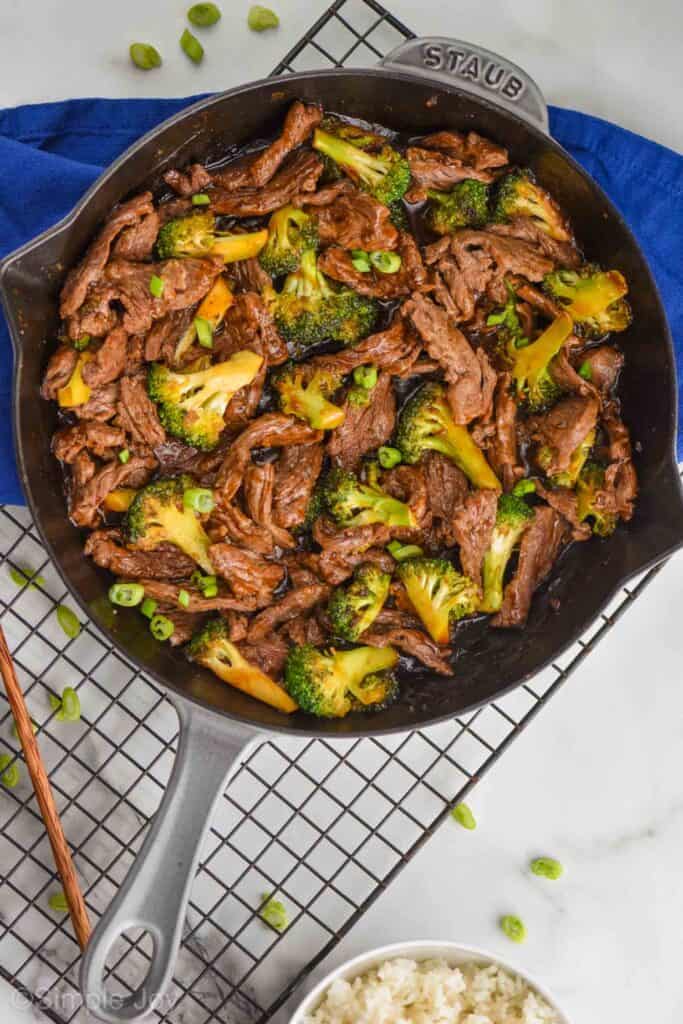 Making this Low Carb
If you are eating low carb, this dinner is a great option! But you will definitely want to replace the rice with my Cauliflower Rice. Cauliflower Rice is a great alternative to rice as long as you understand that it doesn't taste just like rice. In this recipe, the sauce is so amazing that you will love this easy healthy swap.
Cauliflower Rice
Cauliflower Rice is the perfect way to take your favorite dinners and make them into a lower-carb option. Easy to make and very filling, you will come back to this healthy option over and over again.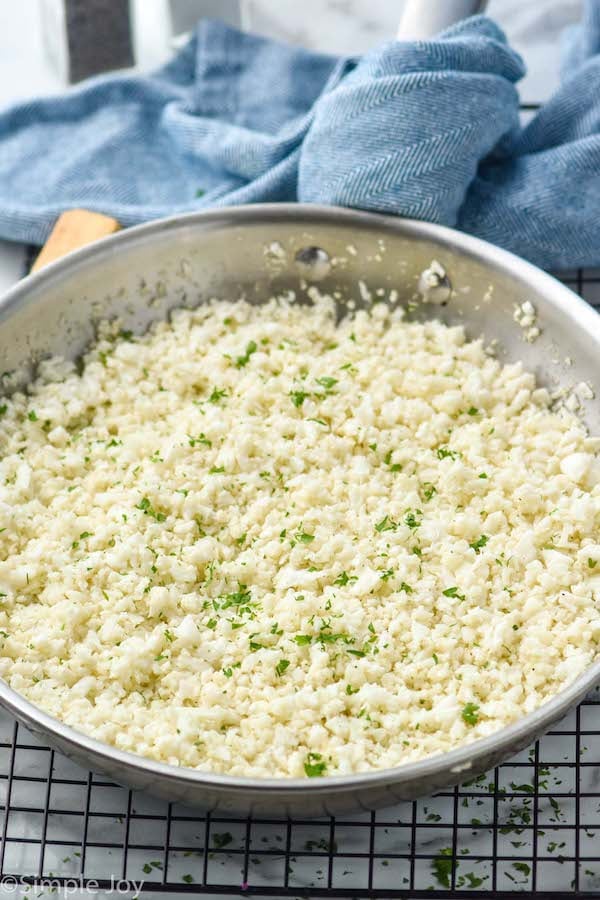 Storing and Reheating Leftovers
Leftovers should be stored in an air tight container in the refrigerator for up to four days. As with all recipes, use your best discretion when it comes to leftovers.
To reheat, take out the portion that you want to eat, and reheat on the stove top over low heat until warmed through. Alternatively, place in a microwave safe container, covered, and heat on half power for 2 to 4 minutes.
FAQ
What cut of beef is best for Beef and Broccoli Stir Fry?
Flat Iron Steak. The reason for this is because it is very tender and doesn't require marinating. For best results slice the meat thin, and cook it only to medium. You can read more about this above.
Can I use a soy sauce replacement?
Yes, if you have a soy allergy, or use a soy replacement, you can use that in this recipe, but you will want to cut the amount to 1/3 cup and replace the rest of the amount called for with water.
Does beef and broccoli have gluten?
Soy sauce contains gluten, and therefore this recipe is not gluten free.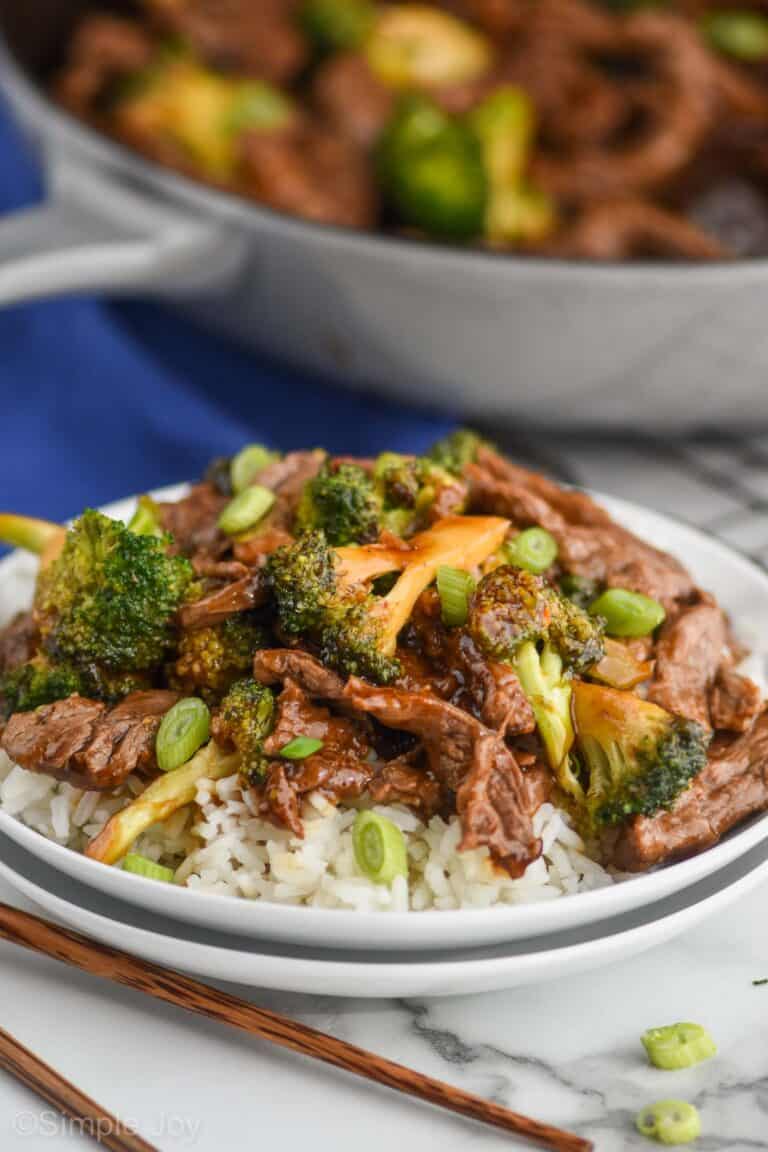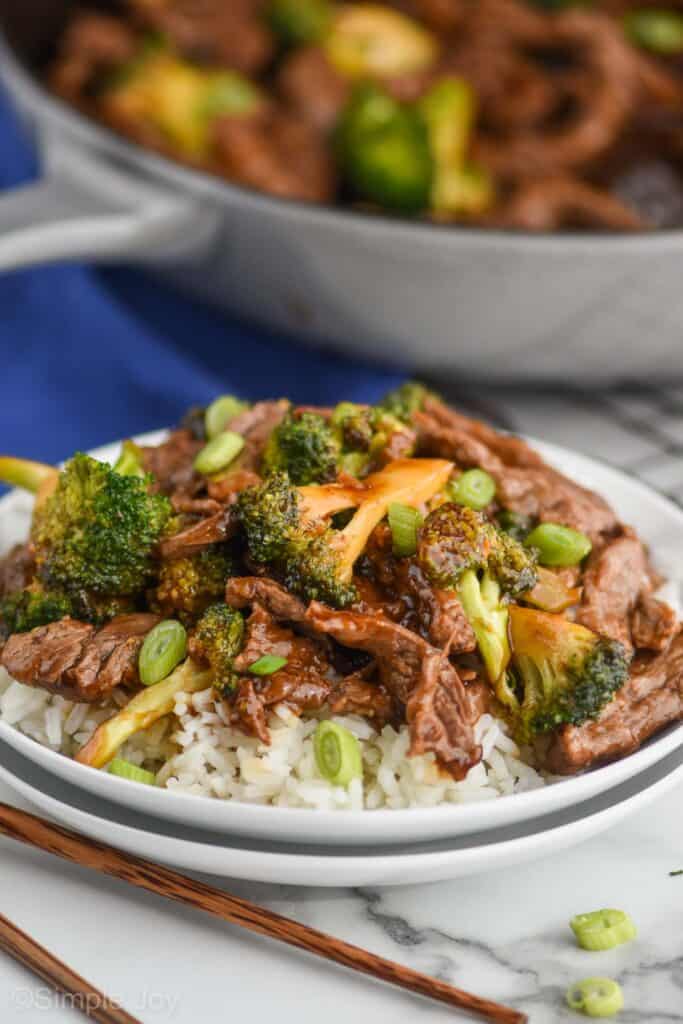 Other Great Skillet Dinners
I'm on a skillet dinner kick lately, and if you want to join the party, try some of these great recipes:
If you like this easy beef and broccoli recipe, please leave me a comment and let me know!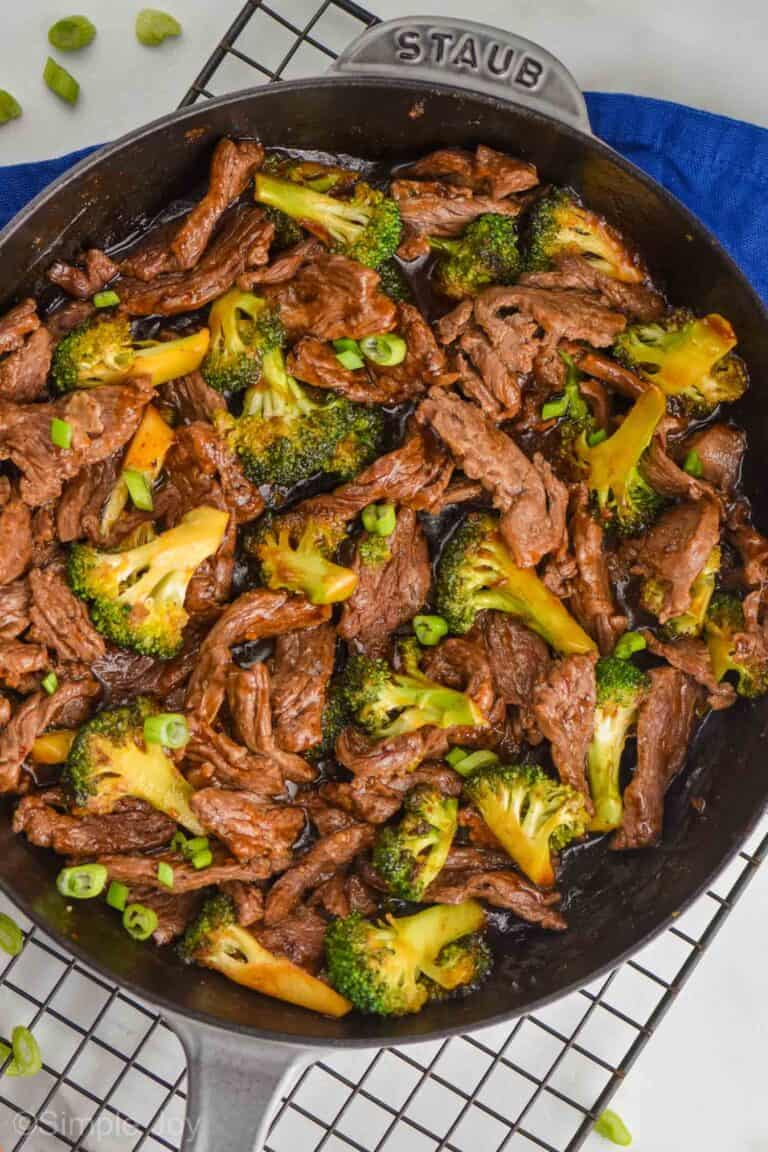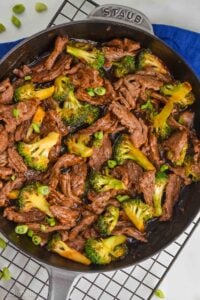 Easy Beef and Broccoli
This easy Beef and Broccoli recipe is made on the stovetop and is done in under 30 minutes. Your family will love this simple and easy recipe.
Ingredients
1

tablespoon

olive oil

1

pound

flat iron steak

sliced thin (read here why we use flat iron)

1

head of broccoli cut into florets

approximately 4 cups

1/2

cup

low sodium soy sauce

see note 1

1

tablespoon

corn starch

1/2

teaspoon

brown sugar

2

cloves

garlic

minced

1/2

tablespoon

minced ginger

1 – 2

teaspoons

chili paste

(we normally buy this) see note 2

1/4

teaspoon

red pepper flakes

optional
Instructions
Heat oil in a skillet over medium heat. Add the beef and cook until no longer pink, about 6 minutes. Remove it from the pan.

While the beef is cooking, whisk together the soy sauce, corn starch, brown sguar, ginger, garlic, chili paste, and red pepper flakes.

Add the broccoli and sauté until tender, about 4 minutes. Add more oil as needed so the broccoli does not burn.

Return the meat to the pan, and stir in the sauce. Cook until the sauce has thickened, about three minutes. Serve with rice.
Notes
If you don't have low sodium soy sauce on hand, use 1/3 cup soy sauce and the rest water to make 1/2 cup total liquid.
If you like your dishes spicy, make sure to add two teaspoons of chili paste. Just 1 teaspoon will give it just a small, nice little kick.
Please note that the nutritional information does not include the rice.
Calories:
364
kcal
(18%)
Carbohydrates:
12
g
(4%)
Protein:
24
g
(48%)
Fat:
23
g
(35%)
Saturated Fat:
9
g
(56%)
Monounsaturated Fat:
2
g
Cholesterol:
81
mg
(27%)
Sodium:
1439
mg
(63%)
Potassium:
296
mg
(8%)
Fiber:
2
g
(8%)
Sugar:
3
g
(3%)
Vitamin A:
28
IU
(1%)
Vitamin C:
82
mg
(99%)
Calcium:
47
mg
(5%)
Iron:
16
mg
(89%)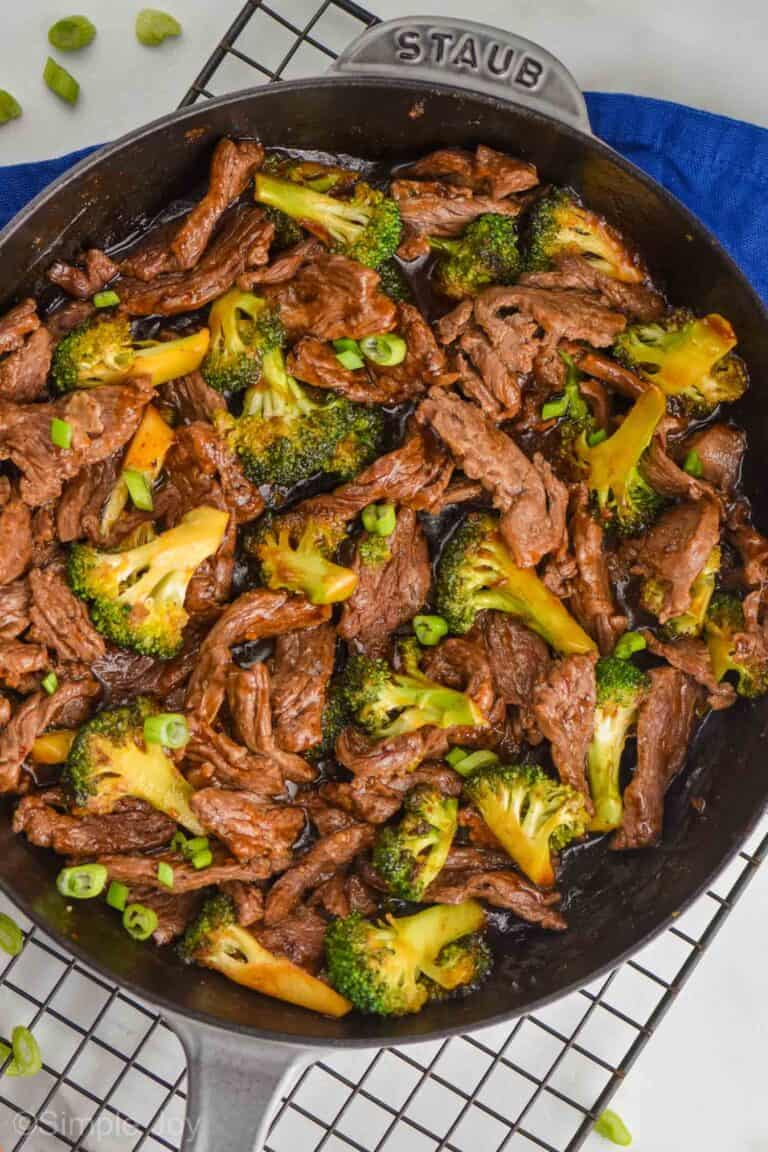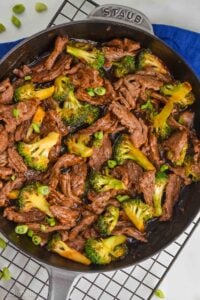 did you make this
Easy Beef and Broccoli