This Chicken Pesto Pasta is only six ingredients and is done in 25 minutes! The perfect easy weeknight meal the whole family will love.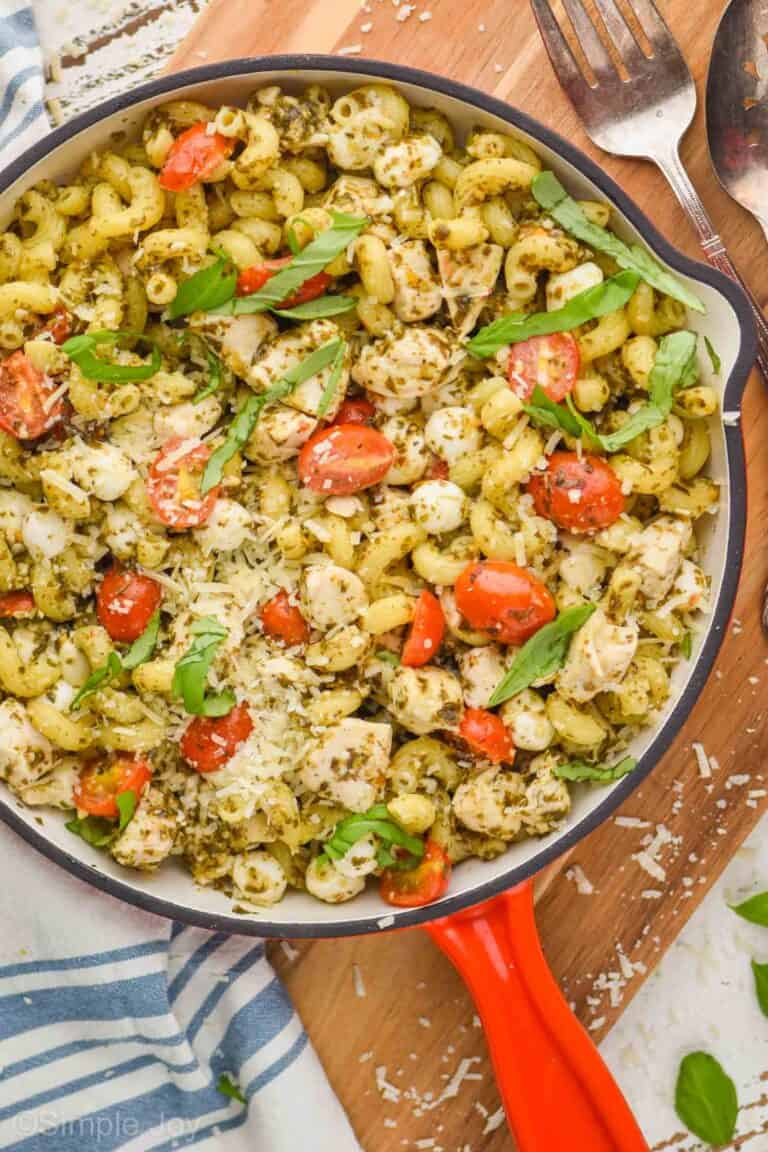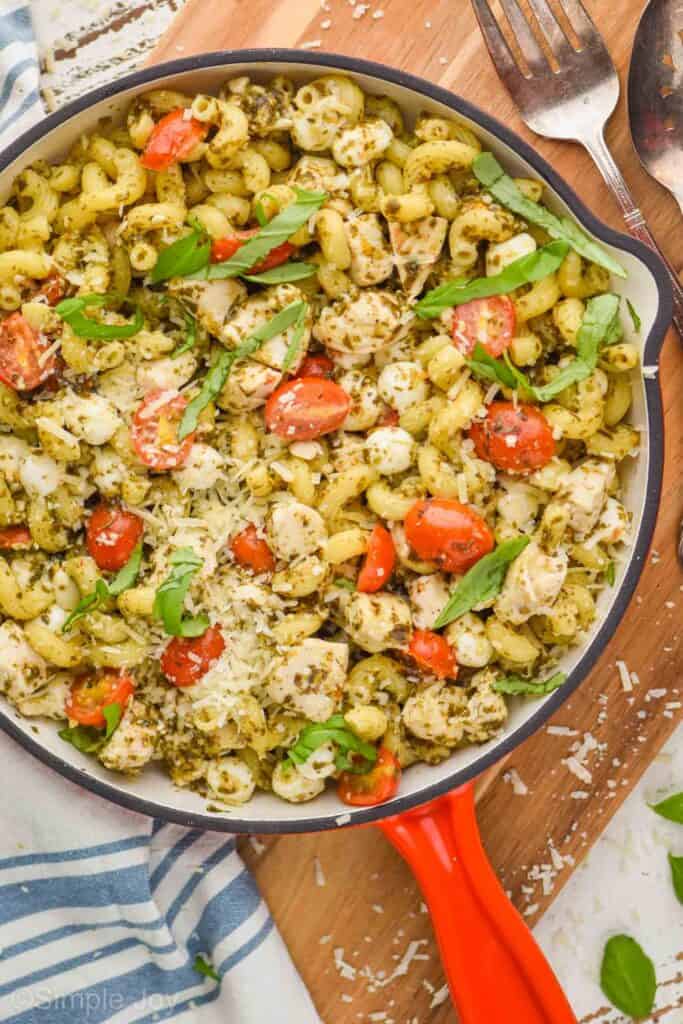 In our life, fast dinners are an absolute must. We have so many nights when we are trying to just throw together dinner the best we can in the midsts of sports, homework, and other activities.
This Pesto Chicken Pasta – based off of my Pesto Pasta Salad – is the perfect go to dinner for busy nights. It comes together in less than 30 minutes and is so easy to make.
Also, if you are working on teaching your kids how to cook, this is a perfect dinner to start with because it is so easy. Teaching my kids to cook has been such an incredible joy in my life. They love it!
How to Make Chicken Pesto Pasta
This is one of those great recipes that after you make once you will be able to make it in your sleep.
Cook the pasta. Follow the package instructions and see my tips below.
Cook the chicken. This is a dish of multitasking, so once you start your pasta water, get that chicken cooking.
Cook the tomatoes. Add these to the cooked chicken in the skillet and let them soften, just about two minutes.
Put it all together. Stir in the noodles, the pesto sauce, and the mozzarella pearls.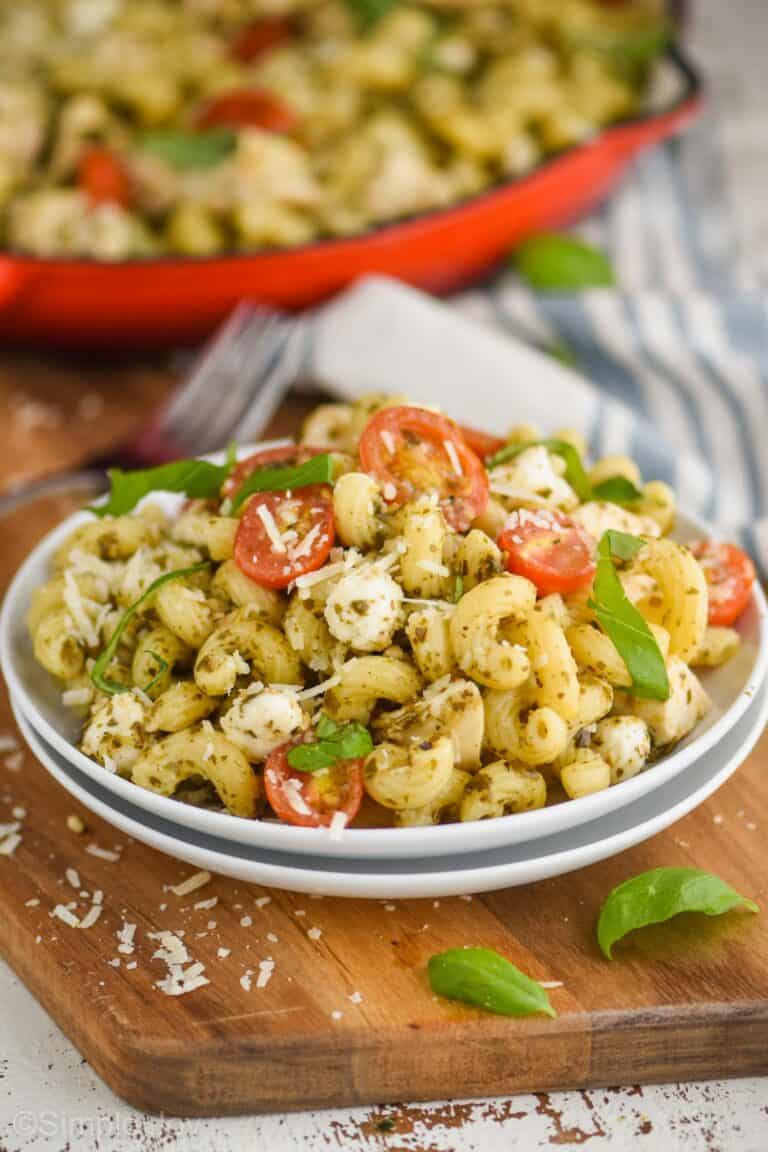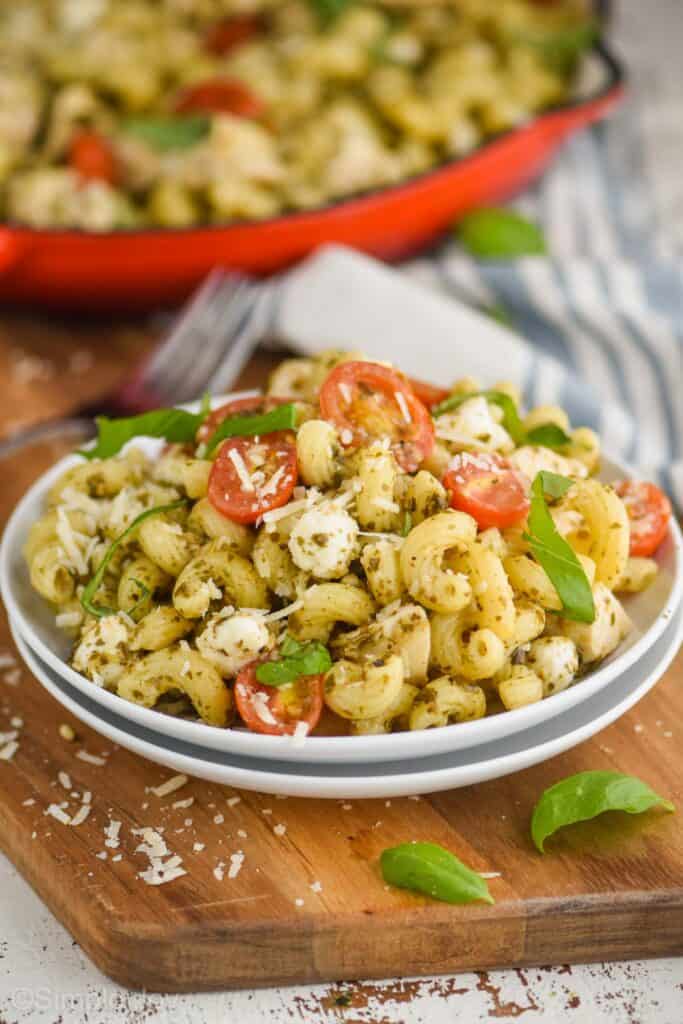 What is Pesto
If you are new to cooking with pesto, I'm just so incredibly excited for you because it is going to knock your socks off. Pesto is a sauce that is made, usually, from fresh basil, oil, Parmesan cheese, and pine nuts. It is incredibly easy to make, and if you have a full basil crop worth making in big batches to freeze and eat into the fall.
Some of my other favorite pesto dishes are:
Cooking Pasta
It may seem so incredibly straight forward to cook pasta. And really it is. But there are a few things to keep in mind to ensure that it turns out perfect.
Use enough water. We are boiling 1 pound of pasta in this recipe. For that we will need 4 quarts of water, or 16 cups.
Let the water come to a roaring boil. Wait to throw in the uncooked pasta until you see big bubbles.
Salt the water. This very simple step can literally make or break a dish. A teaspoon of kosher salt stirred into the pasta water will sharpen the flavor of the whole dish.
Set a timer. As soon as you toss in the pasta, set a timer for the bottom end of the time range on the box. This will ensure that your pasta is cooked to al dente.
Drain the pasta when it is al dente. When the timer goes off, taste the pasta. It should have a little bite left to it. In other words, it should be soft enough that you want to eat the whole pot full, but not too soft that it has gone gummy.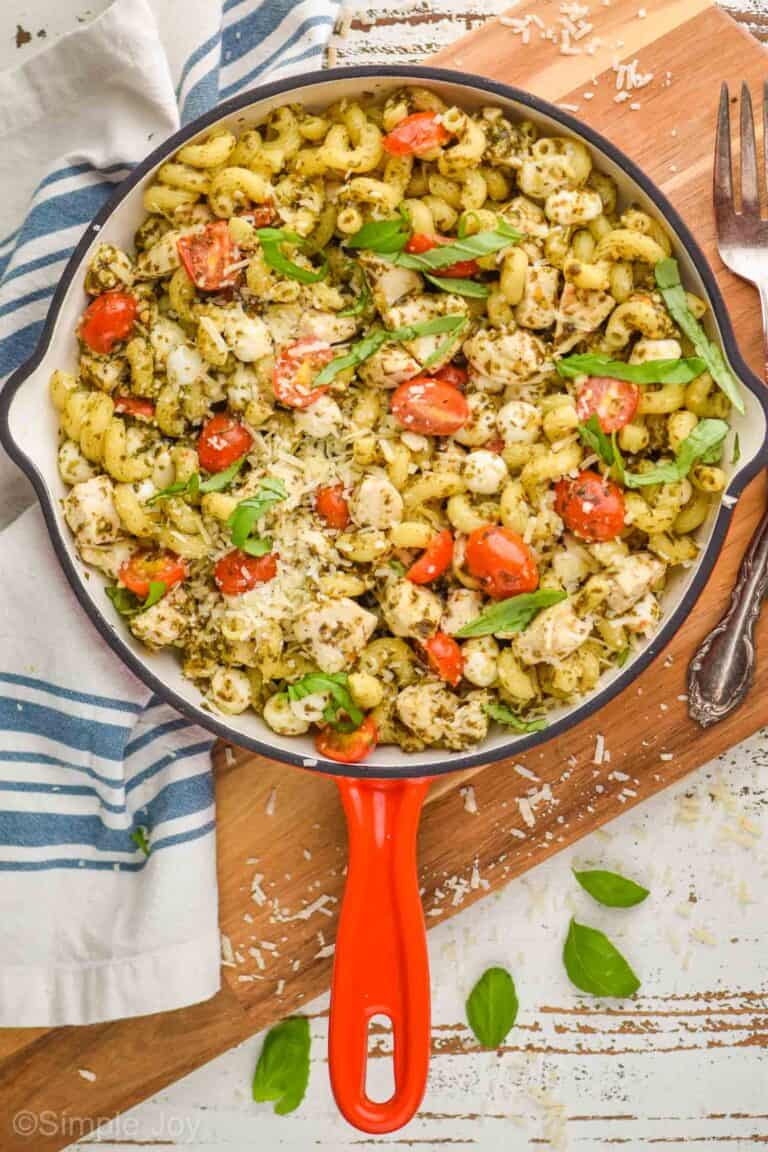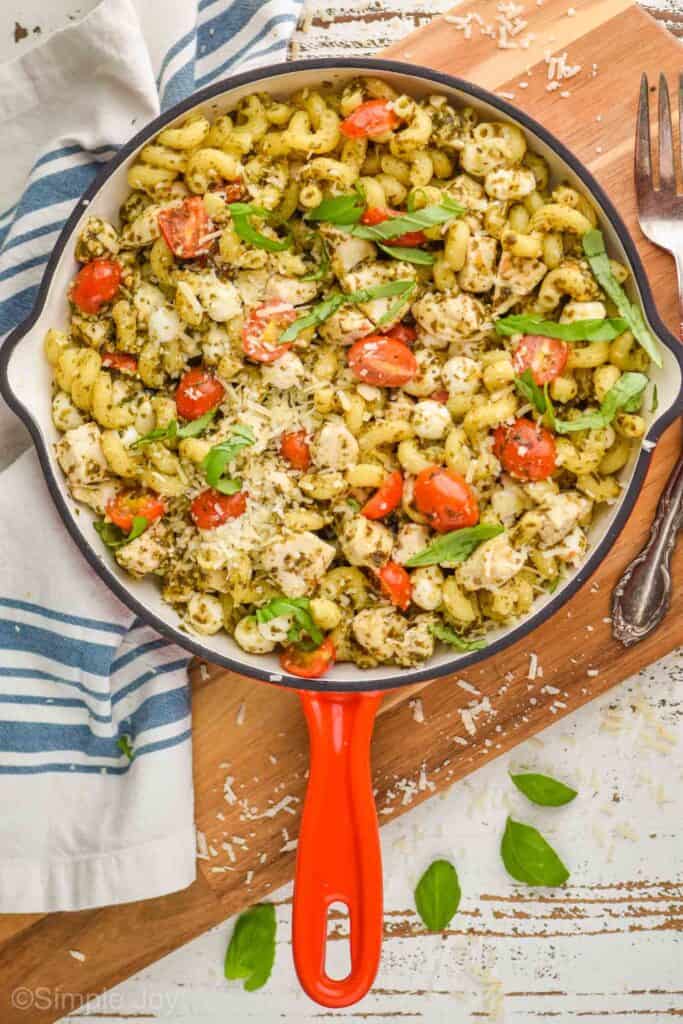 Pasta for Chicken Pesto Pasta
I love using cavatappi in this recipe because it holds the pesto so well. But you can feel free to use any noodle that your family loves. Penne, rigatoni, and fusilli would also be great options in this recipe.
Making Pesto Chicken Pasta Gluten Free
My pesto pasta with chicken is a great recipe to make for gluten free guests. The only thing bringing gluten to this party is the pasta. And there are so many great gluten free pastas on the market, that it is an easy swap.
My suggestion to you is if you are new to cooking gluten free pasta, make sure to read the directions on the package closely so you get the best results.
Storing Leftovers
While I definitely recommend making this right before eating – it's such a fast one, no need to make it ahead – my kids do love the left overs.
Store in an airtight container for up to 4 days. We reheated in covered bowls in the microwave at half power, stirring half way through.
FAQ
Can you freeze chicken pesto pasta?
Because of the tomatoes and the cheese, this would not be my top choice to freeze. Additionally, it comes together so fast that freezing it ahead of time doesn't seem worth it.
Can you eat chicken pesto pasta cold?
Yes! This dish is great warm, but it is also delicious cold.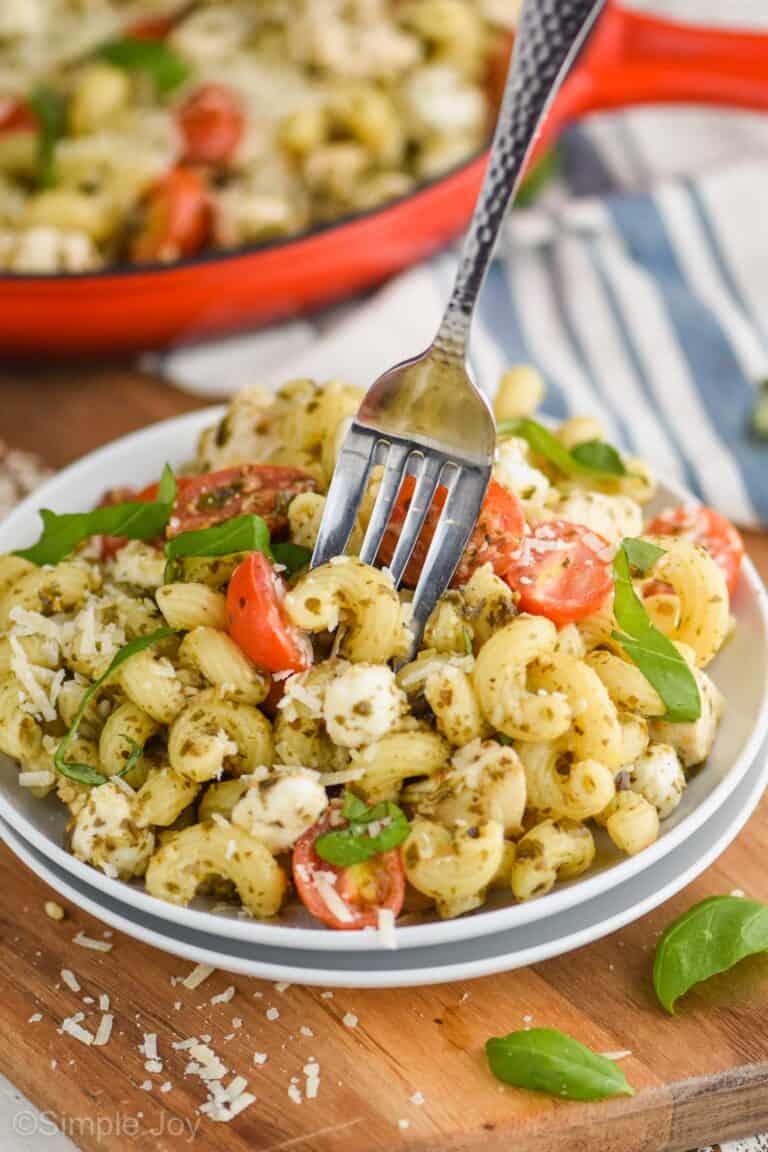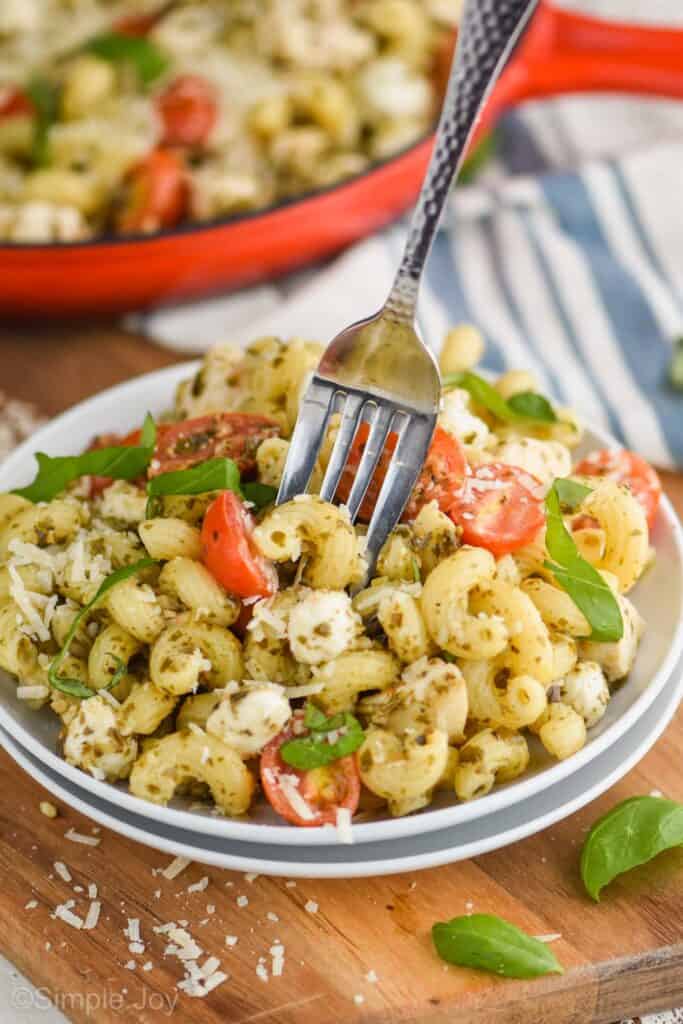 What to Serve with Chicken Pesto Pasta
This is a great dish on it's own on a busy weeknight, but is made even better when you pair it with a great vegetable side. Here are some recipes it would go great with.
I'd love to hear from you if you make this chicken pesto pasta recipe! Leave me a comment and let me know!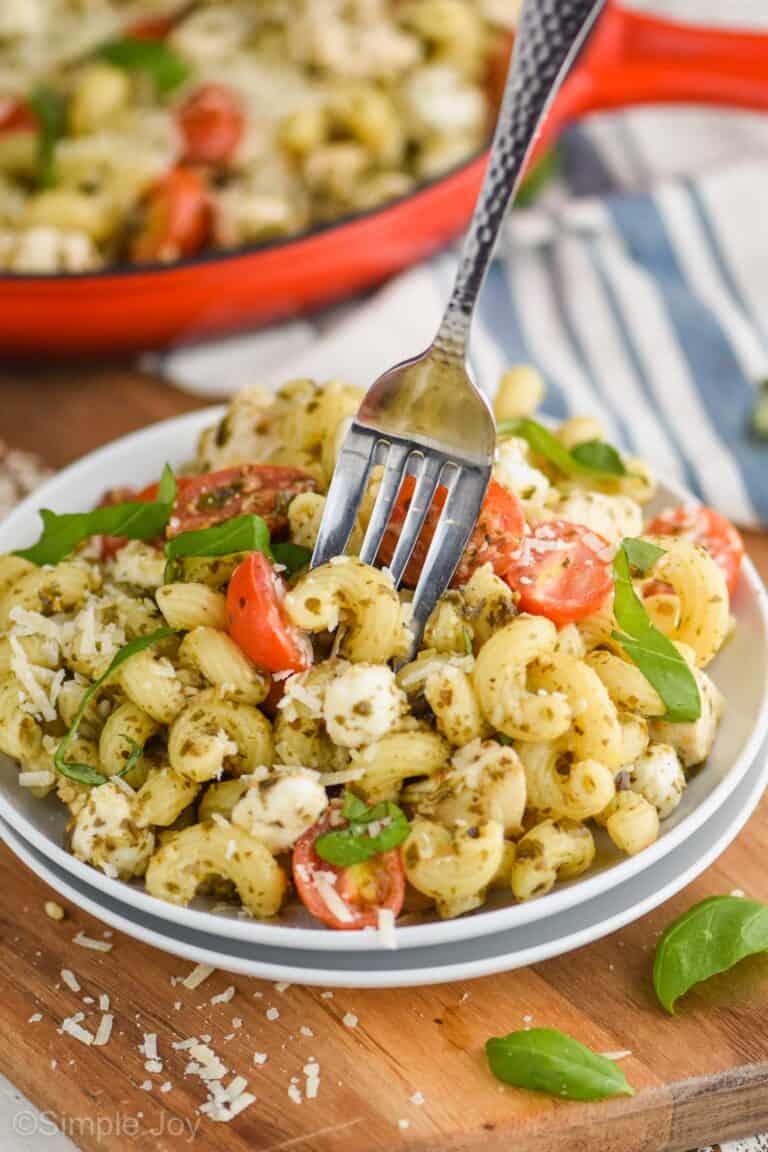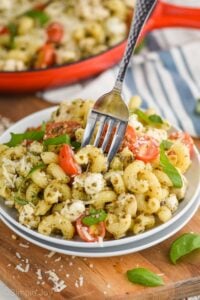 Skillet Chicken Pesto Pasta
This Skillet Chicken Pesto Pasta is only six ingredients and is done in 25 minutes! The perfect easy weeknight meal the whole family will love.
Ingredients
8

ounces

dry cavatappi pasta

2

tablespoons

olive oil

1

pound

boneless skinless chicken breasts

cut into bite sized pieces

1 1/2

cups

cherry tomatoes

cut in half

8

ounces

jarred pesto sauce

(or homemade)

8

ounces

mozzarella pearls

drained

parmesan cheese

optional
Instructions
Boil water to cook the pasta. Add a teaspoon of kosher salt before adding the dry noodles. Cook according to package instructions. Drain and set aside.

While the pasta is cooking, heat the olive oil in a large skillet over medium heat. Add the diced chicken breasts and cook until they are cooked through, about 5 to 7 minutes.

Stir in the tomatoes and cook for about 2 to 3 minutes.

Add the pasta back to the skillet. Stir in the pesto, and remove from the heat. Stir in the mozzarella pearls.

Top with freshly grated parmesan cheese and serve.
Calories:
574
kcal
(29%)
Carbohydrates:
34
g
(11%)
Protein:
38
g
(76%)
Fat:
33
g
(51%)
Saturated Fat:
5
g
(31%)
Polyunsaturated Fat:
2
g
Monounsaturated Fat:
3
g
Cholesterol:
63
mg
(21%)
Sodium:
423
mg
(18%)
Potassium:
322
mg
(9%)
Fiber:
2
g
(8%)
Sugar:
4
g
(4%)
Vitamin A:
17
IU
Vitamin C:
26
mg
(32%)
Calcium:
25
mg
(3%)
Iron:
7
mg
(39%)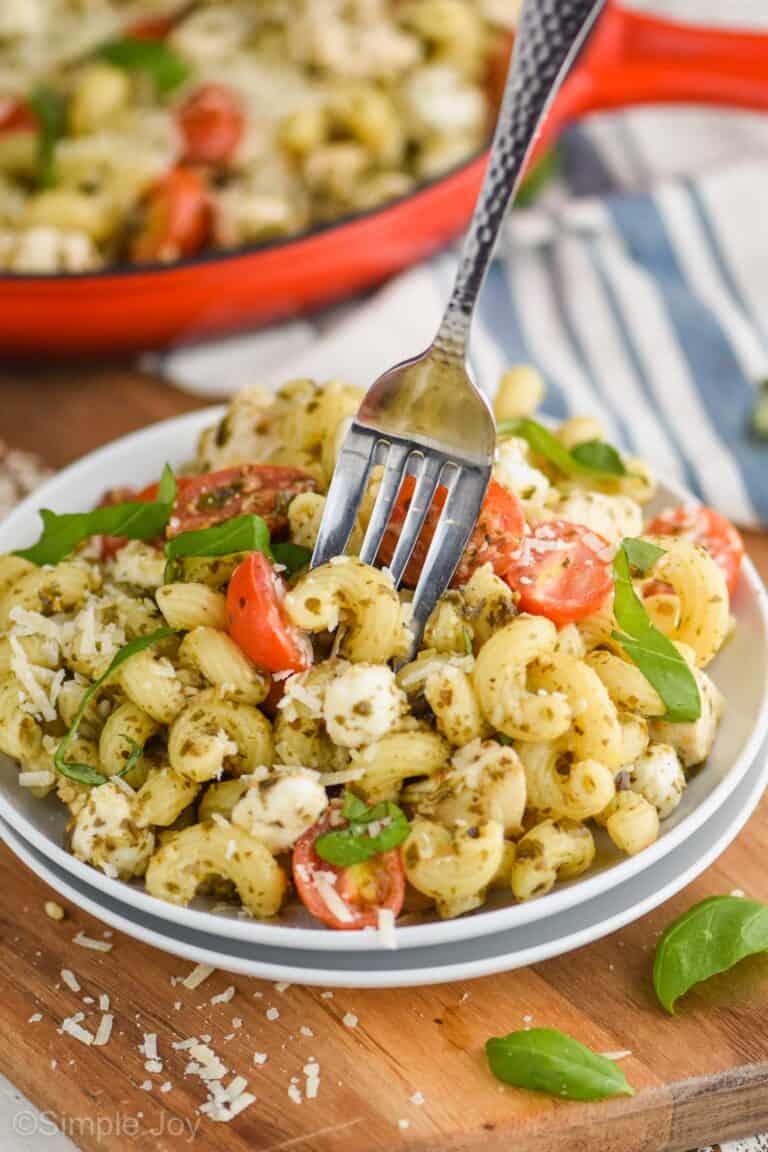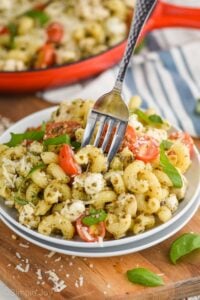 did you make this
Skillet Chicken Pesto Pasta