Beef Teriyaki is a simple dinner that you are bound to love. This quick teriyaki beef stir fry made with easy ingredients is going to become a regular in your rotation.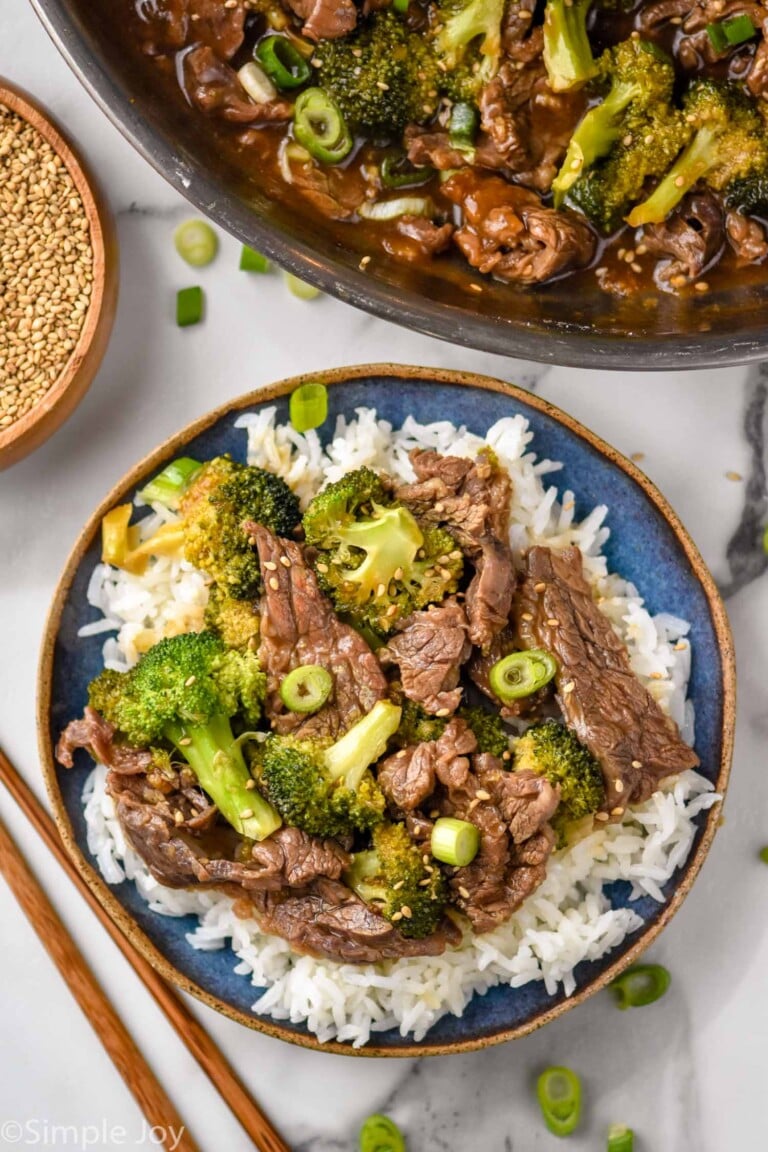 My family never tires of stir fry recipes. In fact, I have to work really hard to space them out far enough on Simple Joy when I'm planning what recipes will come next. I could publish one a week because they are so delicious and easy to make.
This Beef Teriyaki is our newest stir fry obsession. It is made with a homemade teriyaki sauce (more on this below), that we use both as a base of the dish and as a marinade for the beef. The result is tender beef in the perfect sauce. If you have picky eaters in your house, this is the dish for you.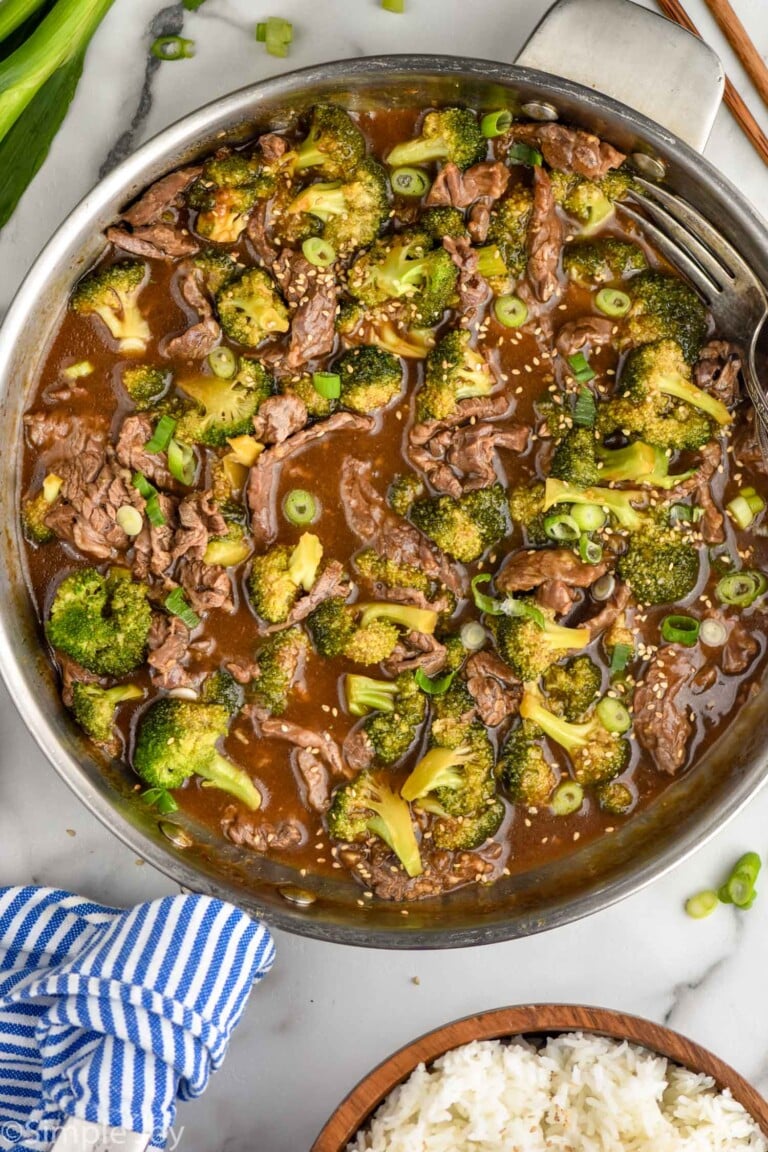 How to Make Beef Teriyaki
Here is a brief overview of how easy it is to make teriyaki beef. For the full measurements and instructions, see the recipe card at the bottom of the post.
Make the sauce. Combine the ingredients for the teriyaki sauce and divide into two halves.
Marinate the beef. Marinate the beef in one half of the teriyaki sauce for 2 hours.
Cook the beef. Place the marinated beef in a hot skillet and brown for just a minute or two.
Add the sauce and broccoli. Add the teriyaki sauce to the skillet and bring to a simmer. Then toss in the broccoli and cook until tender.
Serve and enjoy! Serve over cooked rice and garnish with green onions.
Homemade Terikayi Sauce
A key part of what makes this recipe so delicious is the homemade teriyaki sauce. The signature sauce is made with just a few ingredients and is the perfect blend of sweet, tangy, and flavorful.
I recommend using a low-sodium soy sauce so that the salt isn't too overpowering. If you do not have a low sodium option, you can cut back on the amount used and substitute with water.
Teriyaki Sauce
Teriyaki Sauce is a great ingredient used in many delicious stir fry recipes. It is easy to make at home with a few simple ingredients.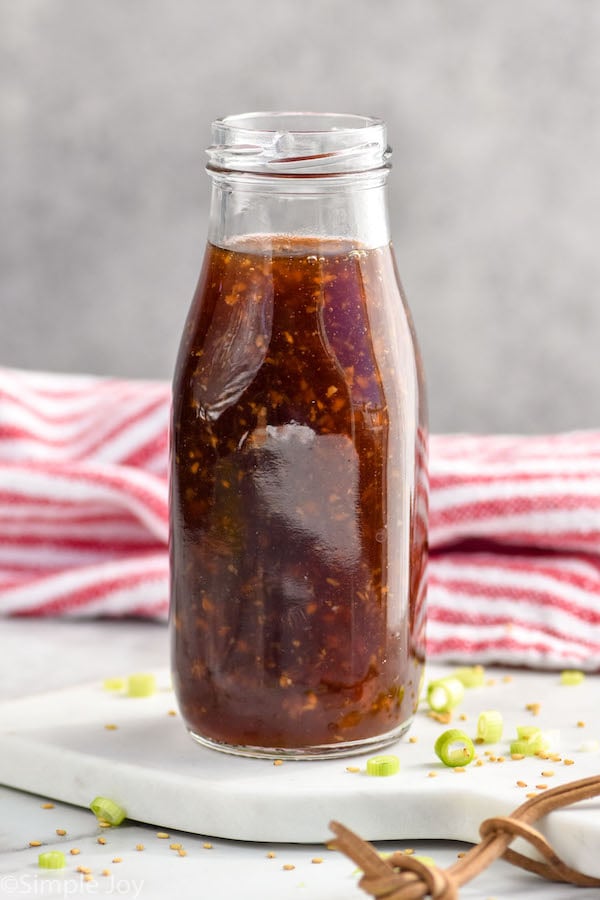 What Cut of Beef to Use
This recipe calls for skirt steak because of the perfect beef flavor it lends to dishes like this. The key to cooking with skirt steak is to marinate it before using it. This eliminates the toughness of the meat. If you are unable to find skirt steak, you could substitute it with flank steak.
I have a great beef and broccoli recipe that features ground beef if you are looking for a more affordable beef option.
Marinating Beef
As mentioned above, we are marinating the skirt steak to tenderize it before tossing it in this easy dish. The key to a great marinade is an acid and a salt to break down the meat and then other great ingredients to layer in flavor. In this recipe we are using both rice wine vinegar (our acid) and soy sauce (our salt). Then we are adding in great flavors like brown sugar, ginger, and garlic.
The meat needs to marinate for long enough for it to become tender, but not too long to avoid it becoming gummy. The range for this recipe is 2 hours to 24 hours. The actual cooking of beef teriyaki is very quick – just 25 minutes. To save on time, marinate your beef the night before so you are ready to roll when you get home from work.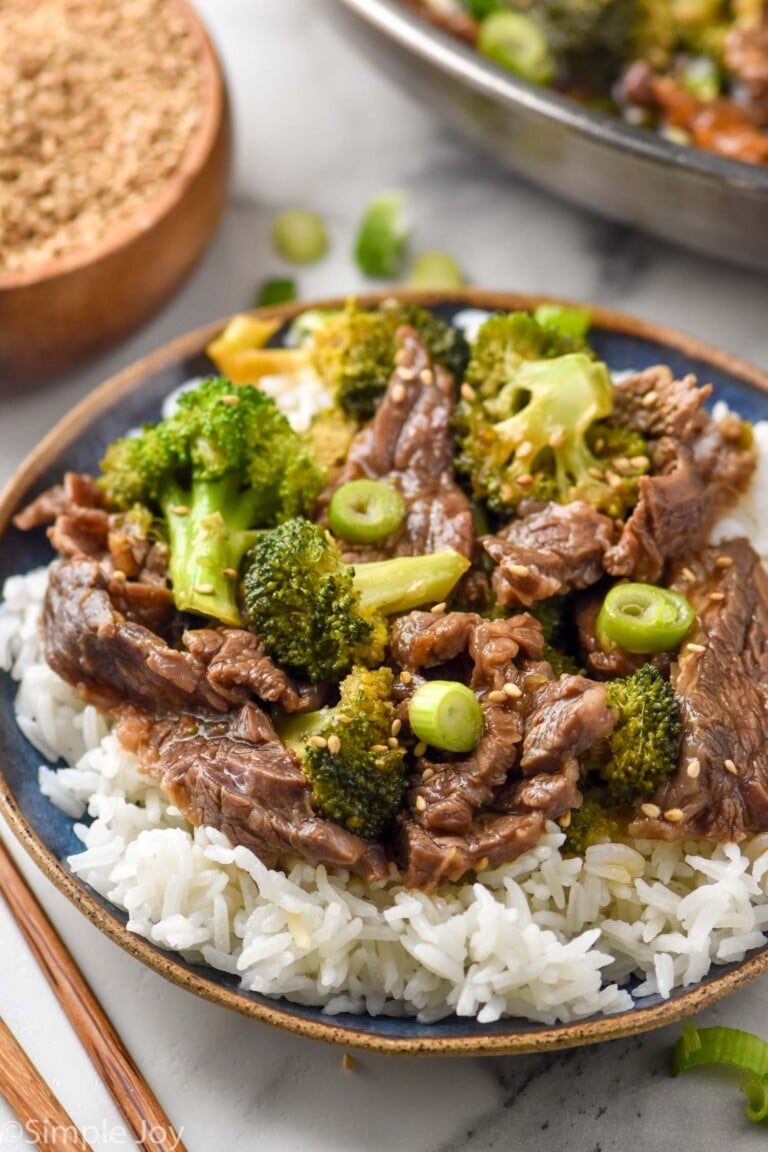 Make it Low Carb
This teriyaki beef recipe is delicious over cauliflower rice, which lowers the carbs of the dish compared to serving it with rice. It is easy to make and very filling. Get an extra serving of vegetables without the carbs of regular rice with a flavorful rice substitute.
Cauliflower Rice
Cauliflower Rice is the perfect way to take your favorite dinners and make them into a lower-carb option. Easy to make and very filling, you will come back to this healthy option over and over again.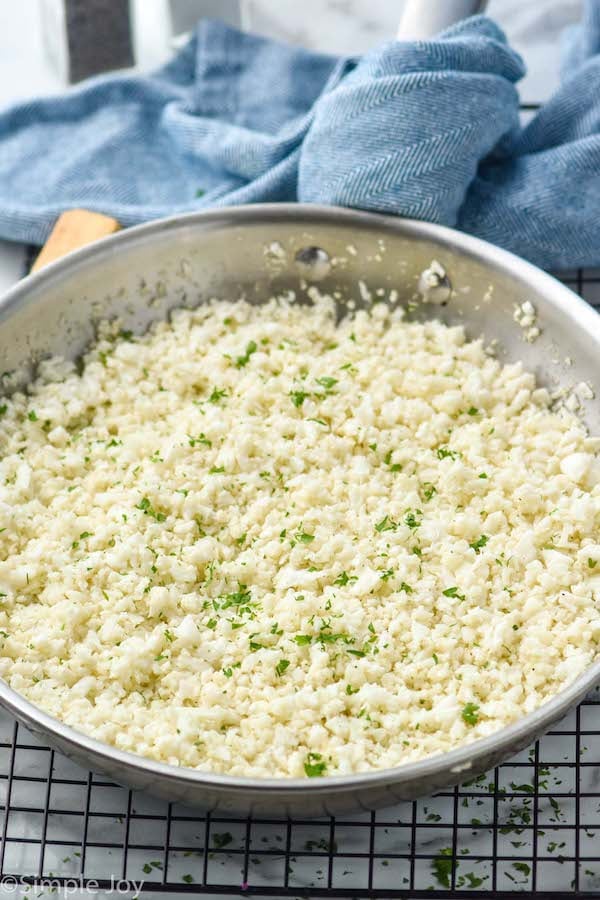 Storing and Reheating
Store your leftover beef teriyaki in an airtight container for up to three days. I recommend storing the beef and broccoli separately from the rice. Reheat over low heat. Serve over fresh or reheated rice or cauliflower rice. Always use your best discretion when storing and reheating leftovers.
FAQ
Is teriyaki sauce gluten free?
If the sauce contains soy sauce, it is not gluten-free. One of the benefits of making your own from scratch is being able to control things like sugar, gluten, and sodium. Check out my post on homemade teriyaki sauce for how to replace soy sauce with a gluten-free soy sauce or tamari.
Is teriyaki spicy?
This teriyaki sauce is not spicy as it doesn't contain any chili paste or red pepper flakes, which can add spice.
How do you thicken teriyaki sauce?
The easiest way to thicken your teriyaki sauce is by adding a few tablespoons of cornstarch. We are doing that here and end up with a rich and thick stir fry sauce.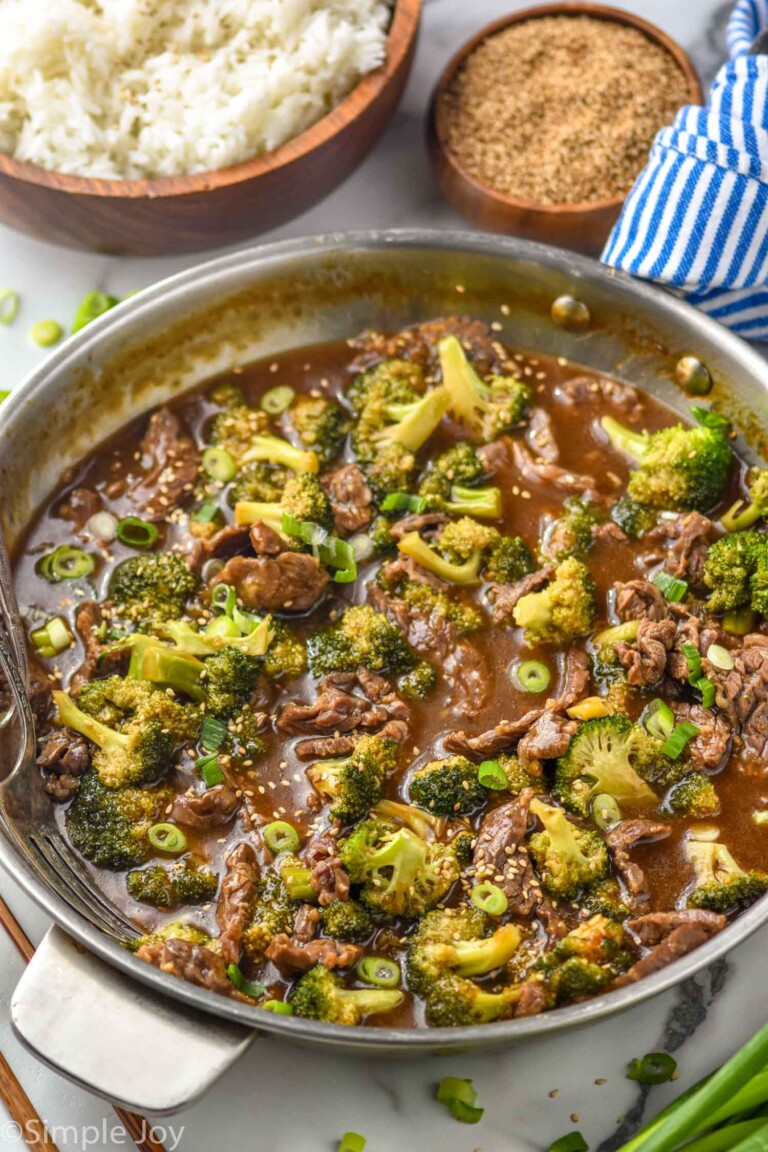 Other Easy Dinner Recipes
If you love this beef teriyaki as much as I do, please be sure to leave me a comment below the recipe card and let me know. I love hearing from you!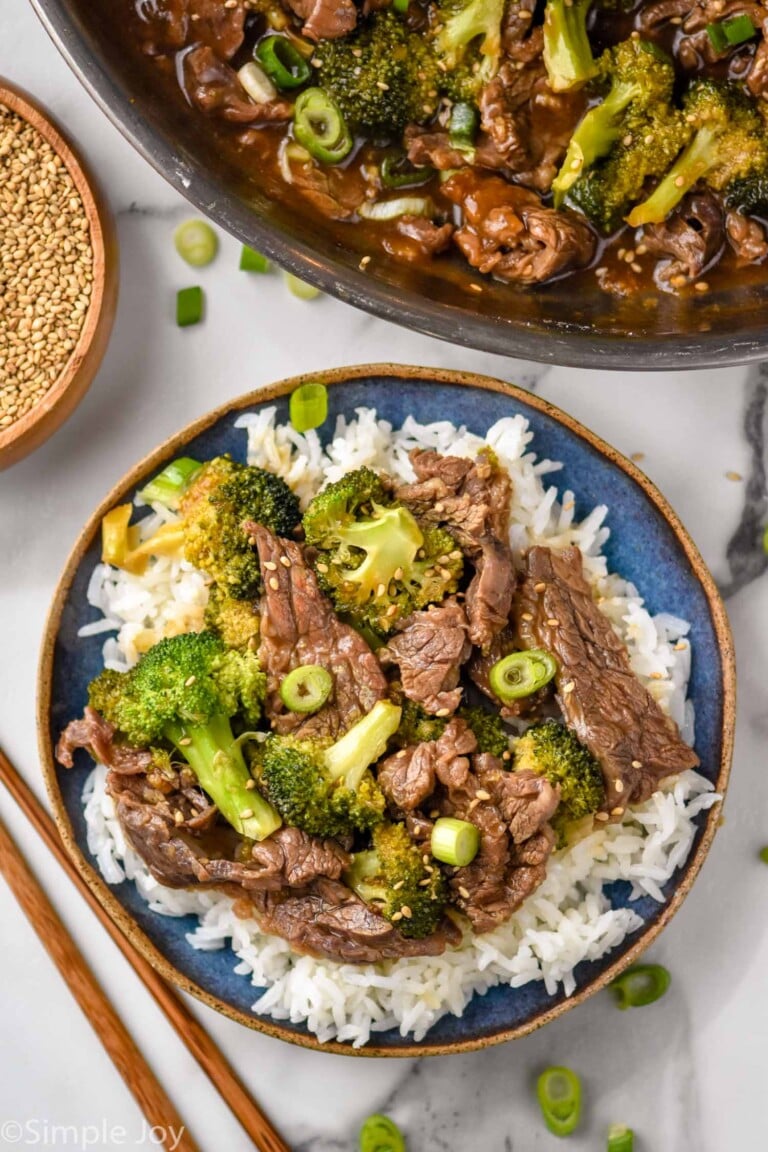 Beef Teriyaki
Total:
2
hours
25
minutes
Beef Teriyaki is a simple dinner that you are bound to love. This quick teriyaki beef stir fry made with easy ingredients is going to become a regular in your rotation.
Ingredients
Teriyaki Sauce
2

cups

water

2/3

cup

soy sauce

2

teaspoon

rice wine vinegar

1/3

cup

brown sugar

2

tablespoons

honey

1 1/2

tablespoons

freshly grated ginger

6

cloves

garlic

minced
Teriyaki Beef
2

tablespoons

cornstarch

2

tablespoons

olive oil

1

pound

skirt steak

sliced into thin pieces

4

cups

broccoli florets

(about 2 medium heads of broccoli)

4

cups

cooked rice

green onions

sliced for garnish
Instructions
In a mixing cup, combine the ingredients for the teriyaki sauce. Divide the sauce into two halves. One will be used to marinate the beef. The other will be used in cooking the recipe. (Read about why we marinate here.)

2 cups water,

2/3 cup soy sauce,

2 teaspoon rice wine vinegar,

1/3 cup brown sugar,

2 tablespoons honey,

1 1/2 tablespoons freshly grated ginger,

6 cloves garlic

In a sealable container, combine the beef and one half of the teriyaki sauce. Marinate for 2 hours. Then remove the beef from the marinade. Discard the remaining marinade.

Mix the remaining teriyaki sauce with 2 tablespoons of cornstarch.

In a skillet over medium heat, heat the olive oil. Add the beef and brown for just a minute or two.

Add in the other half of the teriyaki sauce. Bring the mixture to a simmer, and then reduce the heat to medium low. Cook for three minutes.

Add the broccoli to the skillet (no need to stir it in), cover, and cook for 5 minutes until the broccoli is tender.

Add one cup of rice to each bowl. Then add the teriyaki beef and broccoli. Garnish with green onions and enjoy!
Notes
Please note that these nutritional values do not reflect the rice it is served over.
Serving:
1
cup
Calories:
540
kcal
(27%)
Carbohydrates:
71
g
(24%)
Protein:
29
g
(58%)
Fat:
16
g
(25%)
Saturated Fat:
4
g
(25%)
Polyunsaturated Fat:
1
g
Monounsaturated Fat:
9
g
Trans Fat:
0.4
g
Cholesterol:
71
mg
(24%)
Sodium:
149
mg
(6%)
Potassium:
672
mg
(19%)
Fiber:
4
g
(17%)
Sugar:
17
g
(19%)
Vitamin A:
576
IU
(12%)
Vitamin C:
83
mg
(101%)
Calcium:
78
mg
(8%)
Iron:
3
mg
(17%)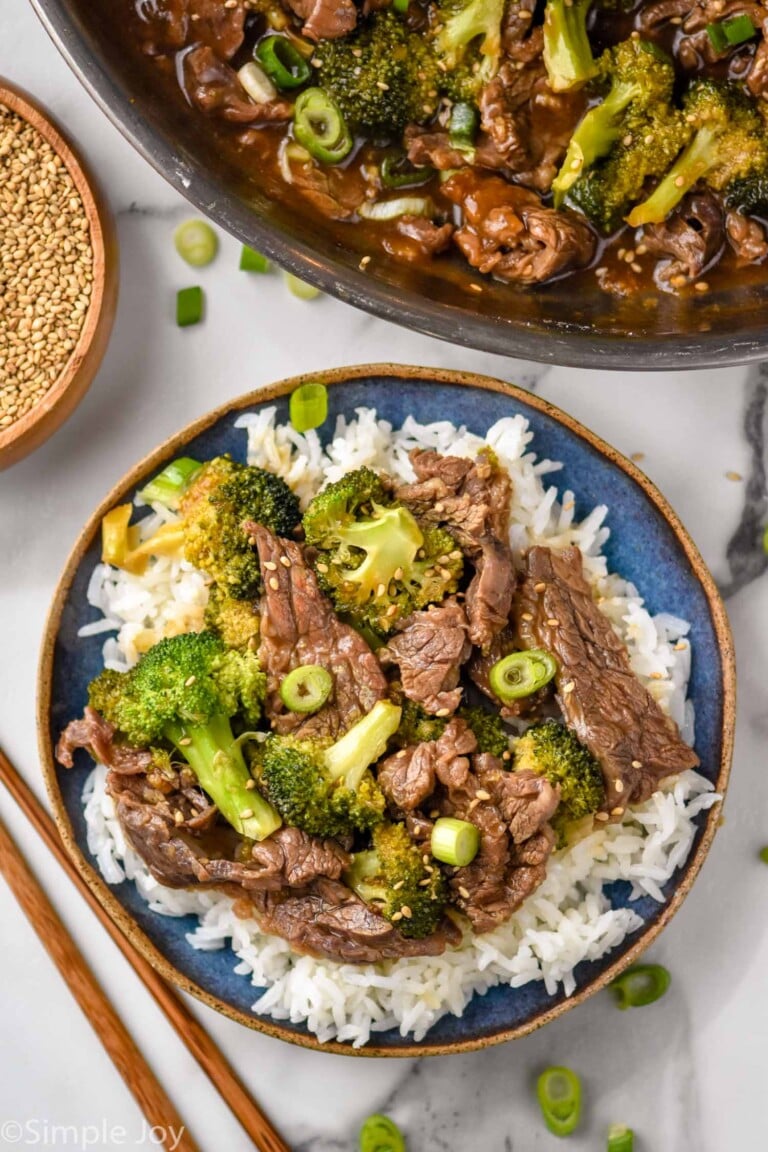 did you make this
Beef Teriyaki