These Cali Alfredo Enchiladas are such a delicious and easy dinner to throw together. Total comfort food!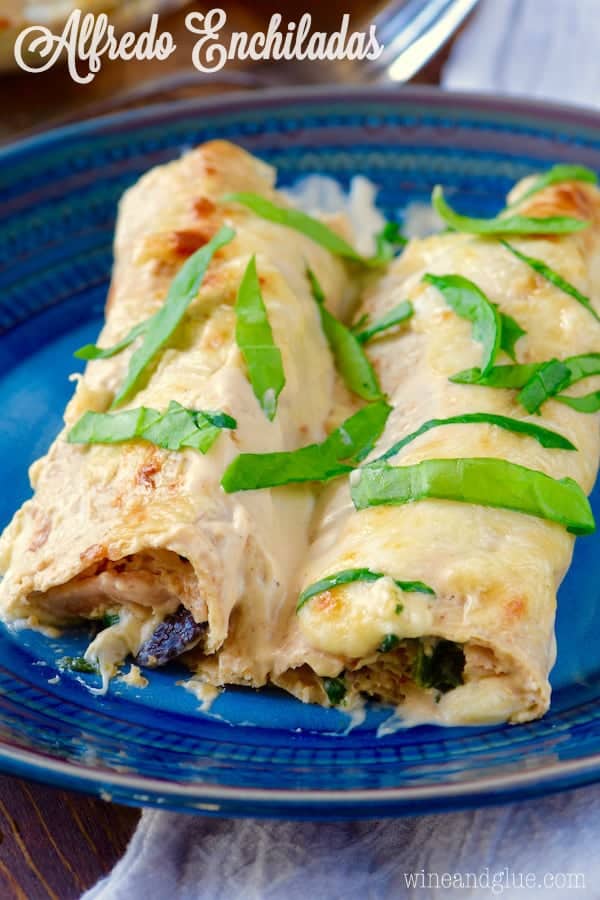 I am so proud to be an ambassador of Chuck E. Cheese's, the sponsor of this post, and the inspiration for these amazing Alfredo Enchiladas! The recipe is at the bottom, but you'll want to see the inspiration for it!
You guys, I'm so excited to be announcing that I am one of the new brand ambassadors for Chuck E. Cheese's, Chuck E's Champions! Earlier this month I had the great opportunity to travel to Dallas, Texas to learn about all the changes that have taken place with Chuck E. in the last few years.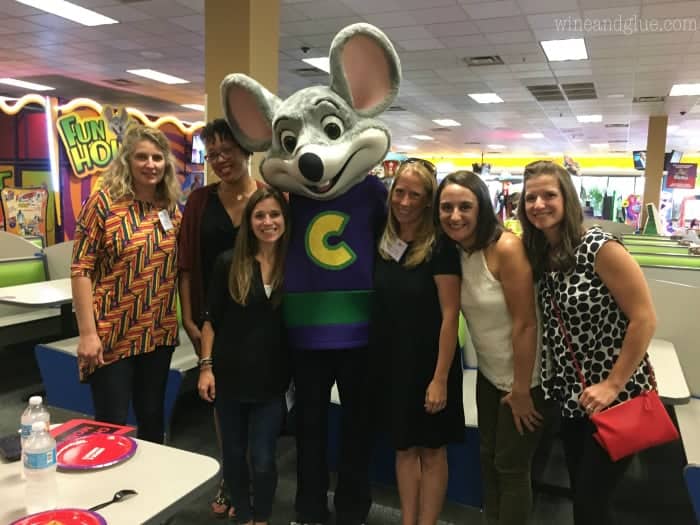 There were so many different things that I learned about Chuck E. Cheese's while in Dallas. But far and away the biggest thing I learned was that in the last two years they have totally revamped their menu. YOU GUYS! Isn't that so exciting?!?! Their CEO came and talked to us and said that while he knows that for years kids have had fun at C.E.C., he has known that parents have just tolerated it. When he became CEO, he wanted it to be something more than them just tolerating it. He wanted parents to enjoy going, and he knew that began with better food.
Enter Chef Gregory.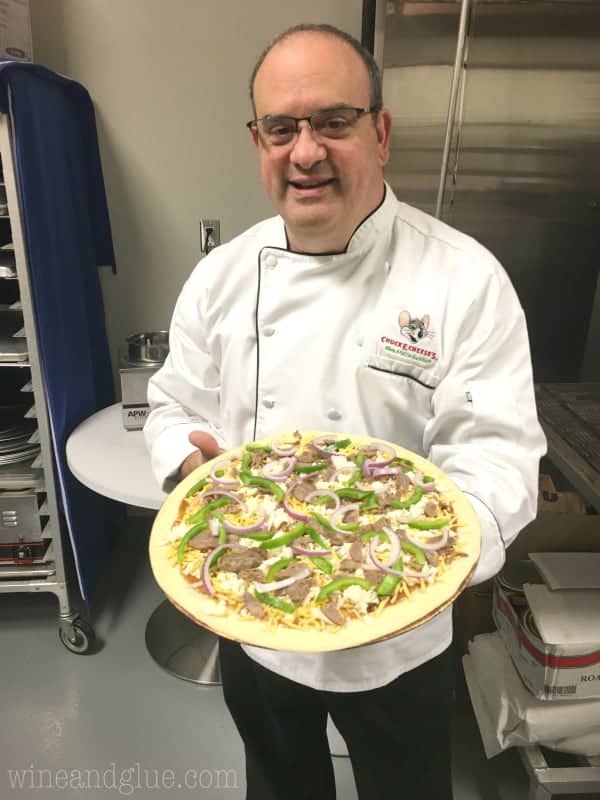 He's a classically trained chef who has come in and done some amazing things with the C.E.C. menu. Seriously, you guys. It's completely different than the pizza you remember that you thought was frozen (it wasn't, but they will be the first to admit that it wasn't awesome).
I think you know me well enough at this point to know that I love good food. And I was totally blown away and impressed with what Chef Gregory has done with the menu. Especially the Mac-Cheesy Pizza (drooooooool). There Chef Gregory is hold the Philly Cheesesteak Pizza (also a total winner). But my total favorite was the Cali Alfredo! The Mac-Cheesy Pizza is only there until December 31st and the Philly Cheesesteak Pizza will bet there from January 1st through March 31st, so check them out and report back!
It is seriously amazing! A great grown up pizza, and what I've used as the inspiration for these Alfredo Enchiladas!
Guess what else they have, ya'll?? WINE!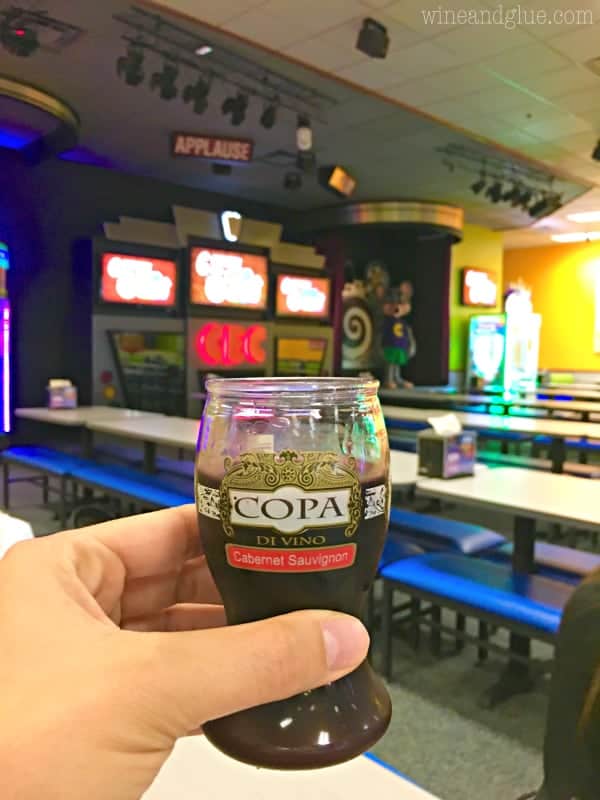 Over the next year or so you are going to hear lots more from me about Chuck E. Cheese and why you should go in and give it another try. P.S. My husband was totally skeptical that the pizza had actually changed, but we went in right after I got back, and he is now a believer. Did you know they beat Pizza Hut in a blind taste test?
I'll also be sharing with you some of the great things that they are rolling out nationwide. One of the things I'm most excited about is their new Play Pass to take the place of tokens. Because, seriously? My kids CANNOT keep track of tokens. The Play Pass even comes with a hand wristlet!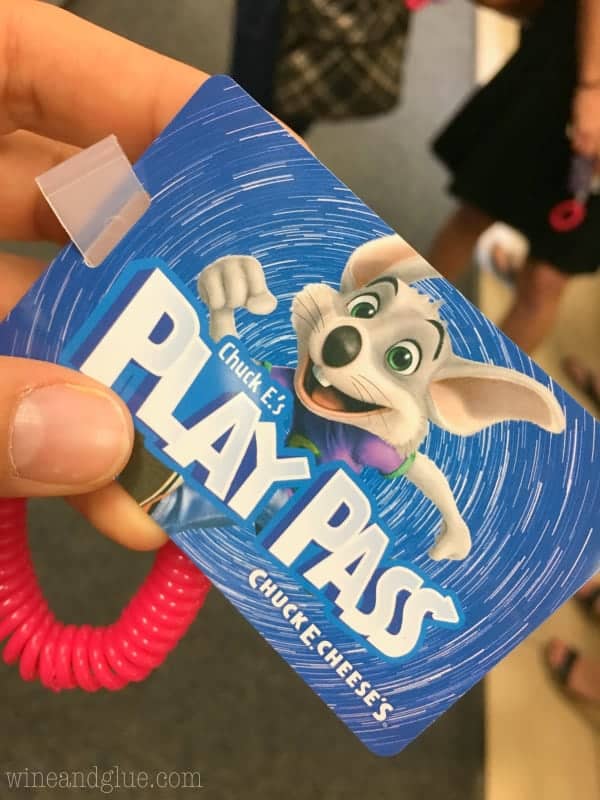 Be sure to follow along over the next year as I pass on deals that are happening, and promise me that you are going to go in and try the pizza and let me know what you think! Right now until the end of October if your kiddo goes to Chuck E. Cheese's in their Halloween costume they get 50 free tickets! And be sure to check out their weekday $5.99 lunch buffet! To keep up with great C.E.C deals, make sure you follow them on Facebook, Twitter, and Instagram.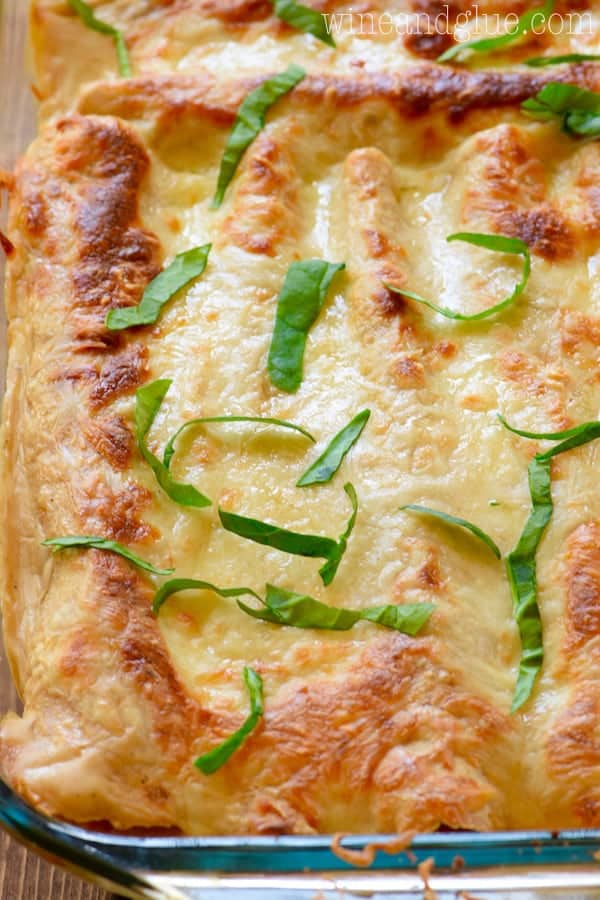 Until you get a chance to try out the new Cali Alfredo Pizza at Chuck E. Cheese's you can try these easy to make Cali Alfredo Enchiladas! They come together really fast, and they are super rich and delicious. They also would be perfect to put together ahead of time and then just throw in the oven right before dinner time!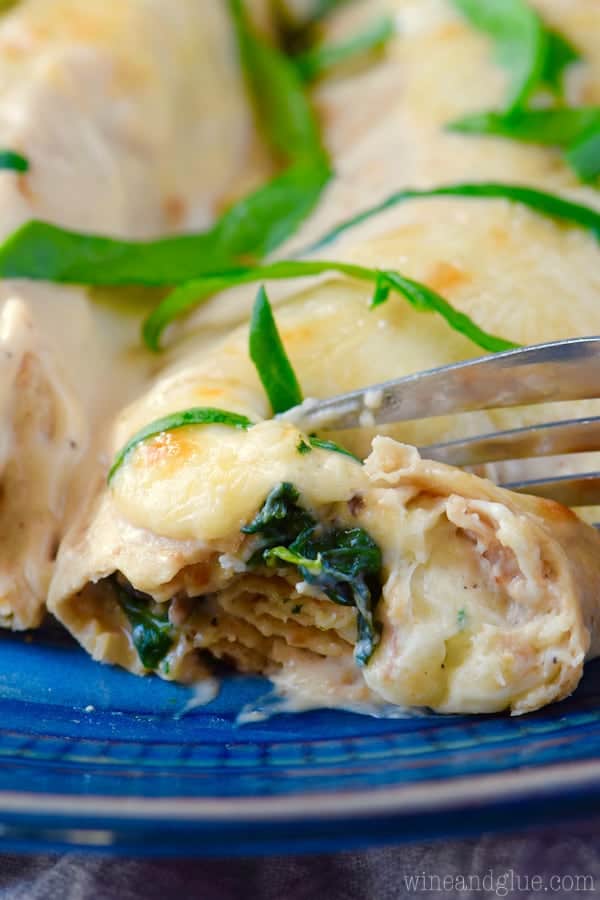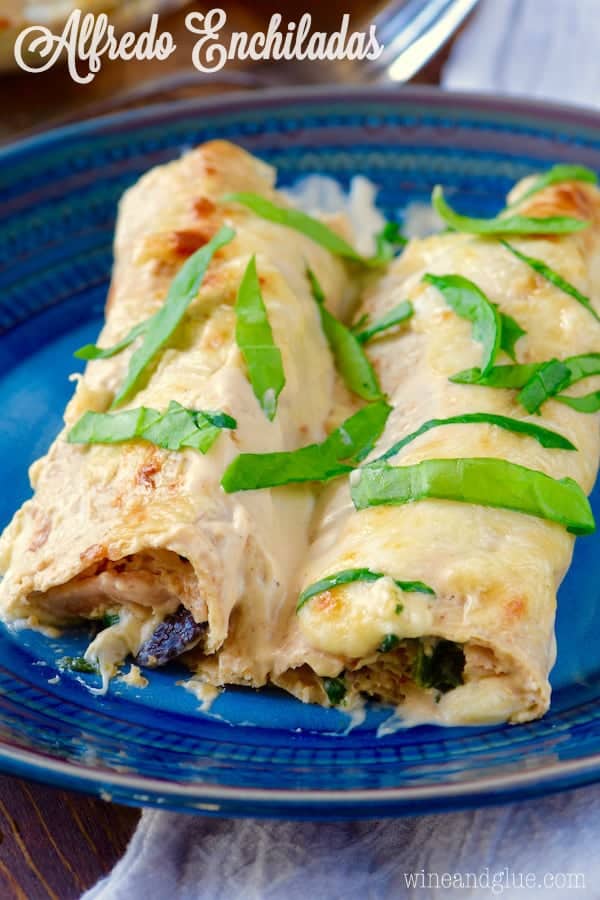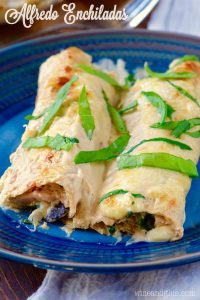 Cali Alfredo Enchiladas
Ingredients
1

TBSP

butter

2

cloves

garlic

minced

8

oz

sliced baby portabella mushrooms

5

cups

fresh spinach

8

oz

cream cheese

room temperature

1/2

tsp

salt

1/4

tsp

black pepper

3

cups

shredded mozzarella

divided

1/2

grated parmesan cheese

divided

2 1/2

cups

cooked shredded chicken

14.5

oz

jar of alfredo sauce

8 to

rtilla shells
Instructions
Preheat your oven to 350 degrees.

In a medium skillet over medium heat, melt the butter. Add the garlic and cook until fragrant, about 30 seconds. Then add the mushrooms, cooking until soft. Add the spinach and cook until wilted. Remove from heat and set aside.

In a large bowl, mix the cream cheese until fluffy. Then blend in the slat and pepper. Stir in 2 cups of the mozzarella cheese and 1/3 cup of the parmesan cheese. Mix in the shredded chicken, and the sautéed vegetables.

Pour enough alfredo into the bottom of a 9 by 13 inch baking dish to cover the bottom.

Divide the cream cheese mixture amongst the tortilla shells, roll them tightly, and place them seam side down into the prepared pan. Top with the remainder of the alfredo sauce, 1 cup of shredded mozzarella, and 1/4 cup of grated parmesan.

Bake, uncovered, for 30 minutes. Broil for 5 minutes, watching closely, and serve immediately.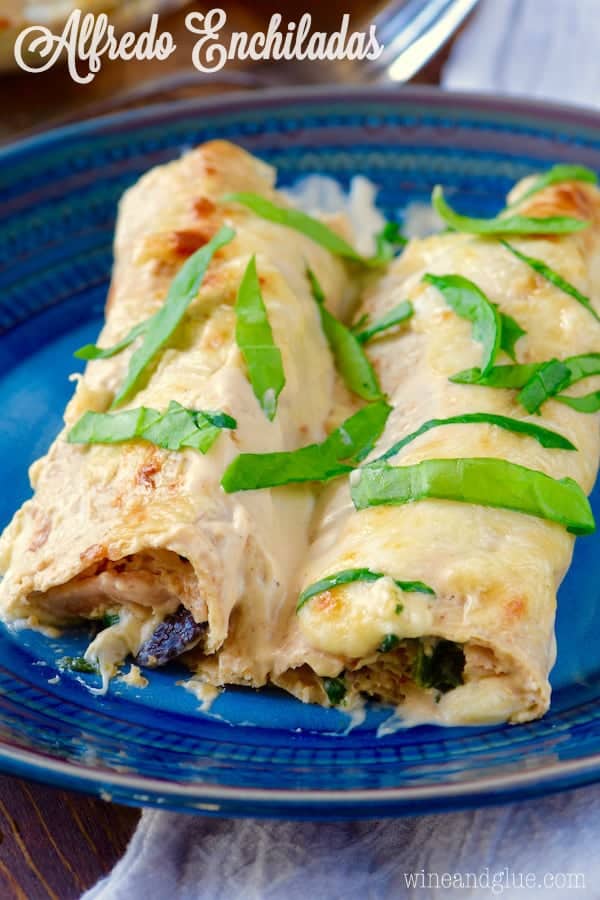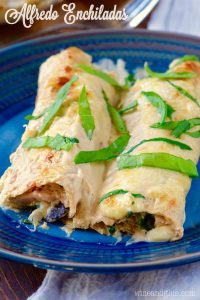 did you make this
Cali Alfredo Enchiladas