My Chicken Enchilada recipe combines simple ingredients to make a comforting dish that you will fall in love with. Our enchiladas are completely from scratch, able to be frozen, and are the perfect dinner recipe.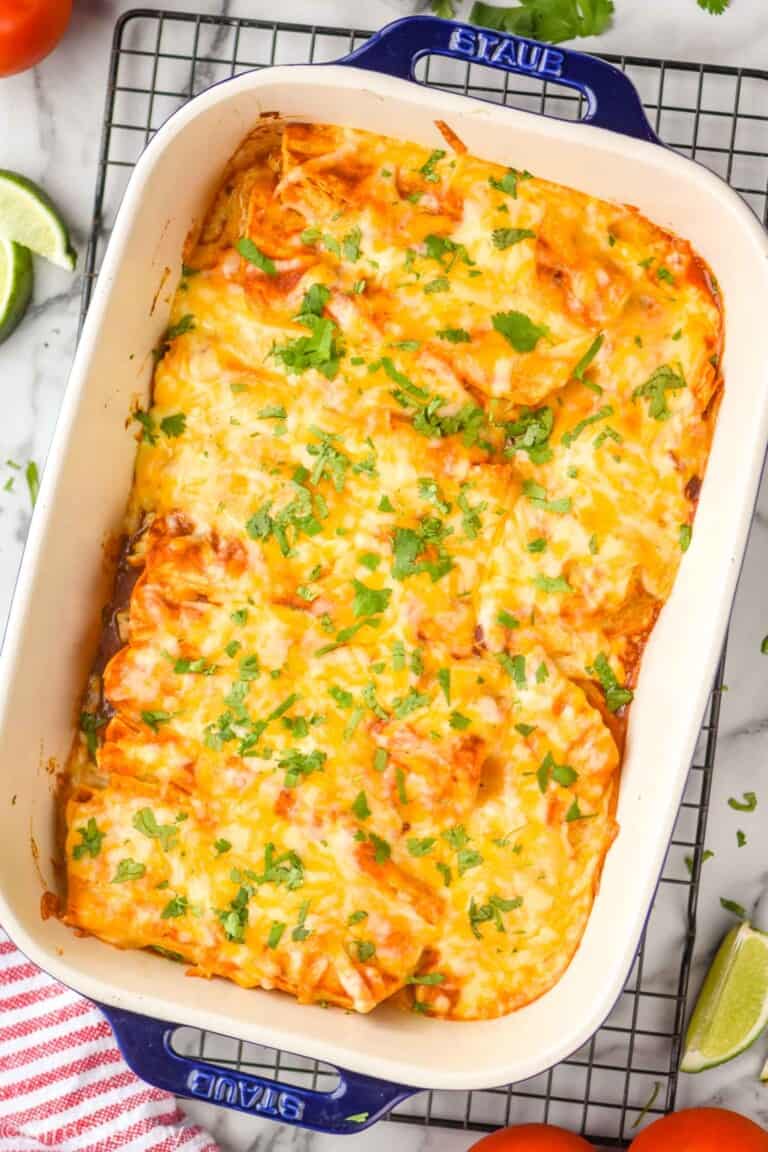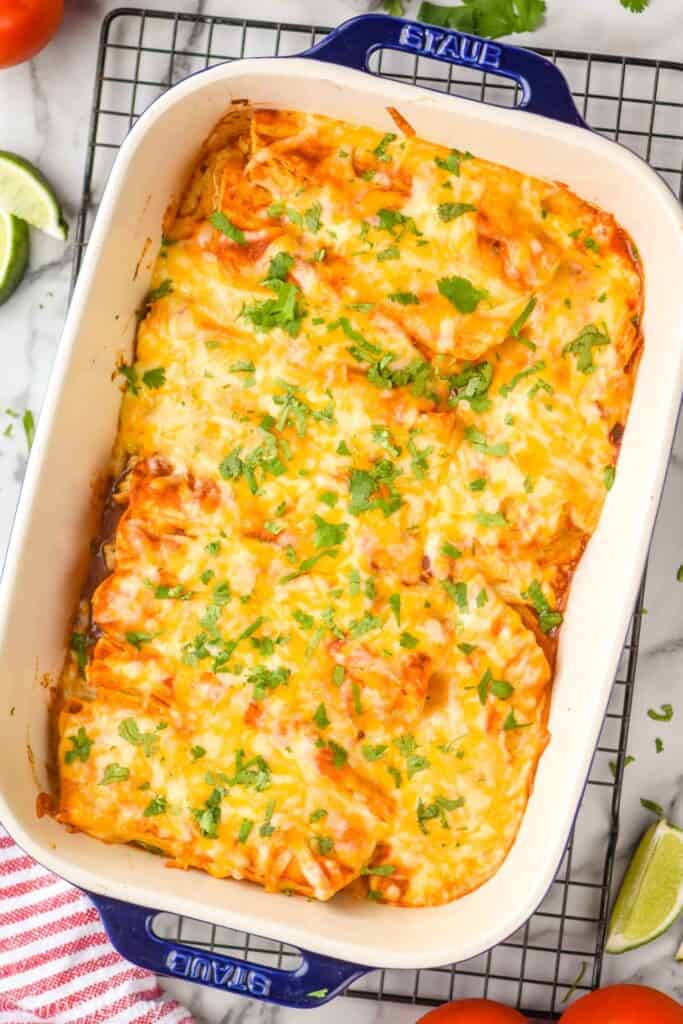 I am over the moon in love with the flavors of enchiladas. At the heart of those flavors is Enchilada Sauce. The combination of a few simple ingredients and spices brings this homemade sauce together quickly while blowing your mind. It is the foundation for all things enchiladas on Simple Joy and so it is of course the base for this chicken enchilada recipe. This great recipe will make you always passing over the grocery store's canned enchilada sauce.
The best part about making chicken enchiladas completely from scratch is that you can control the spiciness. If you have picky eaters in your house who can't handle heat, they will love this recipe as is. But if you love things spicy I have a tip in our FAQ box at the end of the post for cranking up the heat.
These cheesy chicken enchiladas will become a favorite in your house.
Reader Review
Easy. Delicious. Will definitely make this again! Lisa, your recipes never disappoint!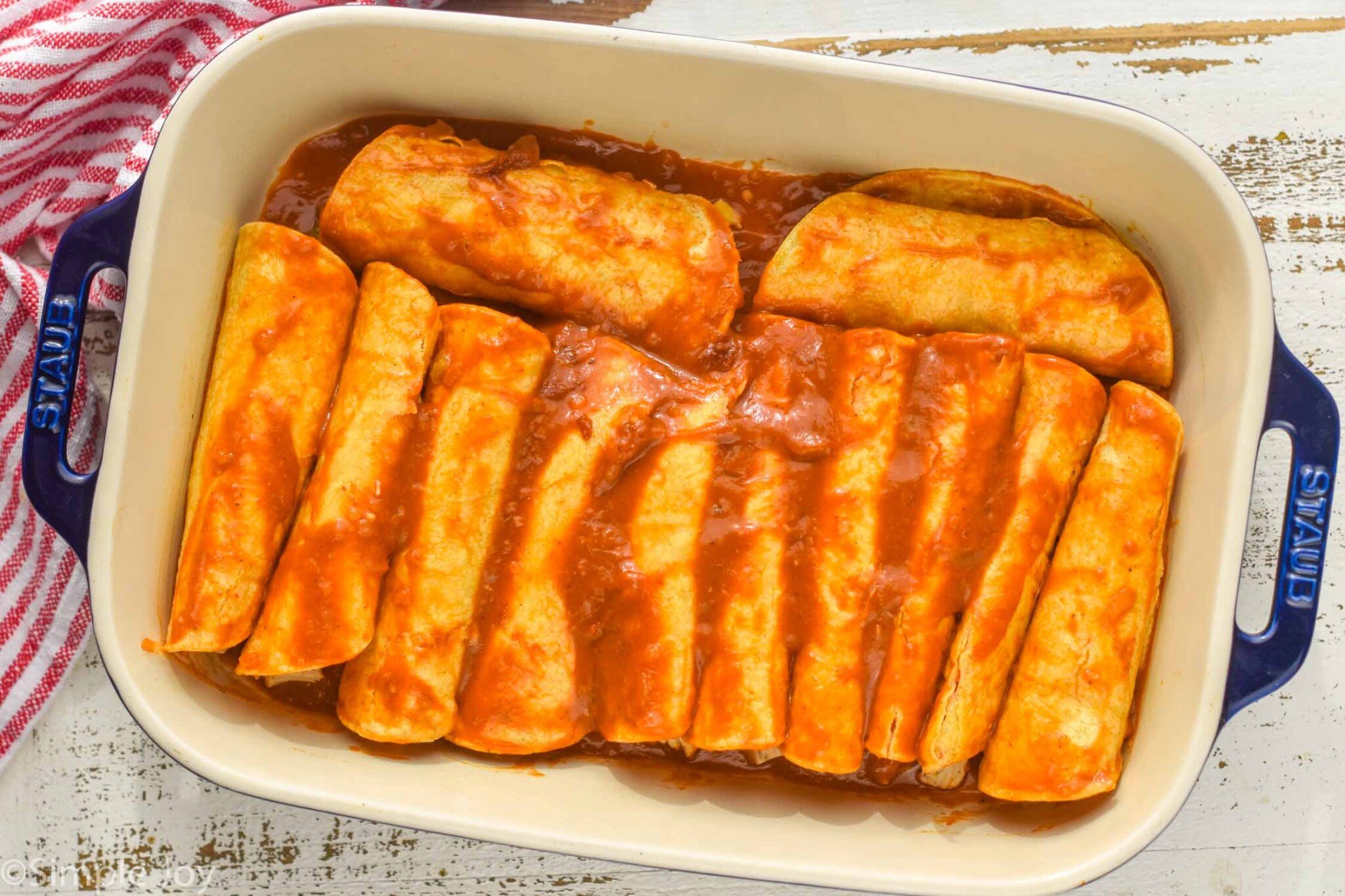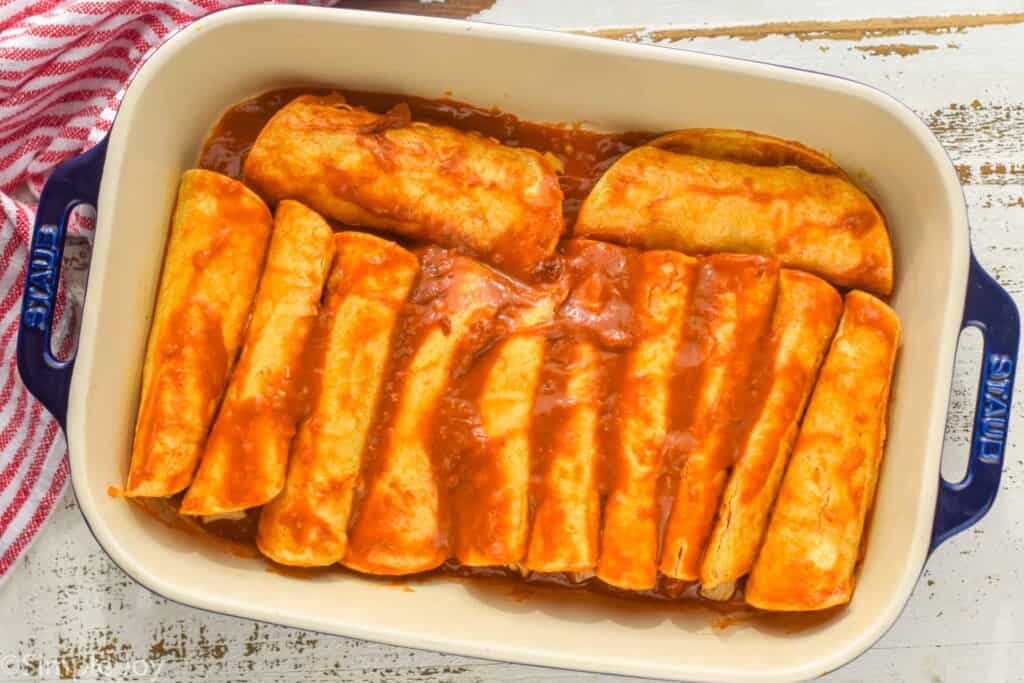 How to Make Chicken Enchiladas
This is a brief overview of how to make this chicken enchilada recipe. For the full recipe with all of the measurements, please se the recipe card at the bottom of the post.
Make the sauce: Enchilada sauce is the combination of sautéed onion, spices, flour, tomato sauce, chicken stock, and garlic. We like to blend ours smooth, but it isn't necessary.
Make the filling: Our very simple chicken enchilada filling is made from shredded chicken, salt and pepper, diced green chiles, and cheese.
Dip and fill the corn tortillas: After blending the enchilada sauce, pour it back in the skillet you made it in, and working one at a time dip the corn tortillas and fill them.
Put it all together: As you dip and fill the corn tortillas, put them seam side down in a casserole dish (I like to add 1/2 cup of the enchilada sauce to the bottom).
Top and bake: If there is any remaining enchilada sauce, pour that over the top. Top with shredded cheese and bake for 20 minutes.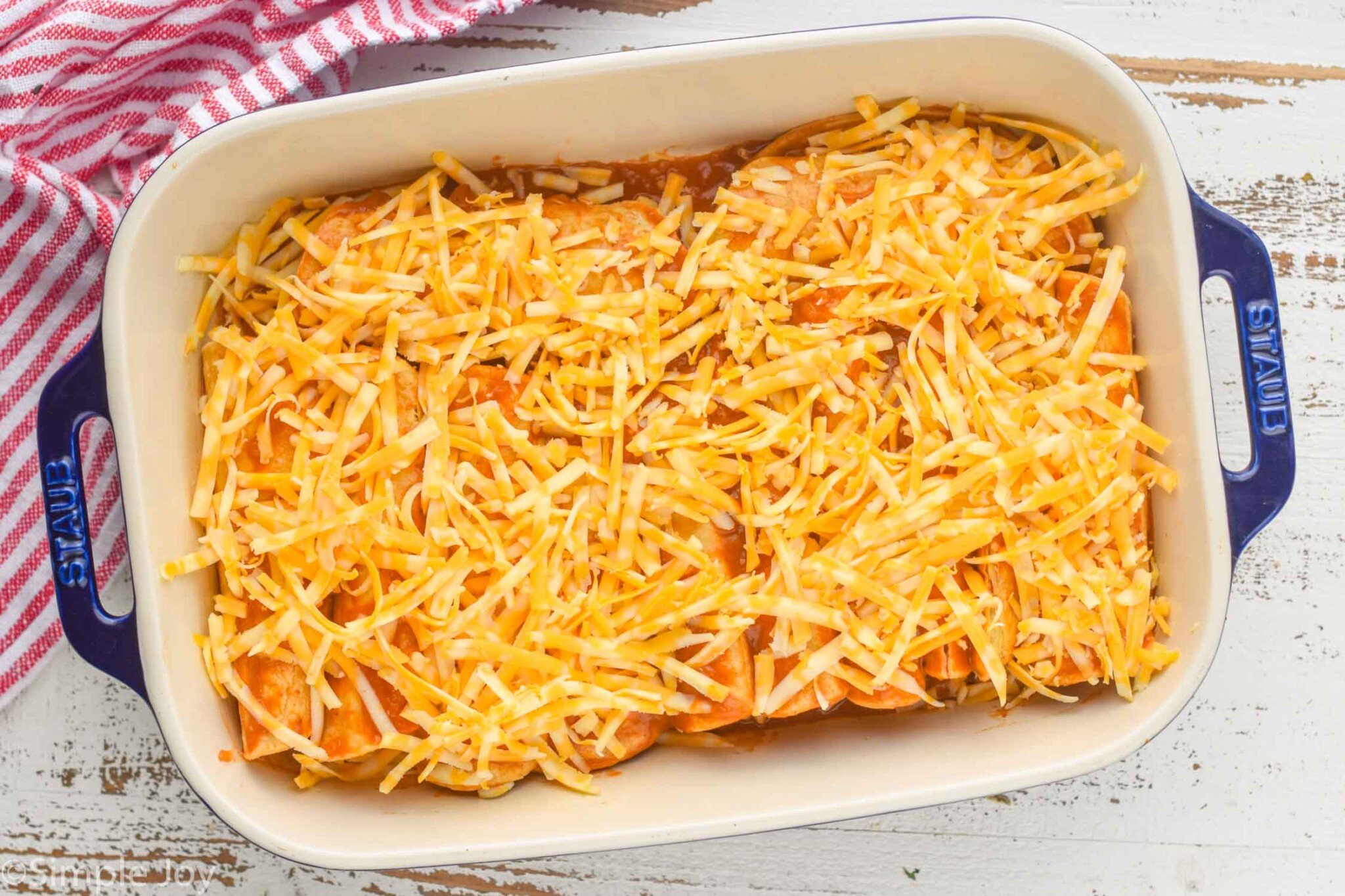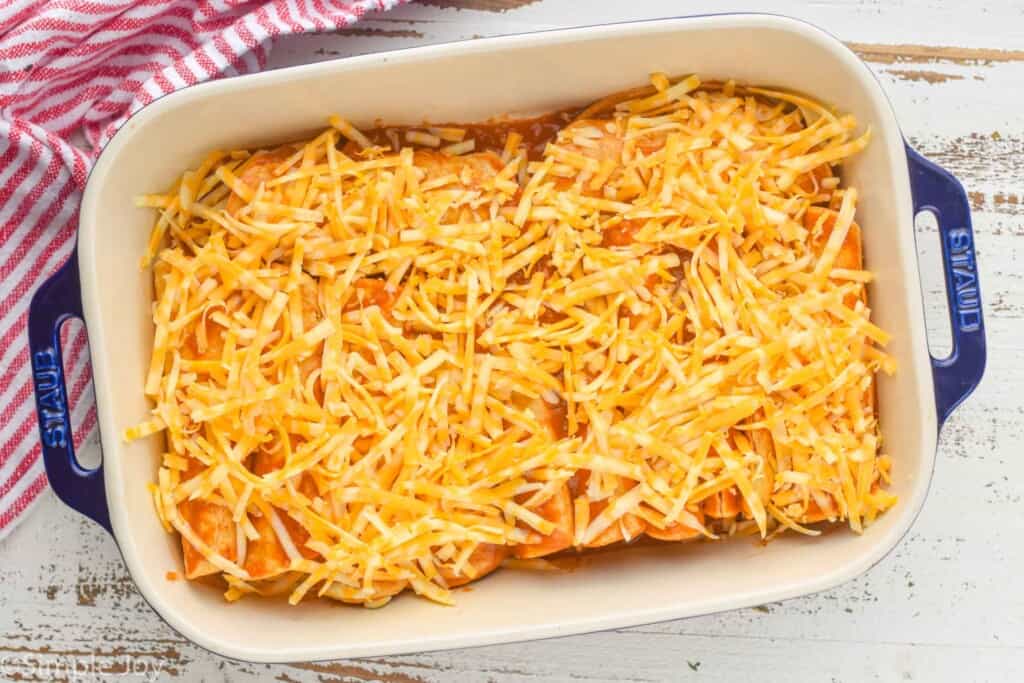 Dipping Tortillas for Enchiladas
Dipping tortillas in the enchilada sauce is what allows the corn tortillas to roll easily for this recipe. This step also deepens the flavor of the enchiladas in a way that just pouring the sauce over the rolled enchiladas does not. It is a messy step, but a necessary one.
Shredded Chicken
This recipe calls for cooked shredded chicken. We have a few different options for this.
Use a rotisserie chicken. The easiest of the options is to use a rotisserie chicken from the grocery store.
Boil chicken breasts. Put 1 pound of raw chicken in large sauce pan. Cover with water and bring to a boil. Simmer for 4 to 10 minutes or until the chicken reaches 165 degrees. Remove it from the water and shred.
Cook chicken in the Instant Pot. You can get directions for how to make shredded chicken in the instant pot here.
Use frozen shredded chicken. This is always my vote. I like to make a big batch of shredded chicken and then keep it in the freezer. It thaws so quickly and makes dinners like this much faster.
Freezing Cooked Chicken
Freezing cooked chicken to keep on hand is the perfect short cut for dinners during a busy weeknight! Learn how to freeze cooked chicken with these simple easy steps.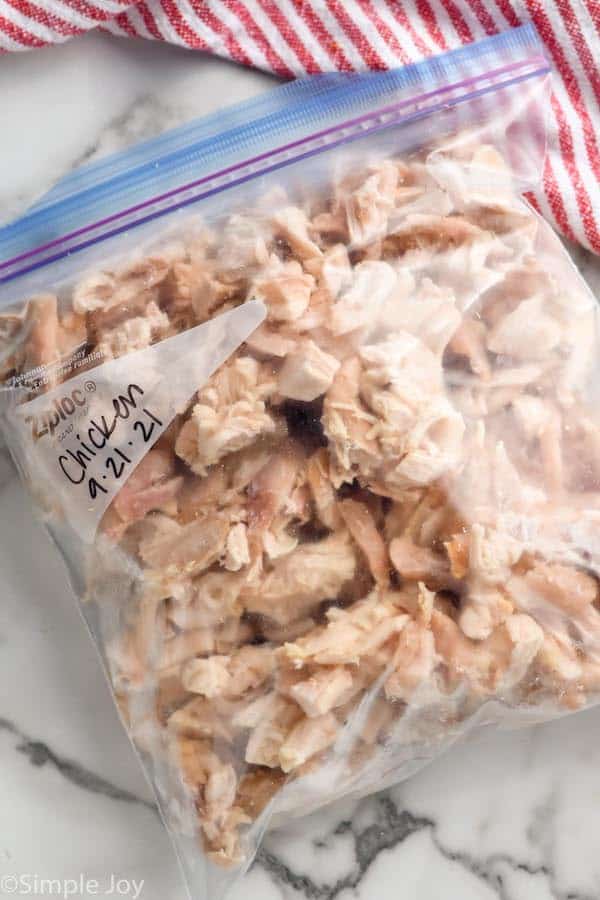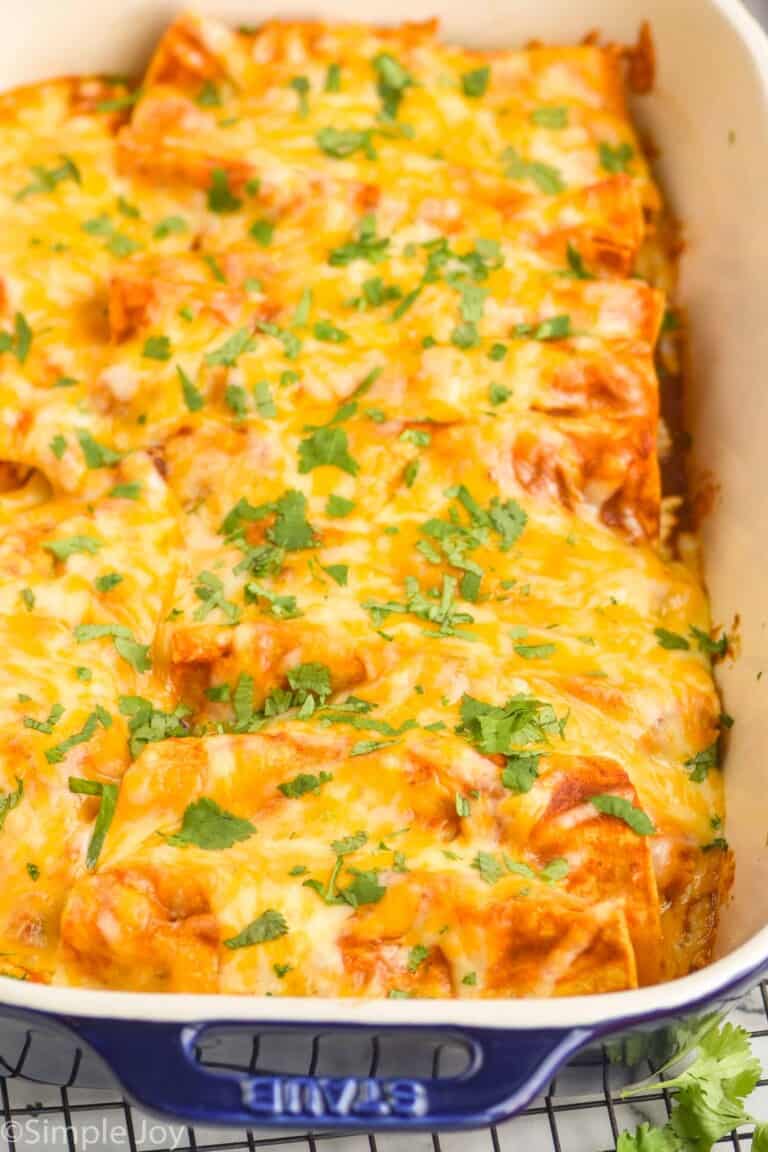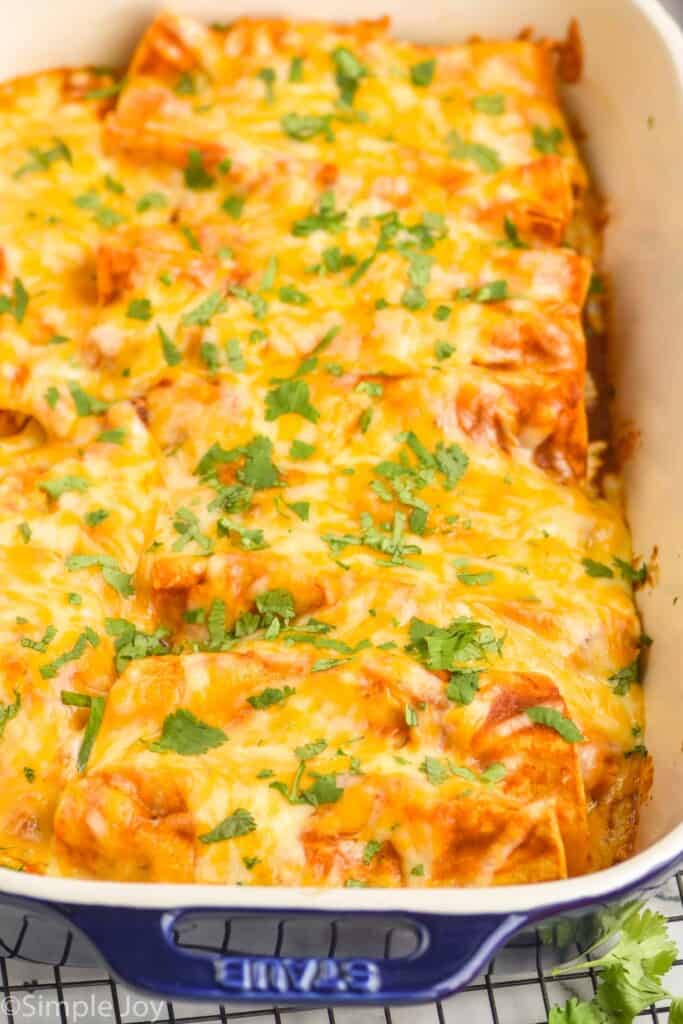 Making Ahead
This recipe can be made up to 24 hours ahead of time. Cover the unbaked casserole dish (after step 6) and refrigerate. When you are ready to make them, remove the cover and bake in a preheated oven for 20 to 25 minutes or until the cheese is bubbling.
Freezing
If you would like to store this casserole in the freezer, I suggest doing so before baking. Make the recipe through step 6 in a disposable baking dish. Wrap it 3 times with plastic wrap. Store it in the freezer for up to three months.
When you are ready to make it, remove it from the freezer and take off all the wrappings. It can be put right from the freezer into a 350 degree preheated oven. Bake for 45 minutes or until the middle is hot and the cheese is bubbling.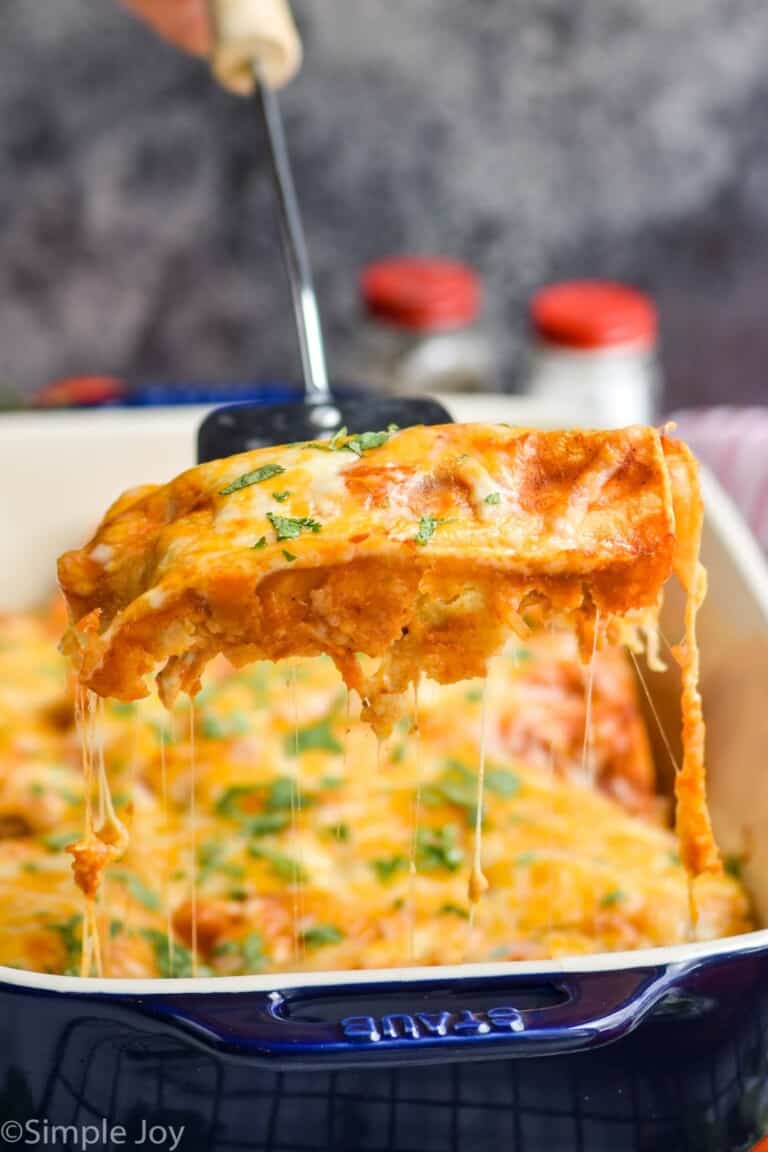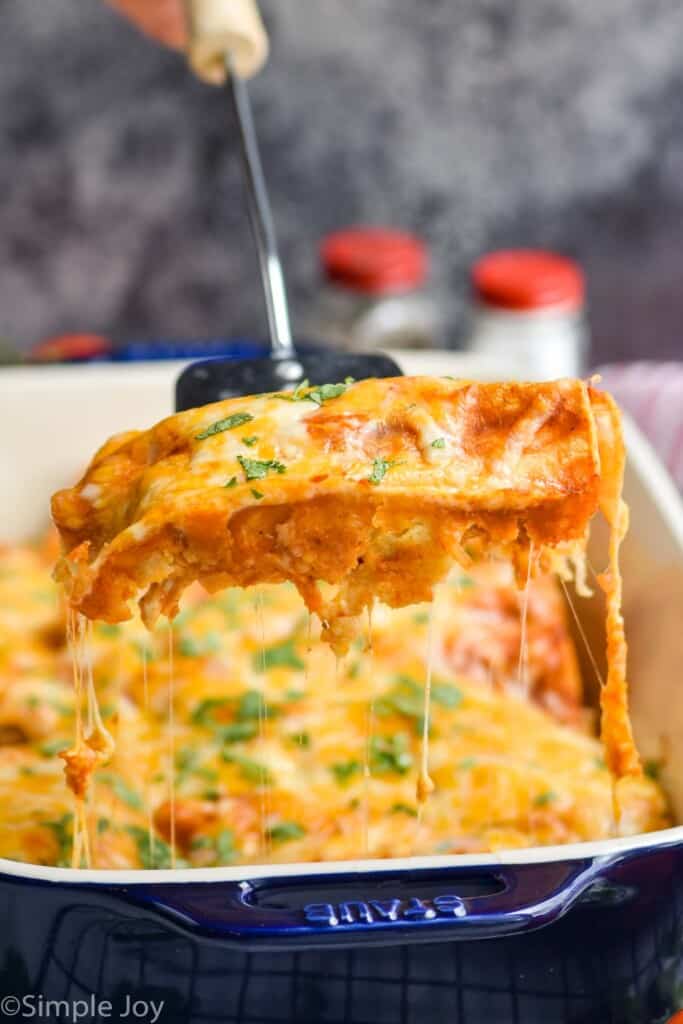 Using Disposable Baking Dishes
I normally do not encourage disposable bags and containers, but in the case of freezing casseroles I think it's important.
Making a casserole that you plan on freezing in a disposable baking dish allows you to put it right from the freezer to the hot oven. If you do this with a ceramic or glass baking dish, you run the risk of the baking dish shattering in the hot oven because of the quick temperature change.
Storing Left Overs
If your family has any left overs, I would suggest covering the baking dish that you made these in and storing them in the refrigerator in that. These can be stored in the refrigerator for 3 to 5 days.
As with any recipe, use your best judgement when it comes to left overs.
Reheating Chicken Enchiladas
Reheat your chicken enchiladas, covered in a 350 degree oven. Bake for 15 to 20 minutes depending on how big of a portion you are reheating.
FAQ
Can I use ground beef instead of chicken?
Absolutely. I have a recipe for ground beef enchiladas that is almost the same.
Can I use flour tortillas?
Yes! If your family prefers flour to corn, use flour tortillas. And then there is no need to dip them in the enchilada sauce. You can skip that step and just top them with the enchilada sauce.
Is this recipe spicy?
No! This is a very kid friendly recipe. It is mild when it comes to spice, but very delicious.
Can I make this recipe spicy?
Yes! Add 1/4 to 1/2 teaspoon of cayenne pepper to the enchilada sauce and buy hot green chiles instead of mild.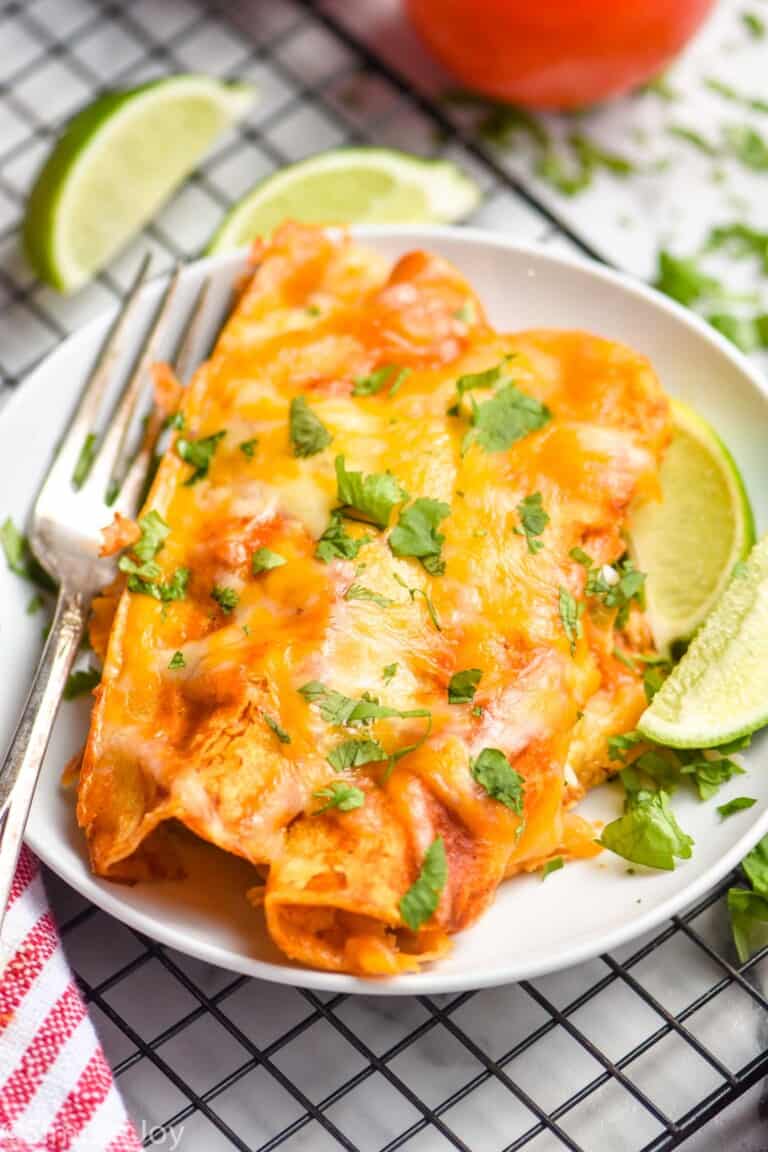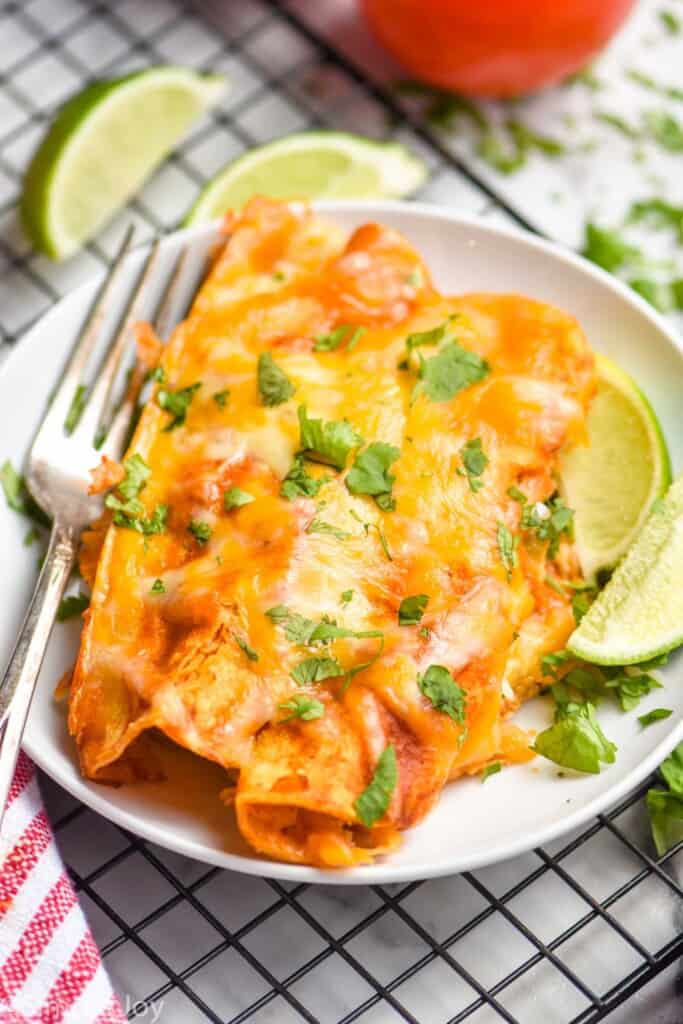 What to Serve with Chicken Enchiladas
While not traditional, I love topping my enchiladas with Pico de Gallo.
This Spanish Rice is easy to make and makes for a great side dish.
You will love my Margarita recipe with anything, but it is especially great with these easy chicken enchiladas.
If you make these shredded chicken enchiladas, leave me a comment and let me know what you think!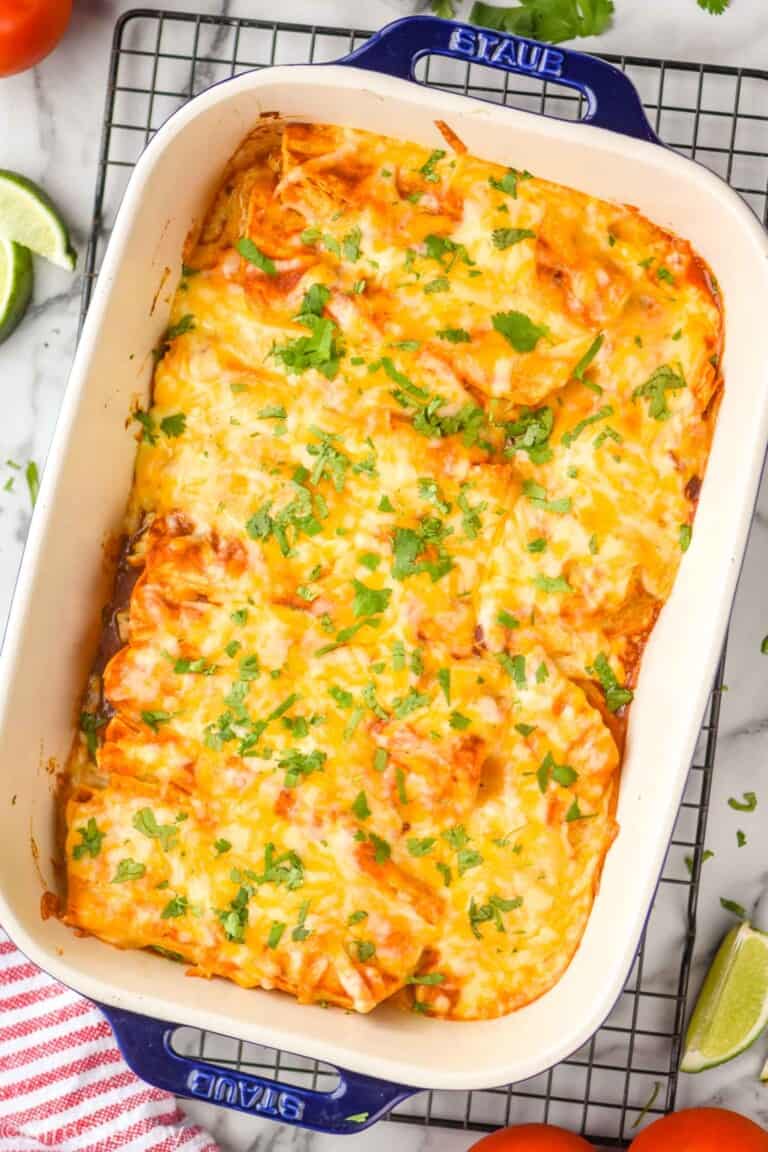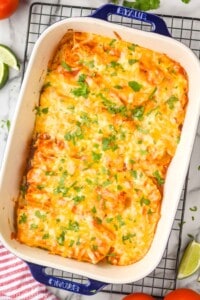 Chicken Enchiladas
Chicken Enchiladas combine simple ingredients to make a comforting dish that you will fall in love with. Our enchiladas are completely from scratch, able to be frozen, and are the perfect dinner recipe.
Ingredients
Enchilada Sauce (see note 1)
1

tablespoon

olive oil

1

small yellow onion

diced

1/2

teaspoon

kosher salt

1 1/2

teaspoons

cumin

2

teaspoons

chili powder

see note 2

1

tablespoon

all purpose flour

15

ounces

tomato sauce

1

cup

chicken stock

2

cloves

garlic

minced
For Enchiladas
3

cups

shredded chicken

(read tips for shredded chicken here)

1/2

teaspoon

salt

1/4

teaspoon

black pepper

4.5

ounces

diced green chiles

10

corn tortillas

3

cups

shredded colby jack cheese

see note 3
Instructions
Preheat your oven to 350 degrees. Spray a 9 by 13 inch baking dish with cooking spray and set aside.

In a large skillet for the enchilada sauce, heat 1 tablespoon oil over medium heat. Add 1 diced onion and 1/2 teaspoon kosher salt. Sauté until the onion is translucent, about 5 minutes.

Stir chili powder and cumin into the onion for the enchilada sauce and cook for about thirty seconds. Then stir in 1 tablespoon all purpose flour. Slowly whisk in chicken stock. Then stir in the tomato sauce and minced garlic. Bring to a simmer and cook, stirring occasionally for 5 minutes.

Transfer the enchilada sauce to a blender and blend to make smooth (optional). Pour 1/2 cup in the bottom of the prepared baking dish. Add the rest of the enchilada sauce back to the skillet you cooked it in.

In a large bowl, combine the chicken, salt, pepper, chiles, and 1 cup of cheese.

Working with one tortilla at a time, dip it in the enchilada sauce. Then add 1/4 cup of the chicken filling. Roll and place seam side down in the prepared baking dish. Continue with all 10 tortillas. Pour the remaining enchilada sauce over the top, and then top with the remaining cheese.

Bake uncovered for 20 minutes or until the cheese is bubbly.
Notes
You can replace this enchilada sauce recipe with two cups of store bought sauce.
This recipe is mild. If you would like to make it spicy, add 1/4 to 1/2 teaspoon of cayenne pepper to the enchilada sauce. You can also buy hot green chiles instead of mild.
The preparation time for this recipe includes shredding Colby Jack cheese from the block. I highly recommend using block cheese and shredding it yourself as it melts significantly better.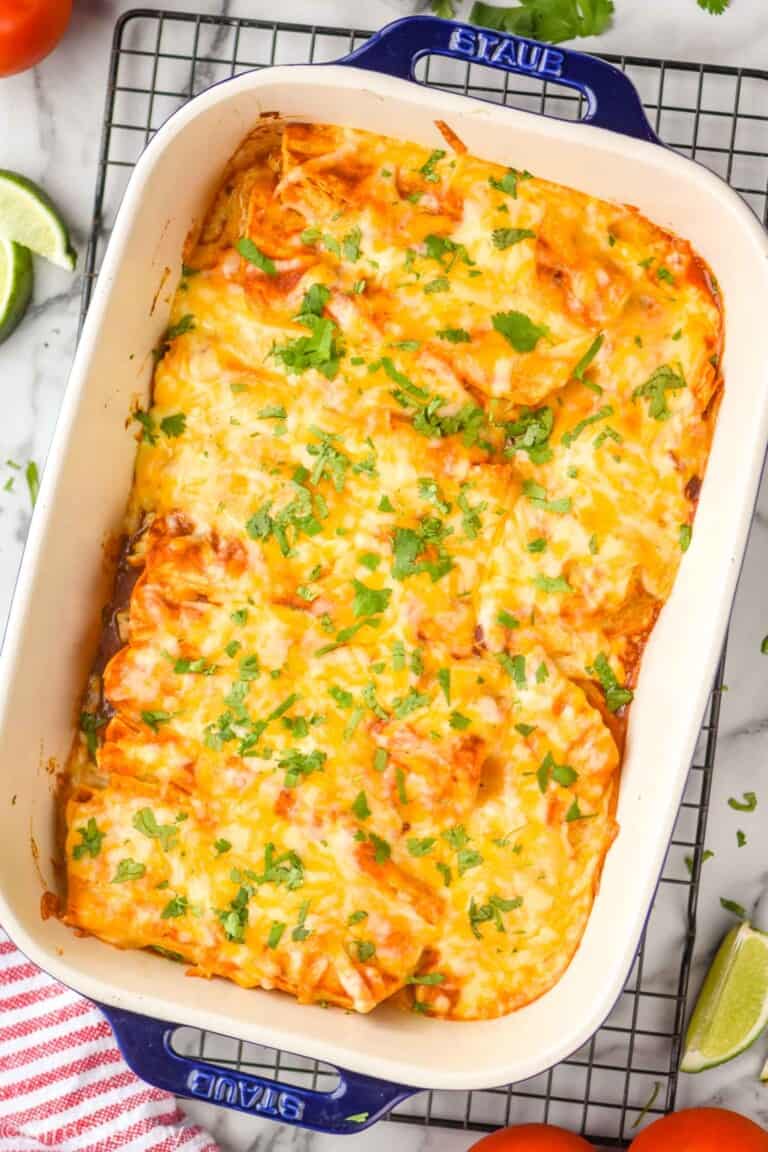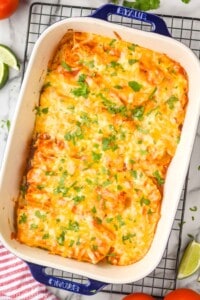 did you make this
Chicken Enchiladas