This Chicken Florentine recipe is a quick skillet meal that combines pan fried chicken with a creamy béchamel sauce and wilted spinach. This has all the hallmarks of a fancy dinner, while actually being a quick weeknight meal.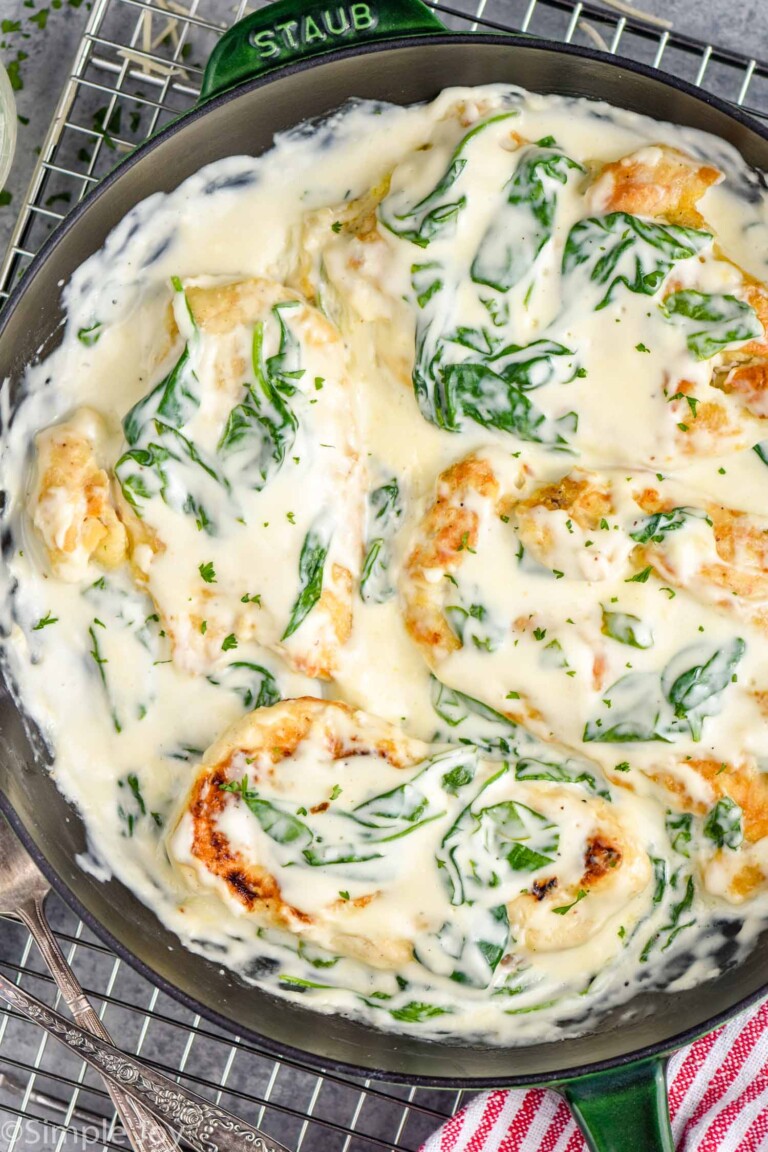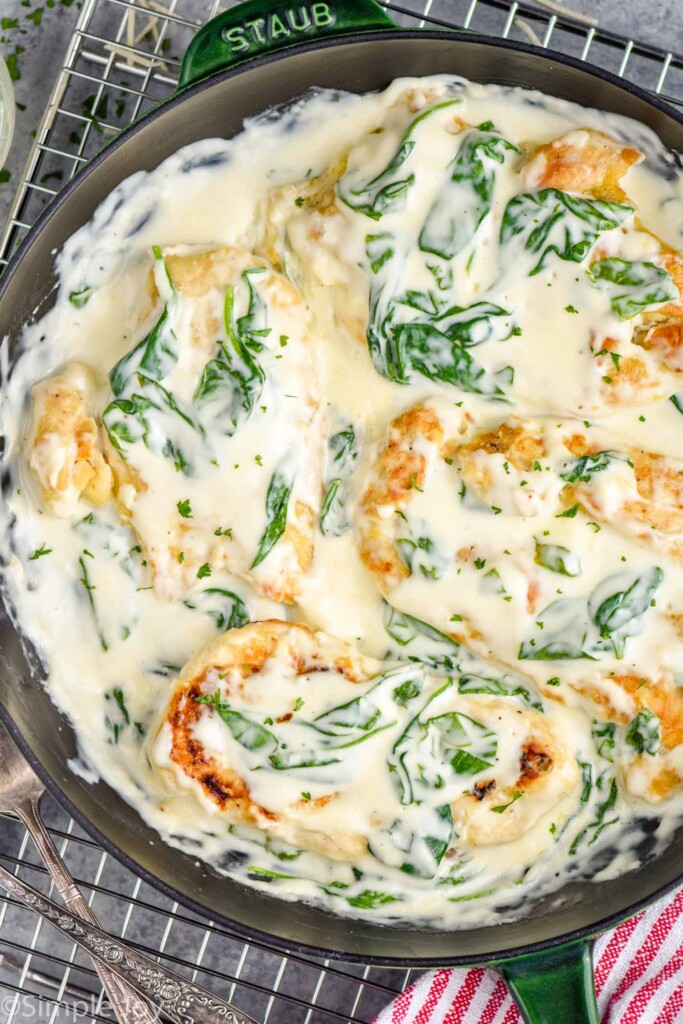 Chicken Florentine gets its start in French cooking. The basis of this type of dish usually includes cooked spinach, a protein, and a Mornay sauce. A Mornay sauce is a type of béchamel, or cream sauce, that has the addition of melted cheese.
In this quick version of Chicken Florentine, we are taking all of those elements, but simplifying. The end result is a delicious creamy sauce over lightly fried chicken (without the heavy breading) and some spinach. We serve ours over linguine and everyone in our family adores this meal.
Reader Review
I. AM. FLOORED! It was so incredibly delicious and easy!!! My husband and two teenagers loved it as well! My husband even said this was his new favorite and asked me to make it again soon. Thank you for making me look like a rock star in the kitchen!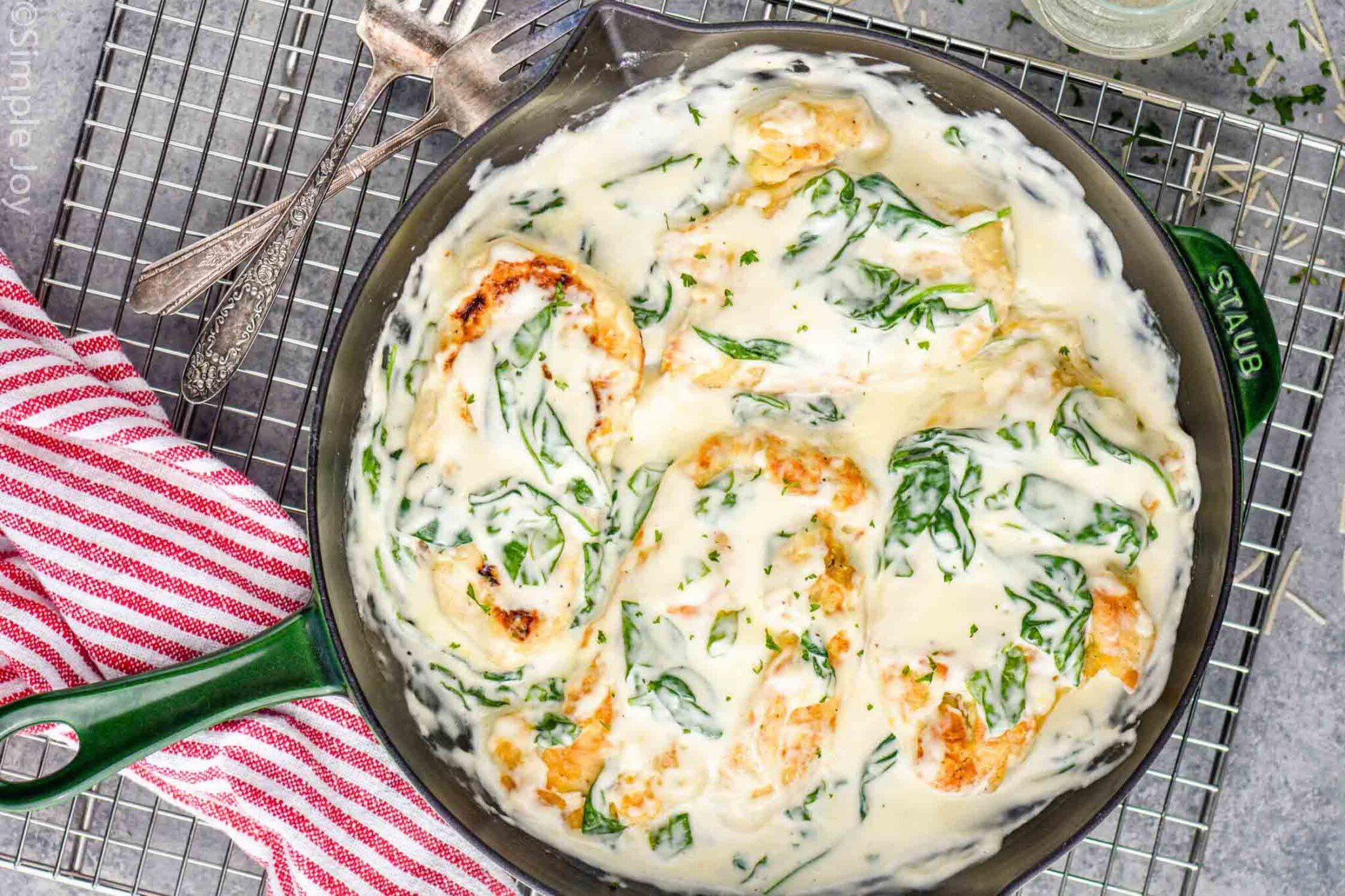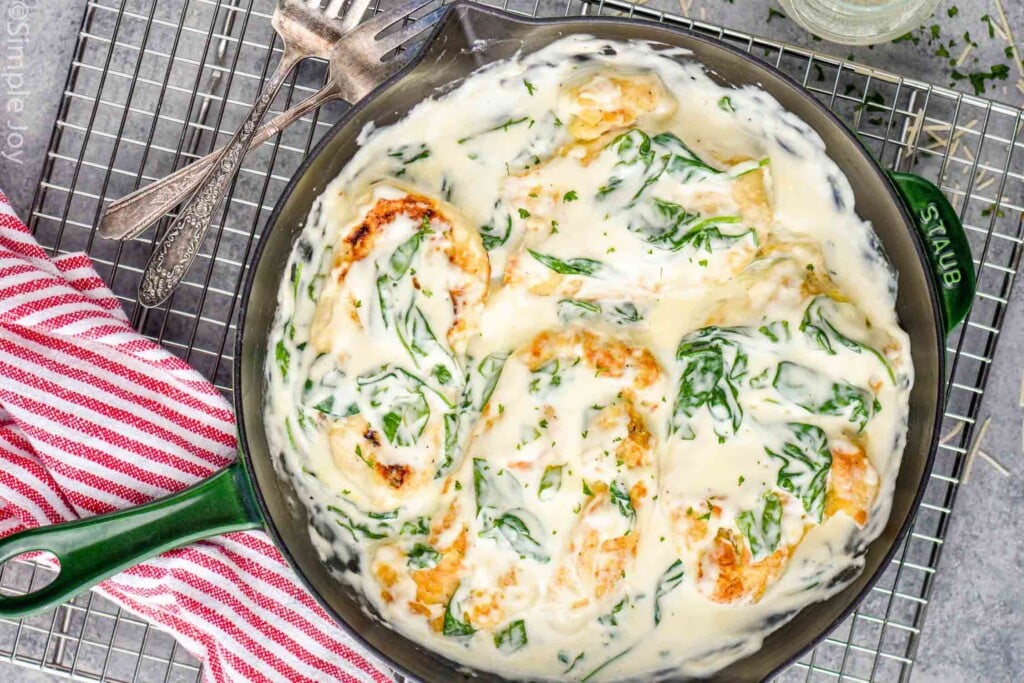 How to Make Chicken Florentine Recipe
This is a brief overview to show you how simple this dinner recipe is. But for more detailed instructions and all the measurements, please see the full recipe at the bottom of this post.
Prepare the chicken. We are going to cut the chicken into cutlets, season them, and then dredge them in flour. You can read more on this below.
Pan fry the chicken. Heat up some olive oil in a skillet and then cook the chicken for 6 minutes on each side. Remove it from the pan.
Make the sauce. Without cleaning the pan, melt some butter. Then whisk in some flour. Slowly add in some white wine, scraping up the browned bits as you go. Slowly whisk in some chicken stock and then heavy cream. Let the sauce simmer for two minutes.
Finish it off. Finally, stir in some grated Parmesan, seasonings, and spinach. Then serve over linguine.
Cutting Chicken into Cutlets
Whenever I make a dish like this that starts with pan fried chicken, I like to cut the chicken into cutlets. It makes cooking them go very fast. To cut them into cutlets, you want a sharp knife, and then you want to cut them width wise like you are going to butterfly them open.
Most packages of chicken these days will give you two large breasts that together equal one pound. This is perfect to cut into four cutlets for meals like this.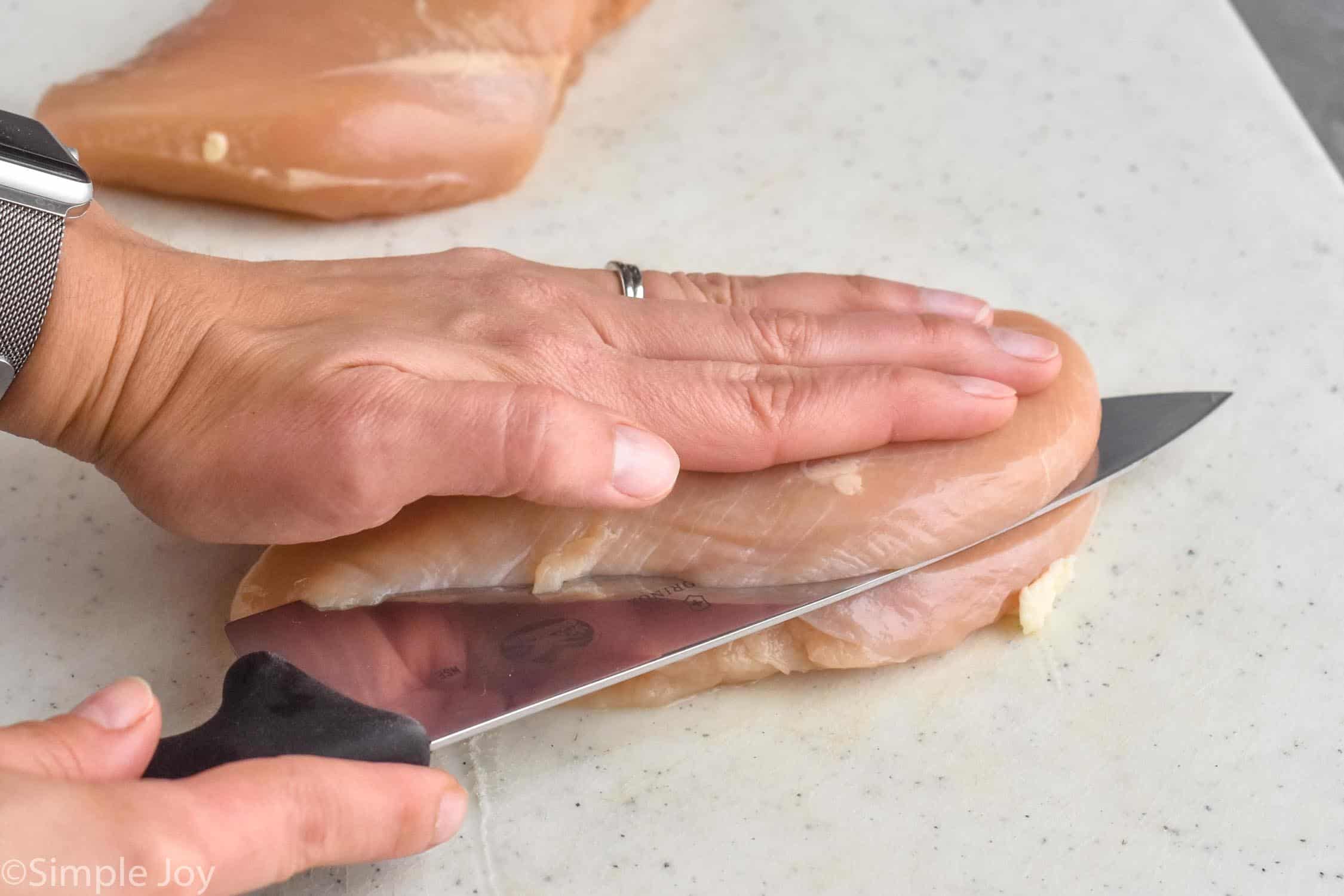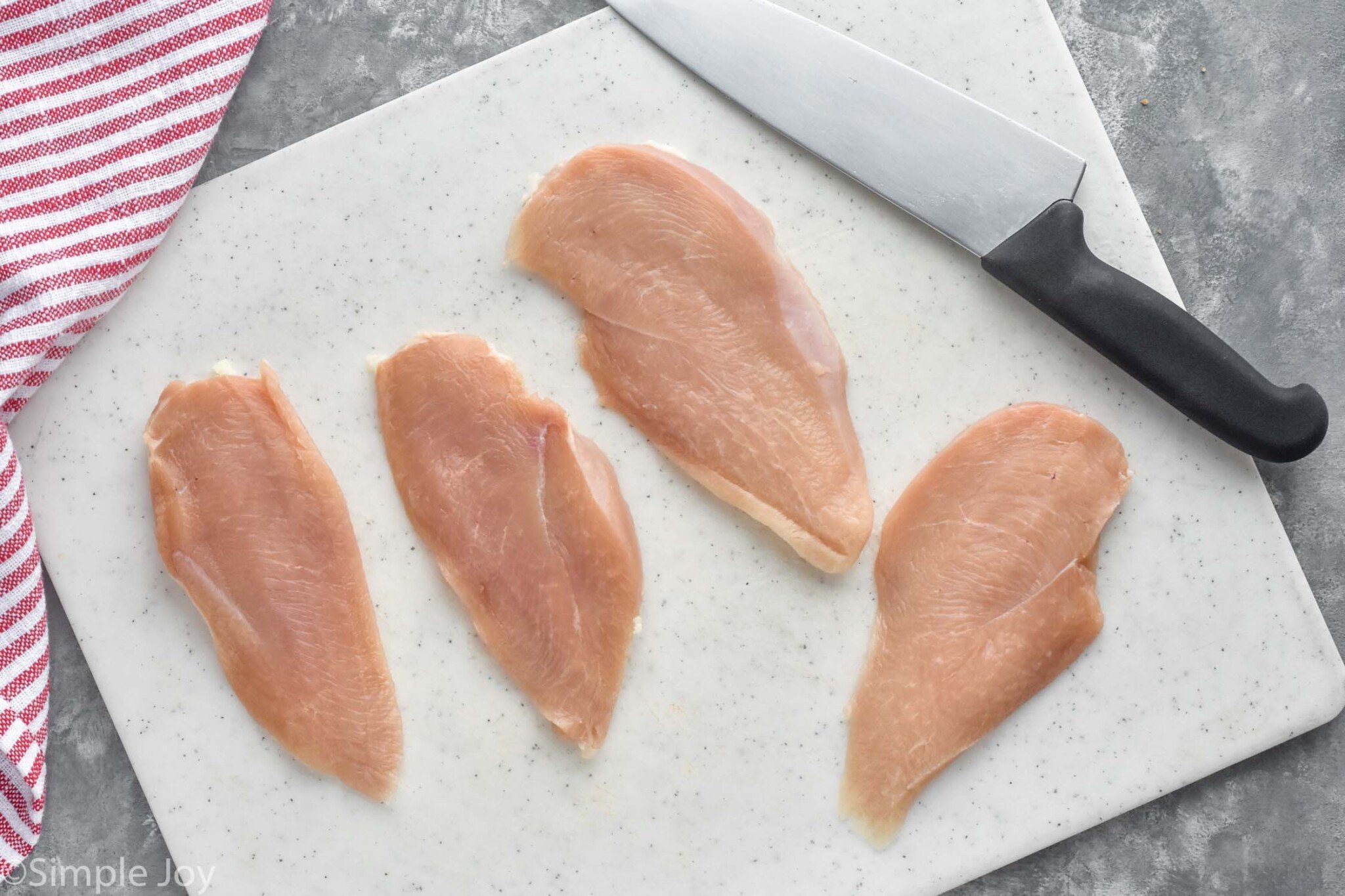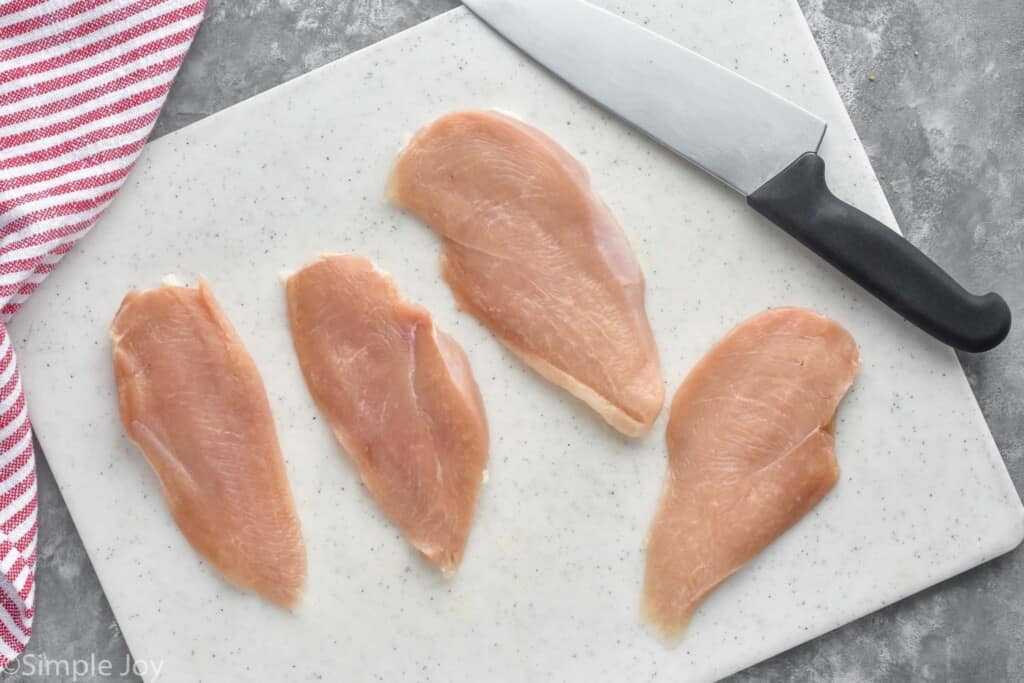 Dredging Chicken
While some Chicken Florentine recipes call for breading and frying the chicken, we are going to take a lighter approach. Dredging chicken, or any protein, is when you lightly coat it in something like all purpose flour or corn meal. You then cook it in a little bit of oil and get the nicest little crisp outer edge.
The one thing I want you to keep in mind is to season the chicken with salt and pepper before dredging. If you season after you dredge, the seasoning won't stick.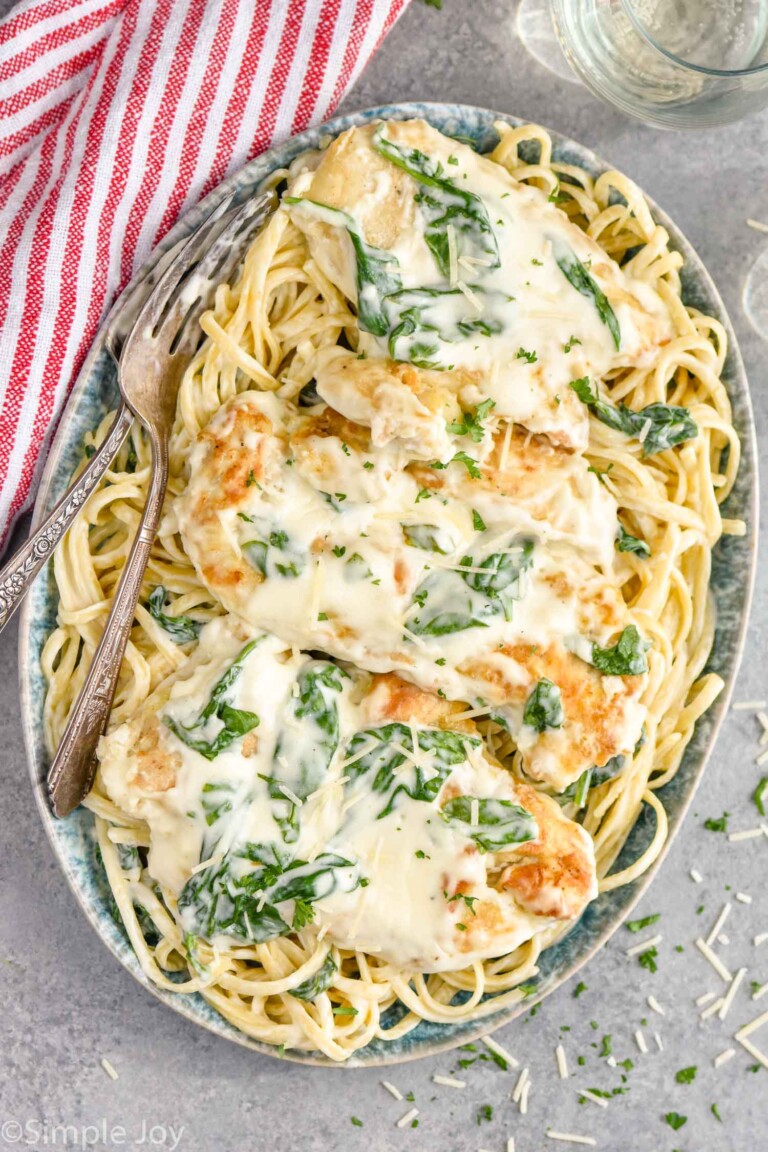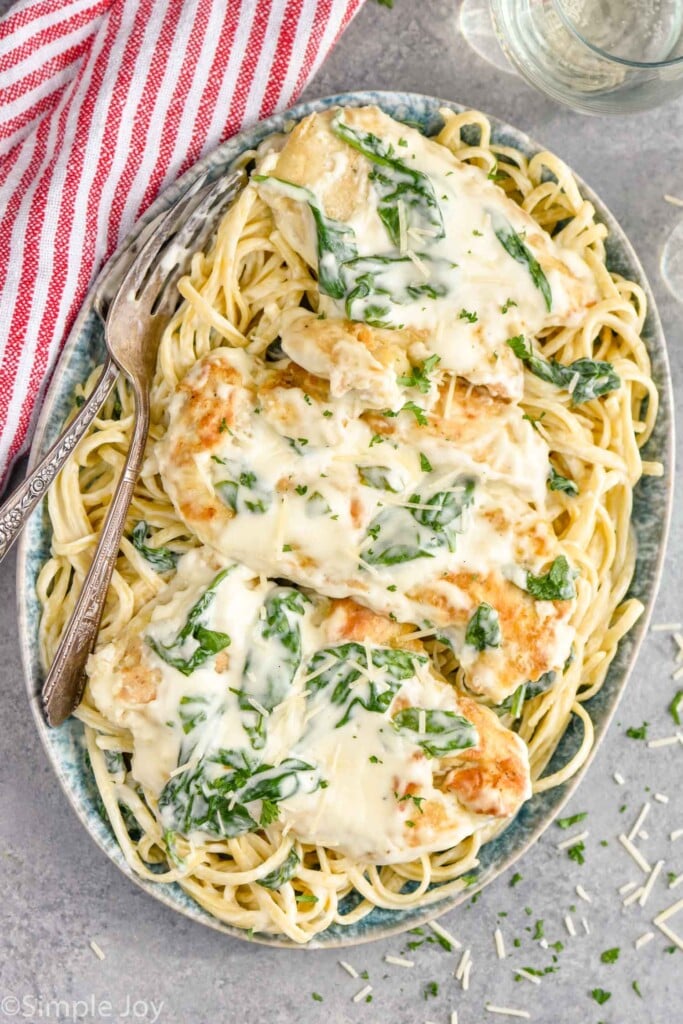 Making a Béchamel Sauce
The most basic béchamel sauce is made with a roux and some milk. As you know from reading me constantly talk about rouxs, a roux is the combination of a fat and flour. The fat surrounds the flour allowing it to stay evenly distributed in the sauce. The key to making a béchamel sauce is to slowly add the milk. You want to start with about two tablespoons at at time, and then add more once what you have added is absorbed.
In this recipe, we are adding white wine first instead of milk. This is a great way to deglaze the pan and also start the roux. You want to add it slowly, but not quite as slowly as we do when we are adding milk to a roux. Then add in the chicken stock and finally the milk. We will get all the creaminess of using a roux plus all the flavor of deglazing the pan.
Shredded Parmesan
Because we are finishing off this sauce with Parmesan cheese, I would encourage you to splurge on a block of Parmesan cheese that you can shred yourself. Skip the finely grated Parmesan cheese that comes in a can. You also are better off skipping pre-grated cheese. You will find the best results with cheese that you grate yourself. It melts the best because it lacks preservatives that coat it and keep it from melting in the way pre-grated cheese does.
A block of Parmesan cheese keeps for some time in the refrigerator. It is perfect on pasta, but it is also the backbone of my Alfredo sauce, another great recipe for you to try.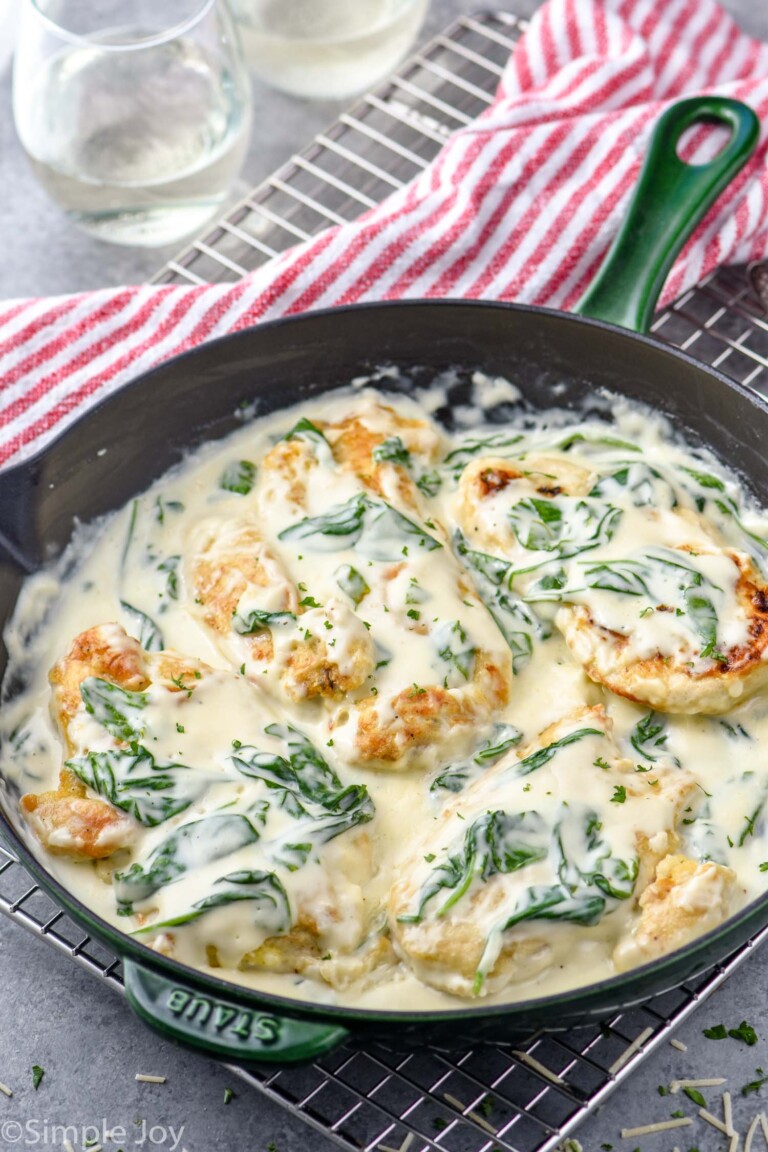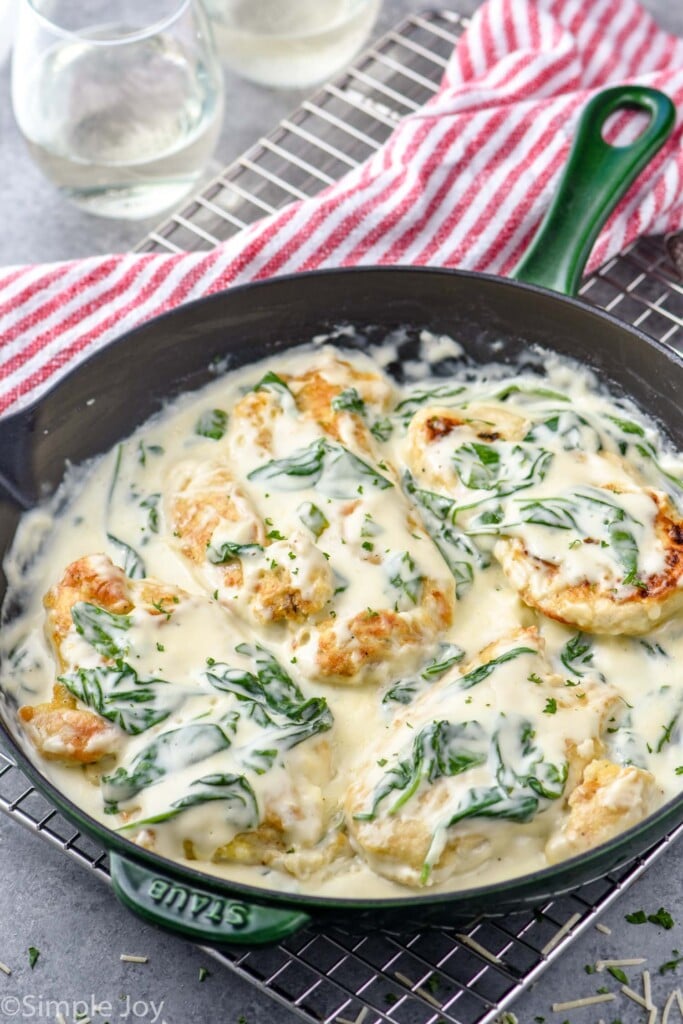 White Wine in Chicken Florentine Recipe
For this Chicken Florentine recipe, I went with a Pinot Grigio because it is less sweet and more on the dry side of things. A bottle of Sauvignon Blanc would work well too.
When you are cooking with wine there are a few things that you want to keep in mind.
There is no need to break the bank. A less expensive wine will lead to just as delicious of a dish as a more expensive bottle.
Use something you would drink. The flavor will intensify after cooking, so you want it to be something you like to begin with.
Skip things labeled "cooking wine." See my reasoning in the point above.
Consider buying four small bottles of white wine that come in a pack. If you aren't a wine drinker you aren't opening a bottle for one recipe. The other three bottles will be waiting for the next time you want to make this.
It takes three hours for alcohol to cook off of a recipe. Obviously that is not happening here. If you are cooking for someone who is sober, I encourage you to ask them what they would like you to do.
FAQ
Is Chicken Florentine gluten free?
As we are both dredging the chicken in flour and using flour to make a roux, there is gluten in this recipe. I have made a roux with almond flour, and it does work, though it is not as creamy. You can skip the dredging and use almond flour for the roux, or use cornstarch to thicken up the final sauce, eliminating the roux all together.
What can I use instead of wine?
If your family doesn't cook with wine, replace the wine called for in this recipe with 1/2 cup of additional chicken stock and 1 teaspoon of lemon juice. This will bring the liquid you need with the little splash of tang you get from wine.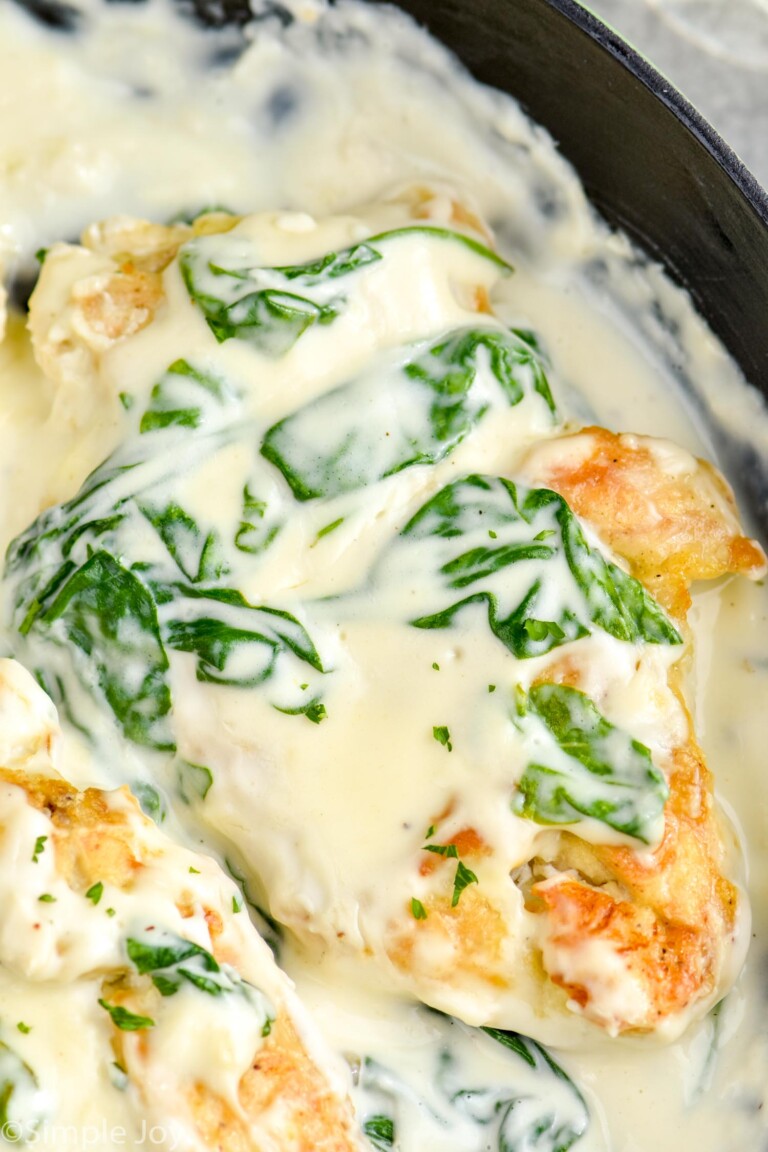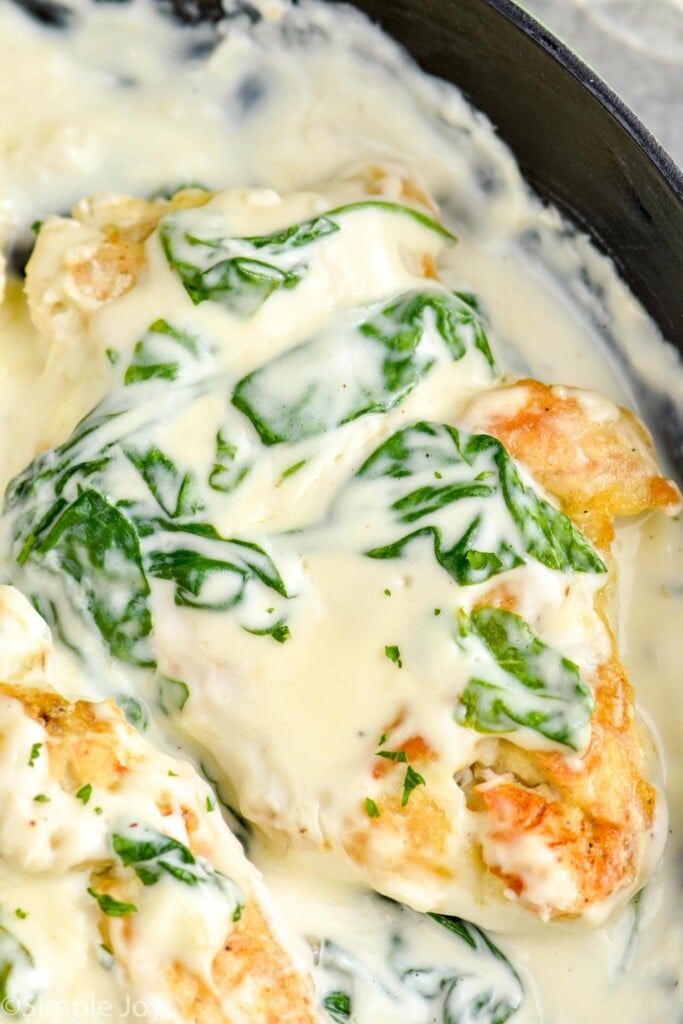 What to Serve with Chicken Florentine
We love serving this over pasta, but if you want to round it out with some side dishes, here are some great easy ones.
If you make this Chicken Florentine recipe or any of my other recipes, please leave me a comment and let me know what you think!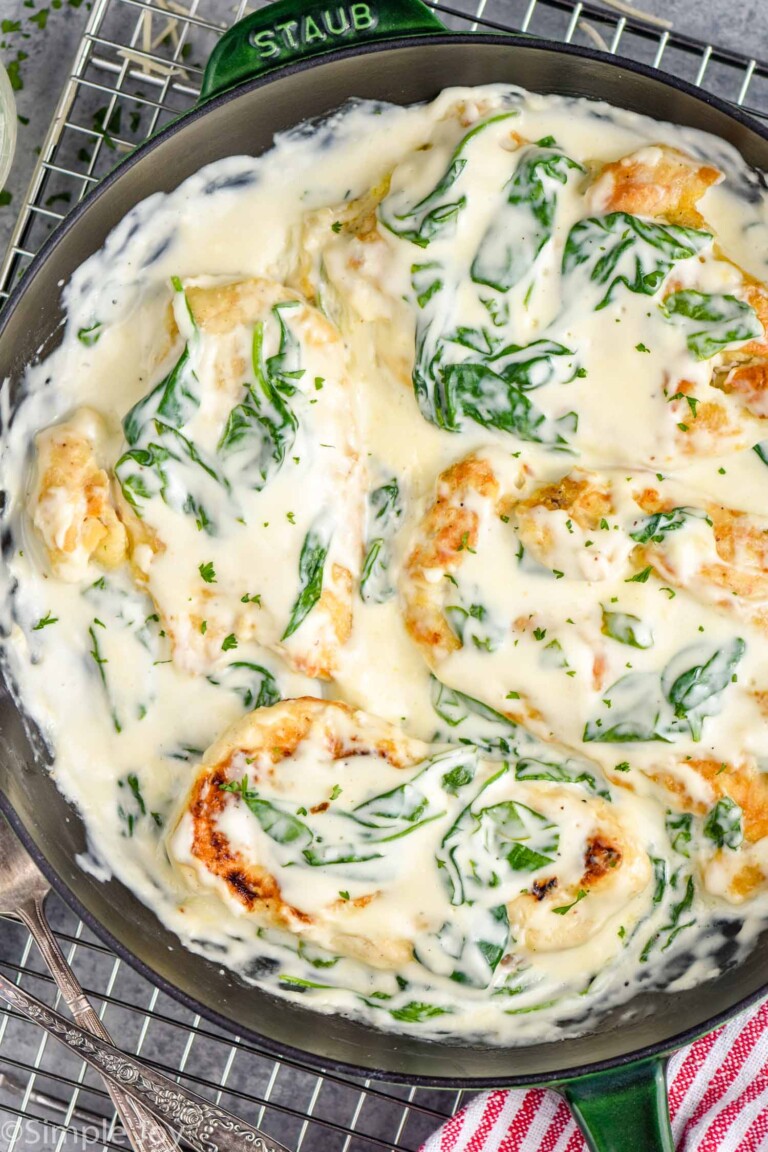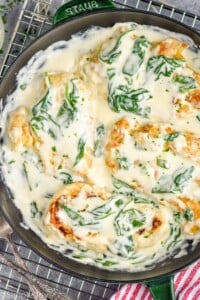 Chicken Florentine Recipe
Chicken Florentine is a quick skillet meal that combines pan fried chicken with a creamy béchamel sauce and wilted spinach. This has all the hallmarks of a fancy dinner, while actually being a quick weeknight meal.
Ingredients
1

pound

boneless skinless chicken breasts

cut into cutlets (see photos in the post)

1/2

teaspoon

kosher salt

dash

freshly ground black pepper

1/4

cup

all purpose flour

2

tablespoons

olive oil

2

tablespoons

unsalted butter

2

tablespoons

all purpose flour

1/2

cup

white wine

(see post for wine recommendations)

3/4

cup

chicken stock

3/4

cup

heavy cream

1/2

cup

Parmesan cheese

grated

1/4

teaspoon

kosher salt

dash

freshly ground black pepper

dash

nutmeg

2

cups

baby spinach

(loosely packed)
Instructions
Cut the chicken in half (as though you are butterflying it open) to make thin chicken cutlets (see photos in the post). If there are thick spots on the chicken, pound thin so that the chicken is about 1/4 inch thick all the way through. Season the chicken on both sides with 1/2 teaspoon salt and freshly ground black pepper. Then drudge it in the 1/4 cup flour.

Heat the olive oil in a skillet over medium heat. Add the chicken and cook for 6 minutes on each side until browned. Transfer to a plate and tent loosely with foil.

Melt the butter in the skillet (no need to clean it first). Whisk in the 2 tablespoons all purpose flour until it is fully combined with the butter and there are no streaks of white left. Cook for about 30 seconds until it is fragrant.

Turn the heat to medium low. Slowly whisk in the white wine, scrapping up the brown bits as you go. Then slowly whisk in the chicken stock and then the heavy cream. Go slowly at first with both, only adding a few splashes and whisking it in to the butter and flour mixture before you add more.

Bring the mixture to a simmer – you should see consistent bubbles about the size of a pea – and let simmer, stirring often, for 2 minutes.

Add in the cheese, stirring for it to melt. Season with 1/4 teaspoon salt, a dash of black pepper, and a dash of nutmeg. Taste the sauce and add more seasonings as needed.

Stir in the spinach, allow it to wilt while the sauce simmers, about 2 to 3 minutes. Add the chicken back to the pan, spooning the sauce over it. Serve over pasta and enjoy.
Notes
Please note that the nutritional information does not include serving over pasta.
Serving:
1
serving
Calories:
528
kcal
(26%)
Carbohydrates:
13
g
(4%)
Protein:
33
g
(66%)
Fat:
36
g
(55%)
Saturated Fat:
18
g
(113%)
Polyunsaturated Fat:
2
g
Monounsaturated Fat:
13
g
Trans Fat:
1
g
Cholesterol:
148
mg
(49%)
Sodium:
859
mg
(37%)
Potassium:
640
mg
(18%)
Fiber:
1
g
(4%)
Sugar:
2
g
(2%)
Vitamin A:
2370
IU
(47%)
Vitamin C:
6
mg
(7%)
Calcium:
206
mg
(21%)
Iron:
2
mg
(11%)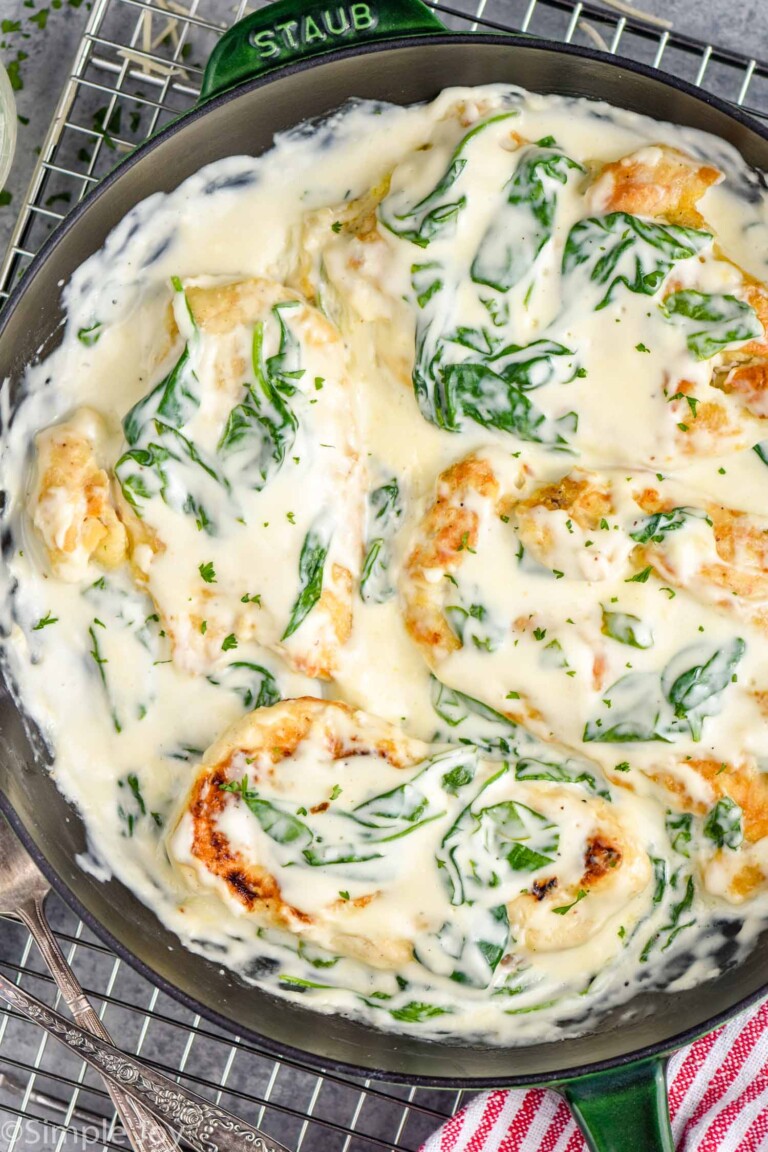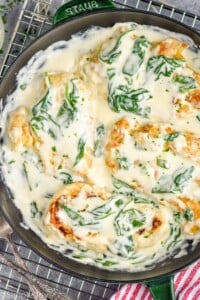 did you make this
Chicken Florentine Recipe