This Chicken Taco Casserole is the perfect comfort food! Even your picky eaters will love this amazing noodle casserole.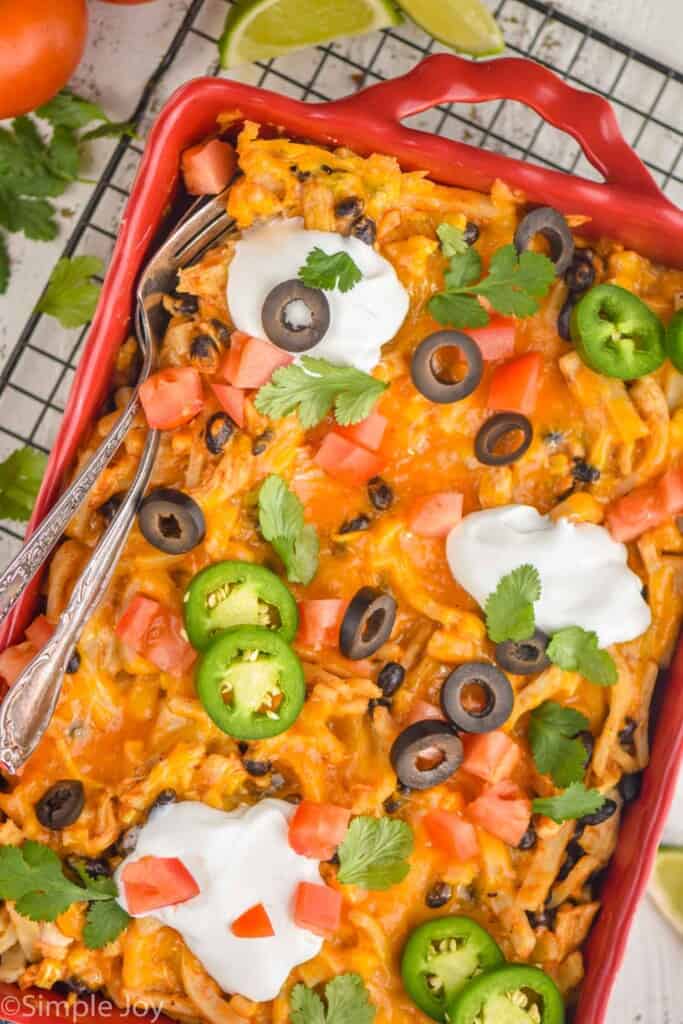 Taco night is always a hit in our house. We make this Chicken Taco recipe literally once a week. It is one of our very favorites.
So when I told my kids we were eating Chicken Taco Casserole for dinner they were already on board. Every single one of my kids not only like, but loved, this dinner. That is a small miracle in any home, and makes this chicken casserole a total winner.
How to Make Taco Casserole
Cook noodles: I used frozen egg noodles for this recipe. Before you begin the rest of the recipe, boil a large pot of water to cook the noodles.
Prepare baking dish: The pretty red dish that I used for this recipe is not quite 9 by 13, but that is the easiest size to recommend. Spray a 3 quart baking dish with cooking spray and set aside.
Make a roux: Melt butter in a skillet and sauté some garlic. Then whisk in some flour. Read below for more detailed information about making a roux.
Make the sauce: Slow whisk the milk into the roux. Then whisk in the chili powder, cumin, and cayenne pepper.
Combine all the ingredients: In a baking dish, combine the sauce, with the noodles, salsa, beans, corn, cooked chicken and 1 cup of cheddar cheese.
Bake: Top the casserole with the remaining 1 cup of cheese and bake for 20 minutes.
Making a Roux
I love making a roux. It is such a simple technique, but it is the foundation for the creamy sauces in everything from Macaroni and Cheese to New England Clam Chowder.
A roux is the combination of flour and a fat – in this dish that fat is butter. Then you slowly whisk in a liquid – in this case milk. To really make your sauce thicken, you need to add the liquid slowly. I'm not saying it should take a half hour to add the milk, but you can't just dump the whole 1 1/2 cups in at once.
The more you make recipes that use a roux, the better you will become at this easy cooking technique.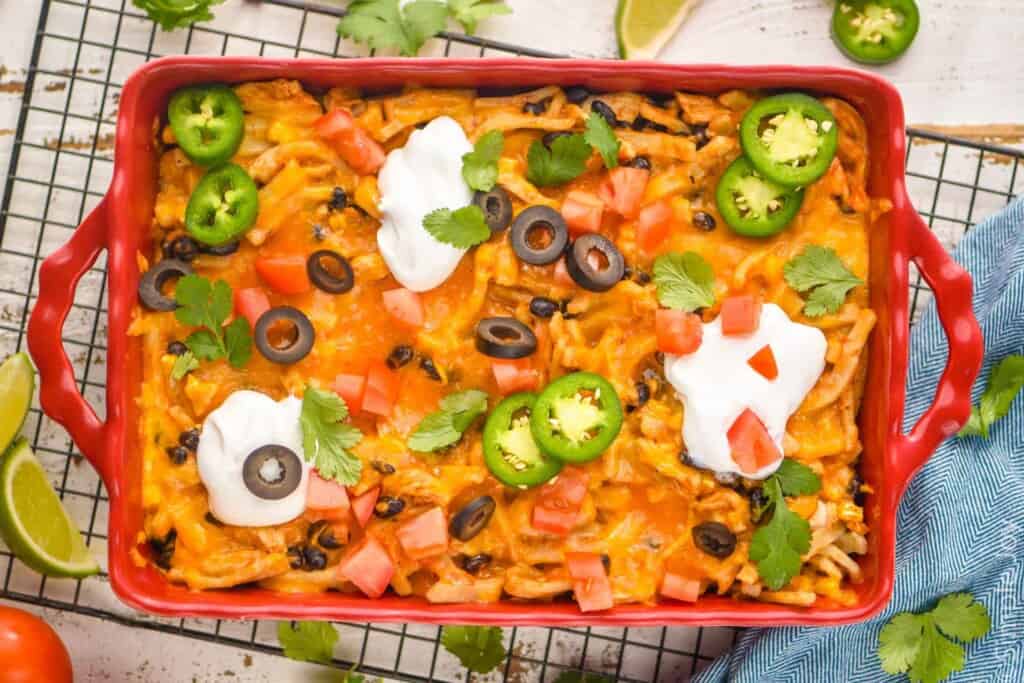 What Noodles to Use
As mentioned, I used frozen egg noodles in this recipe – they are thick and delicious! The downside to those is that they take quite a bit of time to cook.
Feel free to substitute with 16 ounces of your favorite noodles. Any noodle you use in this recipe will be delicious.
Grating Cheese for Chicken Taco Casserole
Please buy a block of cheese for this recipe and grate it yourself. It will taste better, it will melt better, and it will have a better texture. In some cases cheese that you grate yourself makes the difference between a recipe you like and a recipe you love.
I should probably just put a standard statement that I cut and paste in each post about grating cheese rather than buying a bag of shredded cheese.
Make it Vegetarian
This is an easy casserole recipe to make vegetarian. Take out the shredded chicken and instead increase the amount of black beans to a full 15 ounce. Additionally, add a can of rinsed kidney beans.
Making Ahead
This taco casserole recipe can be made the night before. Make it through the point of topping with more cheese in step 7 (in the recipe card below). Wrap the recipe and store in the refrigerator for up to 24 hours. The casserole can go right from the refrigerator to the oven, but bake for 30 minutes unstead of 20.
To freeze this casserole, do the same, but make it in a disposable baking dish. Wrap three times with aluminum foil and place in the freezer for up to three months. This casserole can go right from the freezer to the oven (discarding the foil first), but bake it for 40 minutes instead of 20.
Taco Casserole Leftovers
One of the best parts about this recipe is that it reheats very well. Store any leftovers covered in the refrigerator for 3 to 5 days. When you are ready to reheat, only take out the amount you will eat. Heat it, covered, in a 220 degree oven for an hour.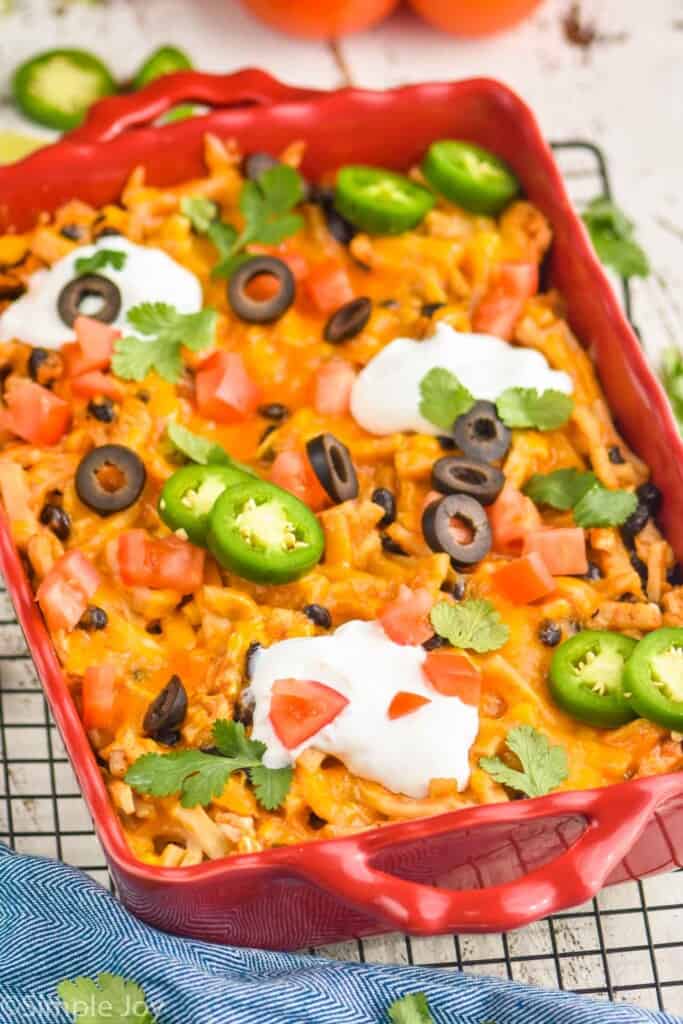 If you make this easy taco casserole, leave me a comment and let me know what you think!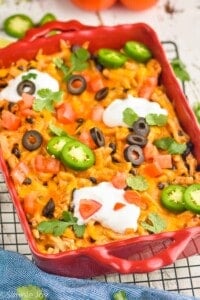 Chicken Taco Casserole
This Chicken Taco Casserole is the perfect comfort food! Even your picky eaters will love this perfect noodle casserole.
Ingredients
16

oz

egg noodles

3

tablespoons

unsalted butter

2

cloves

garlic

minced

2

tablespoons

all purpose flour

1 1/2

cups

milk

I used skim

1

tablespoons

chili powder

1

tsp

cumin

1

teaspoon

salt

1/4

teaspoon

black pepper

1/8

tsp

cayenne pepper

1/2

cup

salsa

1

cup

black beans

1

cup

corn

2

cups

cooked shredded chicken

2

cups

shredded cheddar cheese

divided
Instructions
Bring a large pot of water to a boil. Cook the egg noodles according to package instructions.

Preheat your oven to 350 degrees. Spray a 3 quart baking dish with cooking spray. (A 9 by 13 inch baking dish will work great for this recipe.)

Over medium heat, and in a large saucepan, melt the butter. Sauté the garlic for about 30 seconds before adding the flour. Whisk in the flour until fully incorporated.

Very slowly, whisk in the milk. Add about 2 tablespoons (eye ball it, no need to measure) of milk at the time, only adding more milk once what you just added is fully incorporated. The more you add, the more quickly you can add more than 2 tablespoons at a time. This should take you less than 2 minutes to do.

Add in the chili powder, cumin, salt, black pepper, and cayenne to the sauce. Remove from the heat once fully combined.

Mix the cooked noodles, the sauce you just made, the salsa, black beans, frozen corn, shredded chicken, egg noodles, and 1 cup of cheddar cheese to the prepared baking dish.

Top with the remaining 1 cup cheddar cheese. Bake for 20 minutes and serve warm. See the post for details on storing left overs and reheating.
Serving:
2
cups
Calories:
693
kcal
(35%)
Carbohydrates:
79
g
(26%)
Protein:
35
g
(70%)
Fat:
23
g
(35%)
Saturated Fat:
12
g
(75%)
Polyunsaturated Fat:
1
g
Monounsaturated Fat:
5
g
Cholesterol:
220
mg
(73%)
Sodium:
968
mg
(42%)
Potassium:
370
mg
(11%)
Fiber:
5
g
(21%)
Sugar:
8
g
(9%)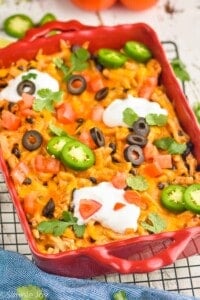 did you make this
Chicken Taco Casserole
you might also like . . .