Taco Pizza is such a great easy pizza recipe. The perfect thing to make when you are out of ideas and want something delicious!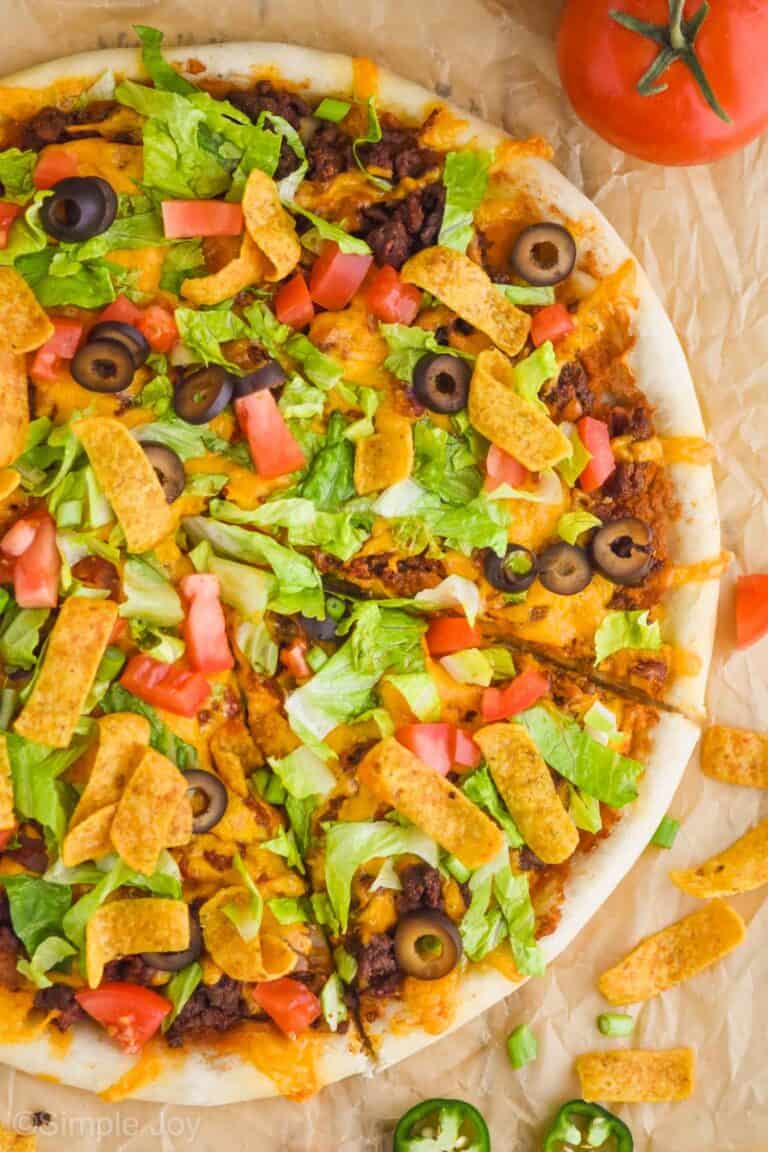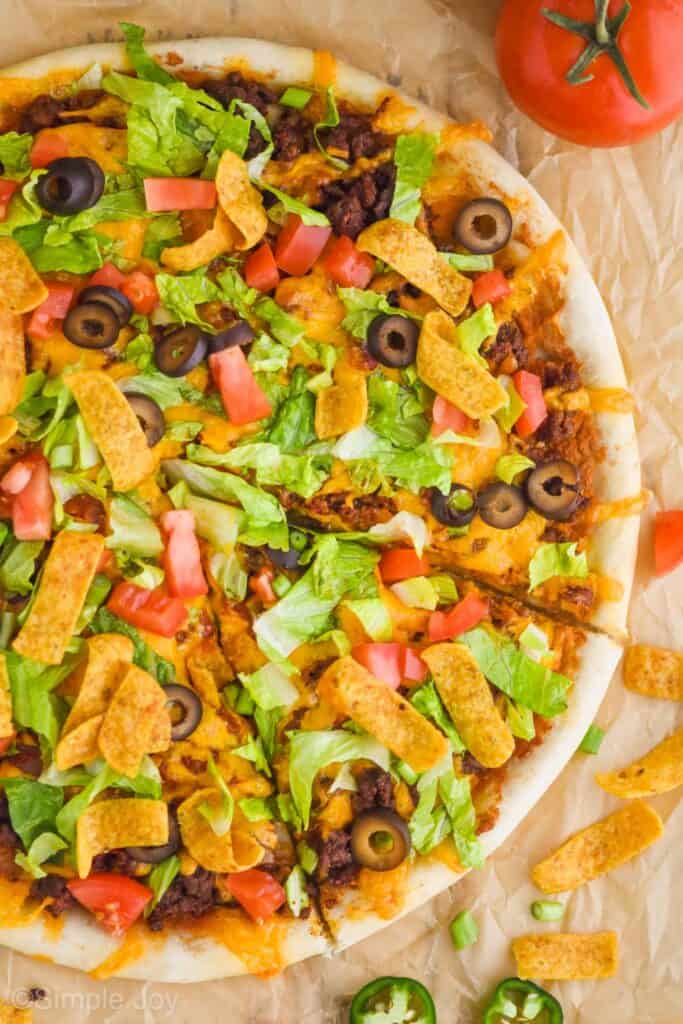 I got the best text message from my neighbor the other day.
She was about to make her teenage son some muffins, and he (who is truly one of the sweetest teens I've ever met) gently suggested to her that she might want to ask me if I had a recipe instead of the one she uses.
I just about died when I got that text. See, this kiddo eats a lot of my blog left overs. The endorsement of kids is priceless. And he loved this Taco Pizza. So this is teenage boy approved and guaranteed to be a hit in your house.
This recipe is taken over the top with my homemade pizza dough and the perfect taco meat. Can you believe this is a 30 minute meal?? I'm obsessed!
Reader Review
I made this recipe once and everyone enjoyed it. Today everyone wants it and I'm making it again. If everyone enjoys it and its easy to make, it's a winner!
How to Make Taco Pizza
This recipe comes together with just a few simple steps. But the combination of them makes for a winner pizza.
Start by making some taco meat. We make it perfect by adding in some taco seasoning and salsa.
Roll out some pizza dough (more on that in a moment).
Add some refried beans to your pizza dough. If it is hard to spread, microwave it (outside of the tin can please!) for 30 seconds.
Top the beans with more salsa, then taco meat, and finally cheese.
After you bake add any taco toppings you like, mine are listed in the recipe card below.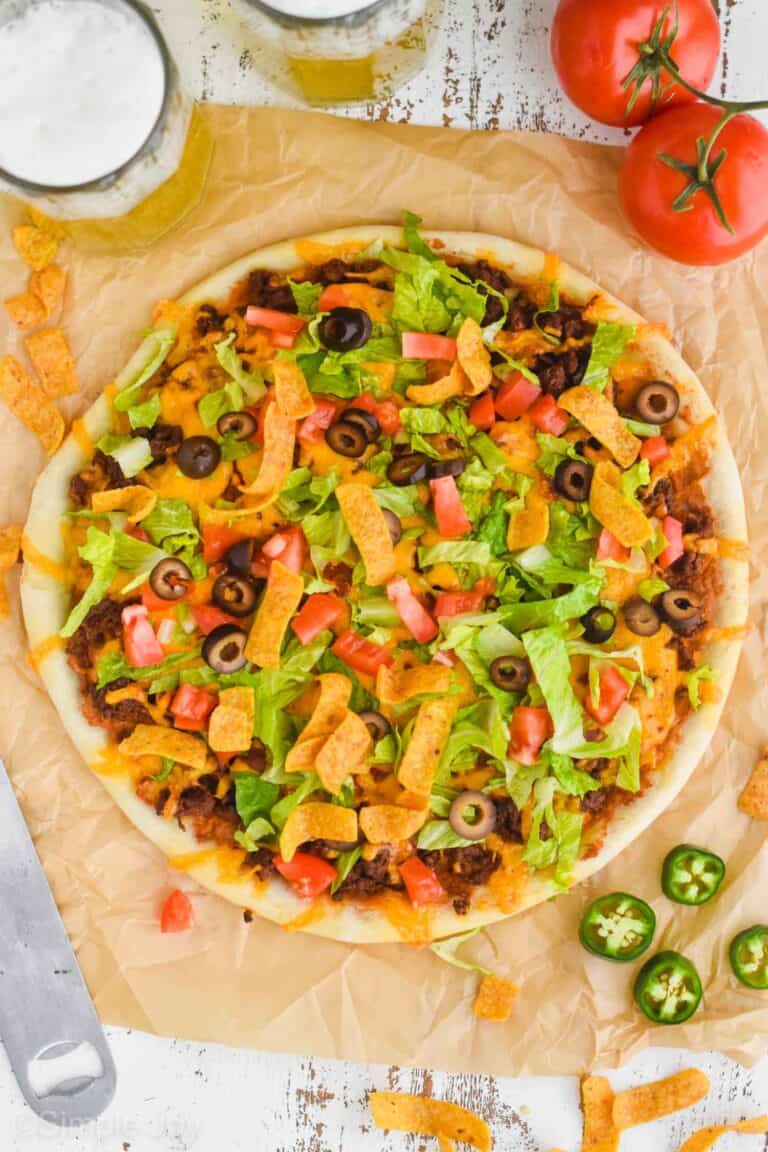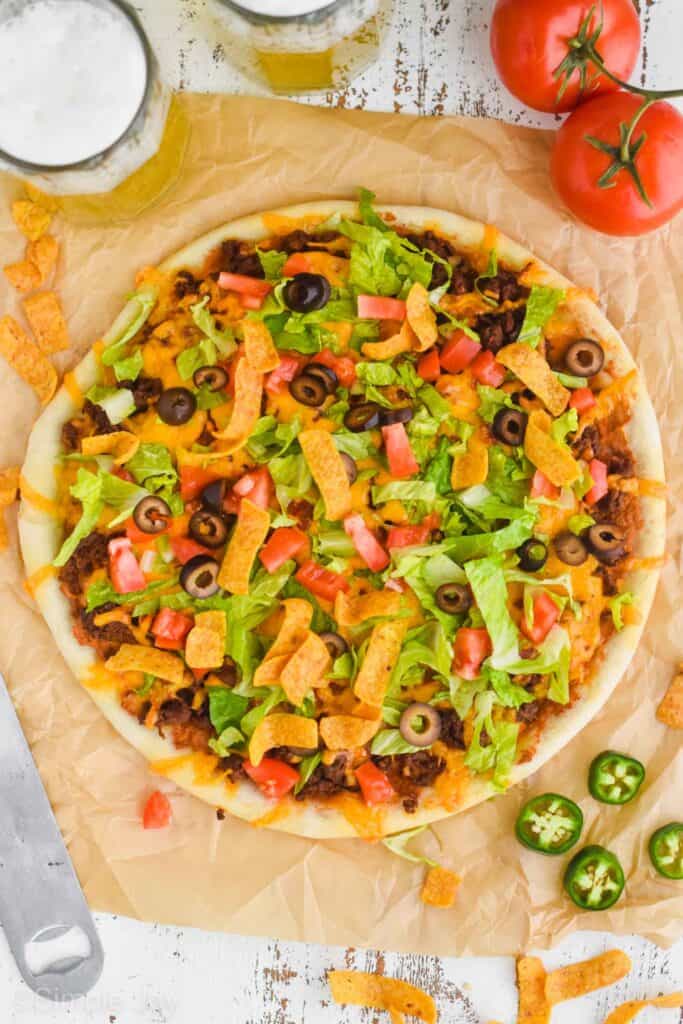 Why I Use My Own Taco Seasoning
Listen. I need you to know that what makes me happiest is you sitting to eat with your family. So however you make that happen is great.
But I like giving you options to make everything from scratch, because I think that often tastes best, and it also makes me personally the happiest.
I like making my own taco seasoning because I can control the flavor completely.
I can also make a huge batch of it so I always have it on hand. Three tablespoons of my taco seasoning equal one pack from the grocery store. So you can use that recipe to replace the packet in lots of recipes.
From Scratch Pizza Dough
Again, I like giving you options.
This can absolutely be made with store bought dough. But my pizza dough recipe has more than 50 five star reviews. It is an absolute winner and I tell you step by step how to make it.
If you make your own dough this recipe will obviously take longer. But you can definitely make the dough the night before and have it ready to roll (see what I did there?) right when you get home from work.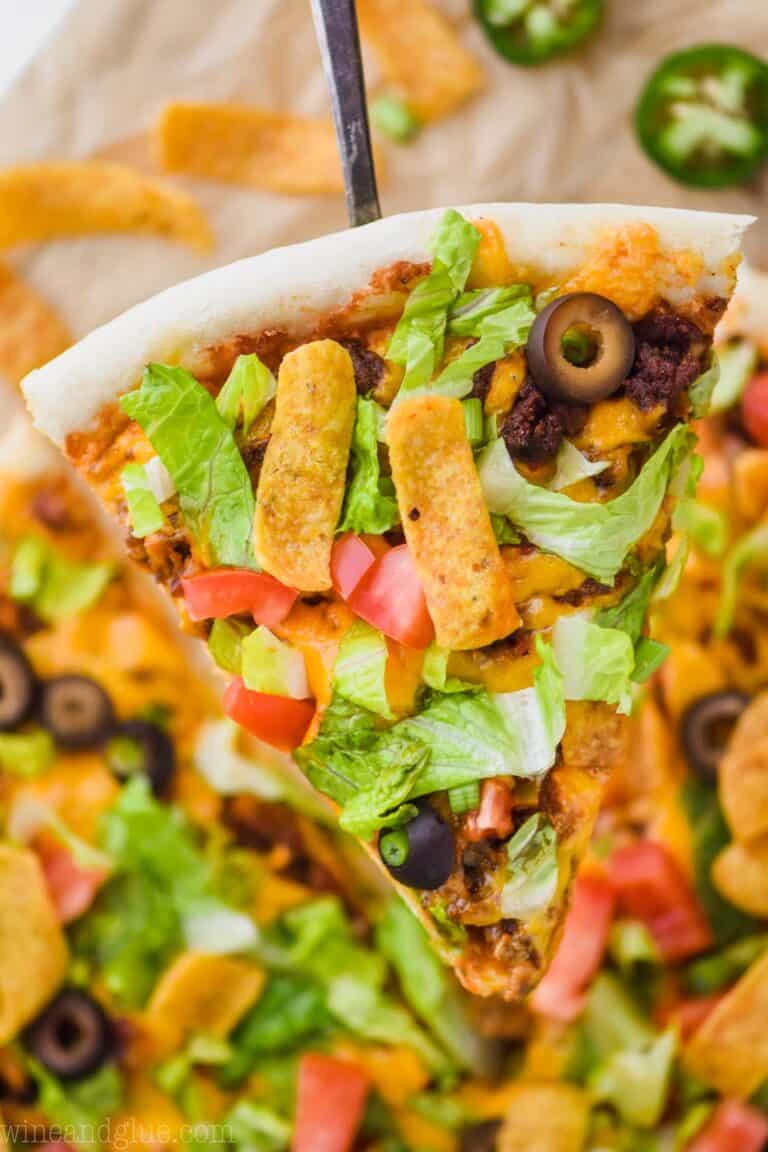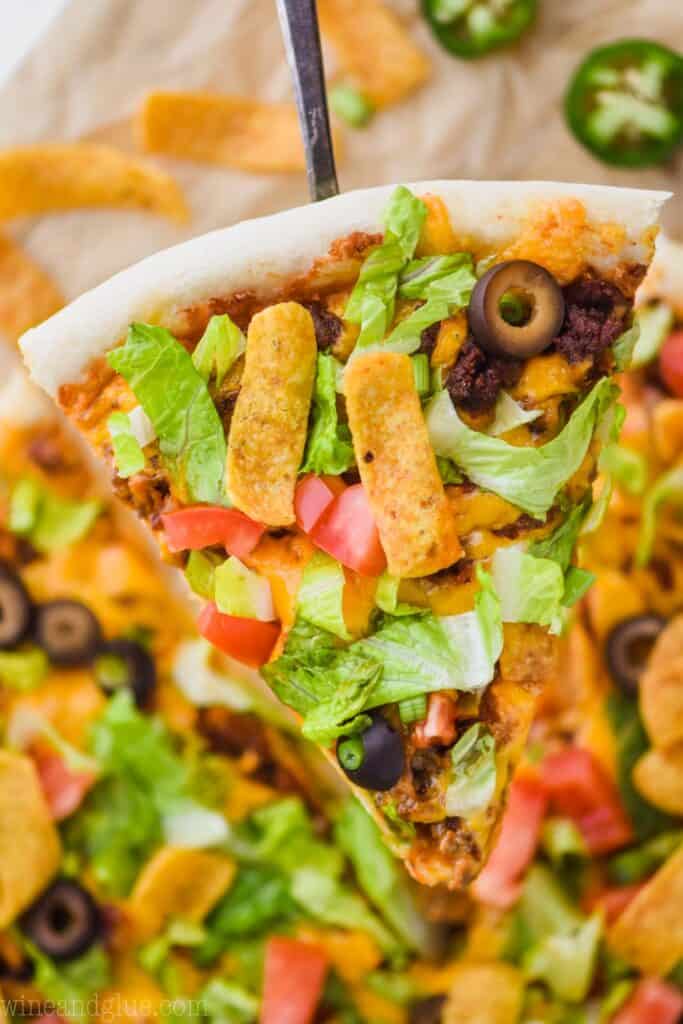 Toppings
The sky is the limit with this recipe. I like the following toppings, but I know a lot of people add Doritos instead of Fritos and sour cream too.
diced tomatoes
shredded iceberg lettuce
sliced olives
sliced green onions
I think it is also great to put a little extra salsa on the side for people who want more.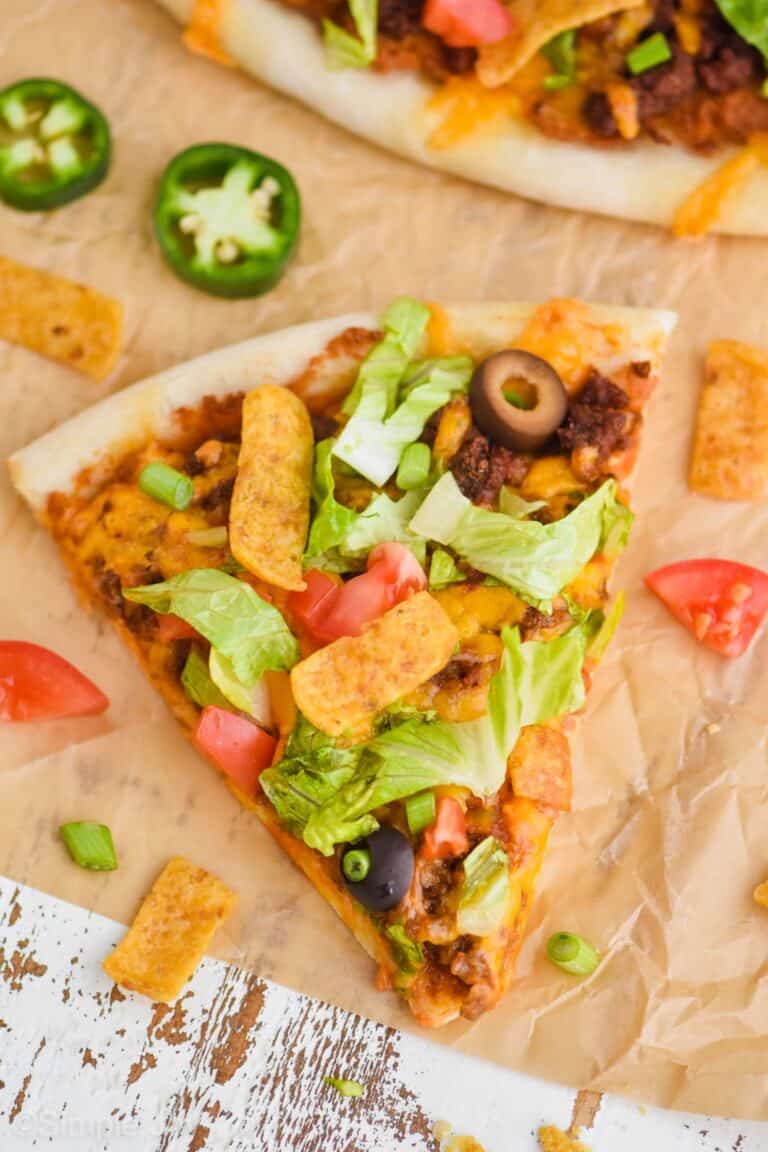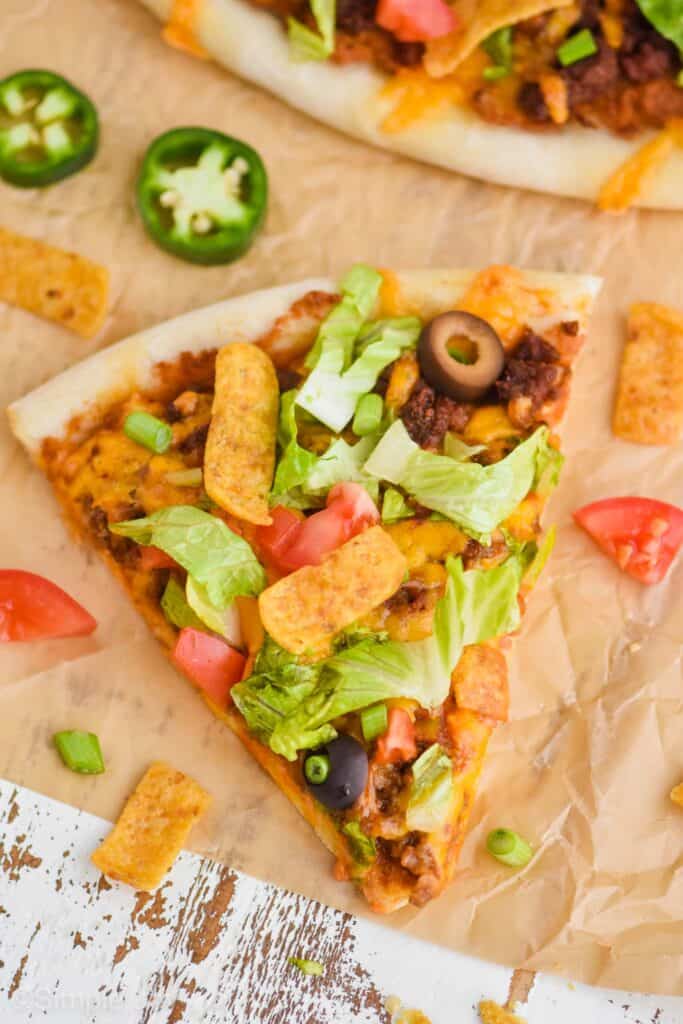 Other Great Taco Dinners
I could make a whole blog about all things taco inspired. Tacos for life, man. Here are a few more that I love:
If you make this Taco Pizza or any of my other recipes, leave me a comment and let me know what you think!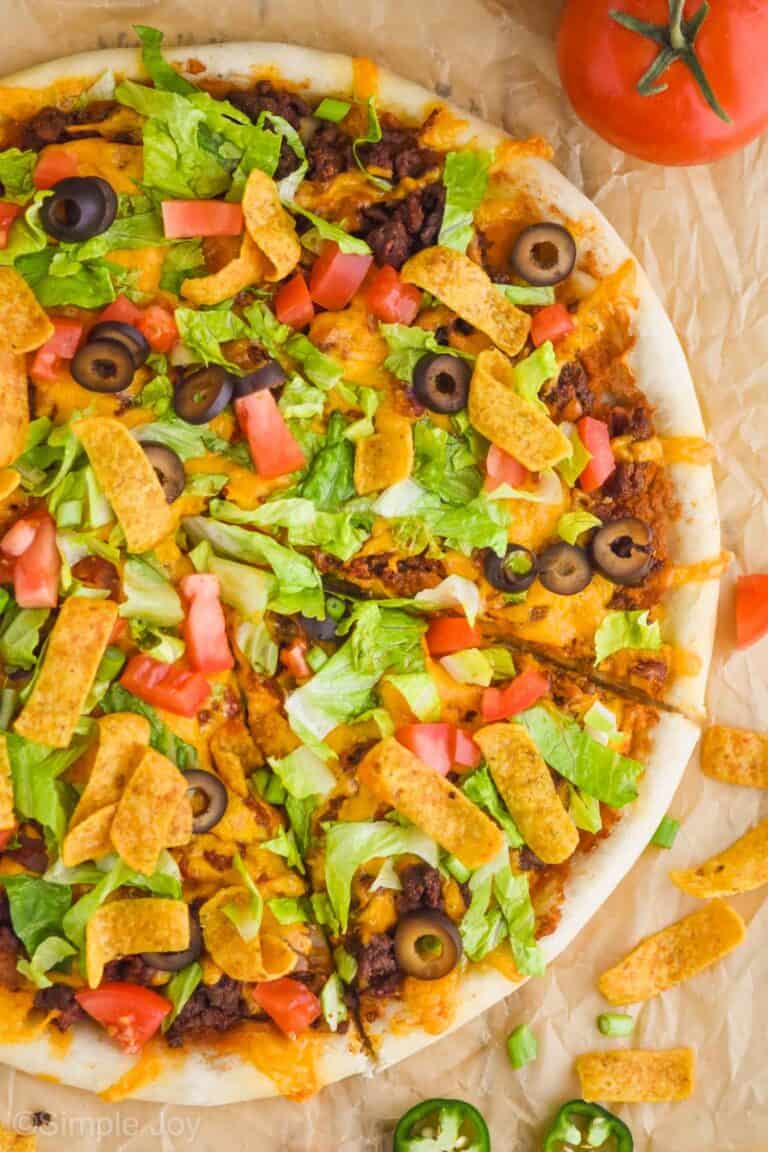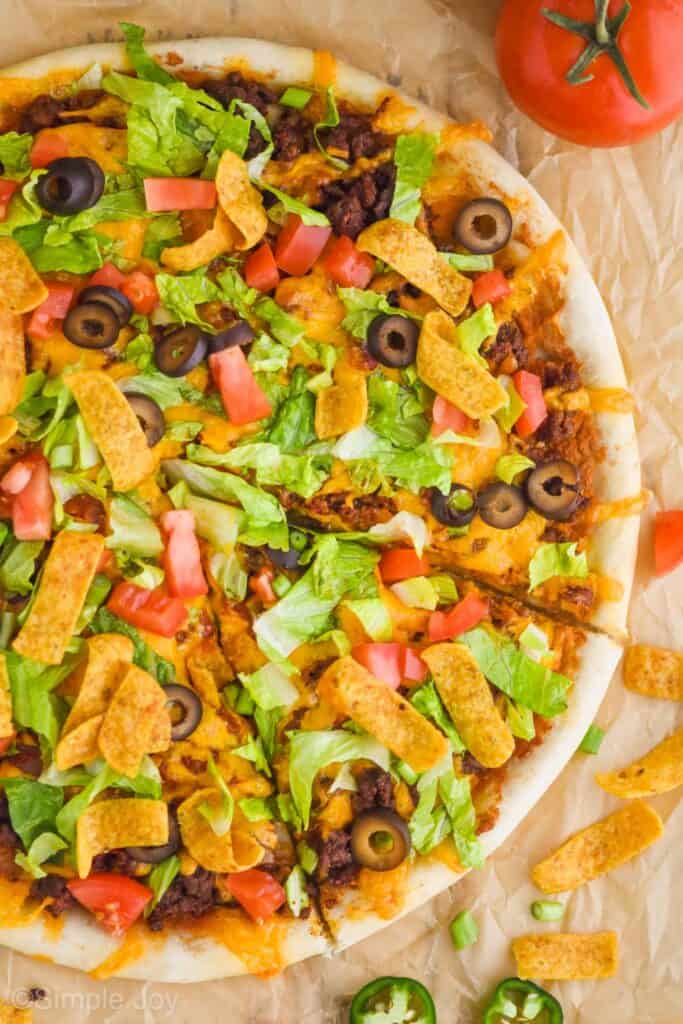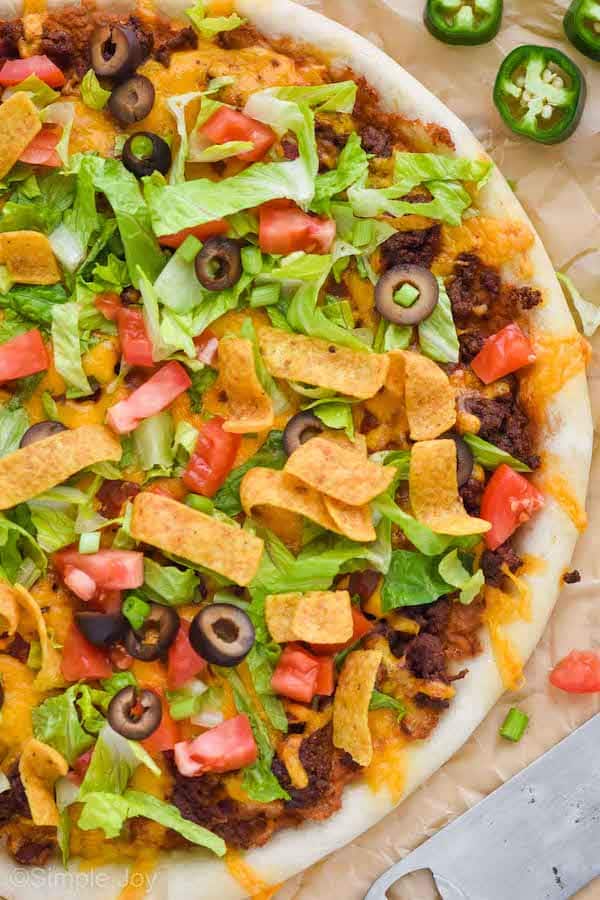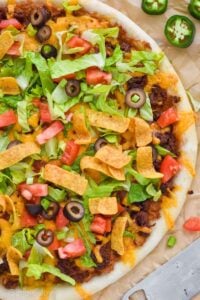 Taco Pizza
Taco Pizza is such a great easy pizza recipe. The perfect thing to make when you are out of ideas and want something delicious!
Ingredients
1

pound

ground beef

3

tablespoons

taco seasoning

(or one packet from the grocery store)

1

cup

refried beans

3/4

cup

salsa

divided

1 1/2

cups

cheddar cheese

shredded

chopped tomatoes

optional for topping

chopped iceberg lettuce

optional for topping

sliced olives

optional for topping

sliced green onions

optional for topping

corn chips

optional for topping
Instructions
Preheat your oven to 400 degrees.

Roll out your pizza dough to be at least a 12 inch pizza size and place on a baking sheet or pizza stone. (Of course you can also use premade dough and roll it out into it's square shape.)

In a large skillet, cook the ground beef breakin it up. Once it is browned and cooked through, drain the fat, stir in the taco seasoning and 1/4 cup of the salsa. Cook for another minute and then remove from the heat.

Spread the refried beans carefully over the pizza dough. If they are difficult to spread, you can put them in the microwave for 30 seconds and that will make it easier. (Please be smart and don't microwave them in the can they came in.)

Next add the remaining 1/2 cup salsa.

Spread the beef mixture over the salsa and then finally top with the shredded cheese.

Bake for 20 to 25 minutes or until the cheese is nice and melted, and when you lift the edge of the pizza with a spatula, you can tell that the dough has become a nice crust all the way through.

After baking, top with shredded lettuce, diced tomatoes, sliced olives and green onions, and corn chips.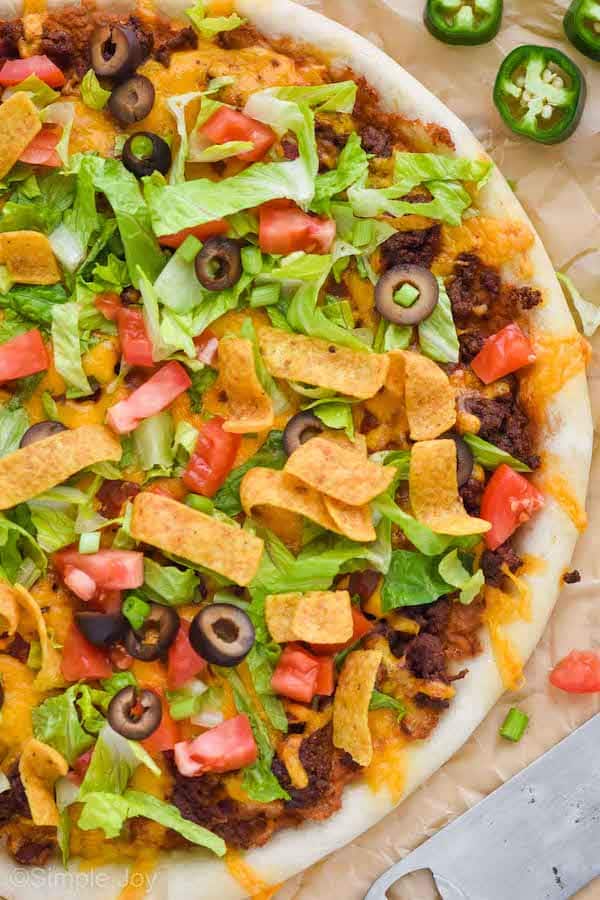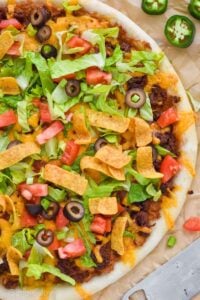 did you make this
Taco Pizza