This simple take on Chicken Taquitos is an easy dinner idea to make at home. With just a few basic ingredients you have a great dinner or appetizer that everyone from kids to adults will love.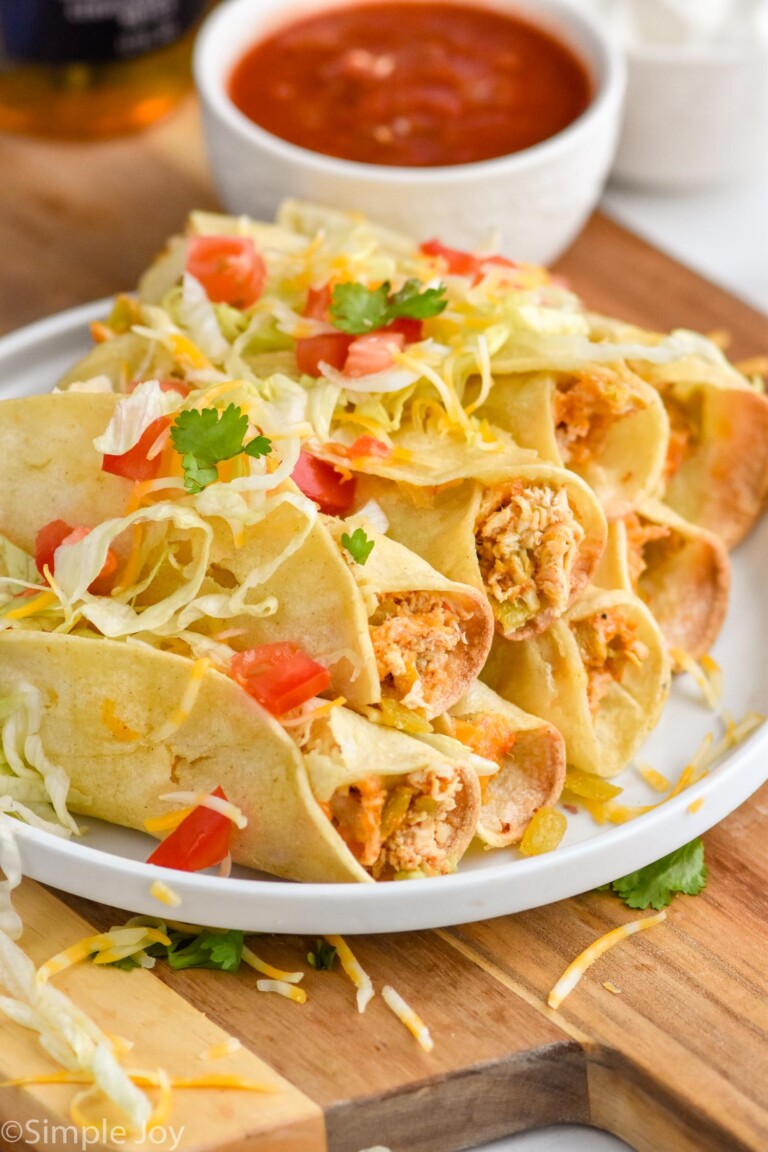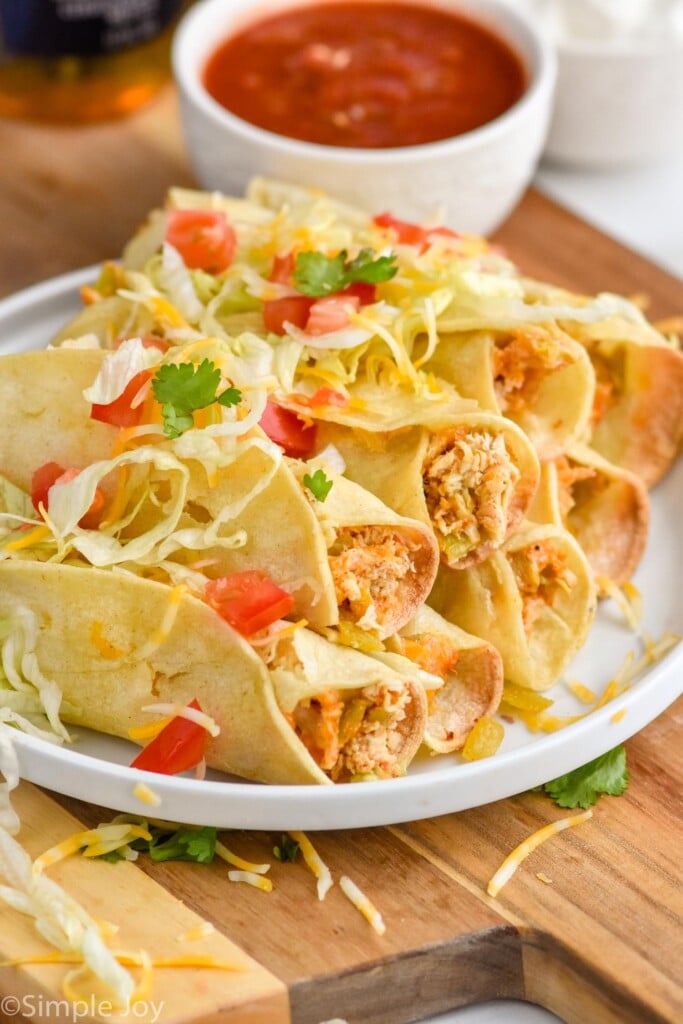 I'm not sure if there is anything better than an appetizer recipe that can double as a dinner recipe. That is exactly what we have with this Chicken Taquito recipe. It is easy enough to make for dinner, but would make a fabulous party snack. It has just the right balance of seasoning, chicken, and cheese and they are made with just five ingredients!
Traditionally a taquito is a corn tortilla that has been rolled up with a filling and is deep fried. In this recipe we are swapping the deep frying for baking in the oven to lighten things up.
How to Make Chicken Taquitos
Make the filling. Our chicken taquito filling is extremely simple. It is made with shredded chicken, taco seasoning, green chiles, and cheese.
Warm the corn tortillas. We have a great trick for this below. It really helps the tortillas roll without breaking.
Fill the tortillas. Add a little bit of filling to the tortillas, and then secure them closed with a toothpick.
Brush with oil and bake the taquitos. At the end you can spray the tortillas lightly with oil or you can brush them. Then bake them on a wire rack so that all sides of the taquito crisp up nicely.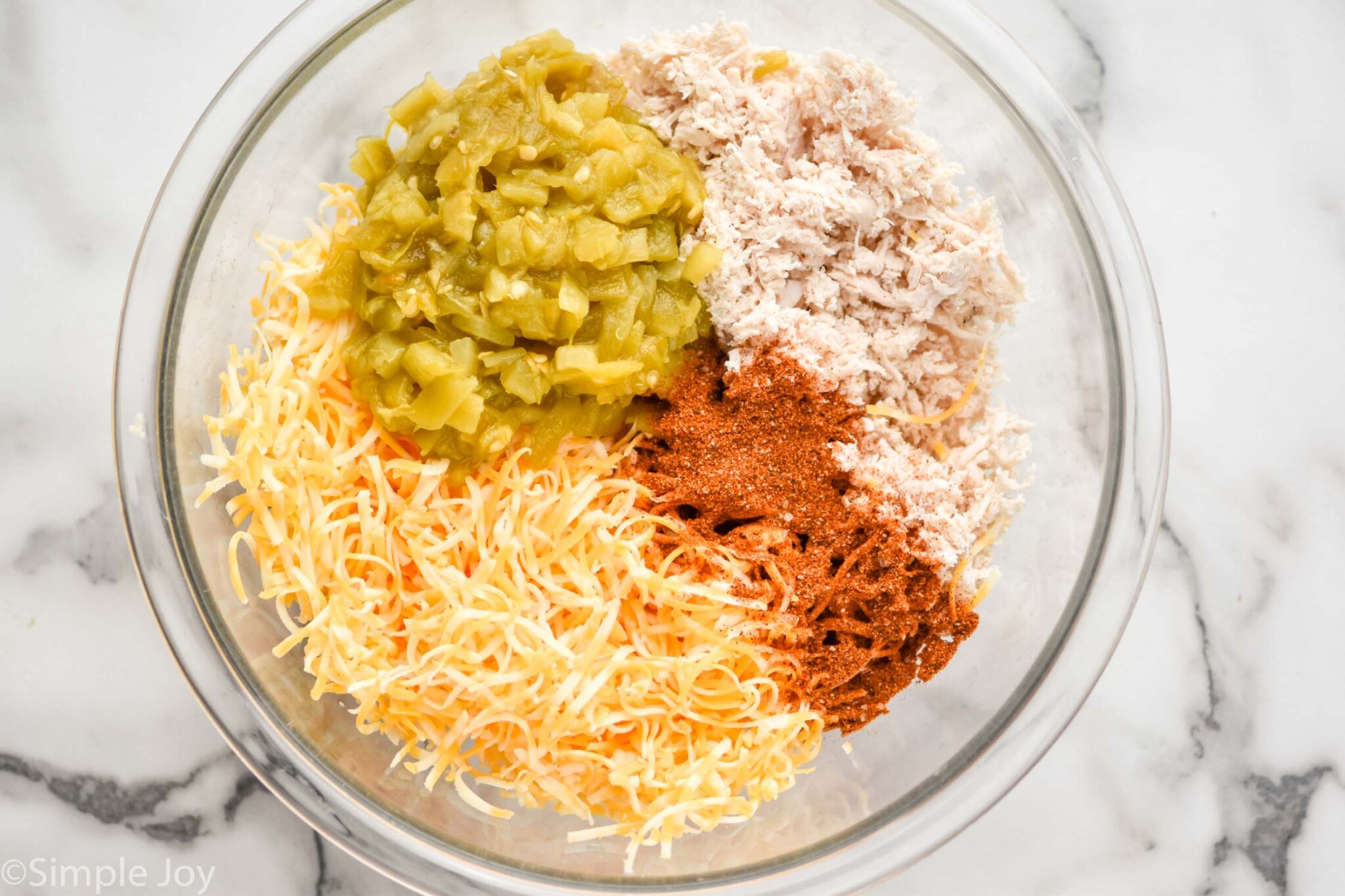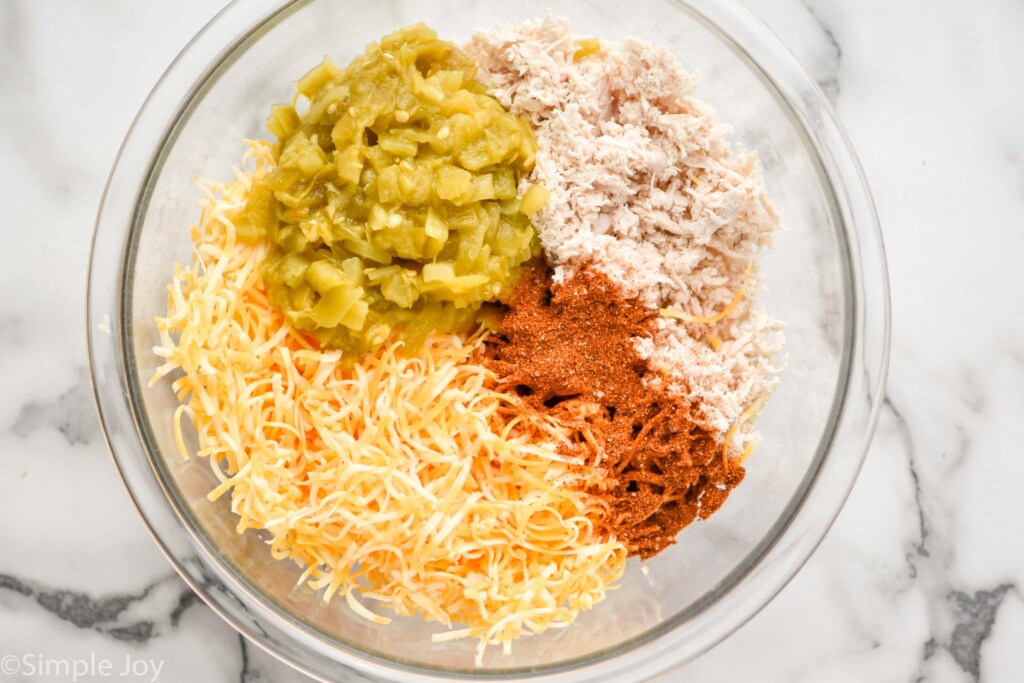 Chicken Taquito Filling
Our taquito filling is so simple. We are using shredded chicken, taco seasoning, green chiles, and cheese. Be sure to scroll to the bottom of the post for the full ingredient amounts and the instructions.
Shredded Chicken: We love using frozen shredded chicken in this recipe. This way we always have cooked chicken on hand and we can skip the step of cooking it. Take 2 cups out the night before you plan on making this and it will be thawed in your refrigerator by morning.
Colby-Jack Cheese: My kids are big fans of Colby-Jack, which is what we used here. You could also use cheddar, or really any cheese that your family is a big fan of. Monterey Jack would also melt really well here.
Green Chiles: The green chiles in this recipe add another great layer of flavor. If you buy the mild kind, they bring the flavor without the heat. Make sure to not drain the chiles.
Taco Seasoning: A little goes a long way here, so we opted to use only 1 tablespoon. We love using our homemade taco seasoning for this recipe. Having a big batch on hand allows us to pull out just a small amount that is needed here.
Homemade Taco Seasoning
This Homemade Taco Seasoning comes together fast with measurements for one pound of meat or for a whole container to keep in your pantry!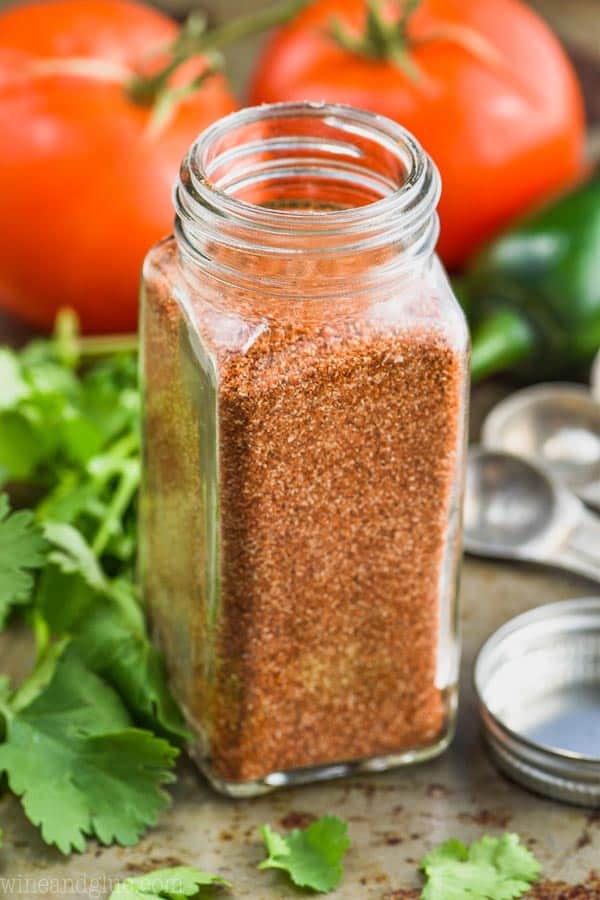 How to Heat Corn Tortillas
Corn tortillas are wonderful, but they can be tricky to roll without breaking. In my Chicken Enchilada recipe, we dip them in Enchilada Sauce first, but that won't work for these baked chicken taquitos.
This great tip to keep them from cracking comes to you courtesy of the food network.
Get paper towels wet and then ring them out so they are just damp.
Wrap the tortillas in them.
Put the wrapped tortillas in a plastic ziplock bag with one inch not sealed. The bag needs to be microwave safe. Ziplock brand works great for this.
Pop the bag in the microwave for 1 minute to steam the tortillas.
Be very careful when you take them out because they will be pipping hot. But they will then roll without cracking.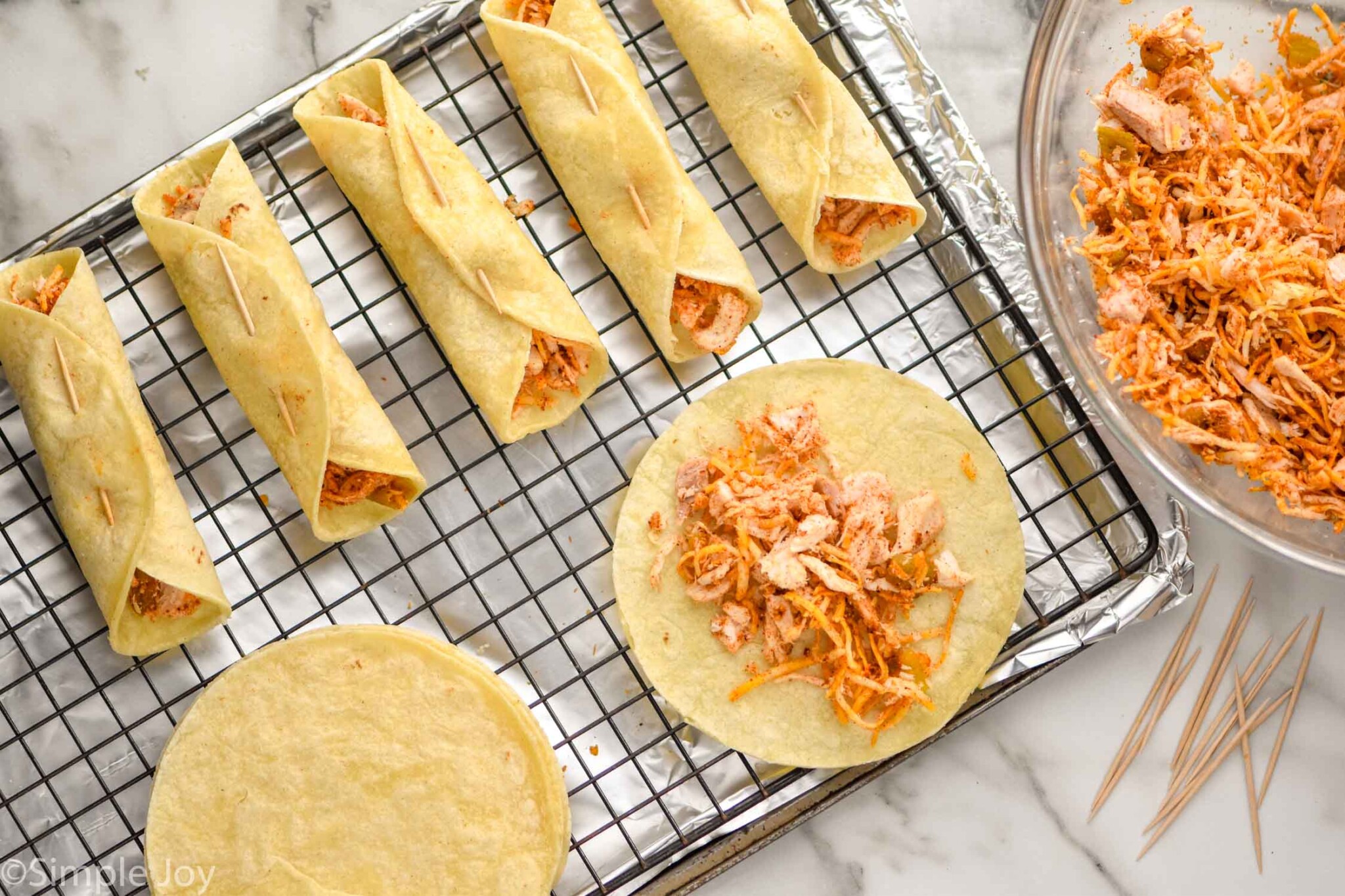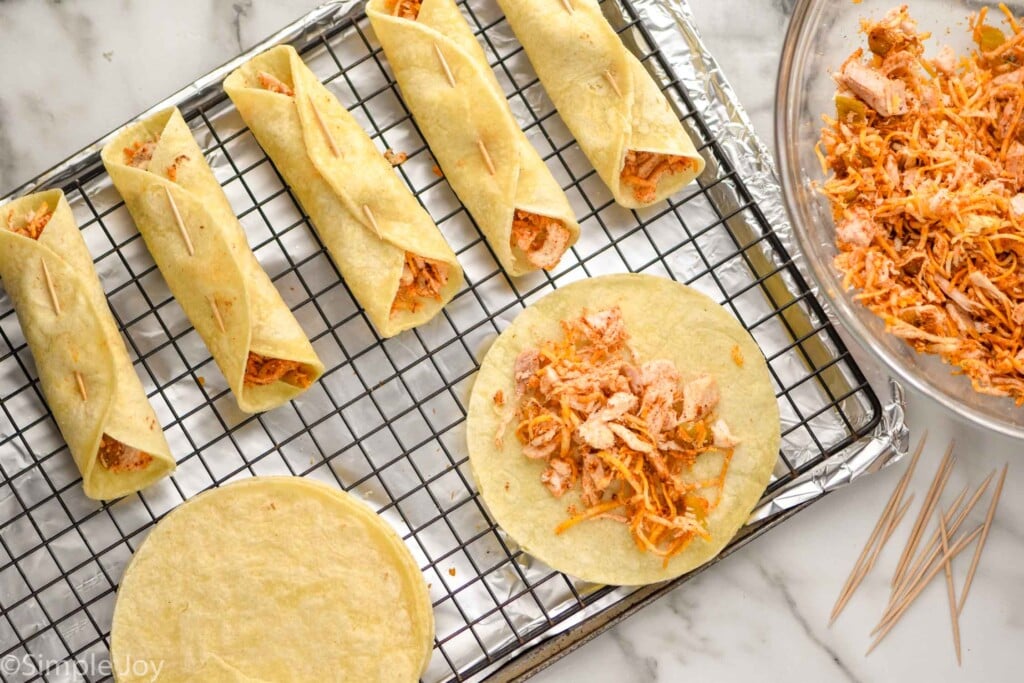 Rolling Up Chicken Taquitos
After you have the filling made and the tortillas warmed, it's time to construct the taquitos. Place just a little filling in the center of each corn tortilla, about two tablespoons. Then roll it up and secure it with a toothpick. After baking the toothpick will come out perfectly.
Before baking, we want to coat the chicken taquitos in oil so they crisp up. This will take the place of the deep frying. It won't get as crisp as deep frying, obviously, but it will be a healthy alternative that you will still love. You can either spray them with cooking spray, or brush them with vegetable oil. The brushing will make them more crisp, but the cooking spray will be faster. It's up to you which you prefer.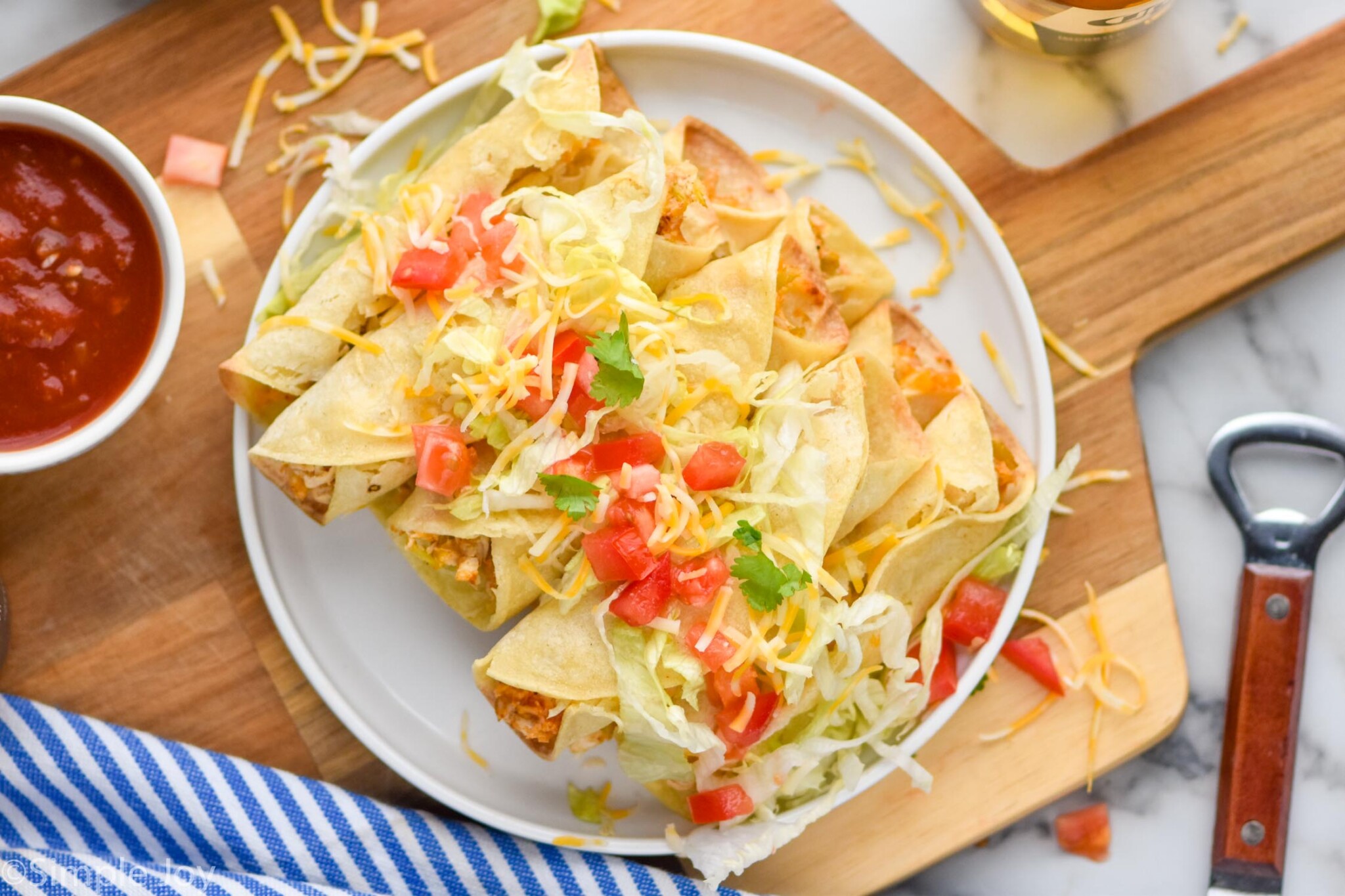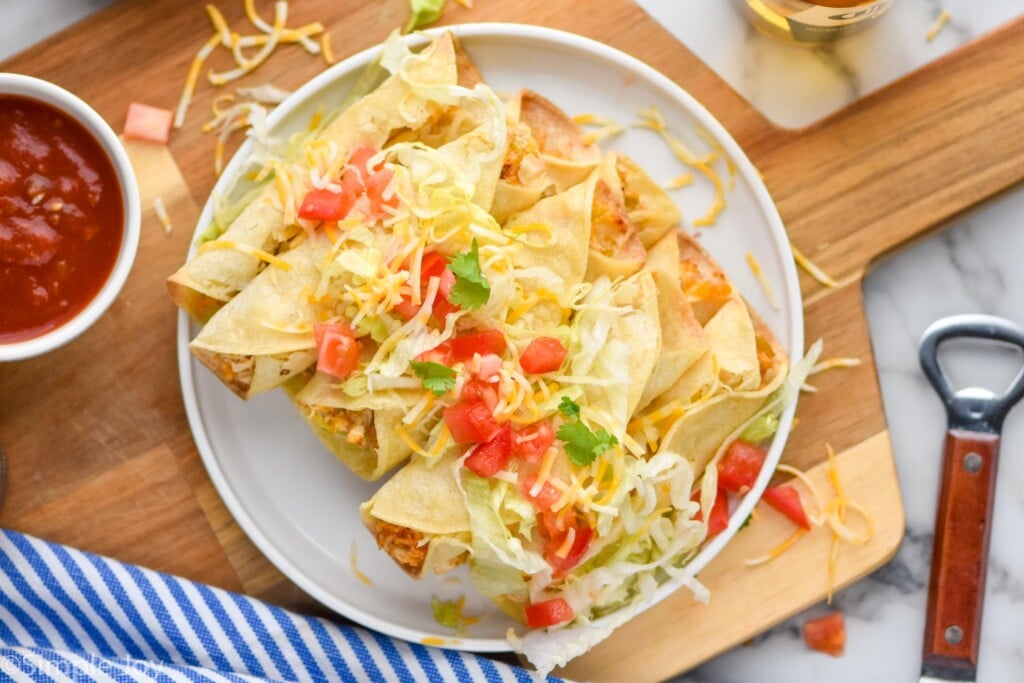 Freezing Taquitos
These freeze very well and then can be pulled out of the oven individually or as a bunch and reheated. To freeze them, place the baked taquitos on a plate lined with wax or parchment paper. Place in the freezer for four hours. Transfer to an air tight container and store for up to three months.
When you are ready to eat them, bake them from frozen at 400 degrees for 15 to 20 minutes.
FAQ
Can these be made ahead of time?
Because of how fragile the corn tortillas are, I recommend baking them shortly after constructing them. That being said, these do reheat very well and are even delicious cold.
Are taquitos gluten free?
Most corn tortillas are naturally gluten free, which means this recipe is gluten free. That being said, always double check the ingredients you purchase before making a recipe for someone with a gluten allergy.
Are chicken taquitos unhealthy?
That depends on how you make them. In this recipe we are baking them, rather than frying them, which makes them significantly more healthy. Additionally, you can make this recipe without any overly processed ingredients.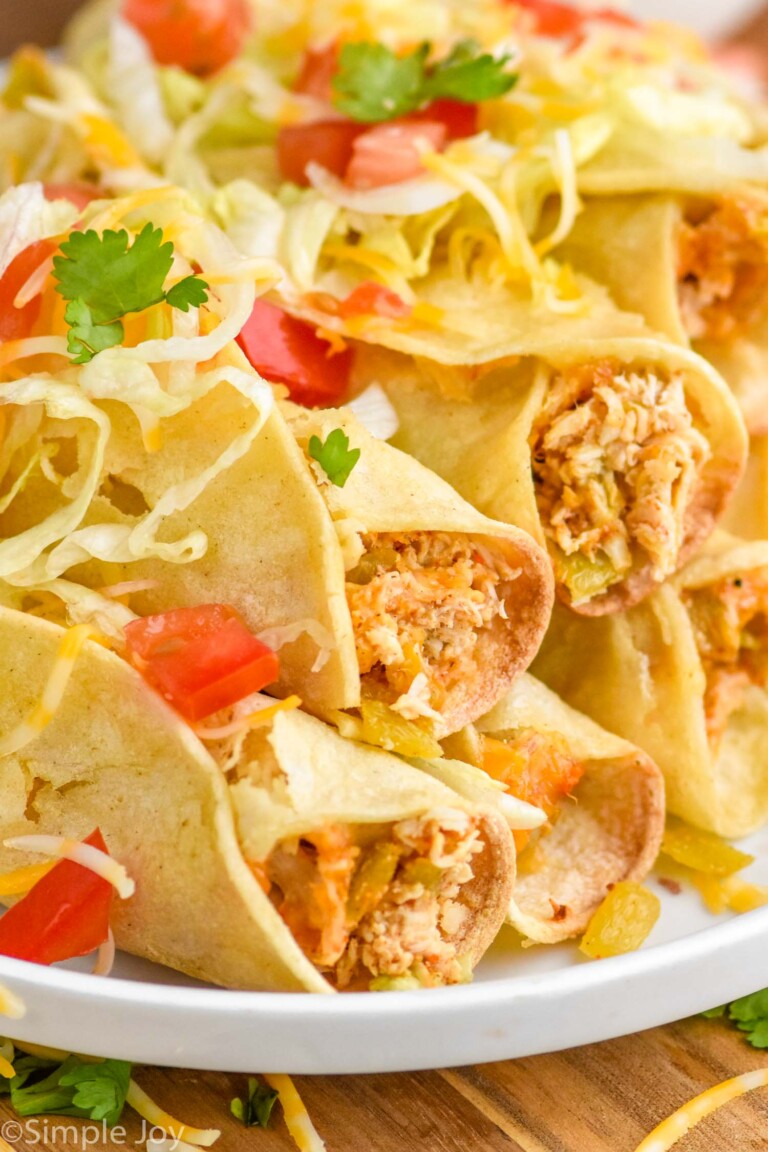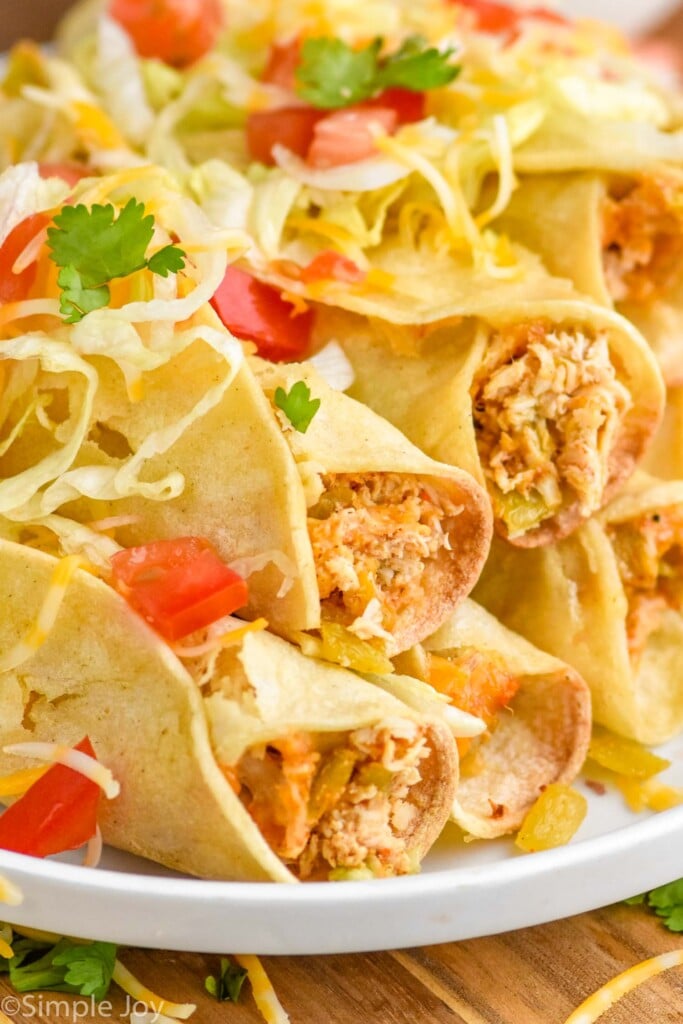 What to Serve with Taquitos
If you make this Chicken Taquito recipe or any of my other recipes, please leave me a comment and let me know what you think!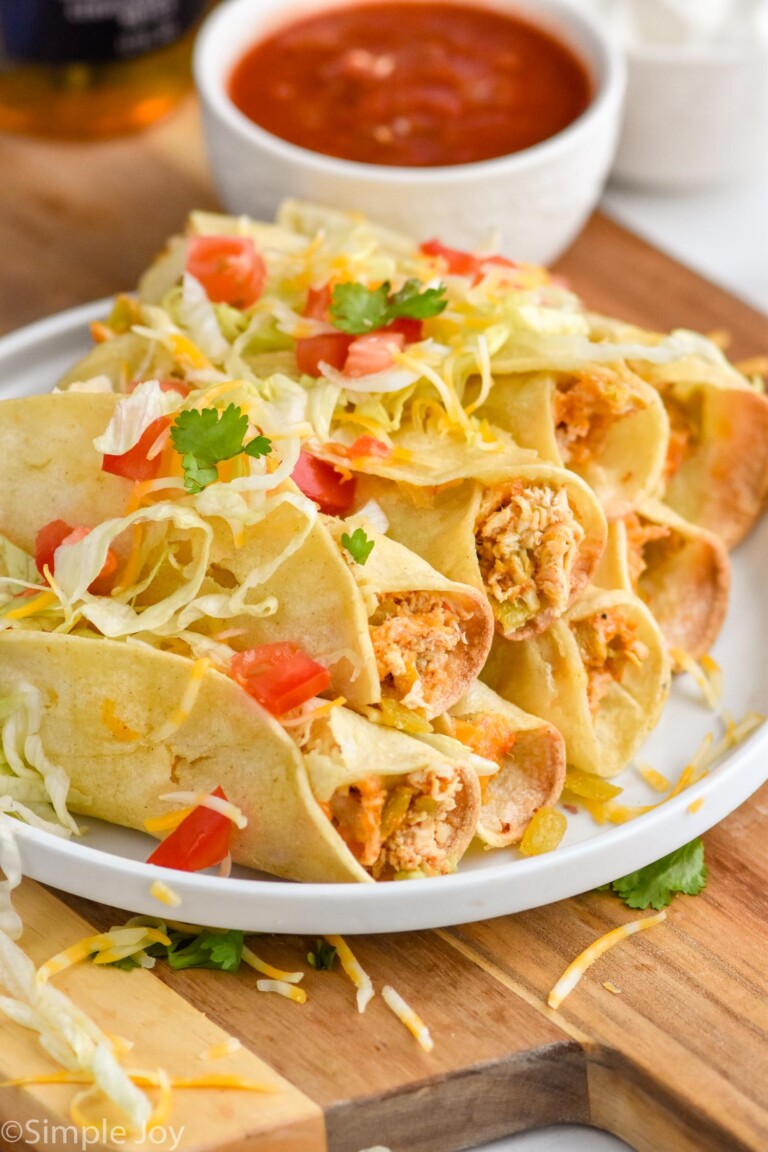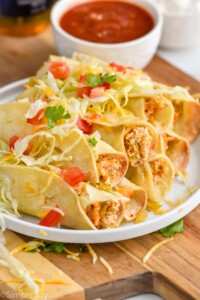 Chicken Taquitos
This simple take on Chicken Taquitos is an easy dinner idea to make at home. With just a few basic ingredients you have a great dinner or appetizer that everyone from kids to adults will love.
Ingredients
2

cups

cooked shredded chicken

2

cups

shredded Colby-Jack cheese

1

tablespoon

taco seasoning

(try our homemade recipe!)

4

ounces

green chiles

undrained

15 – 20

white corn tortillas

6 inches in diameter

2

tablespoons

vegetable oil

(see note)
Taquito Toppings
shredded lettuce

sour cream

guacamole
Instructions
Preheat your oven to 400 degrees. Line a rimmed baking sheet with aluminum foil. Place a wire cooling rack in the tray. Spray it liberally with cooking spray. Set aside.

In a large bowl, combine the chicken, cheese, taco seasoning, and green chiles.

Add about 2 tablespoons of the chicken mixture to each corn tortilla. With the seam side up, thread a long toothpick to hold the tortilla closed. Brush the tortillas liberally with the vegetable oil. (See my note about spraying with vegetable oil.)

Place the rolled taquitos on the wire rack. Bake for 10 to 15 minutes or until the tortillas are golden brown. Remove from the oven, take out toothpicks, add toppings, and enjoy while warm.
Notes
If you want to make this recipe just a little easier you could spray both sides of the taquitos with cooking spray, rather than brushing them with oil. This is much faster, but the taquitos don't get quite as crisp.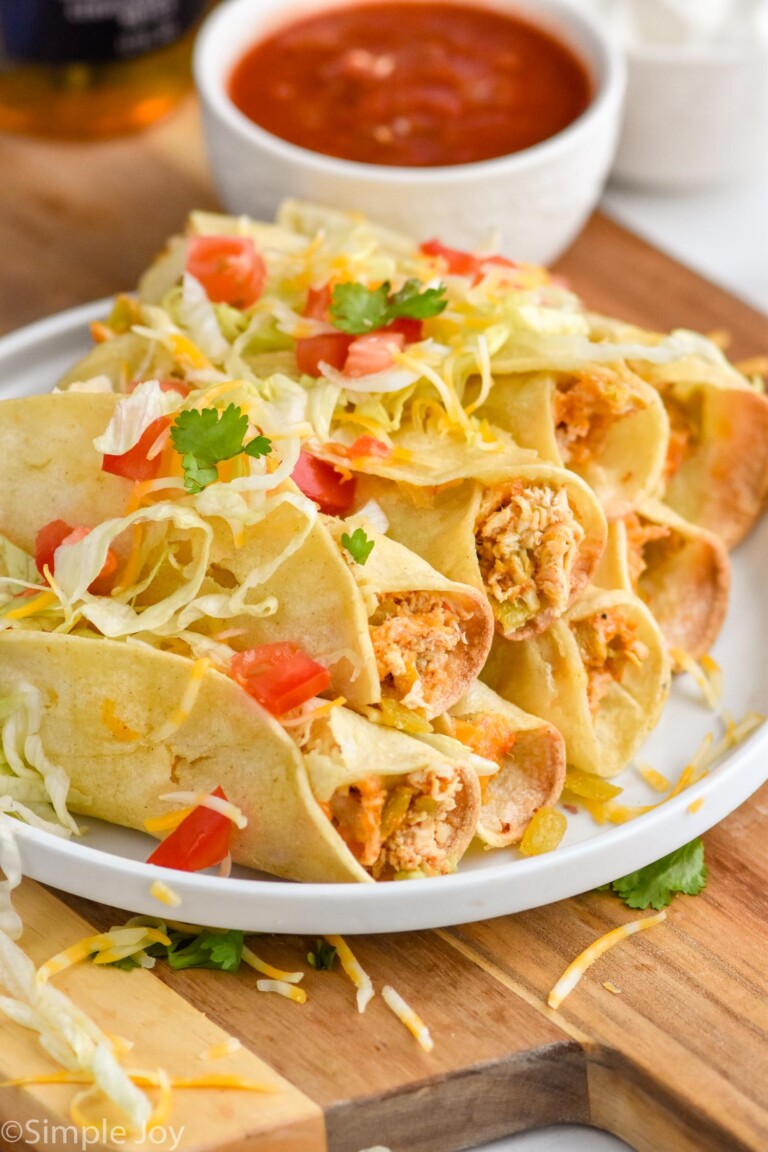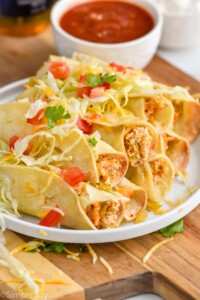 did you make this
Chicken Taquitos