This Chipotle Corn Salsa is so easy to make at home. Such a delicious and easy corn salsa recipe that is perfect to eat with chips or on tacos.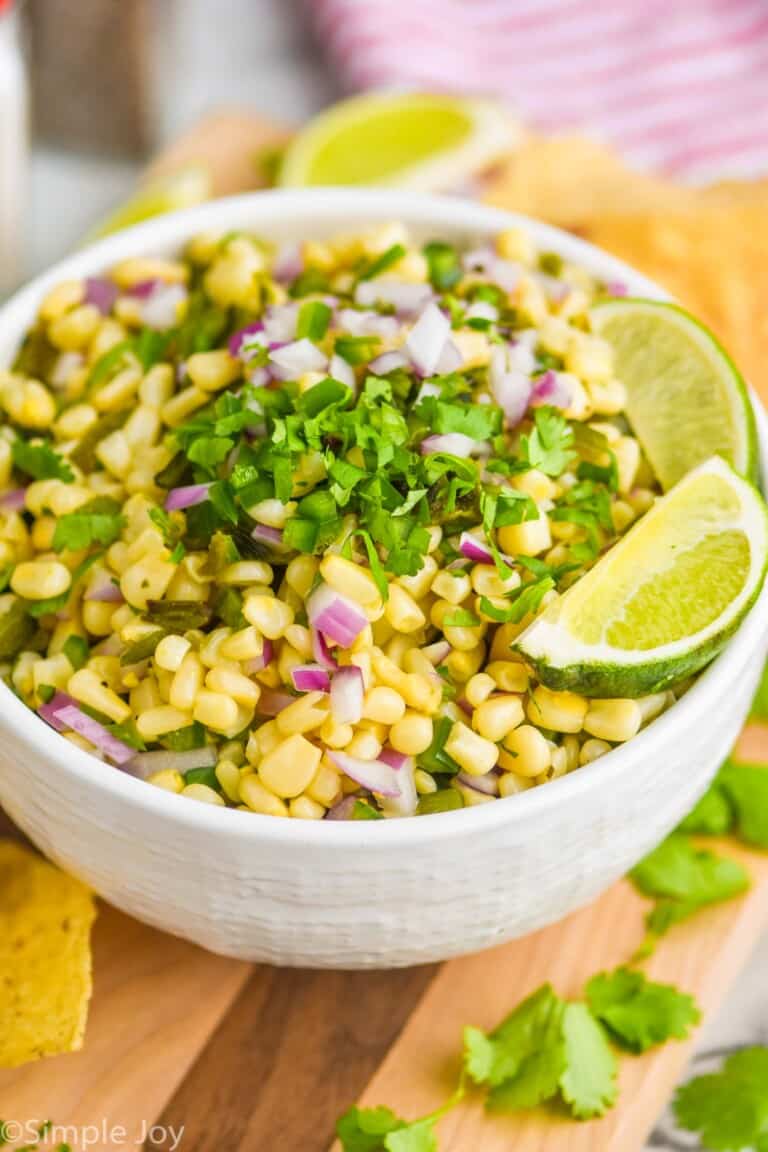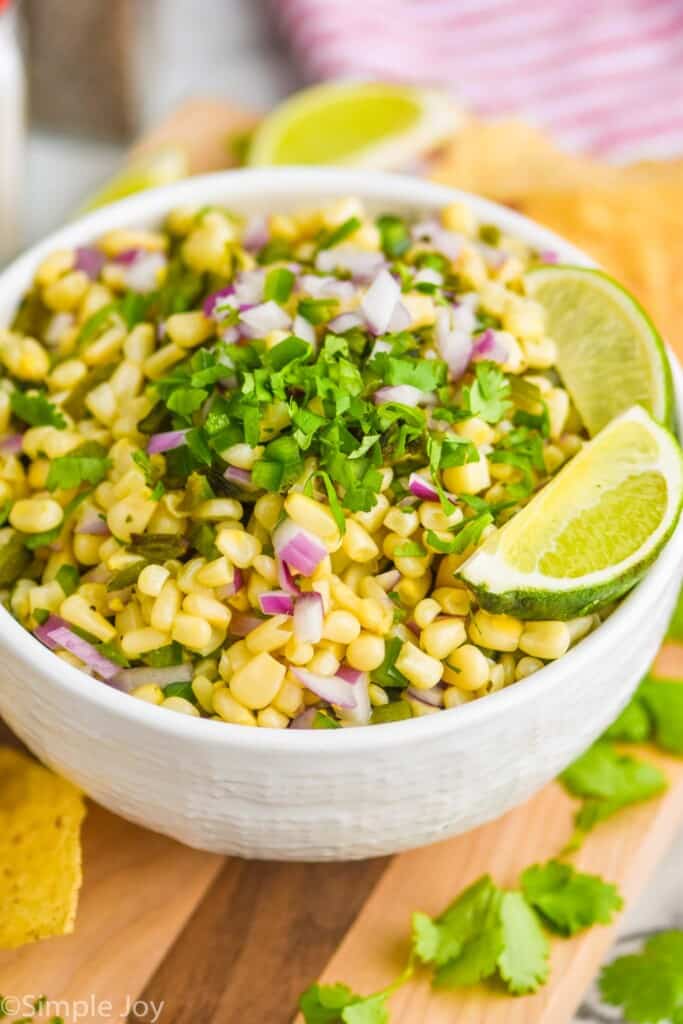 Sometimes when you get something from a restaurant, you decide you just have to make it at home so you can have it all of the time. It is like that for me with Chipotle's Corn Salsa. This simple and easy salsa is based on their recipe. We added just a bit more roasted pepper and ours is slightly less sweet, but we like it even more.
How to Make Chipotle Corn Salsa
Roast the Poblano Pepper: This is simple to do, and we have photos showing how below.
Dice: Cut up the onion, roasted poblano pepper, jalapeño, and cilantro. And combine with the rest of the ingredients.
Adjust Seasonings: After combining everything, taste and add more salt as needed.
How to Roast a Poblano Pepper
To roast the poblano pepper for this recipe, set it right over the heat on your stovetop. Alternatively, you can roast it on a parchment paper lined baking sheet in the oven for 30 to 40 minutes at 450 degrees.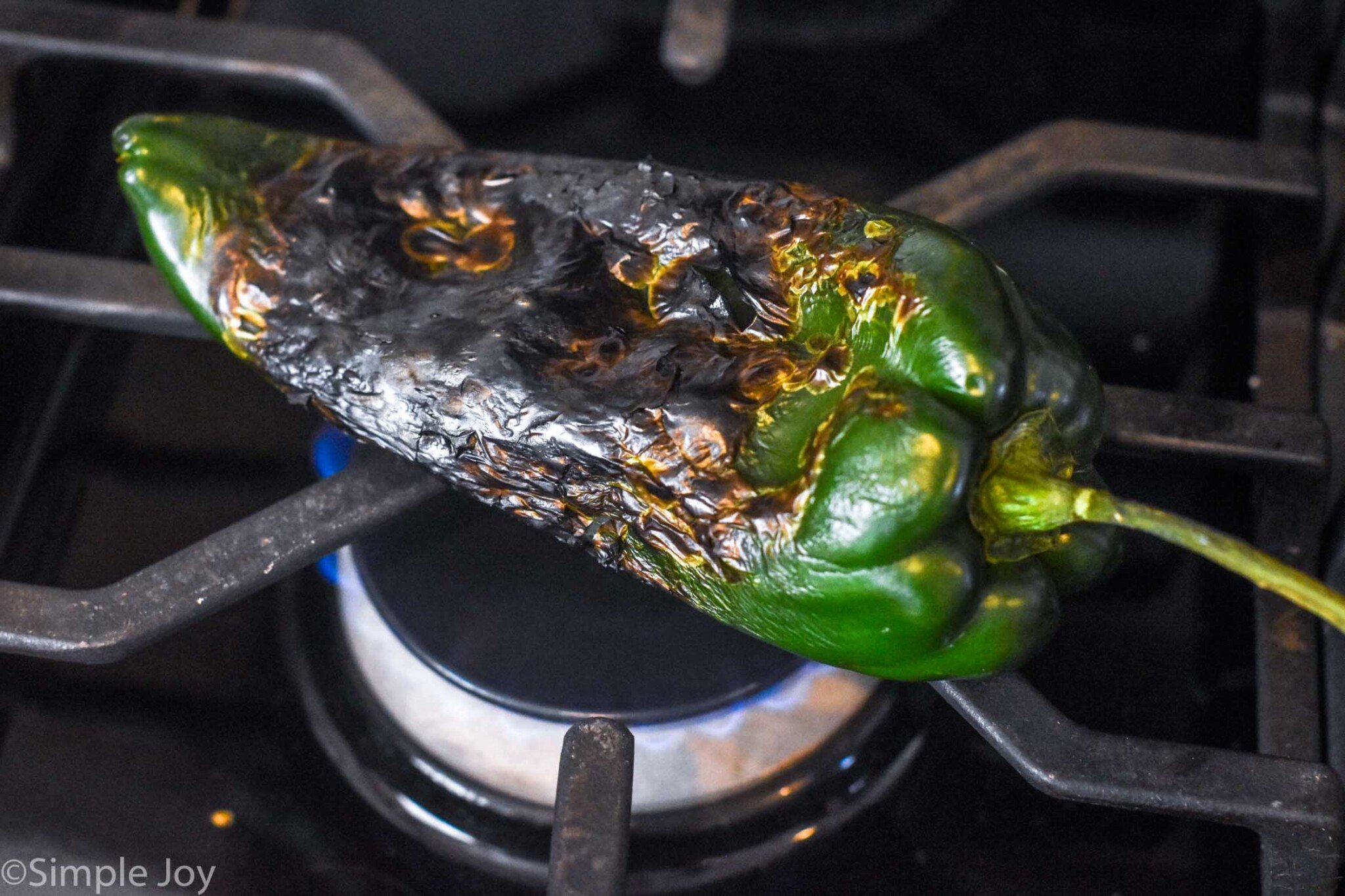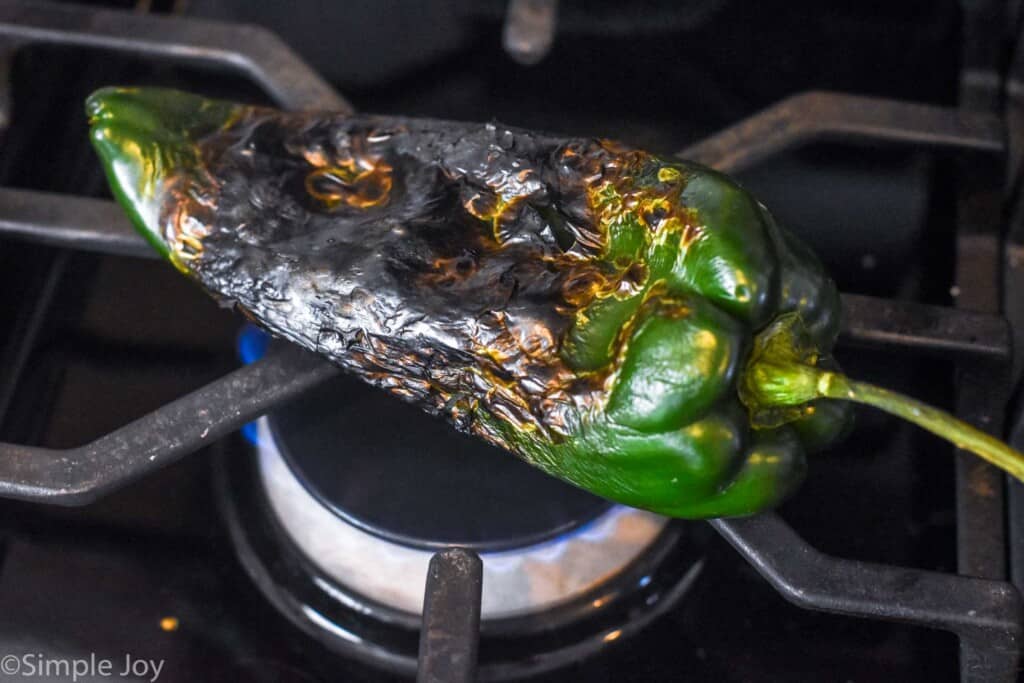 Roast it for 10 minutes over medium heat, turning it ever 2 minutes. It will crackle and the skin will turn black, and that is fine.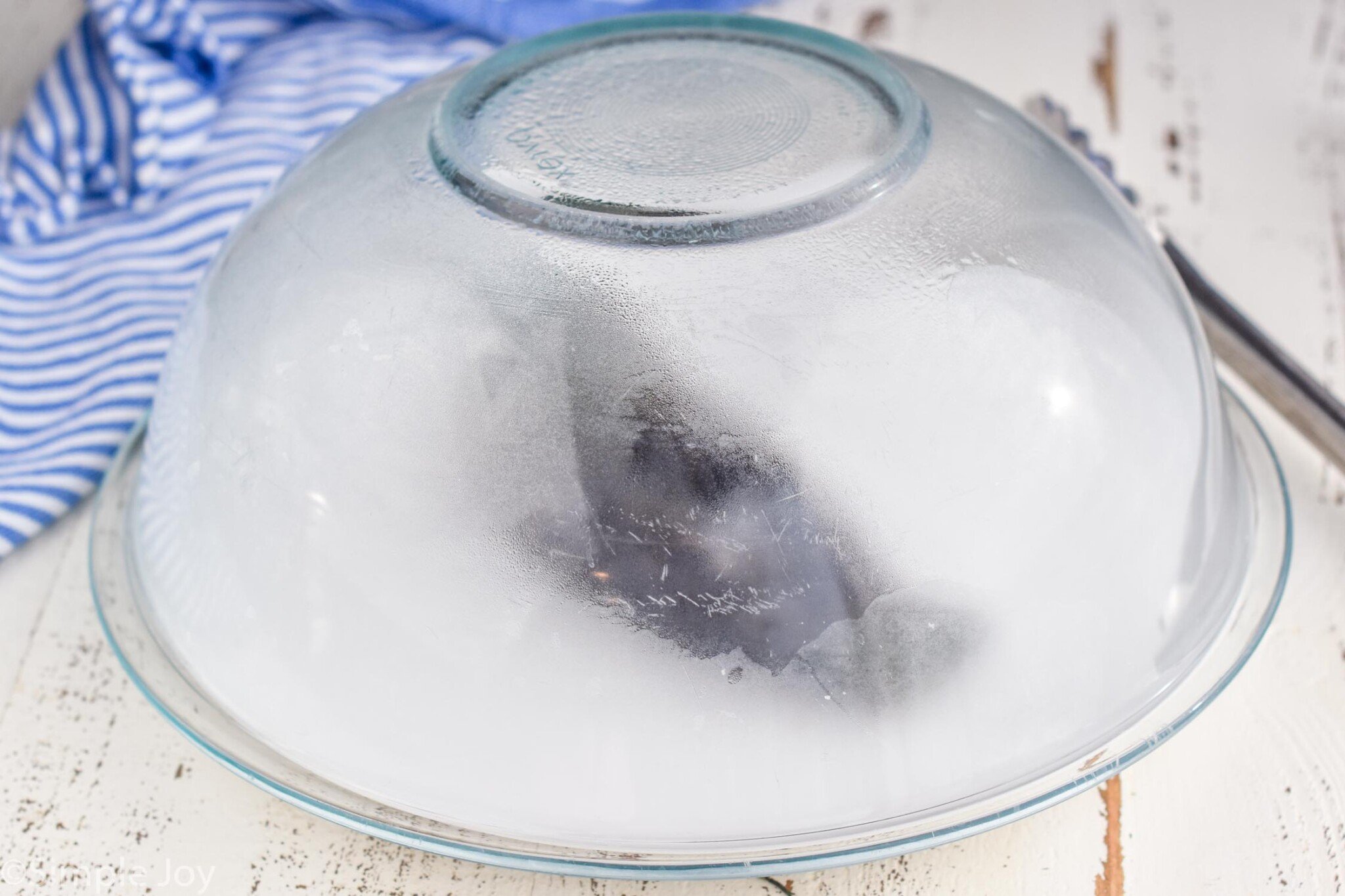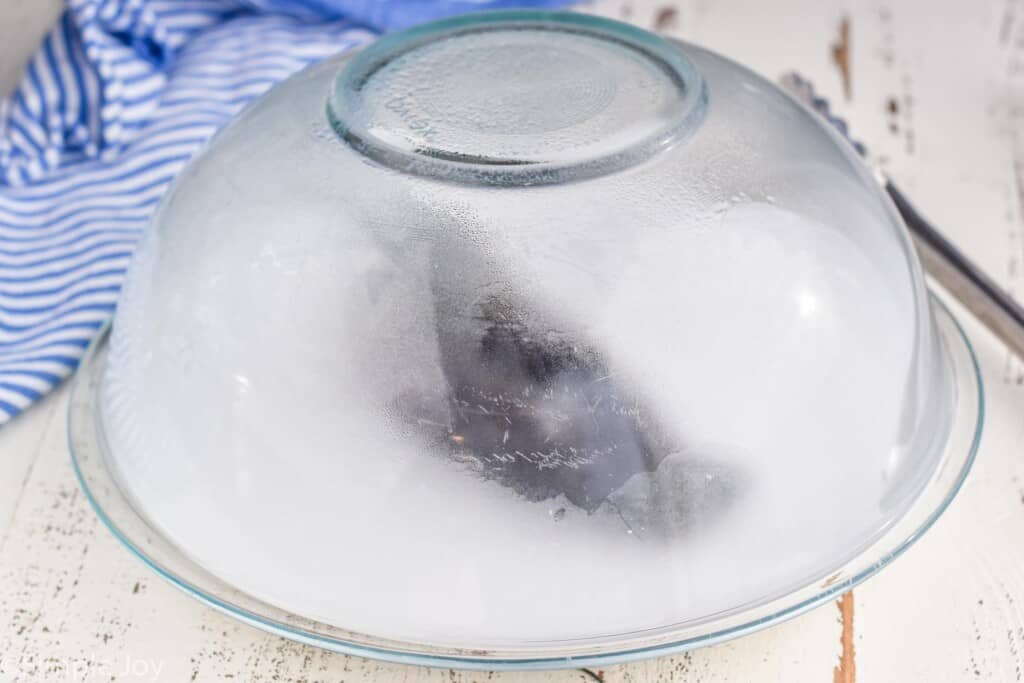 Take the pepper off the heat, and cover it with a bowl. Let it steam for 15 minutes.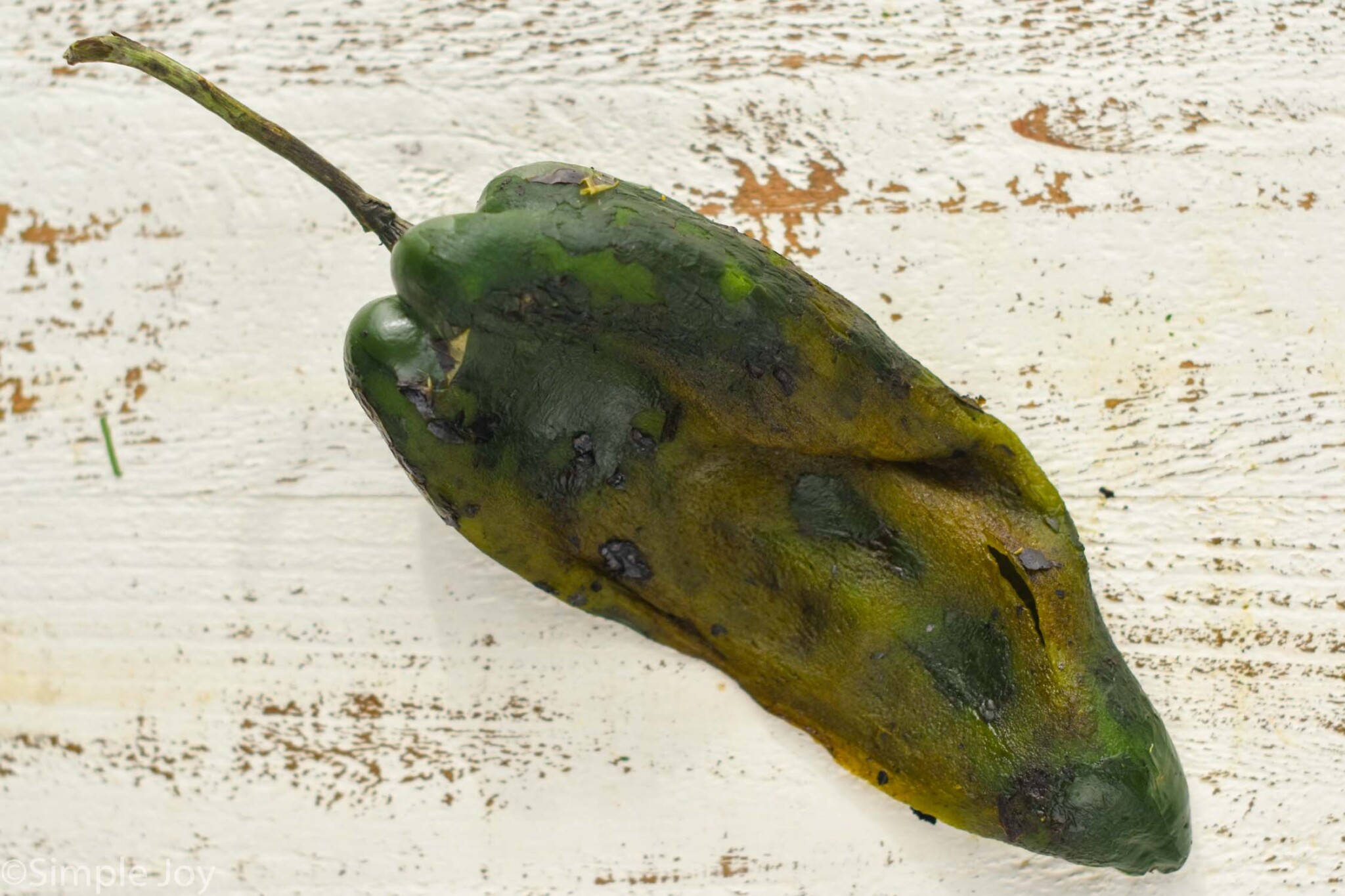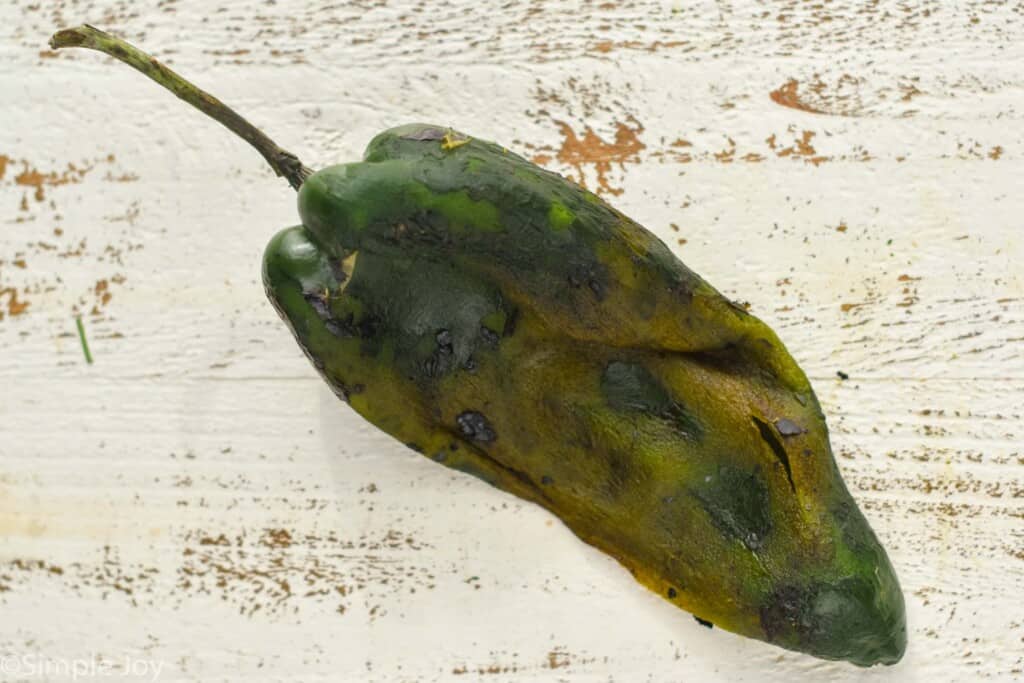 Peel off the skin.
How to Dice a Jalapeño
When dicing a jalapeño I like to treat it like it has four sides, and cut off each one, while rotating it. Slice off each side, without the ribbing, and then cut long strips and dice those fine. This avoids the ribs and seeds, and keeps a lot of heat out of the recipe.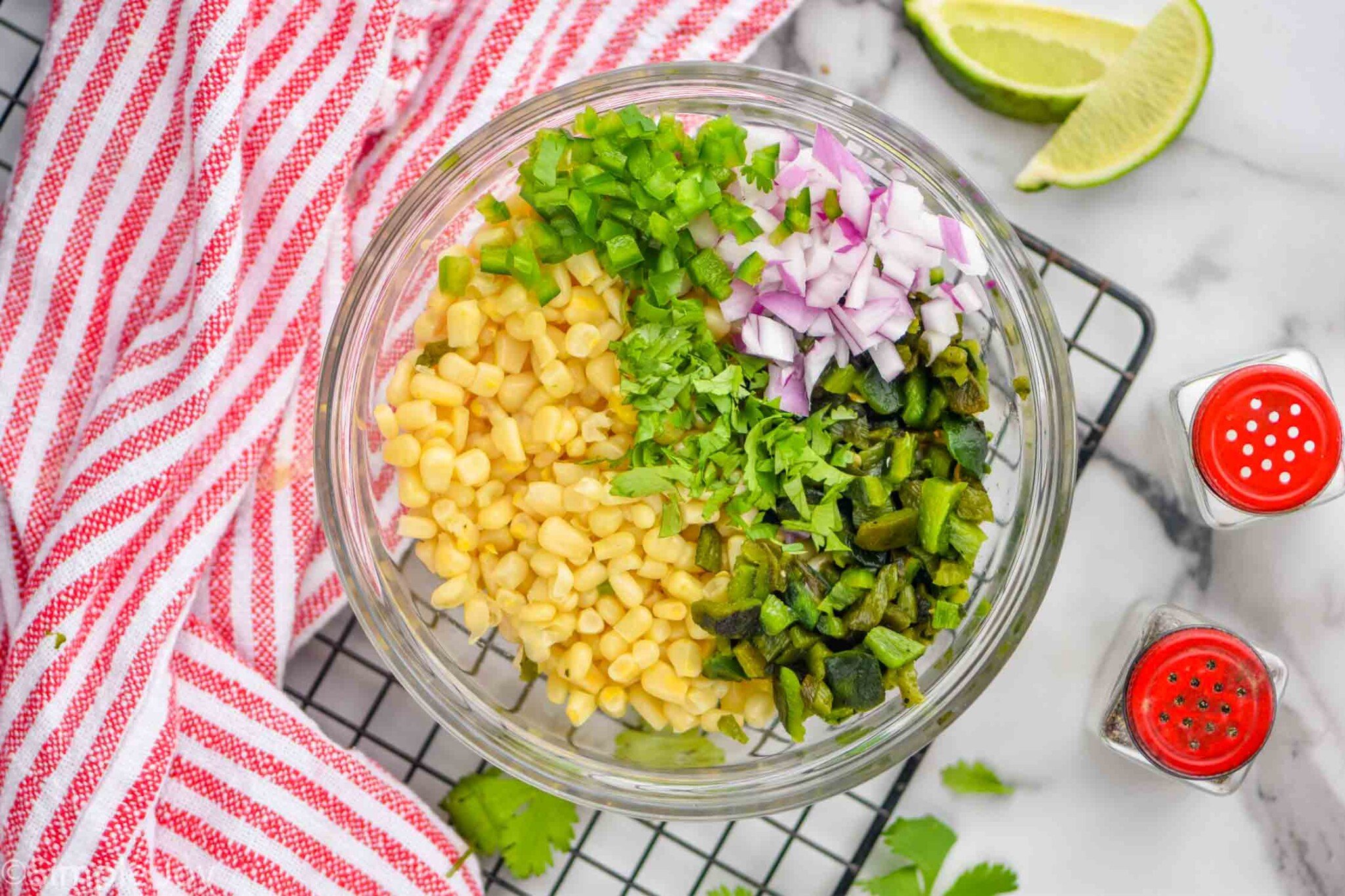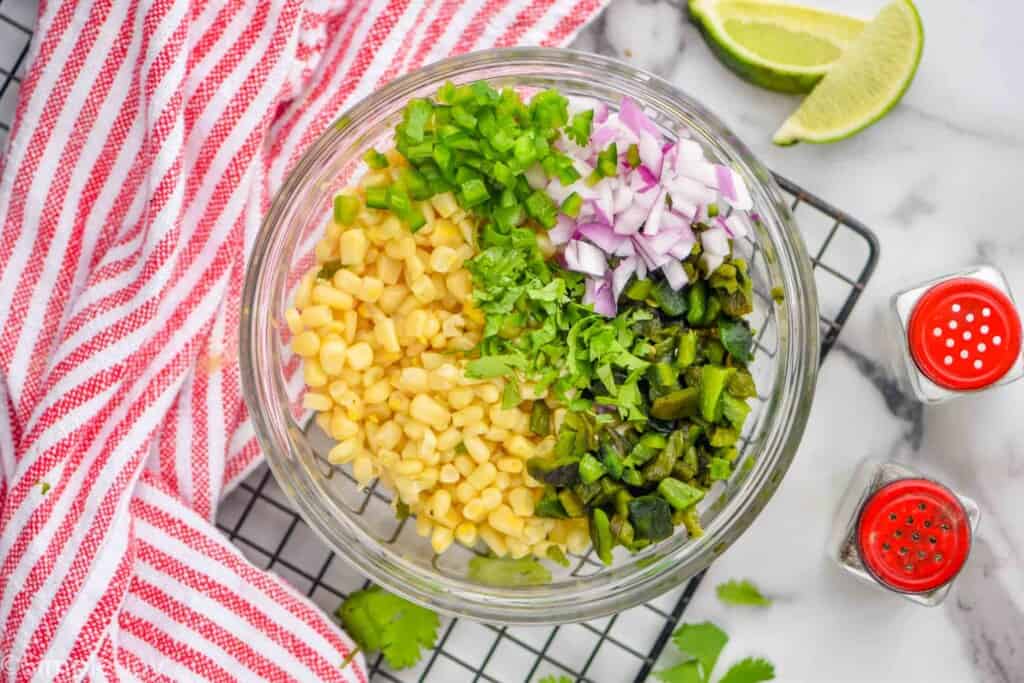 Eating on Tacos
I love this Chipotle Corn Salsa straight with chips, but it is absolutely delicious on these Chicken Street Tacos. And it is perfect with our Chicken Tacos that we eat almost once a week.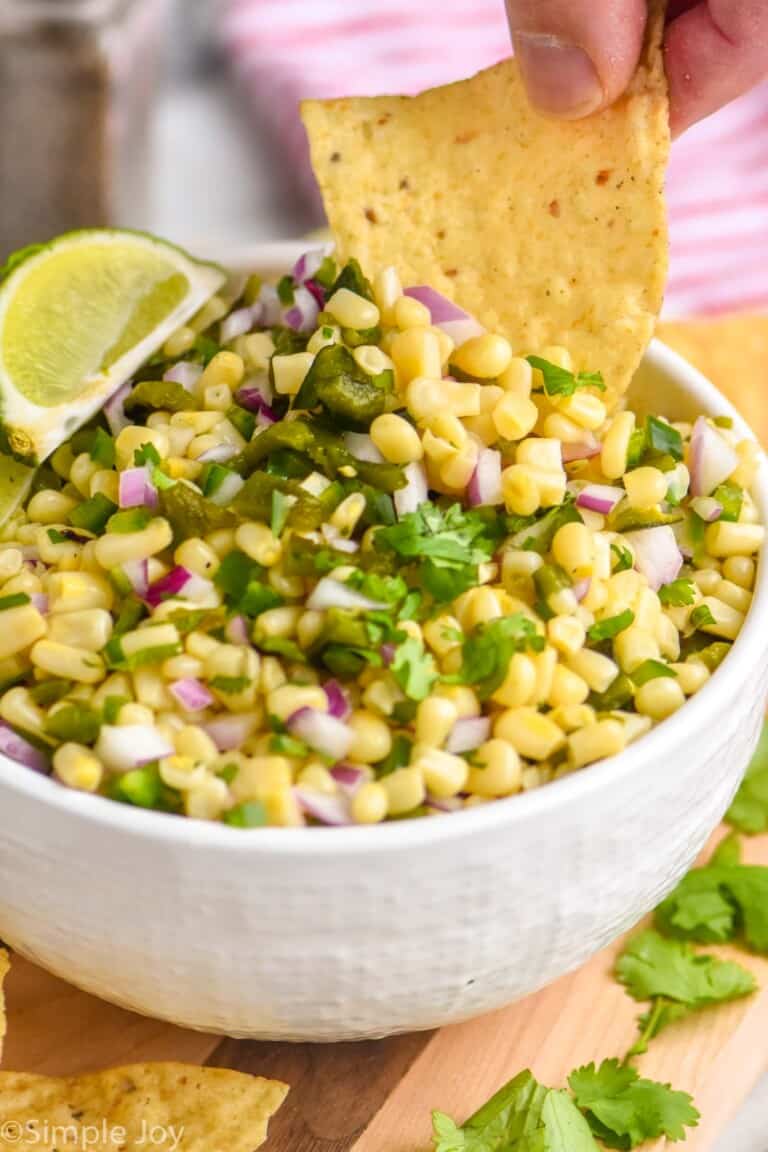 Storing this Chipotle Corn Sasla
This recipe can be stored, in an airtight container, in the refrigerator for 3 to 4 days. This recipe is delicious when made fresh, and serving it for a party I would always make it right before serving.
That being said, I'm not above eating this two days old by myself straight from the container alone in my kitchen. It's so good!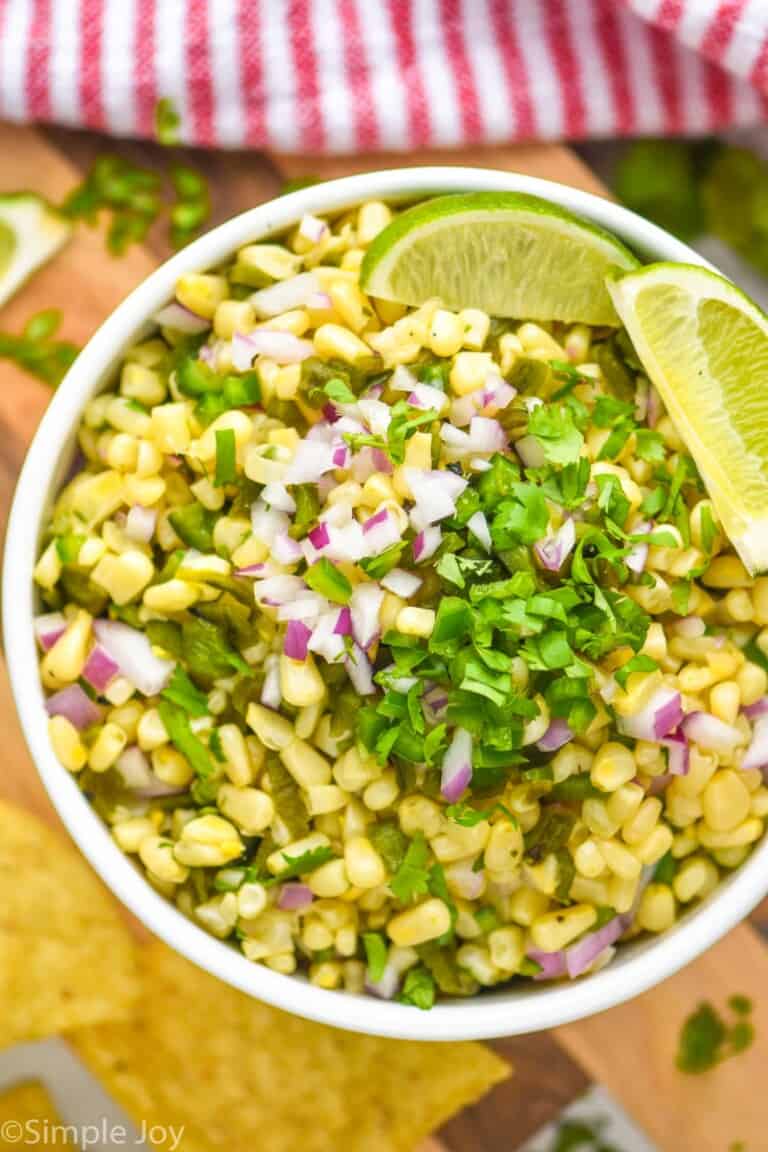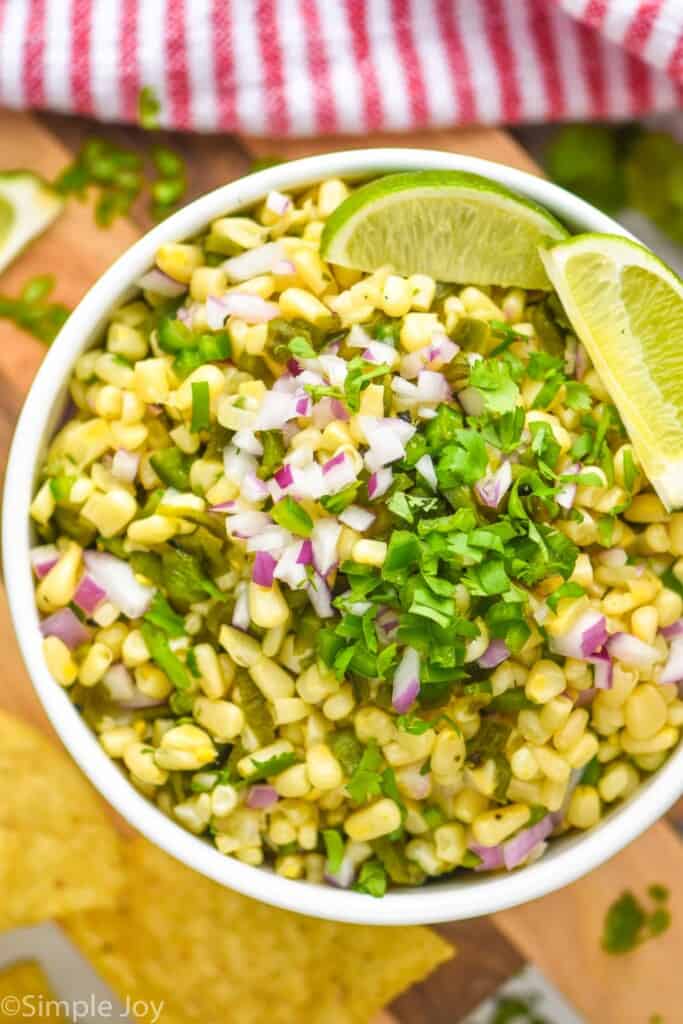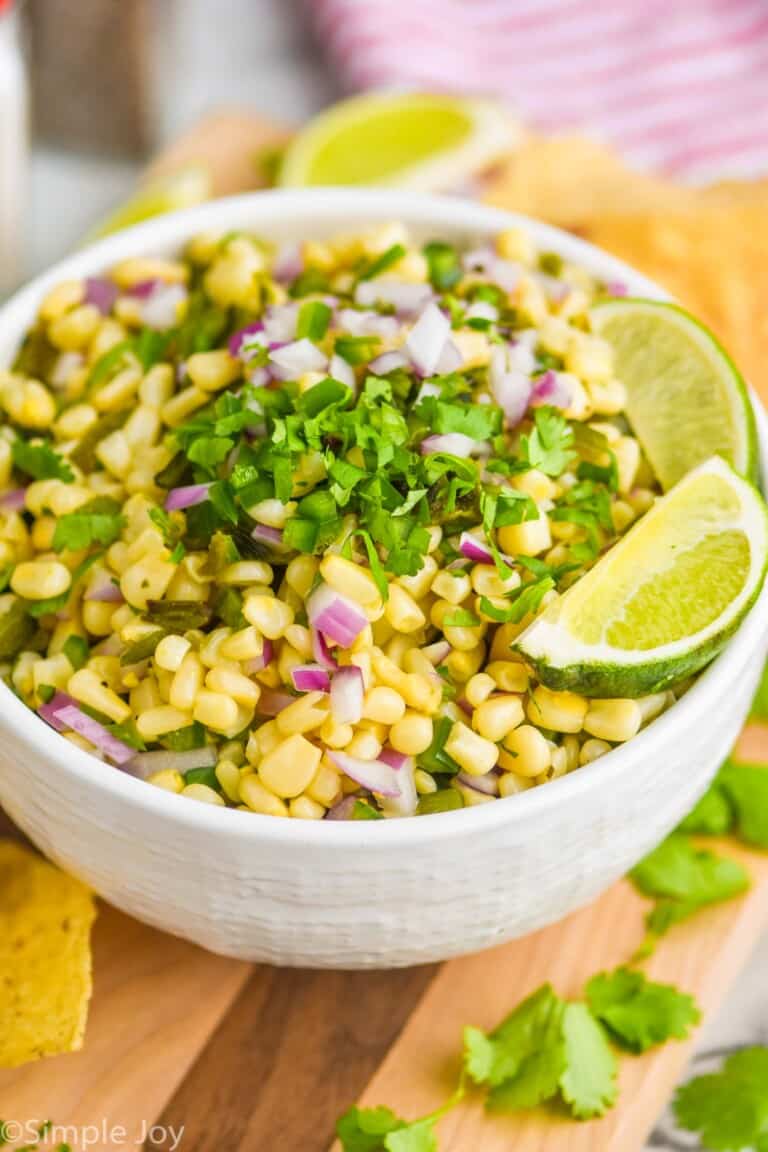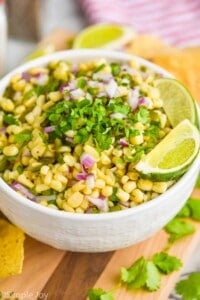 Chipotle Corn Salsa
This Chipotle Corn Salsa is so easy to make at home. Such a delicious and easy corn salsa recipe that is perfect to eat with chips or on tacos.
Ingredients
11

ounce

canned sweet white corn

drained

1/2

a small red onion

diced

1

medium poblano pepper

1

small jalapeno

diced

1

tablespoon

lime juice

1

tablespoon

lemon juice

1

tablespoon

cilantro

chopped

1/2

teaspoon

kosher salt
Instructions
Place the poblano pepper directly on your stovetops burner over medium heat. Cook for 10 minutes, rotating every two mintues. The skin will pop and blacken. When it is fully blackened, remove it from the heat, and place it under a bowl to steam for 15 minutes. Then carefully remove the skin. Dice, discarding the seeds and stem.

Combine all ingredients in a small bowl, toss to combine, and serve with chips.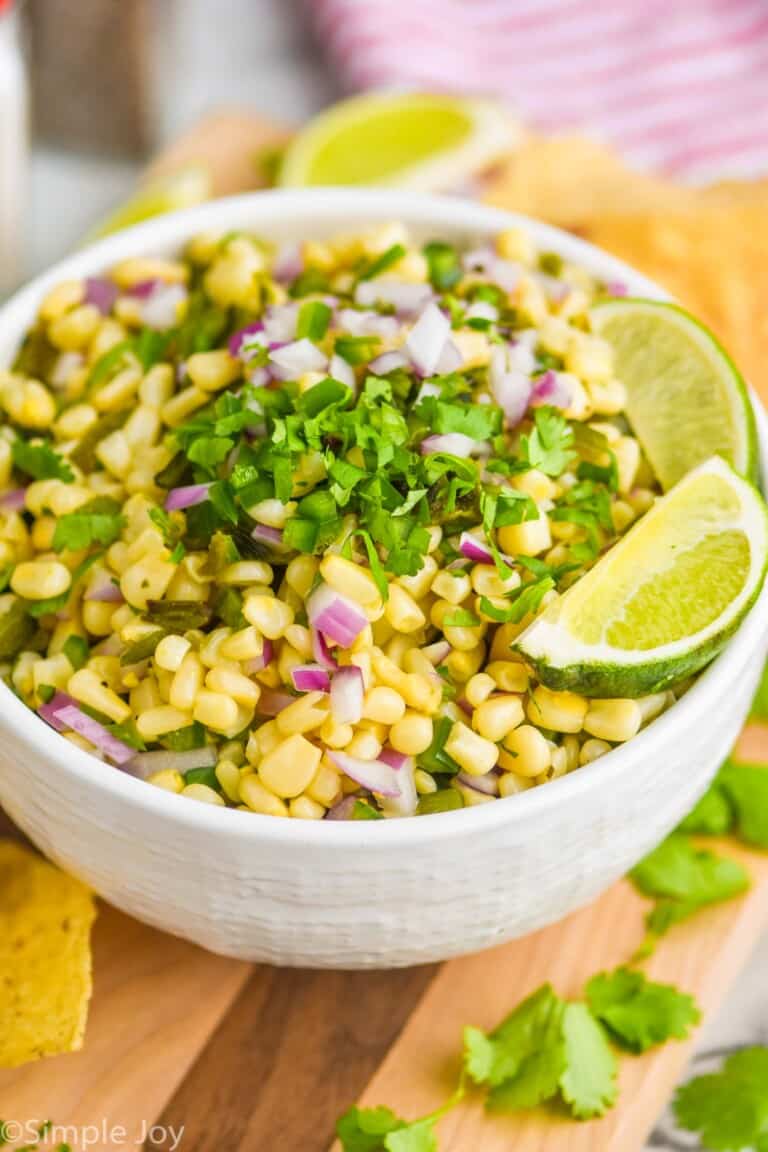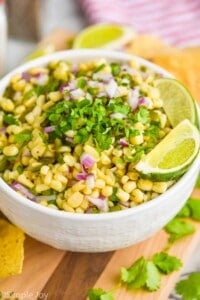 did you make this
Chipotle Corn Salsa
you might also like . . .