These Chocolate Covered Cherry Magic Bars and their brownie base are the delicious candy made into a decadent dessert! Of all the magic bar variations, this one might be the most decadent. These 7 layer magic bars are made without graham crackers and without coconut for a different twist on a classic recipe.
If you are looking for other great magic bars, make sure you try these S'mores Magic Bars, these Milky Way Magic Bars and these Strawberries and Cream Magic Bars. Or make original magic cookie bars.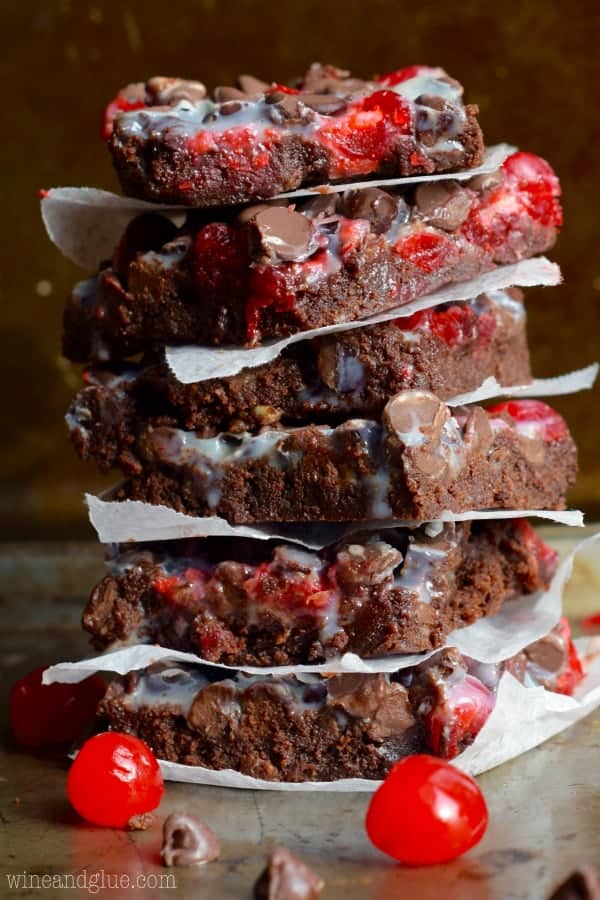 It has come to my attention in the last week that Piper isn't a baby anymore. She's like a for real kid. (I just want you to know that I can hear your collective "Duh." and I really don't appreciate it.)
She is making all of her wants and needs very clear. She is doing things in an attempt to be funny (and totally succeeding) and she wants to do anything and everything that her older brother and sister are doing. In short, she is in the thick of it.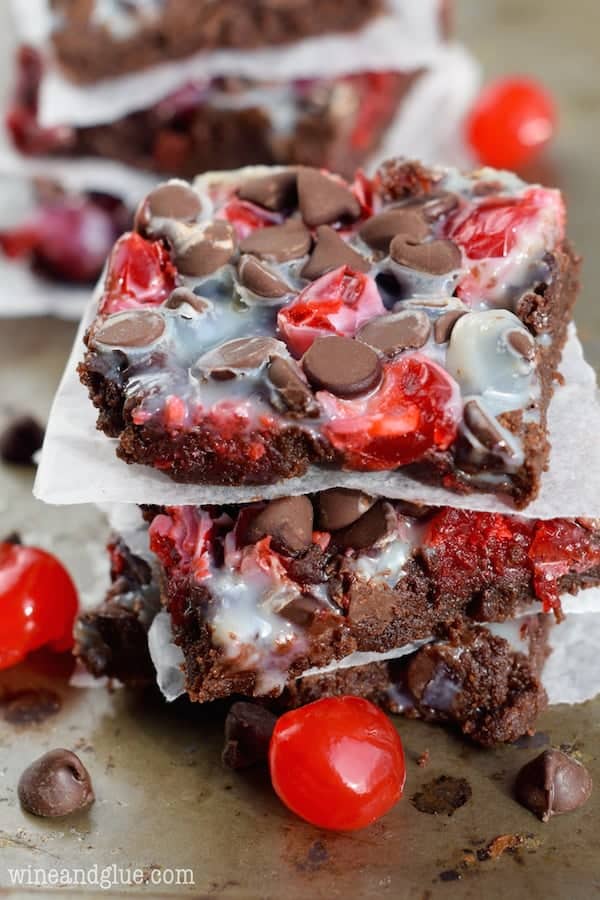 You guys yesterday we watched her take the sword from Gavin's Knight Costume and walk up to Quinn (who was sitting at the kitchen counter on a stool), and with a huge grin, she started smacking Quinn with it. When Quinn started to whine and cry, Piper did her very familiar pucker up move, letting Quinn know she wanted to give her a kiss.
Quinn, thinking all is safe, climbs down from the stool, and gives her little sister a kiss, only to then be smacked again with the sword, but harder now because they are on the same level. And because we are horrible parents we just stood there observing the whole thing and remarking to each other that our baby isn't a baby anymore. (Is it wrong that as someone with two older siblings, a small part of me took some joy in it??)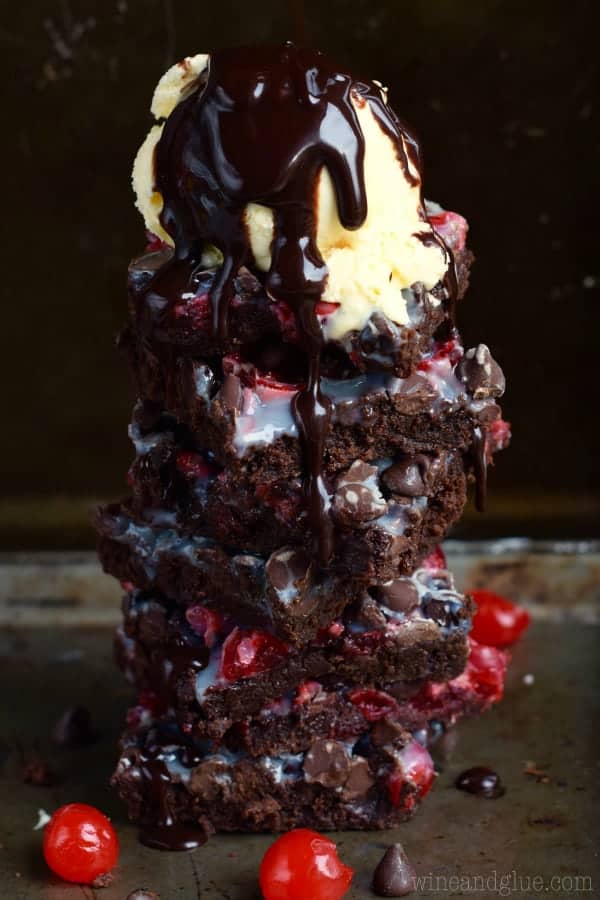 So the perfect thing to drown my sorrows in my baby becoming a KID? Is these amazing Chocolate Covered Cherry Magic Bars. Guys, I legit do not do my magic bars by the book. First, I generally skimp on the number of layers, going from like 7 to like 4. And I also love to shove a layer of sugar cookie in there. But this time? This time I shoved a layer of BROWNIE in there. Sooooooo, delicious.
And if you are really sad about your baby becoming a KID? Well then you make a huge tower of them and you top it with ice cream and fudge sauce. (Okay, see that collective "Duh" I feel good about.)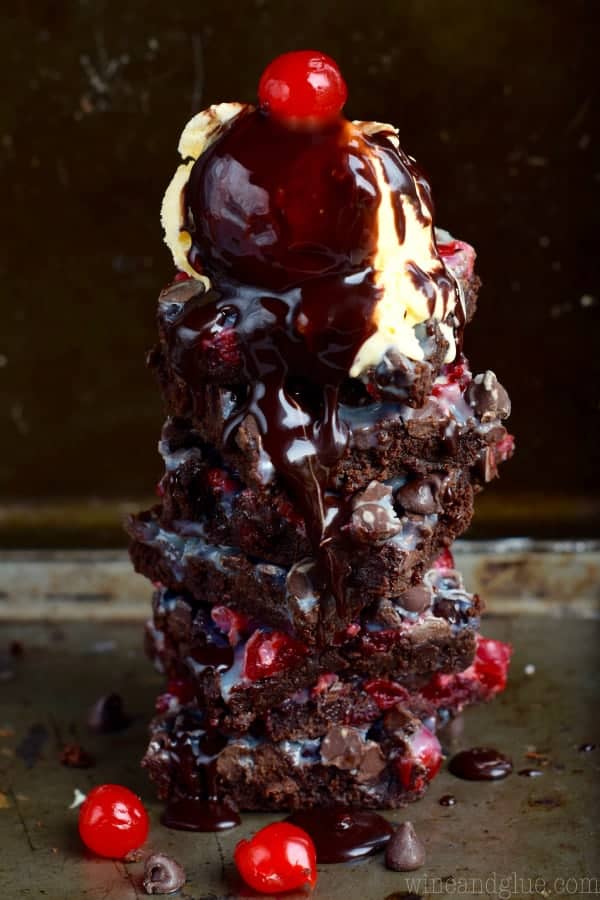 TIPS ON HOW TO MAKE THESE MAGIC BARS
Make sure you are using Sweetened Condensed Milk and not Evaporated Milk. The containers are virtually identically and sold right next to each other so it's an easy mistake to make, but they are very very different.
Make sure you don't use extra sweetened condensed milk. You aren't using a whole can. Just 6 ounces.
These need to cool and set before you cut into them. They will still be gooey, but delicious.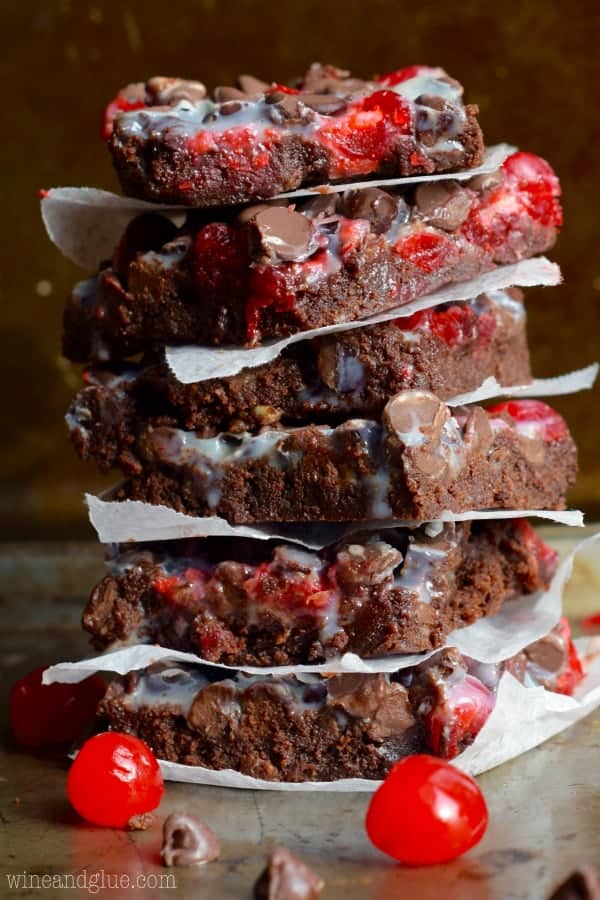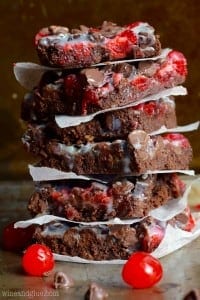 Chocolate Covered Cherry Magic Bars
These Chocolate Covered Cherry Magic Bars and their brownie base are the delicious candy made into a decadent dessert! Of all the magic bar variations, this one might be the most decadent.
Ingredients
1

cup

all purposed flour

scooped and leveled – see note

1

cup

sugar

1/4

tsp

salt

1/4

tsp

baking powder

1/2

cup

unsweetened cocoa powder

1

stick butter

8 TBSPS

1/4

cup

chocolate chips

1

tsp

vanilla

2

eggs

10

oz

jar of maraschino cherries drained and cut in half

1

cup

semi sweet chocolate chips

3/4

cup

sweetened condensed milk

not evaporated milk
Instructions
Preheat your oven to 350 degrees and spray a 9 by 13 inch baking dish with cooking spray.

In a large bowl, mix together the flour, sugar, salt, baking powder, and cocoa powder.

Melt together the butter and 1/4 cup chocolate chips in the microwave on 30 second intervals, stirring in between, until smooth.

Mix the melted chocolate/butter, eggs, and vanilla into the dry ingredients until fully combined. Press into the bottom of the baking dish.

Top the brownie mixture with the cherries, chocolate chips, and then the sweetened condensed milk.

Bake for 28 to 30 minutes until the edges are golden brown. Allow to set up overnight before cutting and serving.
Notes
Make sure that when you measure the flour you scoop it into the measuring cup with a spoon and then level it off. Do not tap down the cup to make sure the measuring cup is full. This will add too much flour to the recipe.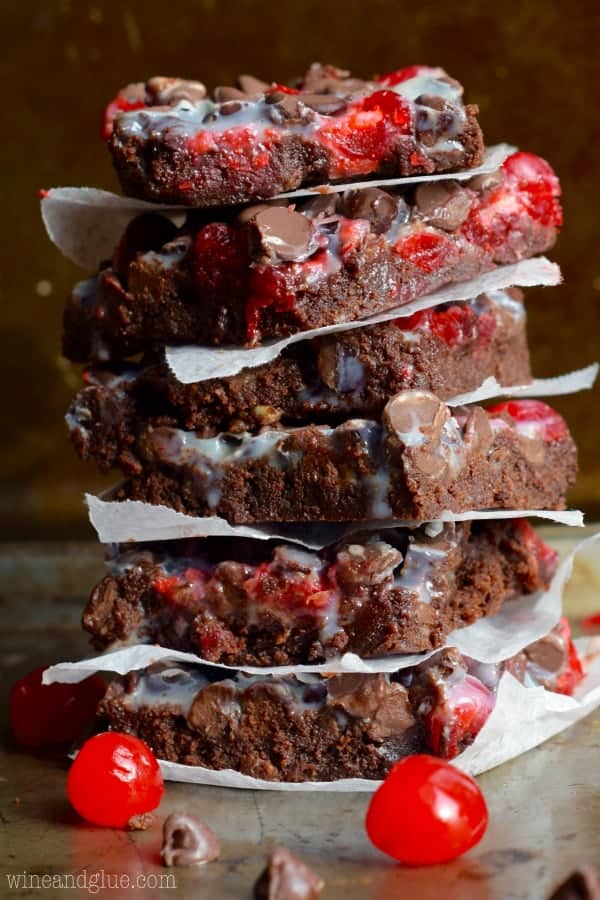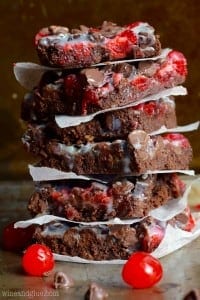 did you make this
Chocolate Covered Cherry Magic Bars