This Coleslaw is going to be your new go to. Not only is it easy to make, but it has that classic taste that is exactly what you want in a good coleslaw recipe.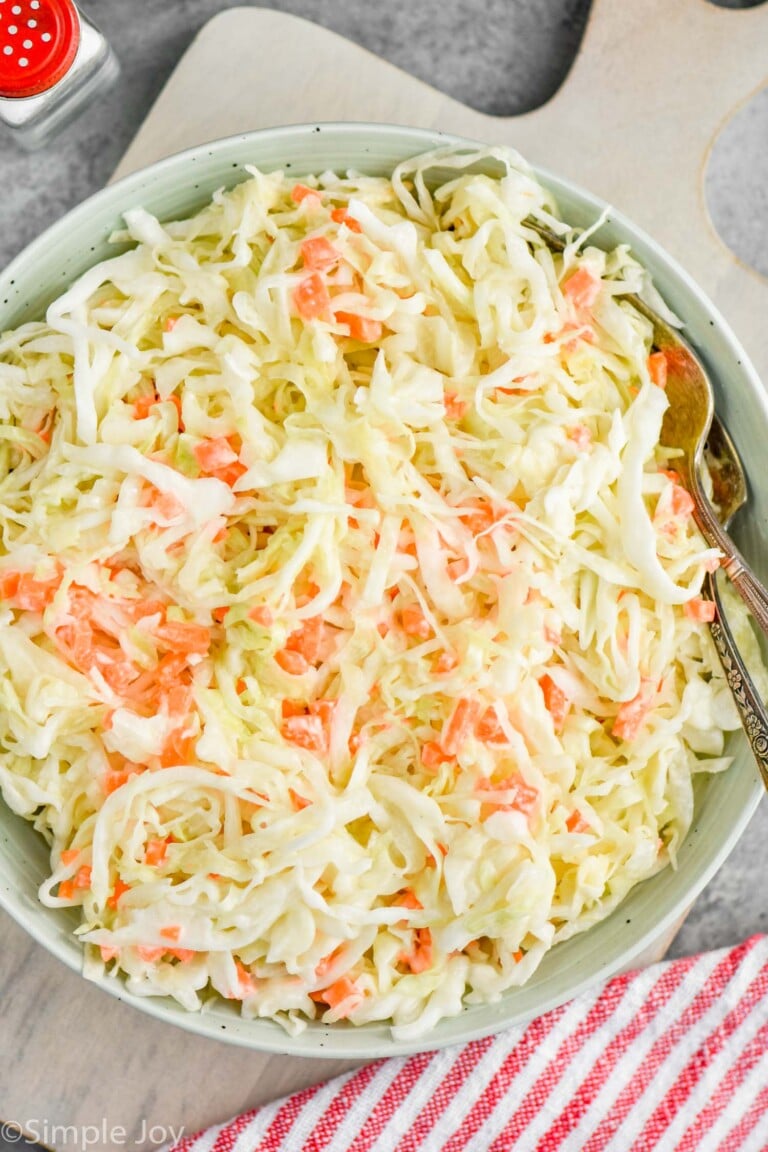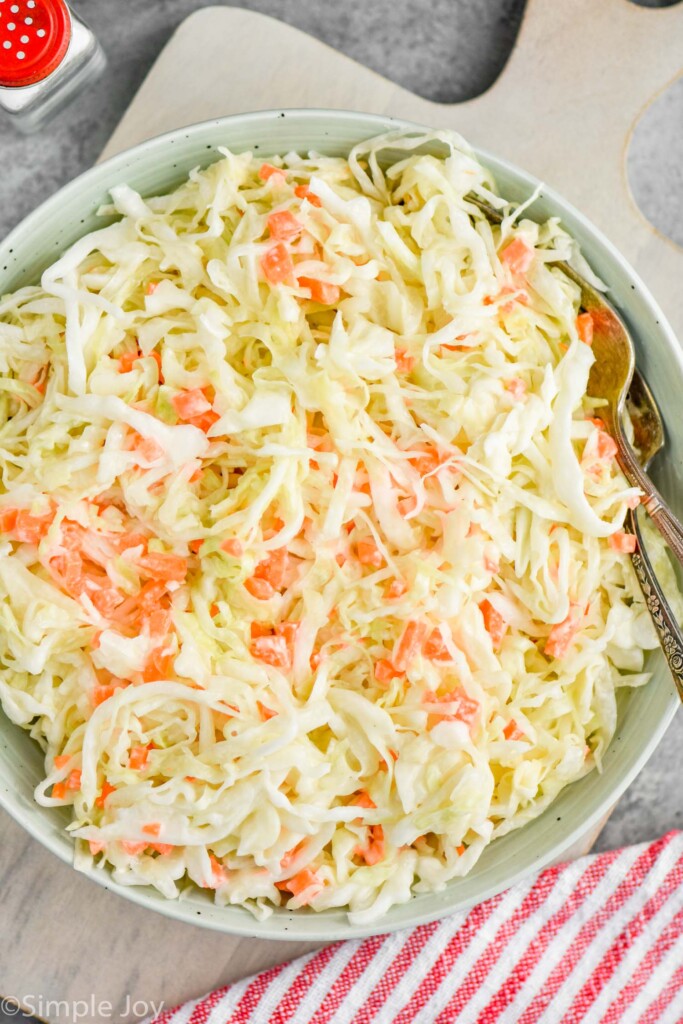 One of my husband's all time favorite things is coleslaw from KFC. I have been bound and determined for years to make a recipe that competes with the KFC coleslaw recipe. After multiple rounds of testing, this amazing homemade coleslaw not only stands up to that recipe, I would argue that it's even better.
How to Make Coleslaw
This is a brief overview so you can see how easy it is to make coleslaw. Make sure to scroll all the way to the bottom of the post to get the full list of measurements and all of the instructions.
Cut the cabbage into thin strips. Read more on how to do this below.
Dice the carrots. Check out my section below on why I am dicing.
Make the dressing. This recipe has a great coleslaw dressing to it that whips up in just minutes. Read all about our secret sauce below.
Combine everything. Add the dressing to the cabbage and diced carrots. Toss to combine and put it in the refrigerator for at least two hours.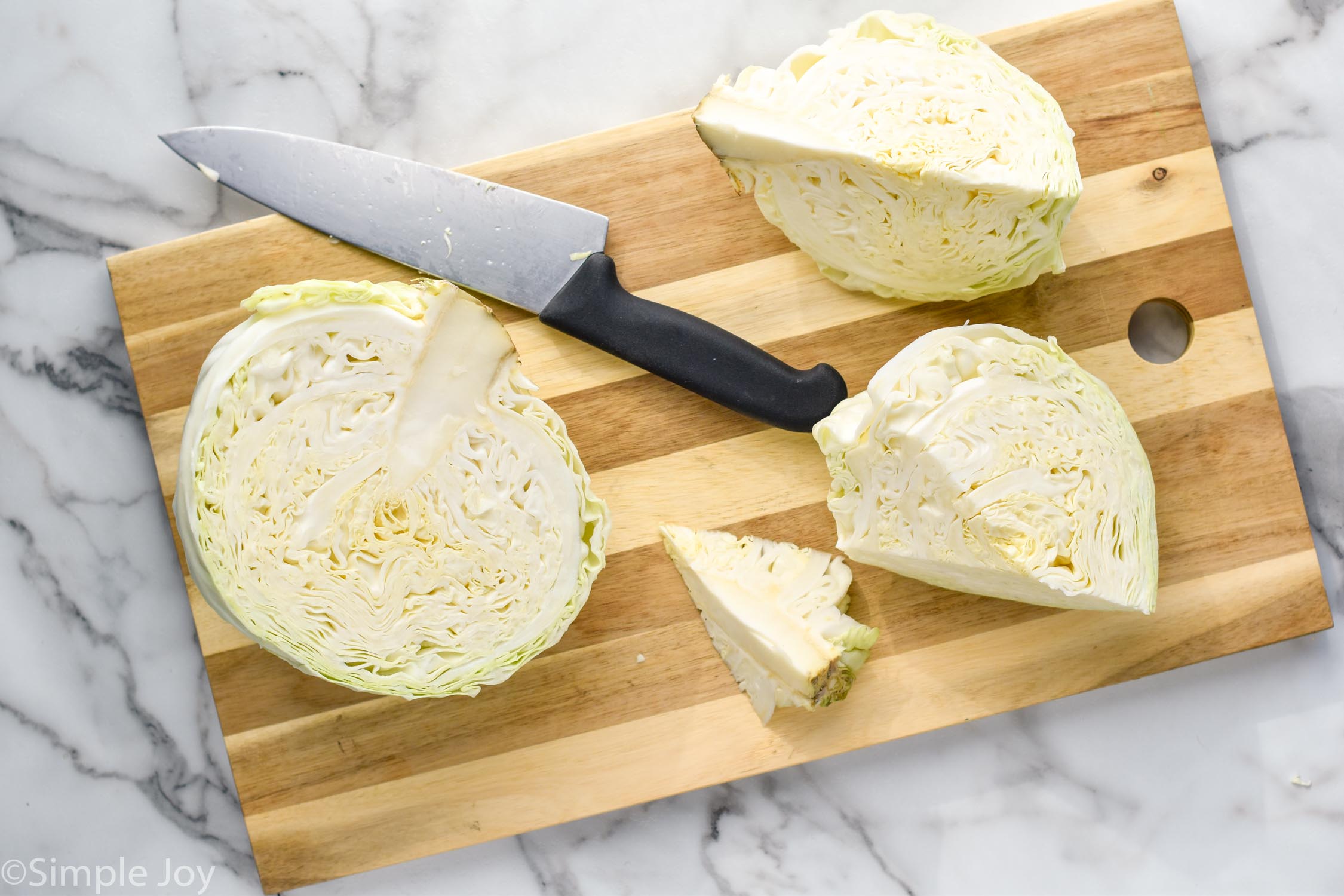 Cutting Cabbage for Coleslaw
Thinly cut cabbage makes for the best coleslaw. The steps to make that happen are very simple.
Remove any large tough leaves from the outside of the head of cabbage.
Give the whole head a good rinse.
Cut the cabbage head in fourths. Then cut the thick stem out at an angle.
Working with one fourth of the head at a time, hold the wedge down tightly (with the inside of the cabbage head facing the cutting board). Then, using a sharp knife, cut thin slices.
Repeat with the remaining three wedges.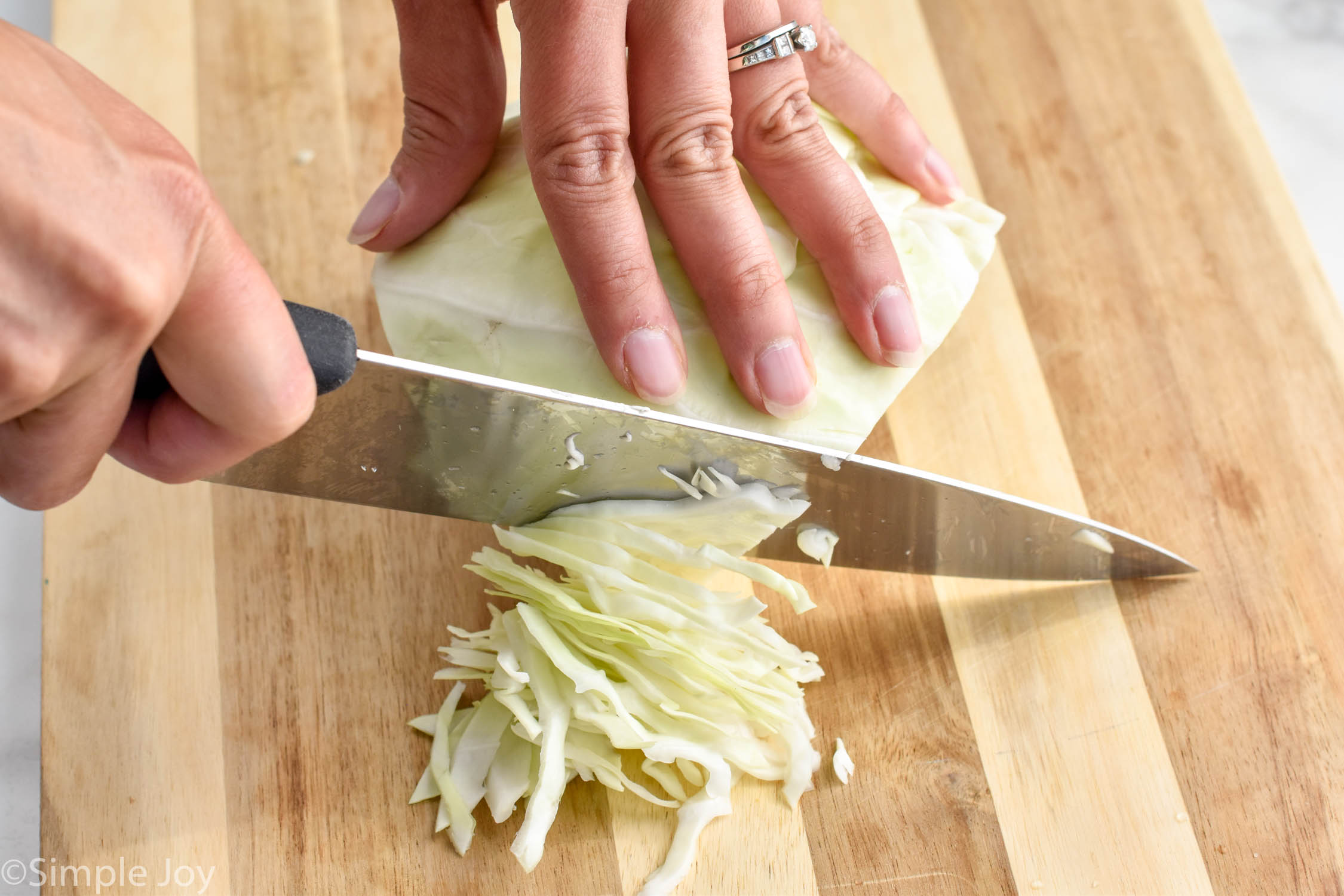 Dicing vs. Shredding Carrots
This recipe went through many many rounds of testing until it was just right. One of the tweaks that happened along the way was deciding to dice the carrots instead of shredding them.
The reason for this is the over all color of the end dish. When you shred the carrots it really pulls out all of their juices. This leads to a coleslaw recipe that has an orange tint to it. This doesn't really affect the taste at all, so if you would rather shred, have at it. Just know your final dish won't be white, it will be a bit orange.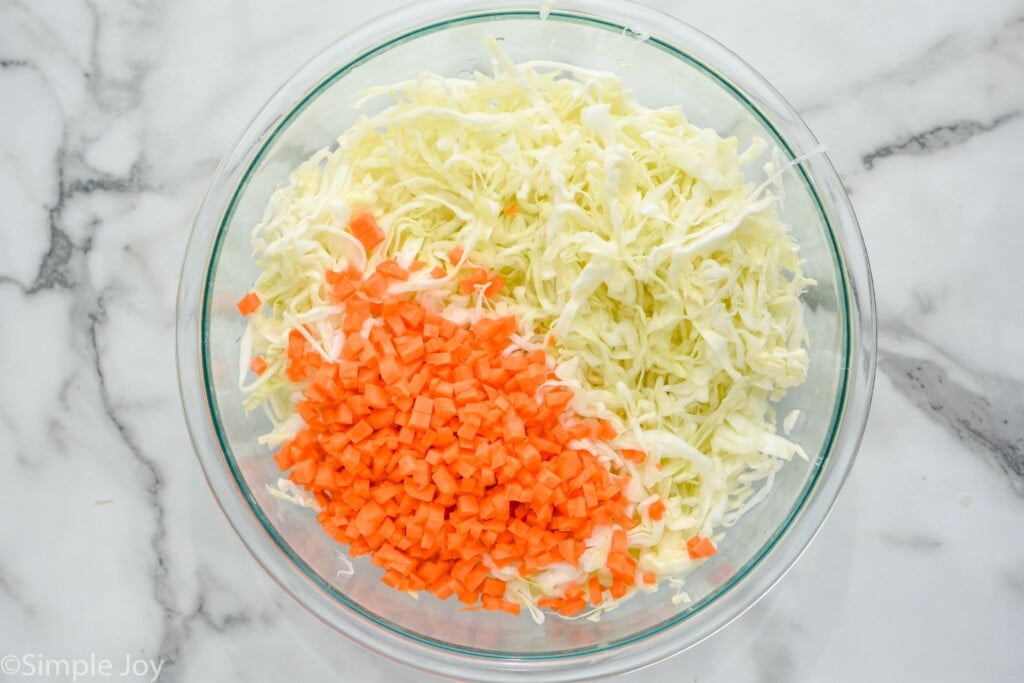 Coleslaw Dressing
This coleslaw dressing recipe is the thing that makes our version pop. It is made with just a handful of simple ingredients.
Buttermilk: This is the ingredient that adds that signature tang to coleslaw.
Milk: The small bit of milk I am adding helps thin the sauce out without adding more tang.
Low Fat Mayonnaise: This will add creaminess to the dressing. I am purposefully using low fat here because it will bring the same creaminess without adding too much fat or calories.
Apple Cider Vinegar: This vinegar in this recipe is part of what helps break down and soften the vegetables. The apple cider is key to the final taste, do not replace this with white vinegar.
Lemon Juice: A little lemon juice brightens up the recipe in the perfect way.
Sugar: The sugar in this recipe balances the acidity of the buttermilk, vinegar, and lemon juice. It does not make the coleslaw taste sweet.
Onion Powder, Kosher Salt, and Black Pepper: All of these add the perfect mix of flavors to the recipe.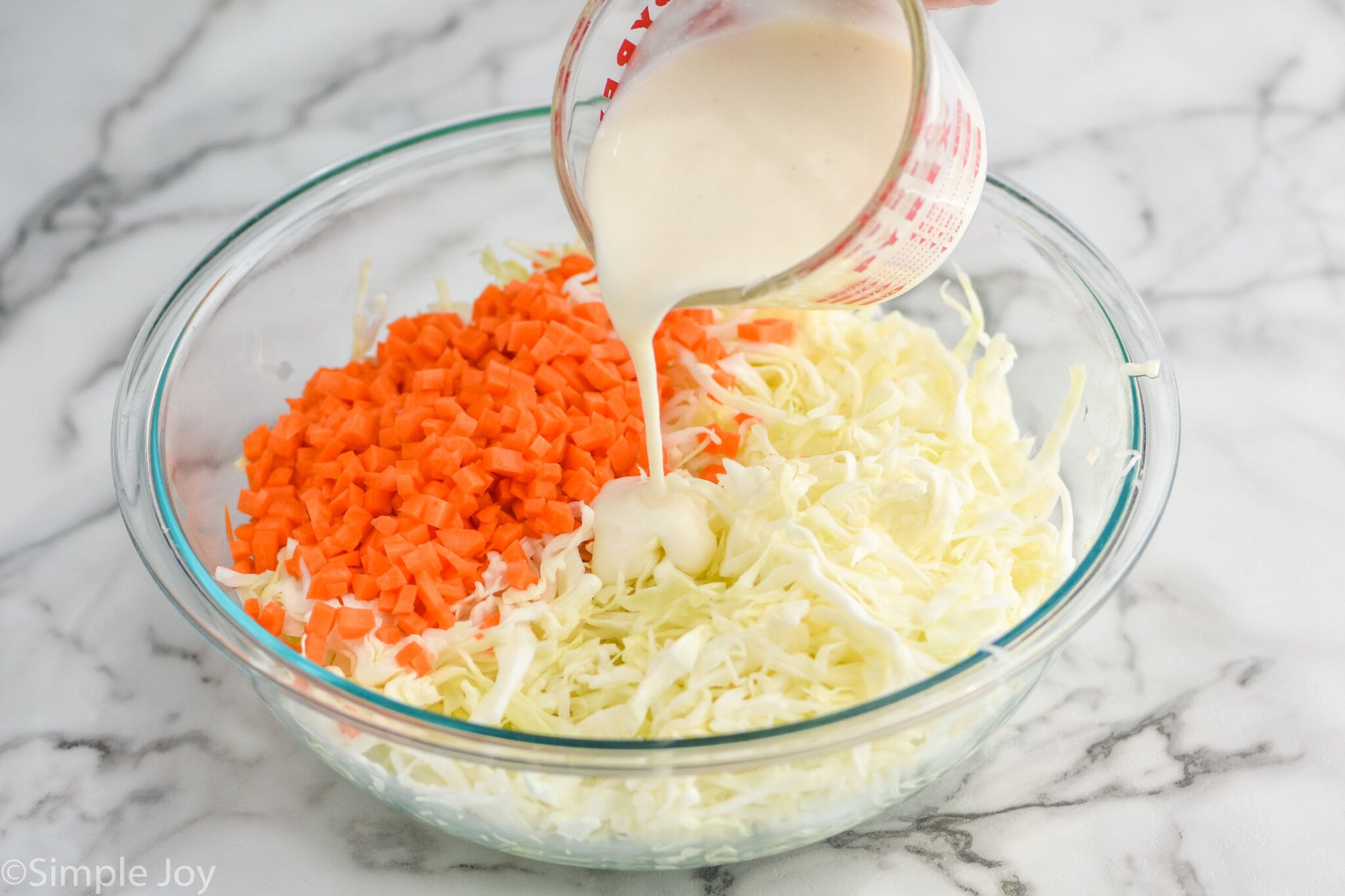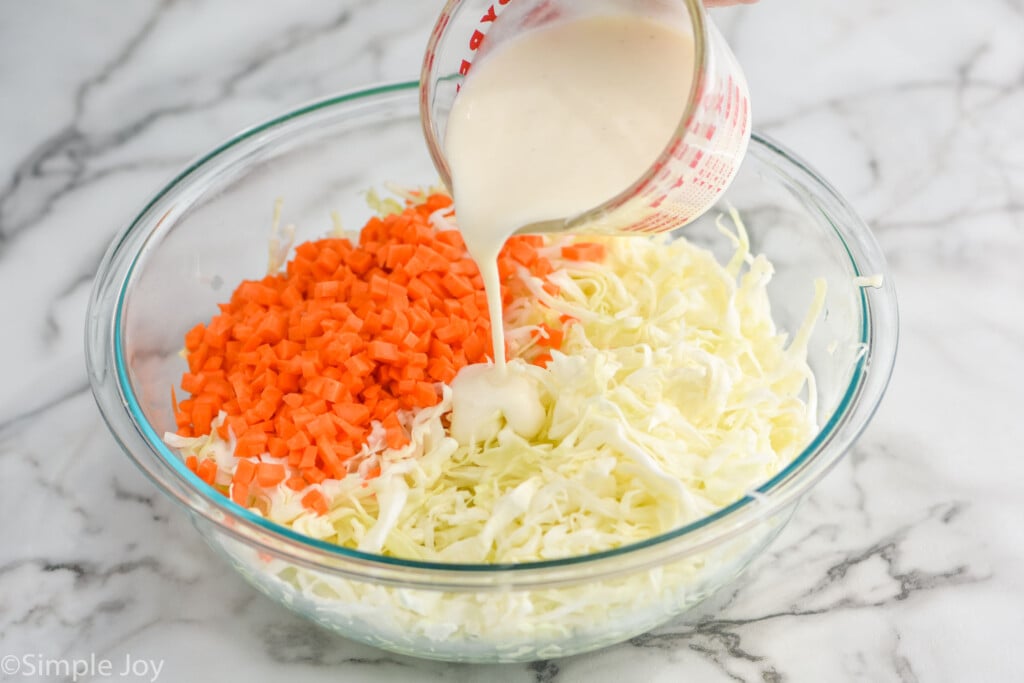 Preventing Watery Coleslaw
On complaint that coleslaw often gets is that it is watery. The reason for this is that after mixing with the dressing, the water in the cabbage gets pulled out and added to the dressing. There is a simple solution to this:
After cutting the cabbage, lightly salt it.
Place the salted coleslaw into a colander over a bowl. Let it stand for an hour.
At the end of the hour, remove the colander from the bowl and rinse the cabbage. Then lightly pat it dry with paper towels.
Please note that if you are fine with a thinner sauce you can absolutely skip this step.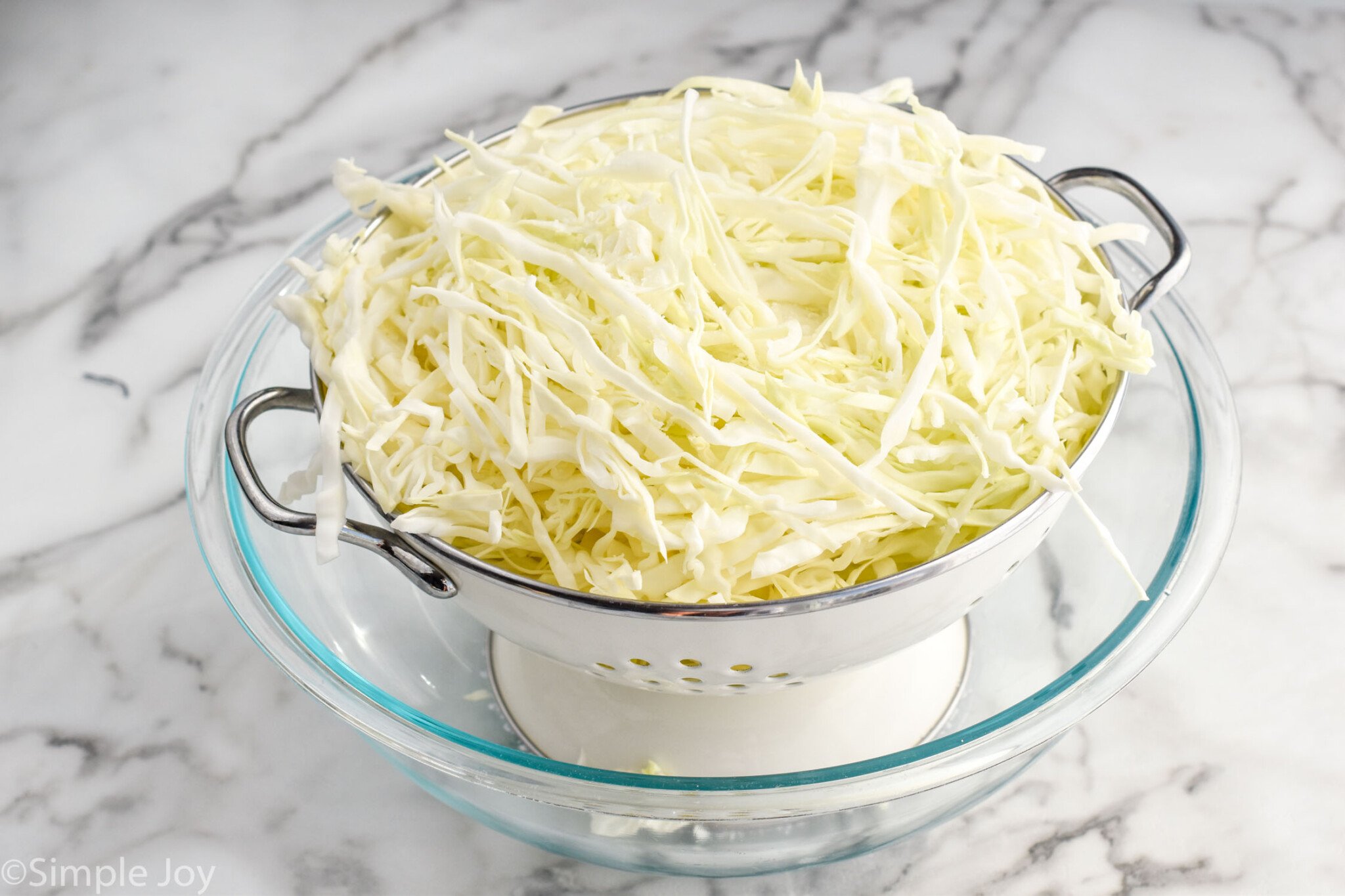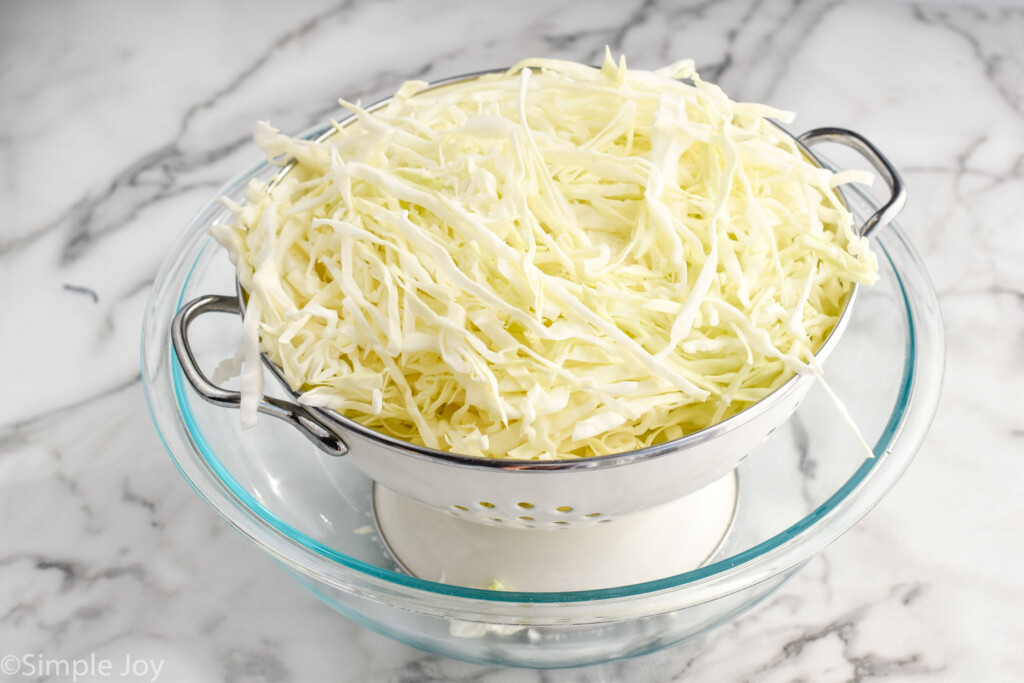 Making Ahead
Coleslaw is the perfect make ahead salad. The flavors combine and just get better as it sits. This recipe can be made up to one day in advance. Once made, it will store in the refrigerator for 3 days.
Leftovers
Leftovers of this coleslaw recipe can be stored in the refrigerator for three to five days. Be sure to store it in an airtight container. All of that said, if the coleslaw sat out for more than two hours, it should be discarded. As with all recipes, use your best discretion when it comes to leftovers.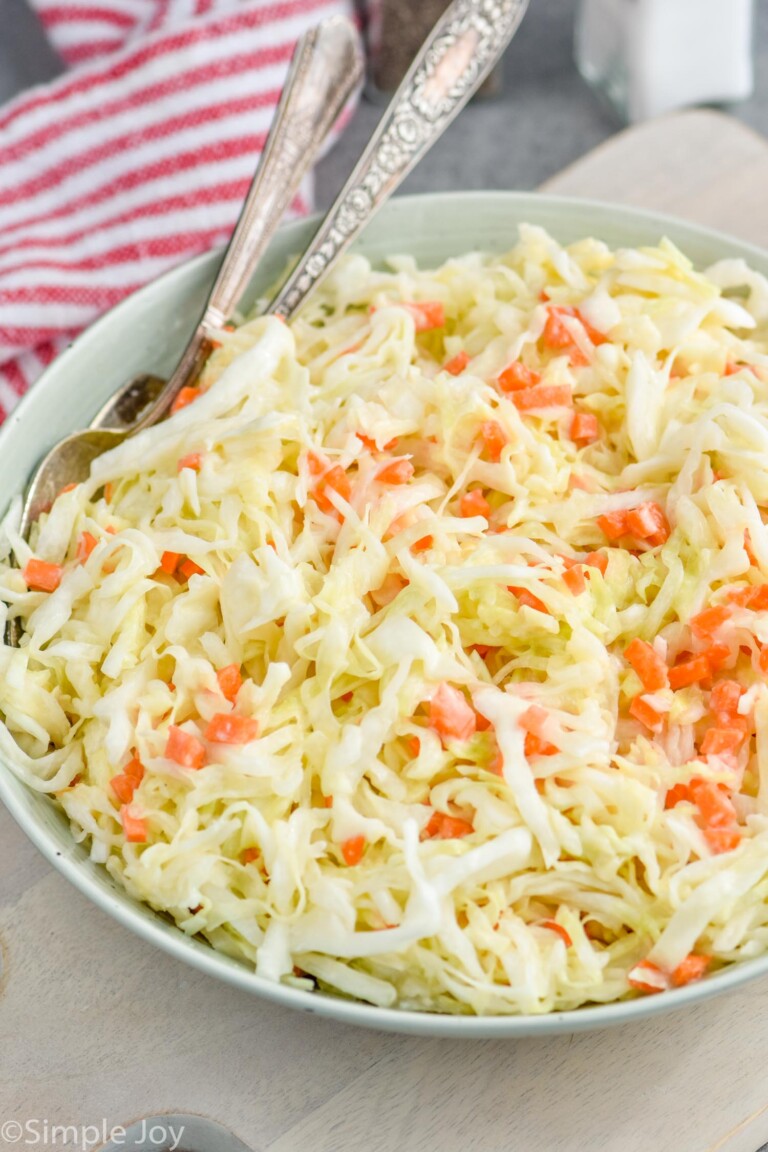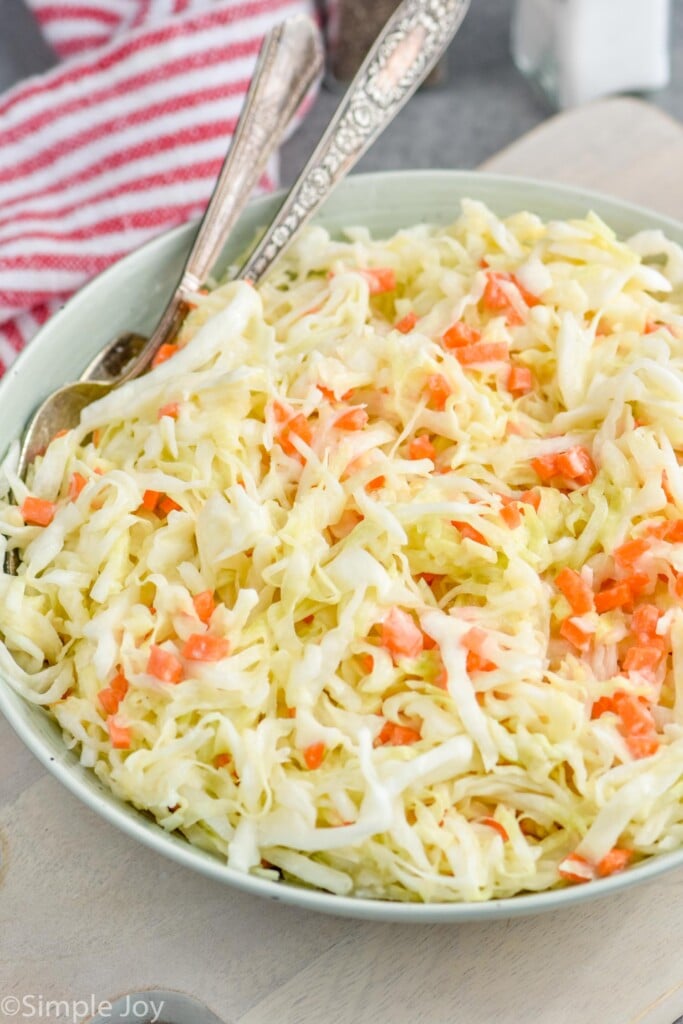 FAQ
How far ahead can you make coleslaw?
Coleslaw is best when it is made about 2 to 8 hours ahead.
How do I keep my coleslaw from being watery?
The key to keeping coleslaw from being watery is to pull the water out of the cabbage with salt before starting the recipe. You can see how I do that by following our steps above.
How do you cut carrots for coleslaw?
I have made this with both shredded and diced carrots. Shredded carrots are easier to prepare but they will leave your sauce with an overall orange hue. This is why I opt to dice the carrots.
Can coleslaw be frozen?
Because the dressing is made with dairy and mayonnaise, I would not recommend freezing this recipe. The consistency will not be what you are looking for when it thaws.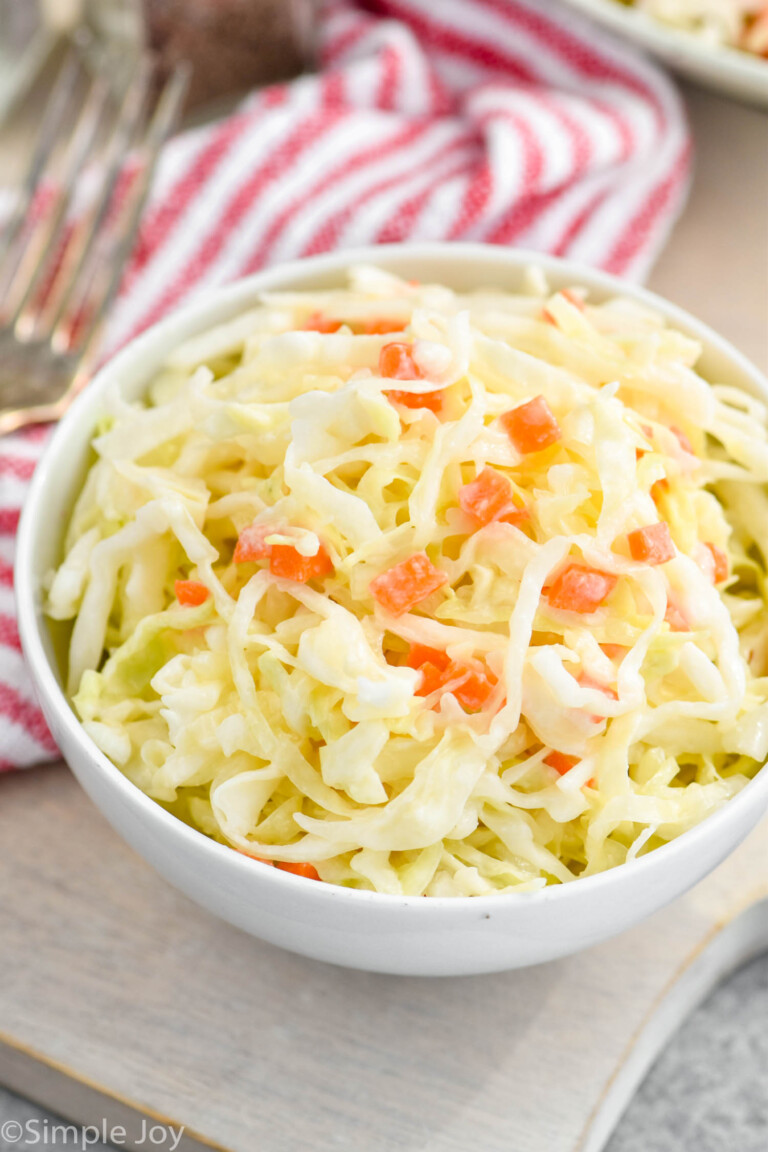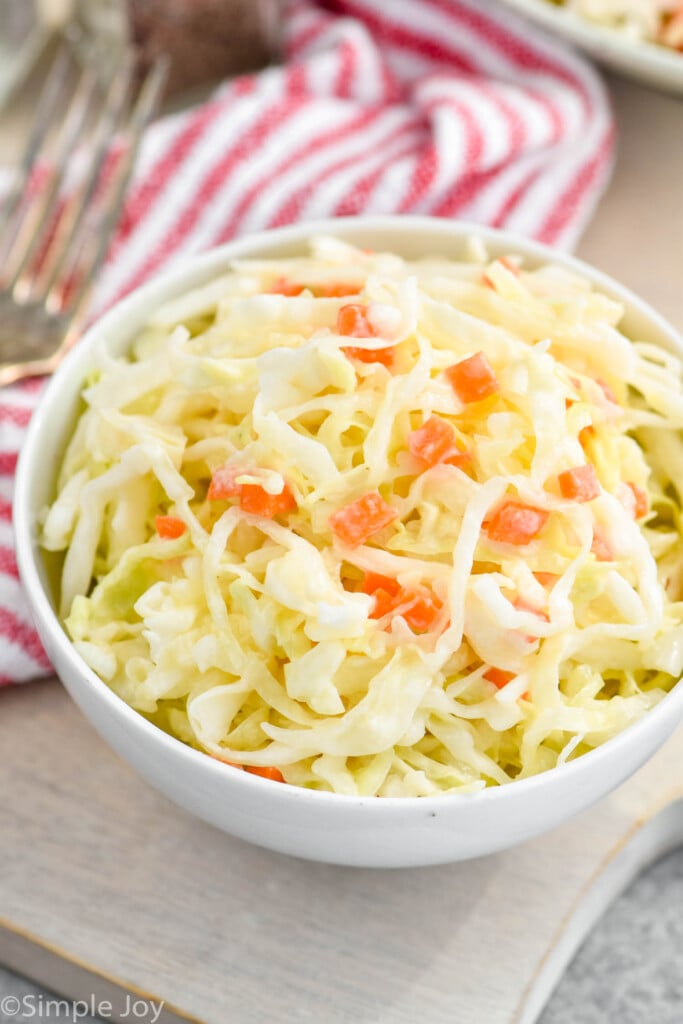 What to Serve Coleslaw With
Coleslaw is perfect as a side for BBQ, and I have several great BBQ recipes that this would be amazing with.
Crockpot Ribs: This recipe is an all time favorite and makes the perfect pairing for this creamy coleslaw recipe.
BBQ Pulled Pork: Made in the slow cooker with my homemade bbq sauce and pork rub, these sandwiches are amazing. This is the best coleslaw for pulled pork.
Grilled Chicken Legs: This simple to make recipe is fast, and fantastic. These chicken legs combined with our recipe for coleslaw make for a fantastic summer dinner.
If you make this easy coleslaw recipe or any of my other recipes, please leave me a comment and let me know. It is such an honor to be part of your family functions.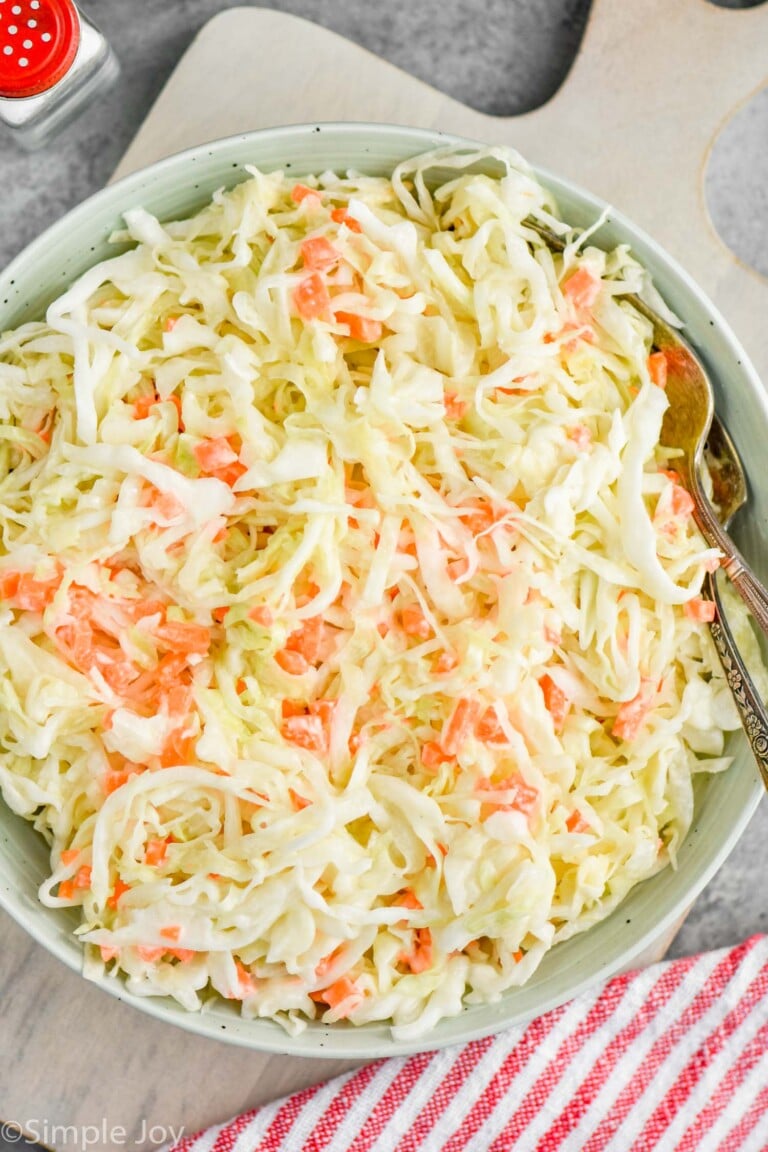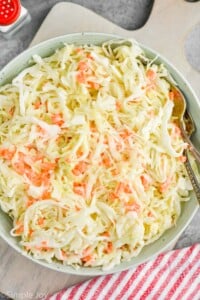 Coleslaw Recipe
Total:
2
hours
20
minutes
This Coleslaw is going to be your new go to. Not only is it easy to make, but it has that classic taste that is exactly what you want in a good coleslaw recipe.
Ingredients
1

head

green cabbage

shredded

2

medium carrots

peeled and diced

1/4

cup

buttermilk

2

tablespoons

milk

1/2

cup

low fat mayonnaise

3

tablespoons

apple cider vinegar

do not replace with white vinegar.

1

tablespoon

lemon juice

2 1/2

tablespoons

granulated sugar

1

teaspoon

onion powder

1/2

teaspoon

kosher salt

(If using table salt, start with less)

dash ground black pepper
Instructions
Place the shredded cabbage in a colander, adding a little bit of salt with each handful of cabbage you add. Place the colander in a large bowl and let it stand for an hour. At the end of the hour, lightly rinse the cabbage and pat dry. (See our notes in the post about preventing watery coleslaw.)

Toss the cabbage and carrot together in a large bowl.

In a small bowl whisk together the buttermilk, milk, mayonnaise, vinegar, lemon juice, sugar, onion powder, salt, and pepper. Taste the dressing and add more salt or pepper as needed.

Pour the dressing over the cabbage and carrot mixture and toss to combine. Refrigerate for 2 hours (or up to 8 hours). Serve and enjoy.
Serving:
1
cup
Calories:
102
kcal
(5%)
Carbohydrates:
15
g
(5%)
Protein:
2
g
(4%)
Fat:
4
g
(6%)
Saturated Fat:
1
g
(6%)
Polyunsaturated Fat:
2
g
Monounsaturated Fat:
1
g
Trans Fat:
1
g
Cholesterol:
4
mg
(1%)
Sodium:
345
mg
(15%)
Potassium:
309
mg
(9%)
Fiber:
4
g
(17%)
Sugar:
10
g
(11%)
Vitamin A:
3071
IU
(61%)
Vitamin C:
49
mg
(59%)
Calcium:
76
mg
(8%)
Iron:
1
mg
(6%)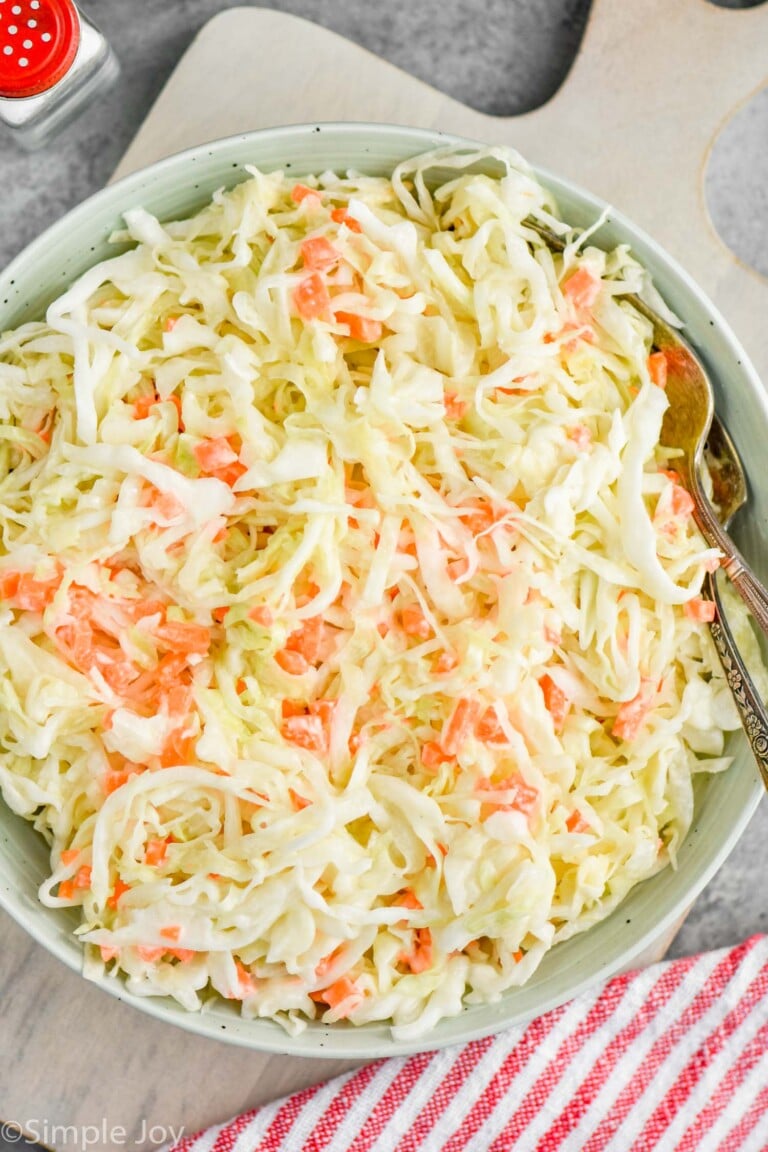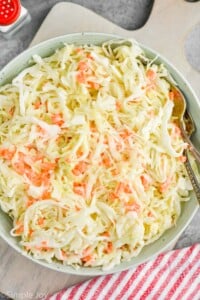 did you make this
Coleslaw Recipe