These Grilled Chicken Legs are the perfect summer recipe! When you combine my easy Chicken Rub and my perfect BBQ Sauce with these great tips for grilling chicken legs, you get the perfect easy dinner recipe.
Skipping the BBQ this summer because of heartburn? I have a great solution!
This post is sponsored by Mirum, but opinions expressed are my own.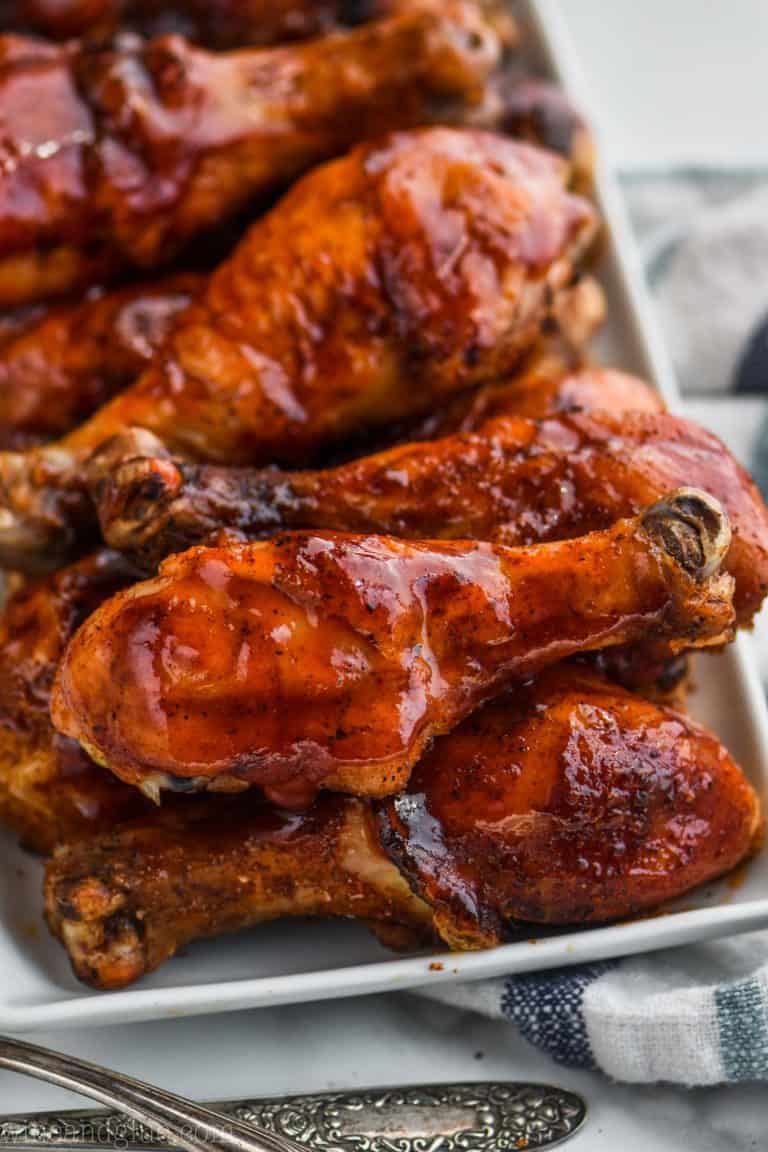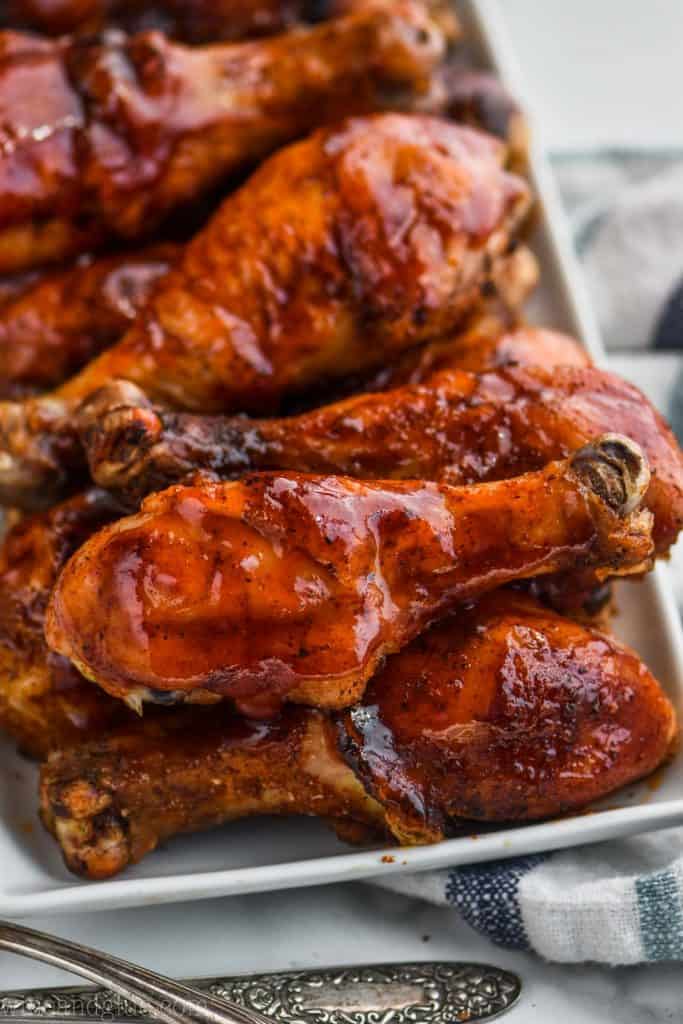 More and more I have been looking for and creating easy grilling recipes for dinner. And just like my Cajun Shrimp Skewers, theses Grilled Chicken Legs are a perfect summer recipe. They would make a great easy dinner recipe but are perfect for entertaining. They combine the spicy sweetness of both my Chicken Rub and my BBQ Sauce for the perfect flavor.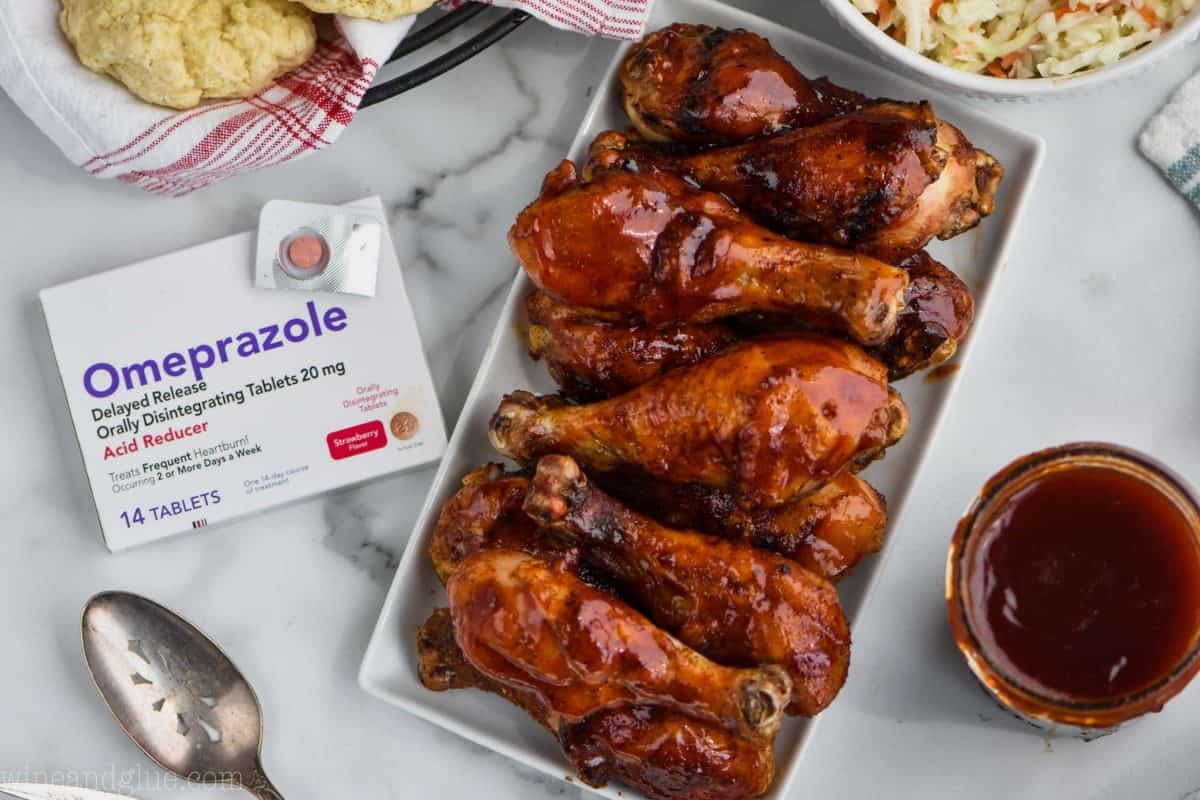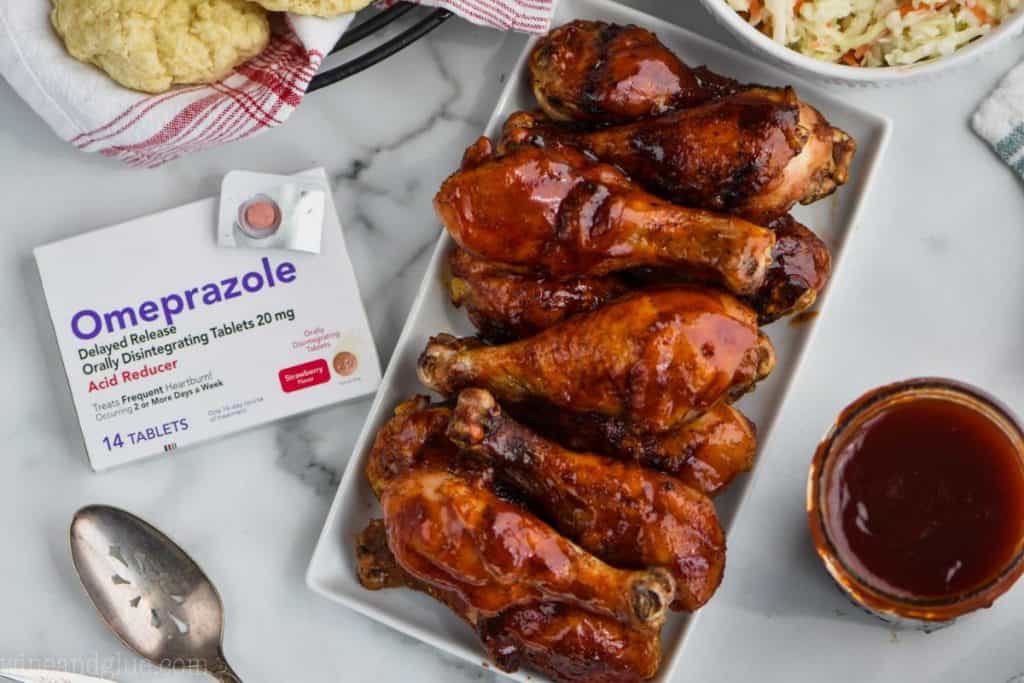 But given the little kick that these bbq chicken legs bring to the party, you are definitely going to want to grab some Omeprazole Orally Disintegrating Tablet (ODT) at your local Meijer store or use the store locator to find a retailer near you to treat frequent heart burn. We know that heartburn is more likely in the summer months, and Omeprazole ODT helps me keep it at bay so that I can enjoy all of my delicious grilling recipes.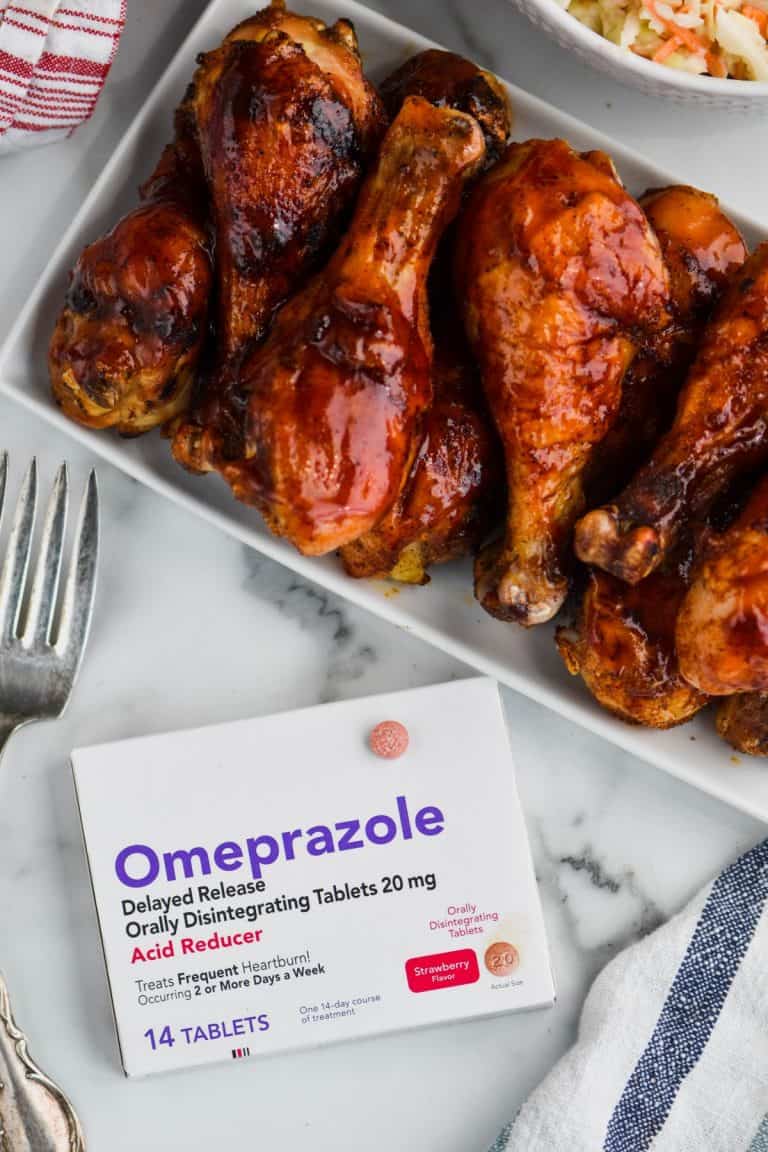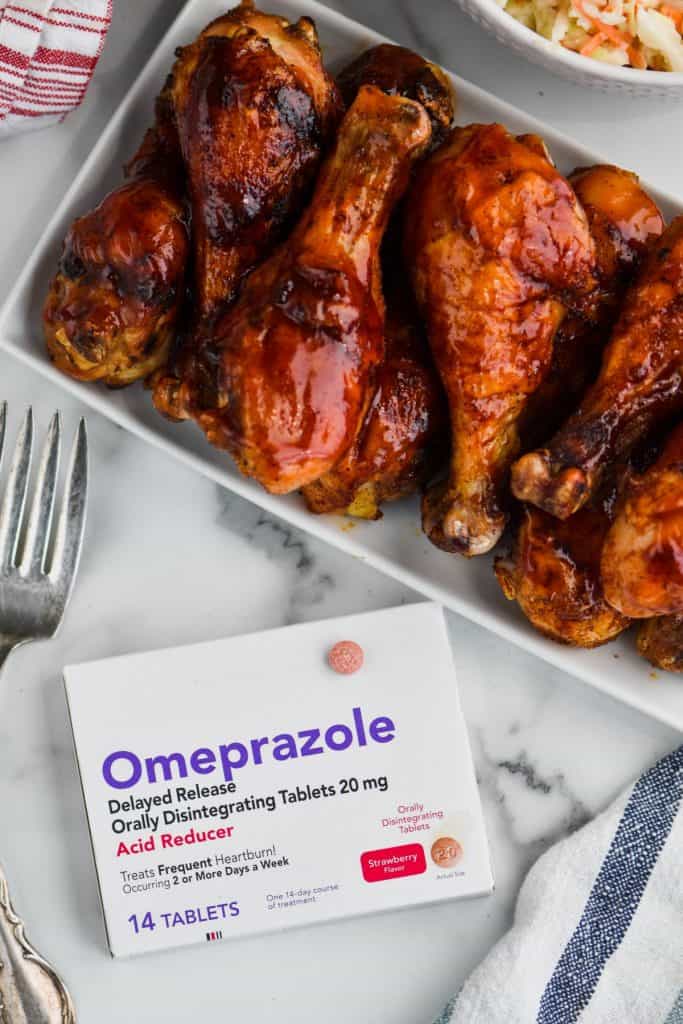 I'm certainly not alone in dealing frequent with heartburn (getting older seems to be a real hassle), and it is especially prevalent in the summer months. Store brand Omeprazole ODT commissioned the "Beating the Holiday Burn" survey of 2,000 Americans and found that summer is the most common time people report experiencing heartburn. Delicious grilled food like this grilled chicken legs recipe comes with a price, but it doesn't have to! Taking OTC is a great way to take care of heartburn that comes with some of your favorite summer foods.
Use OTC as directed for 14 days to treat frequent heartburn (occurring 2 or more days a week). May take 1-4 days for full effect. Not intended for immediate relief. Do not take Omeprazole ODT for more than 14 days unless under doctor supervision.
These delicious strawberry-flavored tablets dissolve on your tongue without needing water making it so easy to stay on top of heartburn during busy summer months. No matter what our summer schedule looks like, I can keep a packet of Omeprazole OTC in my purse and remember to take it. While Omeprazole OTC isn't intended for immediate relief, taking it consistently for 14 days can provide relief within one to four days and staying on top of taking it will keep you enjoying all your favorite summer grilling recipes. If you are having trouble enjoying all the summer BBQ recipes you love because of heartburn, I encourage you to give Omeprazole OTC a try.
Now that we have your heartburn figured out, we can fully enjoy this BBQ chicken recipe!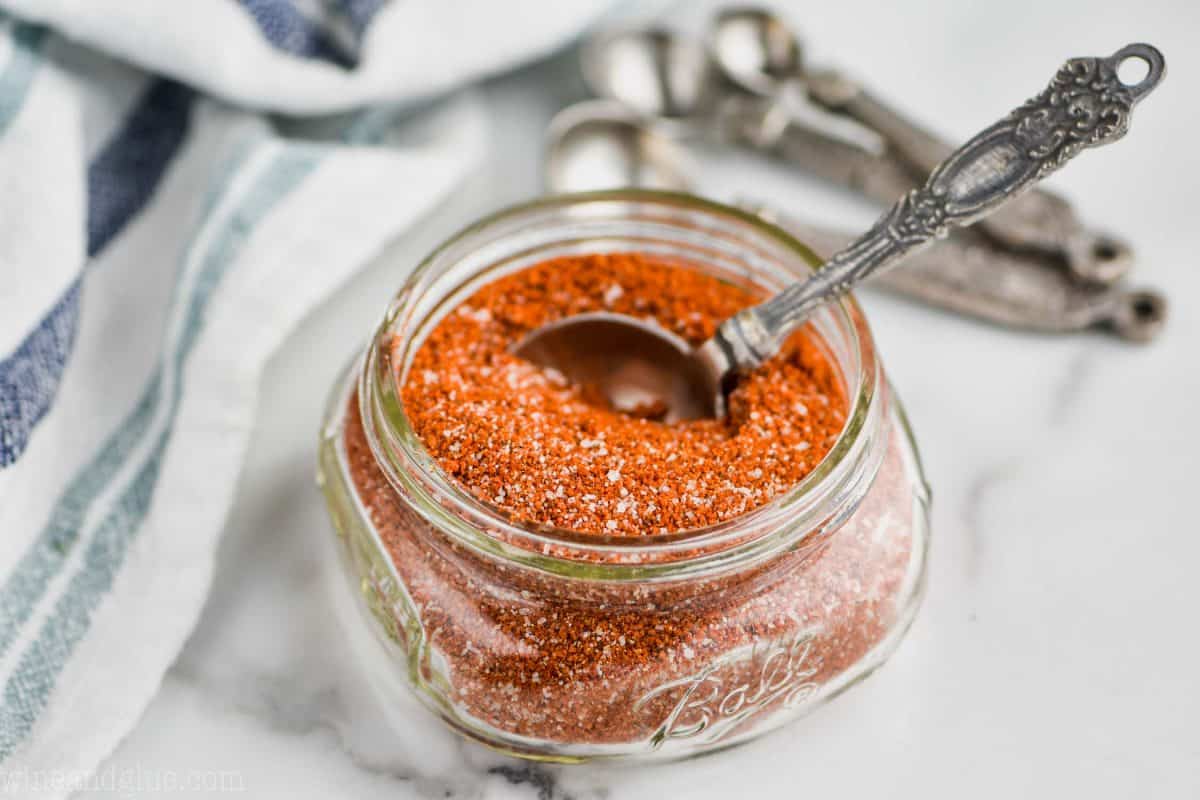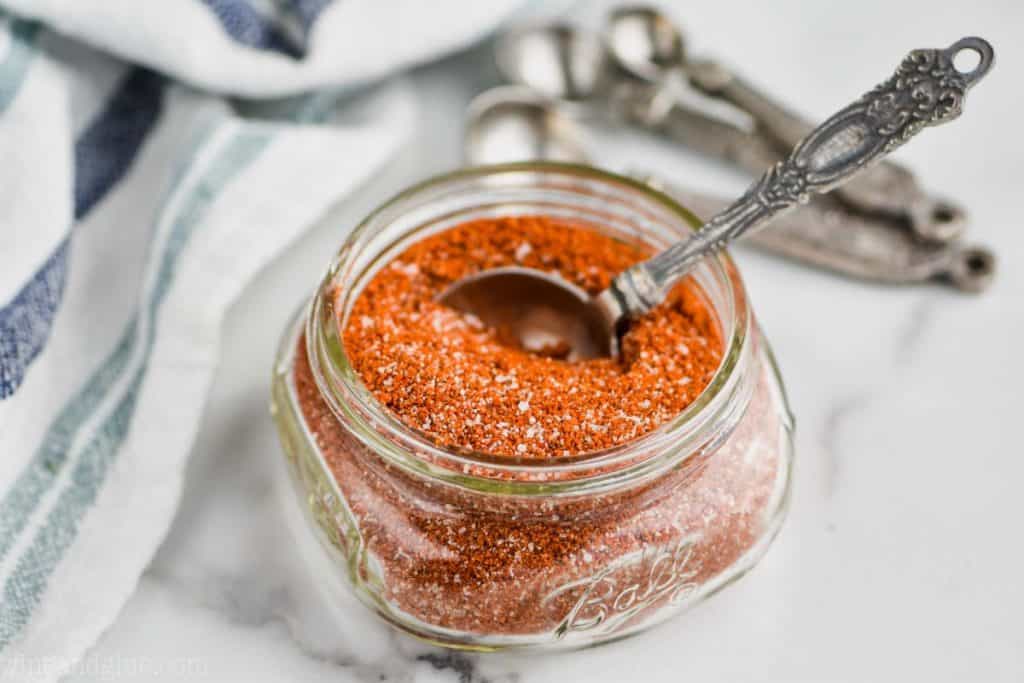 Grilled Chicken Legs Start with Chicken Rub
If you are new to grilling chicken, you might think that you just throw some BBQ sauce on them and pop them on the grill.
Guys, we don't want to do that. Not only will it make your grill a total mess, it won't create the maximum flavor in these bbq chicken legs.
Start with a great chicken rub. Rub that all over your chicken legs, and then throw them on the grill. Making your own chicken rub is simple, takes only five minutes, and adds so much flavor to this recipe.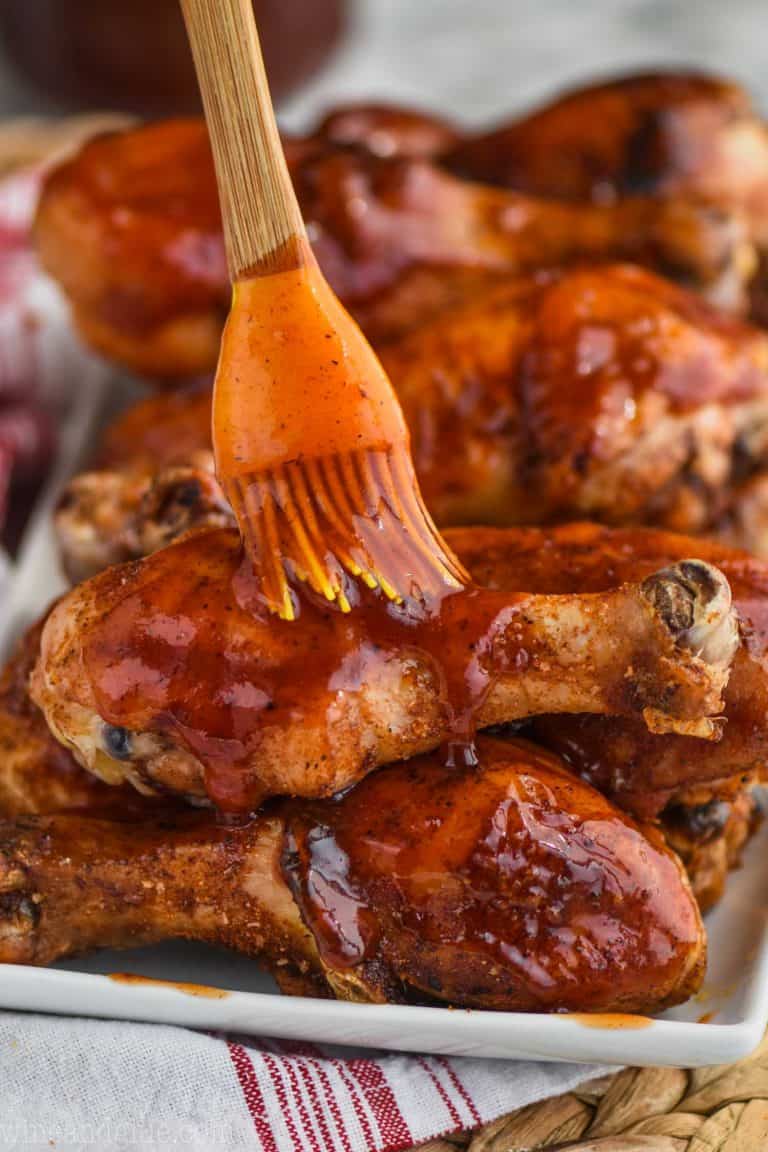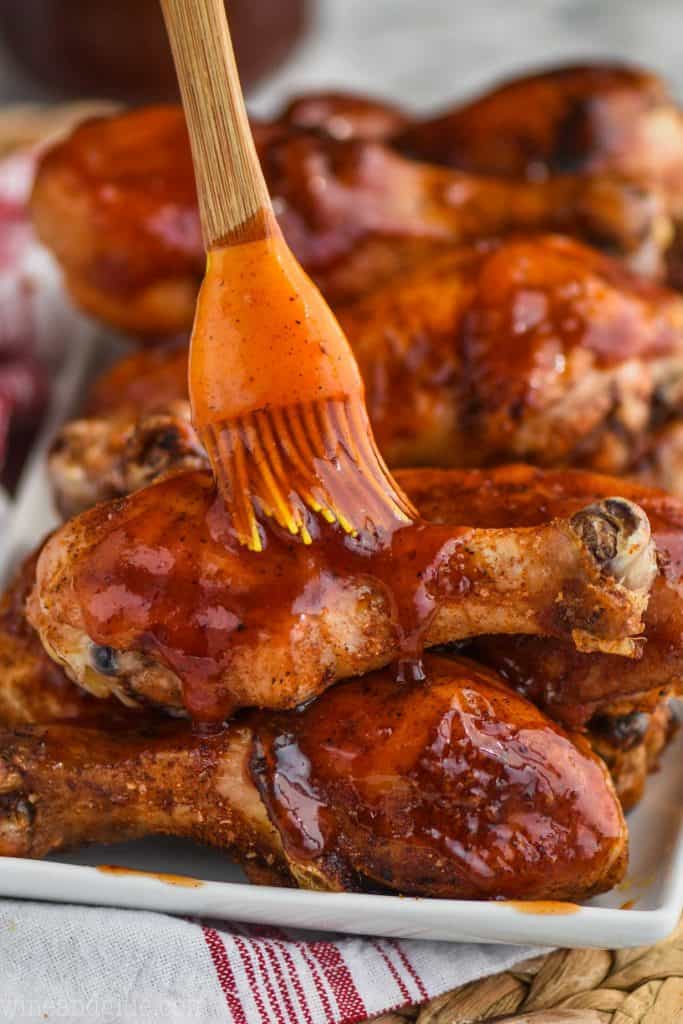 How To Grill Chicken Legs
I'm going to let you in on the secret to this great grilling recipe: Indirect Heat.
Because chicken legs are dark meat, they render more fat than a chicken breast during grilling. That is great because it makes for a more tender and moist piece of chicken. The downside is that it can lead to flare ups while you are grilling.
After experimenting with grilling chicken legs, what worked best was this:
Turn all the burners on your gas grill to high. Preheat it to about 400 degrees.
Turn down the burners on half the grill as low as they go. You should barely be able too see the flame.
Put the chicken legs (covered generously with chicken rub) on that side of the grill.
Leave the burners on the opposite side on high and cover your grill.
After 20 minutes flip the chicken legs. Remove from the grill when they reach an internal temperature of 165 degrees.
It will take about 40 minutes total to cook these chicken legs.
By following this method you will have minimal flare ups and minimal charing of your delicious bbq chicken.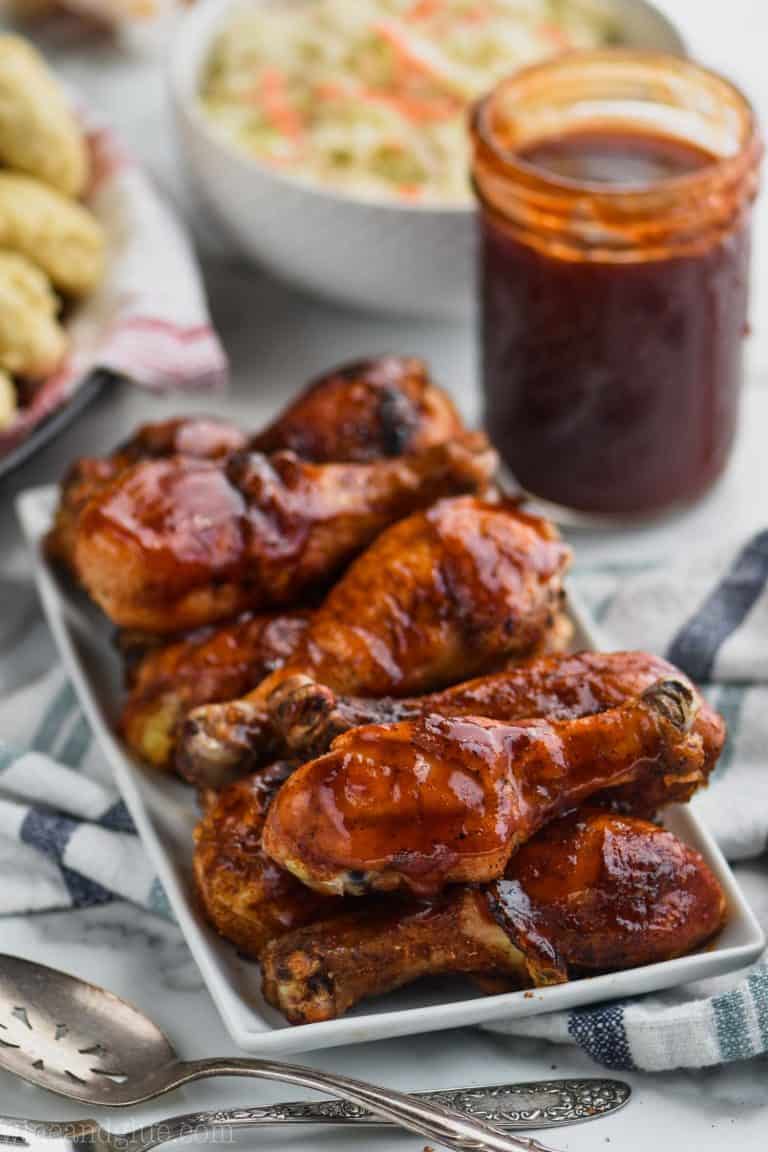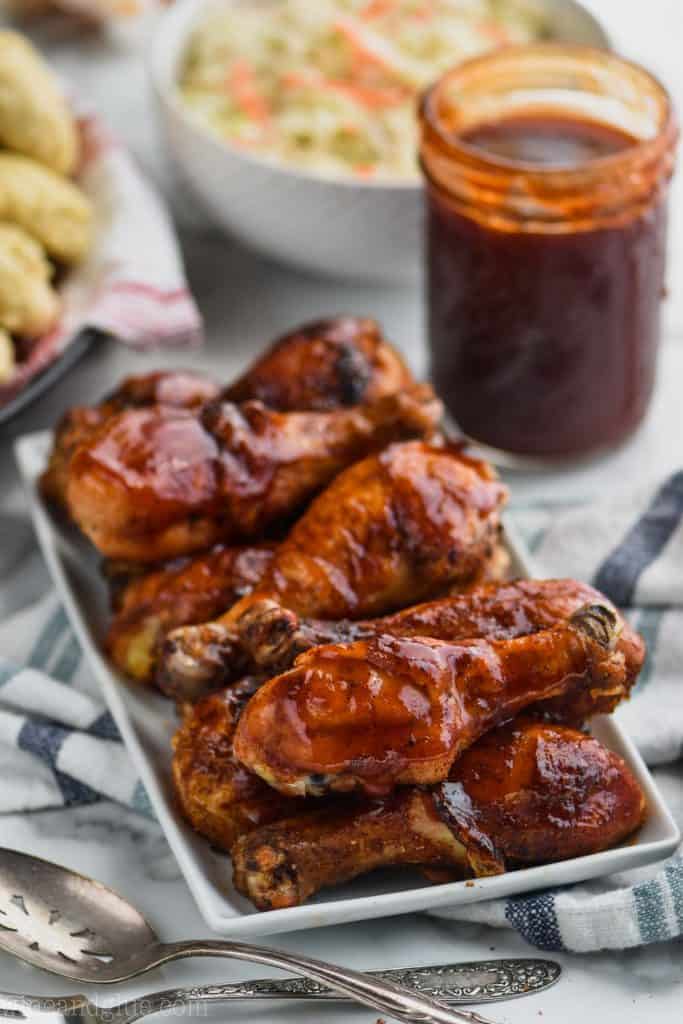 Top Your Grilled Chicken Legs with BBQ Sauce
After you pull take these chicken legs off the grill you can top them with my amazing BBQ Sauce. This homemade BBQ sauce comes together very easily while your chicken is on the grill and is perfect to top this chicken leg recipe. With just a few simple ingredients and 15 minutes of simmering, you have the best bbq sauce.
While my BBQ Sauce recipe is my favorite, the tomato in it easily spikes heartburn for me, making me so happy I have Omeprazole ODT on hand.
What to Serve with Grilled Chicken Drumsticks
These recipes will go perfectly with these grilled chicken legs.
If you make this recipe for grilled chicken legs or any of the above recipes, leave me a comment and let me know what you think!
Grilled Chicken Legs in the Oven
Yes! These can be made in the oven too!
Follow all the instructions, but preheat your oven to 425 before you start prepping your chicken.
Bake on a foil lined sheet for 35 minutes, flipping the chicken once in the middle of baking. Make sure that your chicken registers 165 degrees in multiple places deep into the drum stick (though not next to the bone).
Top with BBQ sauce and enjoy!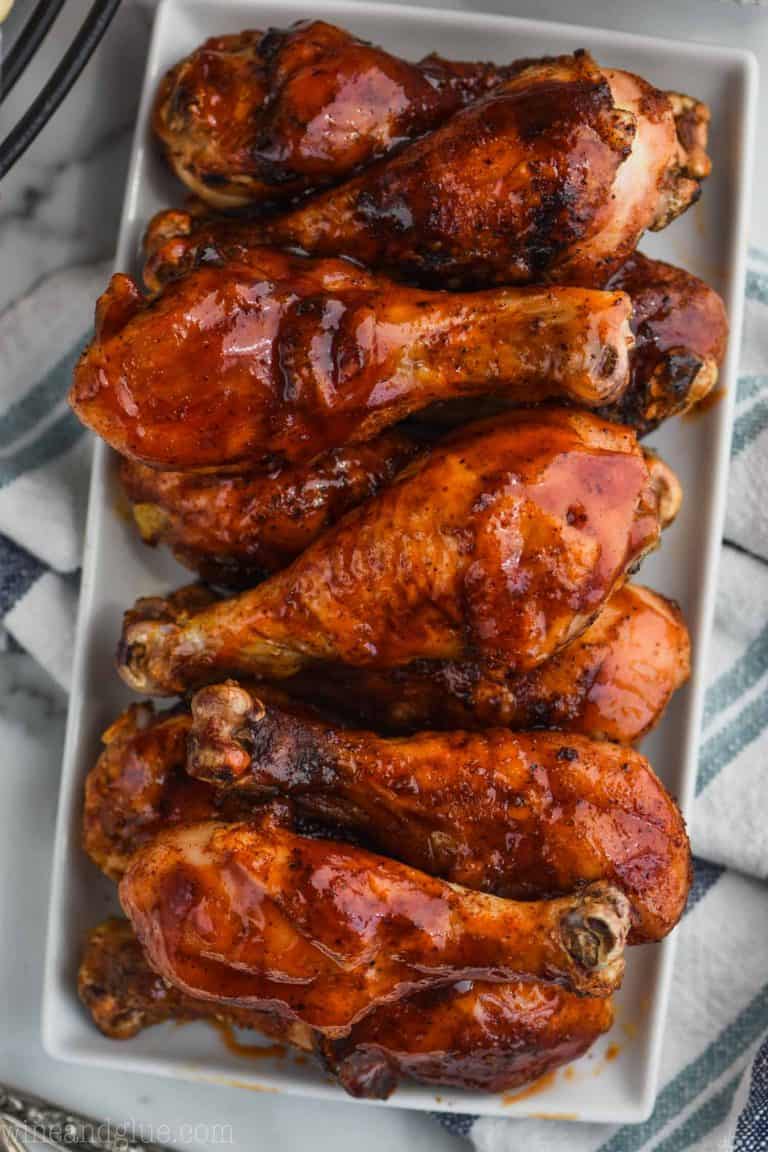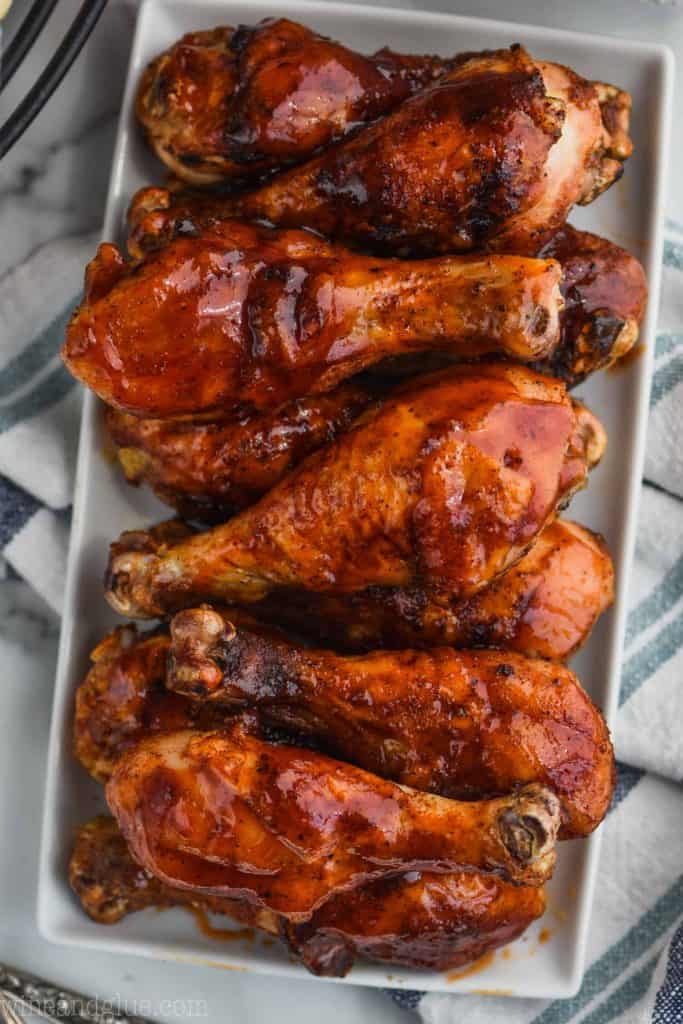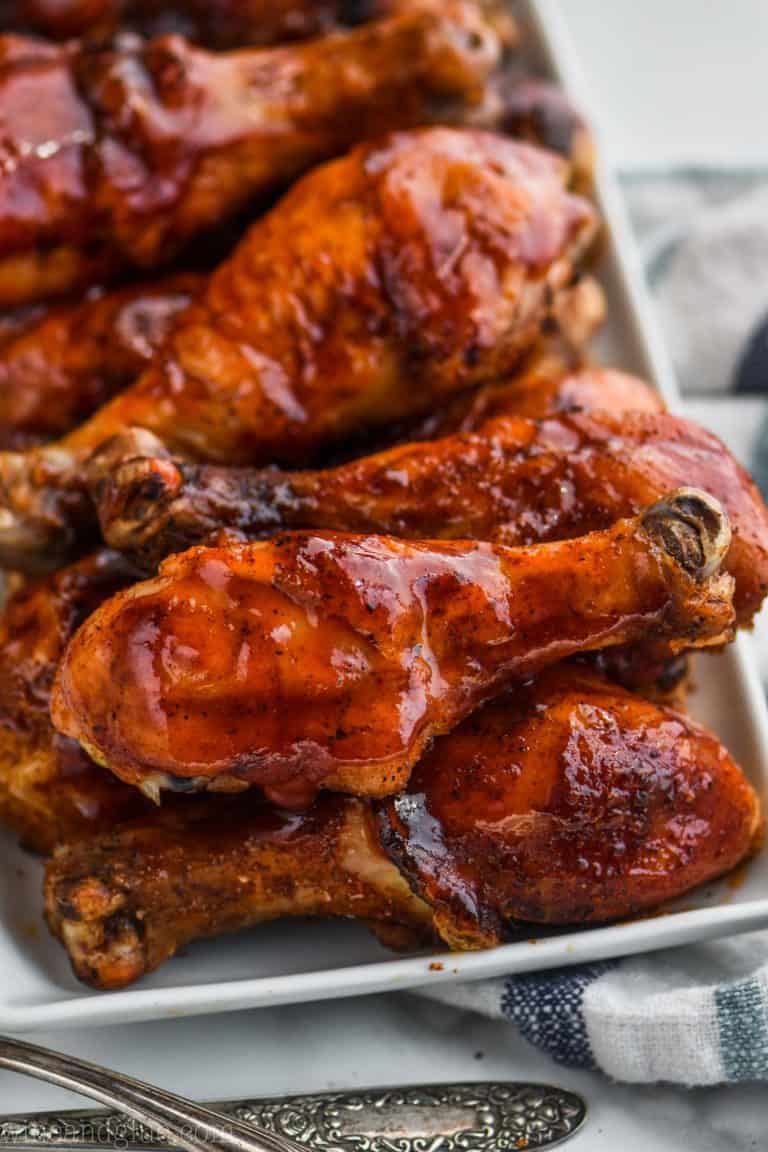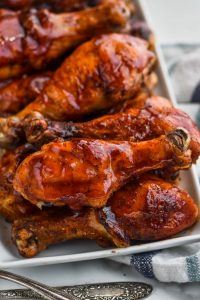 Grilled Chicken Legs
These Grilled Chicken Legs are the perfect summer recipe!  When you combine my easy Chicken Rub and my perfect BBQ Sauce with these great tips for grilling chicken legs, you get the perfect easy dinner recipe.
Ingredients
4 – 5

pounds

chicken legs

patted dry
For Chicken Rub
2

tablespoons

brown sugar

packed

2

tablespoons

kosher salt

2

tablespoons

paprika

1/2

tablespoon

ground cumin

1

teaspoon

black pepper

1/8

teaspoon

cayenne pepper
BBQ Sauce
3/4

cup

brown sugar

packed

3/4

cup

ketchup

1/4

cup

apple cider vinegar

1/2

tablespoon

Worcestershire sauce

1

teaspoon

paprika

1

teaspoon

onion powder

1/2

teaspoon

black pepper

1

teaspoon

kosher salt
Instructions
Preheat your gas grill by turning all four burners on high and closing the lid. Allow the grill to come to an internal temperature of 400 degrees.

(NOTE: If you do not have a grill, there are instructions in the post for how to make these in the oven.)

Whisk together the ingredients for the chicken rub. Generously rub the chicken rub on the chicken legs.

Turn two of the burners down as low as they go. Place all of the chicken over those two burners, being careful that none of the chicken is over the other two burners that are still on high. Cover the grill and grill for 20 minutes.

While the chicken is grilling, combine all of the ingredients for the bbq sauce in a small saucepan. Bring to a boil and then turn down to a very low simmer and simmer for 15 minutes, stirring occasionally.

After 20 minutes, flip the chicken on the grill and recover. The chicken will need approximately 20 more minutes. Remove when multiple pieces that are tested in the middle of the meat and away from bone register 165 on an instant read thermometer.

Serve while warm and enjoy brushed with bbq sauce.
Calories:
756
kcal
(38%)
Carbohydrates:
36
g
(12%)
Protein:
90
g
(180%)
Fat:
30
g
(46%)
Saturated Fat:
8
g
(50%)
Monounsaturated Fat:
1
g
Cholesterol:
300
mg
(100%)
Sodium:
2538
mg
(110%)
Potassium:
293
mg
(8%)
Fiber:
1
g
(4%)
Sugar:
29
g
(32%)
Vitamin A:
750
IU
(15%)
Vitamin C:
2.5
mg
(3%)
Calcium:
320
mg
(32%)
Iron:
10.6
mg
(59%)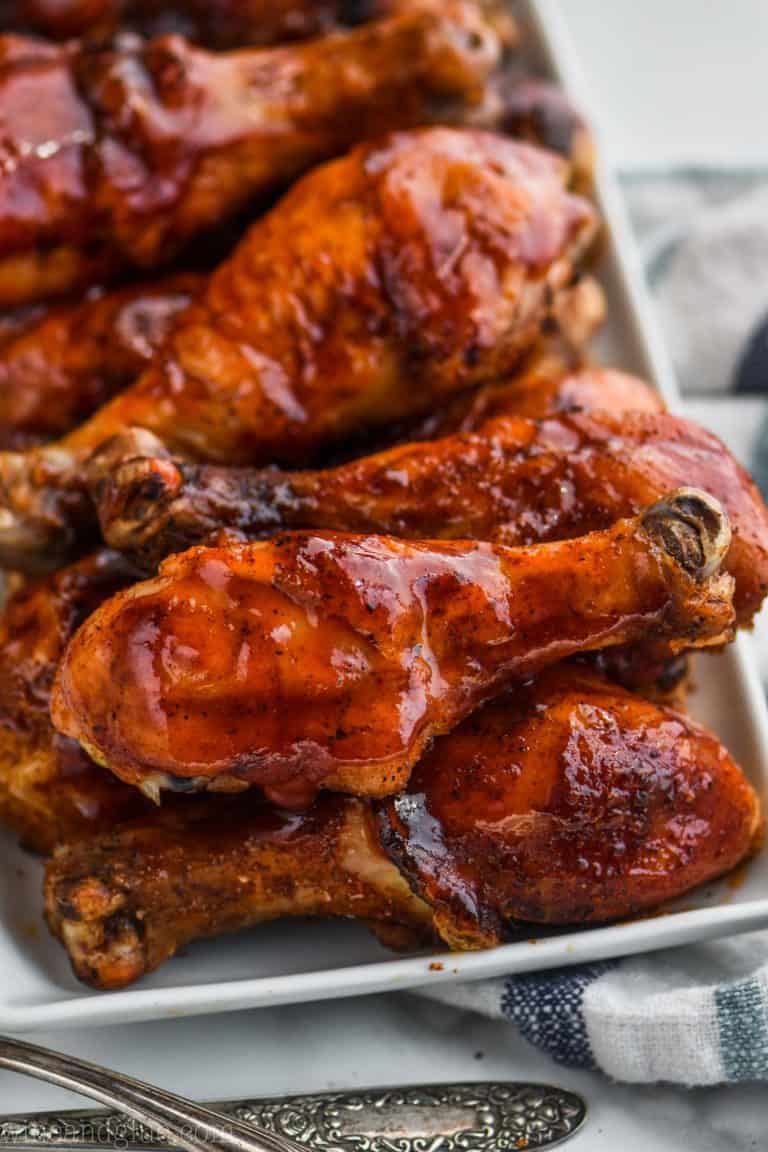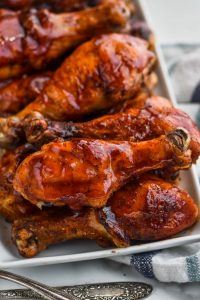 did you make this
Grilled Chicken Legs