This easy Corn Salad recipe comes together with just a few ingredients and is absolutely delicious. Your family will love this on the side of burgers and this is great to bring to picnics and BBQs!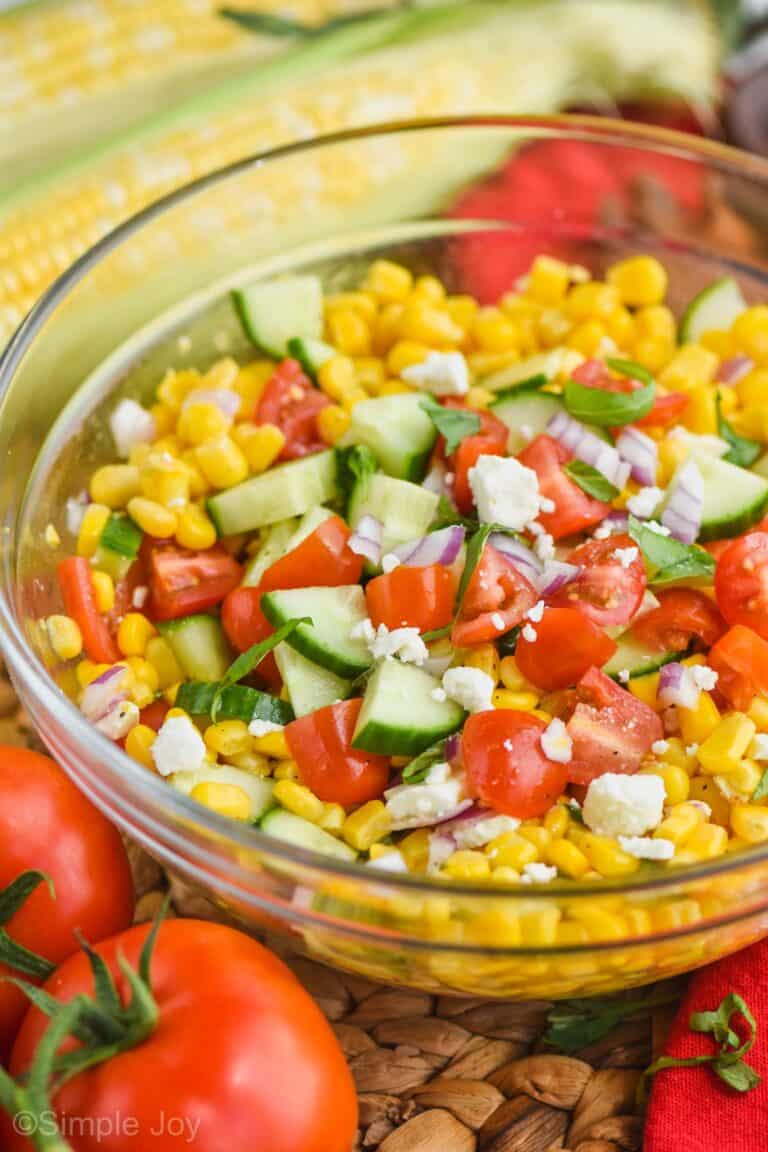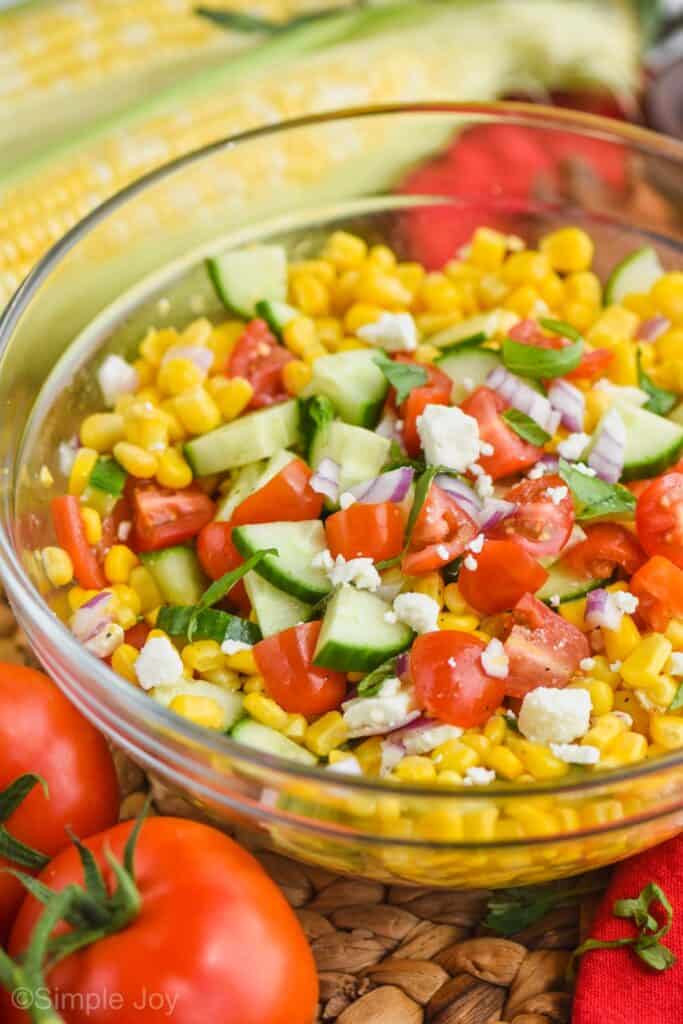 Every time we enter a new food season (football season, the holidays, etc), I get so excited and think THIS is my favorite food season. Here we are at the start of summer, and my head is spinning with great recipes. Now THIS must be my favorite food season.
This Corn Salad Recipe is the perfect summer side dish. It is easy to throw together, and the fresh ingredients scream summer. It has a very simple dressing that will draw in even your pickiest eaters.
Plus! You can make it with fresh, canned, or frozen corn, making it an incredibly versatile dish. You could even make it with left over grilled corn.
READER REVIEW
I made this recipe as is using cooked corn on the cob. It was absolutely delicious and my family cannot wait until the summer when corn the cob is the best! Very refreshing and it was a toss up who got the last serving! Can't wait to make it again!
Corn Salad Ingredients
One of the best things about this recipe is that it uses produce that is easy to find in summertime. It makes it the perfect summer salad!
For the full list of measurements find the recipe below.
Corn (see below for alternatives to using fresh corn)
Cucumber
Cherry Tomatoes
Red Onion
Feta Cheese
Oil
Vinegar
Lime Juice
Salt & Pepper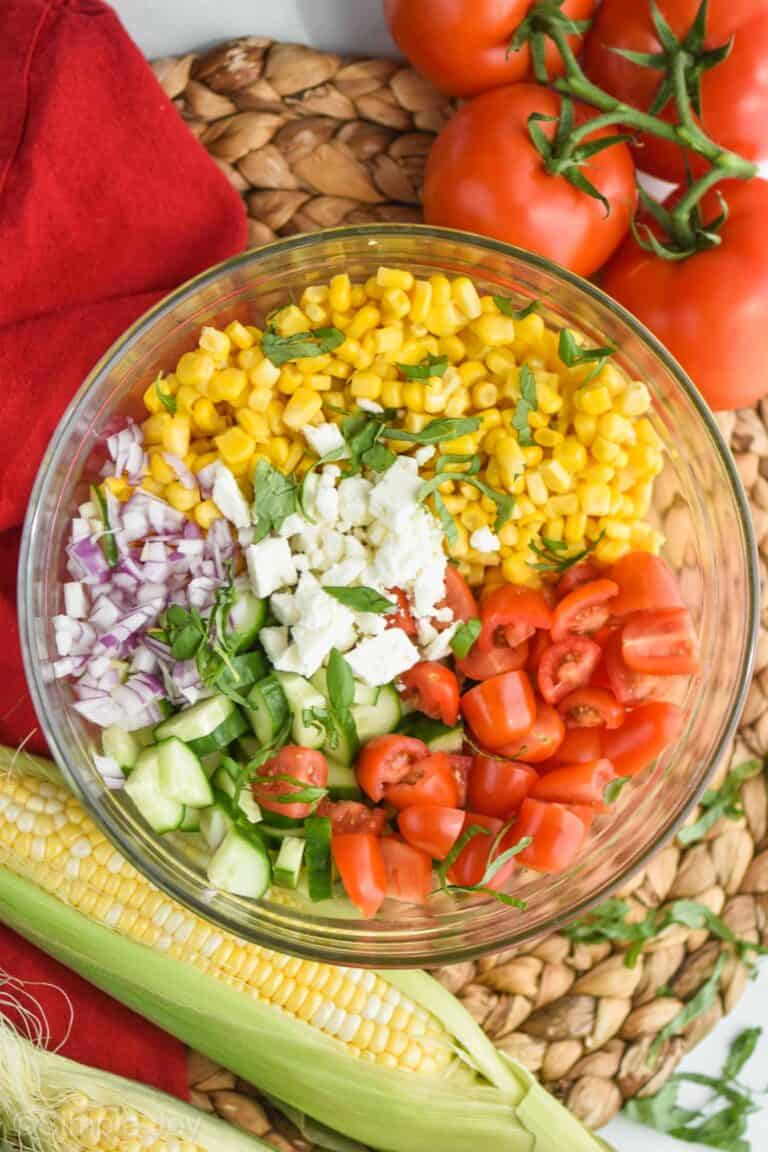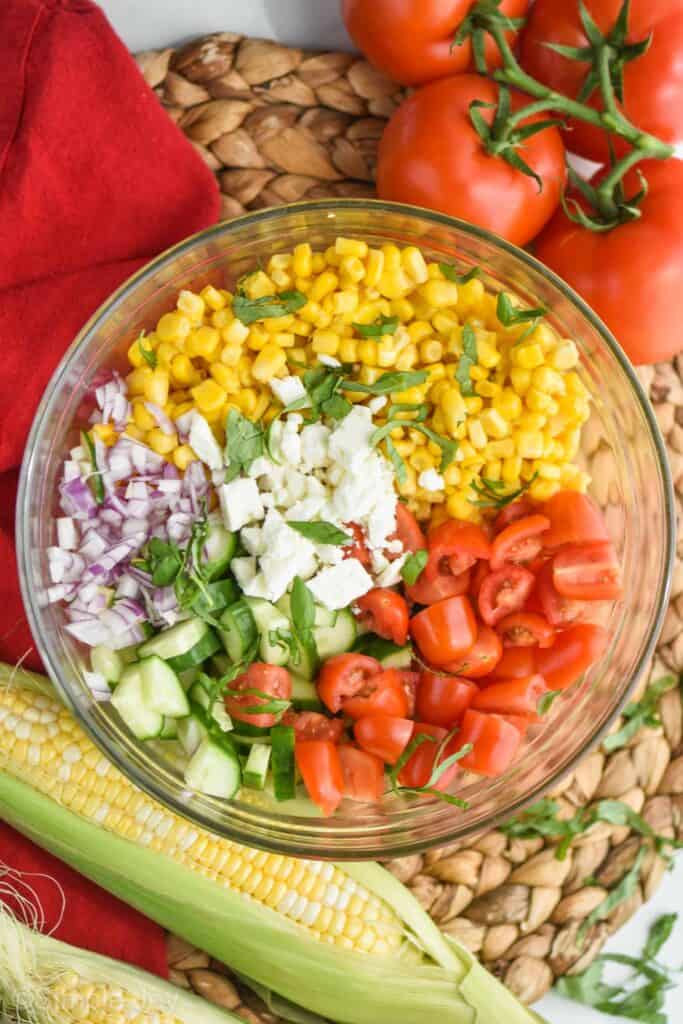 Fresh, Frozen, or Canned Corn
This recipe is super flexible! You can use just about any type of corn you can get your hands on for it.
Fresh, frozen, or canned corn will work in this recipe. In the recipe card at the bottom you will find the measurements for each one.
Using Fresh Corn: You can use it raw or cook it. The directions to cook it are both below and in the recipe at the bottom of the post.
Using Canned Corn: You will need two 15 ounce cans and one 11 ounce to equal four cups. But if it is just somewhere in the ballpark of 4 to 5 cups it is fine. Make sure to drain the corn well.
Using Frozen Corn: Thaw frozen corn fully before using it. You can leave it in the refrigerator overnight or run it under cold water. Make sure that it is drained well as it can add a significant amount of liquid to the recipe.
Another idea: Grill your corn first! It will add a smoky element to this summer corn salad that will be delicious.
How to Cook Fresh Corn
If you choose to use fresh corn in this recipe you can keep it raw to cut down on the time making this recipe. While that wouldn't be my preference, the dressing in this recipe will help it break it down and make it softer.
Otherwise, cook fresh corn using the following method:
Bring a large pot of water to a boil, and add a little bit of salt.
Remove the husks and the silk tread from the corn, making sure it is completely clean of both.
Drop the cleaned corn into the boiling water. Let it return to a boil and then cook for 5 minutes.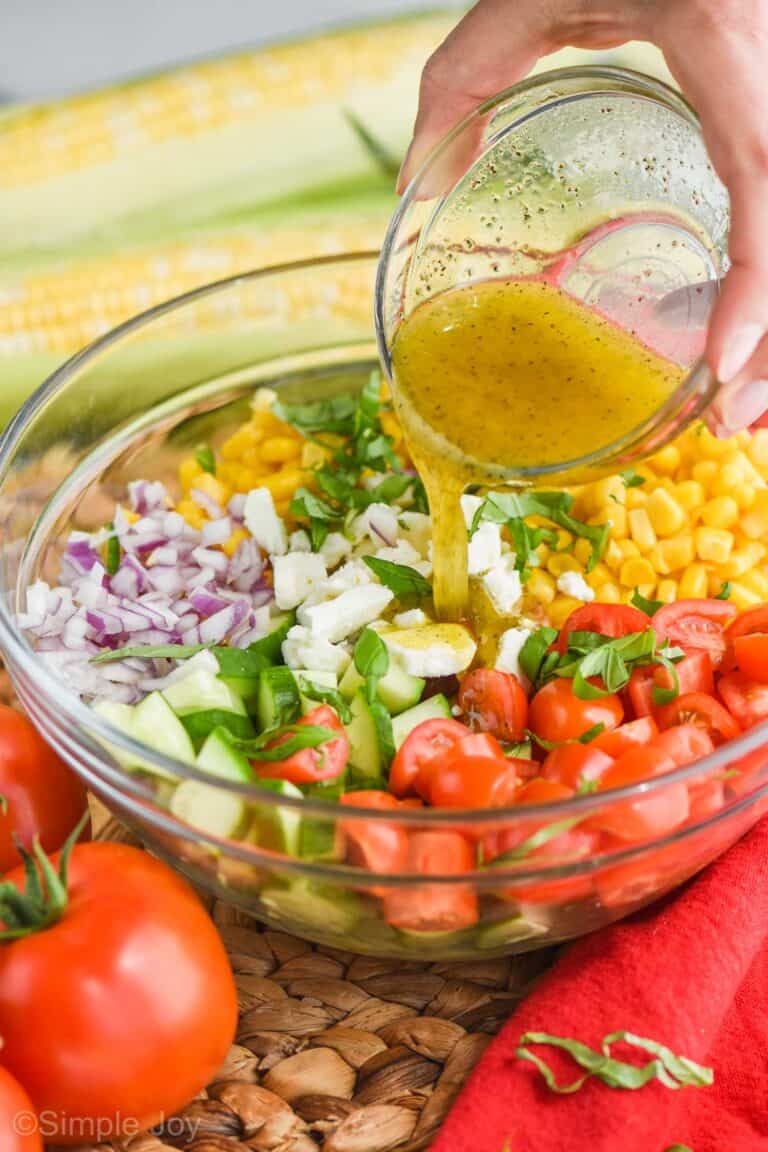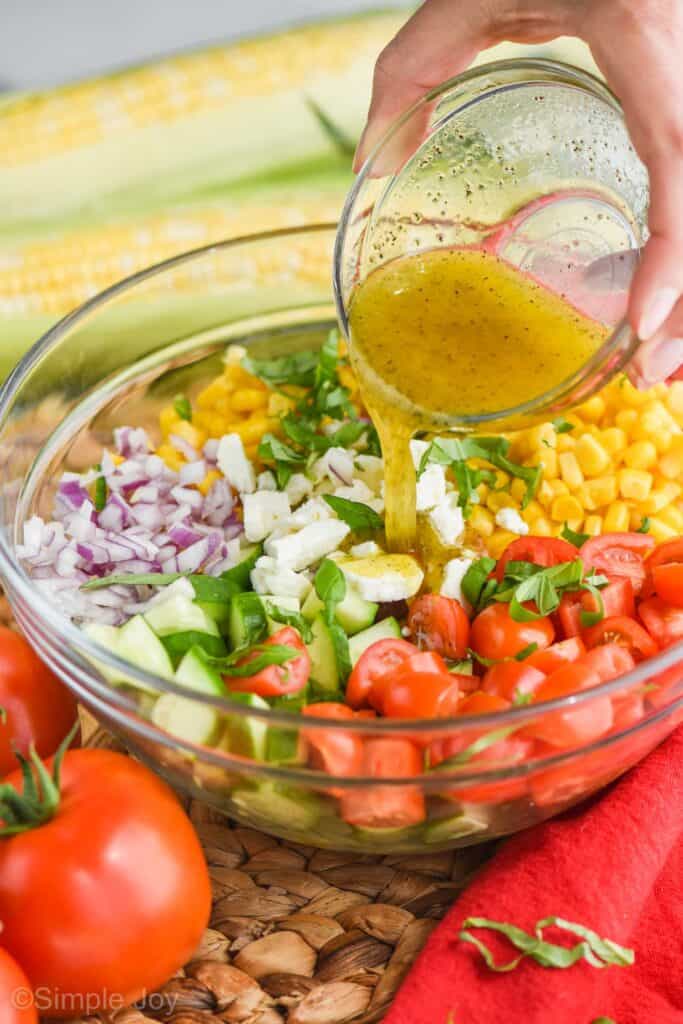 Corn Salad Dressing
I love the simplicity of this homemade dressing. It is five ingredients, and I'm willing to bet you have at least four of them already in your pantry.
olive oil
vinegar (see note below)
lime juice
kosher salt
black pepper
A note on the vinegar: I used plain white vinegar for this recipe and it was delicious. You could also try mixing this up with apple cider vinegar or white wine vinegar.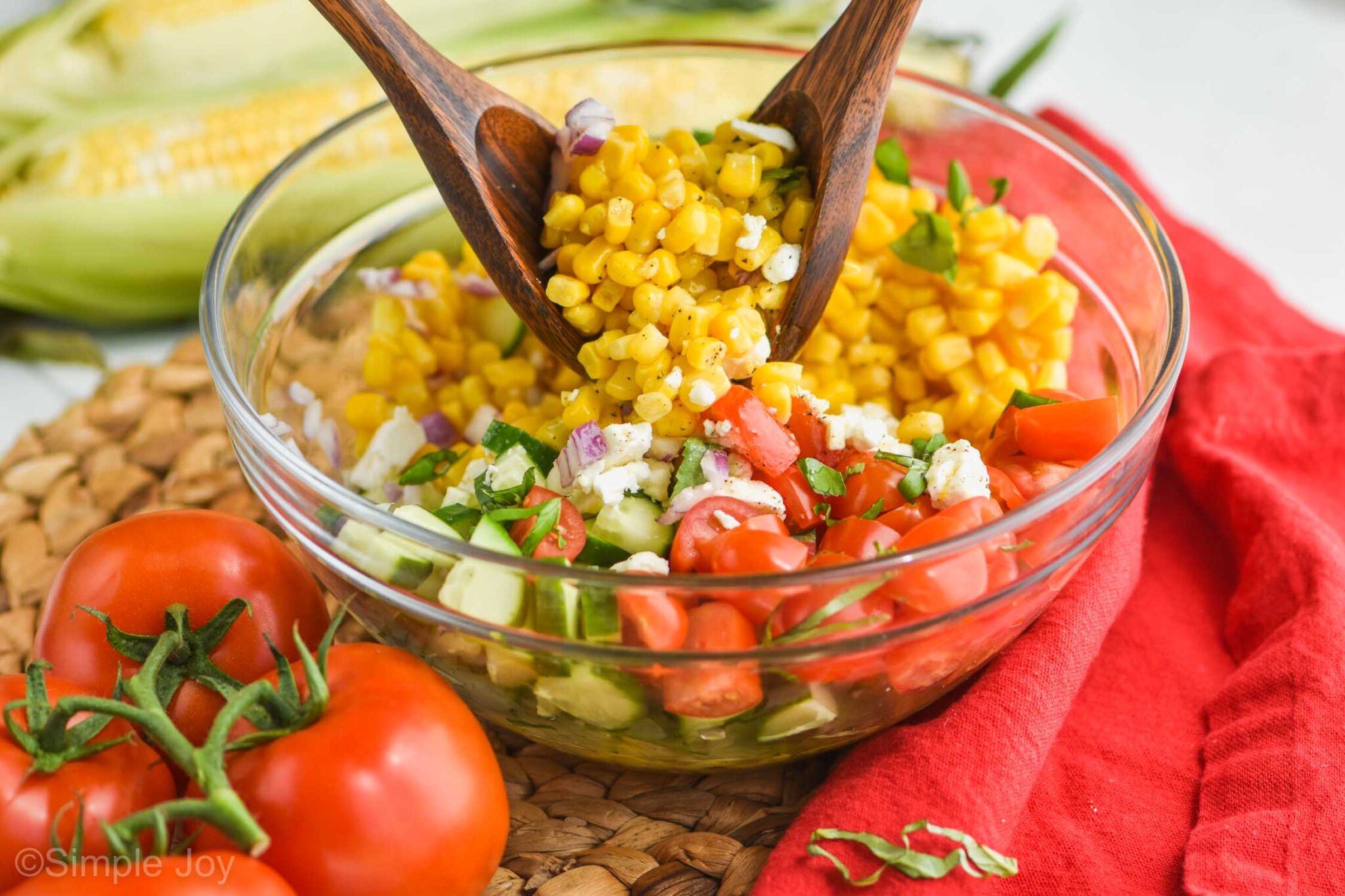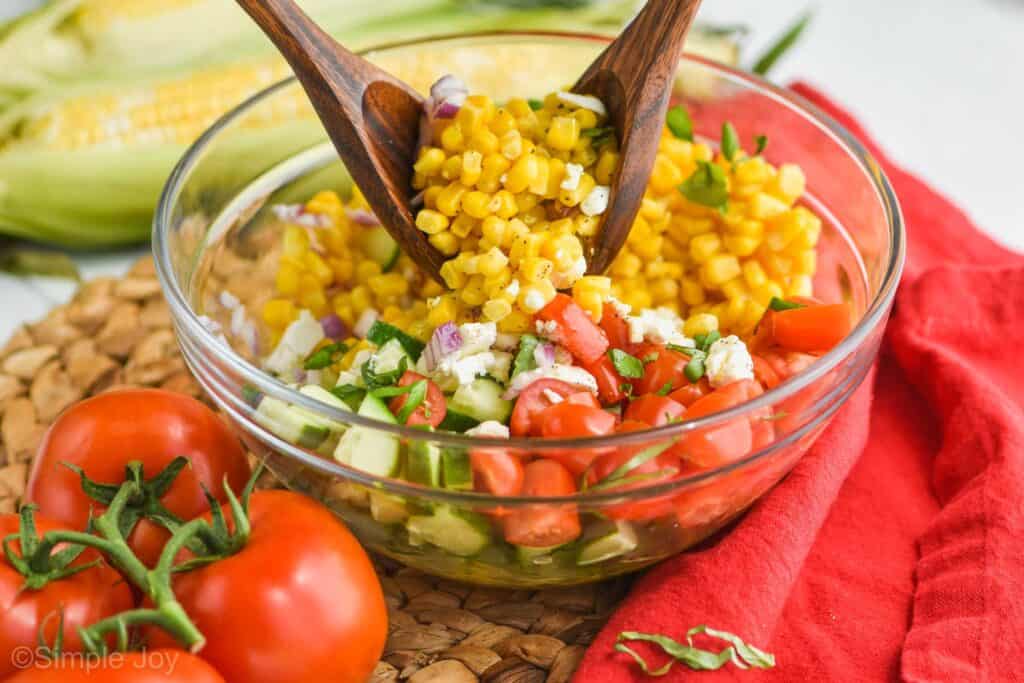 Making Ahead
You can absolutely make this the night before and it will taste delicious the next day. I would suggest that if you are going to do that, you add the fresh basil right before serving.
Make sure that you give the salad a good stir before serving. Additionally, let it sit out for about 20 minutes before serving. You want to take the refrigerator chill off.
Storing and Freezing Corn Salad
This salad can be stored in an airtight container for up to four days. I think the leftovers are delicious!
I would not recommend freezing this salad. Just about all the ingredients (except the corn) do not freeze well.
Swaps and Variations
While I love this salad as is, you can vary it based on taste. Obviously don't leave out the corn, guys. It's a corn salad.
I would recommend that if you are going to do variations, you only swap out ONE ingredient.
Cucumbers could be swapped out for diced radishes.
Tomatoes could be replaced with chopped red peppers.
Red onion could be left out completely or replaced with sliced green onions.
Feta cheese is another ingredient that you could skip if you are really averse to it. Consider replacing it with cotija, blue cheese, or goat cheese. You could also try freshly shredded parmesan.
Servings
This salad makes 5 cups, which is 10 great 1/2 cup servings. This is great for family dinners where everyone can take more than 1/2 a cup or big get togethers when everyone is taking a little of this and that.
If this is only one of a few side dishes at a big gathering, I suggest doubling.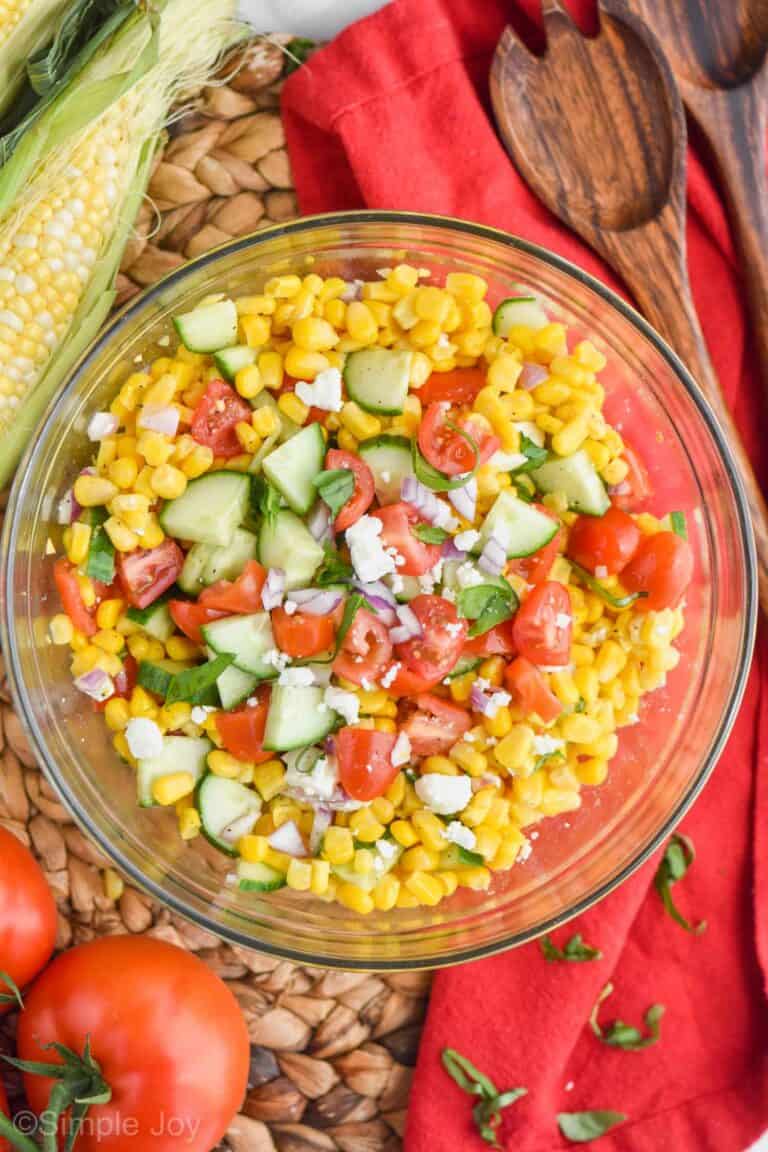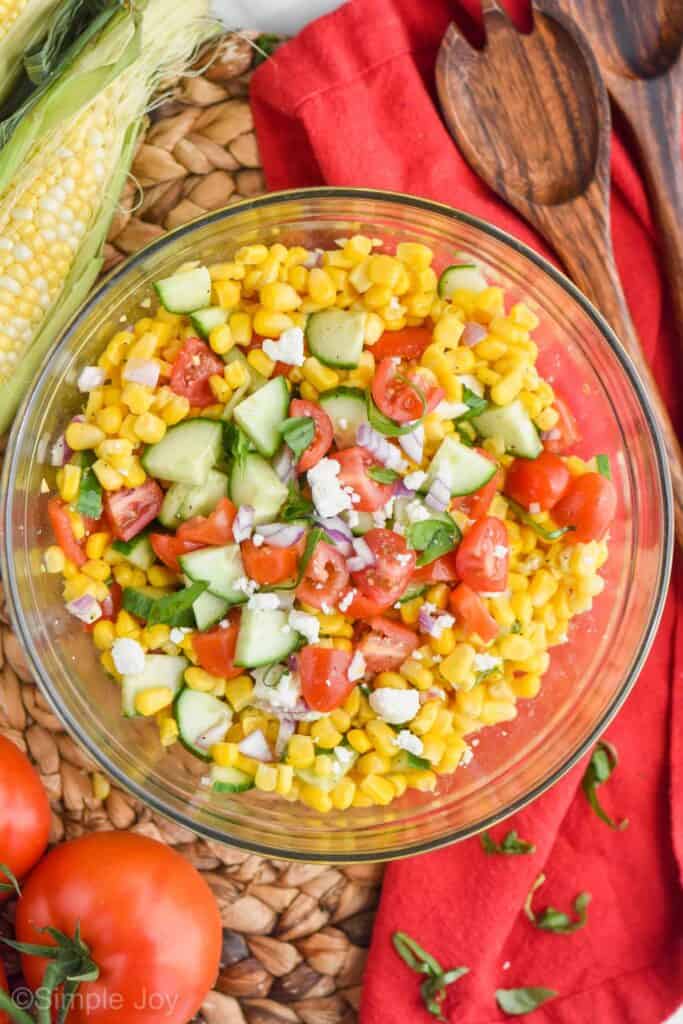 Other Great Summer Sides
If you are looking for other great summer side dishes, you have come to the right place. Can we meet in a sunny field with a giant table and feast on all of them?
If you make any of these recipes or my corn salad recipe, please leave me a comment and let me know what you think? Other readers love hearing your feedback before trying recipes.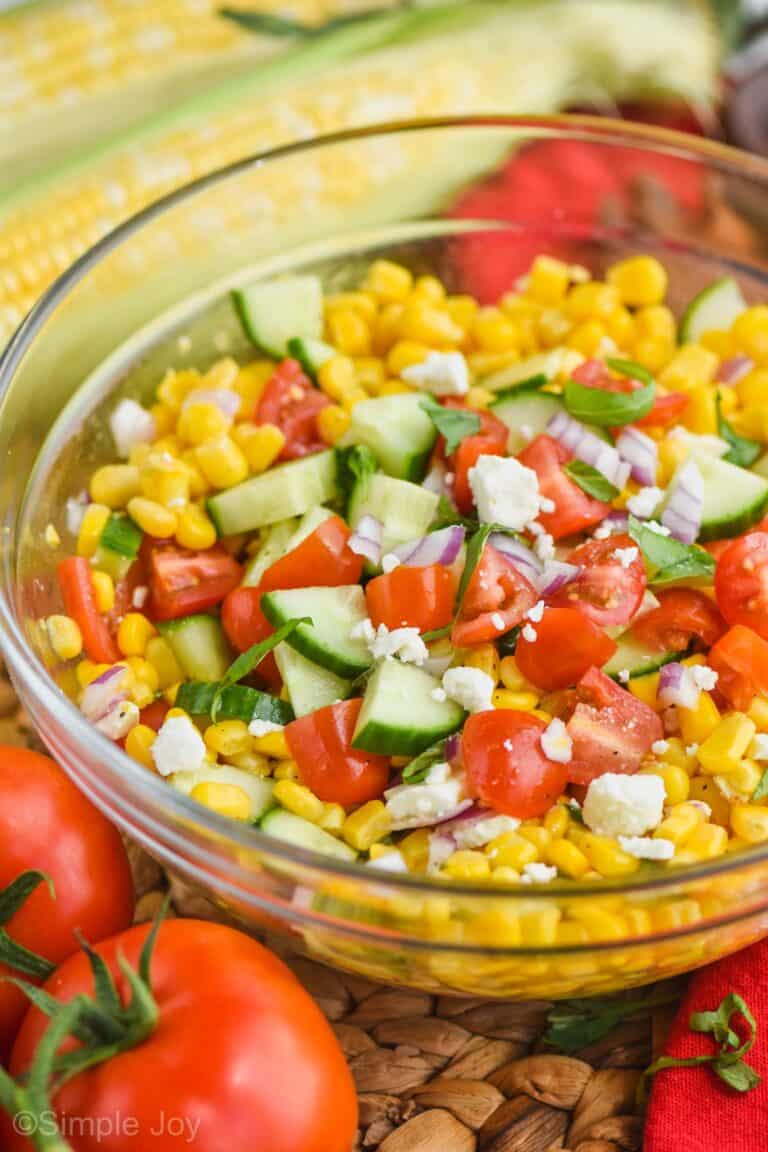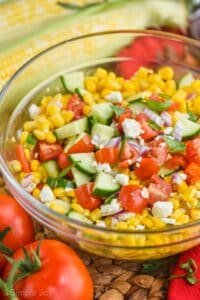 Corn Salad
This easy Corn Salad recipe comes together with just a few ingredients and is absolutely delicious. Your family will love this on the side of burgers and this is great to bring to picnics and BBQs!
Ingredients
4

cups

corn

5 ears or 41 ounces of canned corn (see notes)

1/4

large red onion

diced (or 1/2 a small red onion)

1

cup

cherry tomatoes

cut in half

1

cup

cucumber

quartered (about 1/2 of an English cucumber)

1/4

cup

basil leaves

cut into small strips

1/4

cup

feta cheese

crumbed

3

tablespoons

olive oil

2

tablespoons

white vinegar

1

tablespoon

lime juice

1

teaspoon

kosher salt

1/4

teaspoon

black pepper
Instructions
To cook fresh corn, bring a large pot of water to a boil, lightly salting it. After completely shucking the corn, put it in the boiling water. Bring the water back to a boil, and then cook for five minutes. Remove the corn and cut it from the cob. (Note: Fresh corn can also be used raw. If using frozen corn, make sure it is completely thawed and drained. If using canned corn, drain it well.)

Combine the corn, cucumber, red onion, tomatoes, basil, and feta in a bowl.

In a small bowl whisk together the olive oil, vinegar, lime juice, kosher salt, and black pepper. Pour over the other ingredients. Toss to combine.

Serve immediately. Recipe can be made before, adding the fresh basil just before serving. Store any leftovers in an airtight container in the refrigerator for up to four days.
Notes
You can use canned, fresh, or frozen corn for this recipe. If using fresh corn, cook it or leave it raw (it's a matter of personal preference). If using frozen corn, make sure it is completely thawed and drained. If using canned corn, drain it well.
Serving:
0.5
cup
Calories:
113
kcal
(6%)
Carbohydrates:
15
g
(5%)
Protein:
3
g
(6%)
Fat:
5
g
(8%)
Saturated Fat:
1
g
(6%)
Monounsaturated Fat:
3
g
Cholesterol:
2
mg
(1%)
Sodium:
146
mg
(6%)
Potassium:
159
mg
(5%)
Fiber:
1
g
(4%)
Sugar:
4
g
(4%)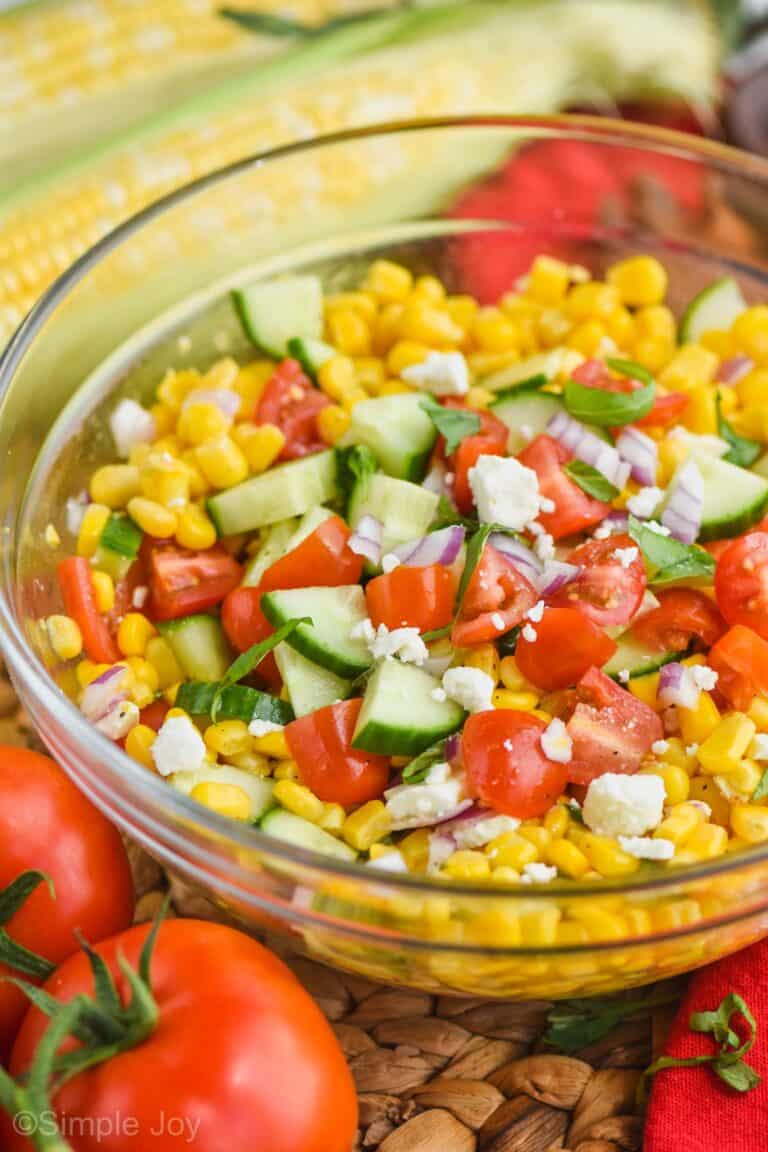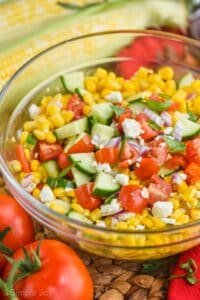 did you make this
Corn Salad
you might also like . . .