This Watermelon Salad makes the perfect easy summer side dish. With great fresh ingredients, this is exactly what you should bring to picnics and BBQs.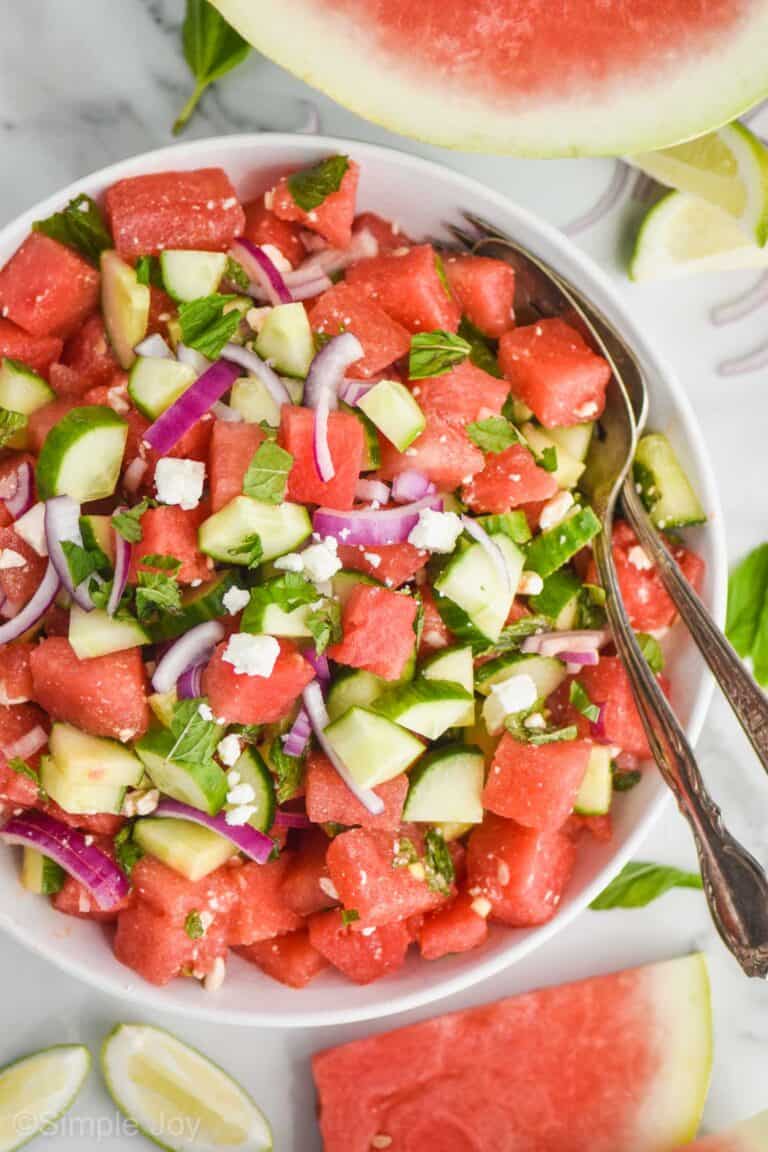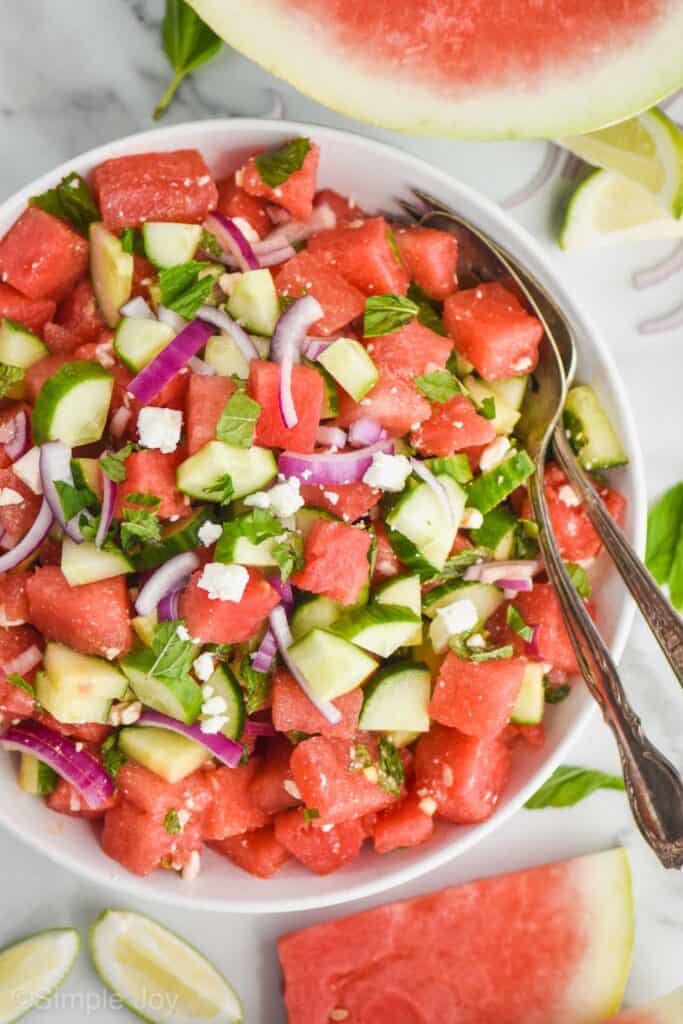 I'm proud to be partnering with Meijer to bring you this perfect summer recipe.
With the Fourth of July right around the corner, we are thinking about how we are going to celebrate. Though it looks a little different this year, we still want to make it special for our kids. It is one of their favorite times of year!
We are excited to make a family celebration at home with all of our favorite recipes and treats. I'm so grateful that I can depend on Meijer to be a one stop shop for everything we need, including the best produce.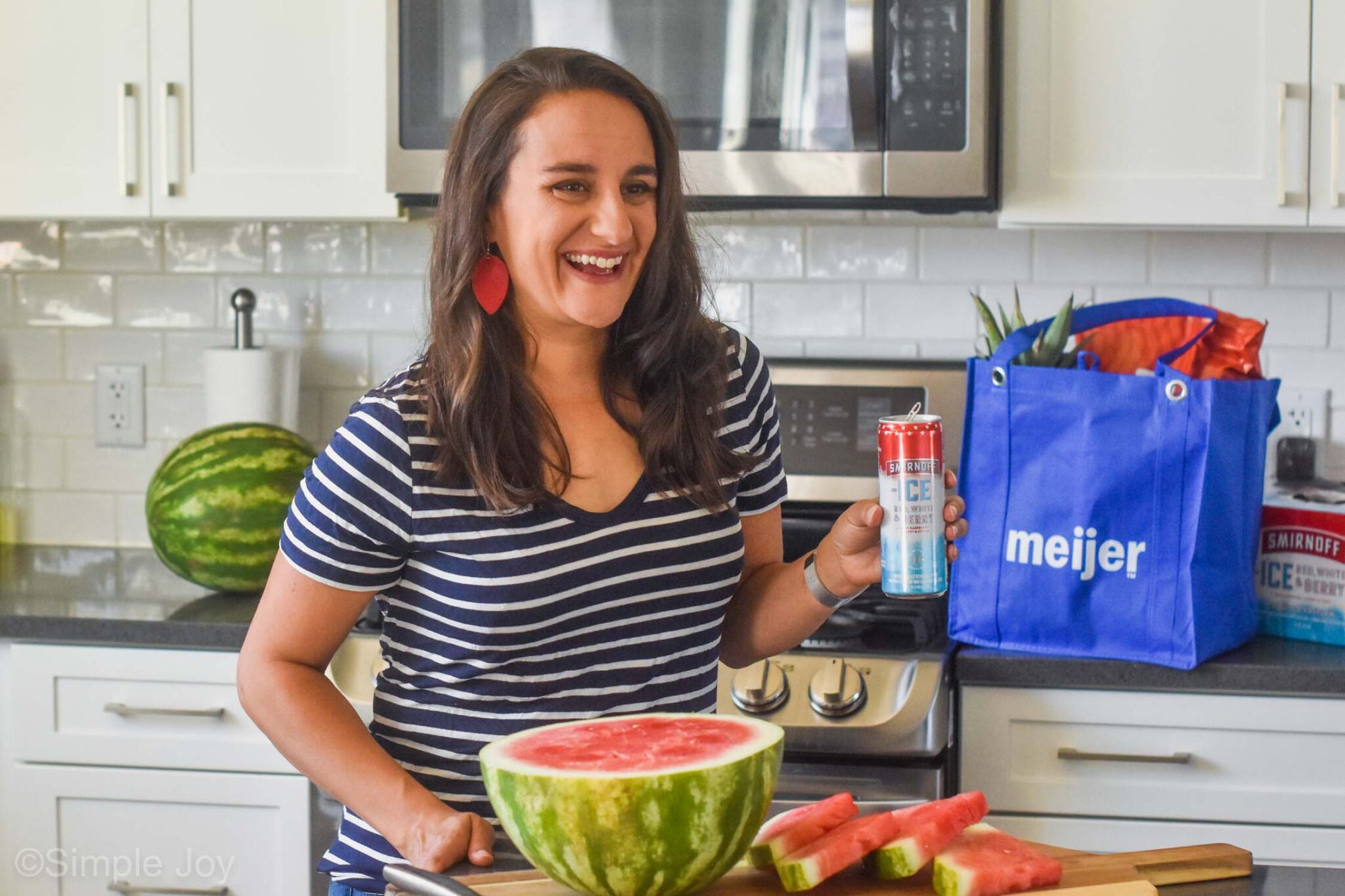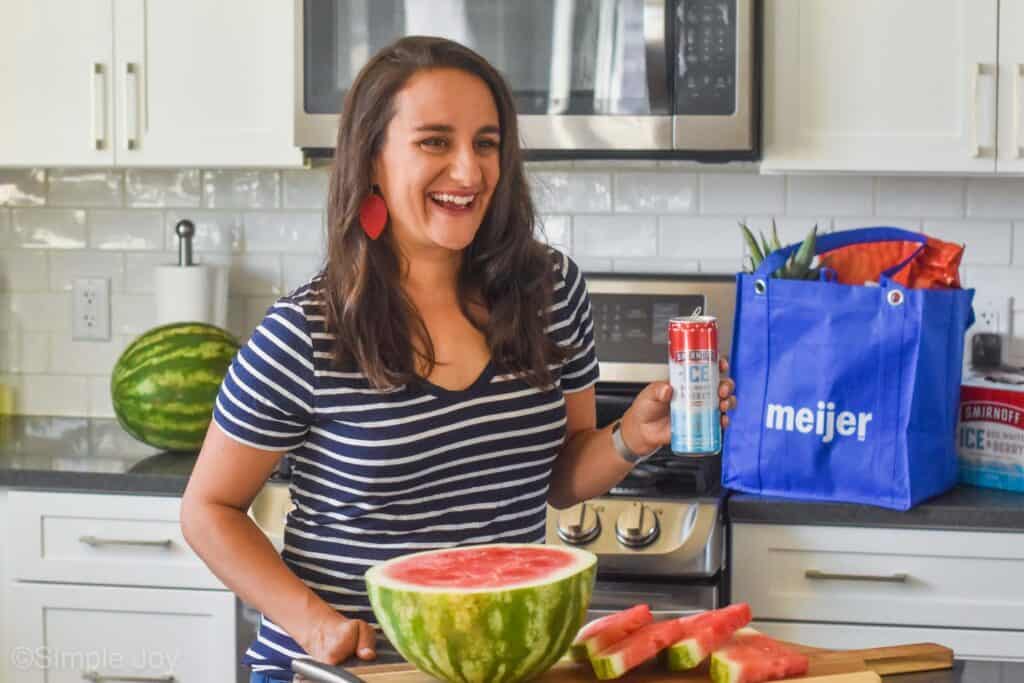 Throwing a Fourth of July BBQ
There are a few things that make a Fourth of July BBQ special – games, drinks, decorations, and great food!
We grabbed all of it at Meijer, plus a Nostalgia snow cone machine that my kids freaked out about. It is totally worth it to make great summer memories.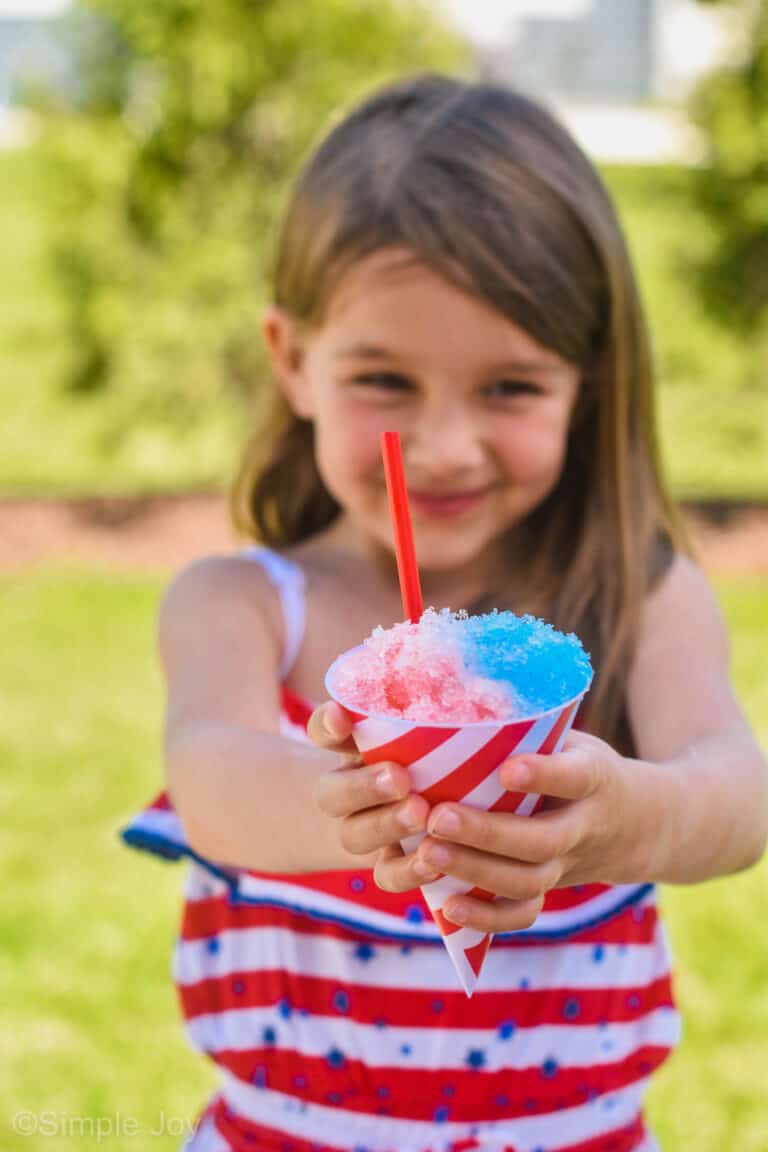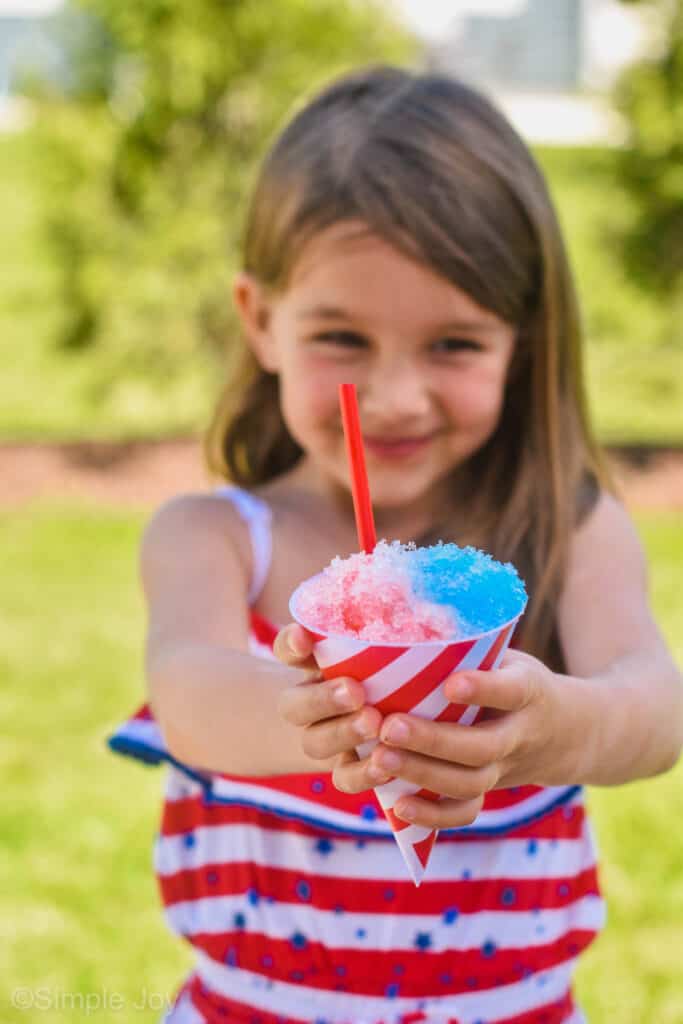 We also got these super cute Fourth of July clothes for the girls at Meijer – I love their Falls Creek collection. I will tell you a secret: they both loved what I got them . . . and what I got their sister! So, I'm headed back to get them the other so they can be twins.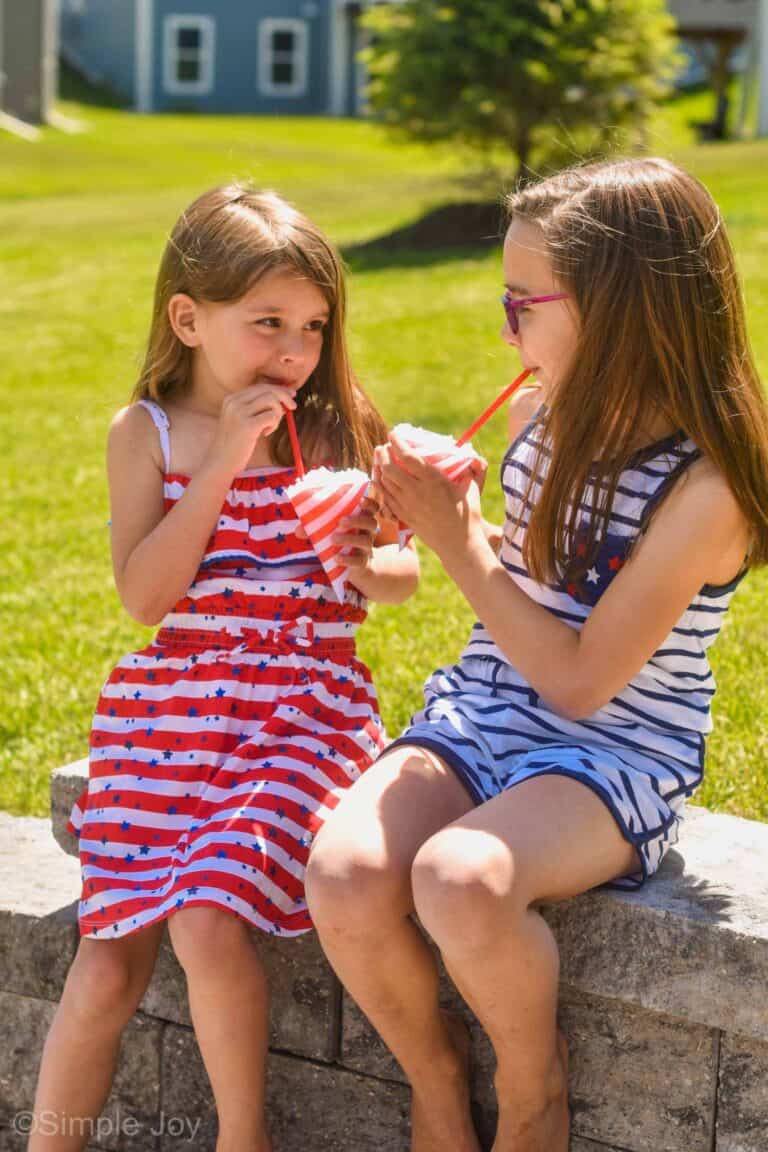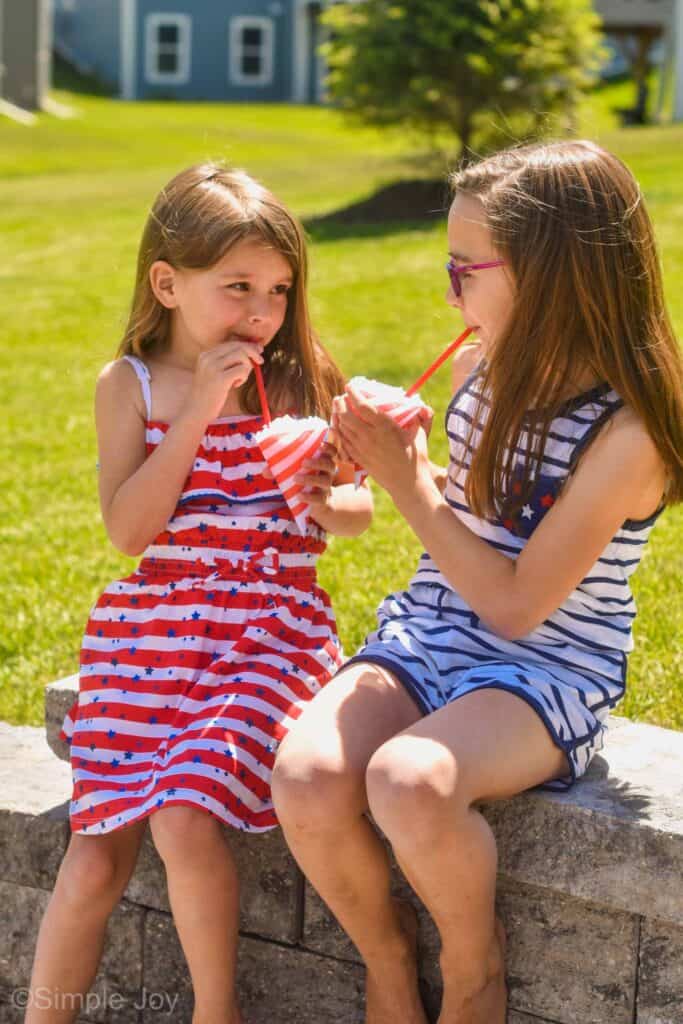 We also got plates, napkins, and the perfect table runner. And of course we will have to throw in a game of Ladder Ball.
No matter how many people you are hosting on the Fourth of July, it's great to decorate and do it up. It makes it feel so special.
Of course, you can't have a great party without great food.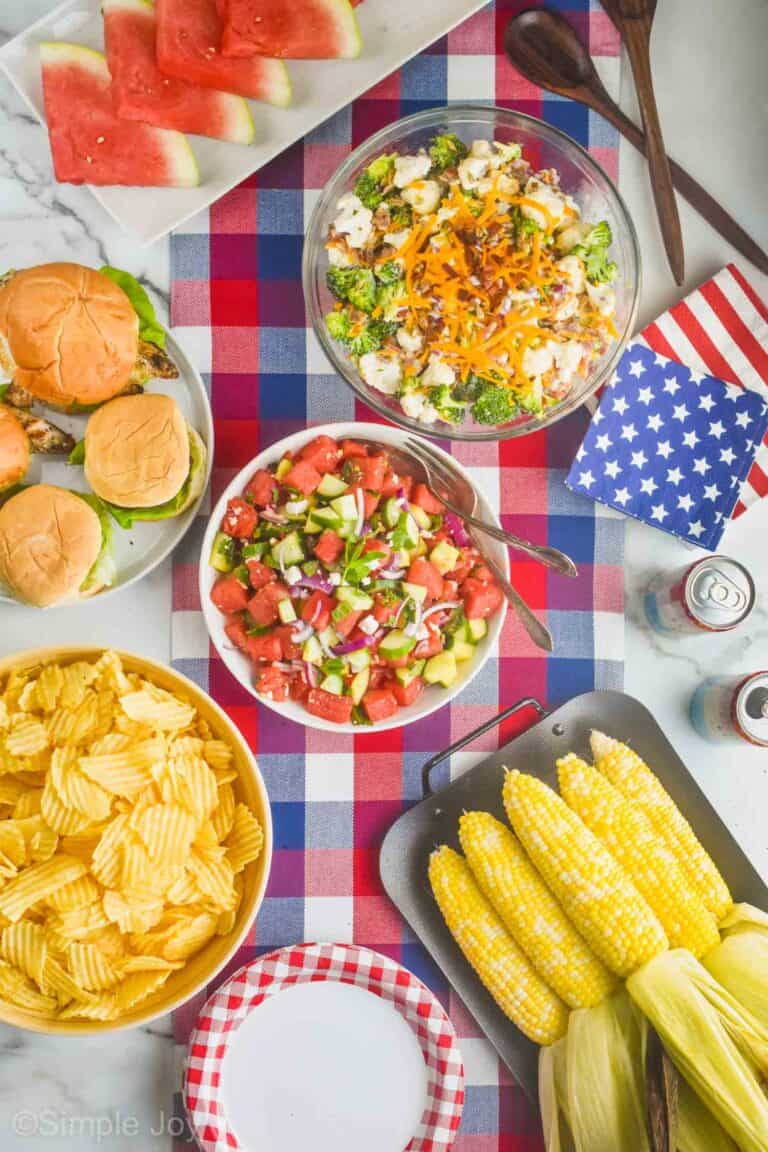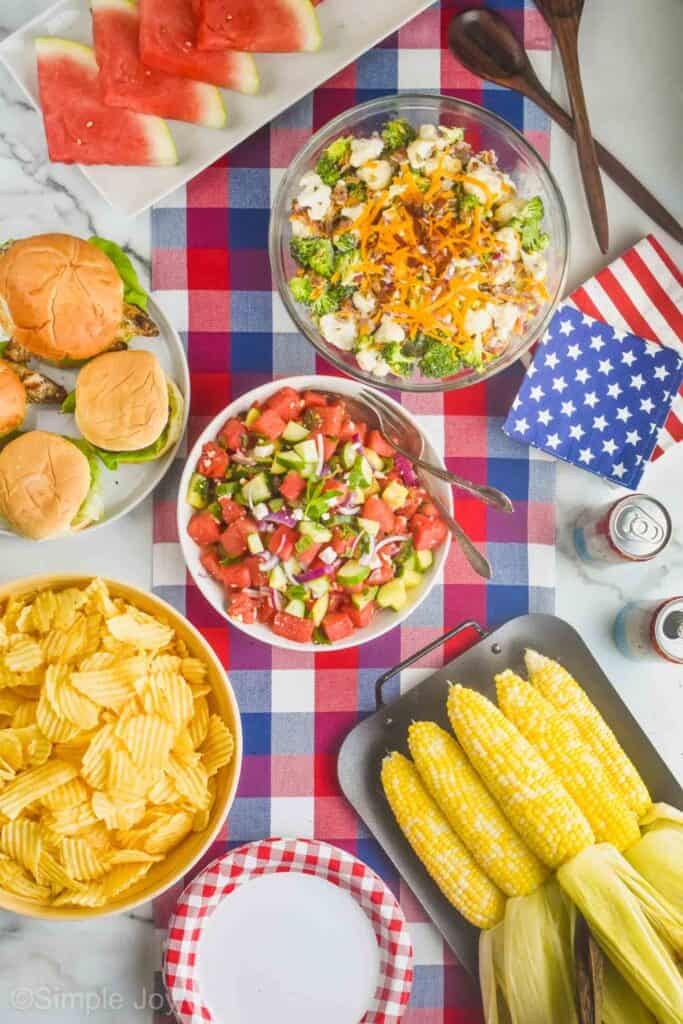 Perfect Fourth of July BBQ Food
In addition to this Watermelon Salad, I have a ton of great recipes that are perfect for your family.
Main Dishes
These Grilled Chicken Sandwiches and hamburgers made with my Hamburger Seasoning make the perfect main dish. Both are very easy to make and throw on the grill.
Side Dishes
We are also making this fantastic Broccoli and Cauliflower Salad and grilled corn. And finally, we will throw some pineapple on the grill and make my Grilled Pineapple recipe.
We also grabbed some Red, White, and Berry Smirnoff Ice and frozen Purple Cow treats. Treats for them, and treats for me.
All of it compliments my Watermelon Salad perfectly!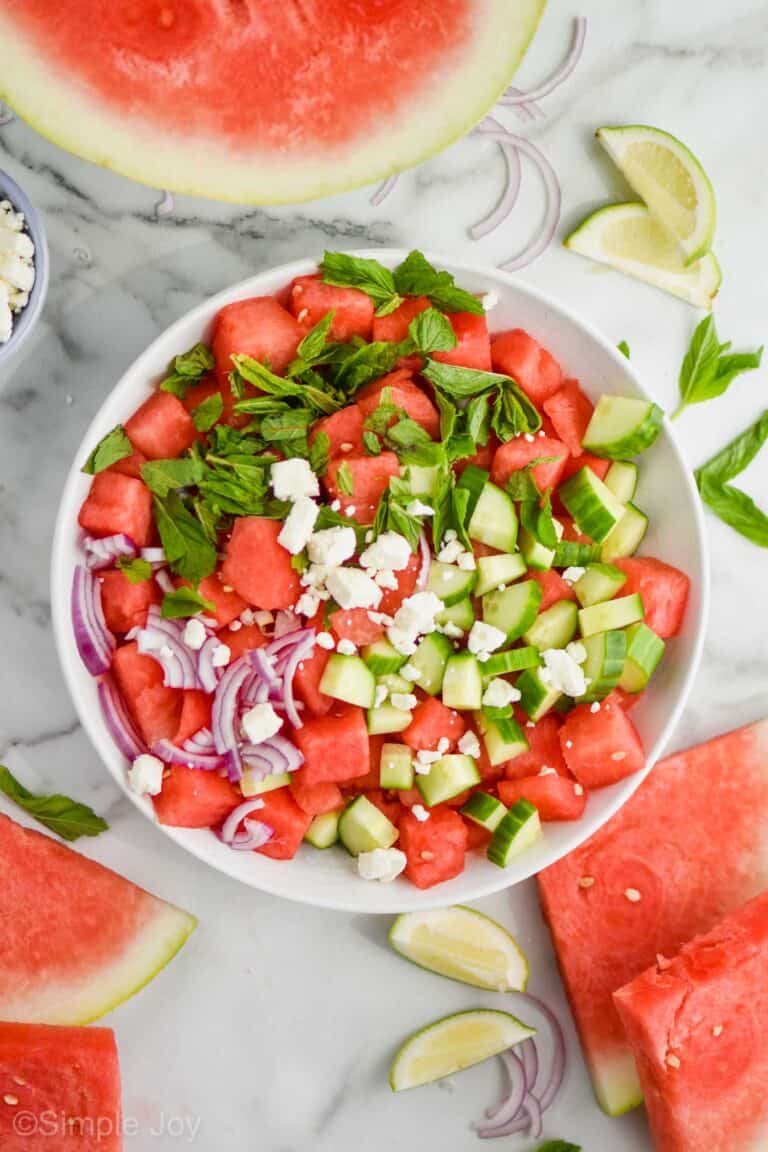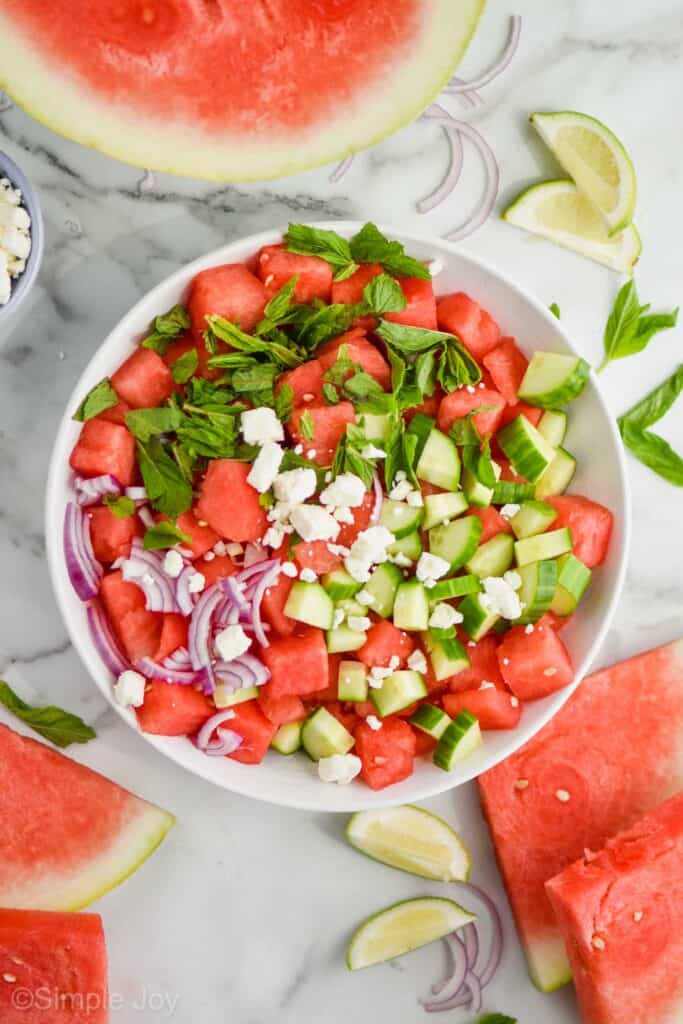 Picking the Perfect Watermelon
I am kind of obsessed with the produce at Meijer. As a food blogger, I'm always looking for ingredients that will shine in photos. And I never have trouble finding the perfect produce there.
When picking out a watermelon there are a few things you want to look for:
Watermelons that are more sphere like and less oblong are sweeter.
Look for a watermelon that has an orange spot, not a white spot. This means that it spent more time ripening on the vine before being picked.
A watermelon with a dried out brown stem will be more ripe than one that still has a green stem.
Pick a heavy watermelon. It should feel heavy for its size, as that means it is more full of water and jucier.
Gently press on it. It shouldn't have a lot of give to it. If the watermelon does, it is likely over ripe.
Buying and Storing Mint
Mint is a great ingredient to have on hand in the summer. I'm finding that I'm using it more and more in my recipes. And it is the perfect complement to this salad.
I would encourage you to invest in a whole mint plant. You can find one in Meijer's great garden center! That way you can have your mint all summer.
If you buy a bunch instead, there are a few ways to ensure that they will be kept fresh.
Method 1: Cut off the ends of the stems and place the bunch in a glass of water. Cover loosely with a plastic bag and store in the refrigerator.
Method 2: Get a paper towel damp, ringing out the excess water. Wrap it loosely around the mint and put it in the refrigerator.
Mint can be stored for a week using either method. Wash the mint before using it and make sure the leaves are not wet before storing.
Making Ahead
While you could make this salad the night before, I would not recommend it. It will still taste delicious, but it looks the prettiest when you make it right before serving it.
If you do choose to make it the night before, add the mint right before serving.
Storing Leftovers
This salad is best when eaten right away. That being said, leftovers will still be enjoyed. They should be kept in an airtight container in the refrigerator for up to 3 days.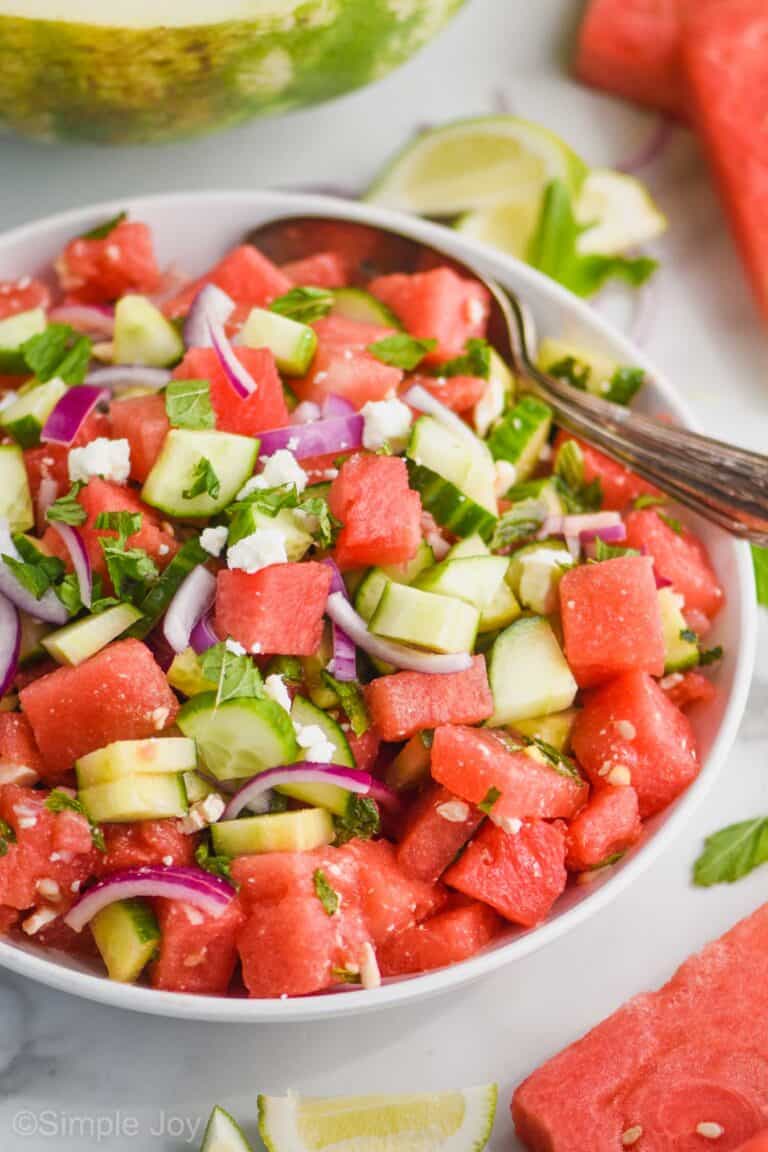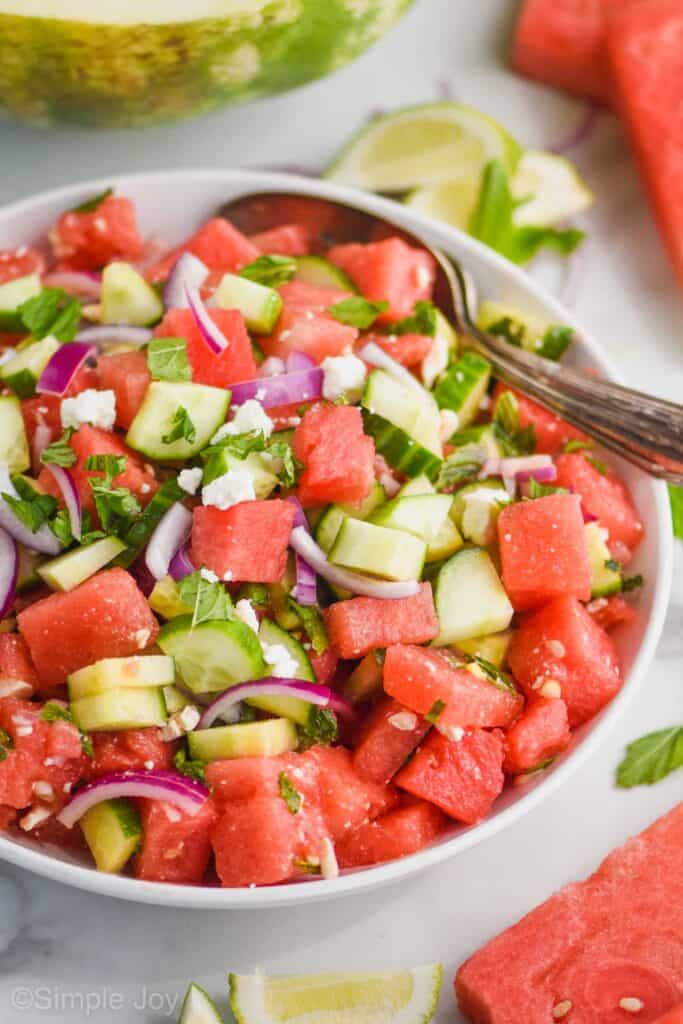 Other Great Summer Salads
In addition to the recipes listed above, here are some other great recipes your family will love.
If you make this Watermelon Salad recipe or any or any of my other recipes, please leave me a comment and let me know what you think.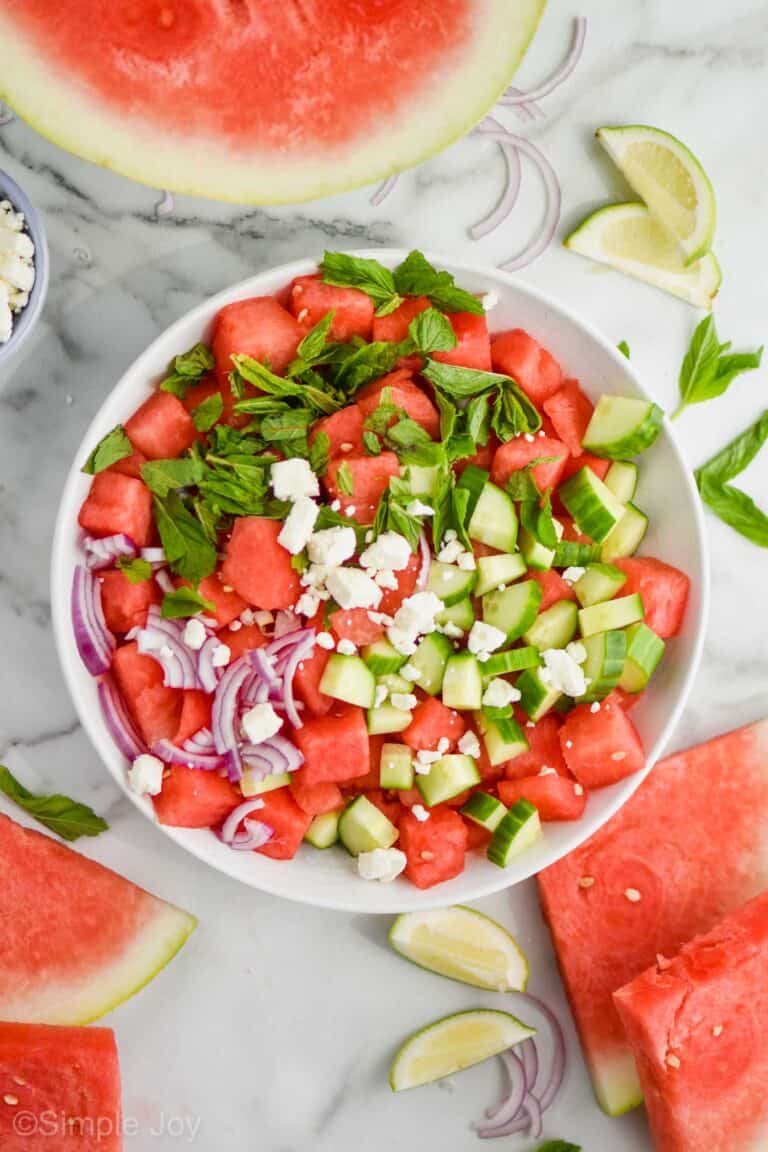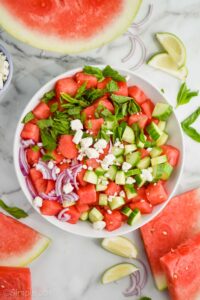 Watermelon Salad
This Watermelon Salad makes the perfect easy summer side dish. With great fresh ingredients, this is exactly what you should bring to picnics and BBQs.
Instructions
In a small bowl, whisk together the olive oil, lime juice, and kosher salt.

In a large bowl combine the watermelon, cucumber, red onion, mint and feta cheese.

Pour the dressing over the ingredients in the large bowl and toss to combine. Serve immediately.

While leftovers will taste delicious the next day (when stored in the refrigerator) they will not look as pretty as they did fresh.
Serving:
1
cup
Calories:
109
kcal
(5%)
Carbohydrates:
12
g
(4%)
Protein:
2
g
(4%)
Fat:
7
g
(11%)
Saturated Fat:
2
g
(13%)
Polyunsaturated Fat:
1
g
Monounsaturated Fat:
4
g
Trans Fat:
7
g
Cholesterol:
5
mg
(2%)
Sodium:
155
mg
(7%)
Potassium:
208
mg
(6%)
Fiber:
1
g
(4%)
Sugar:
9
g
(10%)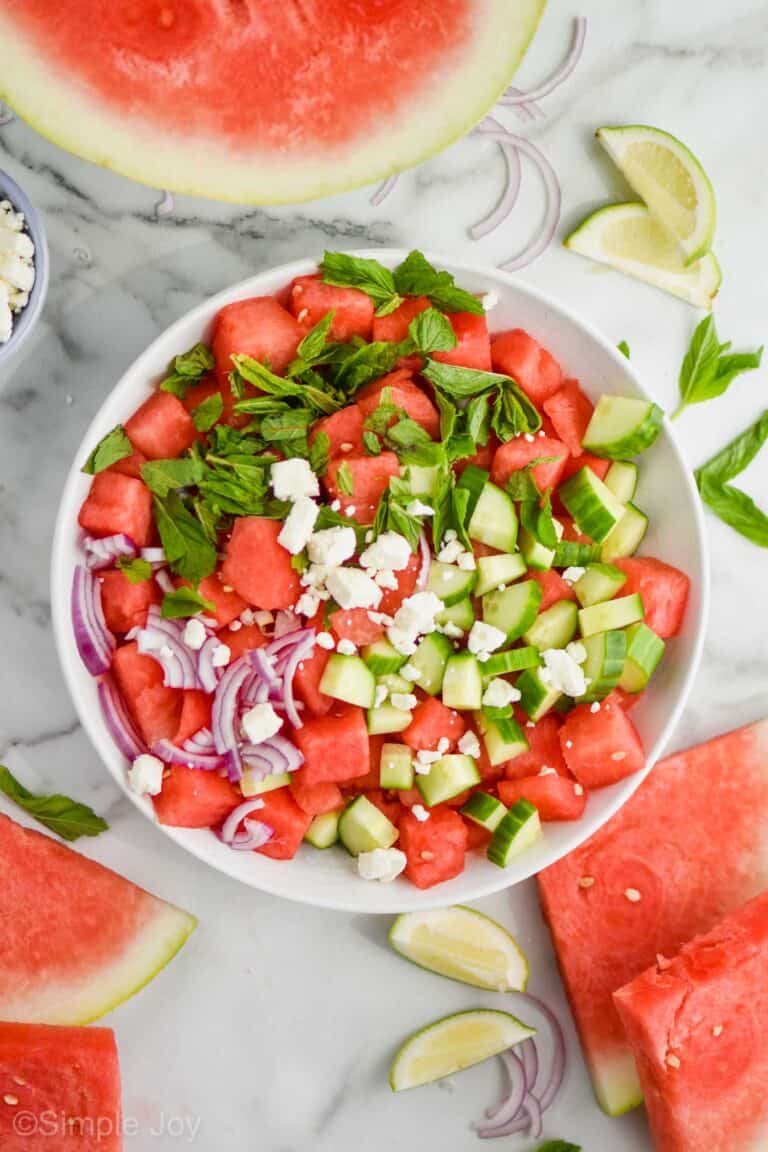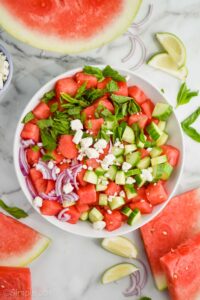 did you make this
Watermelon Salad