Broccoli Cauliflower Salad is easy to throw together and so delicious. This is classic side dish recipe that is loved at family functions and picnics.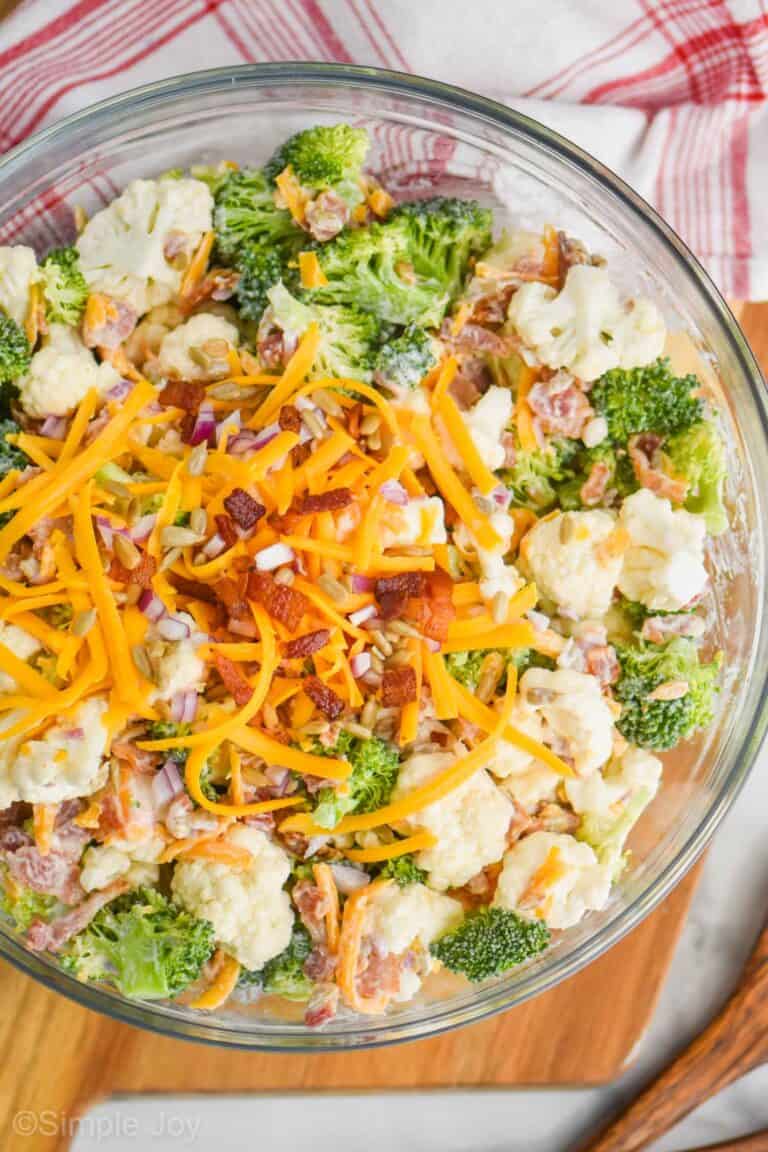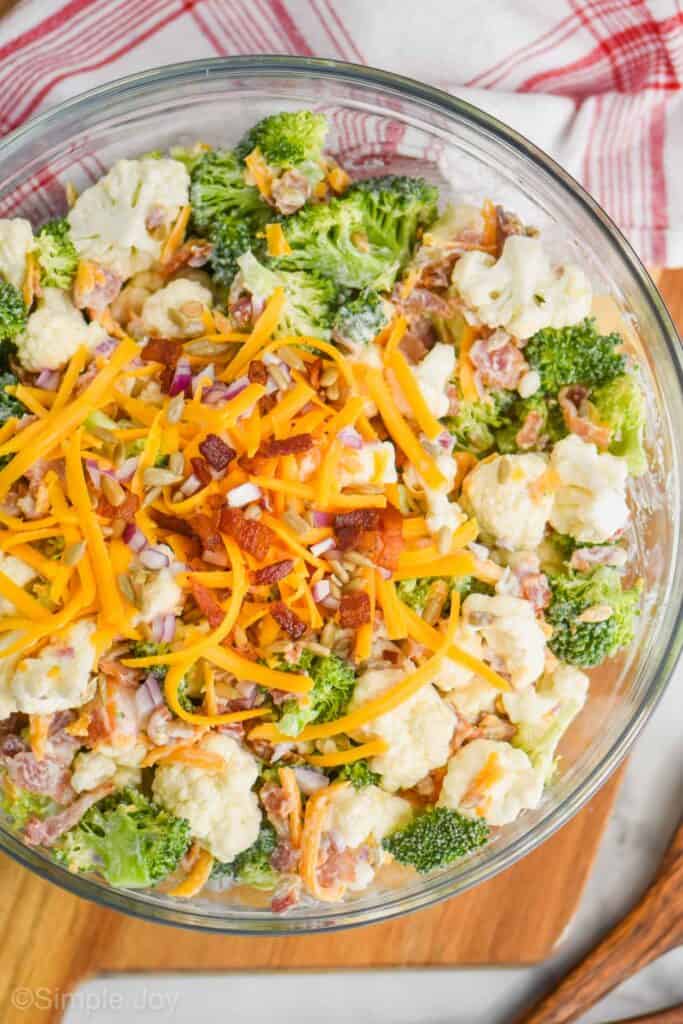 When I was growing up, any time there was a BIG deal, my mom would throw this giant backyard BBQ and invite our whole family . . . our huge Italian family.
The first one I remember was my brother's high school graduation. Lawn chairs and folding tables took over our backyard and she made a ton of amazing food.
Recipes like this great Broccoli Cauliflower Salad totally remind me of those picnics. These types of recipes that you bring to potlucks and picnics remind me of the love and care my mom took in hosting people and celebrating us.
Your friends and family, those you love the most, will love this Broccoli and Cauliflower Salad. I promise that you will love how easy it is to make, the delicious flavors, and the fact that you can make it the night before.
Reader Review
I made this and it was SO delicious!! Thank you!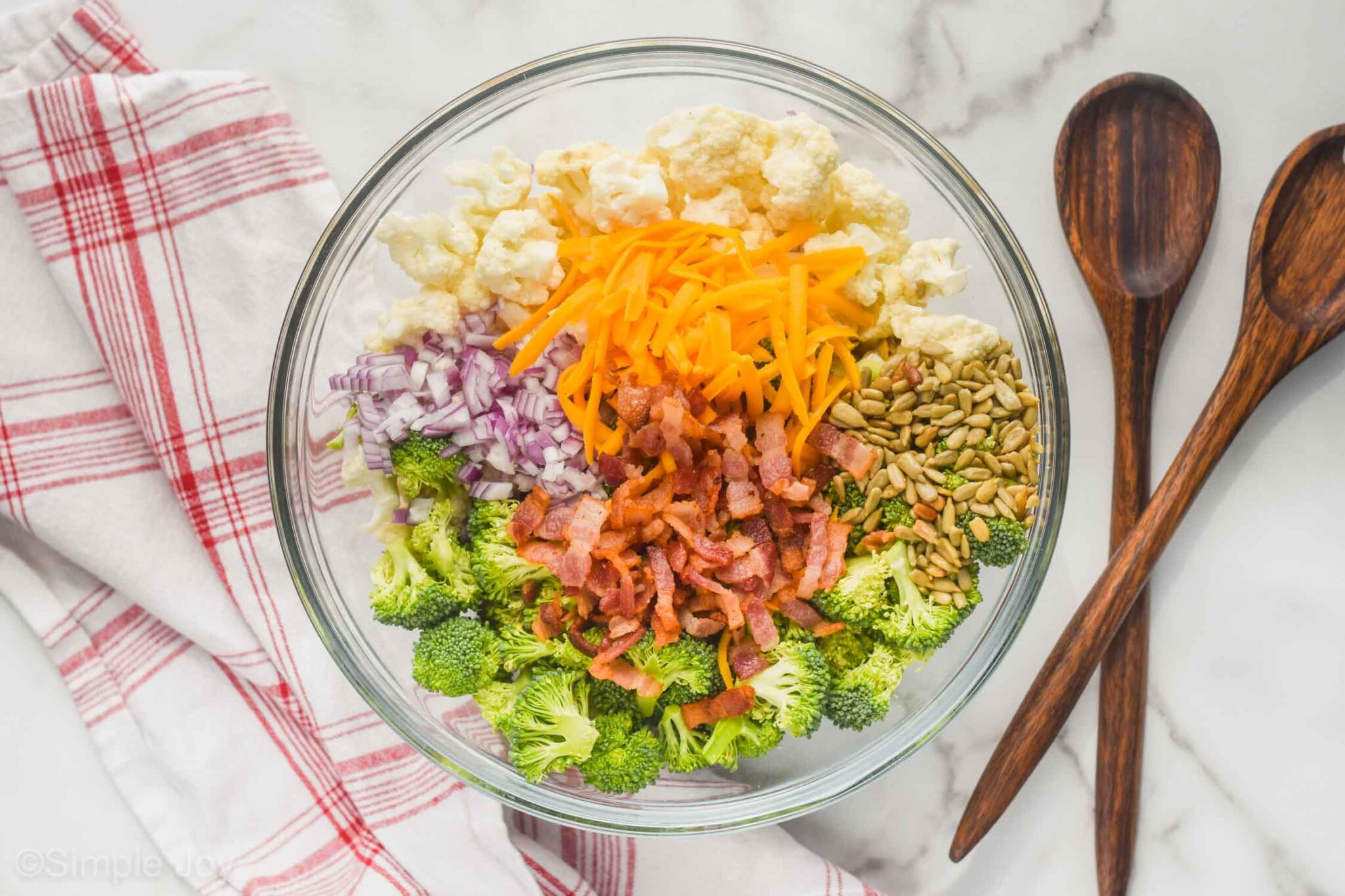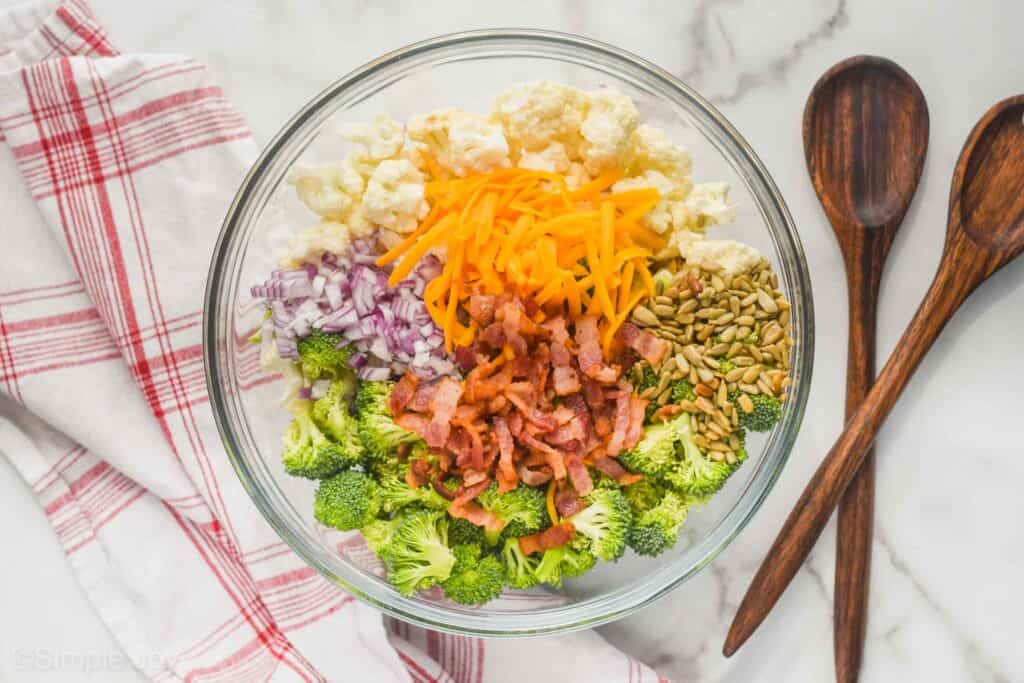 Broccoli and Cauliflower Salad Ingredients
You only need a few simple ingredients for this salad. Together they create the perfect balance of salt, sweet, and crunch. For the full measurements and all the instructions, see the recipe card at the bottom of the post.
Cauliflower: The cauliflower will be left raw. For photos of how to easily cut cauliflower, see my mashed cauliflower post.
Broccoli: The broccoli will also be left raw, and cut into bite sized pieces.
Bacon: I find it easiest to dice the bacon and then cook it. Read more about this below.
Cheddar Cheese: While I normally prefer you to shred your own cheese from a block so it melts better, because this will be left cold, you can take the pre-shredded cheese short cut here.
Sunflower Seeds: These come in salted and unsalted. If you are watching your sodium intake, opt for the unsalted.
Red Onion: If you are averse to raw onion, try shaking the diced red onion in cold water and rinsing it a few times to cut it's rawness. This is a great trick from Holly at Spend with Pennies.
Mayonnaise: You can absolutely use light mayonnaise here or even fat free to cut down on calories.
Red Wine Vinegar: I love the tang this vinegar brings. You can also try substituting apple cider vinegar.
Sugar: We call for a small amount of sugar here to balance the other ingredients. If you want to cut back sugar intake, I suggest cutting the amount in half or trying a sugar substitute like monk fruit.
Salt: We used kosher salt in this recipe. If you only have table salt, cut the amount in half.
How to Make Broccoli & Cauliflower Salad
Cook the bacon. Please see my instructions below for tips and tricks.
Combine all of the dry ingredients. In a large bowl combine the cauliflower, broccoli, cooked bacon, cheese, sunflower seeds, and red onion.
Make the dressing. In a small bowl, whisk together the ingredients for the dressing.
Combine it all. Enjoy it right away or store it in the refrigerator and serve it the next day.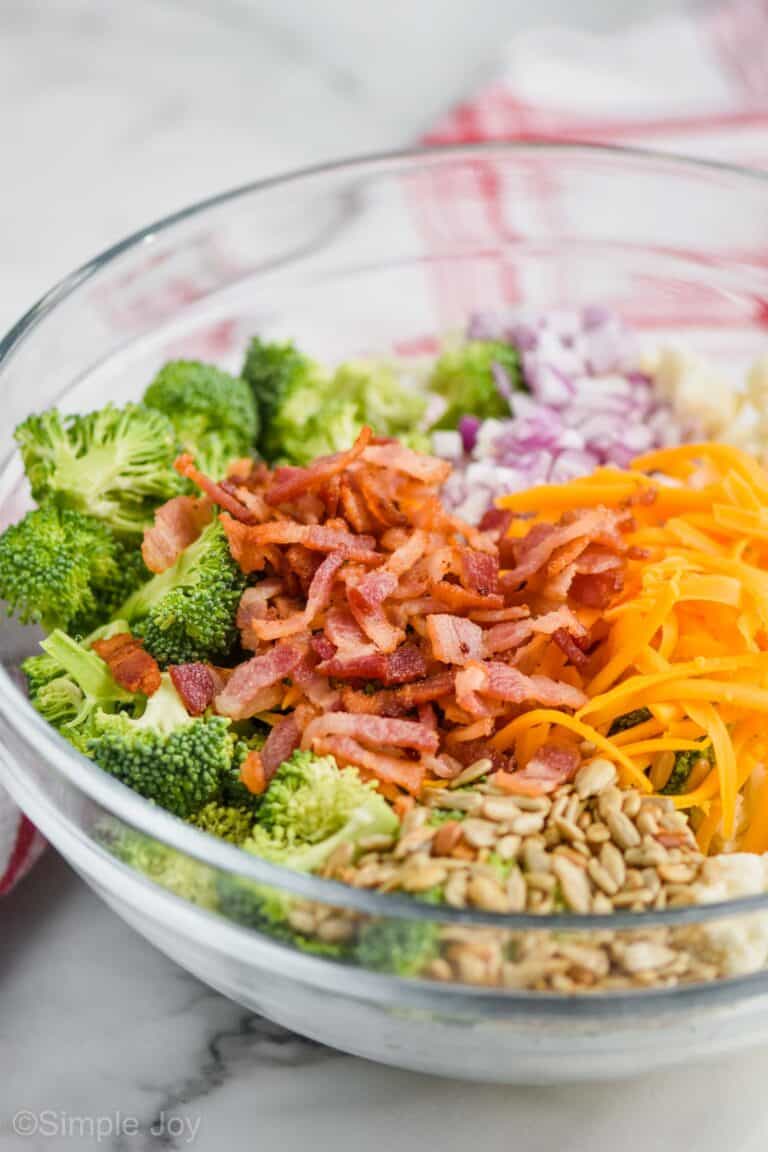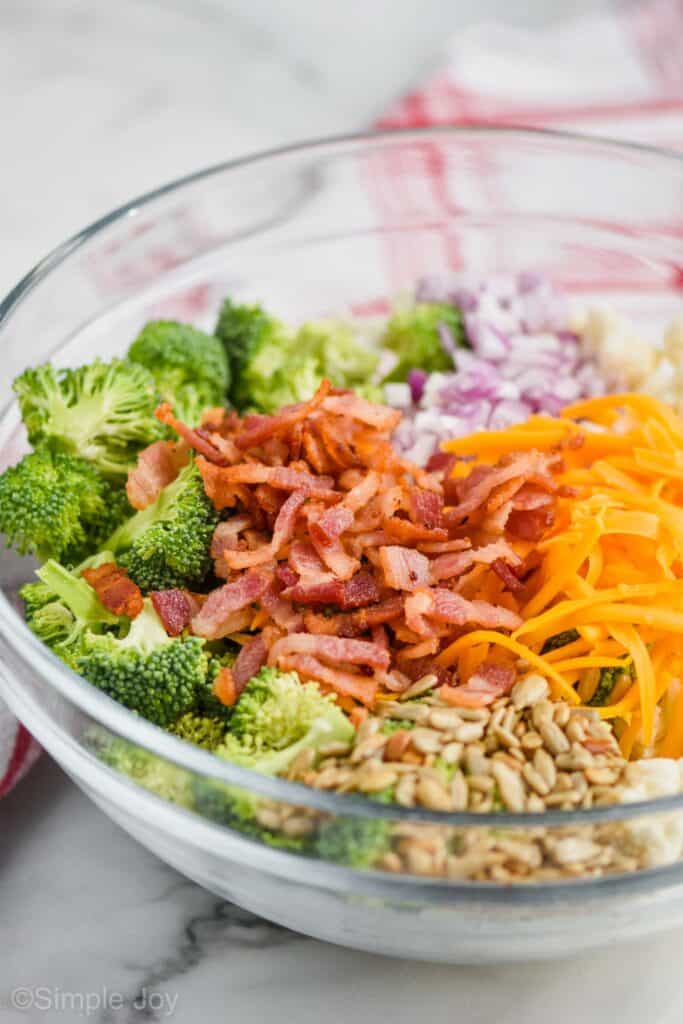 Making Bacon Crumbles
What you are looking for here is small crispy pieces of bacon that incorporate with all the other ingredients in the salad. The best way to do this is:
Cut up the raw bacon.
Cook the pieces until almost completely done, pulling them out with a slotted spoon. Some carry over cooking will happen and your bacon will get more crispy after it comes out, so don't wait too long to pull it out.
Transfer the cooked bacon to a paper towel lined plate.
I get the best results cooking bacon in a my cast iron skillet. It turns out perfect every time.
Raw Broccoli and Cauliflower
As noted above, the broccoli and cauliflower in this recipe don't get cooked. The dressing for this recipe, especially the vinegar in it, do soften the vegetables so it doesn't feel like you are eating raw veggies.
If you are concerned about this, I suggest making this the night before so that the vegetables get a good amount of time in the dressing before serving.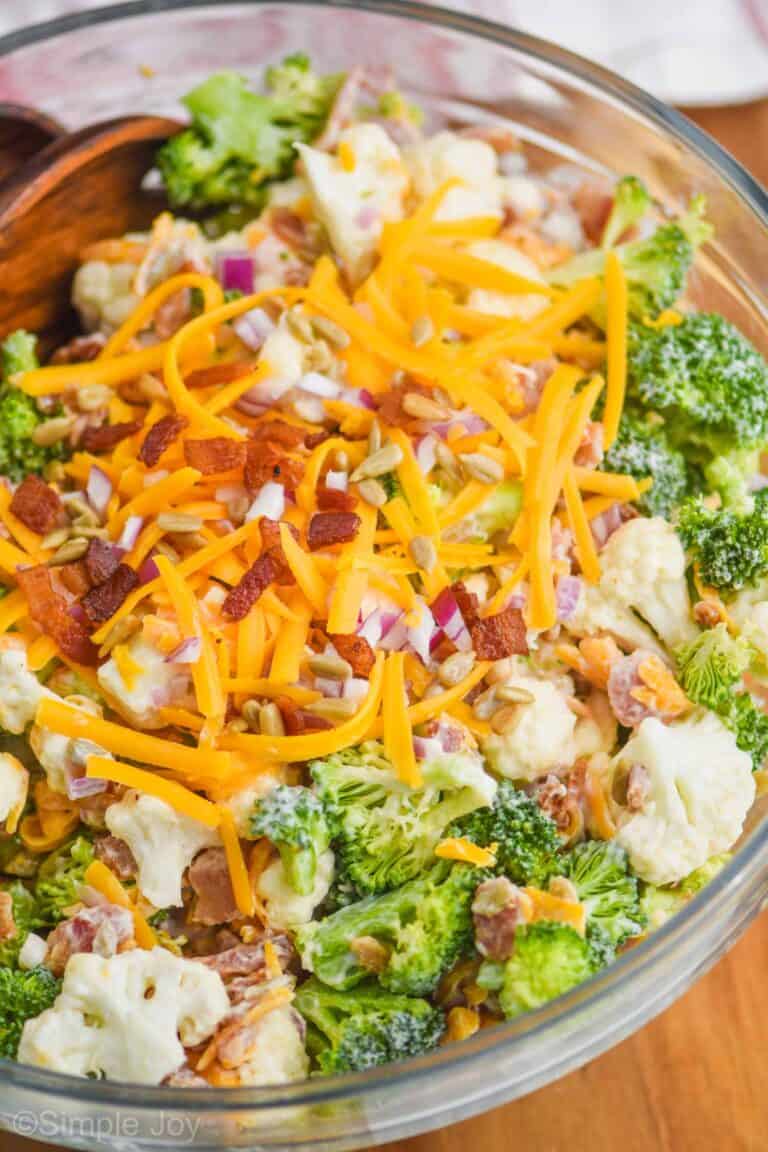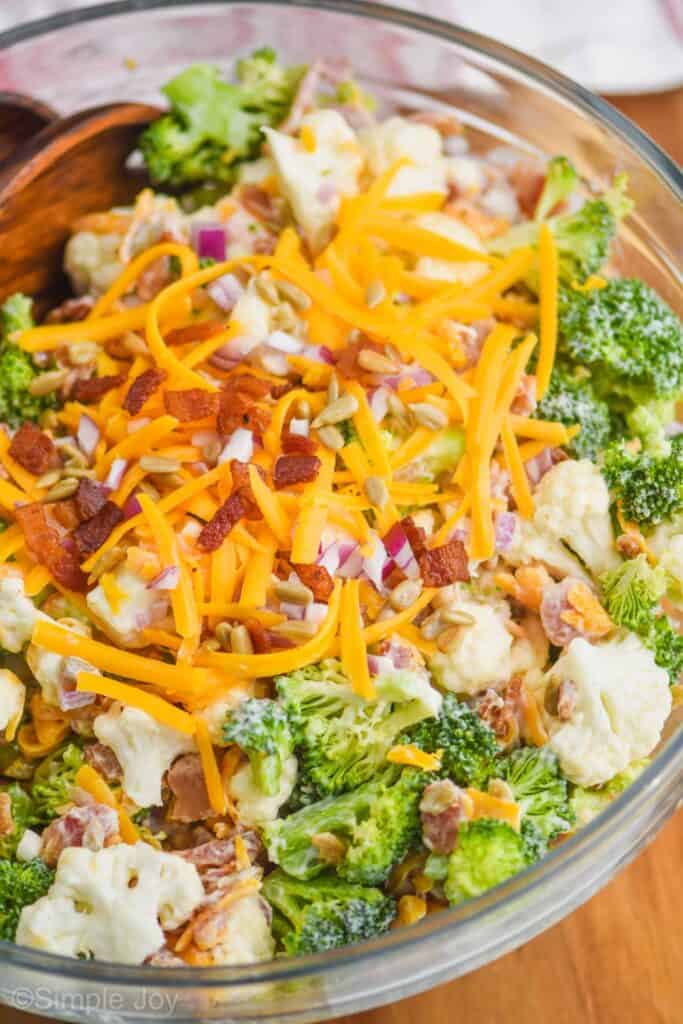 Servings
This salad makes a generous 10 cups. If you are making this for a very large crowd with lots of other salads and sides you can serve about 20 people with it.
If this is one of only two or three other sides, I would count on only serving 10 people, with 1 cup per person. Please note that the nutritional information reflects 1 cup per person.
Make Ahead
If you are hosting a party, this is a great recipe to add to your make ahead list. All of the ingredients in it hold up very well together overnight. I would argue that it even tastes better the next day.
Make sure to store this salad in the refrigerator overnight in an airtight container. Take it out 20 minutes before you plan on serving it. Give the salad another stir right before serving.
Storing Leftovers
This salad can be stored in the refrigerator in a sealed container for up to 3 days. As with all recipes, use your best discretion when it comes to leftovers. Additionally, if this salad out for a significant amount of time (more than 2 hours) at a party (less if it it was in the sun or a particularly hot day), the leftovers should be discarded.
FAQ
How far in advance can you make broccoli cauliflower salad?
For maximum taste and freshness, I do not recommend making this salad more than 24 hours in advance.
How many carbs are in broccoli and cauliflower salad?
One cup (or one serving) of broccoli cauliflower salad has 7 grams of carbs. If you are looking to lower the carbs, I suggest using a sugar substitute in the dressing.
Can you freeze broccoli cauliflower salad?
Because of the cheese and the mayonnaise in the dressing, I do not recommend freezing this salad.
How long does broccoli cauliflower salad last?
This salad will be good for up to three days when stored in the refrigerator.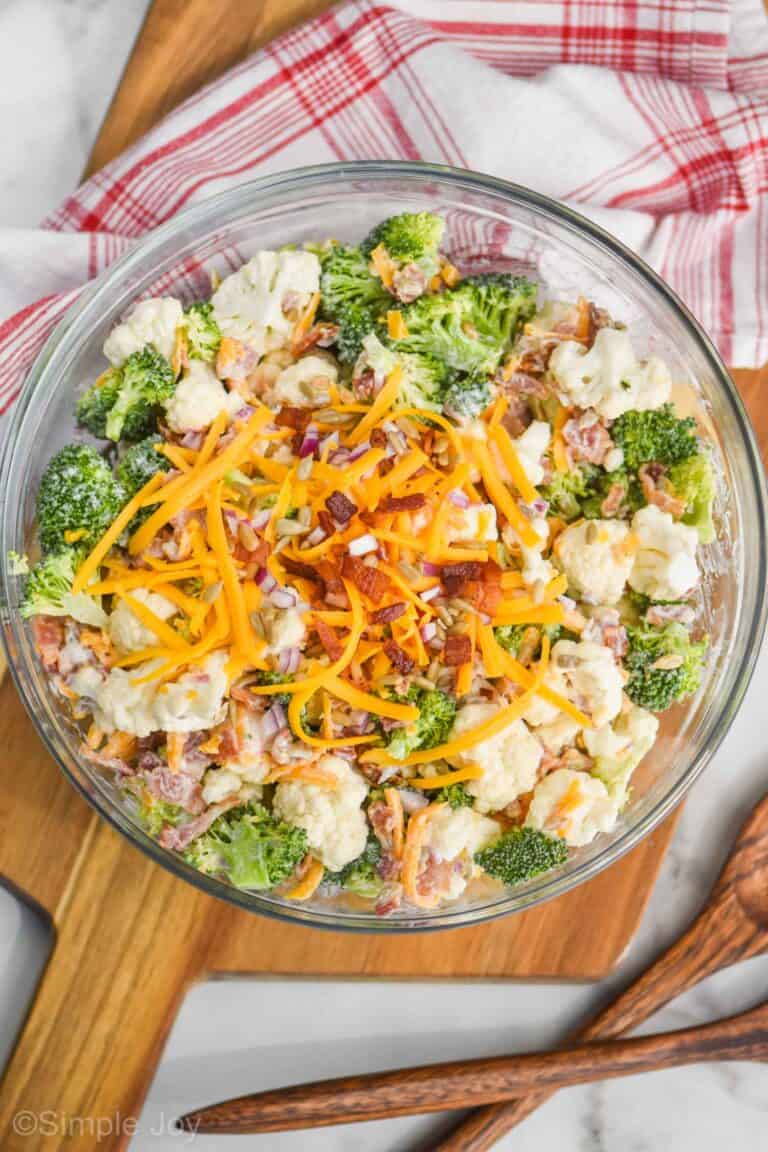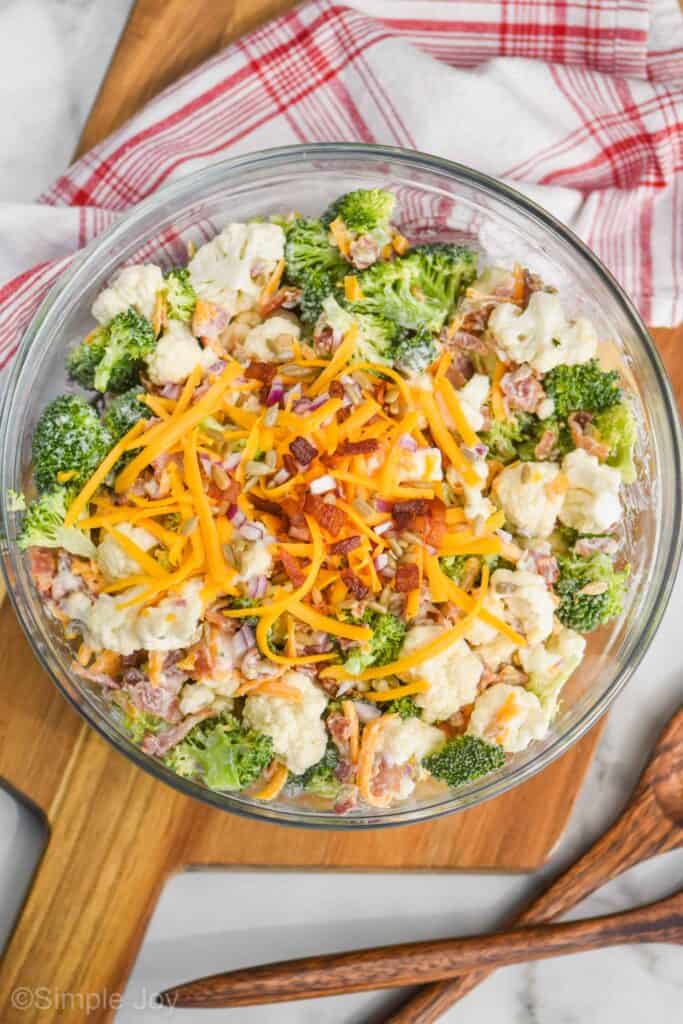 Other Great Summer Sides
I, as I think you can tell, am imagining this on a table full of lots of other summer dishes for a large crowd. Kids are running through the grass and the sun is shining.
So here are the other things you can put on your table:
If you make this Broccoli Cauliflower Salad recipe, leave me a comment and let me know what you think!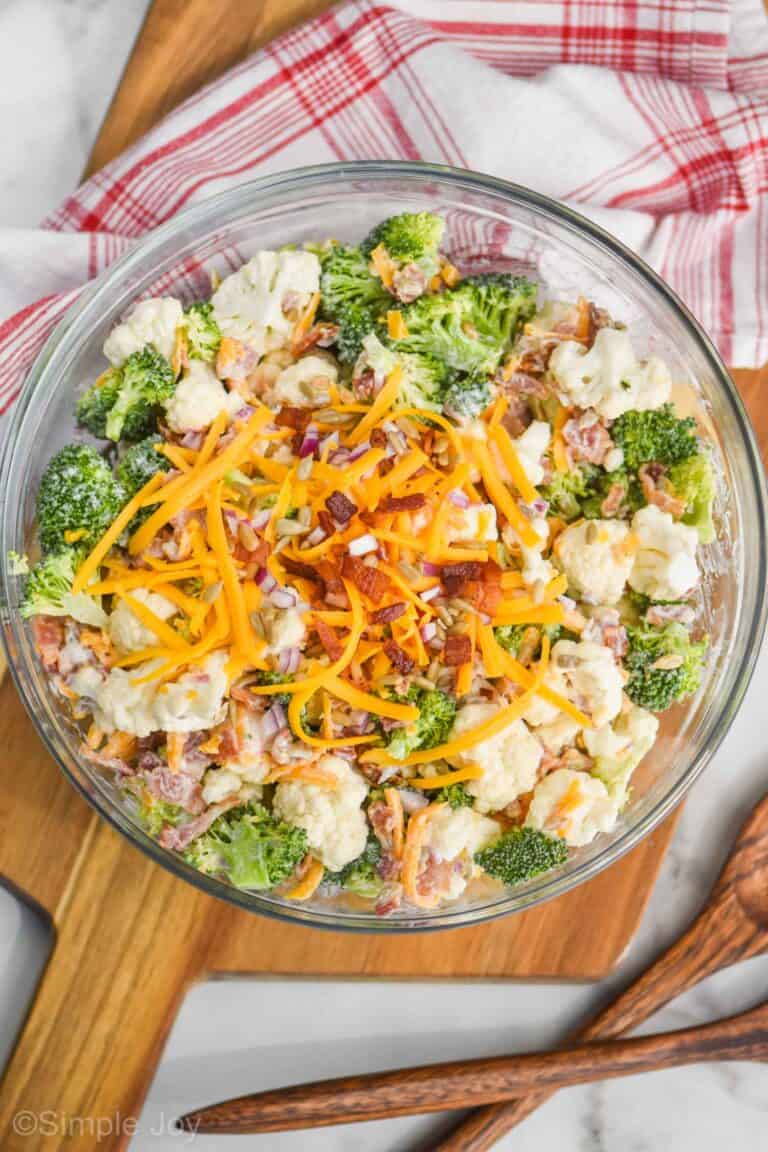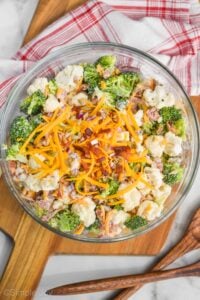 Broccoli Cauliflower Salad
Broccoli Cauliflower Salad is easy to throw together and so delicious. This is classic side dish recipe that is loved at family functions and picnics.
Ingredients
1

head of cauliflower

cut into florets

3

small heads of broccoli

cut into florets (about four cups)

12

slices of bacon

diced and cooked (see post for how to cook bacon crumbles)

1/2

cup

shredded cheddar cheese

1/4

cup

sunflower seeds

1/2

small red onion

diced
Dressing
1

cup

mayonnaise

(you can use light mayonnaise)

2

tablespoons

red wine vinegar

2

tablespoons

sugar

1/2

teaspoon

kosher salt
Instructions
Pleae note that the broccoli and cauliflower are eaten raw in this recipe. The dressing softens them just a little and the result is delicious.

Combine the cauliflower, broccoli, bacon, cheddar cheese, sunflower seeds, and red onion in a large bowl.

In a small bowl, whisk together the mayonnaise, red wine vinegar, sugar, and salt until fully combined.
Notes
Please note that nutritional information is based on using light mayonnaise.
Serving:
1
cup
Calories:
173
kcal
(9%)
Carbohydrates:
7
g
(2%)
Protein:
6
g
(12%)
Fat:
13
g
(20%)
Saturated Fat:
3
g
(19%)
Polyunsaturated Fat:
3
g
Monounsaturated Fat:
6
g
Cholesterol:
11
mg
(4%)
Sodium:
288
mg
(13%)
Potassium:
57
mg
(2%)
Sugar:
6
g
(7%)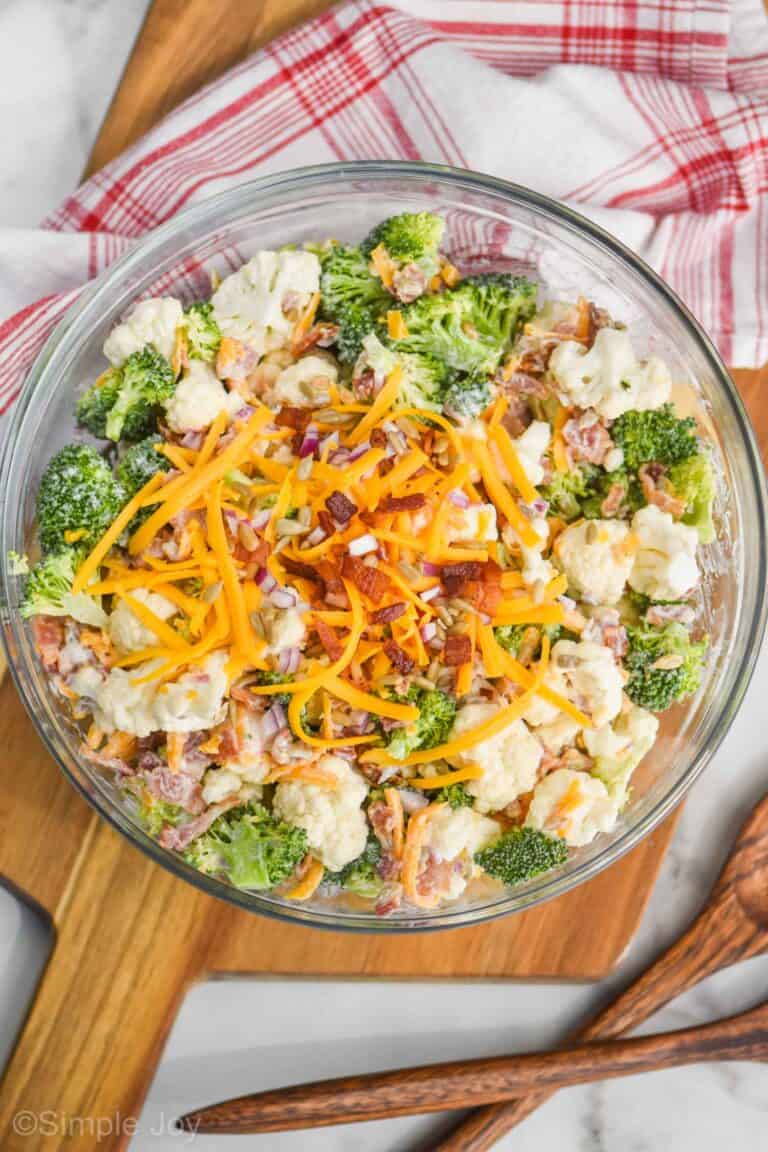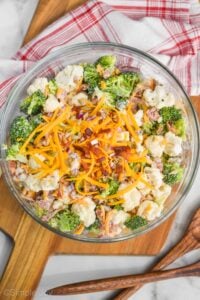 did you make this
Broccoli Cauliflower Salad