These Crab Twice Baked Potatoes are full of amazing flavor and cheesy goodness. They are going to quickly become a family favorite recipe.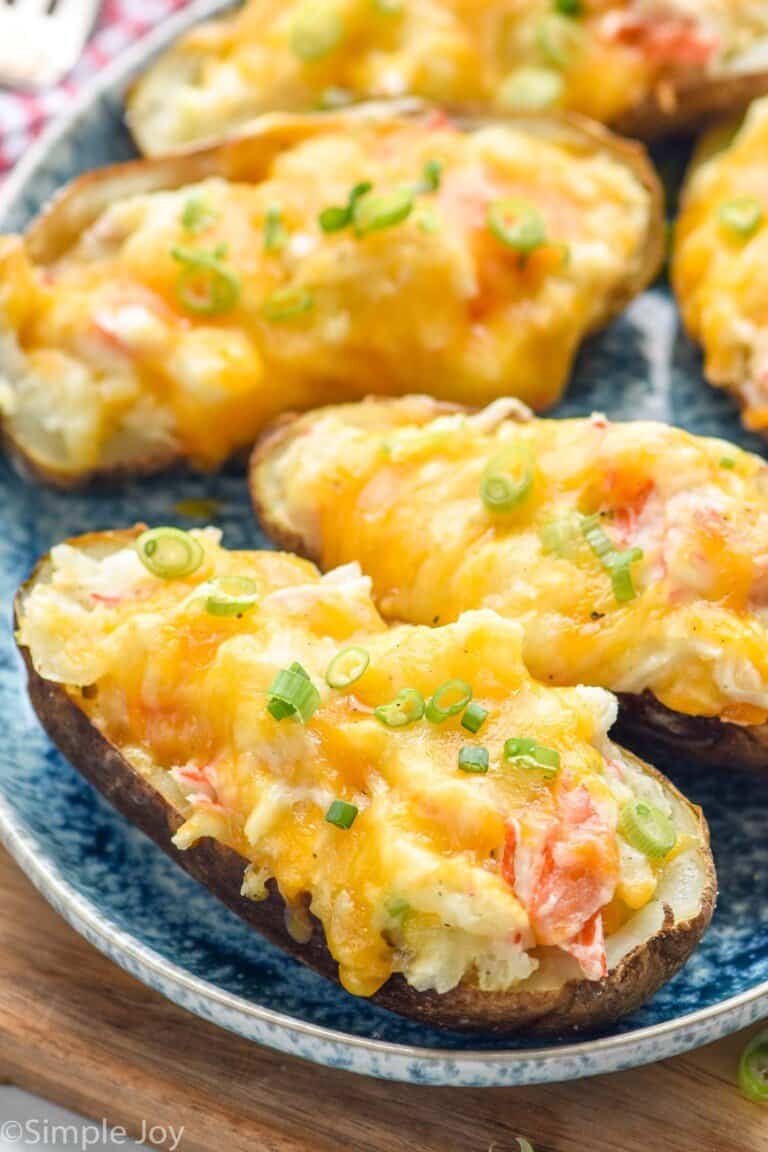 Growing up, one of my favorite recipes that my mom made was Crab Twice Baked Potatoes. When my mom passed away in 2007, one of the many things I lost were some of the recipes she had made up and cooked from memory.
There are a few that I've been able to recreate and come very close to her version – my favorite being her Clam Linguine.
Last month I was finally able to recreate her delicious spin on twice baked potatoes – Crab Twice Baked Potatoes. The flavors in this recipe are spot on and absolutely delicious. The imitation crab meat (read more on that below) gets broken up perfectly and compliments the smooth and creamy potato mixture in the most delightful way.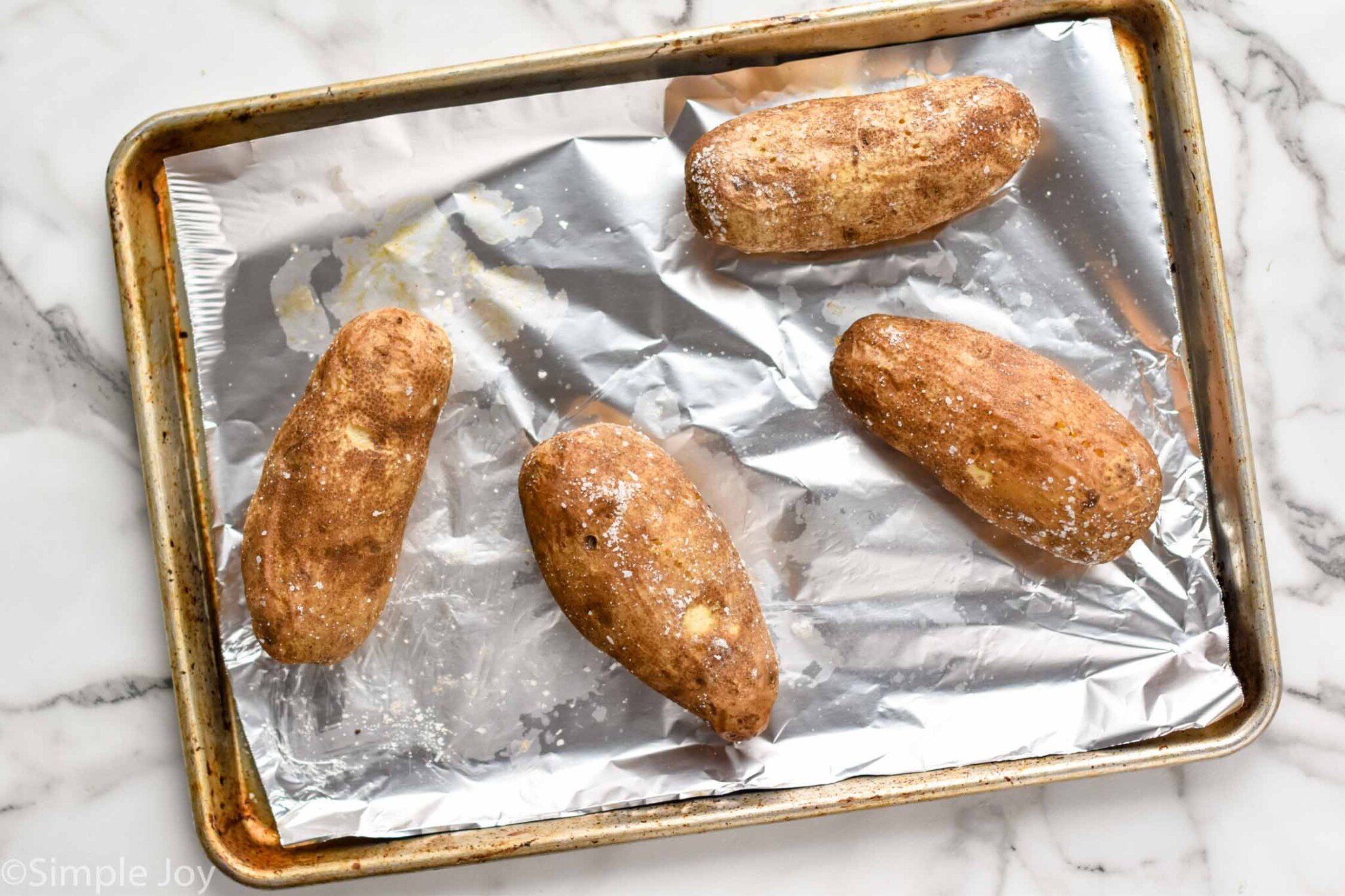 How to Make Twice Baked Potatoes
This is a brief overview of how to make these delicious potatoes. For the full recipe, please see the recipe card at the bottom of the post.
Bake the potatoes whole. Smother russet potatoes with olive oil and salt and bake them for 1 hour at 425 degrees or until they are fork tender.
Prepare the potatoes for stuffing. Cut the potatoes in half and then scoop out the insides. You want to leave 1/2 inch of flesh around the outsides to help make them more stable.
Make the filling. First whip the potato insides with butter, milk, and sour cream until it is smooth. Season it and add more seasonings to taste. Then stir in the imitation crab, cheese, and green onions.
Stuff the potatoes. Add the filling back to the potato shells. Then top with the remaining cheese. Bake for just 15 minutes or until the cheese on top is fully melted.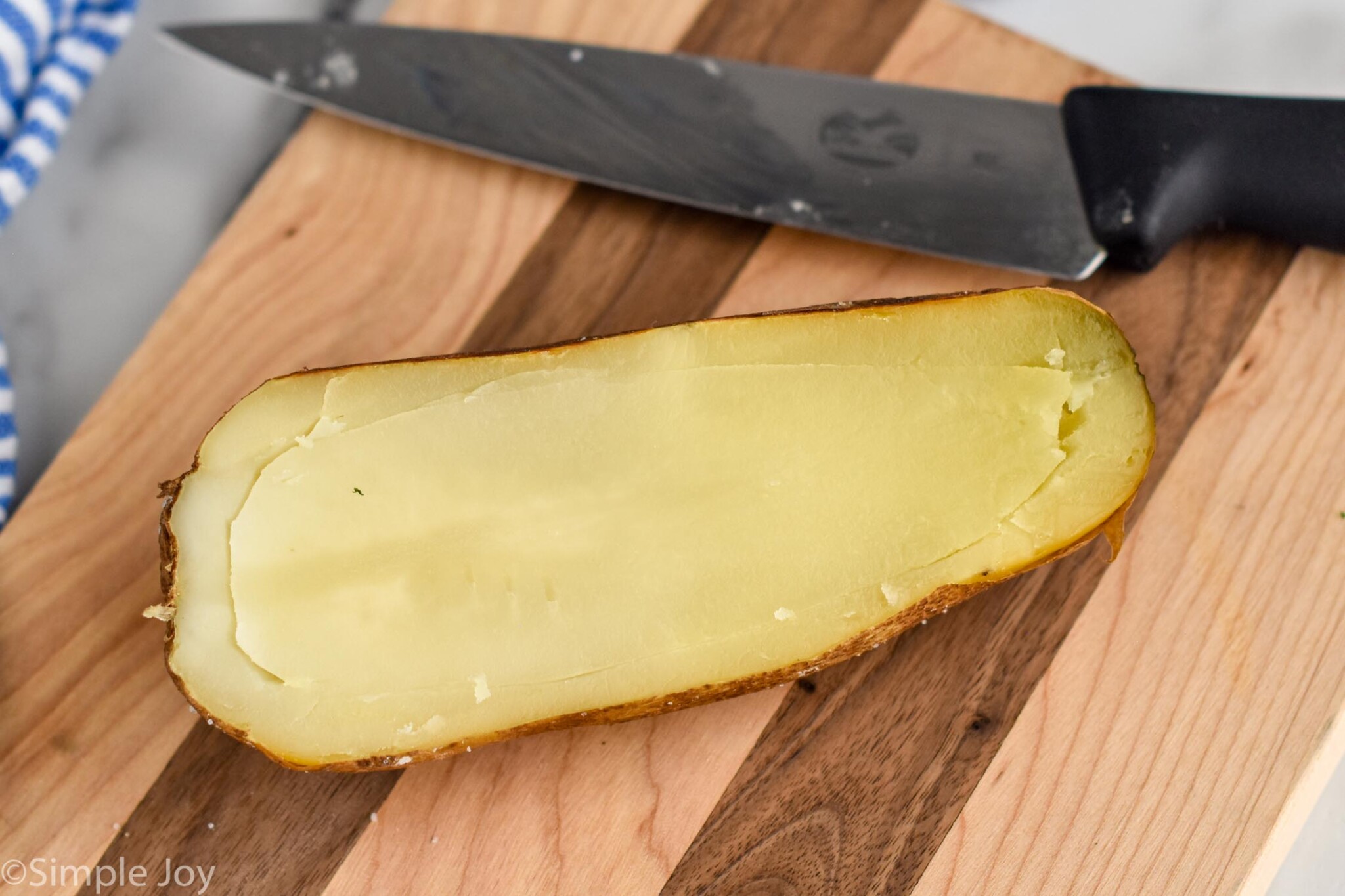 Cutting Potatoes for Twice Baked Potatoes
The key to making the potato shell to stuff is a nice sharp knife. These are the knives that I always recommend. After cutting the potato in half, cut a boarder around the edge of the potato. This will make it really easy to scoop out the insides.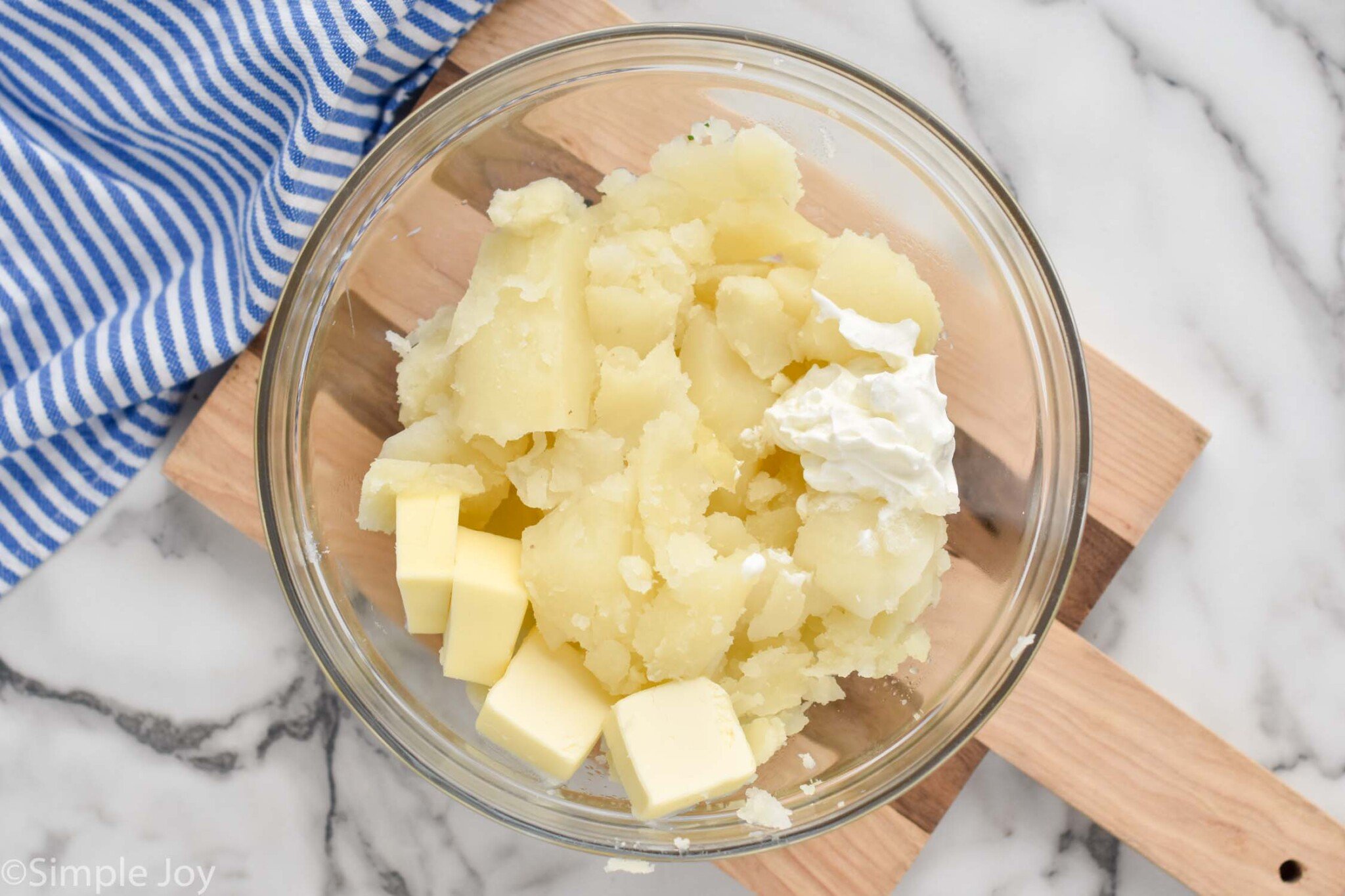 Mixing up the Potato Filling
When you are making the filling for these, you want to use a handheld mixer. The heat of the potato filling will melt the butter, and you should be able to easily mix it all up until you have a smooth filling.
If you don't have a handheld mixer, you can start by mixing with the back of the fork and then when things get broken up you can use a potato masher. It likely won't be quite as smooth, but it will be delicious.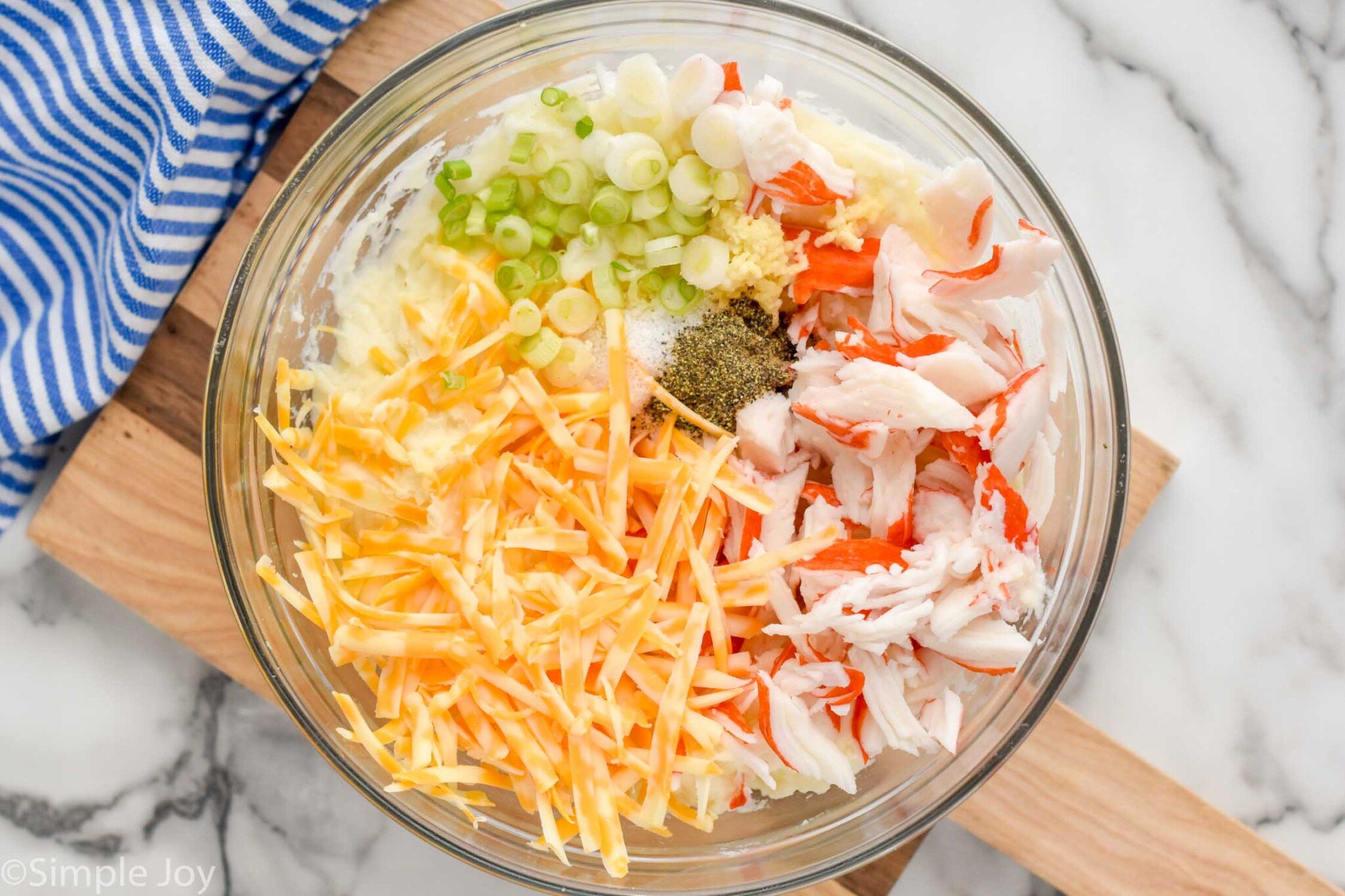 Imitation Crab vs. Real Crab
My mom always used imitation crab in this recipe for budget reasons. She liked the taste of it, thought it was a pretty good crab knock off, and just couldn't justify the cost of real crab to make this dish.
I tend to agree with her. If I am going to eat crab, I will spring for crab legs that are perfectly boiled and dipped in butter. But if I'm making Crab Pasta Salad, you better believe that this imitation crab is the perfect affordable stand in.
All of that being said, of course you can swap out the imitation crab for real lump crab meat here.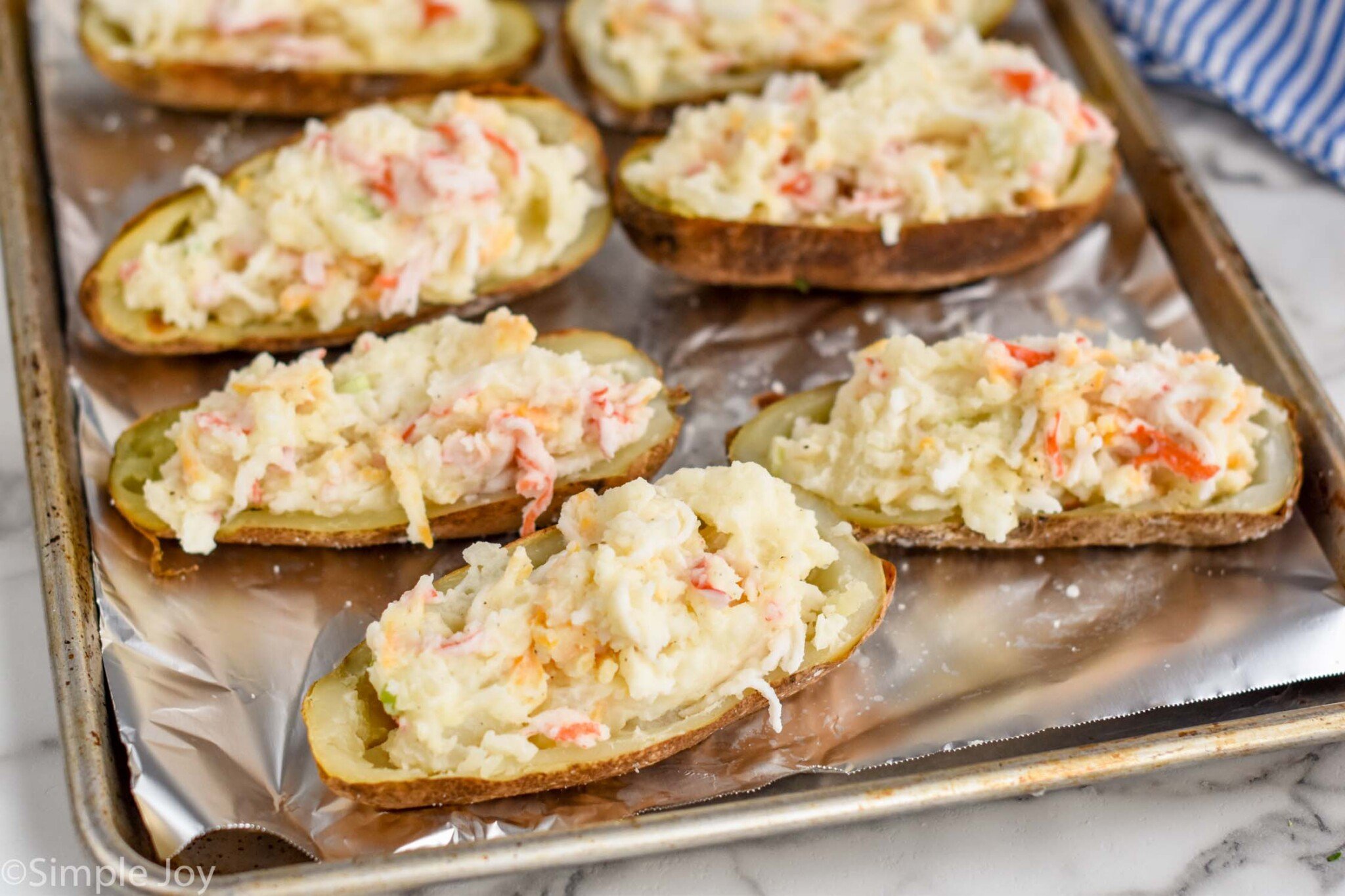 Make Ahead Twice Baked Potatoes
At this point in the recipe, after you have baked the potatoes once and made the stuffing, you can refrigerate or freeze them.
Refrigerating
Put the once baked potatoes that are stuffed in an air tight container.
Refrigerate for up to 24 hours.
When ready to eat, top with cheese and bake at 425 degrees for 20 to 25 minutes.
Frozen Twice Baked Potatoes
Place the once baked and stuffed potatoes on a wax paper lined baking sheet or plate.
Freeze for 1 hour.
Transfer to an airtight container and place back in the freezer for up to three months.
When you are to bake them, bake at 425 degrees for 15 minutes from frozen. Remove them from the oven top with cheese and bake for 15 more minutes.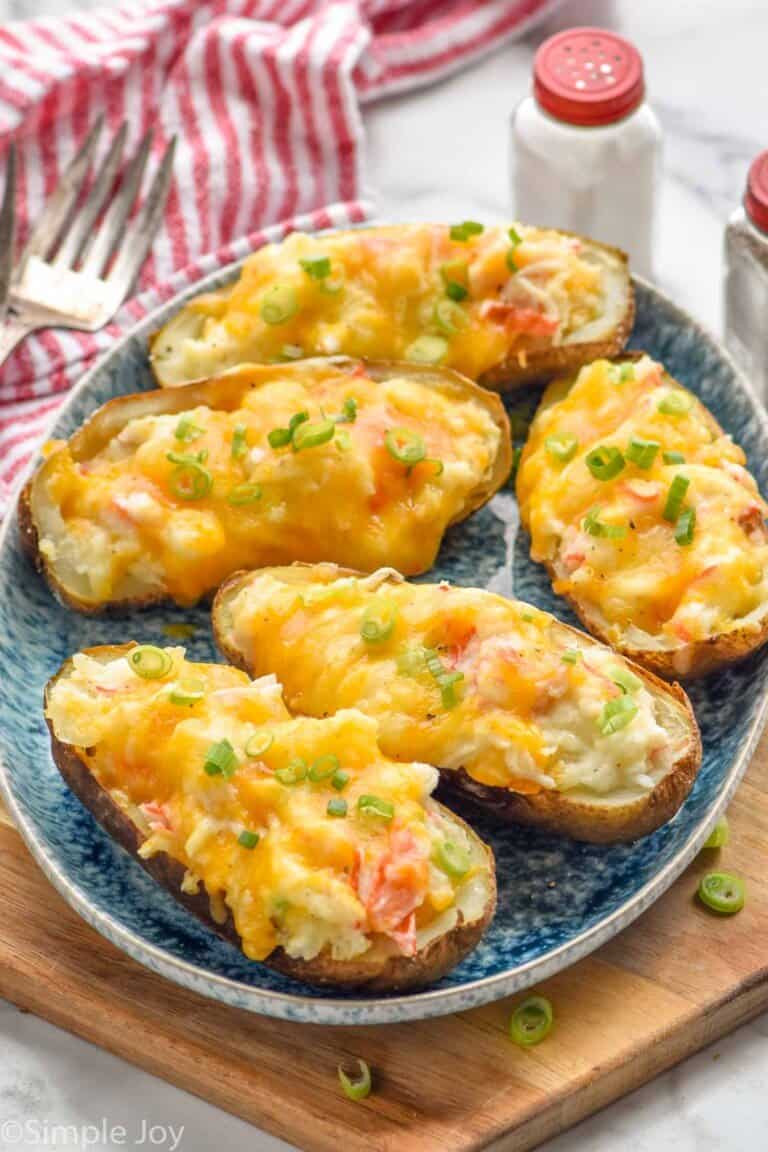 Other Comfort Food
If you need recipes that can become family classics like this, here are a few suggestions:
If you make this easy twice baked potato recipe or any of my other recipes, leave me a comment and let me know what you think! I love hearing from you.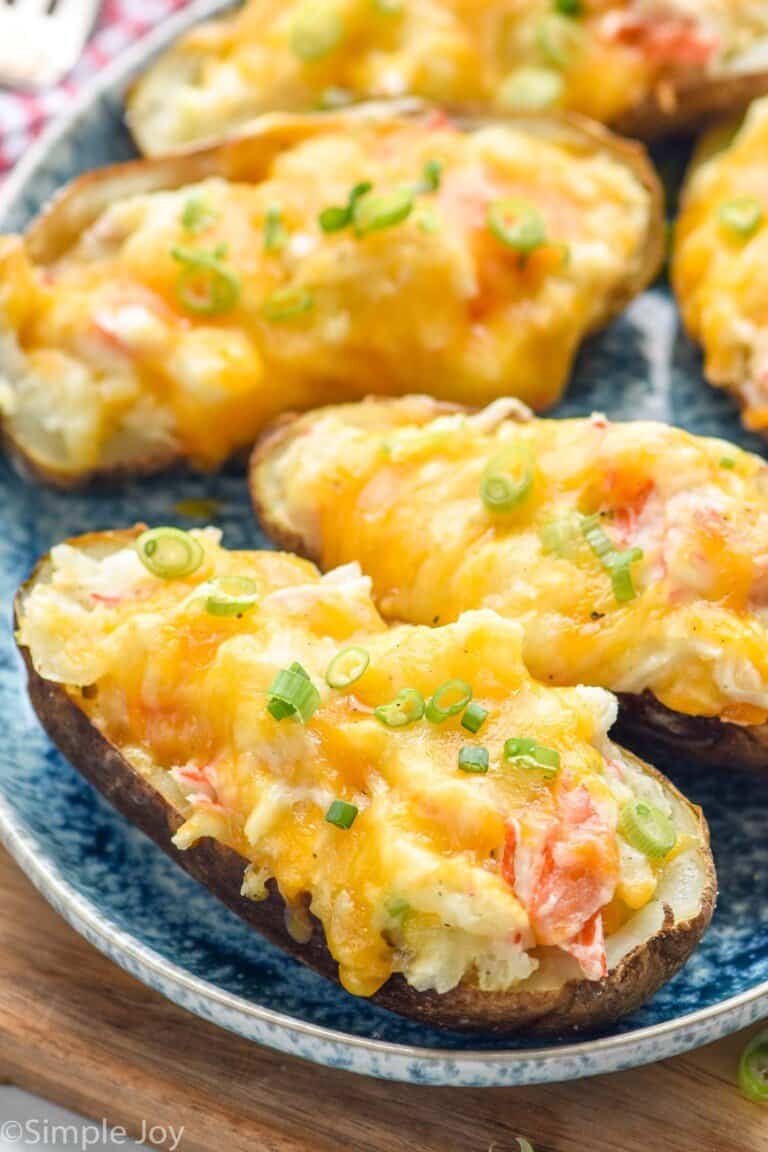 Crab Baked Potatoes
These Crab Twice Baked Potatoes are full of amazing flavor and cheesy goodness. They are going to quickly become a family favorite recipe.
Ingredients
4

large russet potatoes

washed and piereced all over with a fork

1/2

tablespoon

olive oil

kosher salt

1/4

cup

unsalted butter

1/4

cup

milk

(I used skim milk)

1/4

cup

sour cream

1

clove

garlic

minced

1

teaspoon

kosher salt

1/4

teaspoon

black pepper

1 1/2

cup

cheddar cheese

shredded

8

ounces

immitation crab

shredded (read about my choice to use imitation crab here)

2

green onions

thinly sliced
Instructions
Preheat your oven to 425 degrees. Line a rimmed baking sheet with aluminum foil. Rub the potatoes with olive oil and season generously with kosher salt. Bake the potatoes for 1 hour or until they are easily pierced with a fork.

Slice the potatoes in half. Scoop out the insides, leaving 1/2 inch of potato around the edge.

In a large bowl, combine the potato insides with the butter, milk, and sour cream, whipping with a handheld mixer until smooth. Season with the salt, pepper, and garlic. Add more seasoning to taste. Stir in 1 cup of cheese, the crab, and the green onions.

Set the potato shells on the rimmed baking sheet. Scoop the filling back into the potato shells. Top with the remaining 1/2 cup cheddar cheese.

Bake the potatoes for 15 minutes or until the cheese is melted.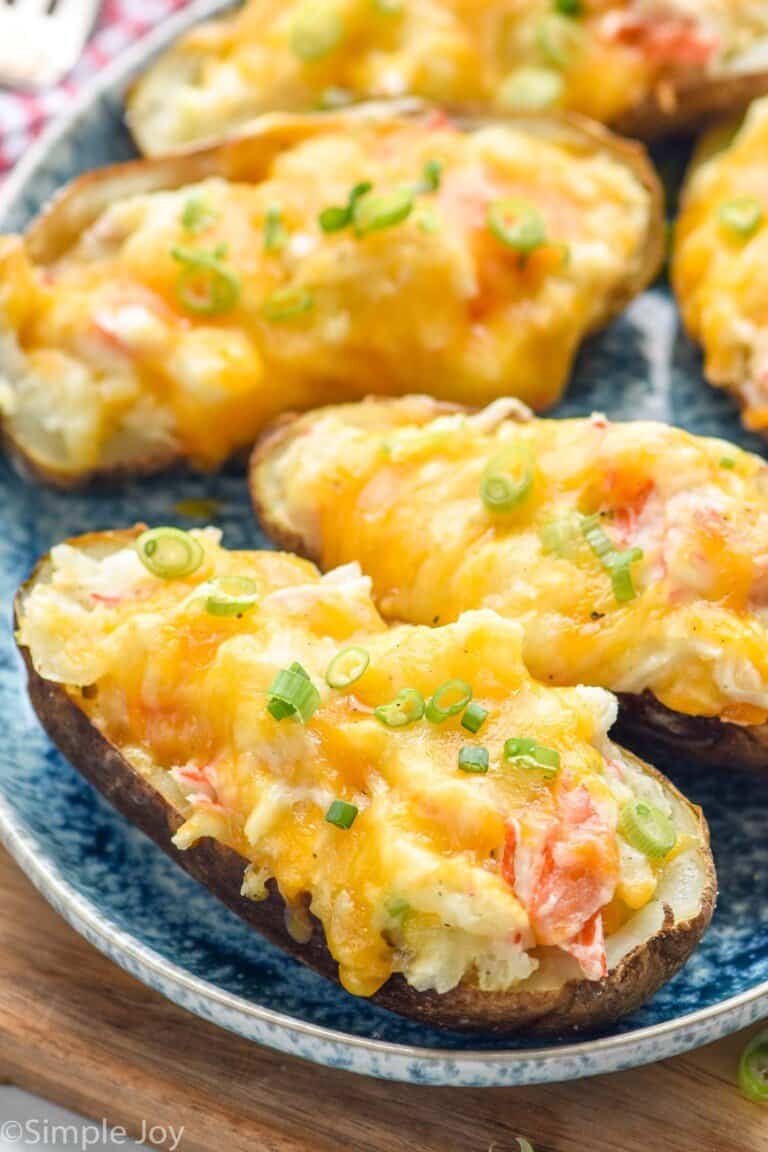 did you make this
Crab Baked Potatoes