Twice Baked Potatoes are perfect comfort food. Loaded with all of your favorite flavors, these could make a meal on their own. Grab all of my tips and tricks to make these perfectly, or even keep them stashed in the freezer.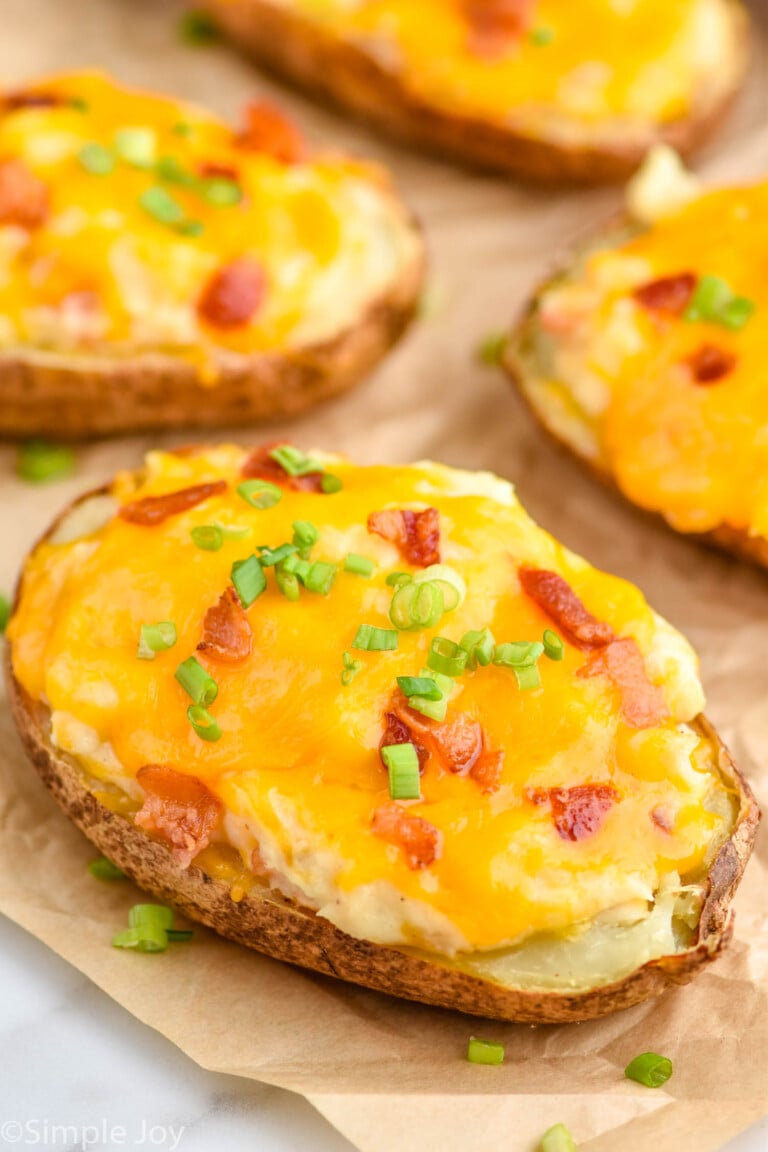 There is something about Twice Baked Potatoes that makes it the most amazing comfort food. What is even better is that they are incredibly easy to make and there are so many different flavor combinations. One of my favorites is my Crab Twice Baked Baked Potatoes.
In this twice baked potato recipe we are making a basic filling that will satisfy picky eaters, but also knock your socks off. The combination of cheddar and bacon can't be beat, and it really stands out in this simple recipe.
Reader Review
I've made this recipe and it's hit. We've had them halved as a side dish as well as quartered as part of an hors' dourves assortment. Thank you for sharing this recipe!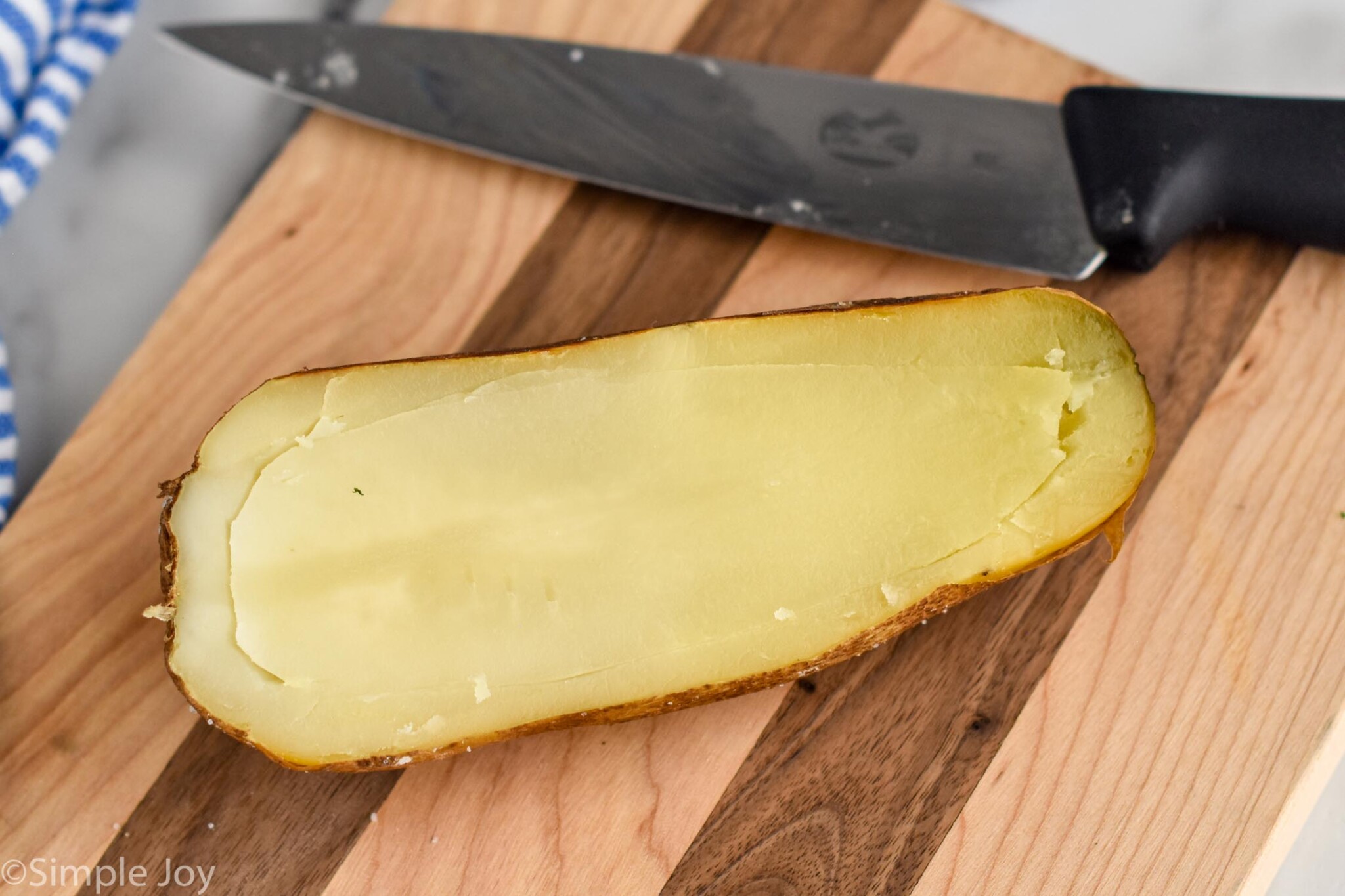 How to Make Twice Baked Potatoes
Bake the potatoes. Scrub, oil, and salt four russet potatoes. Bake them for an hour at 400 degrees Fahrenheit.
Scoop out the potatoes. At the end of the bake time remove the potatoes from the oven and when they are cool enough to handle carefully slice them in half. Cut an oval on each half, leaving 1/4 inch of potato all the way around. (See the photo above.) Scoop out the insides of each half.
Make the filling. In a large bowl, beat the potato insides, butter, sour cream, and milk until smooth. Then stir in 1 cup cheddar cheese, salt, pepper, and 1/2 a pound of cooked bacon.
Put together the potatoes. Divide the filling adding a bit to each potato half. Top with the remaining cheddar cheese. Bake for 10 minutes.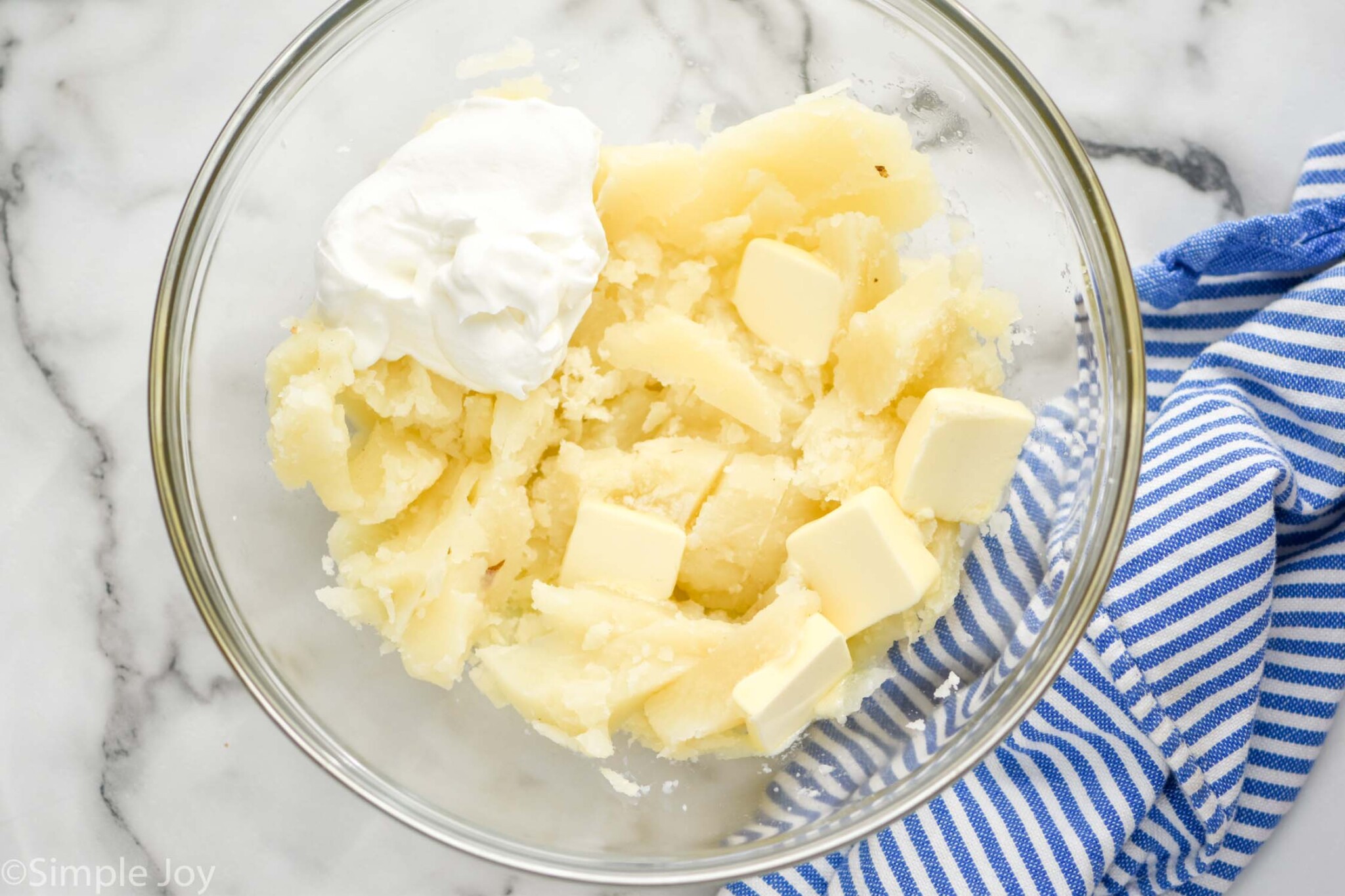 Best Potatoes for Twice Baked Potatoes
I would recommend using russet potatoes for this recipe. They hold up really well to being scooped out. Their shell stays in tact and is able to hold the filling really perfectly.
If you are living in the UK, the closest potato to the russet is a white potato. I would recommend trying that for this recipe.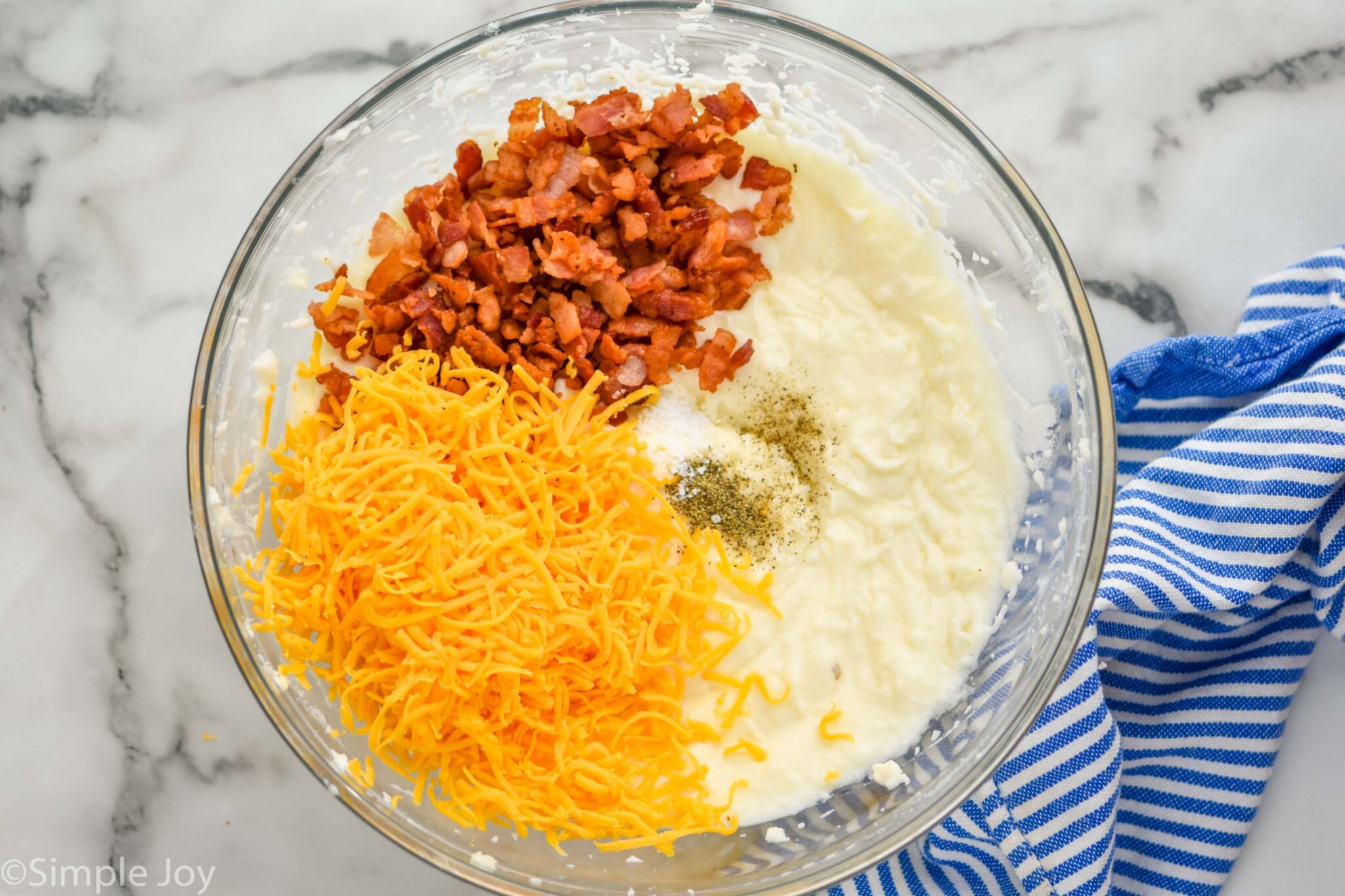 Cooking Bacon
Bacon is one of the stars of this show, so cooking it well is key. My preference is to dice the bacon and then cook it. Cook it in a cast iron pan just until it begins to turn crisp. Remove it from the pan with a slotted spoon and transfer to a paper towel lined plate.
Alternatively, you could cook the bacon whole in an air fryer. After it is cooked, dice it. We are converts to cooking our bacon this way because it is so hands off and clean up is a breeze!
Air Fryer Bacon
Air Fryer Bacon is so easy to make! No splatter of grease and no bacon cooking in fat. You will never make bacon another way again!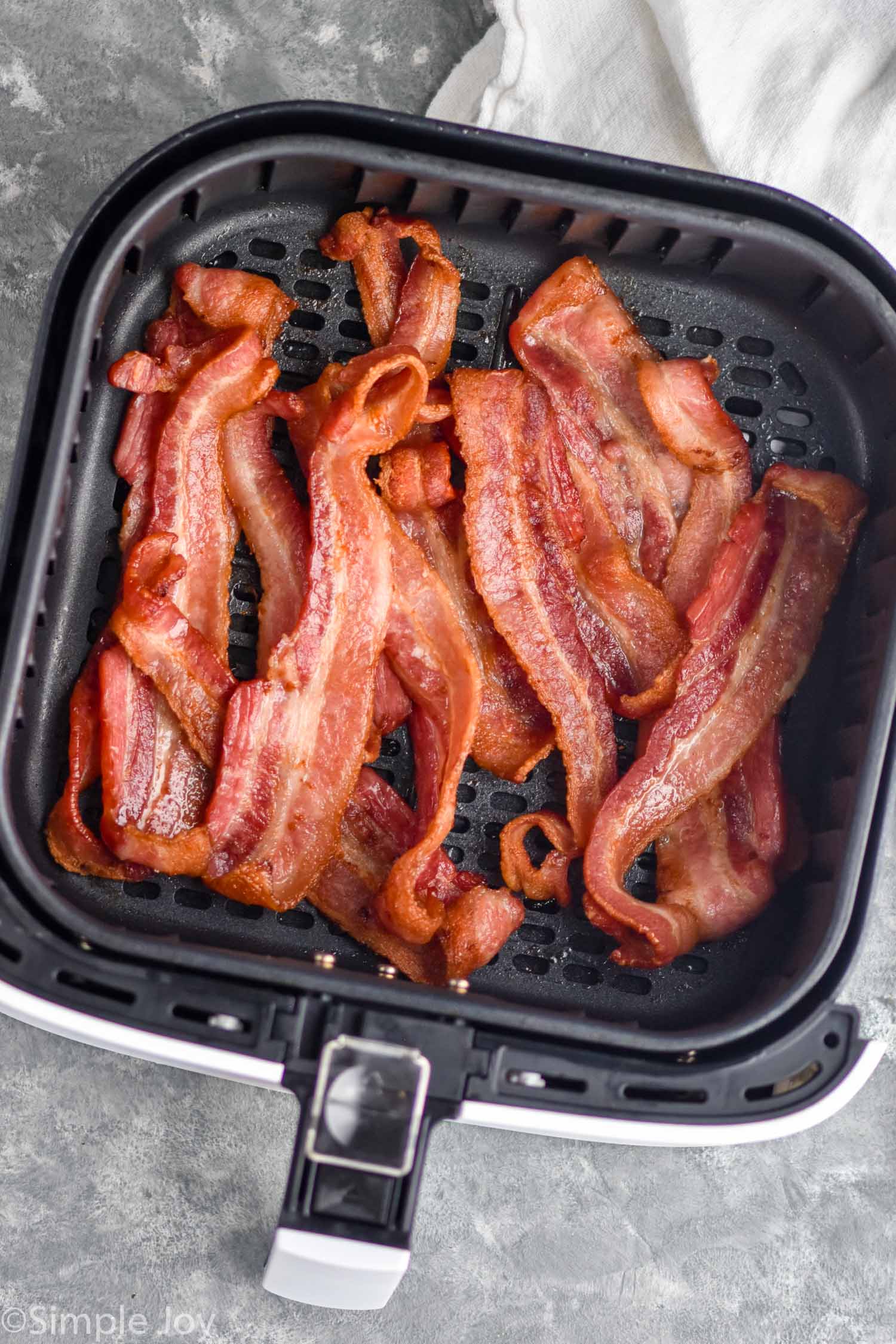 Make Ahead
If you want to make this a quick dinner, you can make these ahead of time. This will cut the recipe down to just 10 minutes and the time it takes for your oven to preheat.
Follow the recipe up to the point of putting the potatoes in the oven. Put them in an airtight container and store in the refrigerator for up to 48 hours. When you are ready to eat them, place them on a rimmed baking sheet in a preheated oven and bake until the cheese is melted.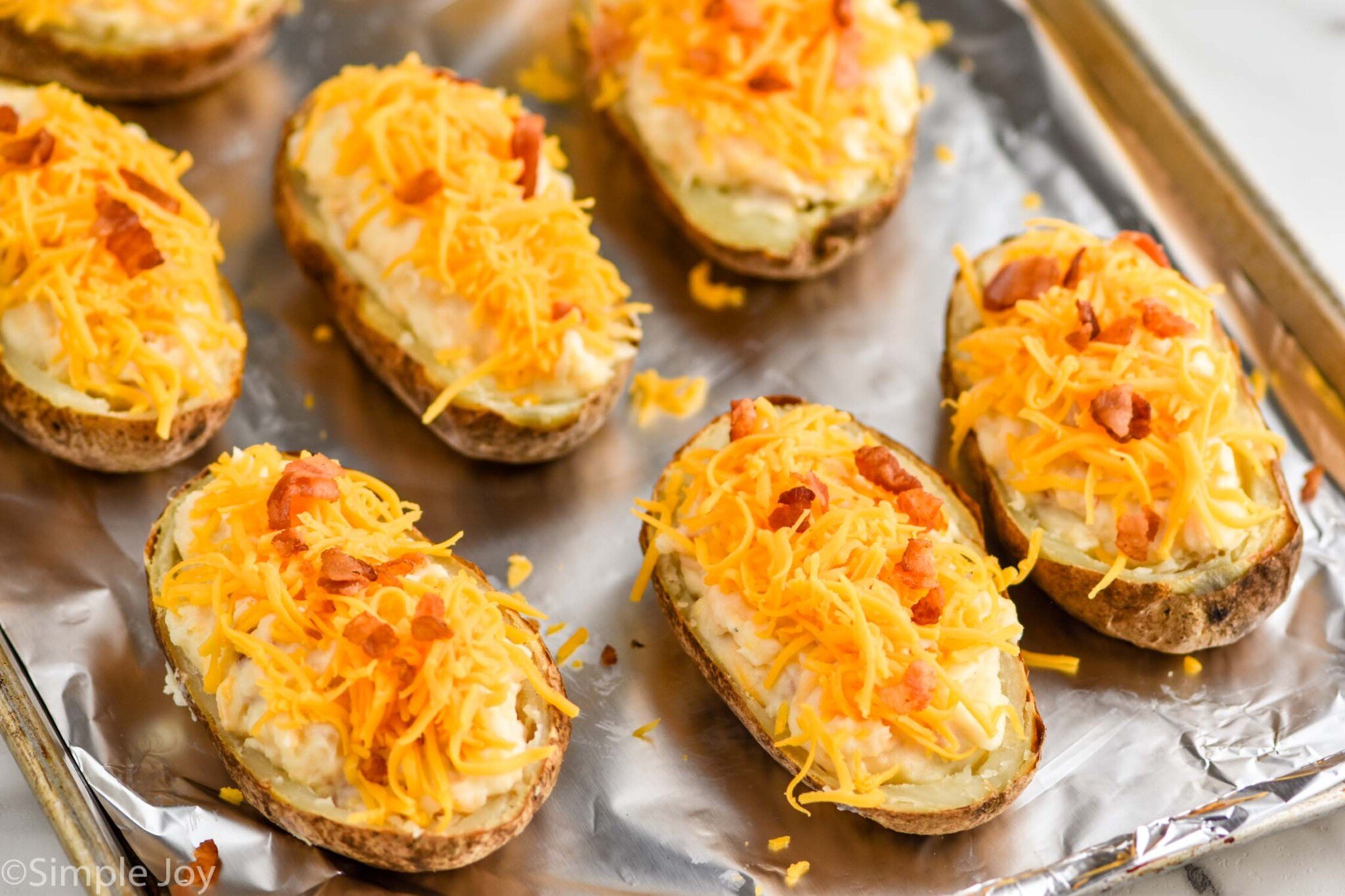 Reheating Twice Baked Potatoes
To reheat potatoes that were already baked a second time, put them back in the oven. Bake them directly on the rack of the oven to keep the skin crispy. Bake them for 20 to 25 minutes at 400 degrees.
Freezing Twice Baked Potatoes
This recipe does make 8 twice baked potatoes. If that is more than your family will eat, freeze the leftovers for a quick lunch down the road. The Kitchn has great instructions for freezing and reheating.
Make the potatoes up to the point of putting them in the oven.
Wrap them individually in aluminum foil.
Freeze for up to three months.
When you are ready to eat them, take as many as you want out of the freezer and place them in a baking dish, cover it with foil.
Bake for 35 to 45 minutes at 425 degrees covered, then uncover and bake for 115 to 20 more minutes.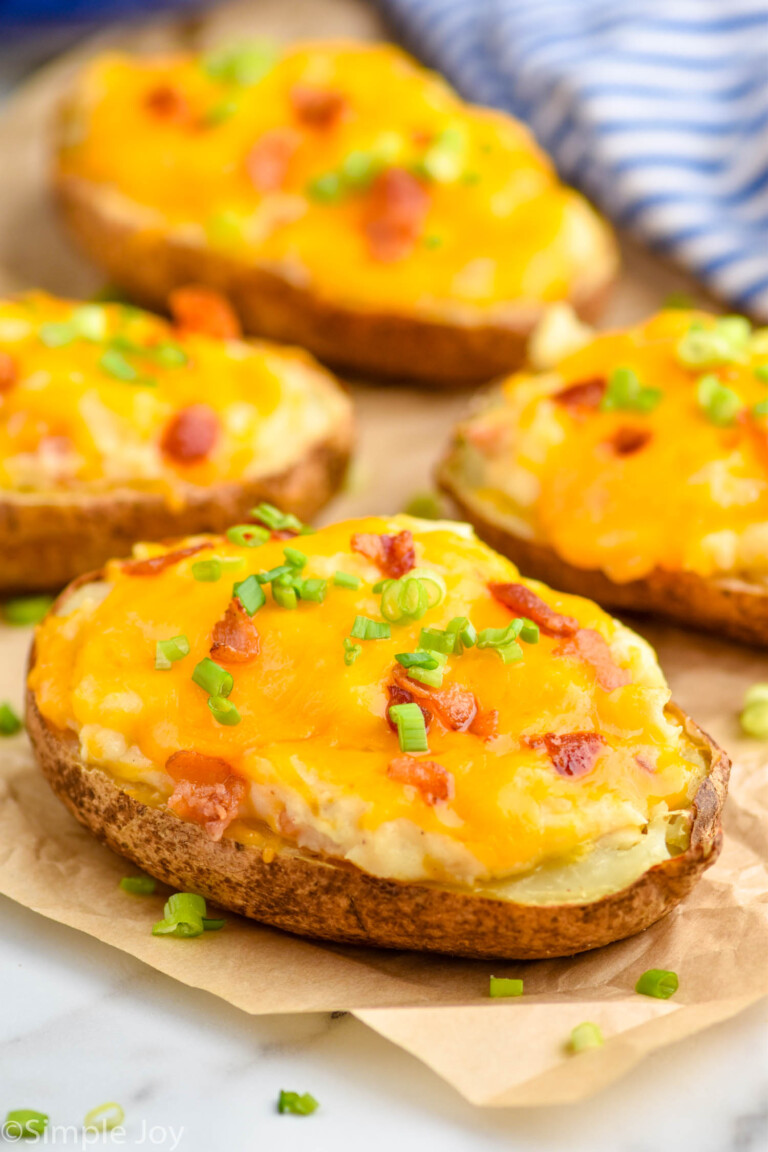 Variations on Twice Baked Potatoes
There are some great spins that you could take on this recipe.
Make Pizza Twice Baked Potatoes
Replace the milk with pizza sauce.
Swap the bacon for some pepperoni.
Change the cheddar to mozzarella.
Add a little Italian seasoning and some olives.
Taco Twice Baked Potatoes
Replace the milk with salsa.
Swap the bacon for taco meat or chicken.
Add in some Taco Seasoning.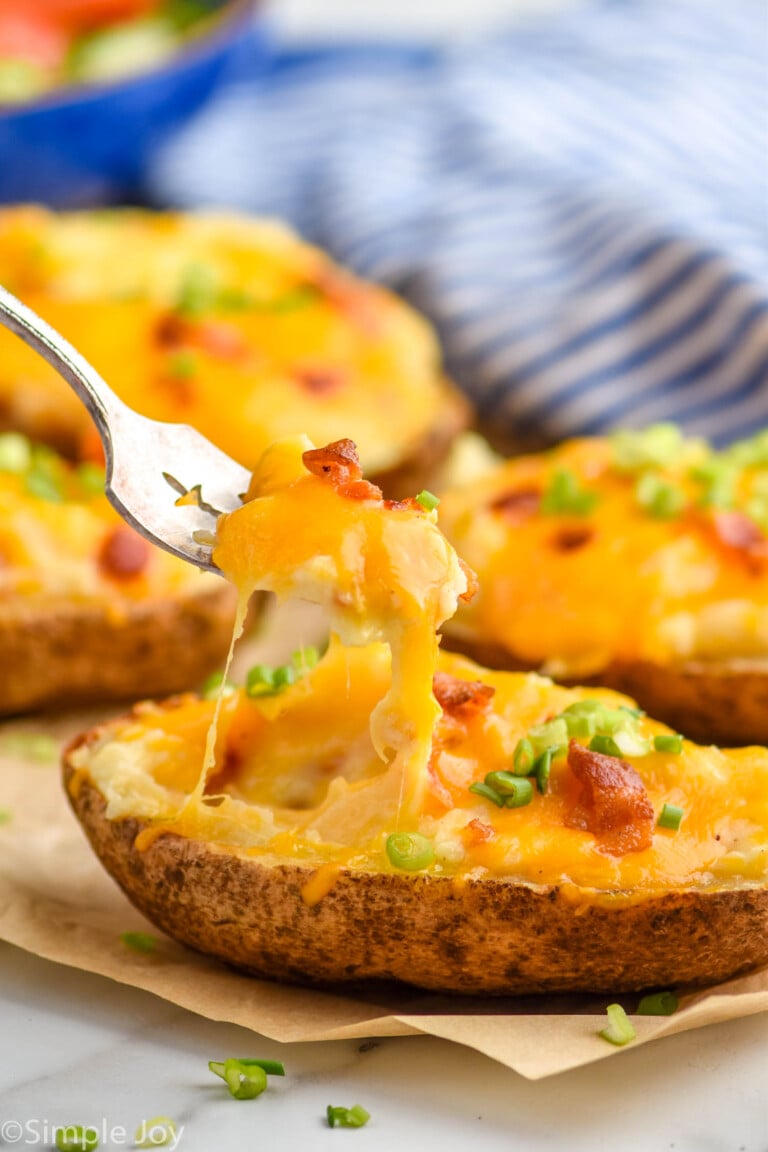 What to Serve with Twice Baked Potatoes
These would be delicious as a meal on their own, but if you want to round out the dinner a little, here are a few side dish ideas.
These Roasted Green Beans will add vegetables to your dinner and can be roasted at 400 with these potatoes by just adding a little time to the recipe.
While the potatoes are wrapping up in the oven, make some Air Fryer Cauliflower.
Finally, this Creamy Tomato Bisque is amazing and good side dish to so many different meals.
If you make this twice baked potato recipe or any of my other recipes, please leave me a comment and let me know what you think!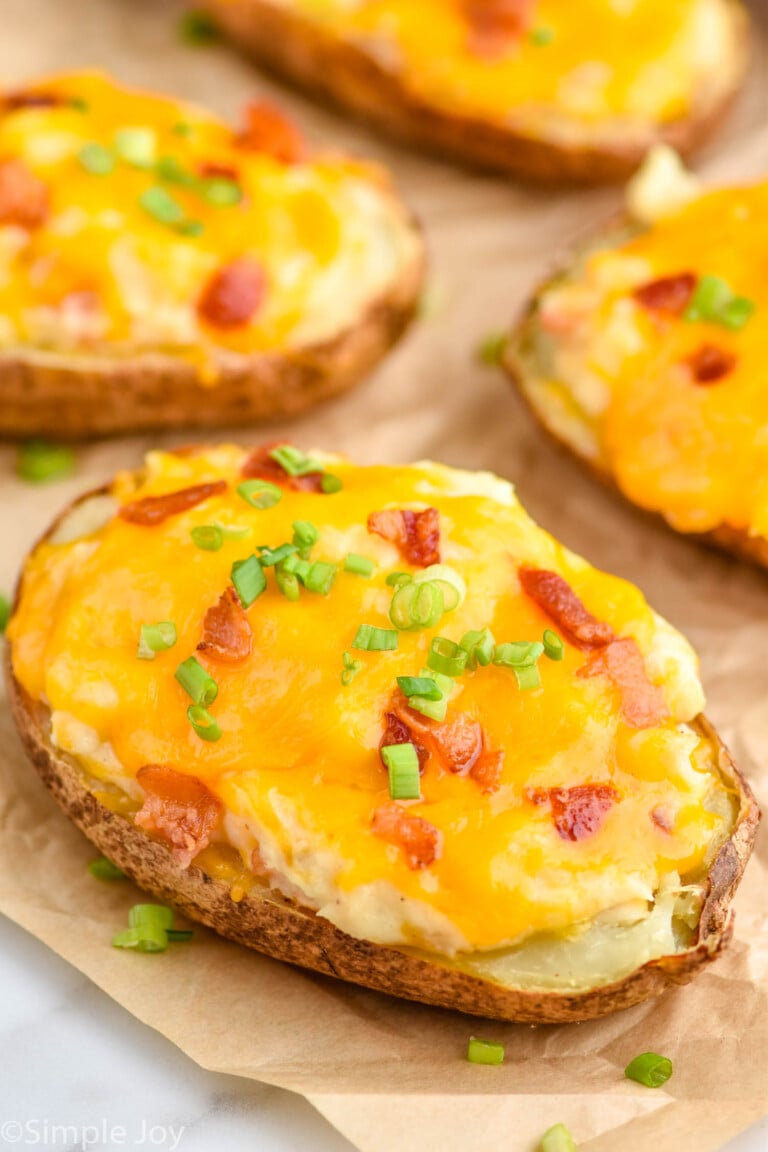 Twice Baked Potato Recipe
This Bacon Cheddar Twice Baked Potato Recipe is easy to make and absolutely delicious. Loaded with all of your favorite flavors, these could make a meal on their own.
Ingredients
4

russet potatoes

scrubbed clean

extra virgin olive oil

1/2

pound

bacon

diced and cooked

1/4

cup

unsalted butter

cut into small pieces

1/2

cup

light sour cream

(full fat can also be used)

1/2

cup

skim milk

(a higher fat milk can also be used)

2

cups

shredded cheddar cheese

divided

1

clove garlic

minced

1/2

teaspoon

kosher salt

1/8

teaspoon

pepper

green onions

for garnishing
Instructions
Preheat your oven to 400 degrees. Rub the potatoes lightly with extra virgin olive oil and salt them with kosher salt.  Set them on a baking sheet and cook for one hour or until you can easily slice through one.

Once the potatoes are cool enough to handle, gently slice them in half. Scoop out the insides, leaving 1/4 inch of the potato around the edges, and putting the scooped insides into a medium bowl.

Add the the butter, sour cream, and milk to the potatoes. Beat until smooth. Stir in the salt, pepper, 3/4 cup of the bacon bits, and half of the cheddar cheese.

Put the mixture into the potato shells. Top with the remaining cheese and reserved bacon. Bake for 10 minutes or until the cheese is melted. Garnish with fresh green onions.
Serving:
1
potato half
Calories:
408
kcal
(20%)
Carbohydrates:
22
g
(7%)
Protein:
20
g
(40%)
Fat:
27
g
(42%)
Saturated Fat:
13
g
(81%)
Trans Fat:
1
g
Cholesterol:
77
mg
(26%)
Sodium:
831
mg
(36%)
Potassium:
667
mg
(19%)
Fiber:
1
g
(4%)
Sugar:
2
g
(2%)
Vitamin A:
550
IU
(11%)
Vitamin C:
6
mg
(7%)
Calcium:
260
mg
(26%)
Iron:
1
mg
(6%)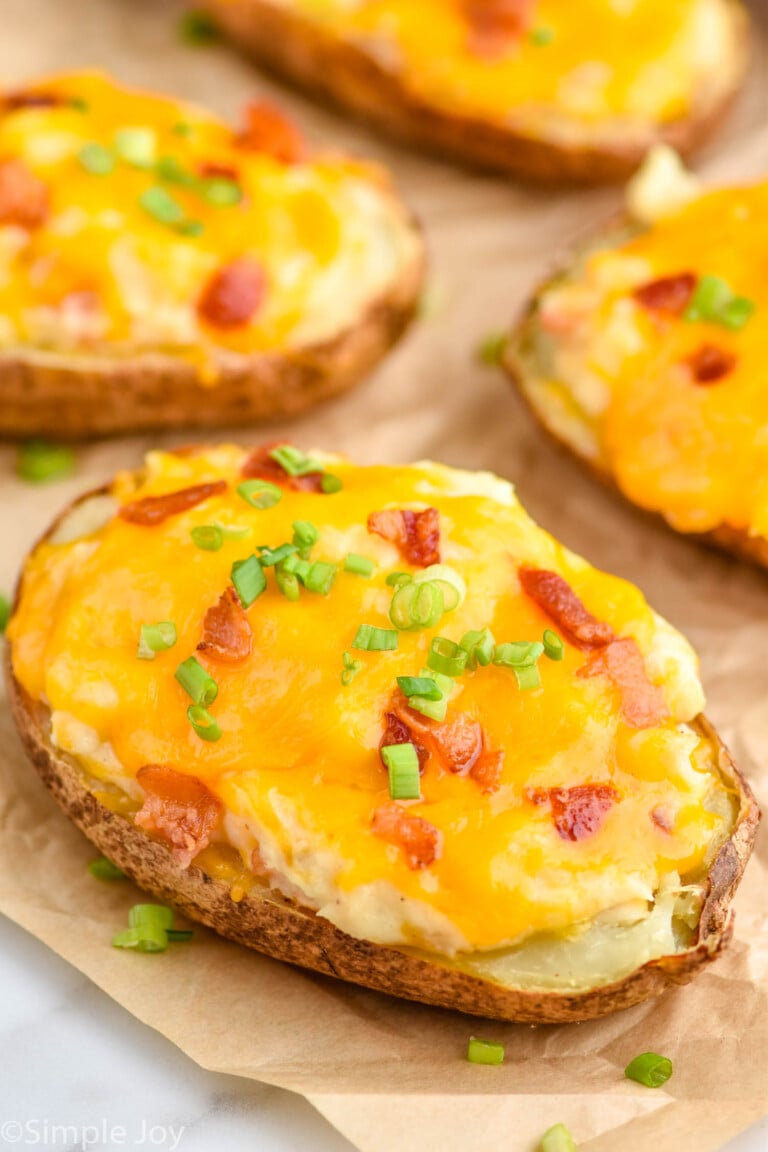 did you make this
Twice Baked Potato Recipe
SaveSave
SaveSave