This Cranberry Orange Bread Pudding is knock your socks off amazing! The kind of dessert that you secretly eat right from the pan when no one else is looking!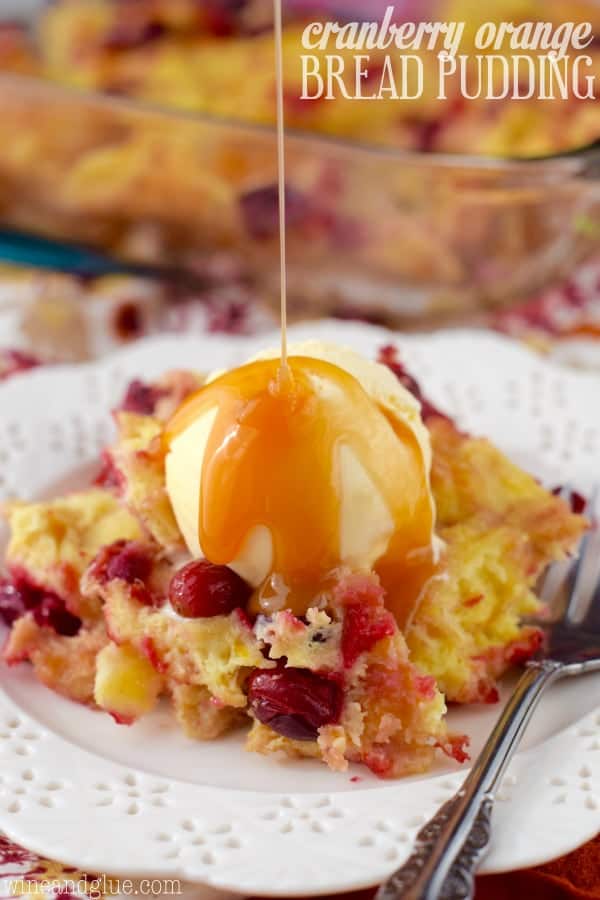 So last week . . . two weeks ago? . . . It's kind of all a blur now . . . I went to BlogHer Food, and now . . . all I want to do is go out and party. It's like I'm 22 again, except a normal 22 year old who goes out and has fun and isn't already living in the suburbs (no regrets, just weird).
Okay, but besides wanting to go out all.the.time. now, I feel like I want to revamp everything about my blog.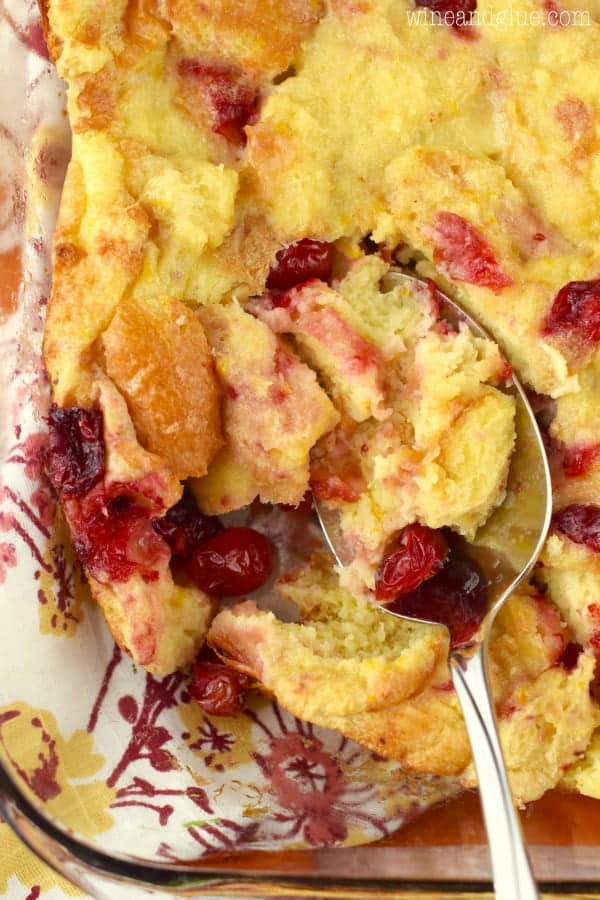 I had the amazing good fortune of spending some time (like a lot of fantastic time) with some amazing bloggers who totally know what's what. Spending all that time with them made me realize there are 17.2 billion things that I need to step up my game on.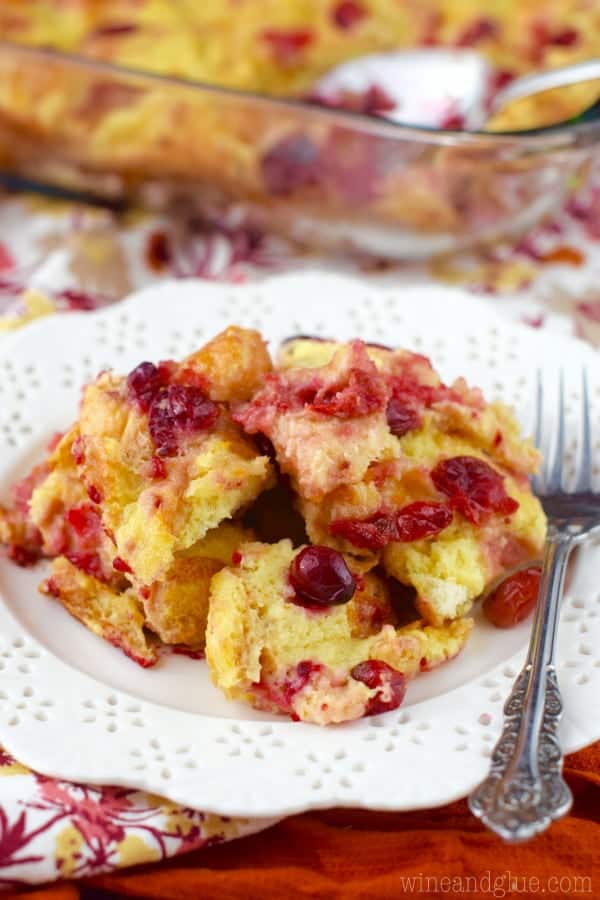 Because here's the thing.
I'm a social worker.
I mean, I've now started this business (which I love!! . . . I have come to think of it as my fifth baby), but I don't actually know anything about running a business. Marketing, PR, accounting . . . . hold on, I think I need another cup of coffee.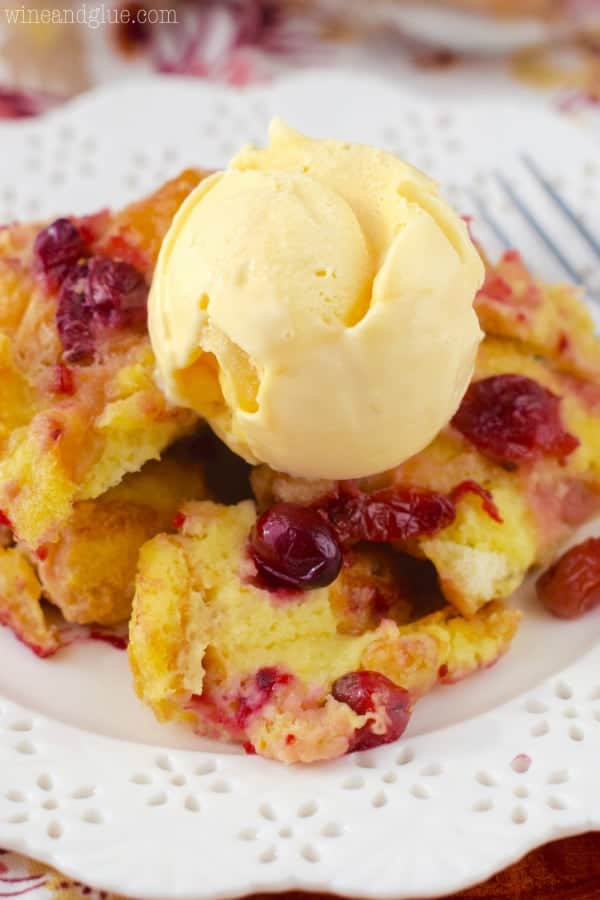 Okay, I'm back.
In all seriousness, I know that I'm doing a couple things right. But there are some things I could be doing better . . . like Twitter. Have I told you how much I hate Twitter. Like I hashtagHATE Twitter.
Anyway.
I need you. I've decided that I need a new tagline. Right now it's, "The Adventures of a Wannabe Crafty Mom." And that's all well and good, but the focus of my blog has become way more focused on food. So the old tagline needs to go. I want a new tagline that has something to do with craft AND food, but still makes sense with the name of my blog.
So what would you go with?
A. Wine & Glue: Easy Recipes & Crafts for Life with Kids
B. Wine & Glue: Easy Recipes & DIYs for Life with Kids
C. Something else entirely . . . you tell me in the comments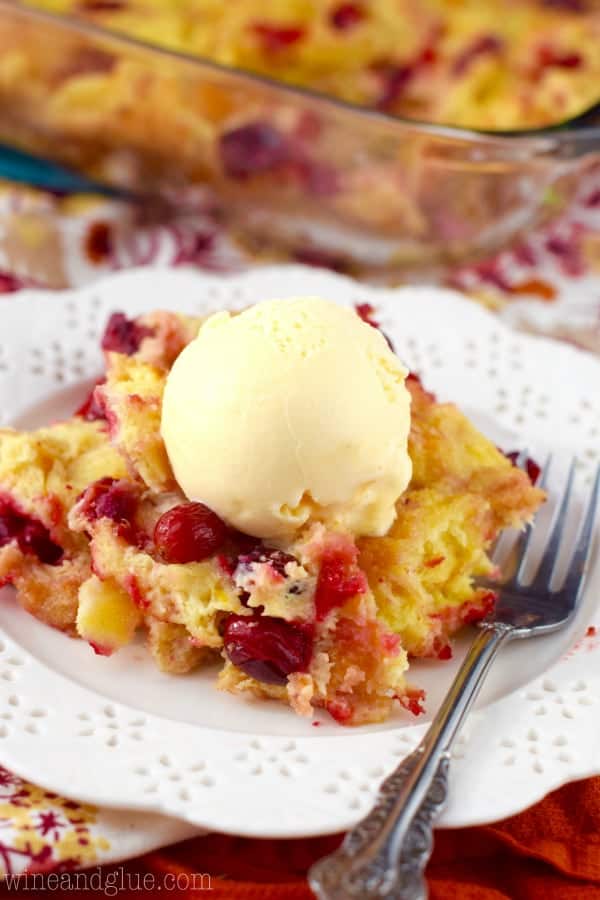 Okay, something MUCH easier than picking a new tagline: This Cranberry Orange Bread Pudding. Oooo, I know! My blog should be Wine & Glue: The Adventures of Living Solely on Bread Pudding. You guys. I love bread pudding so hard. It's my favorite dessert by far. It's like the sweet version of stuffing. I LOVE stuffing. I might have buttons made. Stuffing For President!
This is the type of dessert that you keep sneaking bites of right from the pan. It's creamy, sweet, delicious, and packed with amazing cranberry orange flavor. Serve it warm with a scoop of vanilla ice cream, and then smoother it with caramel sauce!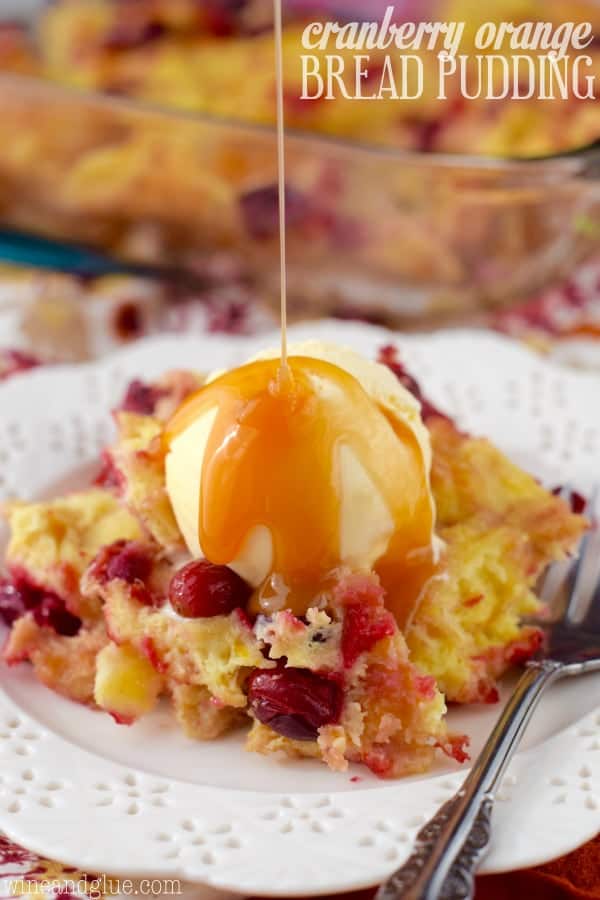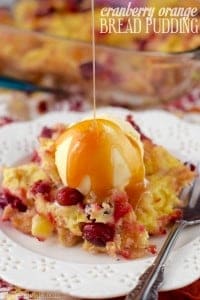 Cranberry Orange Bread Pudding
Ingredients
2

cups

fresh cranberries

2

TBSPs

butter

2

TBSPs

brown sugar

5

eggs

1

cup

whole milk

1/2

cup

heavy cream

1

TBSP

vanilla

1

TBSP

orange liqueur

you can sub with orange juice

1/2

TBSP

orange zest

1/2

cup

granulated sugar

10

cups

cut up bun bread

roughly 9 3 inch slider buns
Instructions
In a medium sauce pan, combine the cranberries, butter, and brown sugar. Cook, stirring until the cranberries have just begun to pop and break down. Remove from the heat and set aside to cool.

In a large bowl, combine the eggs, whole milk, heavy cream, vanilla, orange liqueur, orange zest, and granulated sugar. Whisk until fully combined.

Add the cut up slider buns. Stir until the bread is completely covered with the egg mixture. Stir in the cooled cranberries. Let sit for 20 minutes so that it soaks up the egg mixture.

Preheat the oven to 350 degrees. Prepare a 9 by 13 inch baking dish by spraying it with cooking spray.

Once ready, pour the mixture into the pan and spread into an even layer.

Bake, uncovered, for 35 to 40 minutes or until it begins to pull away from the sides of the pan.

Serve warm with a scoop of vanilla ice cream and a drizzle of caramel sauce.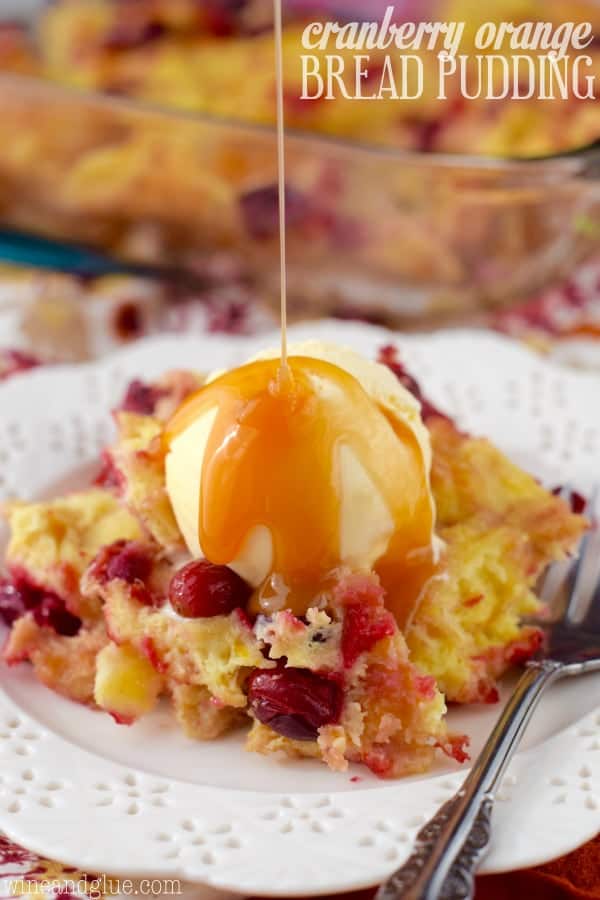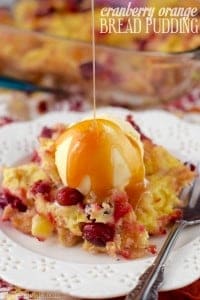 did you make this
Cranberry Orange Bread Pudding
You might also like:
Chocolate Pretzel Bread Pudding