Cranberry French Toast Casserole is an easy and delicious breakfast bake. Rich and fragrant, it's the perfect recipe for Christmas morning!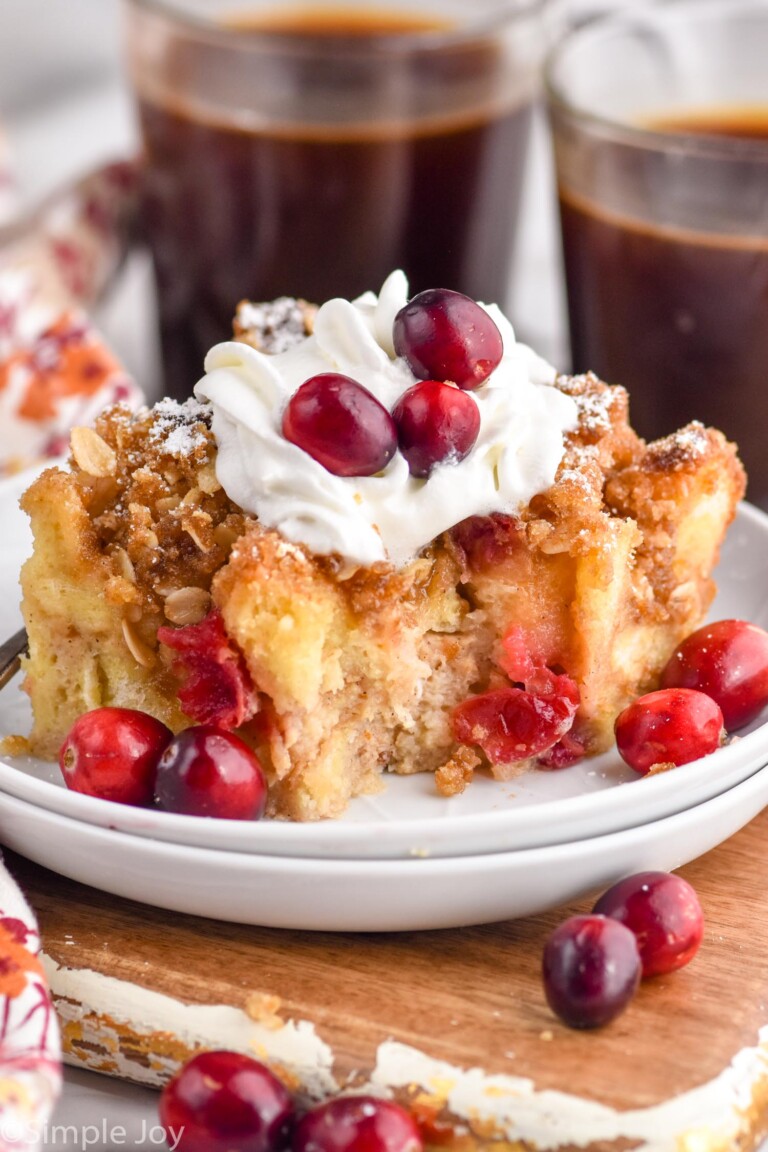 An easy twist on my French Toast Casserole, this deliciously easy cranberry French toast casserole is as tasty as it is simple to make. I love a full spread of brunch and this baked French toast, with tart cranberry sauce, is perfect for Christmas morning.
The cranberry flavor is perfect – not overwhelming, just right. Make this yummy French toast recipe the night before, pop it in the oven in the morning and your work is done!
Cranberry Sauce For French Toast Casserole
This french toast casserole recipe gets its cranberry kick from cranberry sauce. Perfect if you have leftover cranberry sauce from your holiday. You can use store-bought cranberry sauce, but it is so easy to make your own with five simple ingredients.
Cranberry Sauce Recipe
This Cranberry Sauce is the most flavorful fresh sauce recipe for Thanksgiving. You'll never reach for the canned stuff again!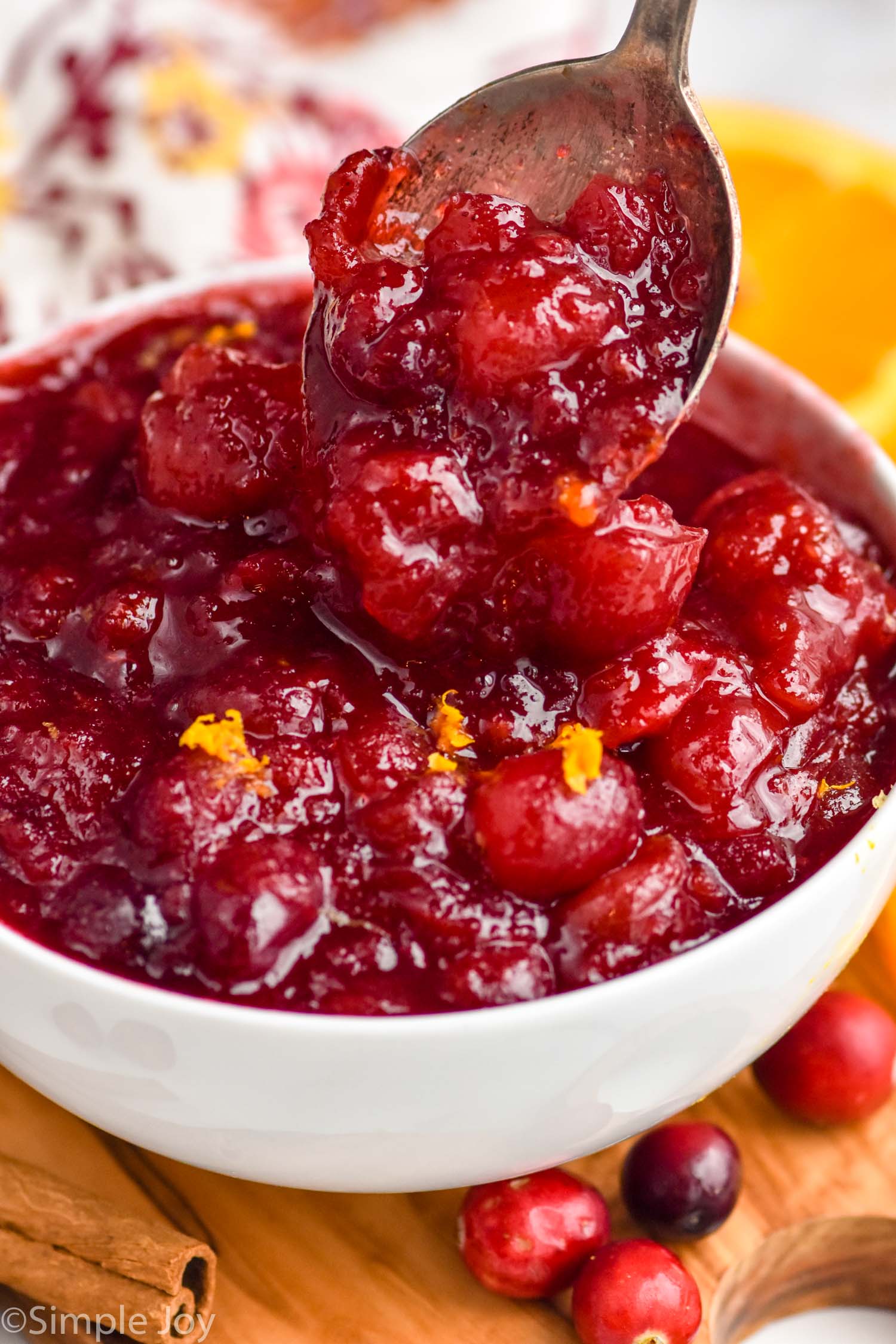 How to Make Cranberry French Toast Casserole
This sweet and tart baked French toast comes together with just a few simple ingredients, so it's easy to throw together for a last-minute holiday brunch, weekend breakfast, or a special busy weekday morning treat!
Here is a brief overview of how to make this simple recipe. For the full recipe including all measurements, see the recipe card at the bottom of the post.
Make the egg custard. Combine the eggs, milk, heavy cream, cranberry sauce, and vanilla.
Stir in the dry bread. Make sure that the bread is completely coated. Pour the mixture into your prepared baking dish.
Make the streusel topping. Combine the butter, sugar, and oats together with two forks or a pastry cutter. Pour it over the egg mixture.
Bake the casserole. You may need to cover the casserole in the last 10 minutes of baking to prevent over-browning. Allow it to sit for 10 minutes before slicing.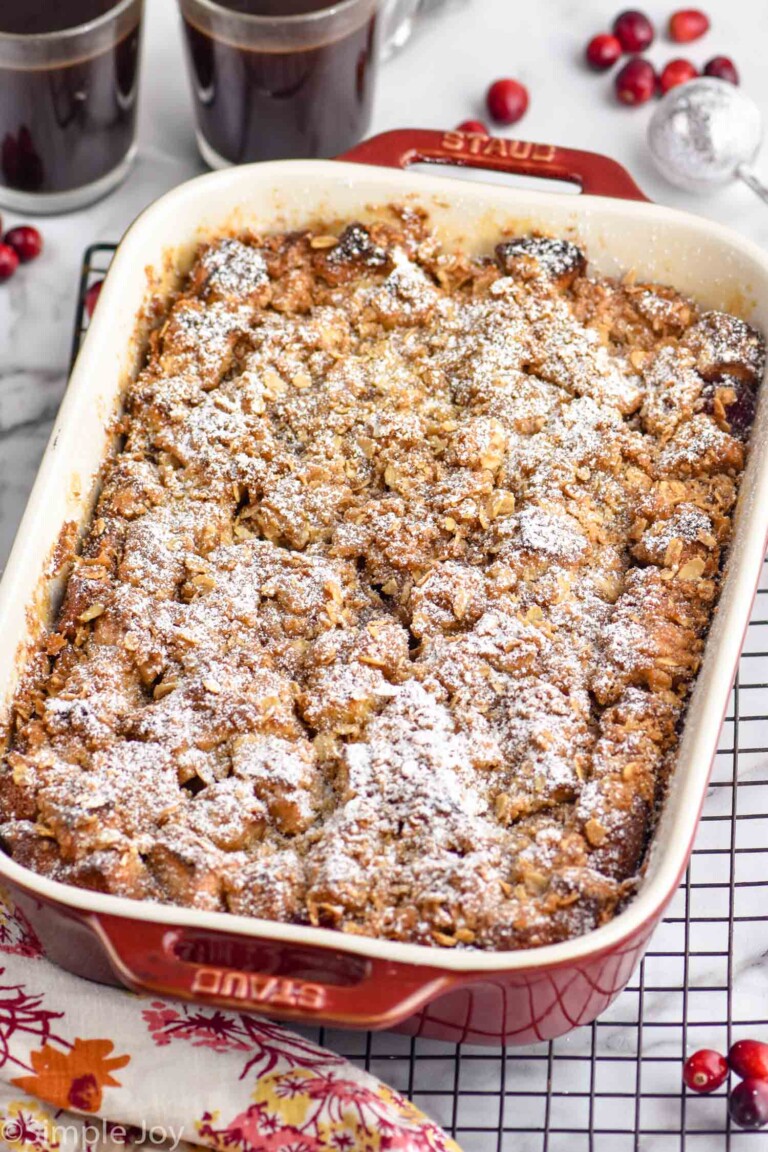 Dry Bread is Key
Anytime you are making a casserole that is a combination of bread and eggs, or even regular French toast, you want to make sure that the bread is dry. The reason for this is that it allows the bread to really soak up the custardy egg mixture and prevents the dish from getting soggy and mushy.
To dry out the bread, start by cutting it into cubes. Then, you can either bake it on low (about 250 degrees Fahrenheit) or you can place it in a thin layer on a rimmed baking sheet. Leave the sheet out overnight, and by the morning the bread will be ready to use.
Streusel Topping
This streusel topping is the icing on the cake, or should I say French toast casserole. While oftentimes a crumbly topping is made with flour, we are using oats instead to mix things up a bit. When making the streusel topping for French toast casserole, there are a few things to keep in mind. Make sure to use cold butter, it will hold up better when baking. You can use a pastry cutter to cut it into the brown sugar and oats, or two forks.
Either quick cooking oats or old fashioned oats will work in this recipe. If you would prefer to use flour over oats, you can replace the 1/2 cup oats with 2/3 cup all-purpose flour.
TOP PICK
Pastry cutter
This is the perfect tool for all of your pastry recipes! It is great it keep in your kitchen.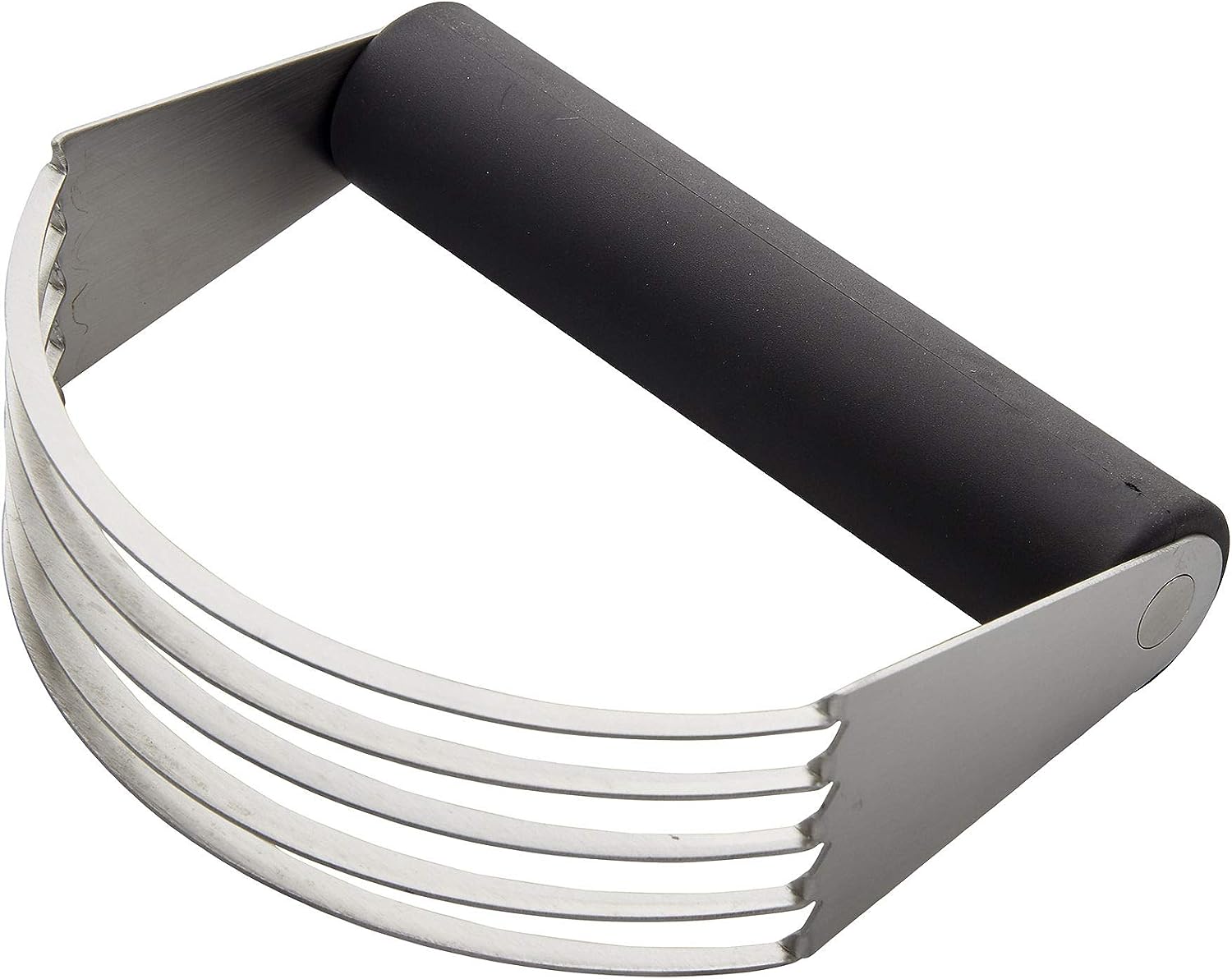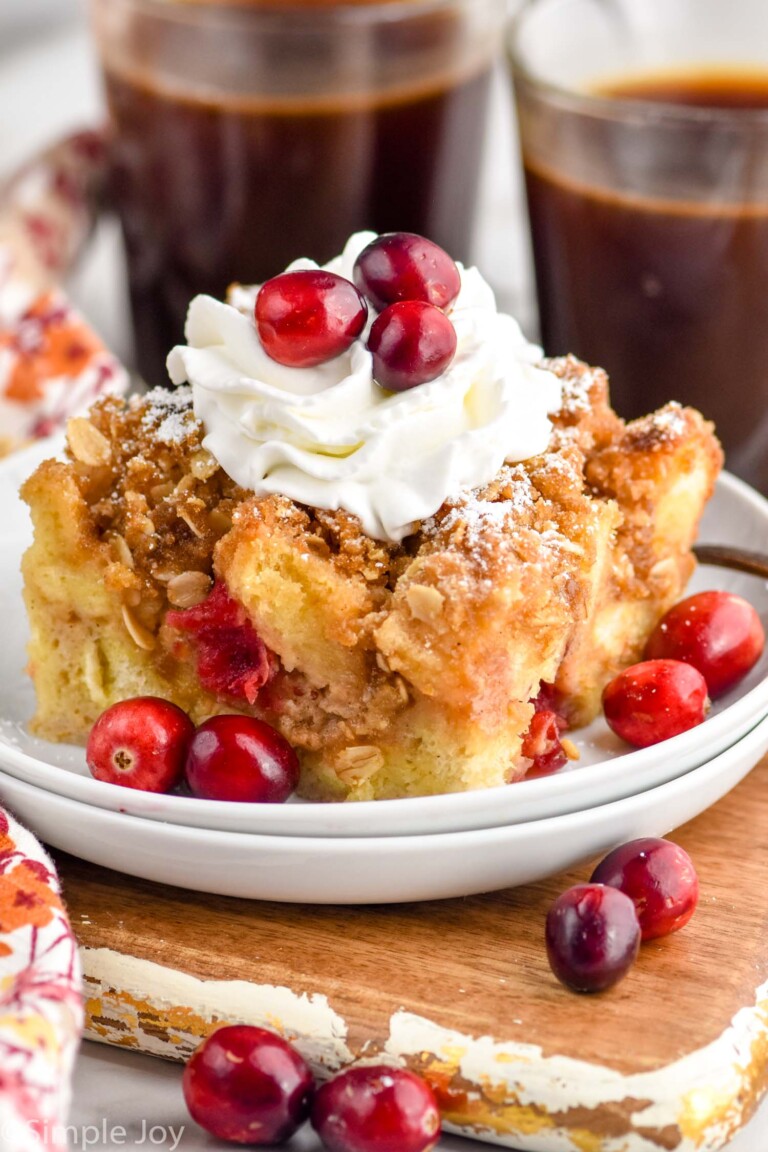 Making French Toast the Night Before
Baked breakfast casseroles are a terrific option for holidays or brunches because they can be assembled ahead of time, saving you lots of stress in the long run. Here are some easy tips to remember to make this an overnight french toast casserole:
Completely assemble all ingredients in the recipe and pour the mixture into a baking dish.
Cover the unbaked breakfast casserole with plastic wrap or aluminum foil and refrigerate. You can chill it for as little as a couple of hours, or up to one day.
Allow it to come to room temperature the next morning before you bake it.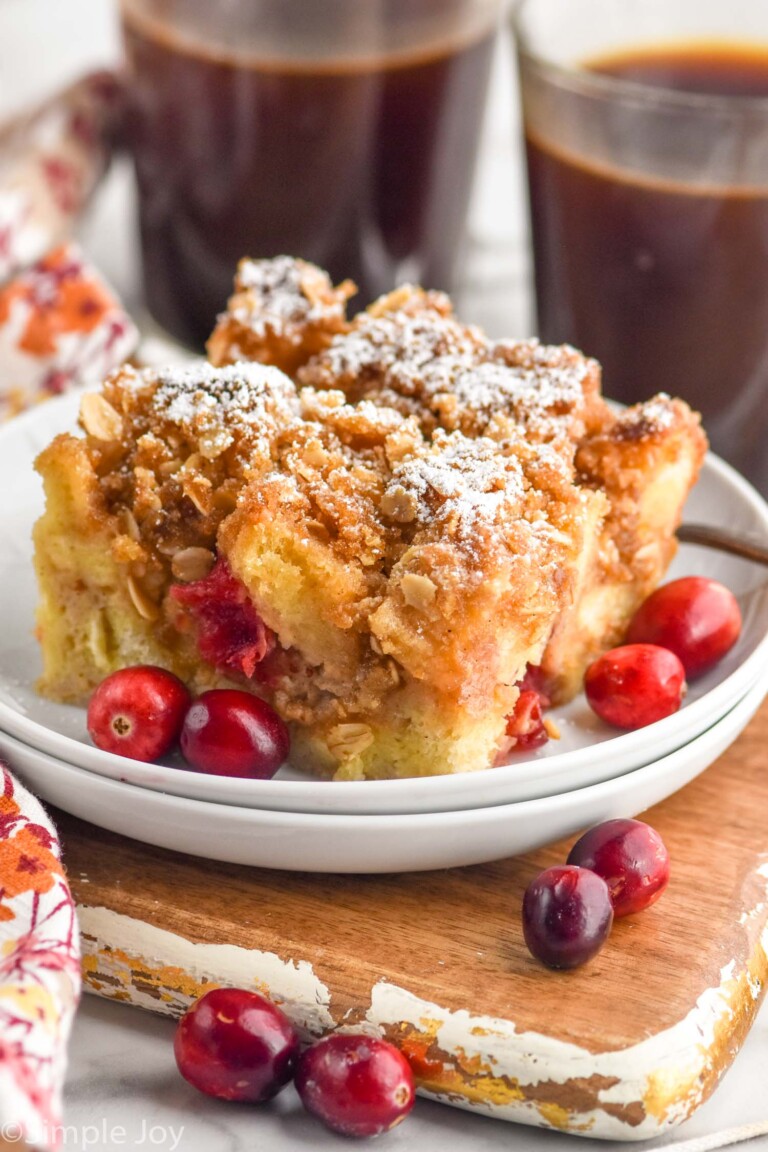 Storing and Reheating Leftovers
Store any leftover cranberry French toast casserole in the refrigerator covered or in an airtight container for up to three days. Reheat it in the oven or in small portions in the microwave.
Freezing French Toast Casserole
If you want to prepare this casserole more than a day in advance, it is a great recipe to freeze. Build the casserole up to the point of the streusel (don't bake it). Cover it tightly twice with foil and freeze for up to three months.
I recommend using an aluminum or disposable baking dish whenever you want to freeze a casserole. Glass or ceramic baking dishes can shatter in the oven if they go straight from a freezer to a hot oven. Uncover the casserole before baking.
When baking from frozen, bake at 350 degrees Fahrenheit for 20 minutes with the casserole covered. Then uncover and bake for an additional 50 minutes.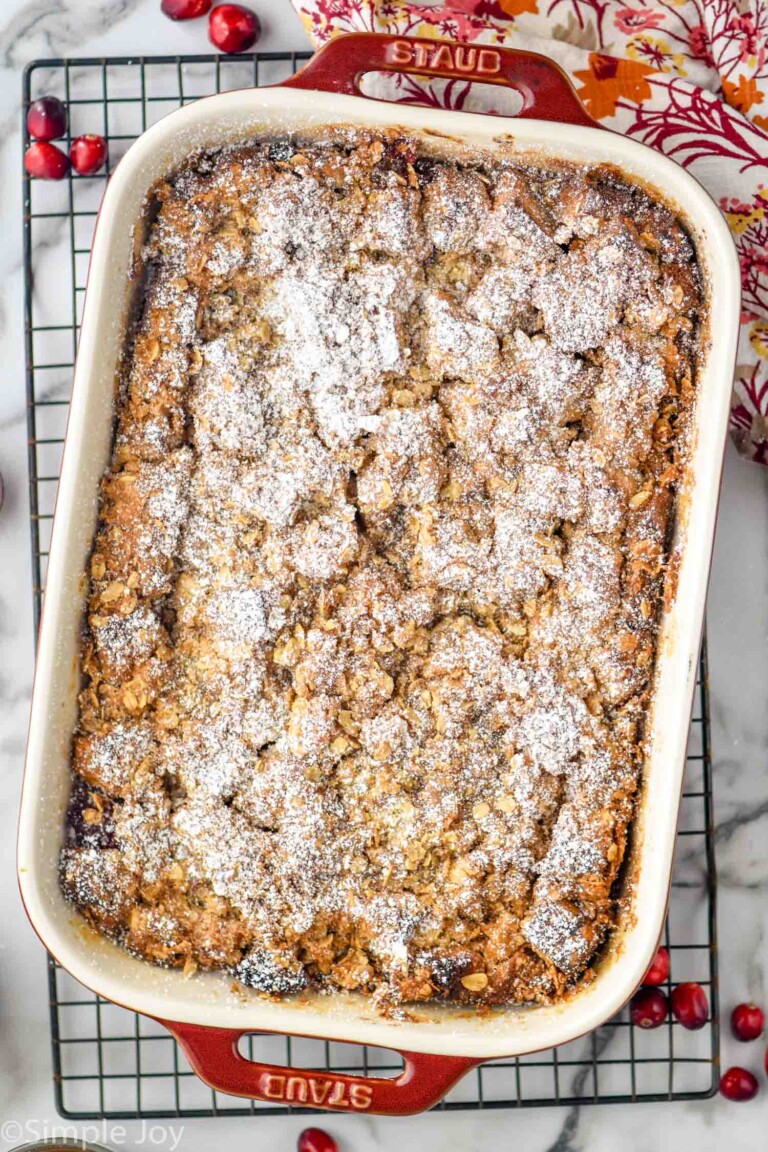 More Brunch Recipes
I have so many breakfast recipes that would pair perfectly with this!
Make this French toast casserole for your next holiday gathering and watch it disappear! I would love to hear from you, so please drop me a comment and let me know what you think of my recipes.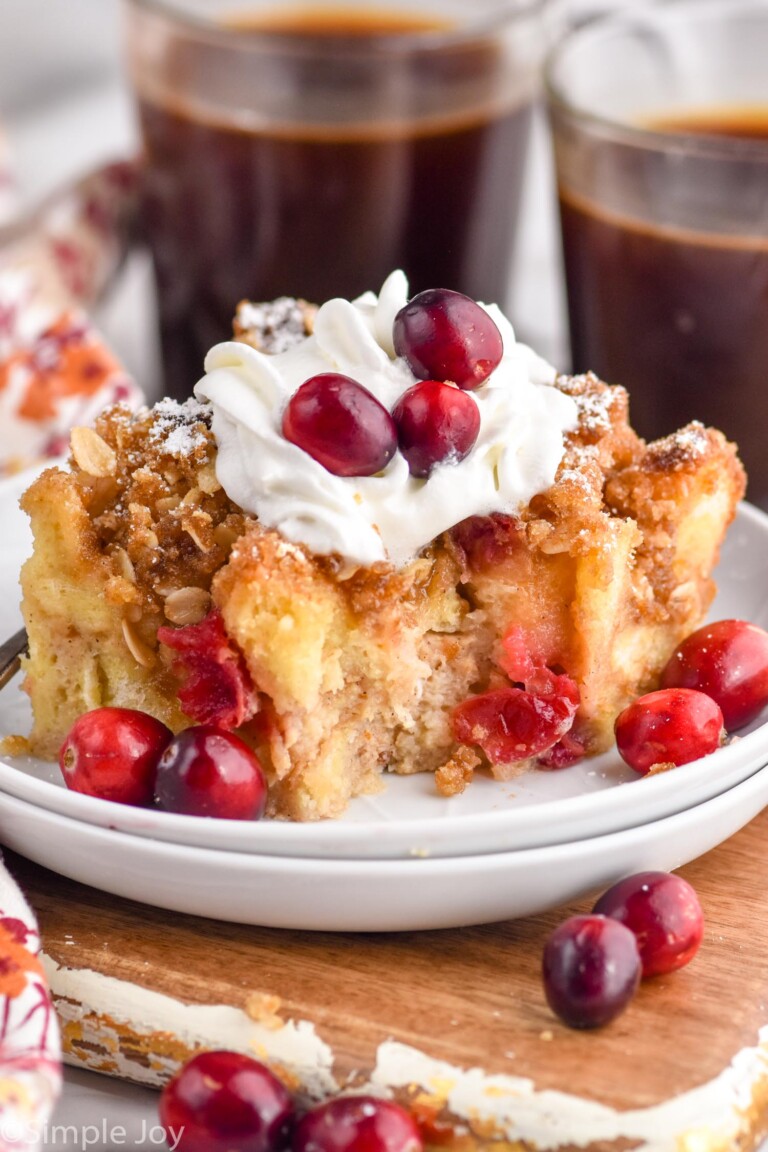 Cranberry French Toast Casserole
Cranberry French Toast Casserole is an easy and delicious breakfast bake. Rich and fragrant, it's the perfect recipe for Christmas morning!
Ingredients
Cranberry French Toast Casserole
8

whole

eggs

1 1/2

cups

milk

(354.9 ml)

1/2

cup

heavy cream

(118.3 ml)

1/2

cup

granulated sugar

(99 grams)

2

teaspoons

vanilla

14

ounces

whole cranberry sauce

(1 1/3 cup homemade sauce or 400 grams)

16

ounces

Italian bread

(453.6 grams) cut into one inch cubes and dried
Topping
1

cup

light brown sugar

(213 grams) packed

1/2

cup

unsalted butter

(113 grams)

1/2

cup

oats

(44.5 grams) both quick cooking and old fashioned work here
Instructions
Preheat your oven to 350 degrees Fahrenheit and spray a 9 by 13 pan with cooking spray.

In a large bowl, whisk the eggs, milk, heavy cream, sugar, and vanilla together.

8 whole eggs,

1 1/2 cups milk,

1/2 cup heavy cream,

1/2 cup granulated sugar,

2 teaspoons vanilla

Whisk in the cranberry sauce. Add the bread, making sure that it is completely coated.

14 ounces whole cranberry sauce,

16 ounces Italian bread

Using two forks or a pastry cutter, combine the brown sugar, cold butter, and oats.

1 cup light brown sugar,

1/2 cup unsalted butter,

1/2 cup oats

Pour the bread and egg mixture into the prepared pan. Top with the topping and put it into the oven for about 50 minutes or until the casserole puffs up and starts to pull away from the edges of the pan. You may need to cover the casserole in the last 10 minutes of baking to prevent over-browning.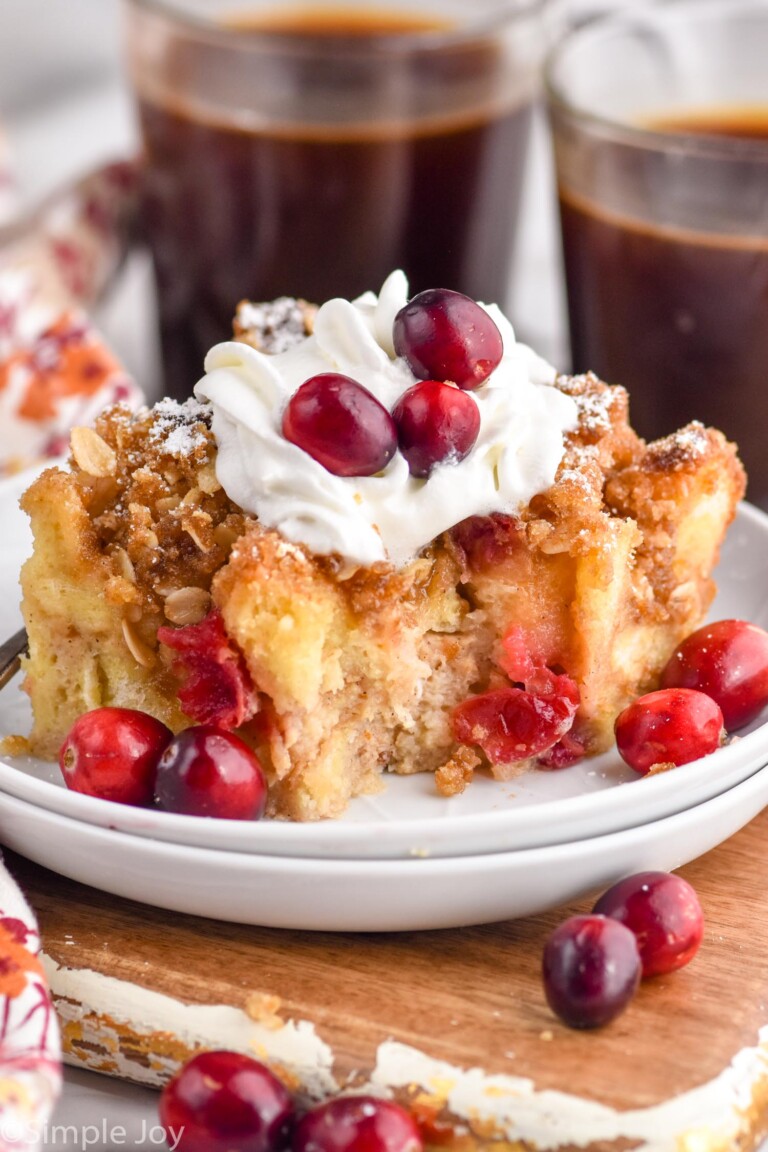 did you make this
Cranberry French Toast Casserole