Creamy Pumpkin Goat Cheese Risotto | Full fall nutty flavor that is creamy, rich, and delicious!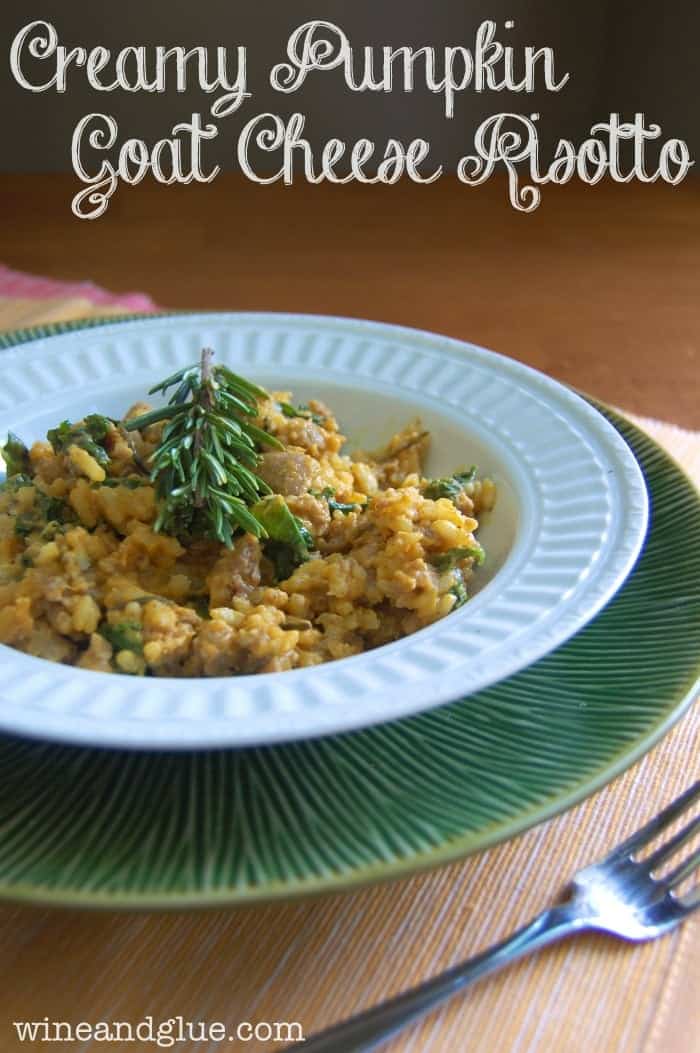 Have you noticed on my blog that I am kind of jumping into fall? First it was the Halloween Subway Art, then the Candy Corn Poke Cake, and now this Pumpkin Risotto.
I know it is approximately 70,000 degress outside, and the idea of warm cozy fall food sounds crazy, but I can't help it!!
I love all things fall! The crunchy leaves, the shortening days, the crisp nights, the apple picking, the pumpkin carving, and pretty much everything that goes along with Halloween!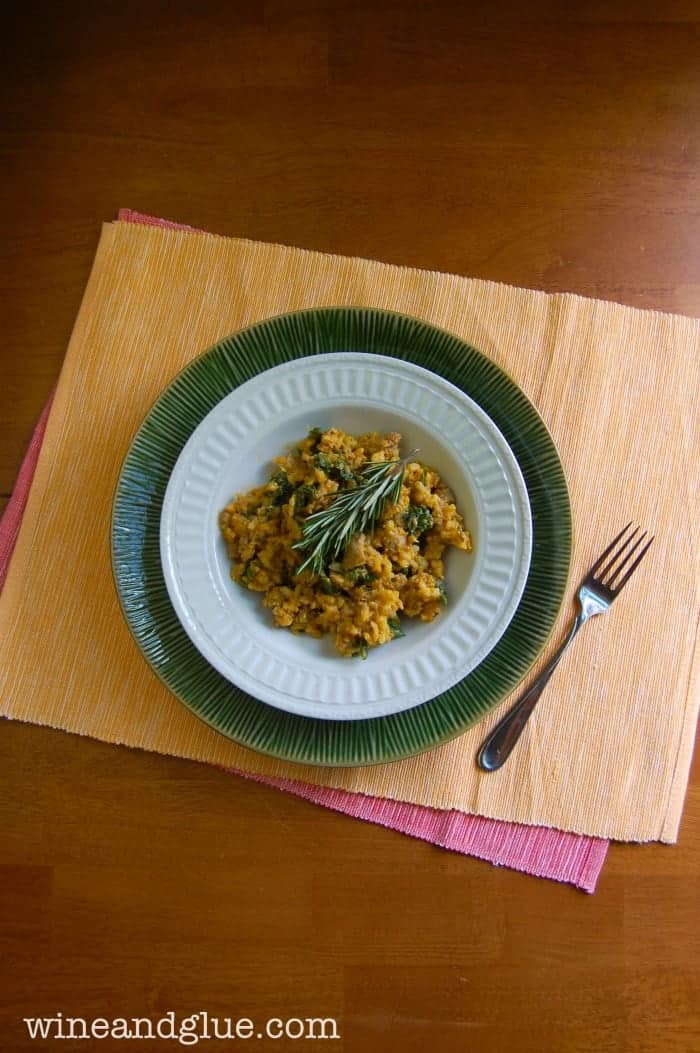 When I think of fall, I think of getting home from high school when it was already dark out and sitting on the bar stools across from my mom in the kitchen. My house growing up had these HUGE windows over the kitchen sink that looked out to the driveway. On the island, where I would pull up a seat, was our stove top. I would sit and chat with my mom and watch the steam fill up the dark windows while she made dinner. It was cozy and warm and everything wonderful about fall.
Kind of like this risotto! I love risotto more than maybe any other main dish! You can throw enough things in it to make it a whole meal all on it's own. My all time favorite risotto is the Tomato Sausage Risotto recipe, but this is a close second! It is rich, creamy, and healthy! The ground turkey is nice and low fat, there's just a bit of dairy in there, and it's loaded up on nutrients with the kale and pumpkin! Dive in with two forks people!!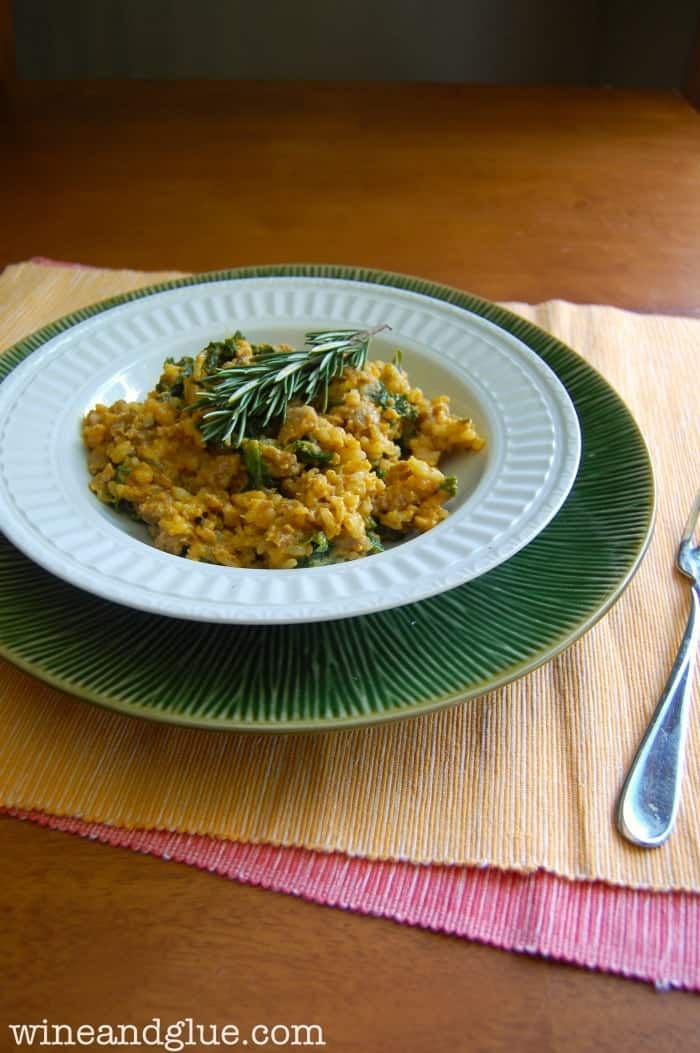 Pumpkin Goat Cheese Risotto
4 cups chicken broth
15 oz 100% pumpkin puree
1.25 lbs sweet italian turkey sausage, casings removed
2 cloves garlic, minced
1 tsp ground sage
1 sprig fresh rosemary
1 cup aborrio rice
2 oz goat cheese
2 cups chopped kale, stems removed
Combine chicken broth and pumpkin in a medium sauce pan over medium heat. Whisk together and bring to a boil, then reduce heat to low.
In a separate pan sprayed with cooking spray, over medium high heat add turkey sausage and cook until n longer pink.
Add the garlic and sauté for about 30 seconds. Add the sage and rosemary sprig. Add a pinch of salt and pepper.
Add the risotto and stir in, combining and allowing it to soak up the cooking juices. Turn the heat to medium low.
Add two cups of the pumpkin chicken stock mixture and continue to stir as the risotto absorbs the liquid. Continue stirring and adding liquid slowly until the risotto is tender. You may not use all the liquid.
Remove the rosemary sprig, and stir in the goat cheese until melted. Then stir in the kale, a little at a time, adding more as it wilts.
Enjoy!
Looking for another risotto recipe? How about Tomato Sausage Risotto?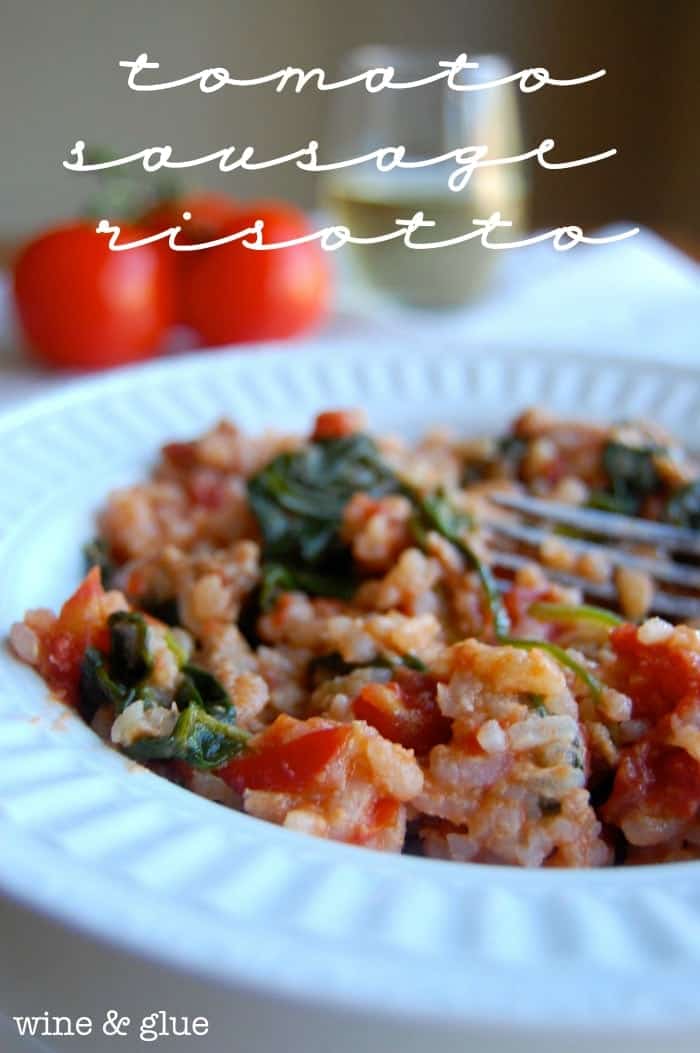 Want another warm fall recipe? How about Black Bean Chorizo?