Air Fryer Asparagus is a fast, healthy, side dish recipe that comes together in just 10 minutes. This is the perfect vegetable to serve with just about any meat dish.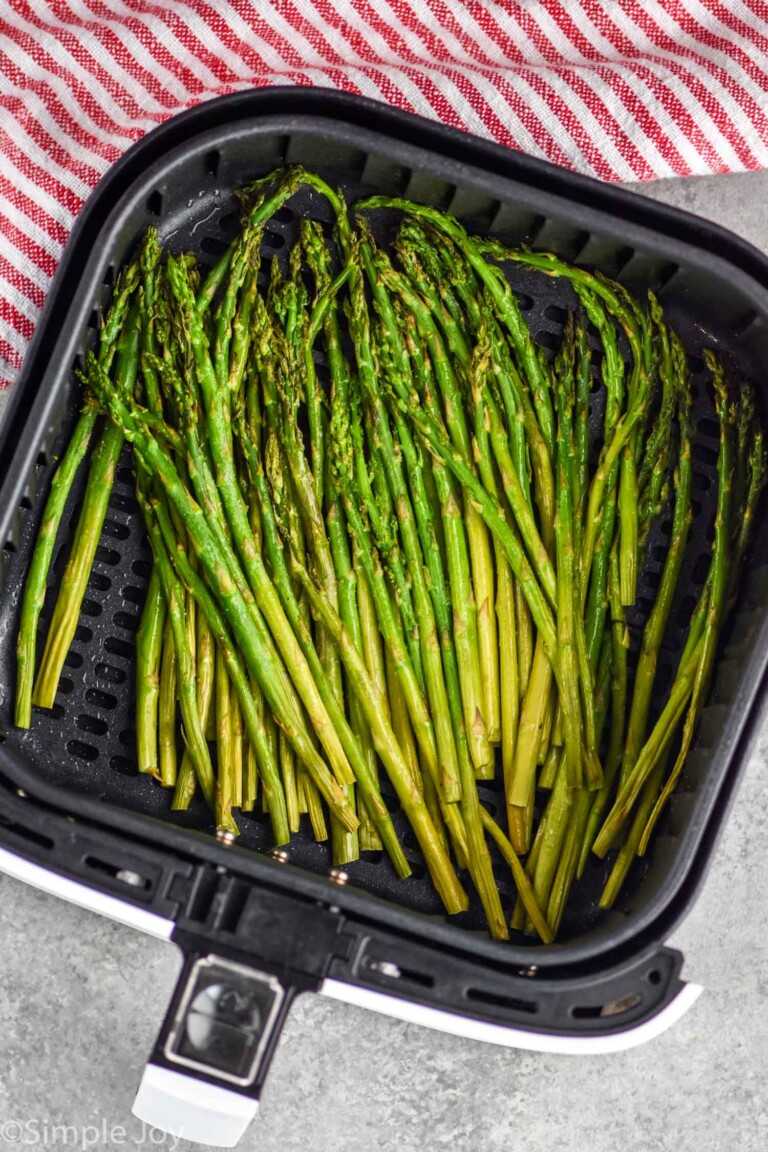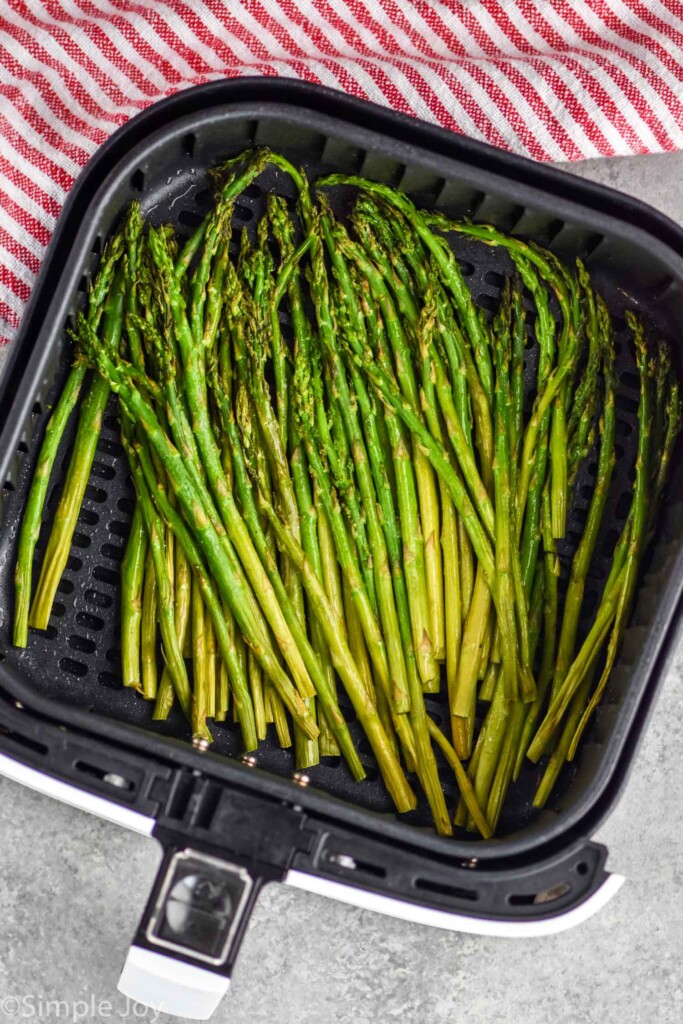 Asparagus is one of my very favorite vegetables. It is so easy to prepare, and it takes very little seasoning or effort to turn it into a fantastic side dish. In this Air Fryer Asparagus recipe we are taking this versatile vegetable and making it even easier. Free up your oven by making this fast side right on the counter top in your air fryer.
How to Cook Asparagus in Air Fryer
This is just a brief overview of this fast recipe. For all the times, temperatures, and measurements, make sure to scroll to the bottom of the post for the printable recipe.
Preheat your air fryer.
Prepare the asparagus. While the air fryer is preheating, wash and trim the asparagus. Read more on this below.
Season the asparagus. Spray the basket of the air fryer with cooking spray. Add half the asparagus. Spray it with cooking spray, and then sprinkle it with 1/4 teaspoon of garlic salt. Continue with the other half of the asparagus.
Cook the asparagus. Close up the air fryer and cook the asparagus for three minutes. Toss the asparagus and cook for three more minutes. Please see my note below on when cooking times will vary.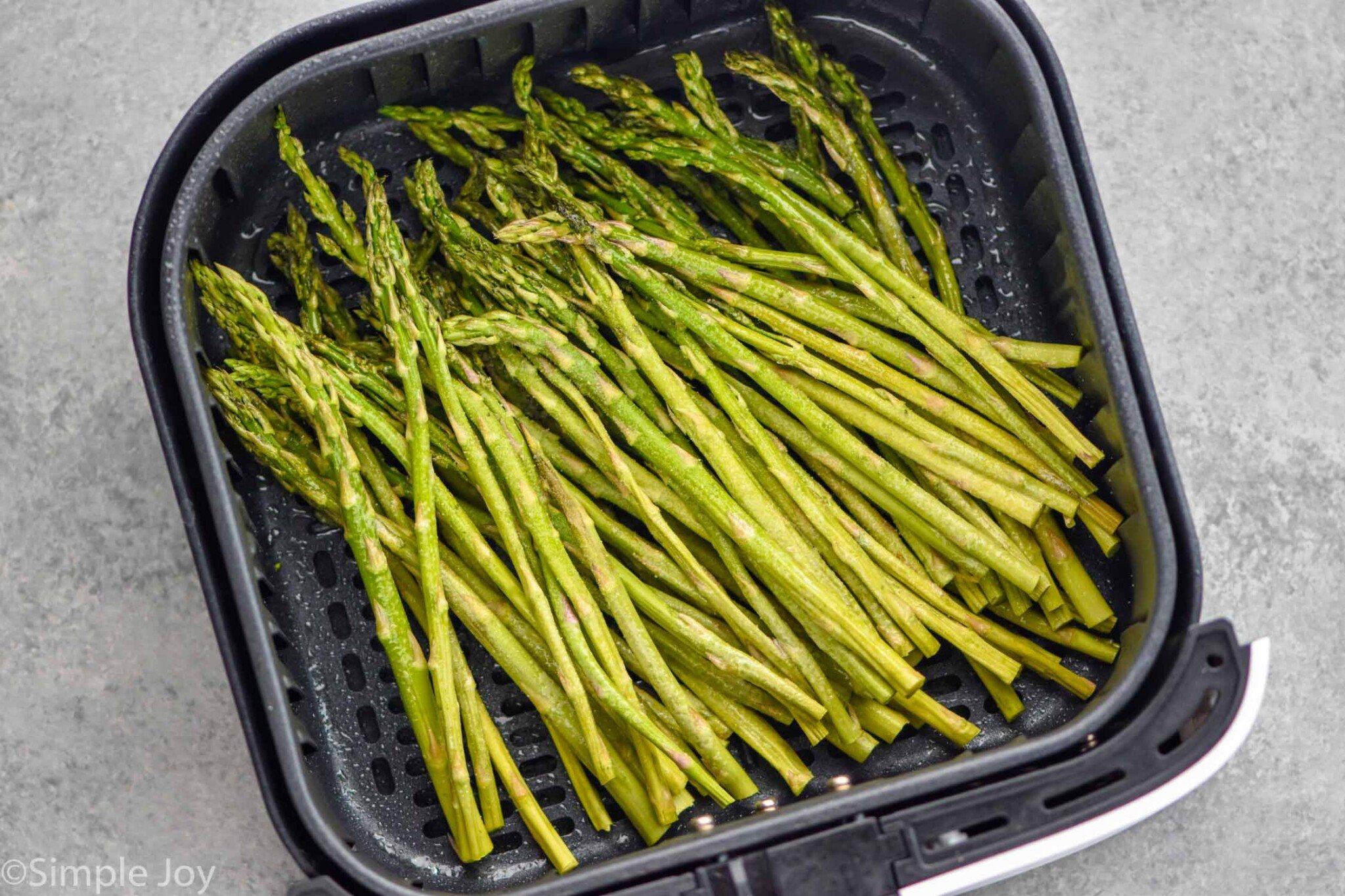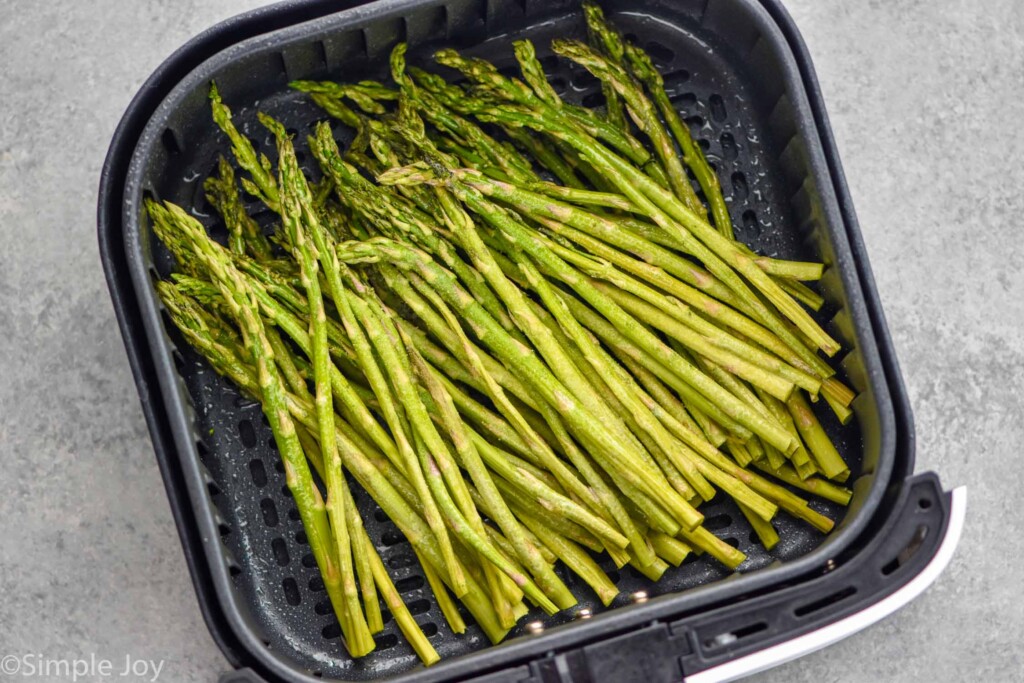 Varying Cooking Times for Asparagus
You will notice when you shop for asparagus that it will vary a great deal in thickness. The asparagus you see here is unusually thin. It took only about 4 minutes to cook. On the other hand, I've had much thicker asparagus that takes closer to 8 minutes. You will want to change the cooking time based on how thick it is, keeping in mind that 6 minutes is perfect for the average asparagus spear.
Picking out Asparagus
There are a few things to look for when you are shopping for asparagus at the grocery store or farmer's market.
Look for a bunch that has relatively the same thickness of asparagus – it will be easier for it to all cook evenly.
Pick a bunch in which all of the stems look thick and plump. If they have wrinkles or dimples in the skin, skip that one.
Grab an asparagus bunch that has tight buds at the top and tops that are fresh looking and not wilted.
Storing Fresh Asparagus
If you are making this later in the week and need to store your asparagus, you will want to follow these steps:
Cut off the bottom of the asparagus – about 1/2 an inch.
Place the whole bunch in a glass of water.
Store in the refrigerator until you are ready to make this delicious air fryer asparagus recipe.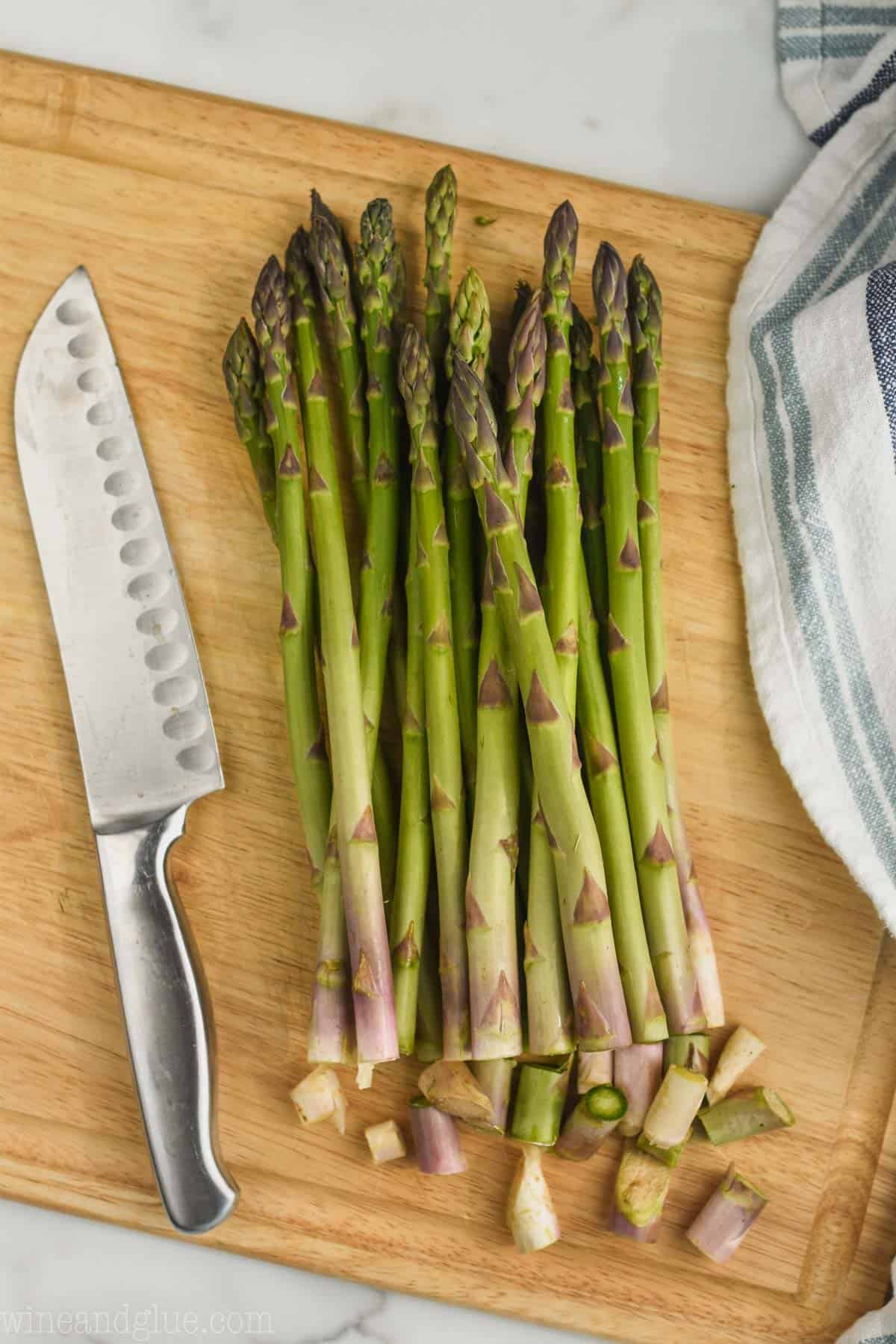 Prepping Asparagus
When it is time to make your asparagus in the air fryer, take it out of the refrigerator and give it a quick rinse. Now you want to snap off the rough bottom. If you bend the asparagus as seen below, it will tell you exactly where it should be snapped off. Once you snap one, you can line it up with the rest of the asparagus, and cut the rest of the bottoms.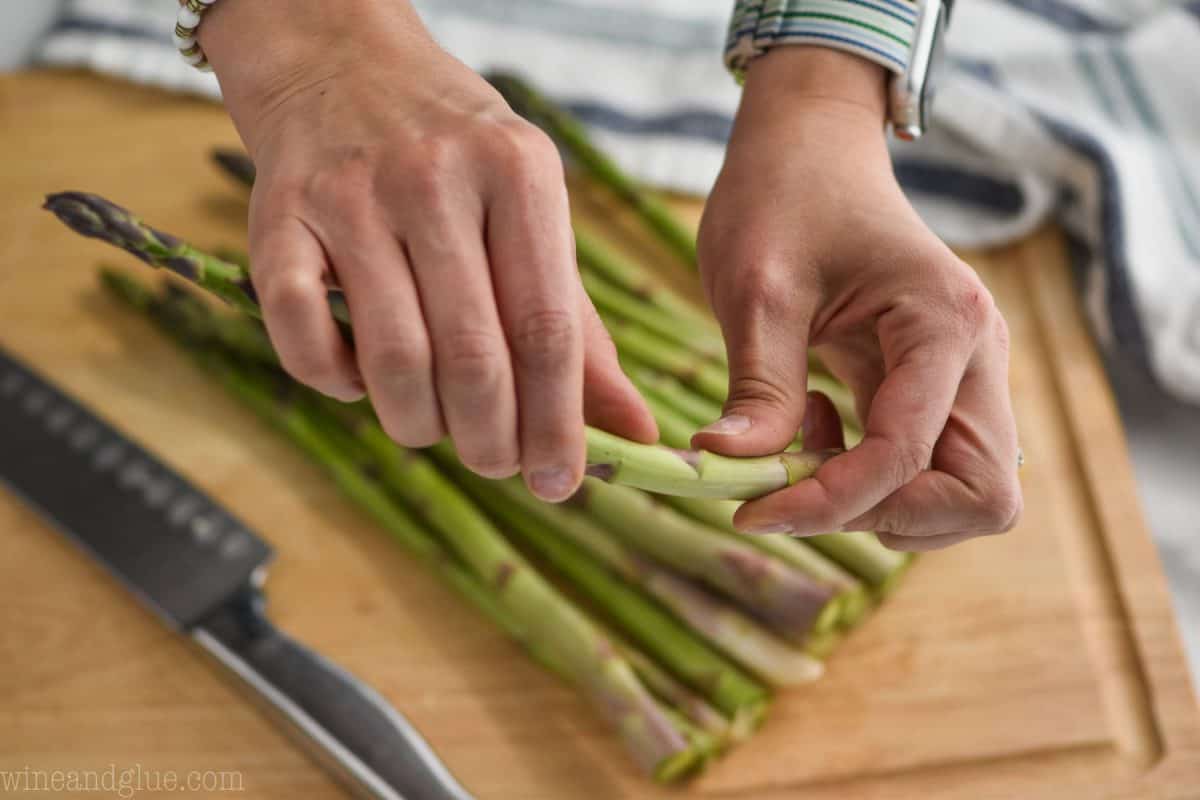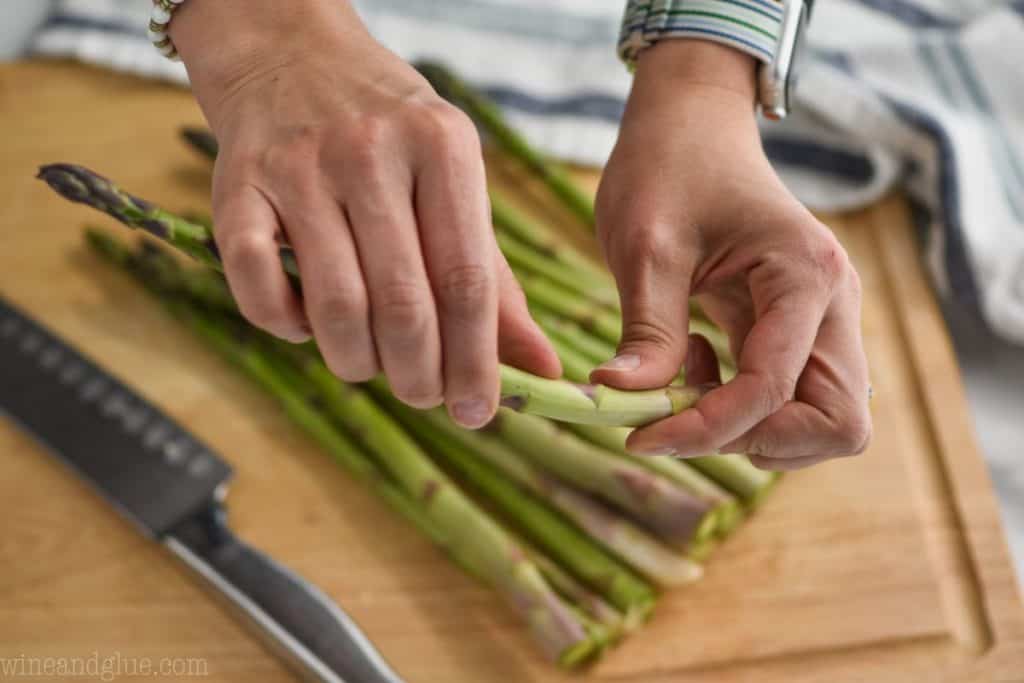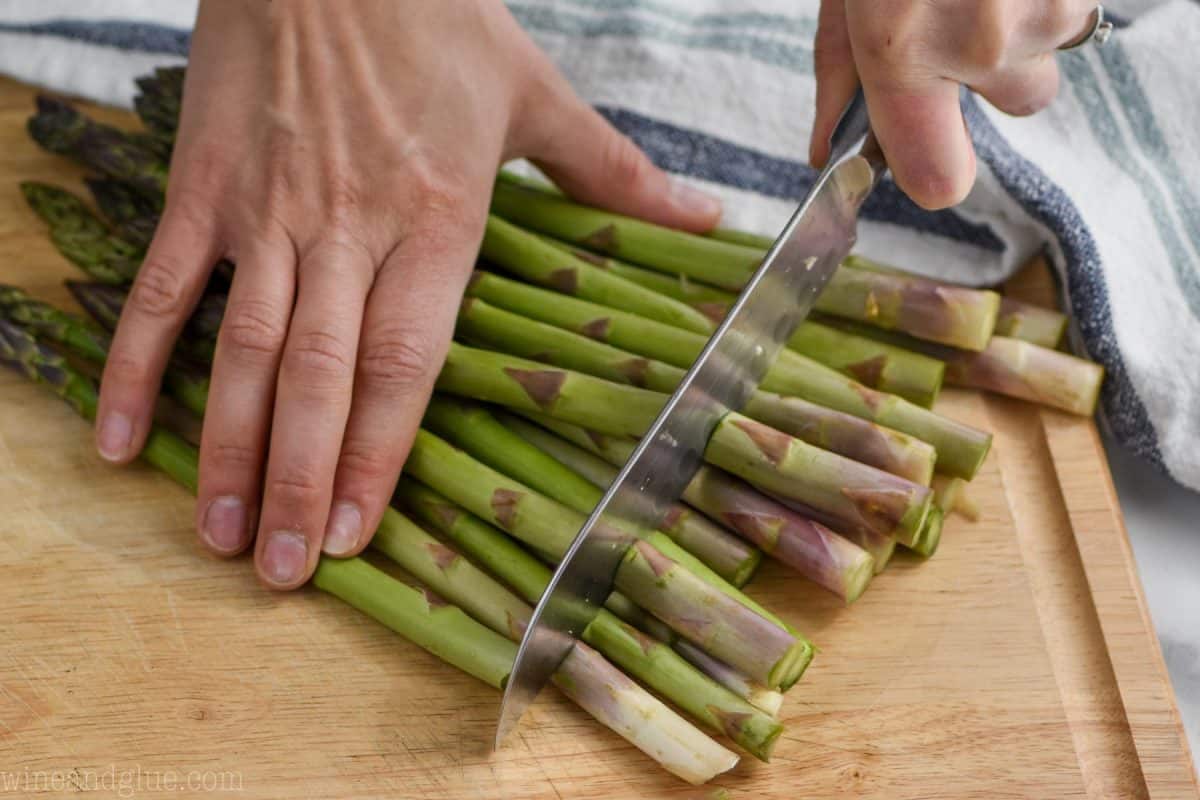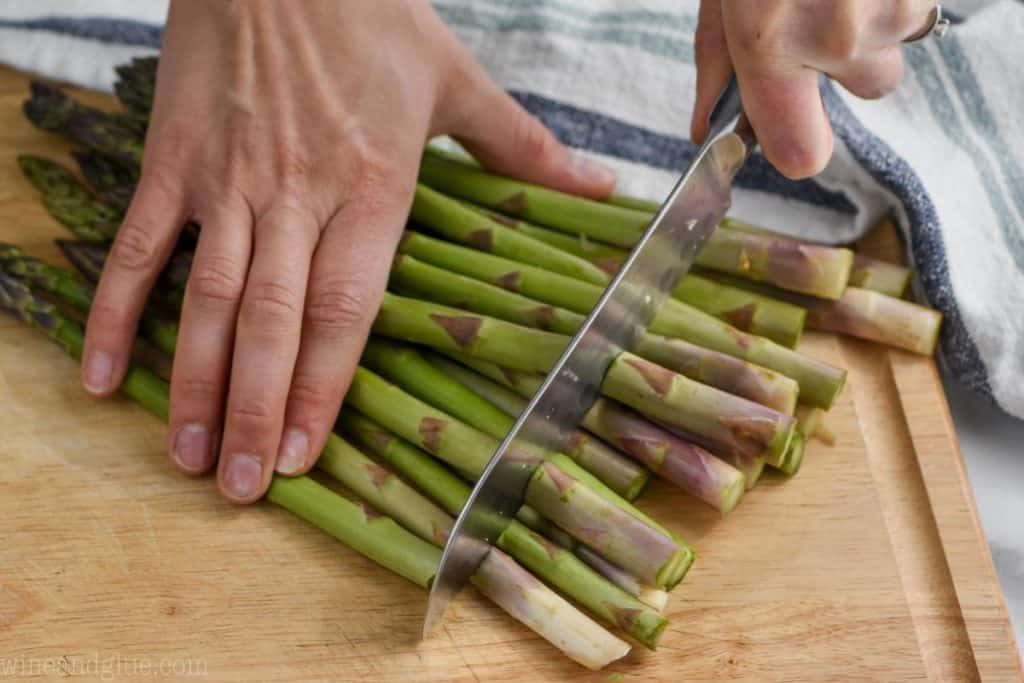 Seasonings
You will notice that I went really light with the seasonings in this recipe. I love the taste of asparagus, so I think that it needs very little, and I love the garlic salt on these.
That being said, there are so many ideas that you could go with to change this up. Here are a few of my own seasoning blends that I think would be delicious with these. Just keep in mind that you want to go easy with them.
Or, you can go with the peanut butter to asparagus' jelly and just squeeze some fresh lemon juice on them after they come out of the air fryer. That would also be delicious.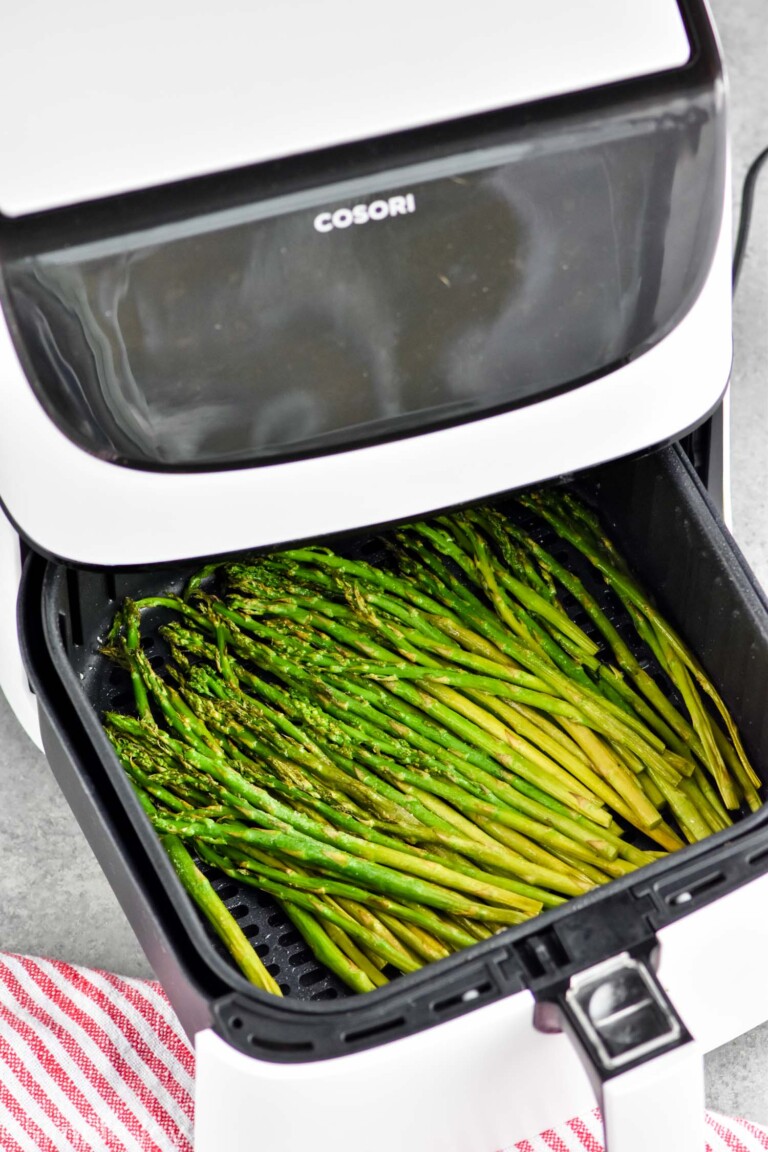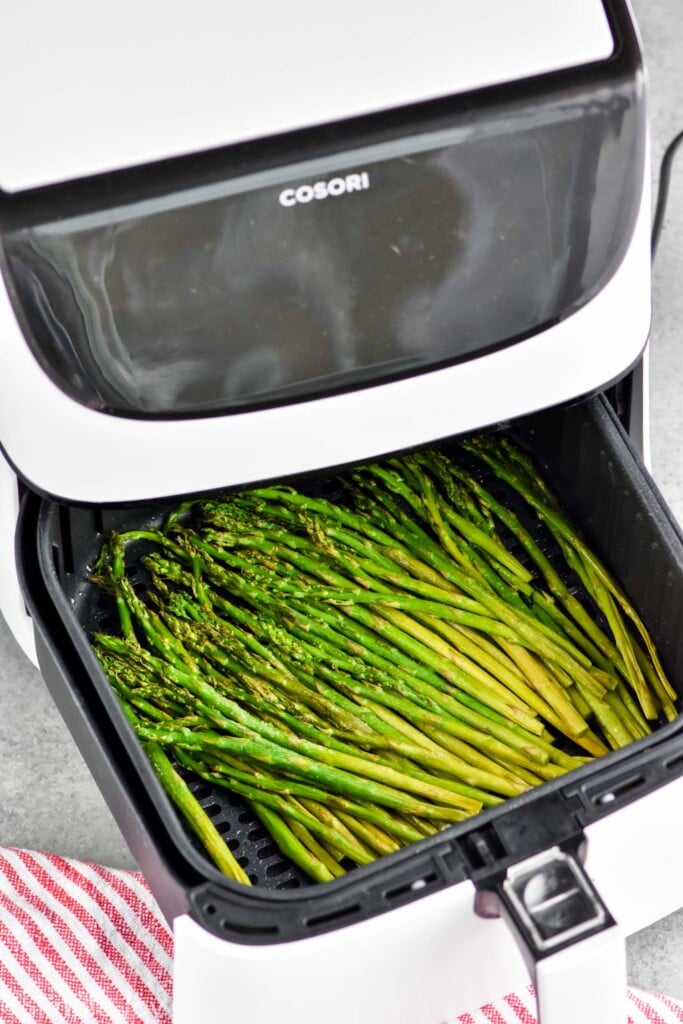 FAQ
Do I need to blanch asparagus before frying?
No, these cook perfectly in the air fryer without the added step of blanching.
How do you know when asparagus is done?
Asparagus is done when it is fork tender. In other words, when you can easily spear the asparagus with a fork, it is done. This, however, is a matter of preference. Some like their asparagus with a little more bite to it than others.
Why is my asparagus slippery?
This is an indication that it was cooked too long. Next time shave a minute or two off the cooking time.
What air fryer do you recommend?
I have had two, and I really love this one from Cosori: Air Fryer. And you can see all of my air fryer recipes here: Air Fryer Recipes.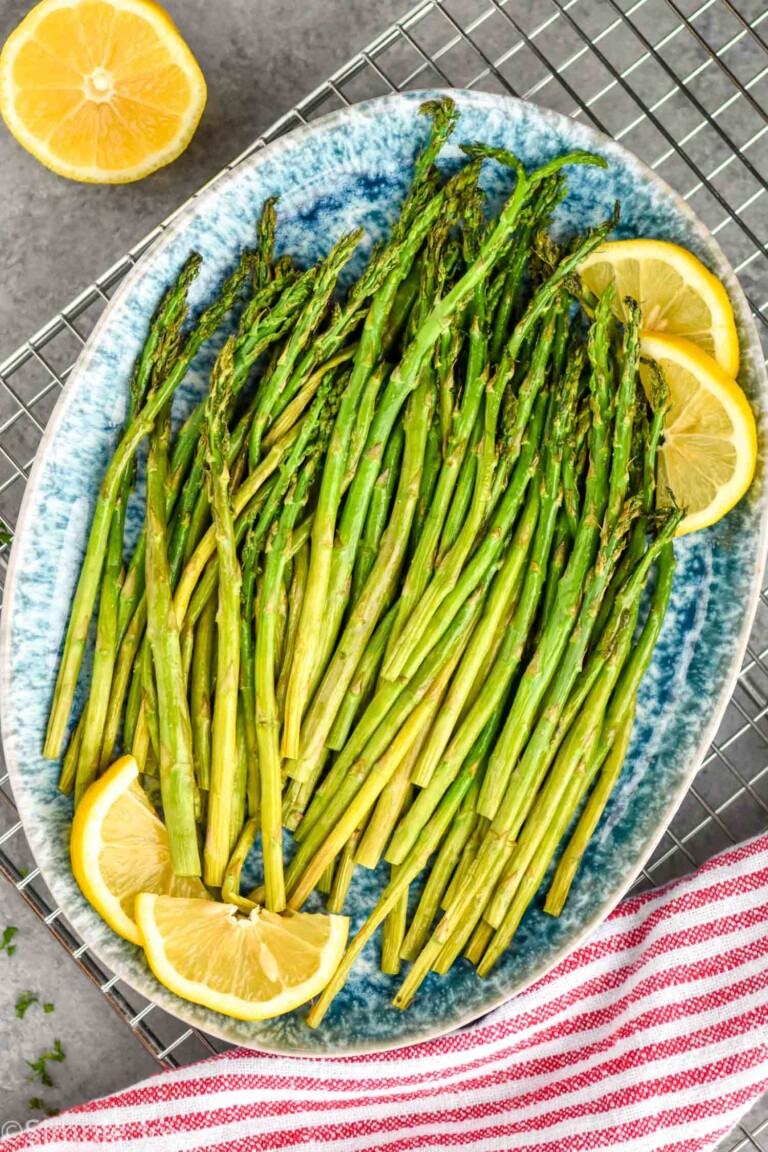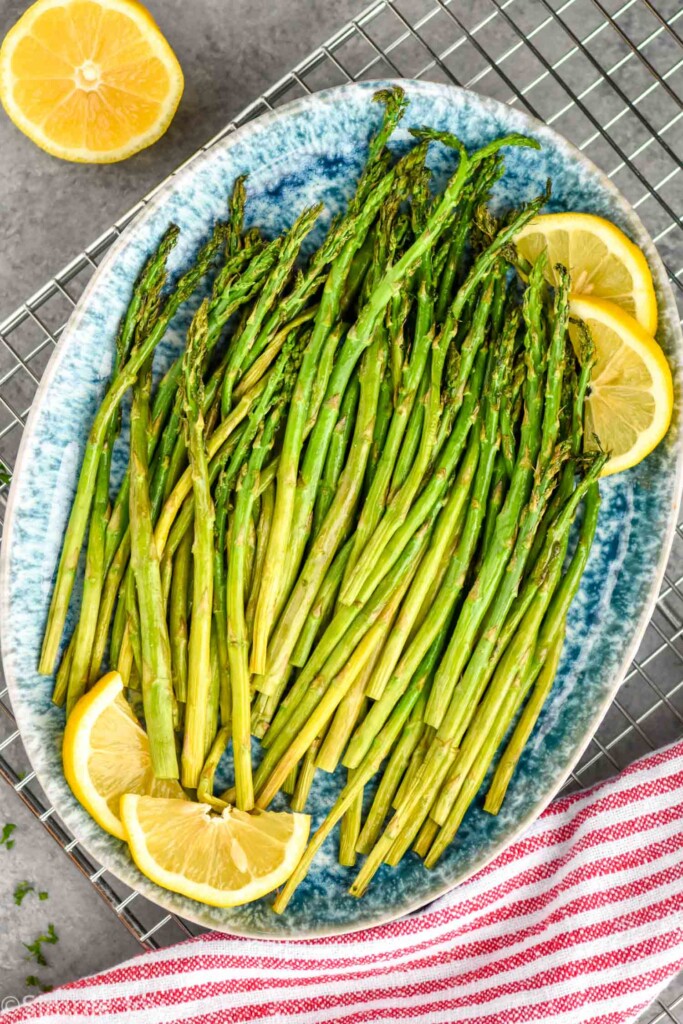 Other Great Ways to Make Asparagus
If you make this air fryer asparagus recipe or any of my other recipes, please leave me a comment and let me know what you think. I love hearing from you!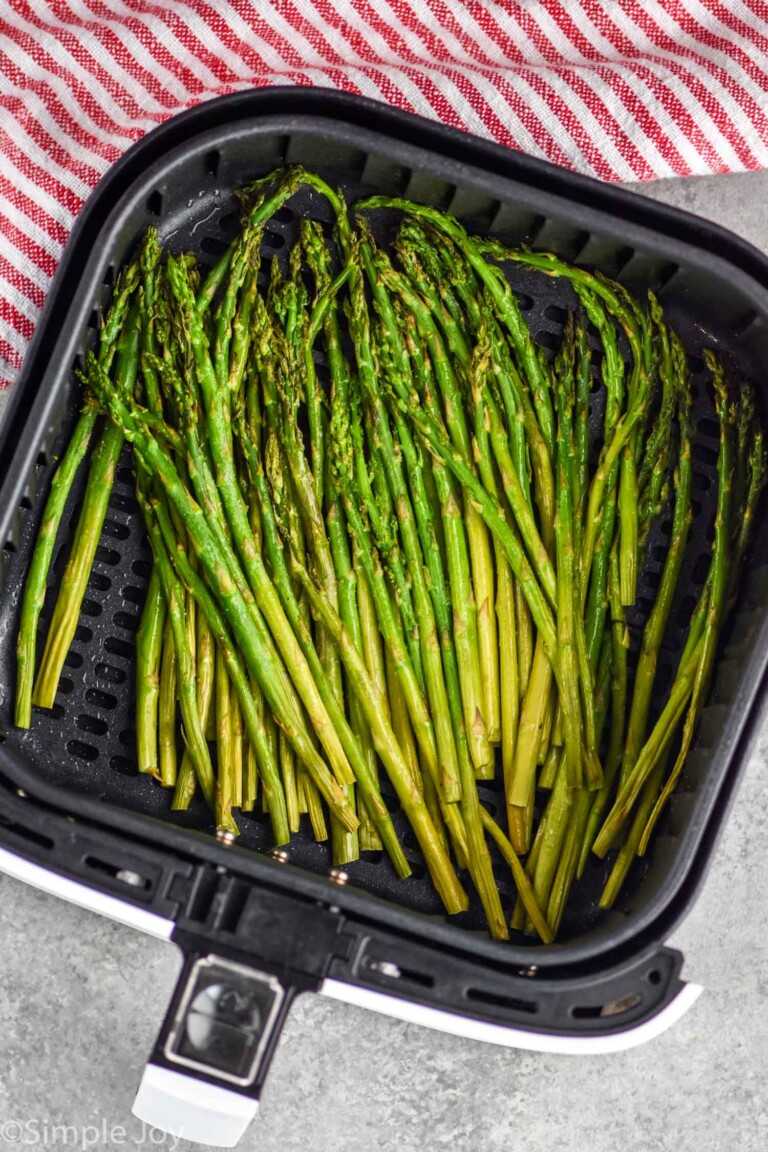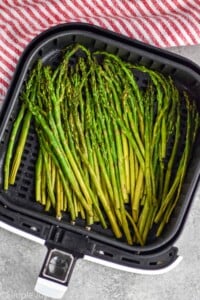 Air Fryer Asparagus
Air Fryer Asparagus is a fast, healthy, side dish recipe that comes together in just 20 minutes. This is the perfect vegetable to serve with just about any meat dish.
Ingredients
15

ounces

asparagus

(one bunch)

cooking spray

1/2

teaspoon

garlic salt
Instructions
Preheat the air fryer to 375 degrees.

Spray the basket of the air fryer with cooking spray. Add half of the asparagus and spray with cooking spray. Sprinkle 1/4 teaspoon garlic salt over them. Repeat with the second half of the asparagus.

Cook the asparagus in the air fryer for 3 minutes. Toss and continue cooking for 3 more minutes. (Thin asparagus will take less time, thicker asparagus will take longer.)

Check to ensure that the asparagus is tender. If not, add an additional minute of cooking. Otherwise, enjoy!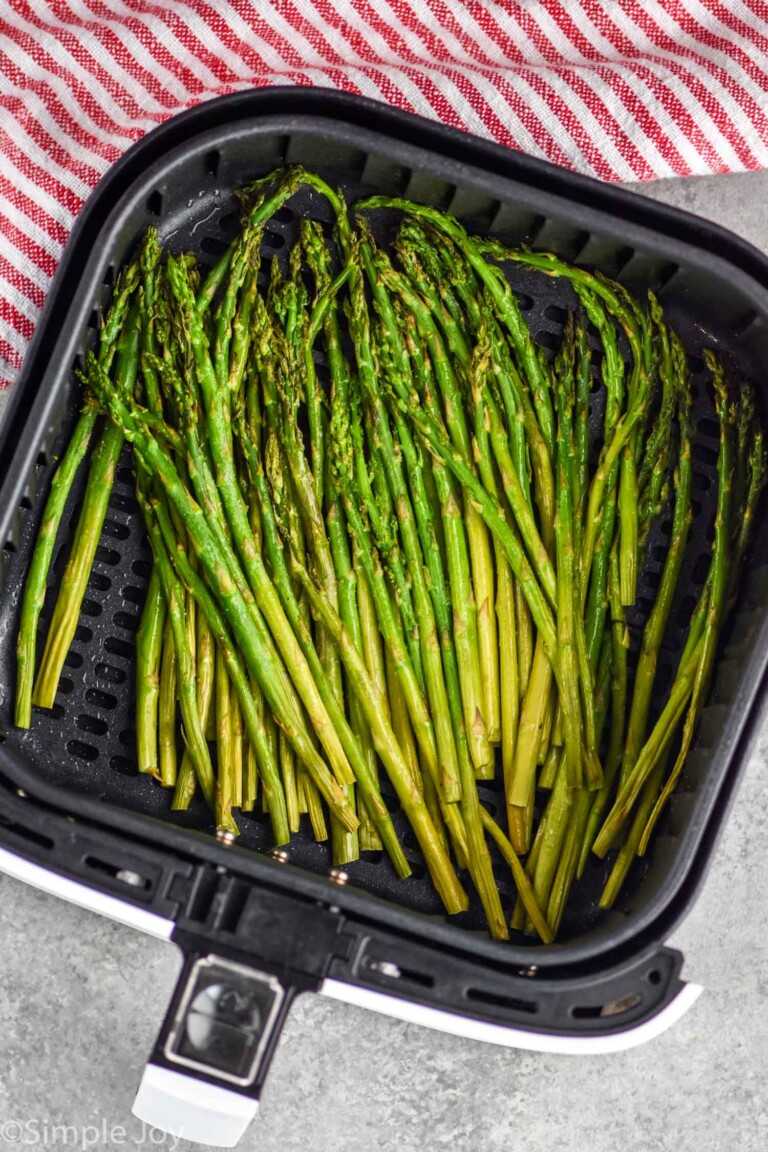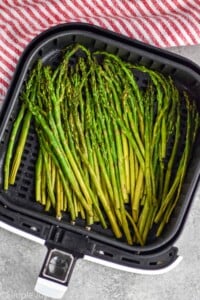 did you make this
Air Fryer Asparagus