This Creamy Tomato Bisque will make you feel like you are eating at a fancy cafe, right at home! Thank you V8 for sponsoring this post and helping me create this amazingly delicious soup!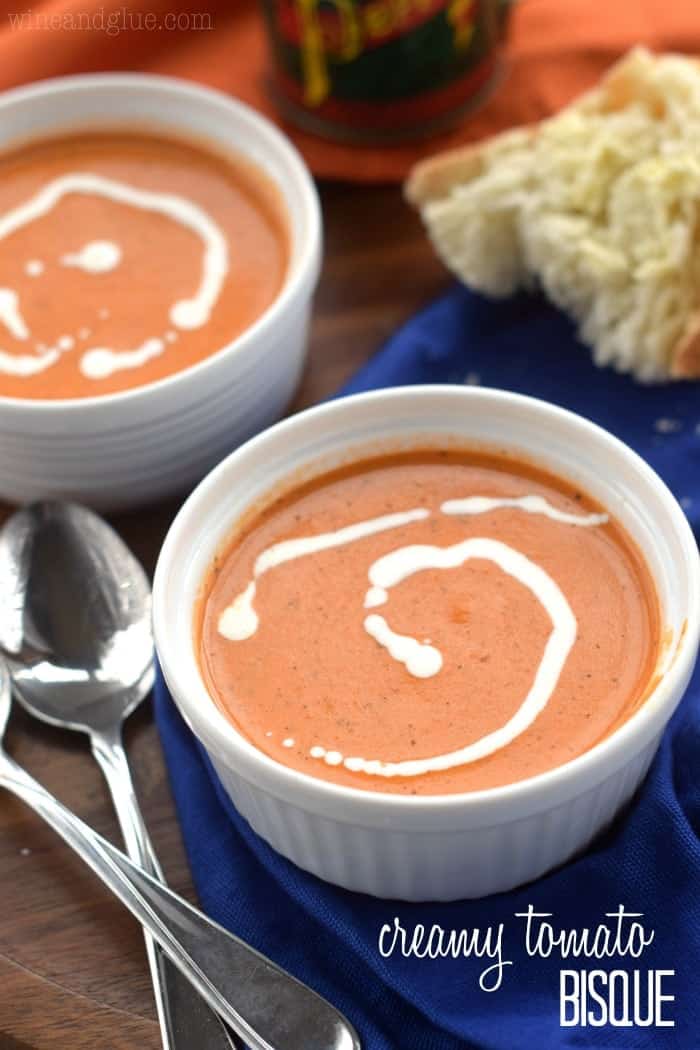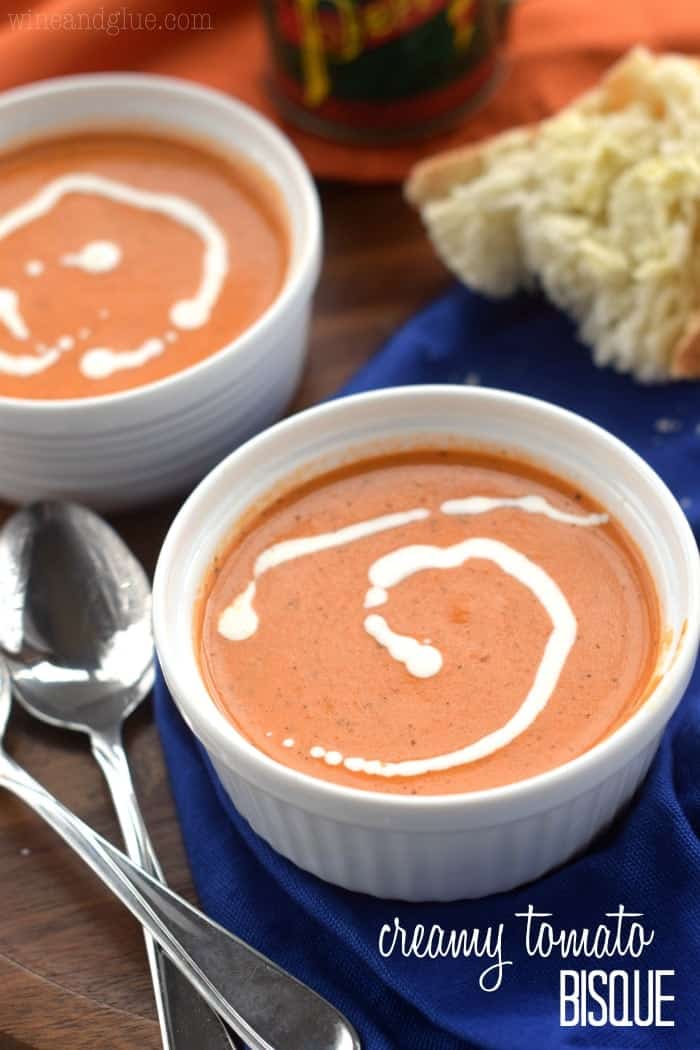 The other day I asked on my FB page what you like to cook the most. Lots of people responded with their love for baking, which I totally get. What I didn't expect, was how many people would comment that they have been loving making soups.
I was so pumped, because I had just spent the day making this amazing soup and photographing it.
I love a good soup recipe too! In the winter, my family eats soup like once a week. We would probably eat it more, but my kids don't really get the concept of soup . . . like why is it so wet?? What is with all the liquid? Isn't liquid for drinking not . . . eating?? We gave up on them ages ago and now just make hearty soups that we can strain. I'm not even kidding. We take slotted spoons to our soups and give them the innards. It kind of works out well, because it leaves lots of delicious broth for my husband and I to soak up with our crusty bread.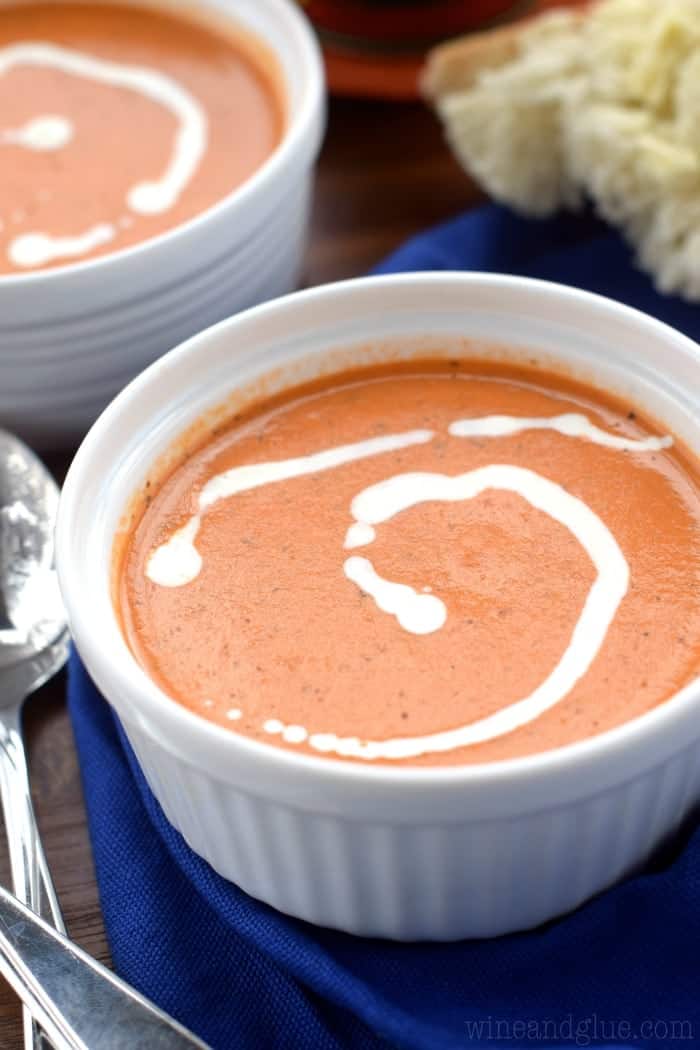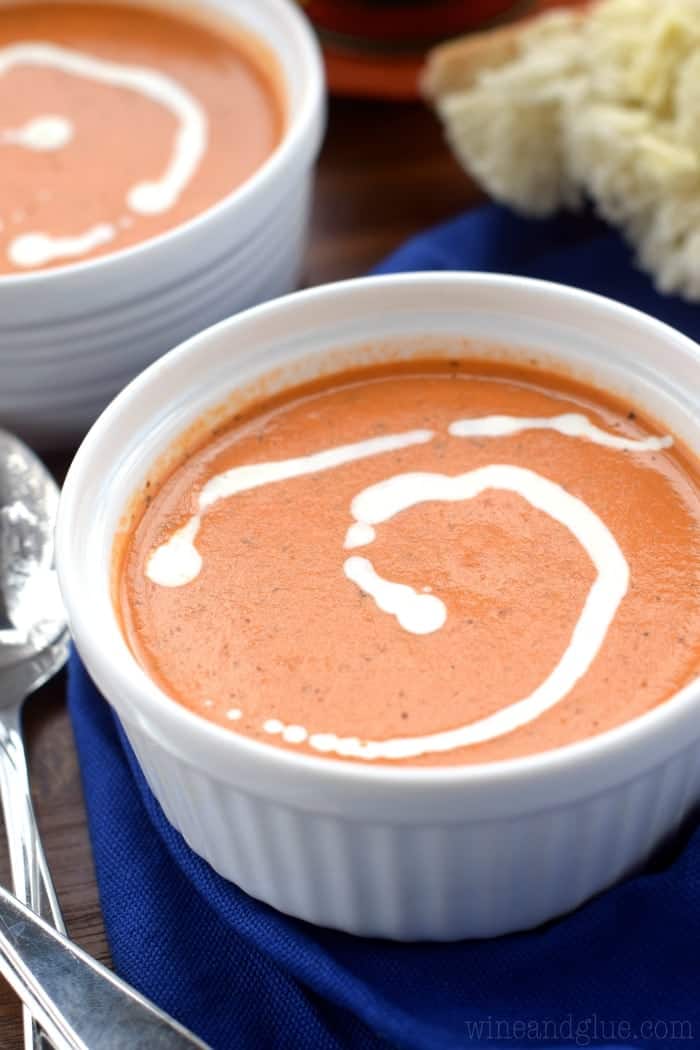 I have a decent number of soups up on Wine & Glue, and if I'm being honest, it takes everything in me to not have each and everyone have a tomato base. OMG. There is just nothing more comforting than a soup that starts with tomatoes. So it was about time that I made a Creamy Tomato Bisque, right??
The base of this Creamy Tomato Bisque starts with some V8. And, seriously, it could have not worked better in this soup. It's flavor was spot on for it, and besides, each cup is packed with two servings of vegetables! I think I just found my new go to starter for soups!
If you haven't already read about V8's #V8VegOut campaign, you can read all about their dares here. Why does V8 want you to Veg Out with them?? They LOVE veggies! For over 80 years they have been creating amazing products packed with veggies, and they want the world to share in their love.
So if you are looking for a delicious way to veg out, then you must make some of this delicious and warm soup!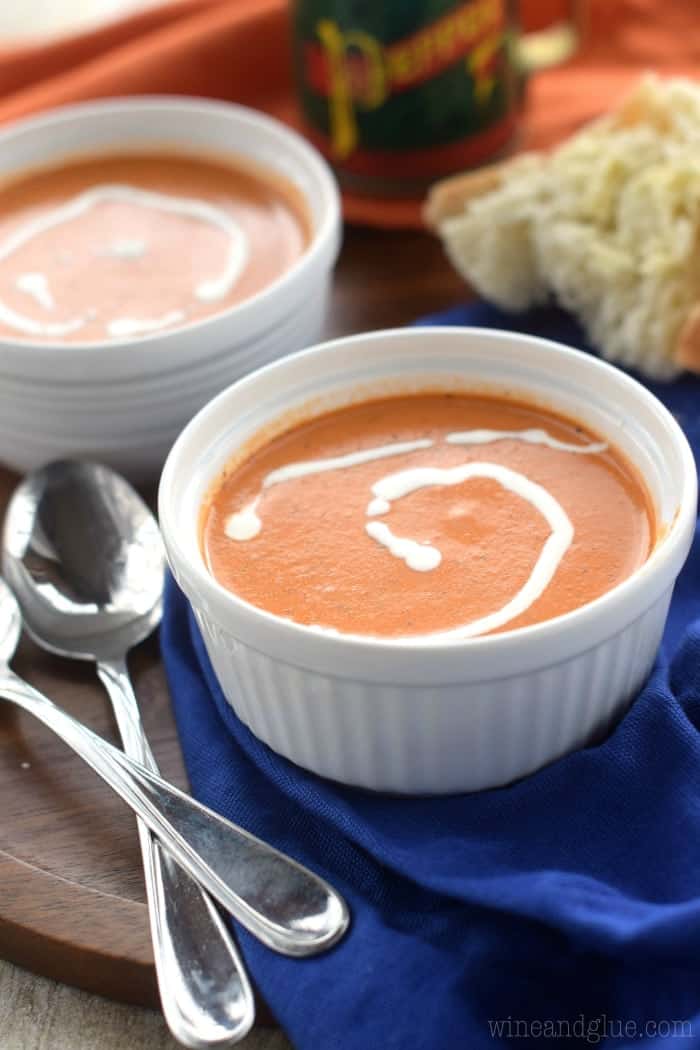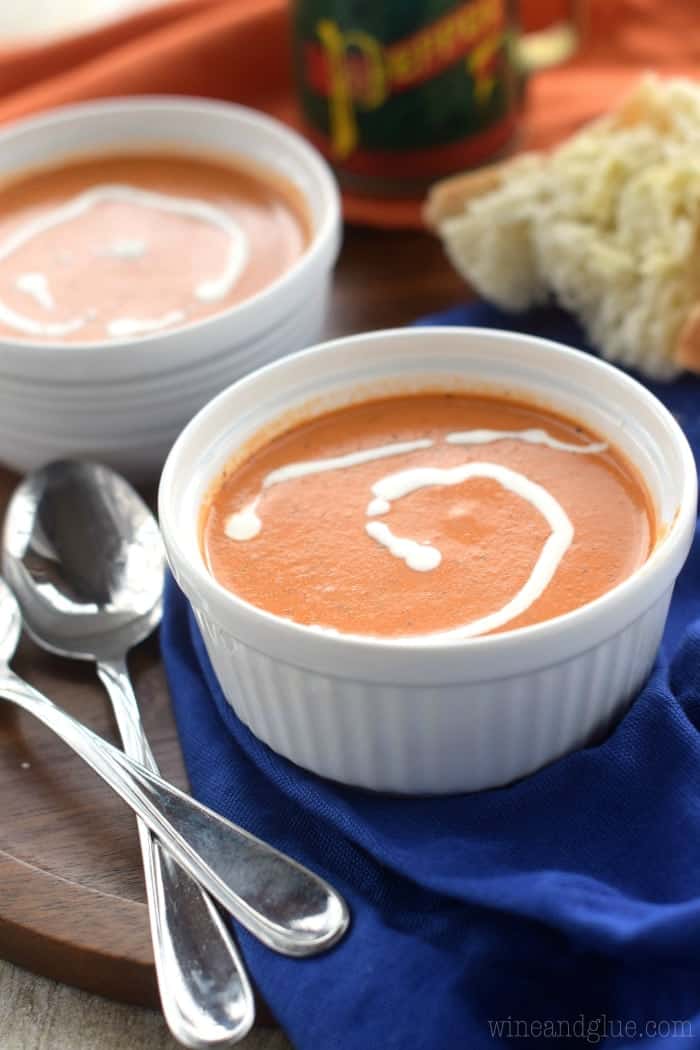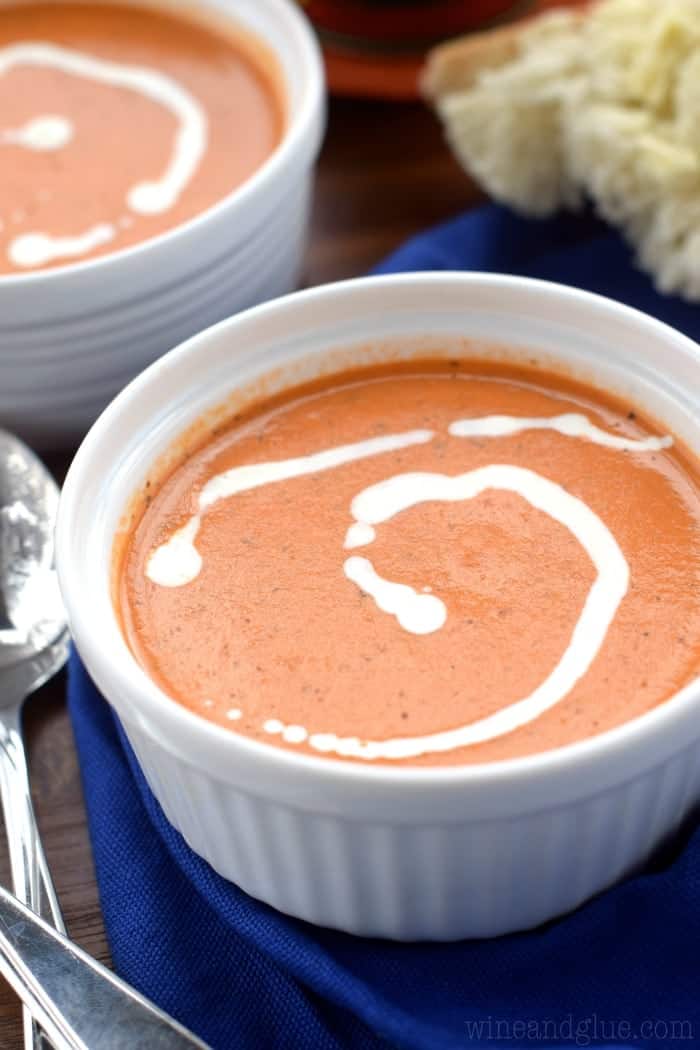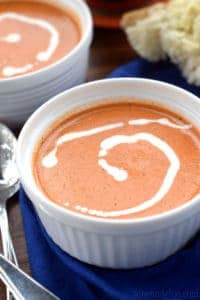 Creamy Tomato Bisque
Ingredients
3

TBSPs

unsalted butter

1/2

of a small red onion

diced

2

garlic cloves

diced

1/2

TBSP

dried basil

1/2

tsp

kosher salt

1/4

tsp

pepper

1/2

tsp

crushed red pepper flakes

2

TBSPs

all purpose flour

2

cups

V8

28

oz

whole tomatoes and their juice

1

cup

heavy cream
Instructions
In a large stock pot over medium low heat, melt butter. Add garlic, red onion, salt, and pepper. Cook until the onion is translucent, about 5 to 7 minutes. The pieces of onion should break apart very easily with the end of a wooden spoon.

Whisk in the flour and continue cooking until the flour is fragrant and a light brown color.

Whisk in the V8 a little at a time, about a few tablespoons at a time, only adding more V8 once the previous amount is fully whisked in.

Stir in the crushed red pepper flakes and basil.

Add the tomatoes and bring to a boil. Then reduce to a simmer and continue cooking, covered, for 15 minutes. At a simmer the bubbles should be the size of small grapes.

Either using an immersion blender or working in batches with a stand blender, puree the soup.

Remove from the heat and gently stir in the heavy cream.

Serve with crusty bread.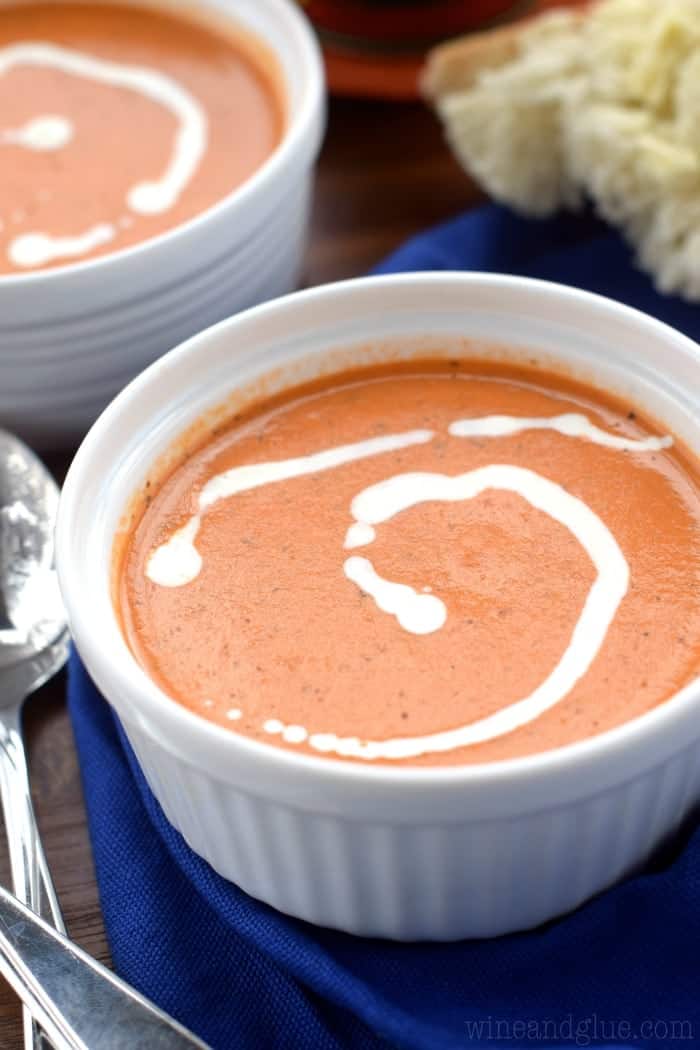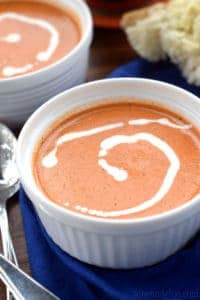 did you make this
Creamy Tomato Bisque