This Chicken Wrap recipe is such an easy weeknight dinner. Done in about 25 minutes and delicious, these will become a regular meal in your house.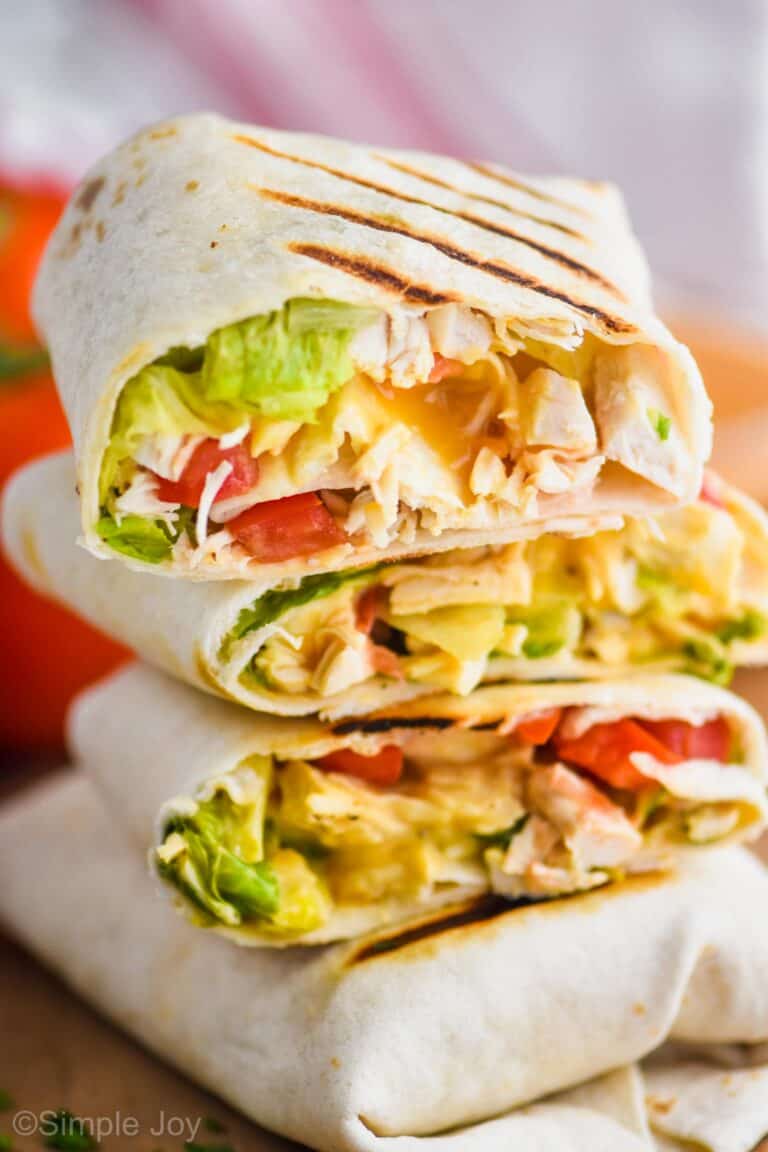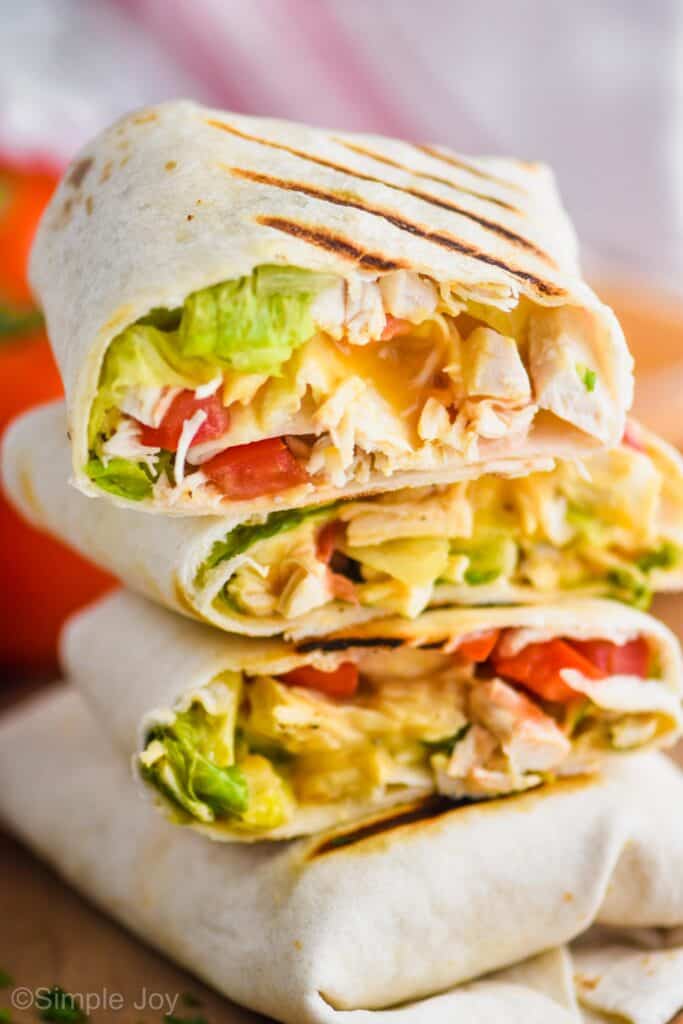 I am so happy to be sharing this easy lunch recipe with you today! It is perfect for dinners too, and your family will them. These Chicken Wraps come together so quickly, and have the perfect flavors.
I almost feel guilty calling these a recipe, but I know you will love having a fast recipe that you can make for Saturday lunches or weeknight dinners. This is the perfect recipe for a family on the run.
If you are looking for more recipes to throw on the grill, this one is perfect. But we make it year round using our indoor grill pan.
Chicken Wrap Ingredients
Be sure to scroll to the bottom of the post to get the full amounts of each ingredient and now to put this great recipe together.
Cooked Chicken (see below)
Romaine Lettuce
Roma Tomatoes
Red Onion
Shredded Cheese
Flour Tortillas
Please note that you need at least 9 inch sized tortillas to make this wrap work. These are the Burrito Sized tortillas in the store.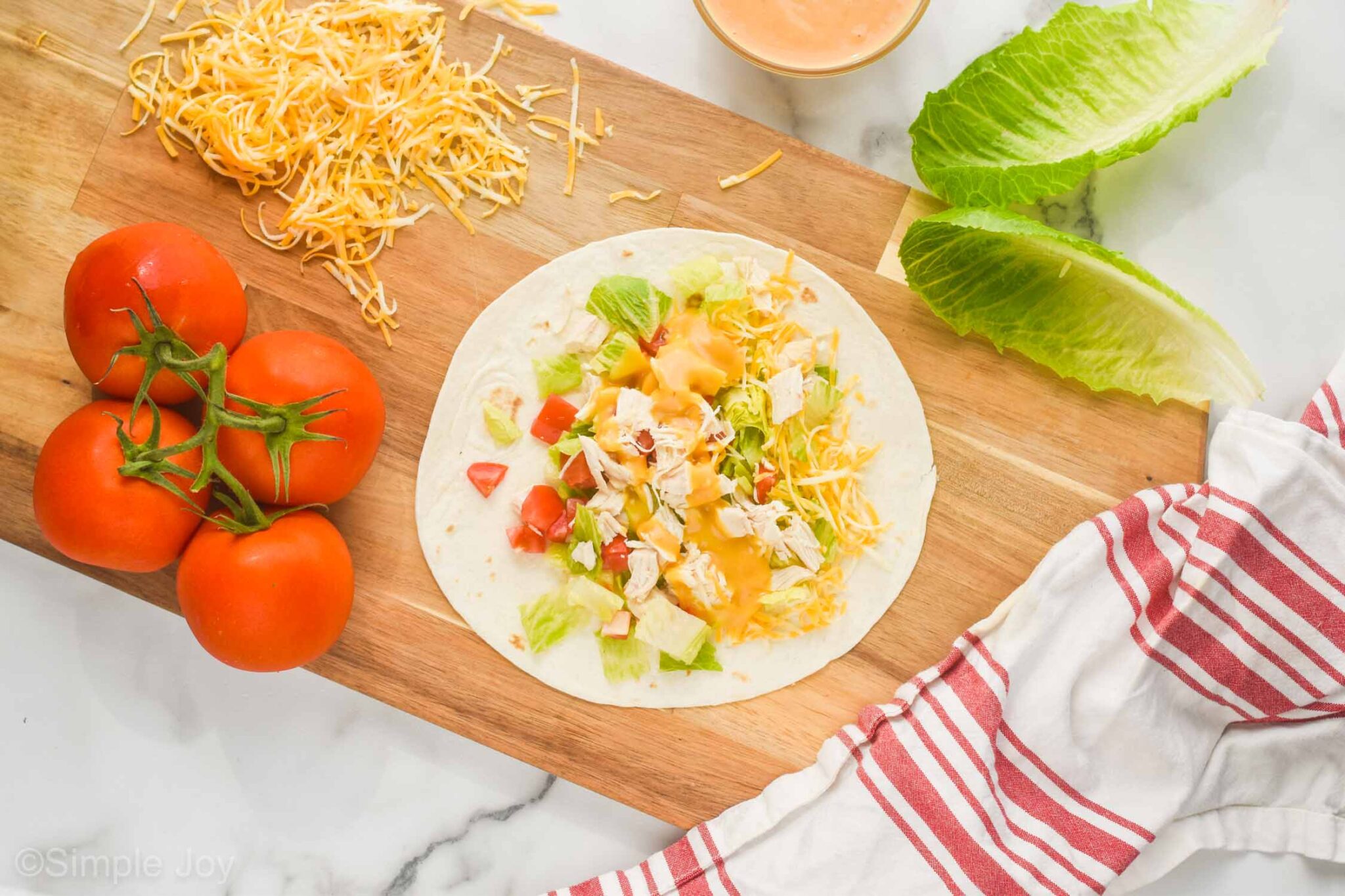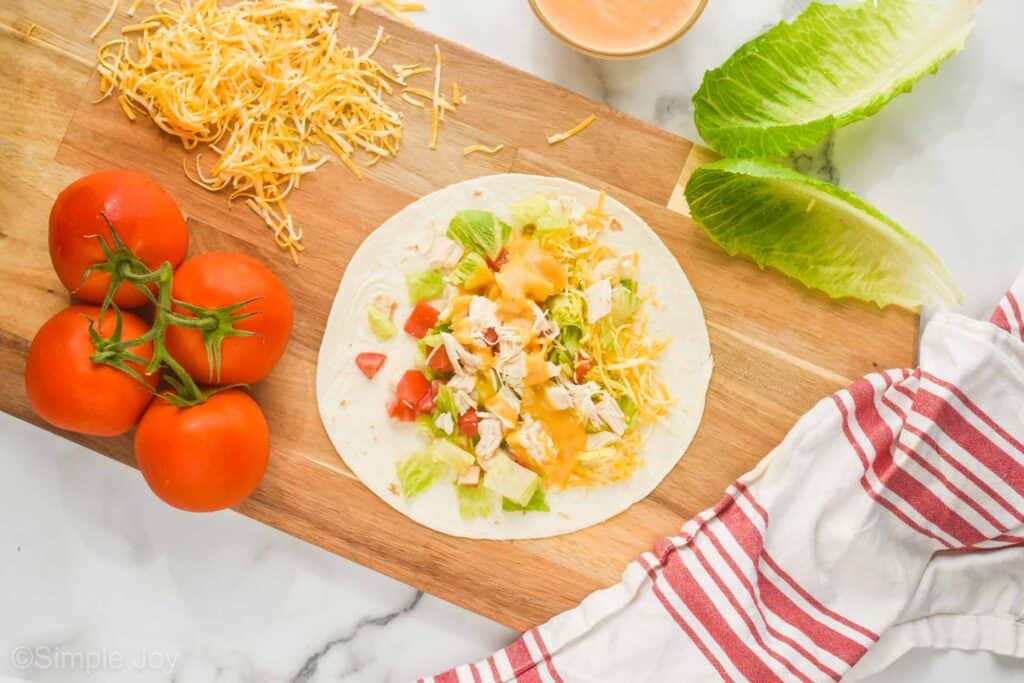 How To Make Shredded Chicken
Shredded chicken is very easy to make for this recipe or any other recipe. For this recipe you will need just under a pound of chicken.
Cover the chicken breast completely with water and bring to a boil.
Simmer for 4 to 10 minutes. The thickness of the breasts will determine how long you need to cook it.
Cook until it reaches an internal temperature of 165 degrees.
I love cooking mine with an instant read thermometer in it. The one linked has a long cord so it can stay in the whole time it is cooking and alert you when the chicken is done.
Alternatively, you could buy a rotisserie chicken or make shredded chicken in the Instant Pot.
What Sauce to Use
I think this recipe is perfect using my Chick Fil A Sauce (a Honey BBQ based sauce). It makes it so much like a Chick Fil A Wrap. That being said there are lots of other sauces that would be great in this.
Garlic Aioli
Pesto
Sriracha Mayonnaise
Chick Fil A Sauce Recipe
This simple Chick Fil A Sauce is just like what you get at your favorite restaurant. Put it on your favorite chicken sandwiches or just use it for dipping fries!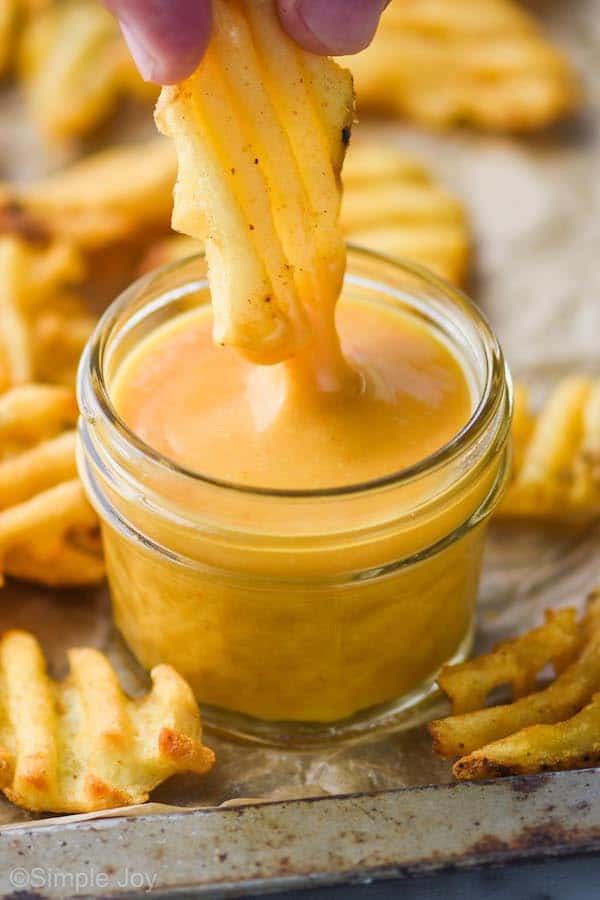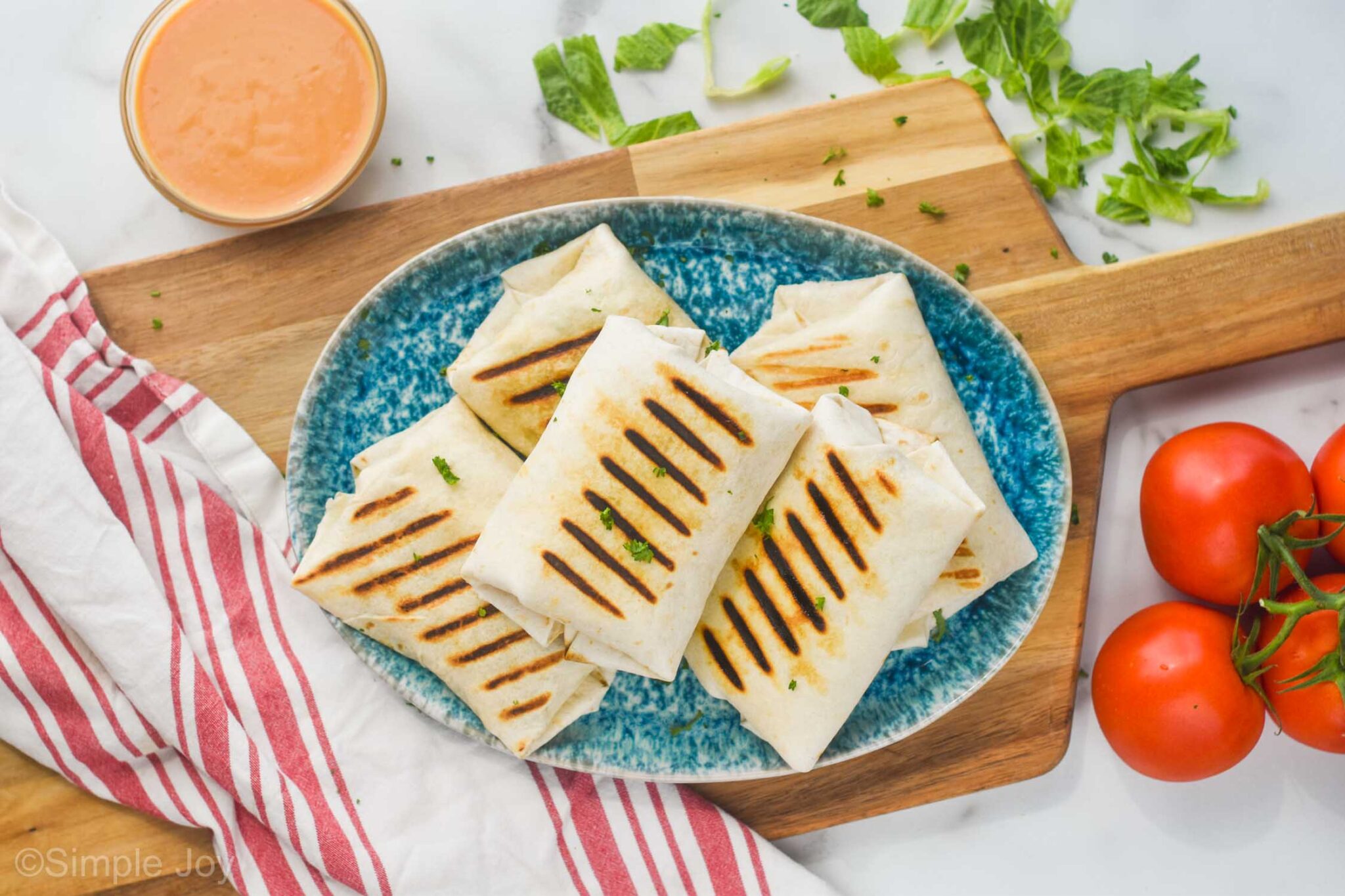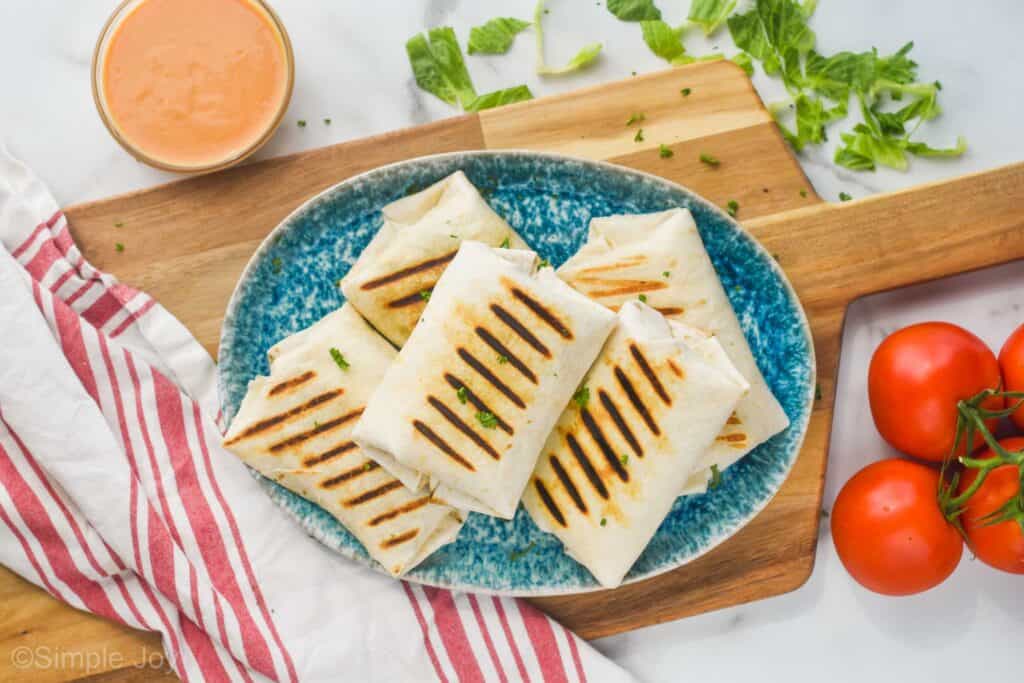 How to Grill a Chicken Wrap
I think one of the best parts about this recipe is the crispy outside and melty cheese inside that you get from grilling them. To grill them:
Fold the outsides of the wrap in on itself.
Then roll it up.
Place it seam side down on the hot grill.
Flip it over after 2 to 3 minutes, and grill it for 2 to 3 more minutes.
If it starts to open up on the grill after flipping, stick a tooth pick through it to secure it.
I think these are great to make on an indoor grill pan. You can see my favorite linked below under.
TOP PICK
Grill Pan
I love this indoor grill pan! It's small and manageable, perfect for burgers or these great wraps.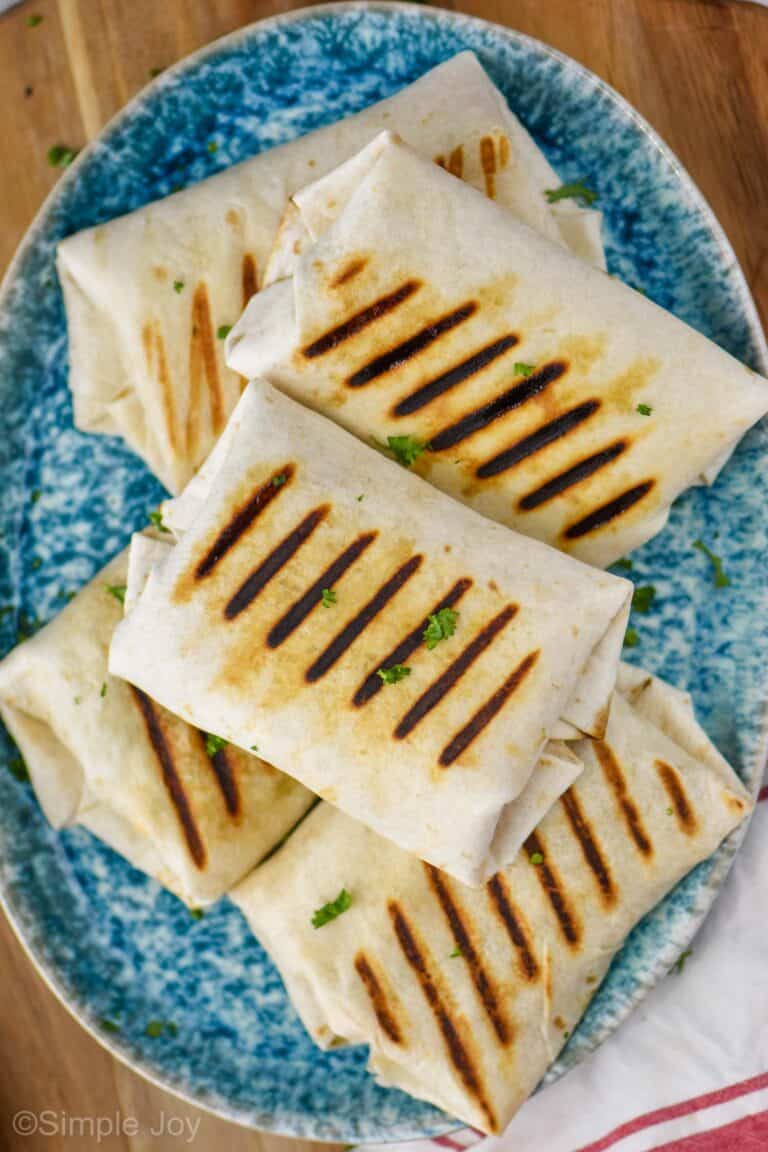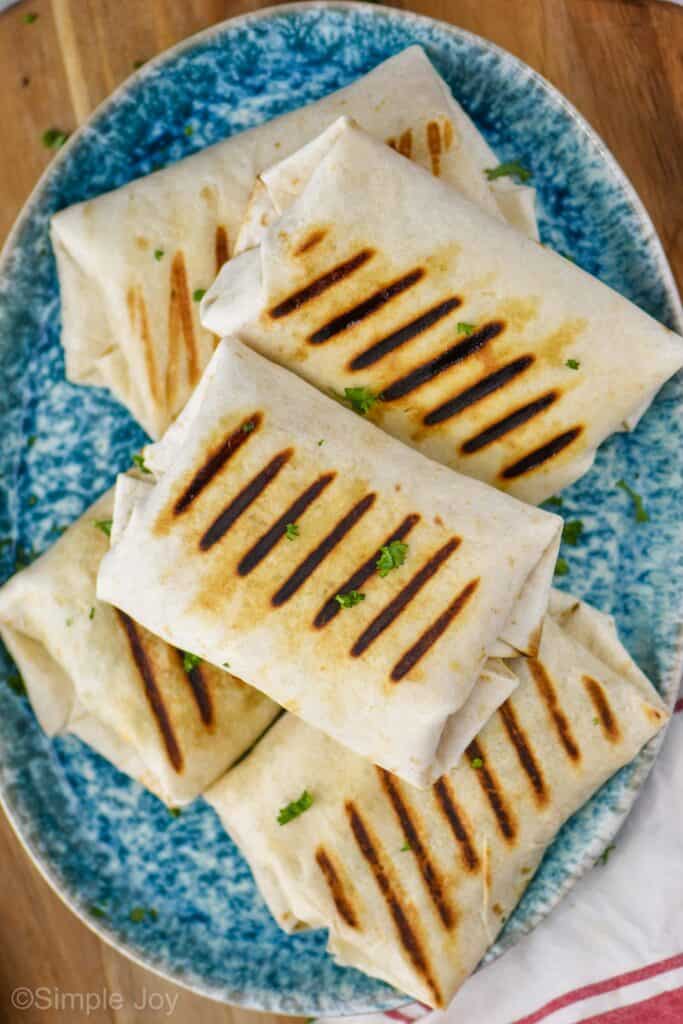 FAQ
Do I need to grill chicken wraps?
While I think that these are great grilled, it is not absolutely necessary. These would also be wonderful just as a wrap packed in a school lunch.
Are chicken wraps eaten warm or cold?
These great wraps are delicious whether warm or cold. I particularly enjoy them fresh off the grill, but they are great both ways.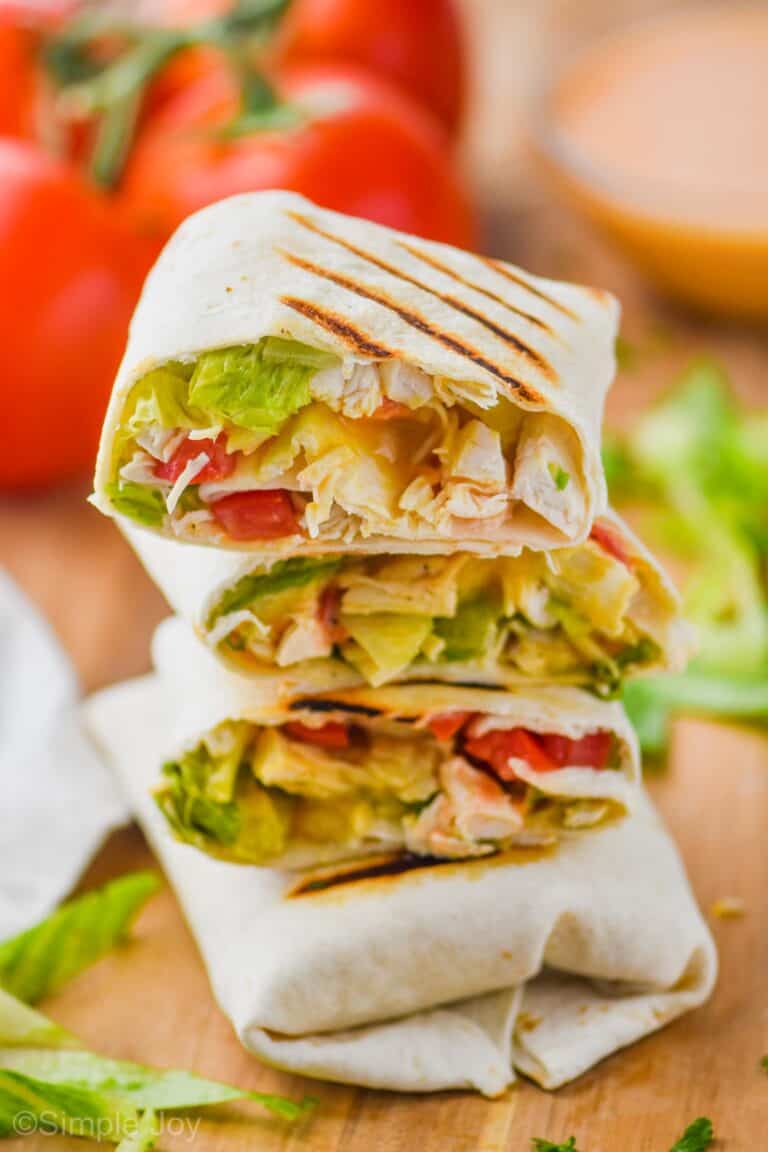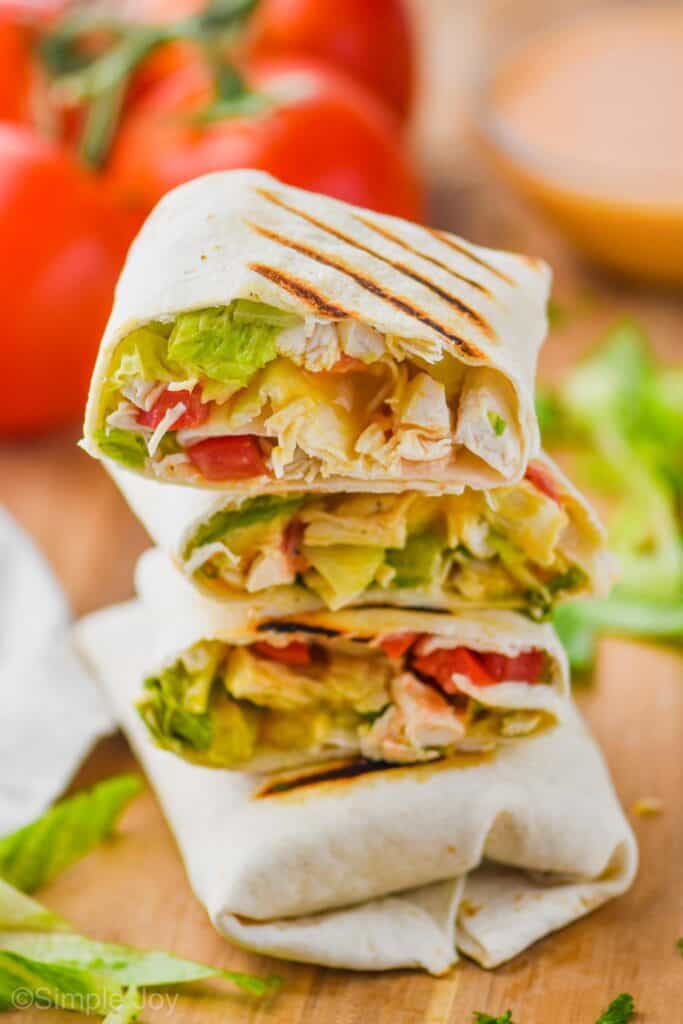 Other Easy Dinner and Lunch Ideas
If you make these Chicken Wraps or any of my other recipes, please leave me a comment and let me know what you think!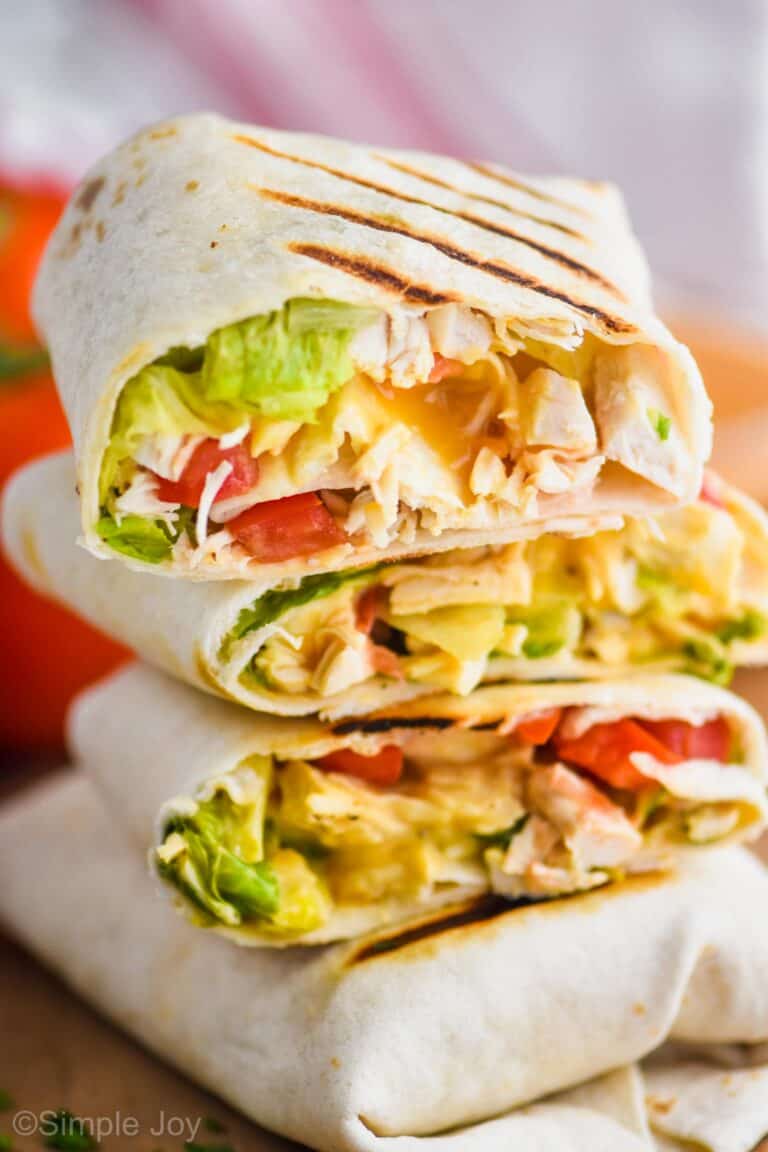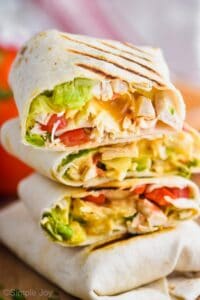 Chicken Wraps
This Chicken Wrap recipe is such an easy weeknight dinner. Done in about 25 minutes and delicious, these will become a regular meal in your house.
Ingredients
2

cups

cooked chicken

(See notes in the post about how to cook shredded chicken)

2

cups

chopped Romain lettuce

2

Roma tomatoes

diced

1/2

small red onion

diced fine

1

cup

finely shredded colby jack cheese

finely shredded

4

9 inch flour tortillas

(You are looking for burrito size)
Instructions
Heat a grill to medium low heat.

Divide the chicken, lettuce, tomatoes, onion, and cheese evenly among the tortillas.

Top each one with Chick Fil A Sauce. Fold in the ends about two inches, and then roll up the wraps.

Lightly grease the grill, and add the wraps. Cook for 2 minutes on each side.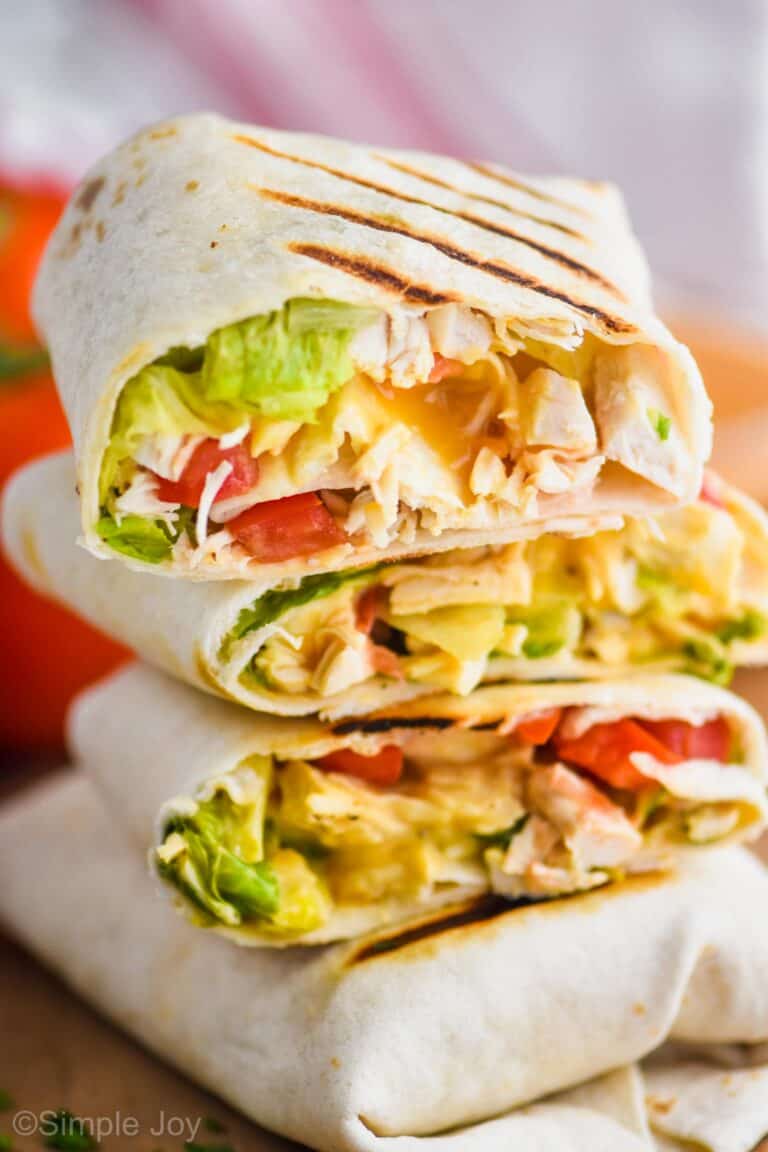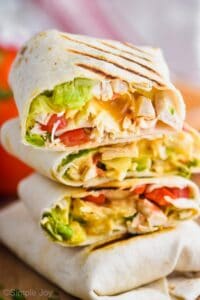 did you make this
Chicken Wraps
you might also like . . .