This super easy Ramen recipe is your favorite take out at home! Easy to make with pantry and freezer staples.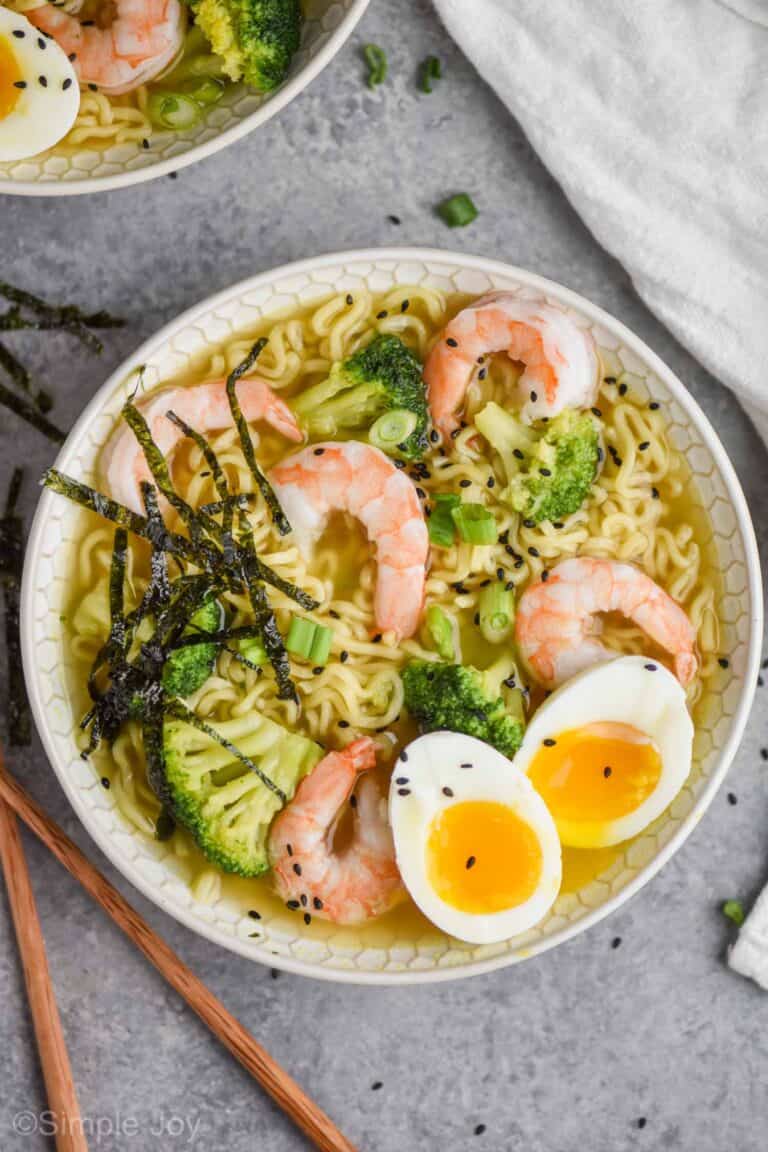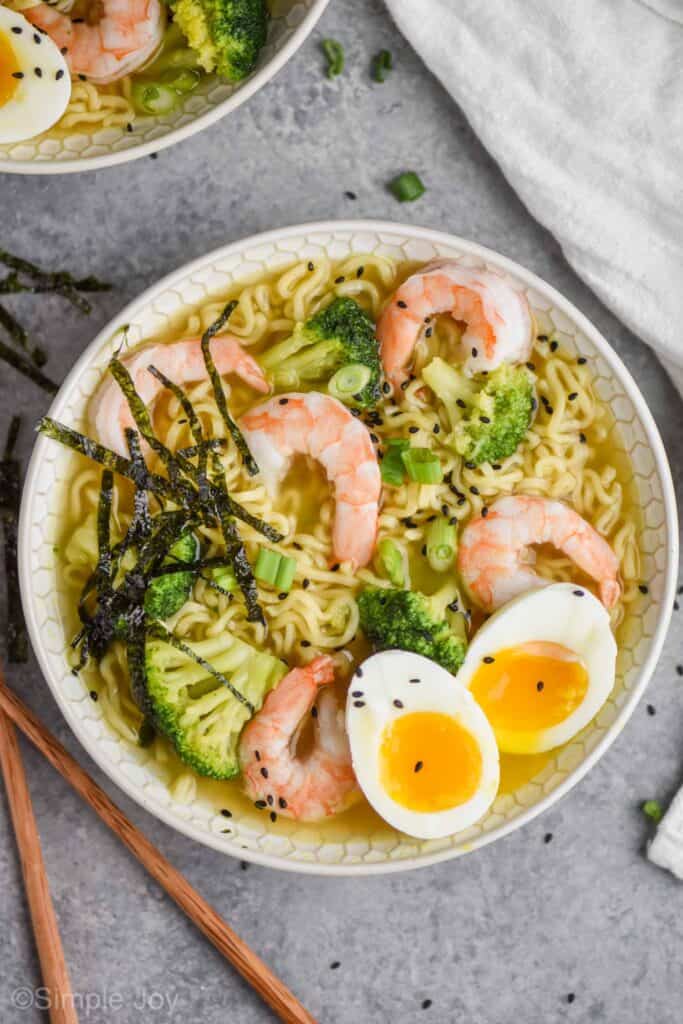 It feels so silly, but not being able to go out to restaurants on date nights with my husband right now feels hard. Big picture, I know it's not a big deal. But yeah, it's something I really miss.
One of our favorite places to go is this great little Ramen restaurant downtown. What they bring out is so simple, but also so comforting and delicious.
I decided to make it at home, and thought you might enjoy this really easy recipe that your kiddos will love. It's also made with things you can find in your freezer and your pantry.
I made it for lunch for Gavin and I and we devoured it!
HOW TO MAKE RAMEN – THE EASY WAY
While this isn't as fancy or authentic as the restaurant ramen, it is delicious. Plus, it felt important to me to give you more options that are simple.
package ramen noodles
frozen shrimp
frozen broccoli
soy sauce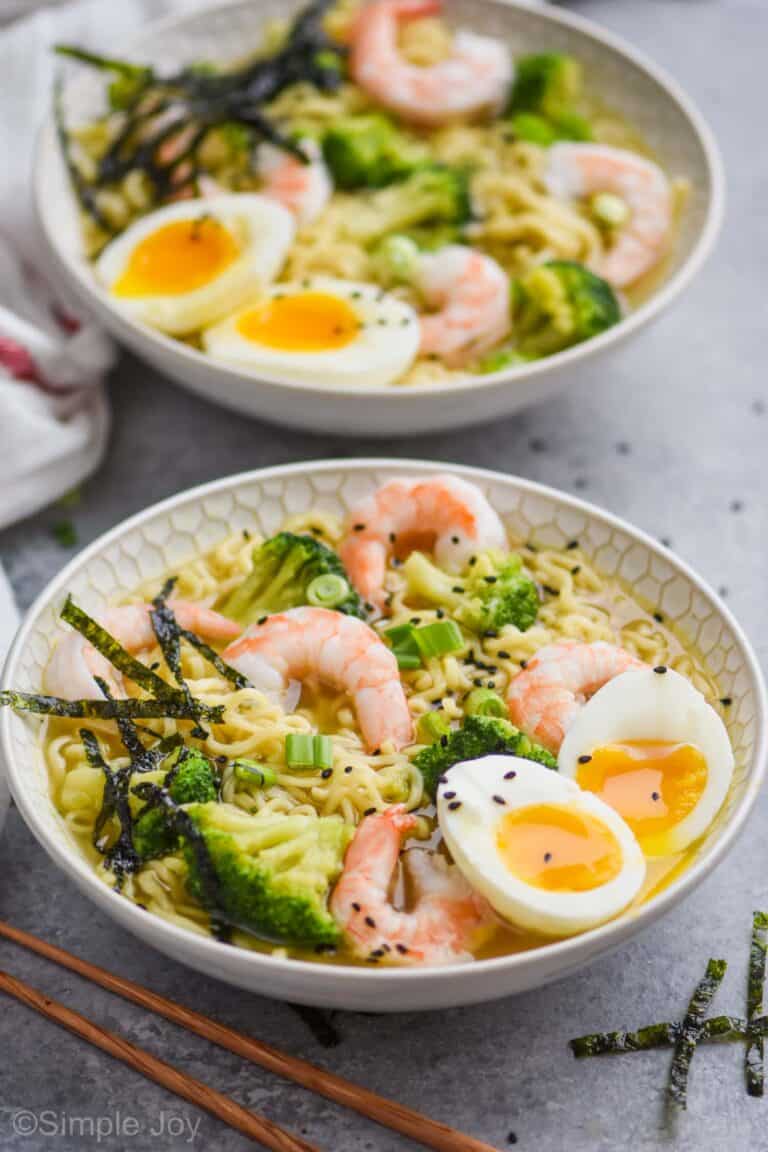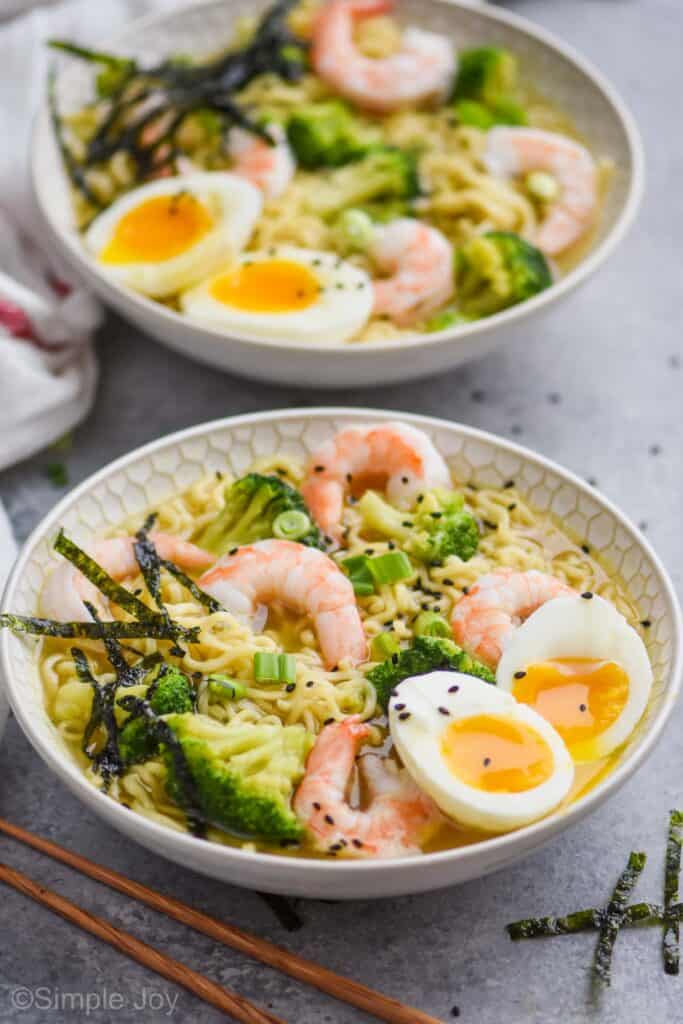 EXTRAS
When you order ramen at a restaurant it is totally custom. You add different things to your bowl. Every time I go I try to remember what I had last time.
So the above ingredients are the basic, what I think your kids would love. Below are extras that I threw in mine and loved!
garlic
ginger
soft boiled egg
black sesame seeds
fresh green onions
seaweed
chili paste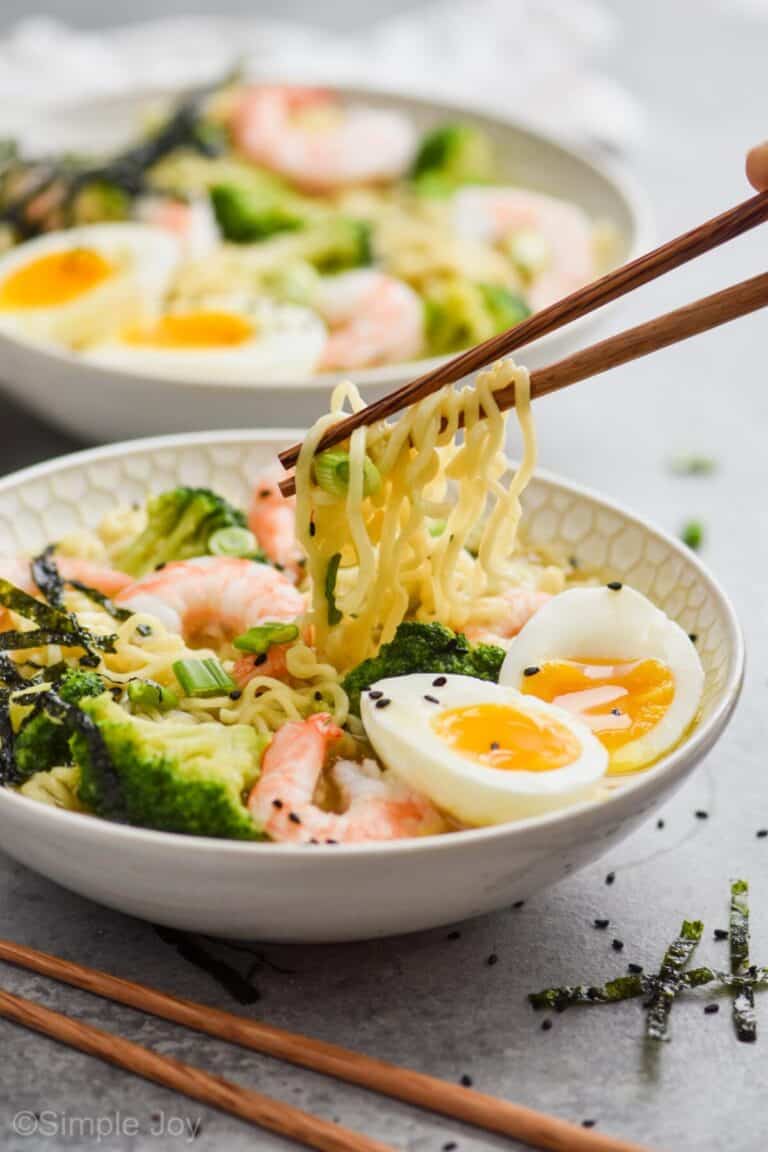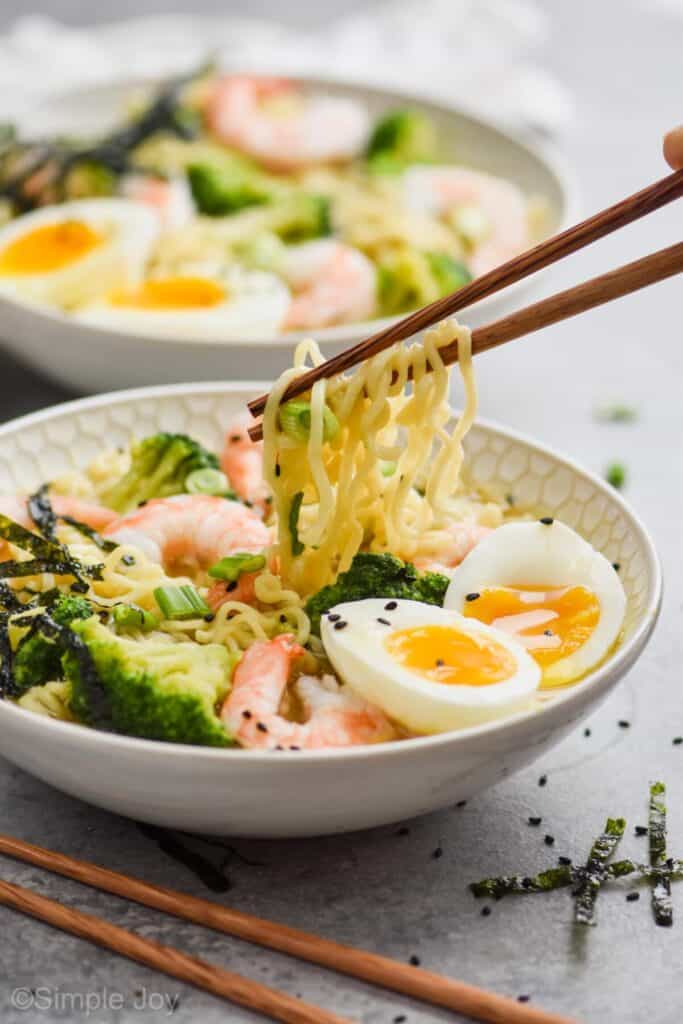 WHERE TO FIND SEAWEED
If you haven't discovered snack sized seaweed, I'm about change your life. You can find it in these small rectangular packages at several different stores. Theres even a whole sale chain that sells them by the 10 pack.
They are amazing, delicious, and like 100 calories a pack. When cut in tiny strips with scissors they make the perfect accoutrement for ramen.
HOW TO MAKE A SOFT BOILED EGG
Soft boiled eggs are pretty essential to a ramen bowl in my mind. (Not for my kiddos though.) It is a lot like making a hard boiled egg, but less time.
Put the number of eggs you need in a pot with just enough water to cover them.
Bring to a boil. (I like using a pot with a clear lid to know exactly when we hit boiling.)
Turn off heat and set timer for 6 minutes.
When timer goes off, move to a bowl filled with ice water. Let sit for 5 minutes.
Please note that soft boiled eggs are super hard to peel. You will have better luck the older the egg is. Either way, it will look gorgeous in your homemade ramen.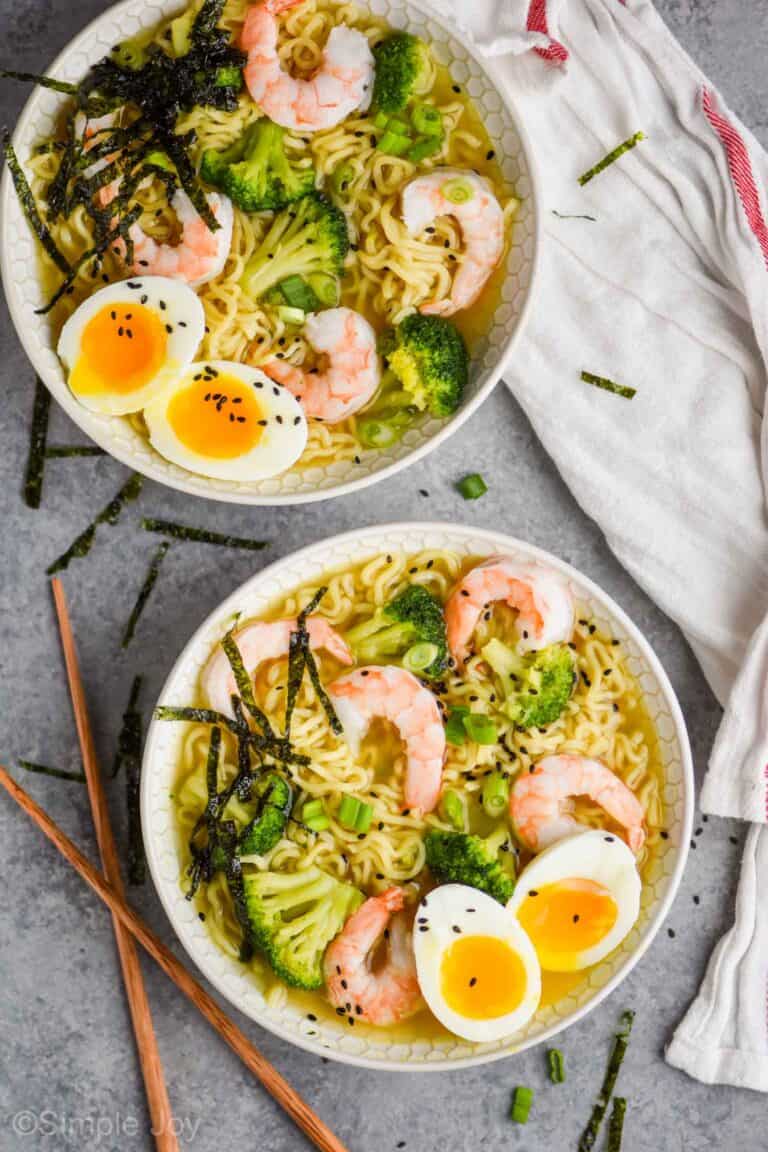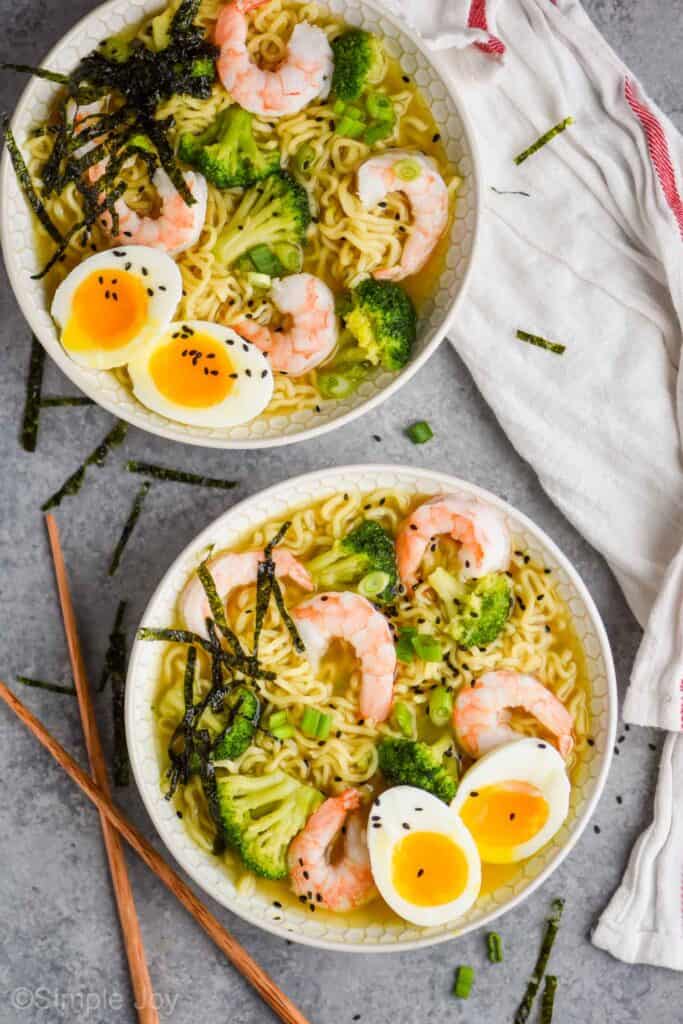 SPICY RAMEN
At our favorite restaurant you can add levels of spice. At home, I just add a teaspoon of chili paste to the broth after dishing up my portion. You can consider 1 teaspoon of chili paste a level one and it goes up a level with each additional teaspoon.
Another option to have spicy ramen at home is order this particular brand off of Amazon. One of my husband's old coworkers insisted that he wouldn't be able to eat a whole package of it.
His coworker was wrong.
But you have been warned, it is pretty spicy.
OTHER EASY DINNER RECIPES
If you are avoiding the grocery store and need more recipes with ingredients that either freeze well or are already in your pantry, here are a few ideas:
Crockpot Sloppy Joes: You need a fresh green pepper, an onion, and ground beef. Otherwise it will be all pantry ingredients.
Black Bean Tacos: All pantry items and so very delicious. Even if you skip the cabbage and radishes, you will love these.
Hamburger Seasoning: All stuff in your spice drawer and pantry, plus ground beef for amazing hamburgers.
If you make my easy ramen recipe or any of these other delicious dinners, leave me a comment and let me know what you think!
While you are there, leave me a note letting me know how you are doing or what recipes you are looking for.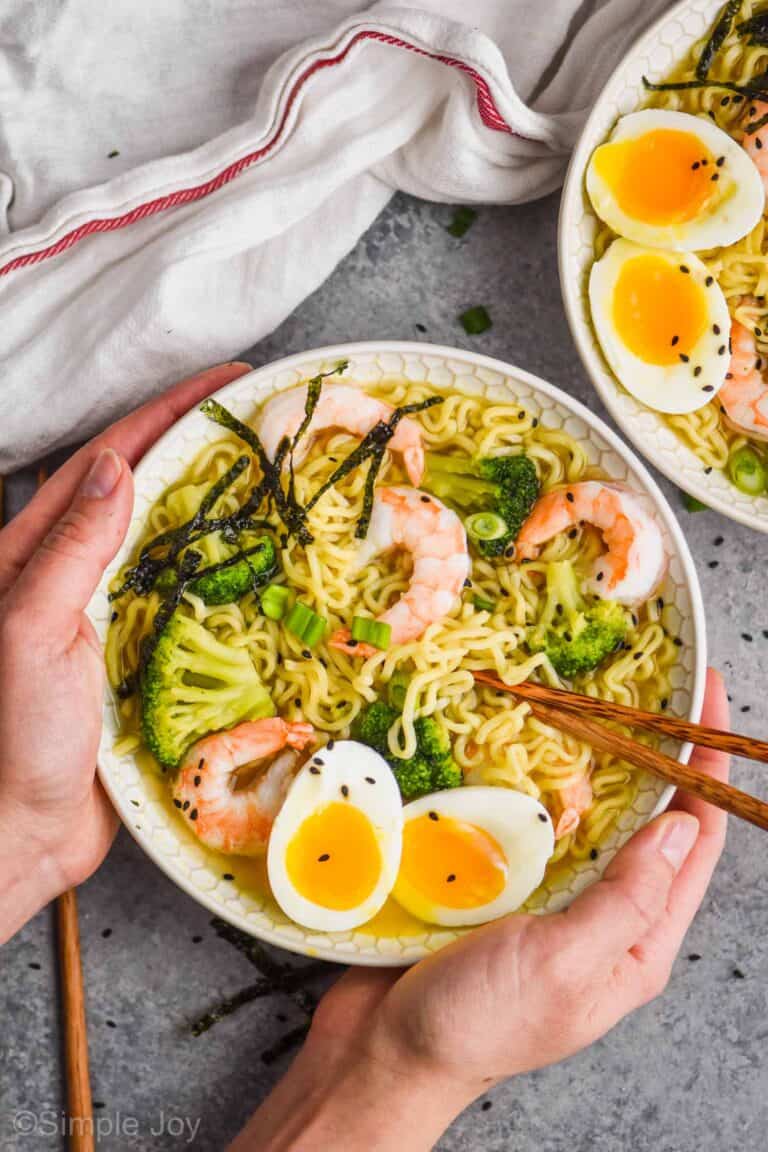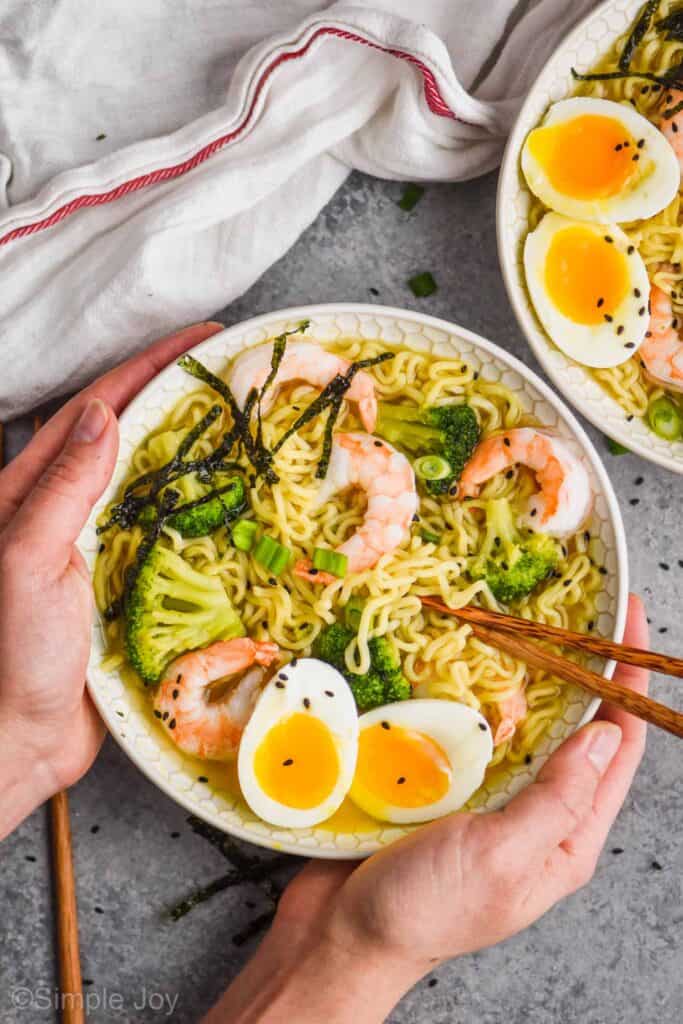 Please note that the recipe below is for two people. If I was making this for my family of five, I would just double it but only make 3 packs of noodles.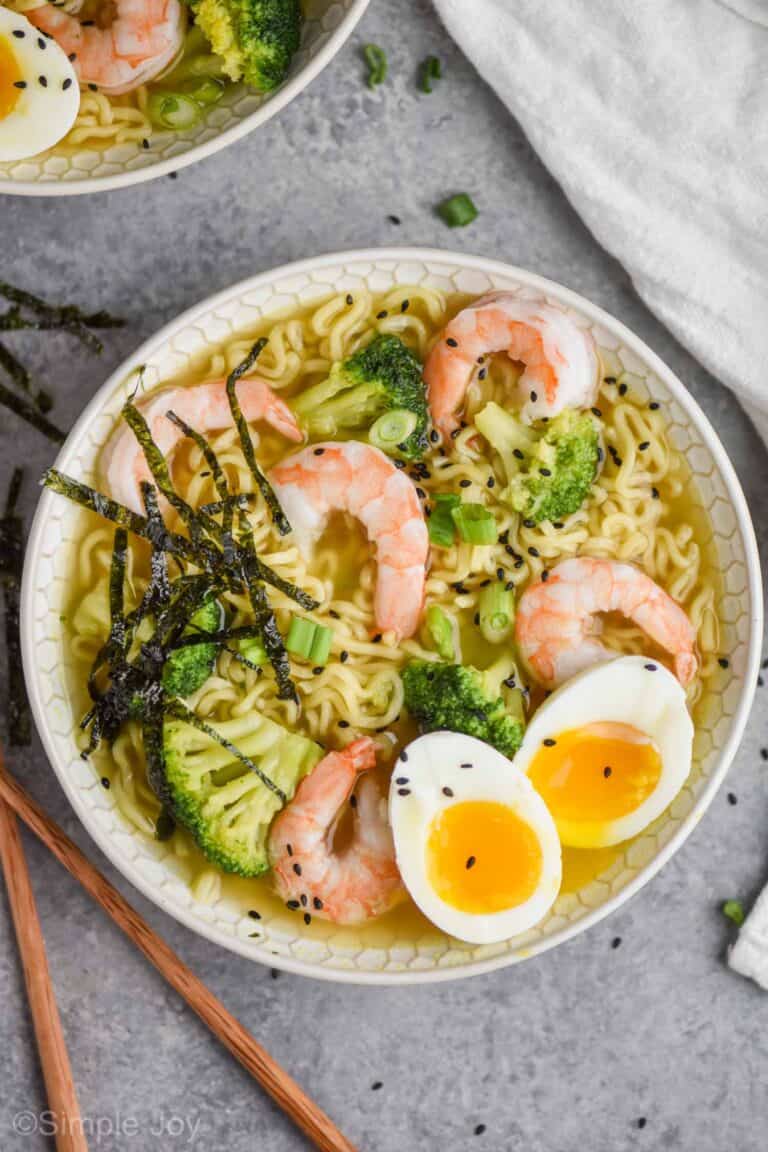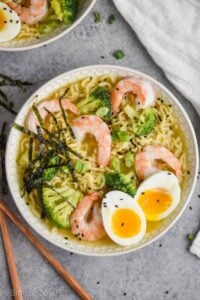 Easy Ramen Recipe
This super easy Ramen recipe is your favorite take out at home! Easy to make with pantry and freezer staples.
Ingredients
2

packages of ramen

(2.25 ounce packages)

2

cups

frozen broccoli

2

cups

frozen shrimp

thawed according to package instructions.

2

tablespoons

soy sauce
OPTIONAL INGREDIENTS (measurements are per serving)
1

clove

garlic

minced

1

teaspoon

freshly grated ginger

1

teaspoon

chili paste

(more for spicier ramen)

1

teaspoon

black seasame seeds

1

soft boiled egg

cut in half (see instructions in blog post)

1

tablespoon

green onions

sliced

1

sheet

seaweed

(snack size) cut in thin strips with scissors
Instructions
If you are making a soft boiled egg, start that process before you begin anything else.

Start thawing the shrimp.

Bring 4 cups of water to a raging boil. (If using the garlic and ginger, add them to the water as you put it on the heat).

Add in the two packages of noodles (not the seasoning) and the broccoli. Cook for 4 minutes.

Stir in the soy sauce, seasoning packets, and shrimp. Add in any optional ingredients. Serve immediately.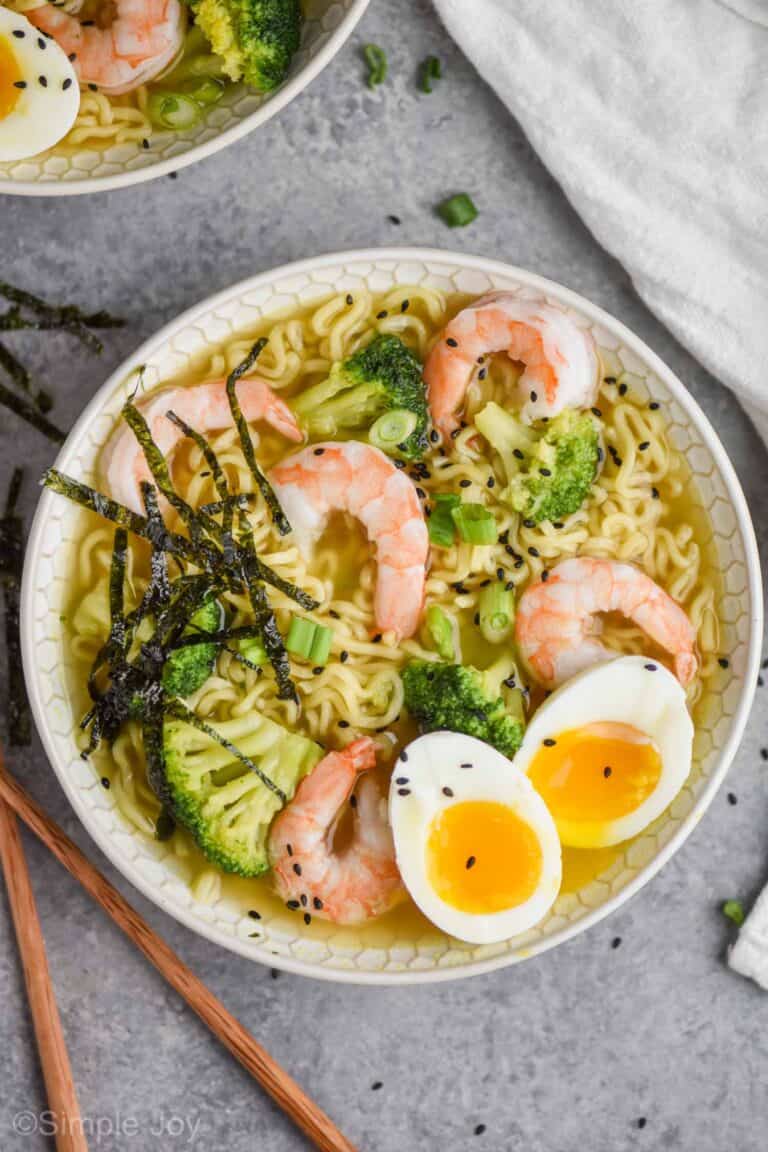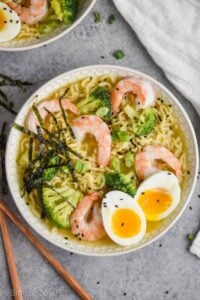 did you make this
Easy Ramen Recipe