Roasted Chickpeas are such an easy delicious snack. This recipe is the perfect, healthy afternoon snack that will keep you full until dinner.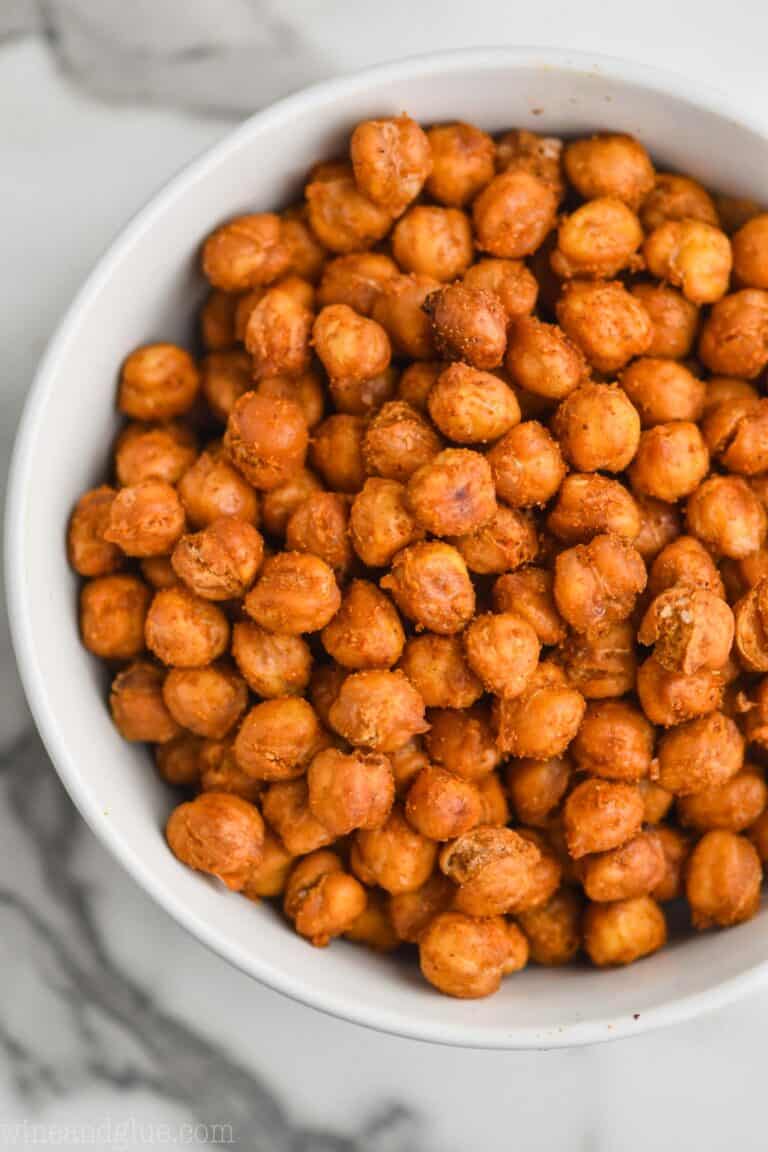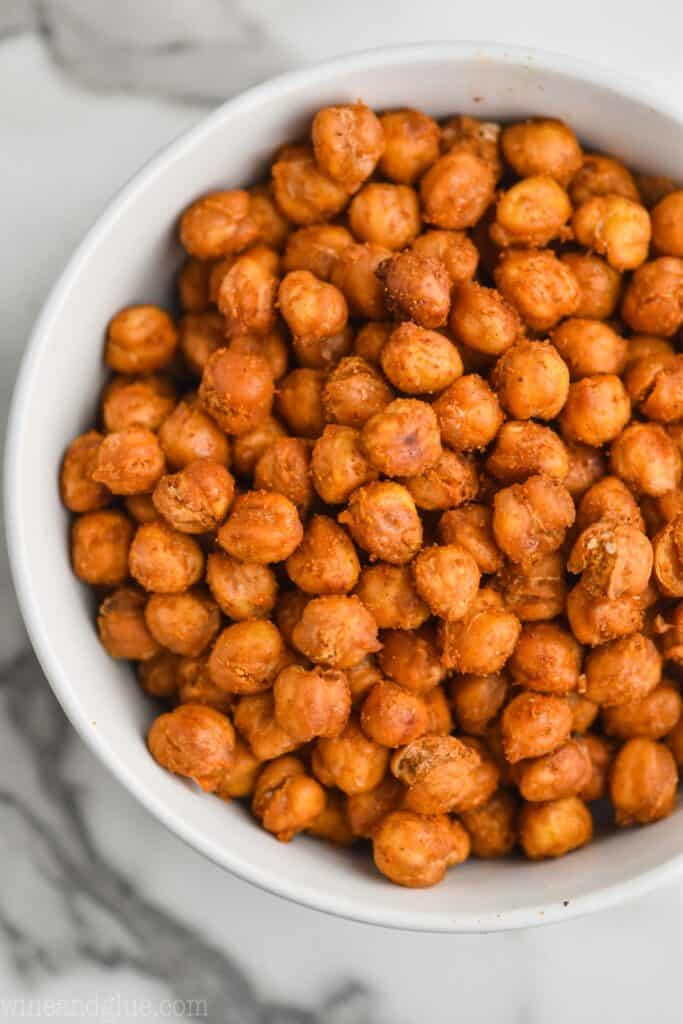 I have a pretty major obsession with chickpeas. I ate them all the time in salads while I was nursing my babies. They have the perfect balance of flavor and I love the protein they bring to the party.
Chickpeas are the backbone of hummus. They are a large part of what gives it it's smooth and creamy texture.
As much as I love chickpeas raw, today we are tossing them in the oven. Ladies and gentleman, let me introduce you to your new favorite snack: Roasted Chickpeas.
HEALTH BENEFITS OF CHICKPEAS
Chickpeas (or garbanzo beans) are like a wonder food. A little bean with a super hero cape.
Their ratio of calories to protein is impressive. And they are lower on the carb side while also having fiber. (Learn more about the breakdowns here.)
All of this is to say they are perfect for a healthy snack.
HOW TO ROAST CHICKPEAS
In this recipe we are using canned chickpeas to cut time. If you want to make this using dry chickpeas, you can see how to prepare them here.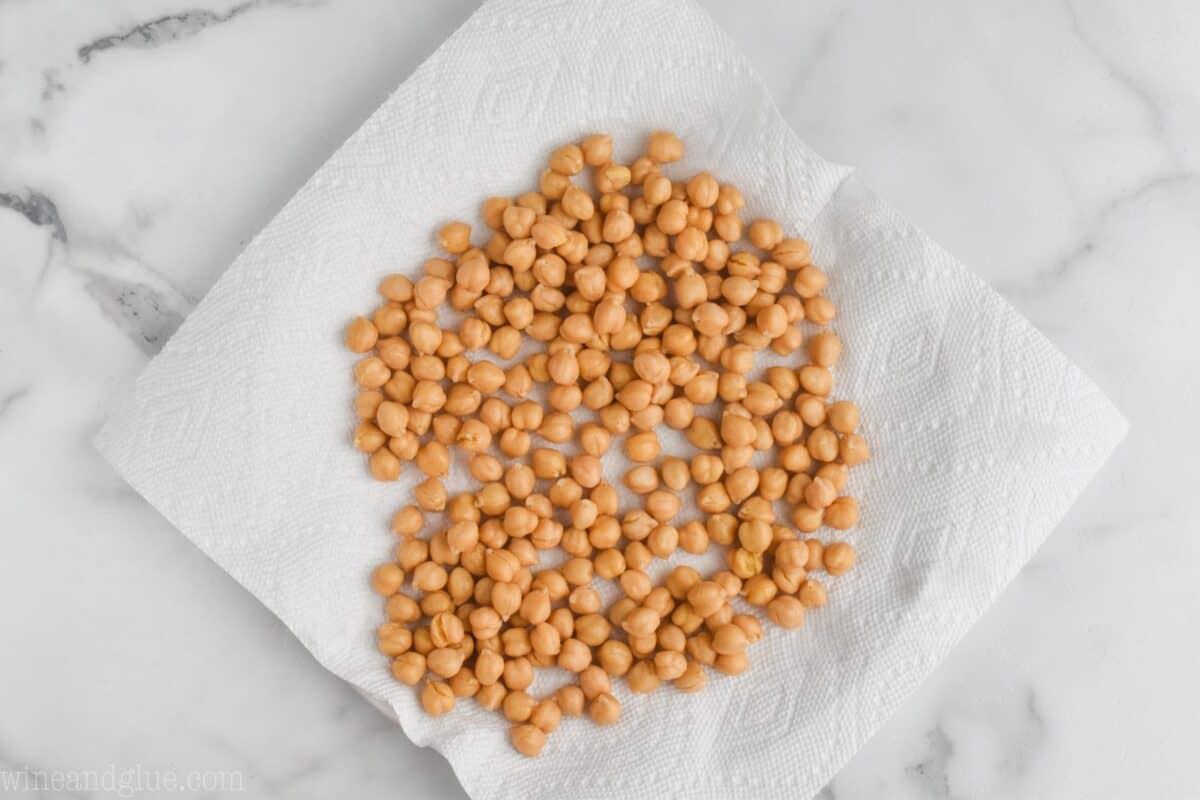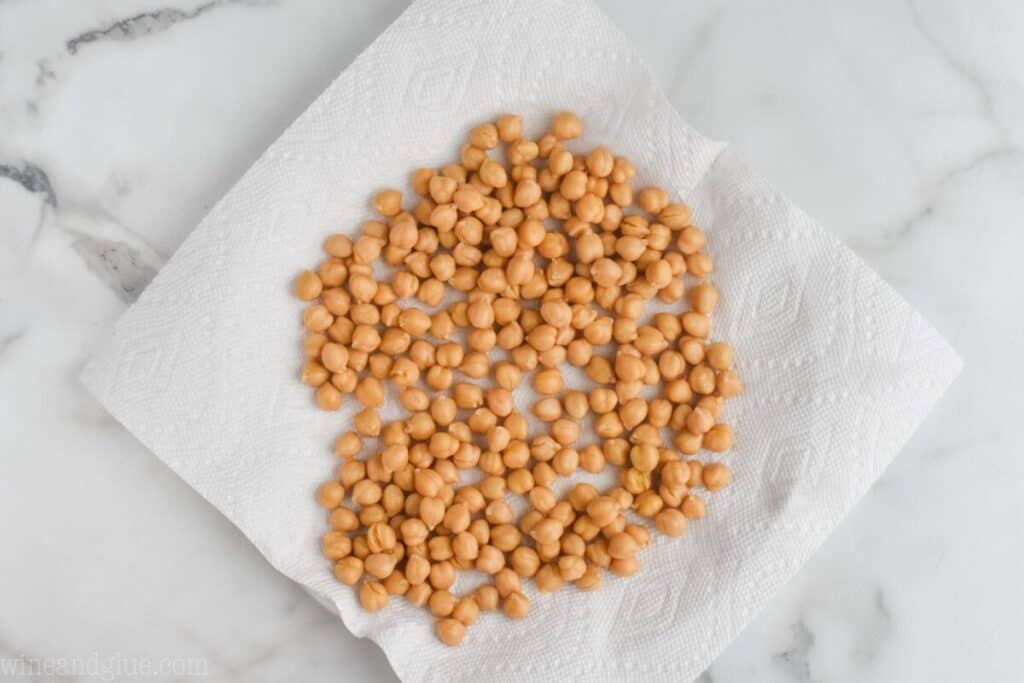 Start by draining and rinsing your chickpeas. Then pat them dry. The drier you get them at this stage the crispier they will be.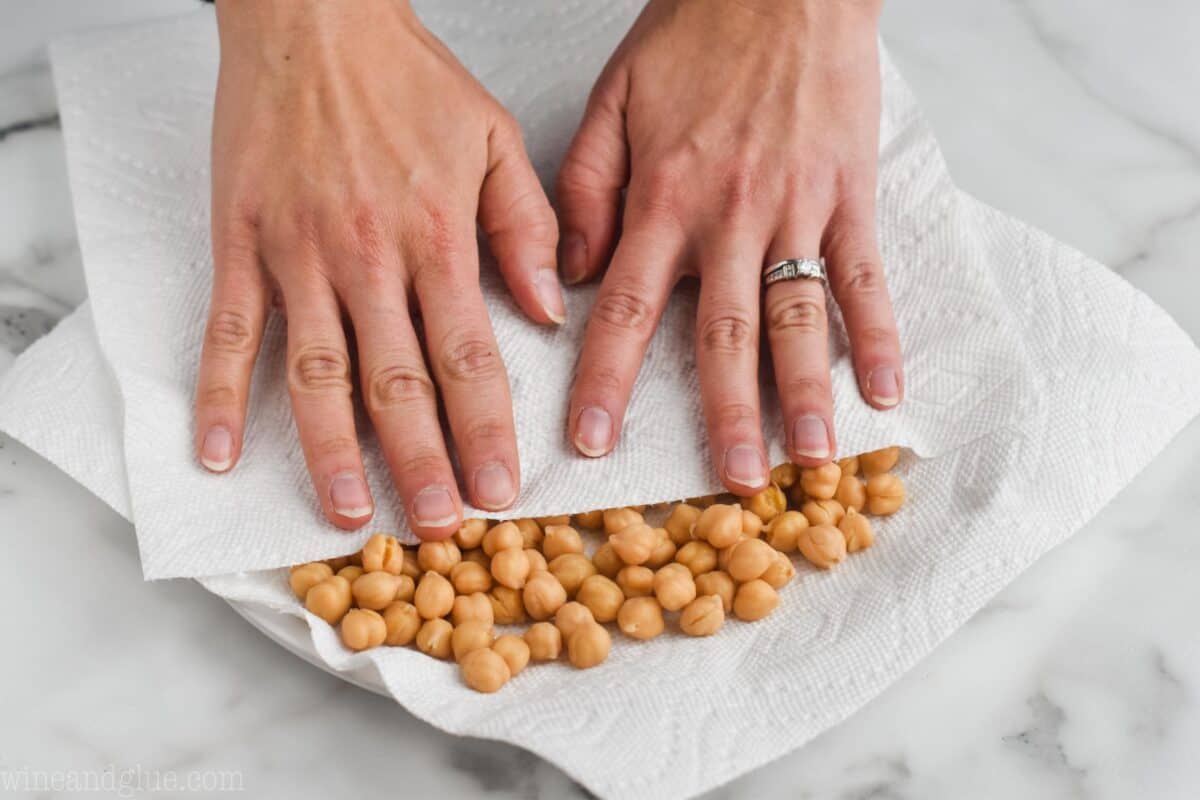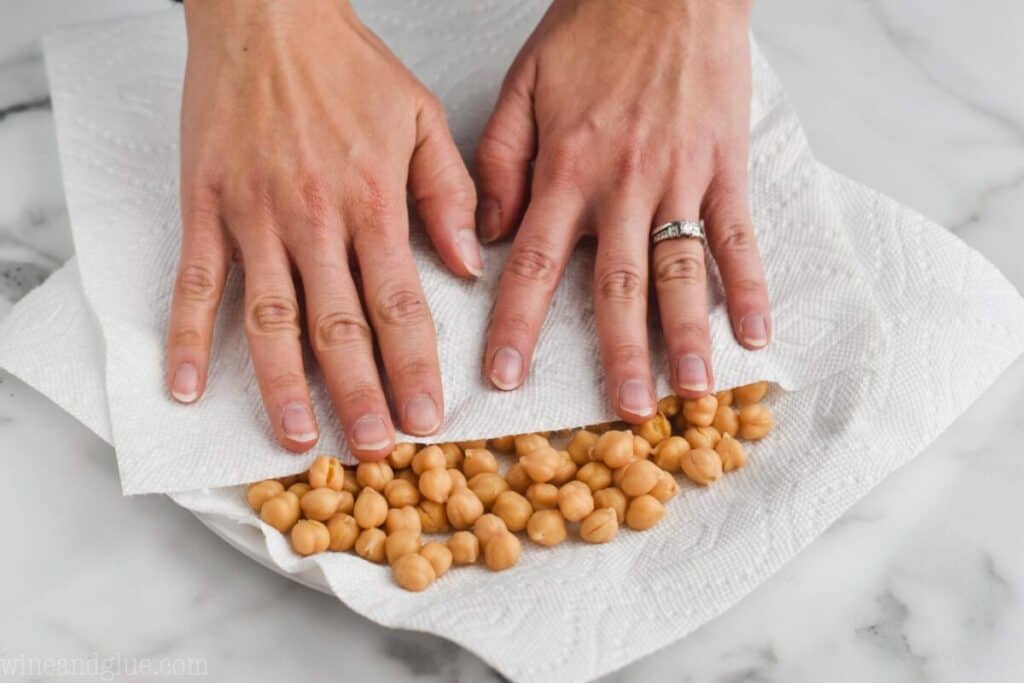 Discard any loose skins that might come off during the drying process.
Toss the chickpeas with oil and salt. You can cut the oil in this recipe down, but it will result in them being less crispy.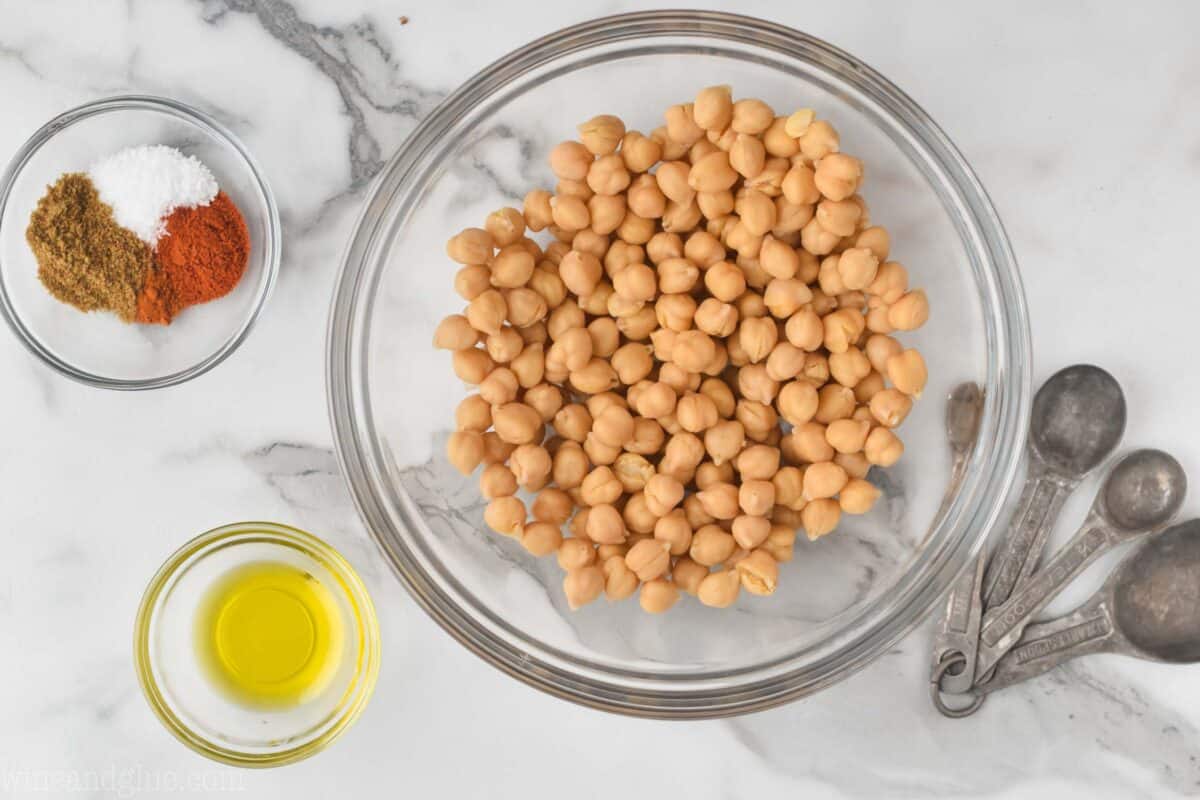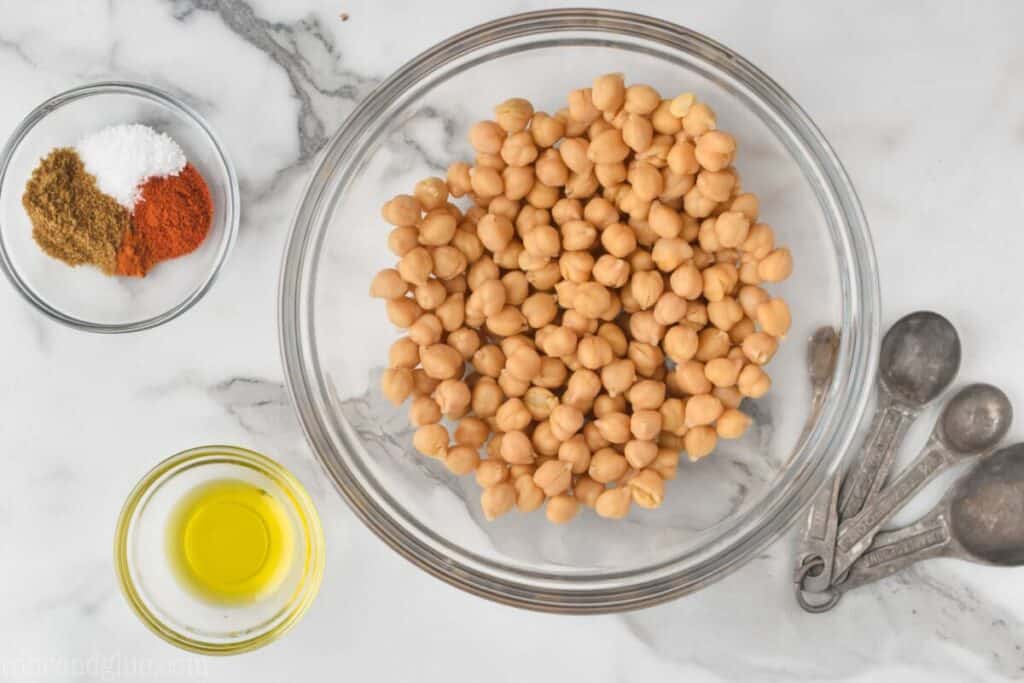 Pour onto a parchment paper lined baking sheet. No need to scrape the bowl to add the excess oil and salt to the chickpeas.
Bake for 35 minutes. About halfway through baking, give the pan a good shake, but be careful as they do sometimes pop during baking.
For chickpeas that have still have a creamy center, cut about 10 minutes off of the baking time.
Remove from the oven, and toss with the cumin, paprika, and cayenne pepper. You get a much better flavor by tossing with the spices afterwards.
STORING
The best part about this fun easy snack is how crunchy they are.
To enjoy the crunchiness the most, eat them as soon as they are cool enough to handle. The chickpeas will loose their crunchiness as time goes on.
Once cooled these can be stored in an airtight container for up to four days at room temperature.
Do not refrigerate as they will become chewy.
Please note that they have the best taste and texture within the first 48 hours of roasting.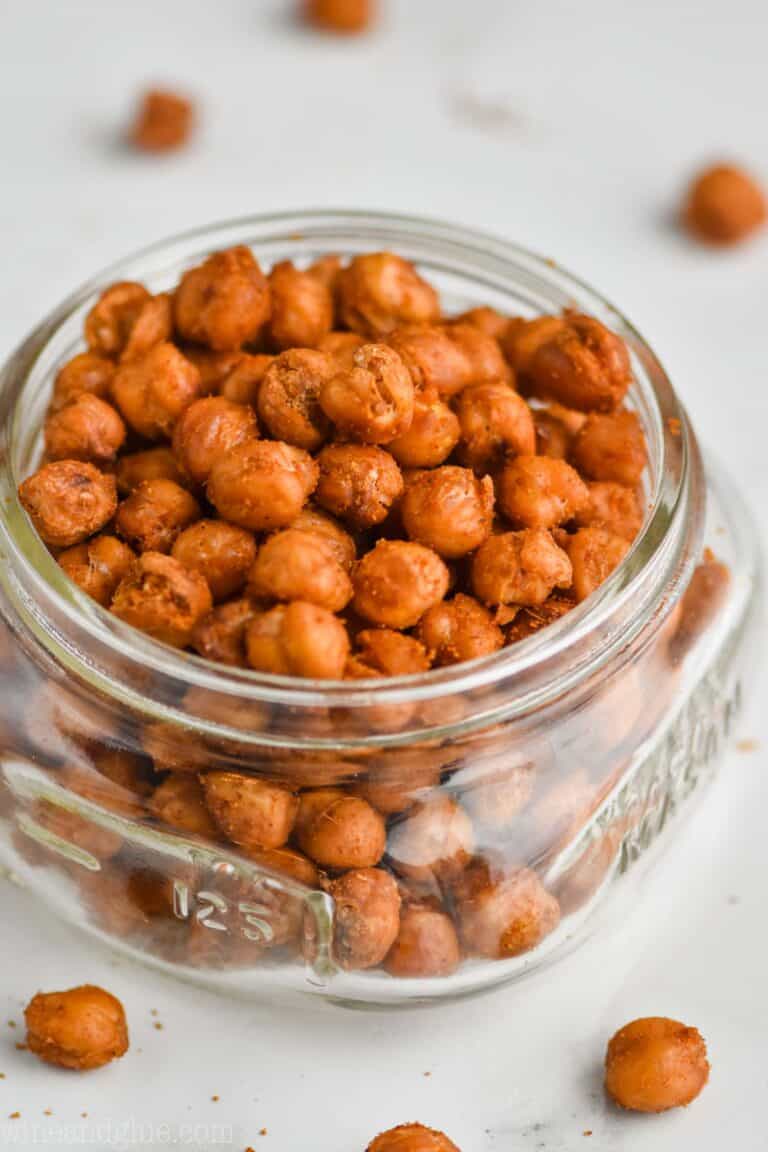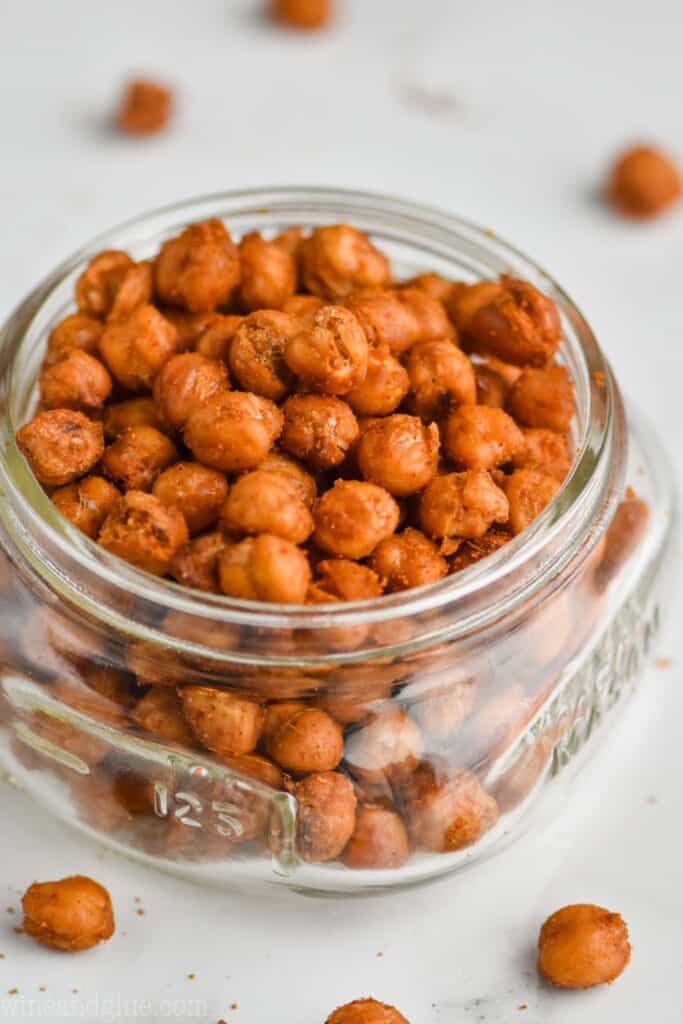 SPICES
I truly love the flavor on these, but this spice combination is just one way to do it. Play around with the spices in your pantry!
I think a little cinnamon thrown in the mix would be delicious!
OTHER HEALTHY SNACKS
If you are like me and get snack attacks around mid afternoon, here are a few other recipes to keep on hand.
If you make this recipe or any of my others, please leave me a comment and let me know what you think!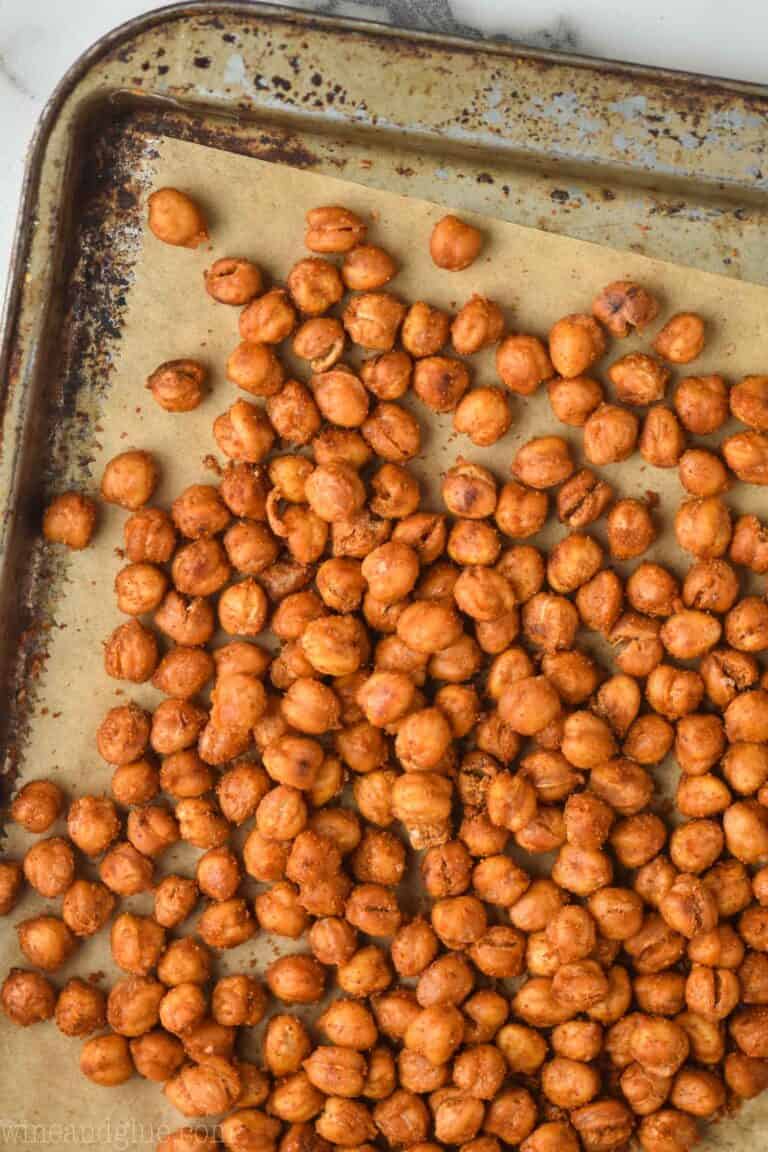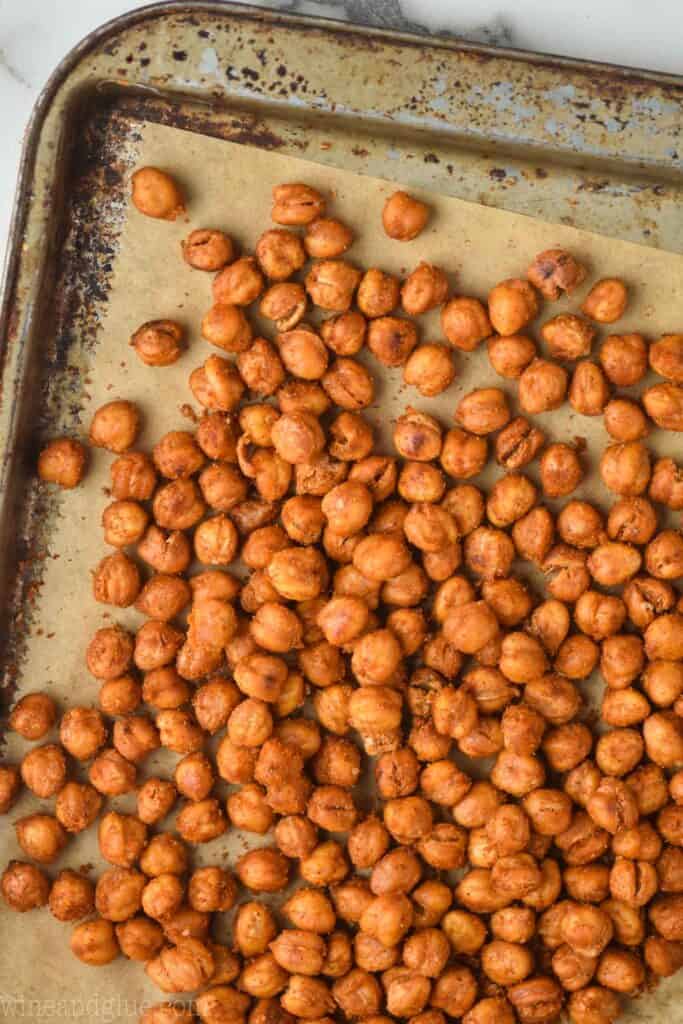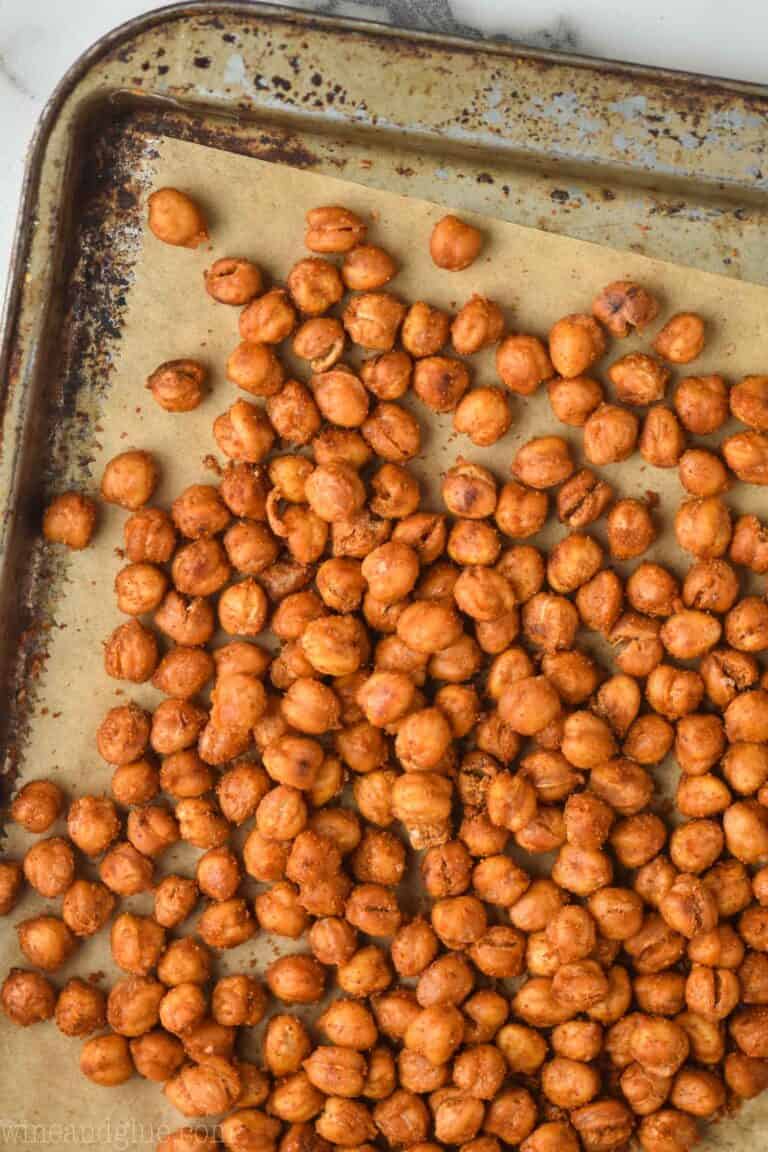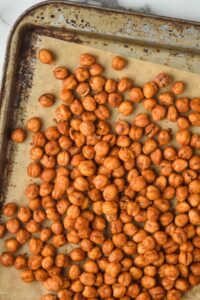 Roasted Chickpeas
Roasted Chickpeas are such an easy delicious snack. This recipe is the perfect, healthy afternoon snack that will keep you full until dinner.
Ingredients
15

ounces

canned chickpeas

drained and rinsed

2

tablespoon

olive oil

1

teaspoon

kosher salt

1

teaspoon

cumin

1/2

teaspoon

paprika

1/8

teaspoon

cayenne pepper
Instructions
Preheat your oven to 425 degrees. Line a rimmed baking sheet with parchment paper and set aside.

Rinse and drain the garbanzo beans. Pat dry with a paper towel – the drier the better. Remove any loose skins.

In a bowl, toss the beans with olive oil, and salt until they are fully coated. Spread them on the baking sheet in an even layer.

Bake for 25 to 35 minutes or until they are golden brown and crunchy; keep a close eye on them after 25 minutes of baking. Give the pan a good shake halfway through baking, being careful as they have the tendency to pop.

For chickpeas with a creamy center and crunch outside bake for 25 minutes.

For chickpeas that are crunchy like corn nuts bake for 35 minutes.

Remove from the oven and toss with cumin, paprika, and cayenne powder. Enjoy right away for best taste and texture. Store in an airtight container once cooled at room temperature for up to four days.
Calories:
161
kcal
(8%)
Carbohydrates:
17
g
(6%)
Protein:
5
g
(10%)
Fat:
9
g
(14%)
Saturated Fat:
1
g
(6%)
Polyunsaturated Fat:
1
g
Monounsaturated Fat:
5
g
Sodium:
2898
mg
(126%)
Potassium:
205
mg
(6%)
Fiber:
3
g
(13%)
Sugar:
1
g
(1%)
Vitamin A:
3
IU
Calcium:
4
mg
Iron:
9
mg
(50%)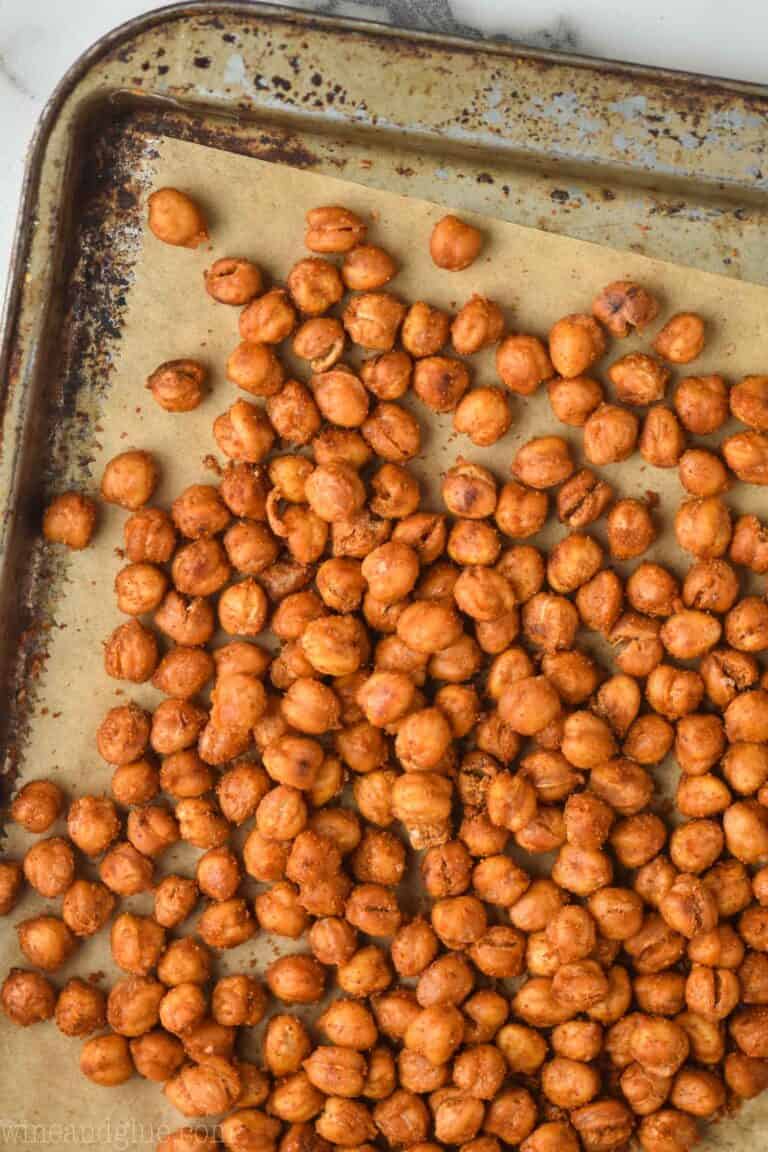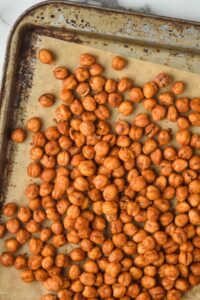 did you make this
Roasted Chickpeas