Pickled Eggs are sure to become your new favorite snack! Easy to make and perfect for keeping in the refrigerator for a quick grab and go energy boost!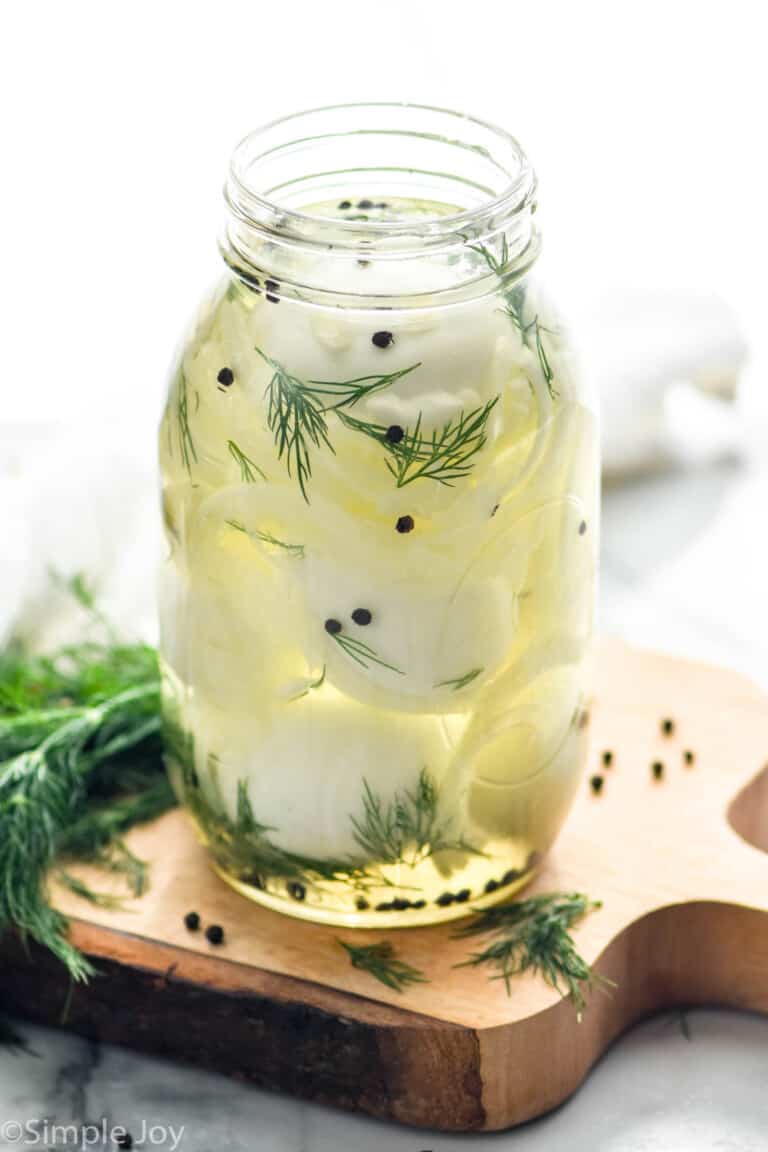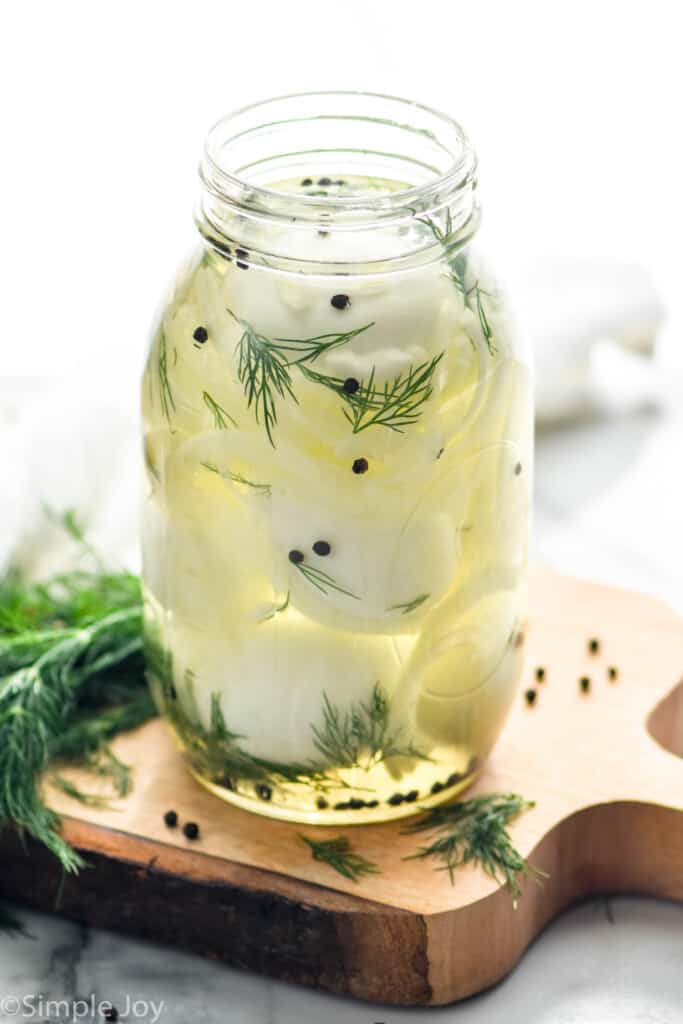 I'm slowly making my way through pickling all the things. Quick pickling recipes are so easy, and they make for the best condiments. I have so many great recipes, you can see them all here: Pickled Recipes.
I have a jar of these Pickled Eggs in my refrigerator at all times. They are perfect for snacking on. This recipe keeps in the refrigerator for three months, making this an ideal way to use up left over Easter eggs.
I also have instructions for making hard boiled eggs on the stove top and making Instant Pot hard boiled eggs, so you can make this easy healthy snack all year round.
Reader Review
"Very easy to make and very tasty I love this recipe."
How to Make Pickle Eggs
Hard Boil Eggs: Place eggs in a single layer in a saucepan. Cover with water and bring to a boil. As soon as the water boils, remove from the heat and cover. Let sit for 12 minutes and then transfer to ice cold water for 5 minutes. (Or make in the Instant Pot. This is always my preference since they peel like a dream.)
Peel Eggs: Peel the hard boiled eggs. The easiest eggs to peel, I've found, are the ones that are hard boiled in the Instant Pot.
Create Brine Mixture: Bring water and vinegar to a boil in a sauce pan. Stir in salt and sugar.
Combine Everything: Add the eggs to a mason jar and fill with brining liquid (you may not need to use all of it). Then add in the seasonings. You can switch these out with some of the alternatives listed below.
Instant Pot Hard Boiled Eggs
Instant Pot Hard Boiled Eggs are incredibly easy to make, and come out perfect every single time. Once you hard boil eggs in your pressure cooker, you'll never go back.
Egg Pickling Brine
The brine for this recipe is a simple combination of vinegar, water, salt, and sugar. The combination of vinegar and water is important because vinegar alone would be too strong. Salt is a standard ingredient in brines, and makes for that perfect picking taste you are used to. The sugar in this recipe is really minimal and I urge you not to skip it. It helps balance the acidity of the vinegar.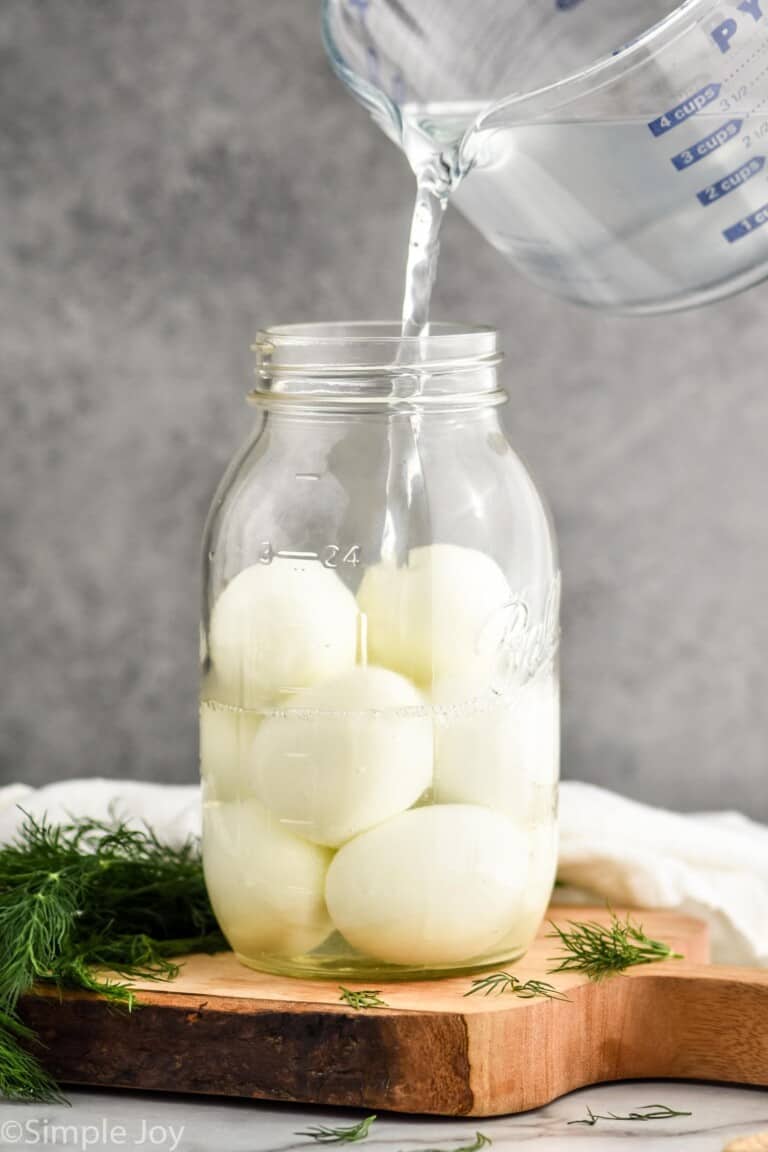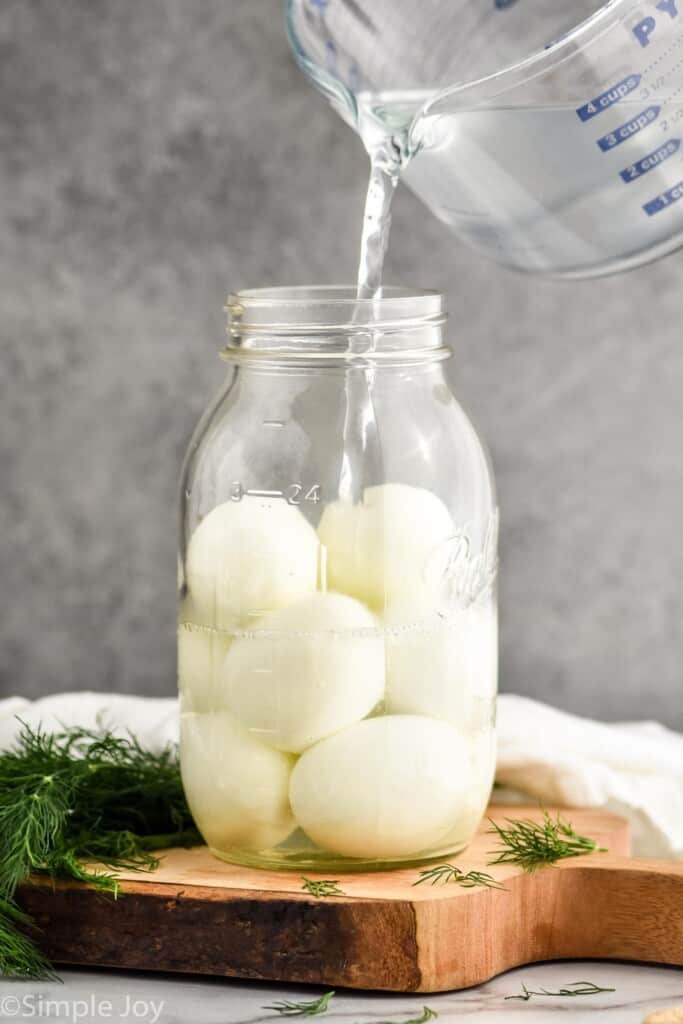 Pickling Ingredients
For this recipe, I picked out the flavor combination that I would enjoy most.
sliced white onion
whole garlic cloves
fresh dill
peppercorns
bay leaves
Variations
Here are some other ingredients you could swap in. This is a great recipe to experiment with.
Red Onions: These will give your eggs a fun red hue.
Roasted Beets: Some swear by pickling beets and eggs together and won't do it any other way.
Red Pepper Flakes: If you want to add a little spice to the recipe, 1/4 to 1/2 teaspoon would be wonderful.
Mustard Seeds
Ginger: Whole ginger that has been sliced thin, would be amazing. Pickled ginger is one of my favorites.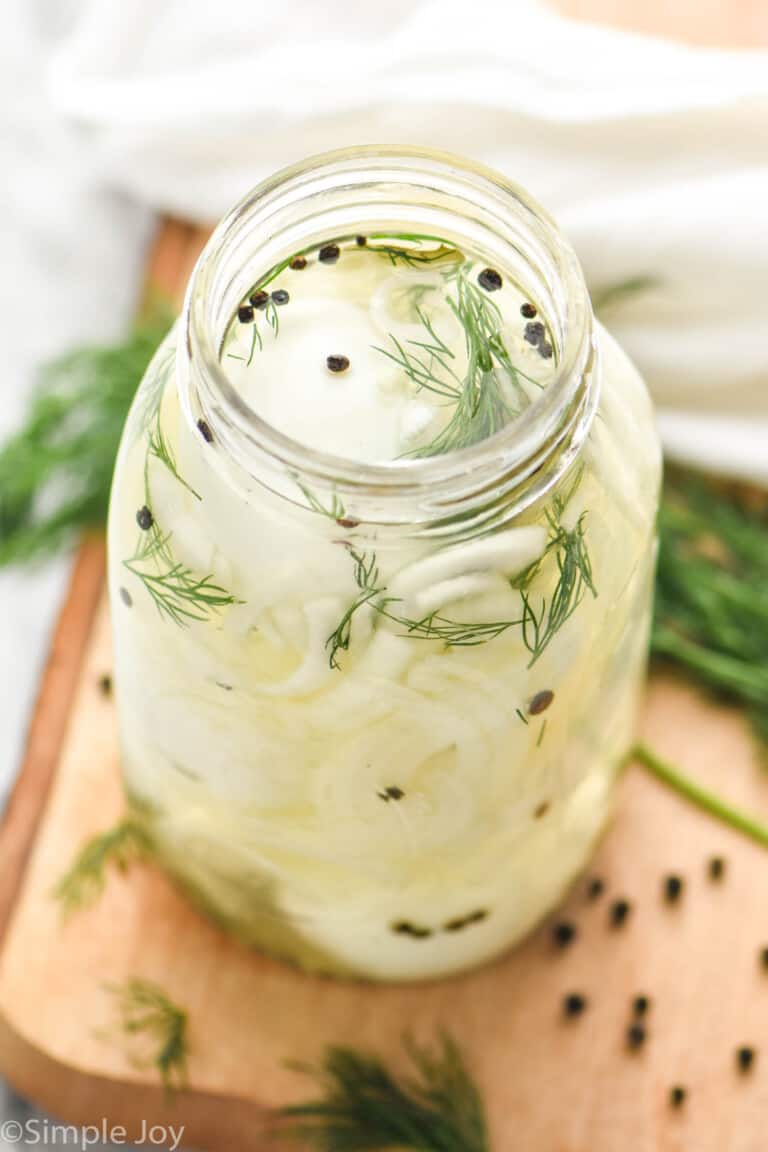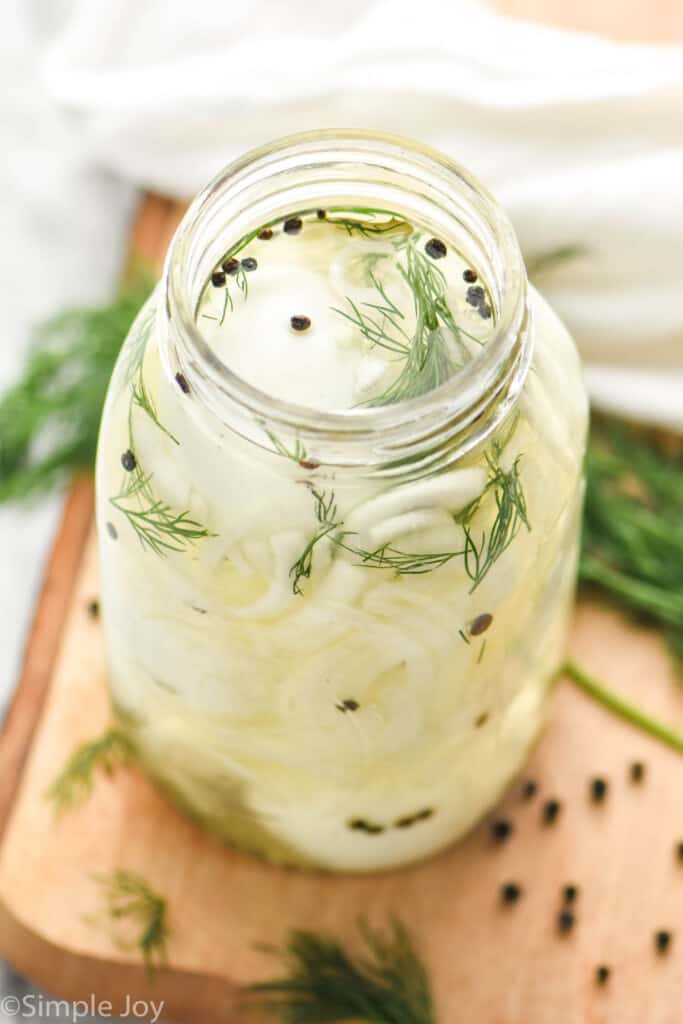 FAQ
When are pickled eggs ready to eat?
These are best after pickling in the refrigerator for one week.
Can pickled eggs be canned?
No. This recipe was not written for canning and these need to be stored in the refrigerator.
How long do pickled eggs last?
These can last in the refrigerator for 3 to 4 months. As always use your best discretion. If this recipe smells off, they should be discarded.
Are pickled eggs healthy?
Pickled eggs are a combination of eggs, vinegar, and a little sugar and salt with some seasonings. Given the high protein content of eggs, these are a great healthy snack in moderation.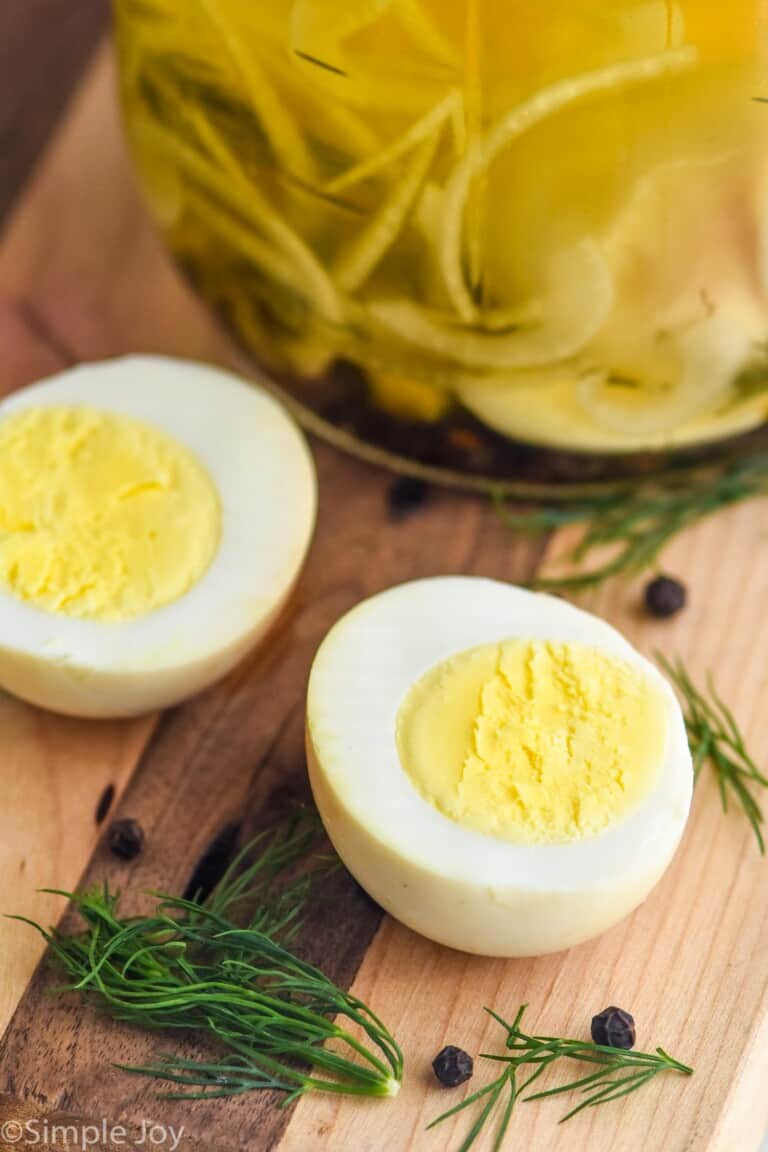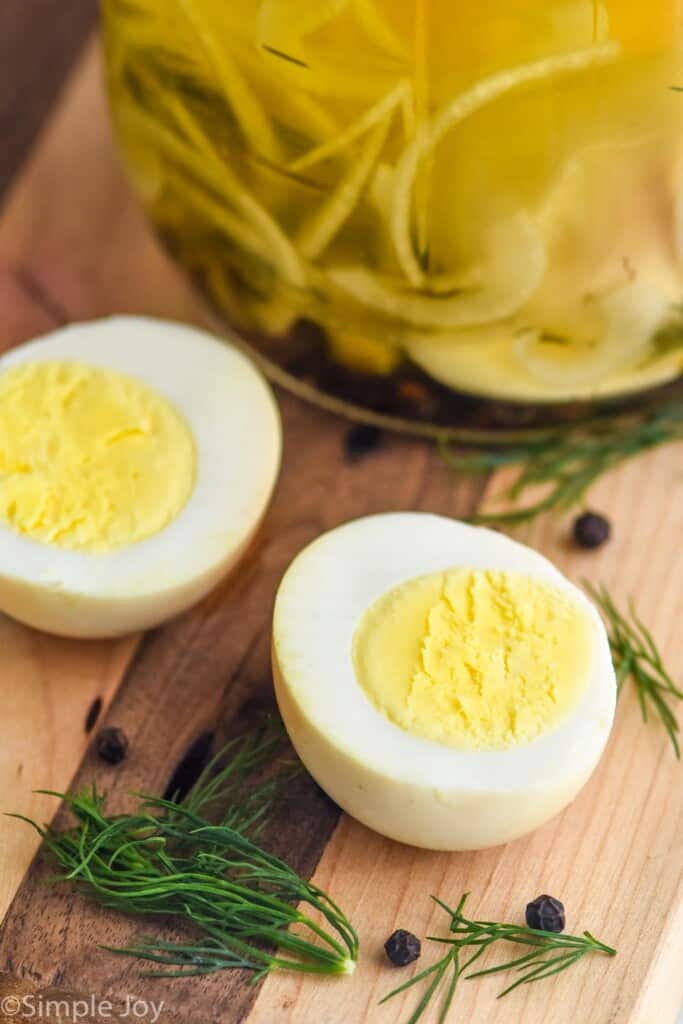 Other Healthy Snacks
If you need more healthy snack ideas in your life, check out the following:
If you make this pickled egg recipe or any of my other recipes, please leave me a comment and let me know what you think!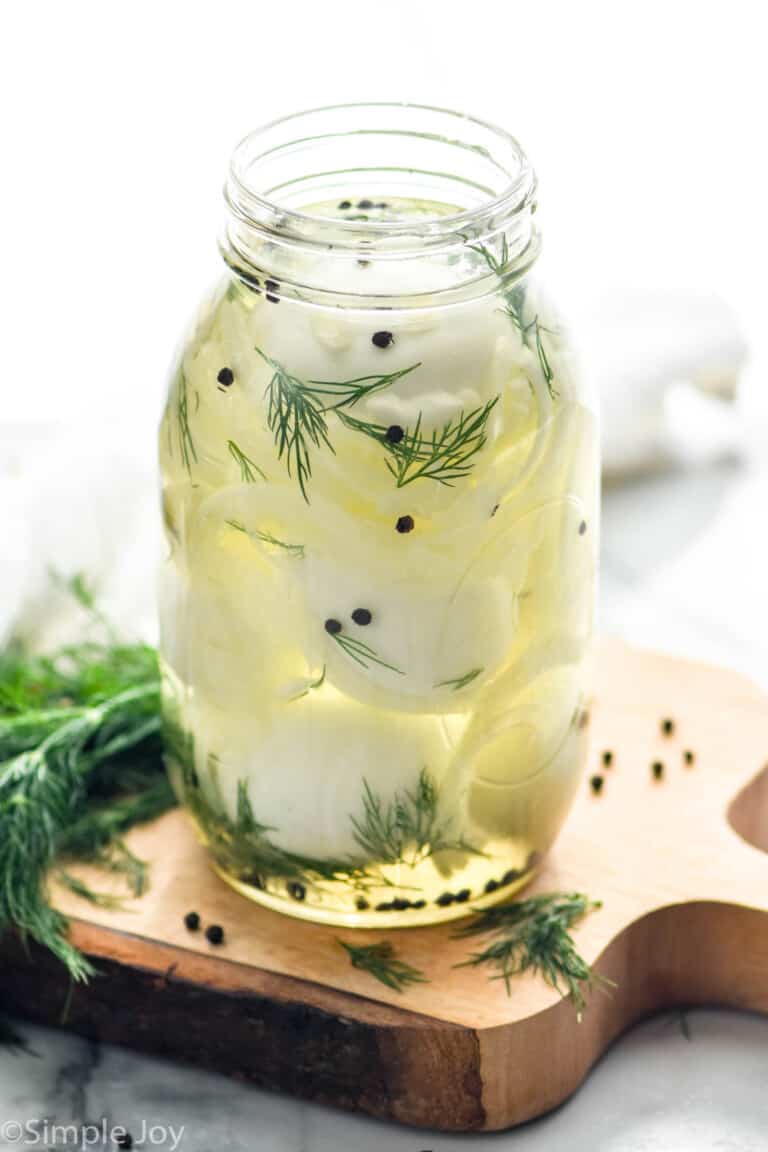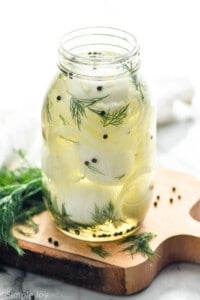 Pickled Eggs
Pickled Eggs are sure to become your new favorite snack! Easy to make and perfect for keeping in the refrigerator for a quick grab and go energy boost!
Ingredients
8

large eggs

hard boiled

1 1/4

cups

white vinegar

3/4

cup

water

2

tablespoons

sugar

1

tablespoon

salt

1/2

small yellow onion

sliced

3

garlic cloves

smashed

1

tablespoon

fresh dill

or several sprigs

1

bay leaf

1

teaspoon

black peppercorns
Instructions
To hard boil eggs: Place eggs in a single layer in a sauce pan. Add enough water to cover them compltely. Bring to a roaring boil. Turn off heat, and cover pan. Let sit for 12 minutes. Transfer to a bowl filled with ice water for 5 minutes. Peel the eggs.

Bring the water and vinegar to a boil in a small saucepan. Stir in the sugar and salt until it has dissolved. Remove from the heat.

Fill a 1 quart mason jar with the eggs, onion, garlic, dill, bay leaf, and black peppercorns. Top with the vinegar mixture. Seal and refrigerate for at least 1 week. Enjoy within 3 to 4 months for best quality. Please note that this recipe is inteded for refrigeration only and not for canning.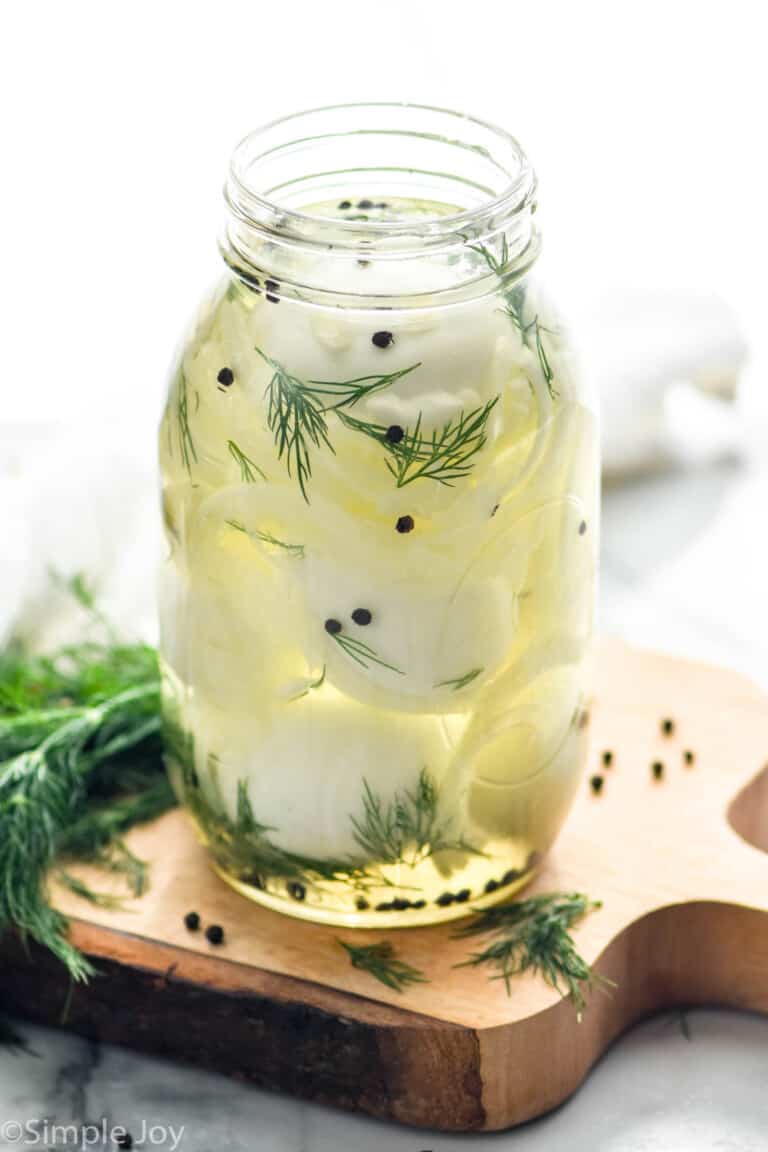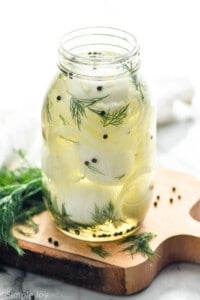 did you make this
Pickled Eggs
you might also like . . .