This Frittata recipe is so simple to make and absolutely delicious. With my easy steps, you will have a perfect frittata on your table in 30 minutes.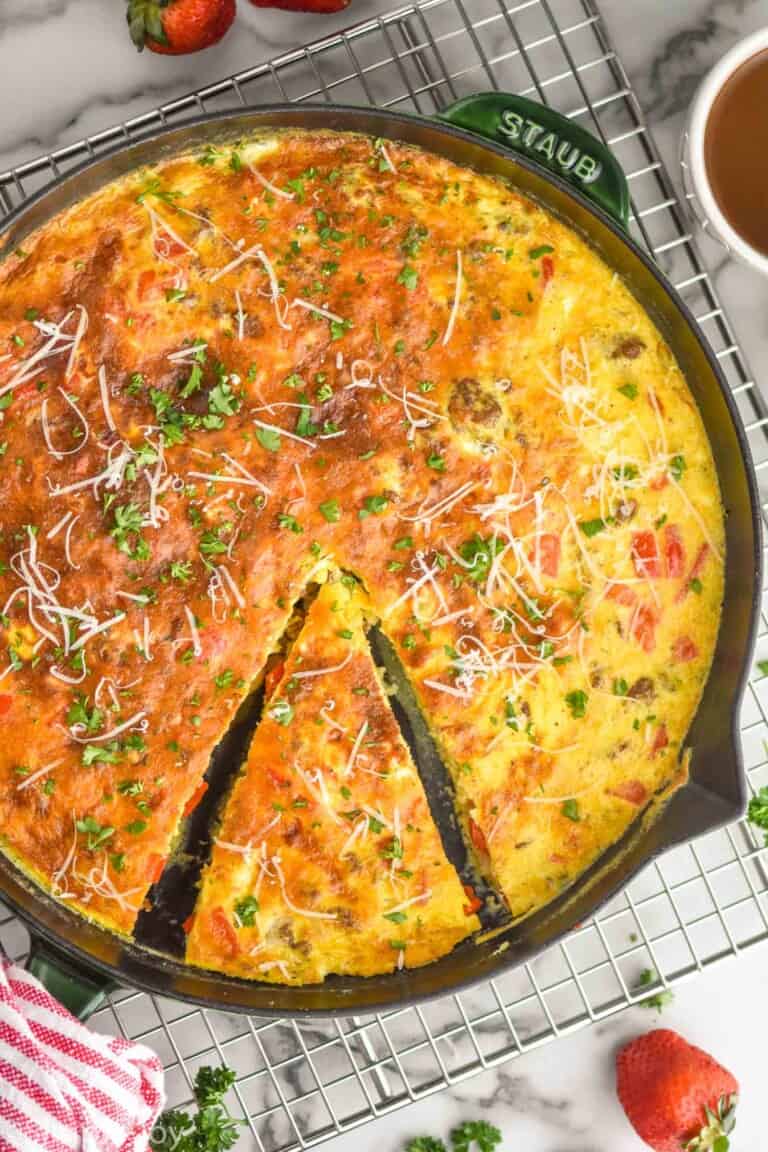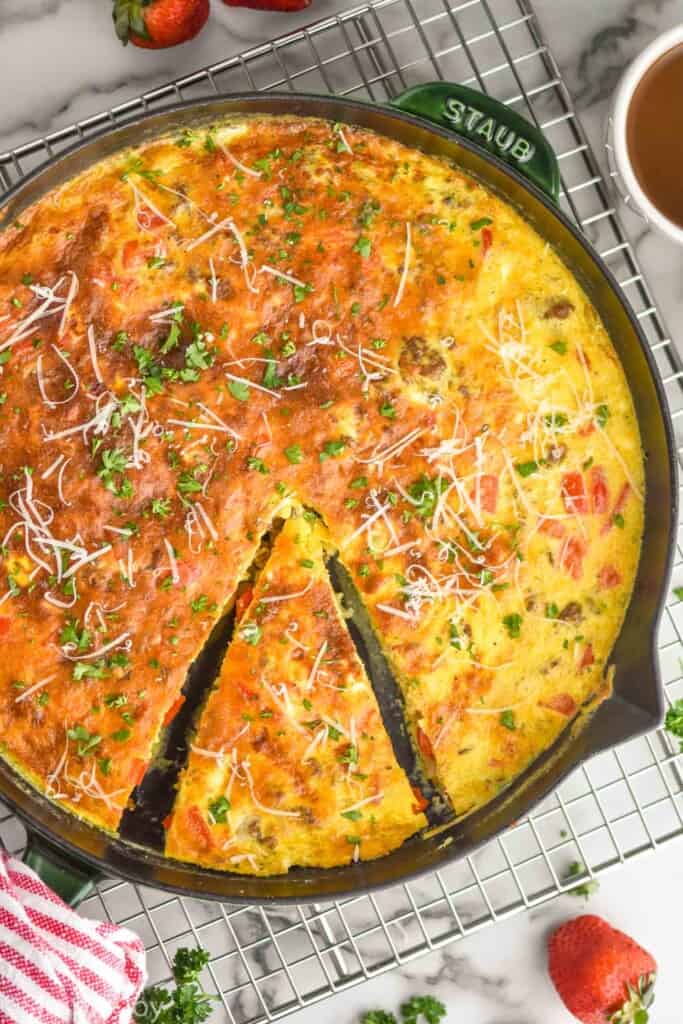 I love how easy it is to make brunch recipes to serve a crowd. Egg bakes are perfect for holidays. They can be made the night before and then thrown in the oven when your guests arrive.
If you are looking for the perfect weekend breakfast recipe that is even simpler than those egg bakes, you have found it in this frittata recipe. It comes together almost primarily on the stove top and is done in 30 minutes. You won't believe how flavorful it is for something so simple.
What is a Frittata?
Frittatas are an Italian based dish with the name coming from the Italian word for friend. Originally it was just any general fried egg dish, but it has evolved into what we know today as sort of a giant open faced omelet.
My grandmother made frittatas completely on the stovetop. She would fry the eggs in a skillet and then use her insane cooking skills to flip the whole dish over in the skillet.
In this version, we are taking the help of the broiler to finish things off, thus not requiring grandma's mad flipping skills.
Frittata vs. Quiche
Every time I post my Crustless Spinach Quiche or Crustless Vegetable Quiche on Facebook, I get the same comments:
"That's just a Frittata"
Well, yes and no.
My crustless quiche recipes don't have crusts, much like a frittata, but they are fully baked in the oven, which is not the case with a frittata. A frittata is primarily done on the stovetop and just finished off for a few minutes under the broiler, making it significantly faster than a quiche.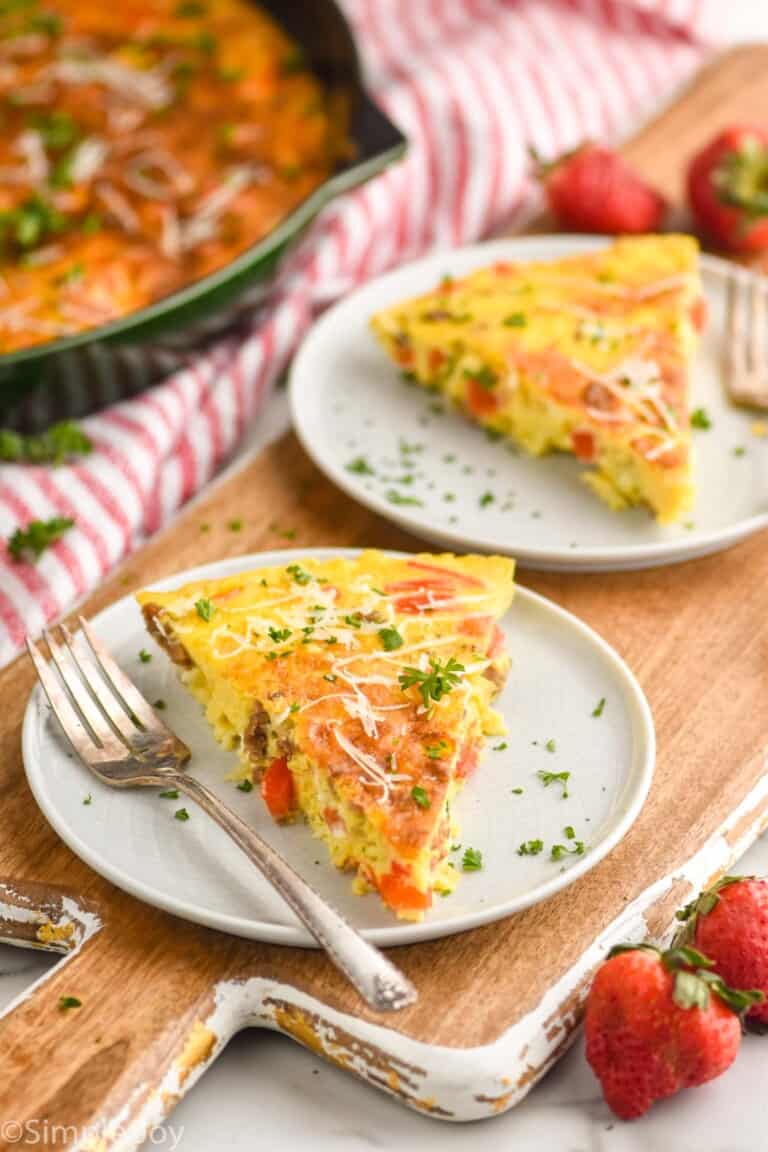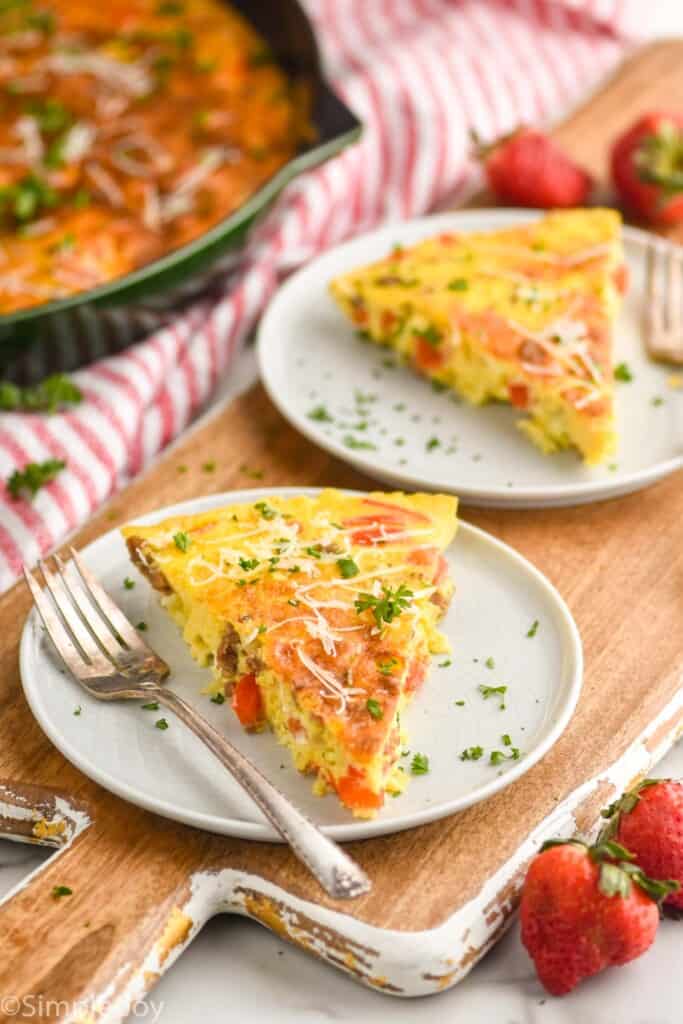 How to Make a Frittata
Make the egg mixture: Whisk together the eggs, half and half, salt, pepper, and cheese.
Sauté the vegetables and meat: We are going to cook these through as they will get very little additional cook time once we add the eggs.
Add the eggs: We are looking to just begin to cook these. Think about when your eggs first start to scramble after adding them to a hot skillet. This is what we are going for.
Finish it off under the broiler: After the eggs have just begun to curdle, put the frying pan under the broiler and watch it closely. Take it out when it begins to turn brown. When you cut the top with the tip of a knife, the eggs underneath will still appear wet.
Carry Over Cooking: Let the frittata sit for 5 minutes. The dish is still very hot and the heat will finish off the eggs without over cooking them.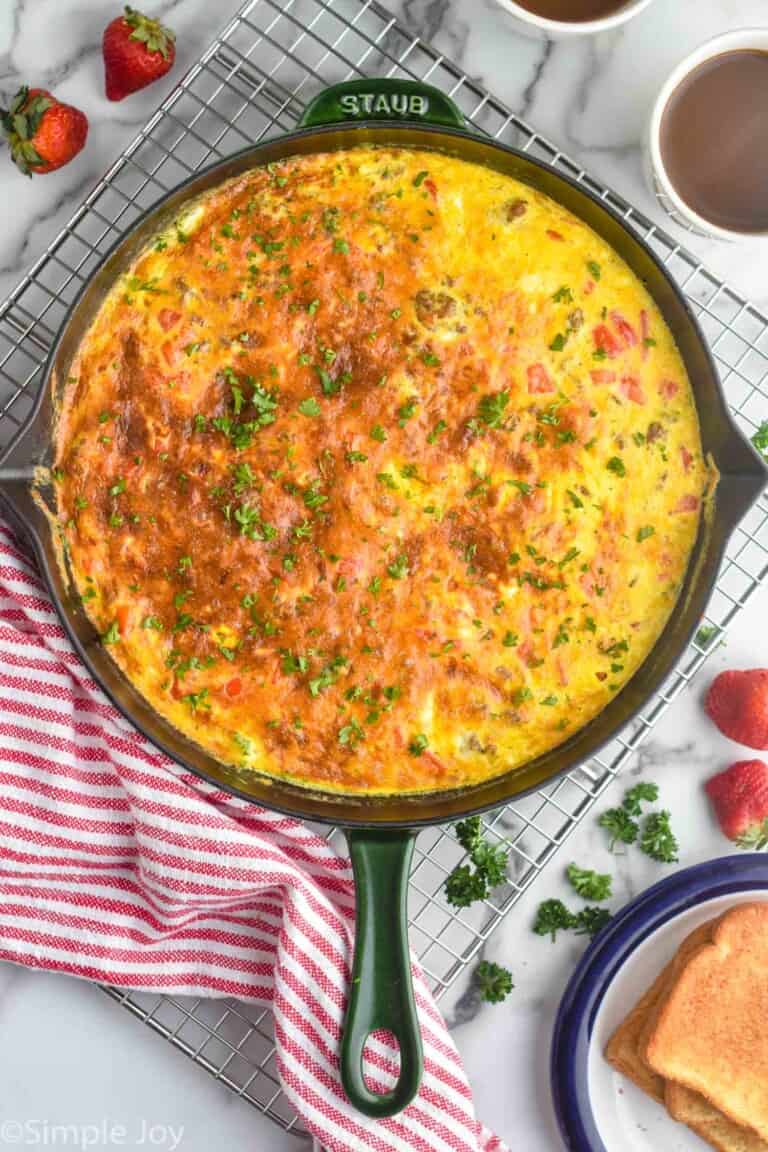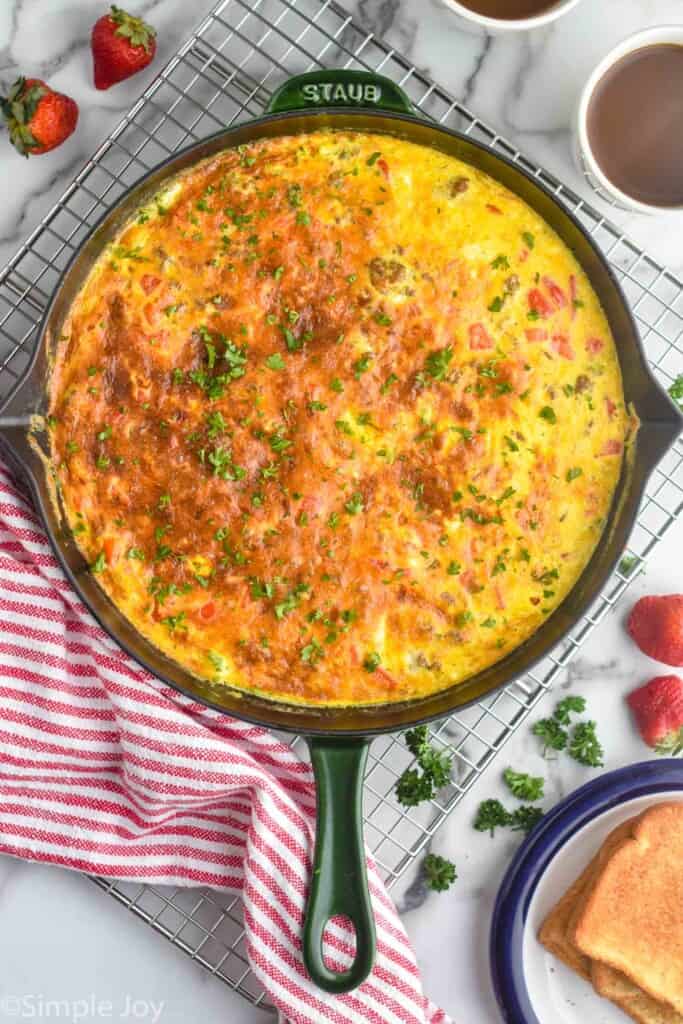 Carry Over Cooking
Carry Over Cooking is the idea that when you take something out of the oven it doesn't just cool down and stop cooking immediately. It still continues to cook a little outside of the oven/stove/boiling water. It's the same reason that we run pasta under cold water when making a pasta salad.
The same thing is applying in this recipe. The frittata will be just barely undercooked when it comes out of the oven, and it the five minutes it sits, the eggs will firm up perfectly. If we fully cook it under the broiler it will result in over done eggs.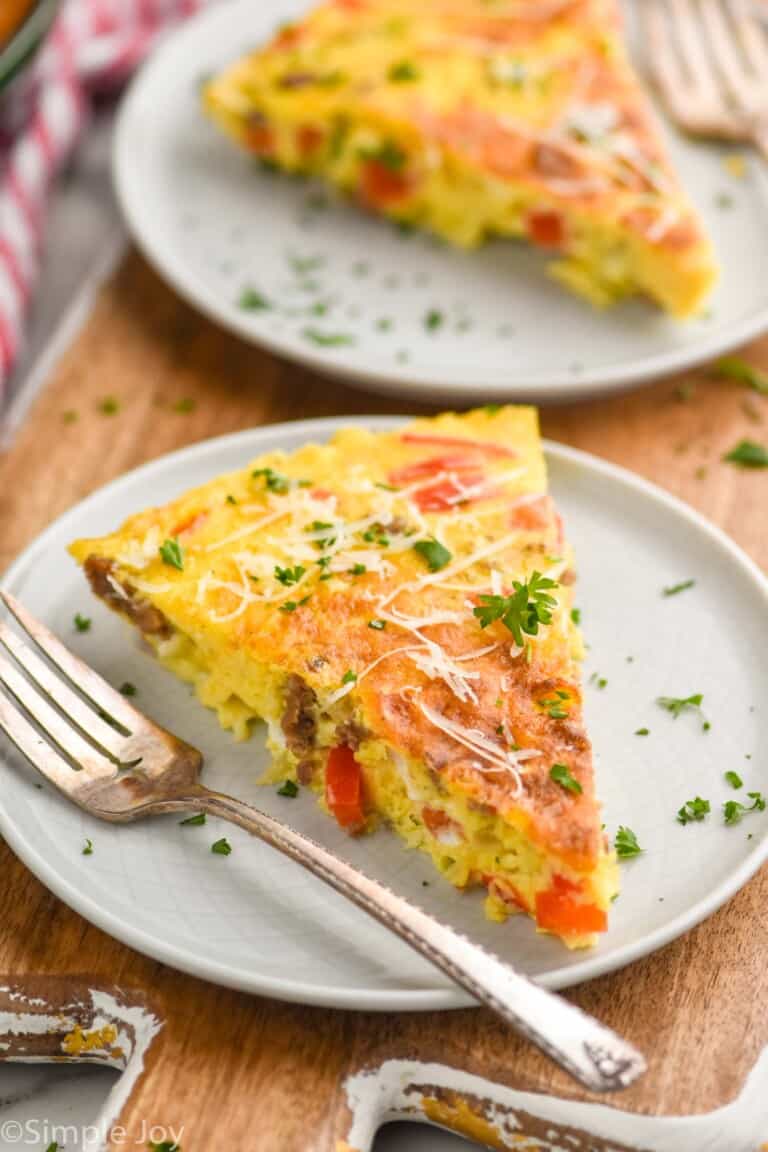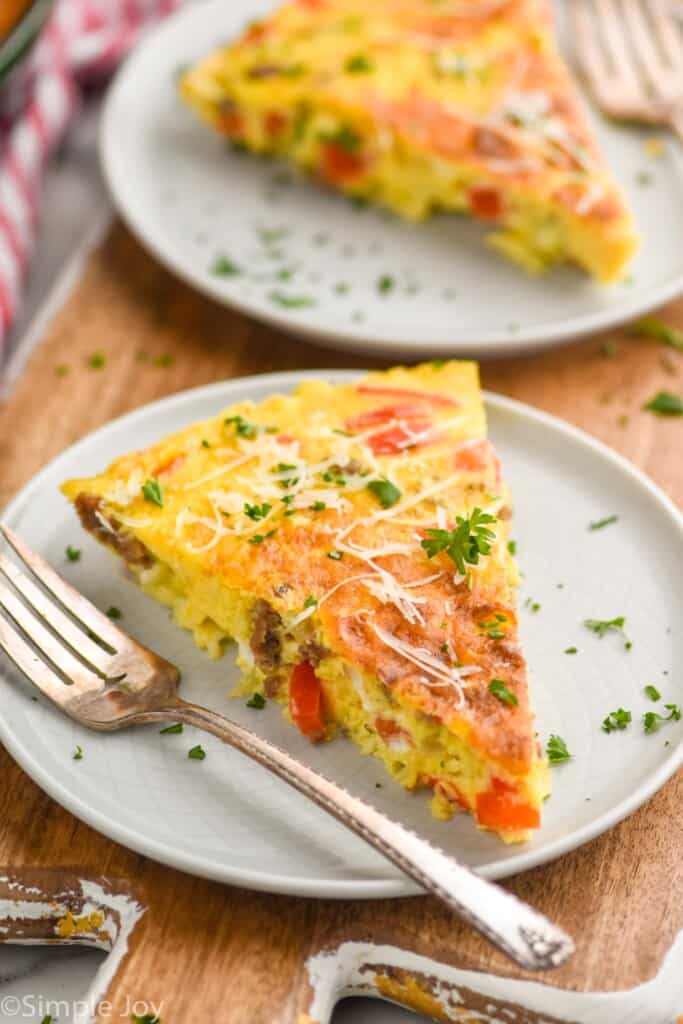 What to Serve with an Egg Frittata
This makes a great easy brunch recipe, coming together in just under 30 minutes. If you are serving this to guests, here are some other easy ideas to add to your table.
Homemade Granola: You can make this ahead of time, and it's a great addition to breakfast for a crowd.
Chocolate Chip Banana Bread: This recipe is a winner, with so many great reviews, your family will rave about it too.
Arugula Salad: I think that quiche and frittatas are amazing with a little simple side salad, and this one is perfect.
Also keep in mind that frittata for dinner is totally a thing, and all of these would still work to be served with it in the evening.
As always, if you make this baked frittata recipe, please leave me a comment and let me know what you think. I love hearing from you!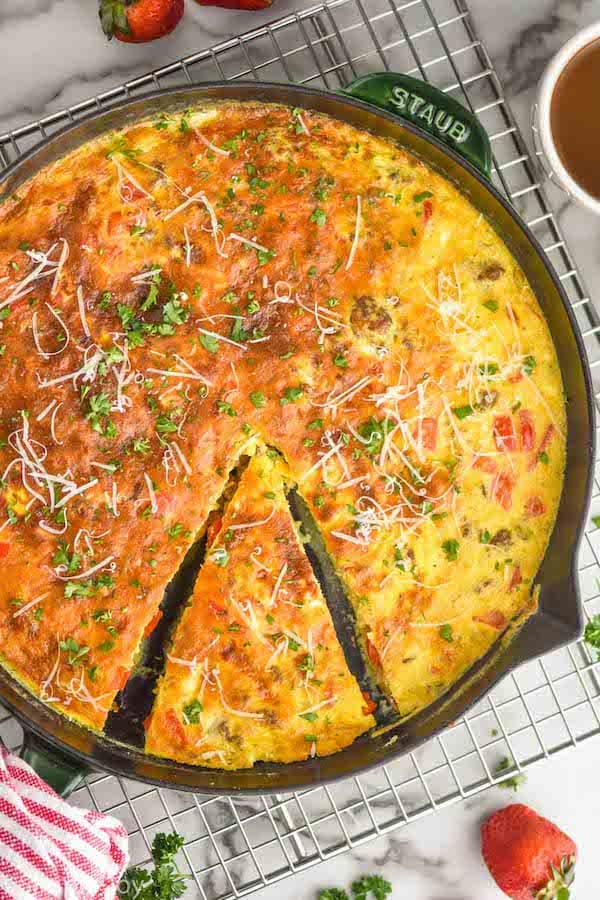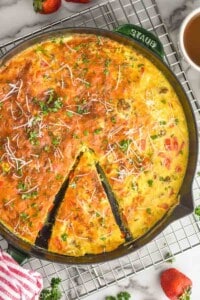 Frittata
This Frittata recipe is so simple to make and absolutely delicious. With my easy steps, you will have a perfect frittata on your table in 30 minutes.
Ingredients
12

large eggs

3

tablespoons

half and half

1

teaspoon

salt

1/4

teaspoon

black pepper

1

cup

mozzarella cheese

shredded (about 3 1/2 ounces)

1/2

cup

Parmesan cheese

1/2

pound

Italian sausage

cassings removed

1

small yellow onion

diced

1

red bell pepper

diced

2

cloves garlic

minced
Instructions
In a bowl whisk together the the eggs, half and half, salt, pepper, mozzarella, and Parmesan cheese. Set aside.

In a 12 inch skillet over medium heat, cook the sausage breaking it up. When it is just broken up but hasn't begun to brown, add the onion, bell pepper, and garlic. Cook until the vegetables are soft, 5 to 7 minutes.

Pour in the egg mixture, and beging pulling the edges of the mixture in towards the middle of the pan, working your way around the whole pan, scraping up the bottom. Cook until large chunks of eggs form in the path of the spatula but it is still very wet, about 2 minutes.

Shake the pan to distribute evenly. Place under the broiler for 3 to 4 minutes or until the top has begun to brown. When you cut into the middle of the frittata it will be wet still. Let sit for 5 minutes outside the oven, and the frittata will finish cooking in that time.

Cut and enjoy with fresh parsley and freshly grated Parmesan cheese on top.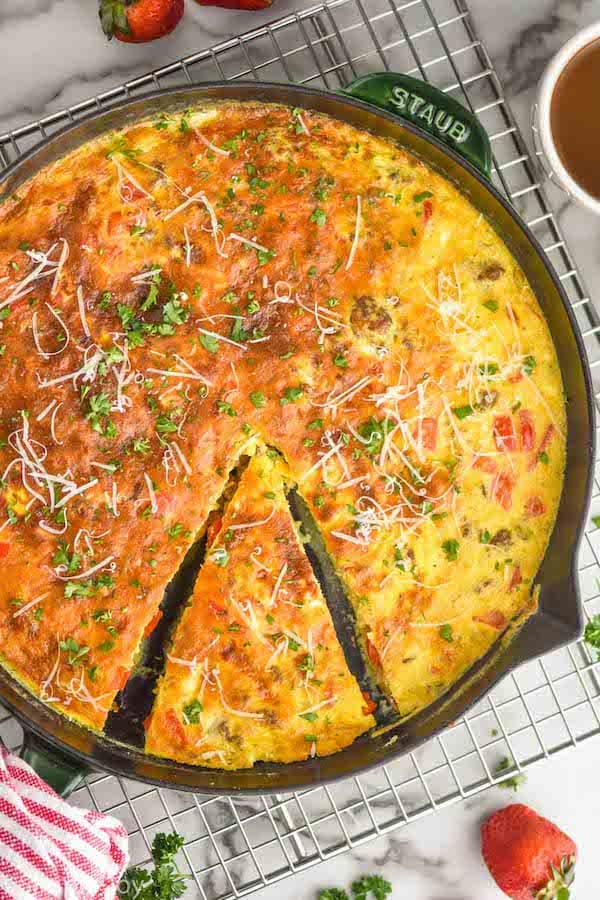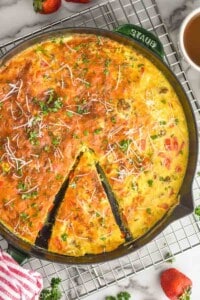 did you make this
Frittata