Green Goddess Dressing is easy to make and adds a bright and fresh taste to any salad. Use this salad dressing recipe as a dip for veggies for a healthy light snack!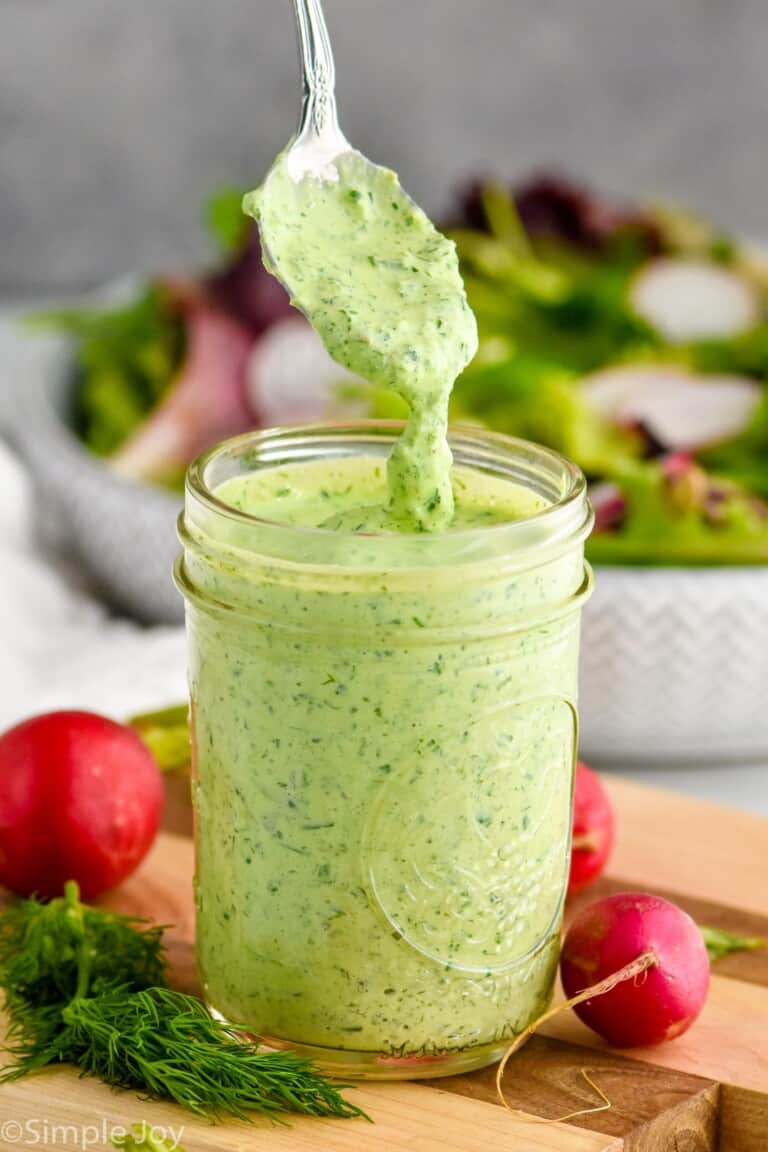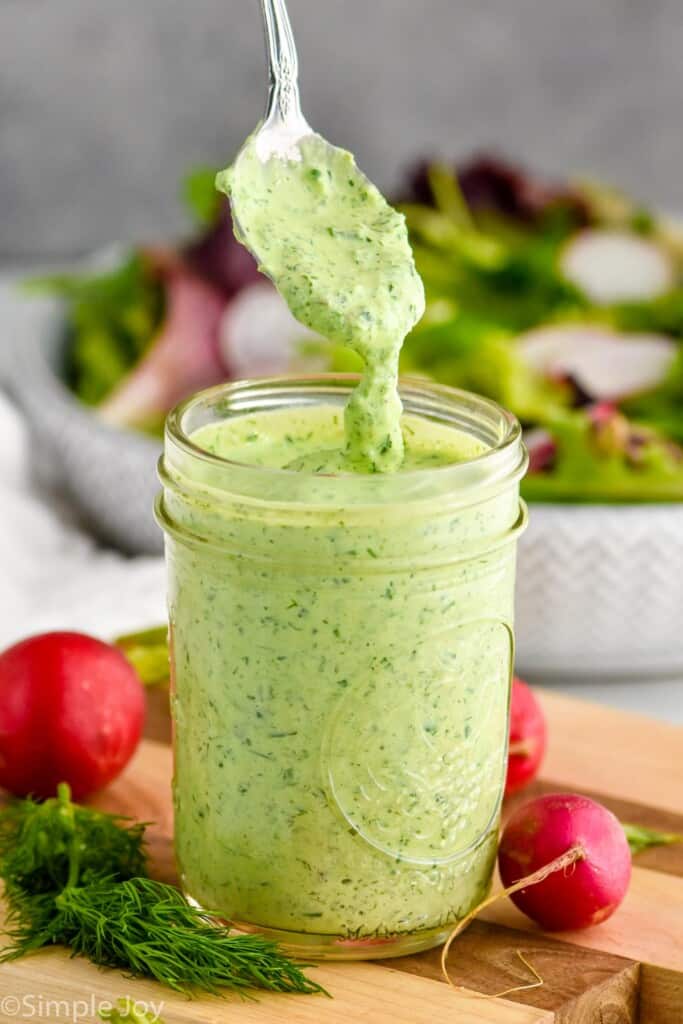 Homemade salad dressings are one of my favorite types of recipes to make for you. They are so easy to make at home, and often I have all the ingredients right in my pantry and refrigerator. When you make your own salad dressings, it is very easy to adjust the taste and seasonings – another big selling point for me.
All of this is true with this great Green Goddess Dressing recipe. It comes together in a blender or food processor, meaning there is very little prep time. Additionally, I've tried it a few different ways, so I have some great hints and tips for you.
Reader Review
This is so yummy! Perfect for dipping in veggies and on a green goddess salad. Thank you so much!
How to Make Green Goddess Dressing
Combine all of the greens in a food processor. There are a few different types of fresh herbs in this (please read more on that below). We are also going to toss in some dried tarragon and fresh garlic at this step.
Add in mayonnaise and sour cream to the greens. Now right to the food processor throw in some mayonnaise and sour cream (read more on these ingredients below). Follow those with some lemon juice, salt, pepper, and honey. All of these can be adjusted, so start with half the amount called for and add more to your taste.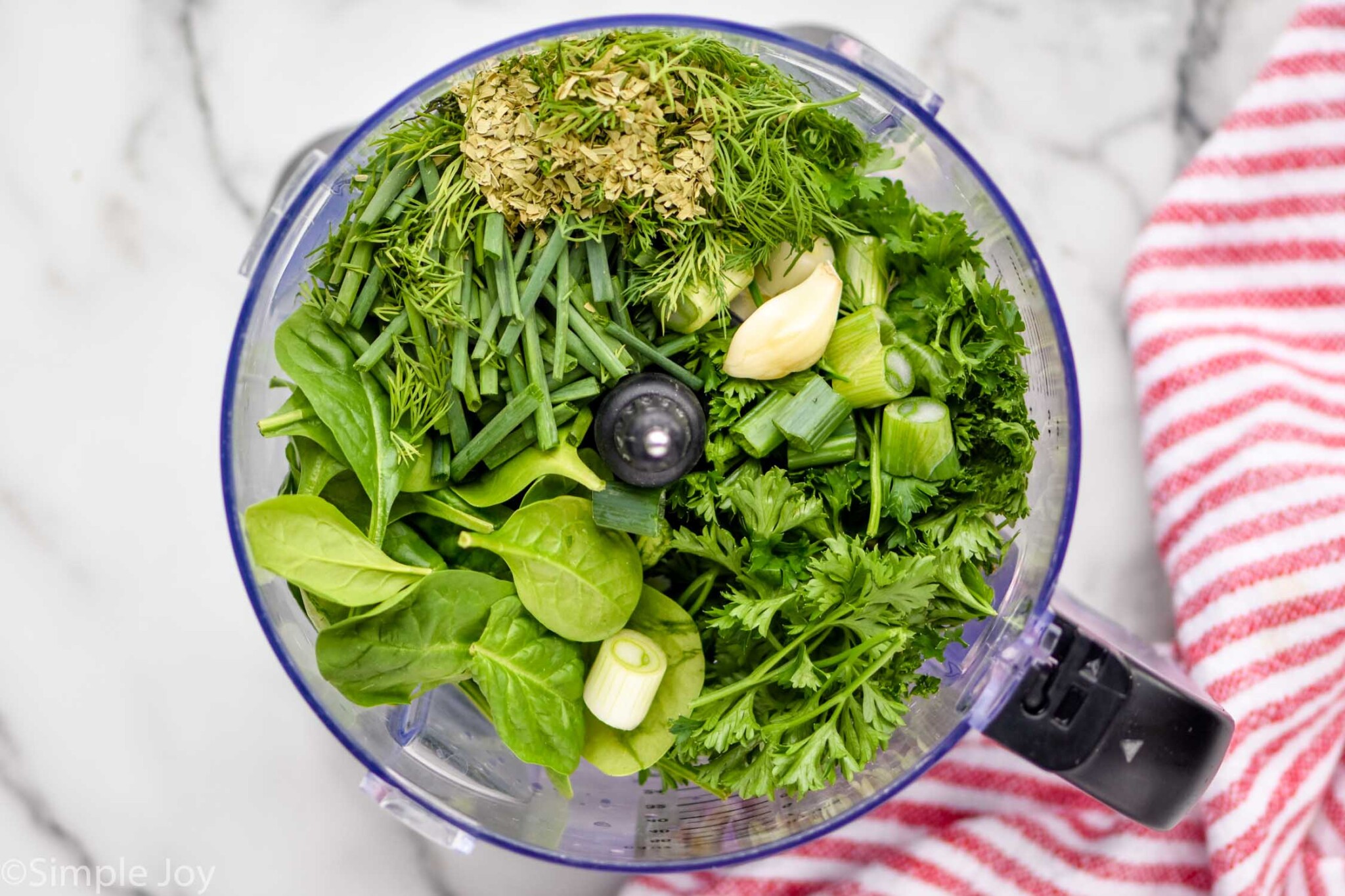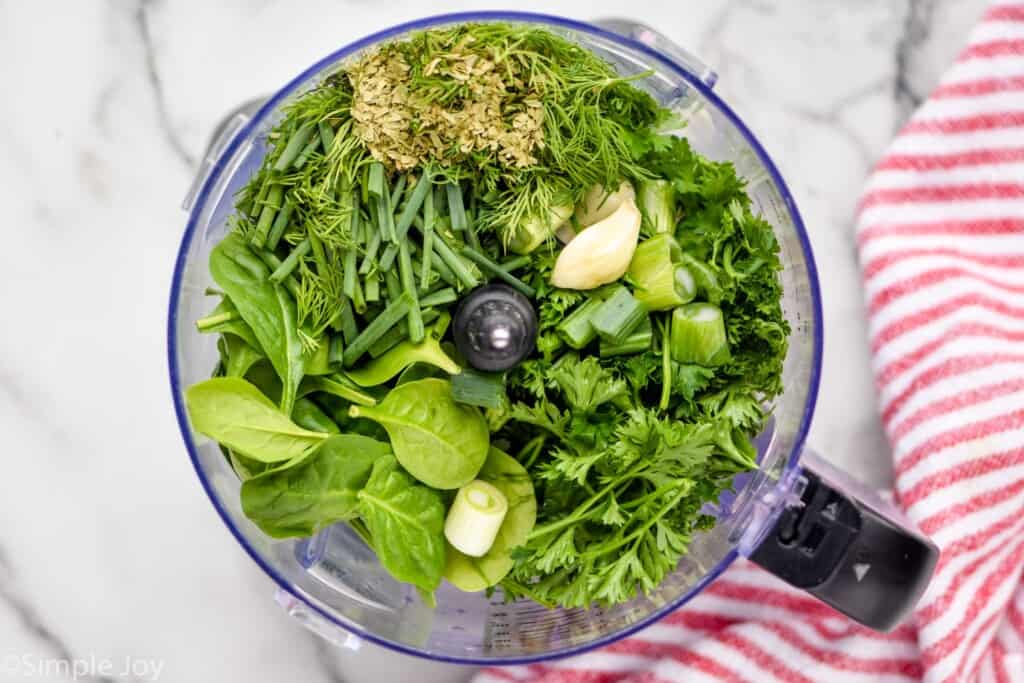 What is Green Goddess Dressing
Green Goddess Dressing was created in San Francisco in the early 1920s and gets it's name from its rich green color. It is typically made with a base of mayonnaise and sour cream and a combination of fresh herbs.
The Base of Green Goddess Dressing
As mentioned above, historically the base of this dressing is sour cream and mayonnaise. That is what we are using here, but I have a few alternatives.
Replace the mayonnaise with more sour cream. If you are opposed to mayonnaise, you can use more sour cream. It will still taste delicious but without the flavor profile of mayonnaise. I love it this way as it reduces the calories and light sour cream is just less fat, no weird ingredients to make it lighter.
Use avocado instead of mayonnaise or sour cream. In the years since this was first made, avocado has often been added to this dressing. You can replace either the mayonnaise or the sour cream with half an avocado.
Replace the sour cream with plain non fat yogurt. If you only keep yogurt in your home, that will work well as a replacement for the sour cream.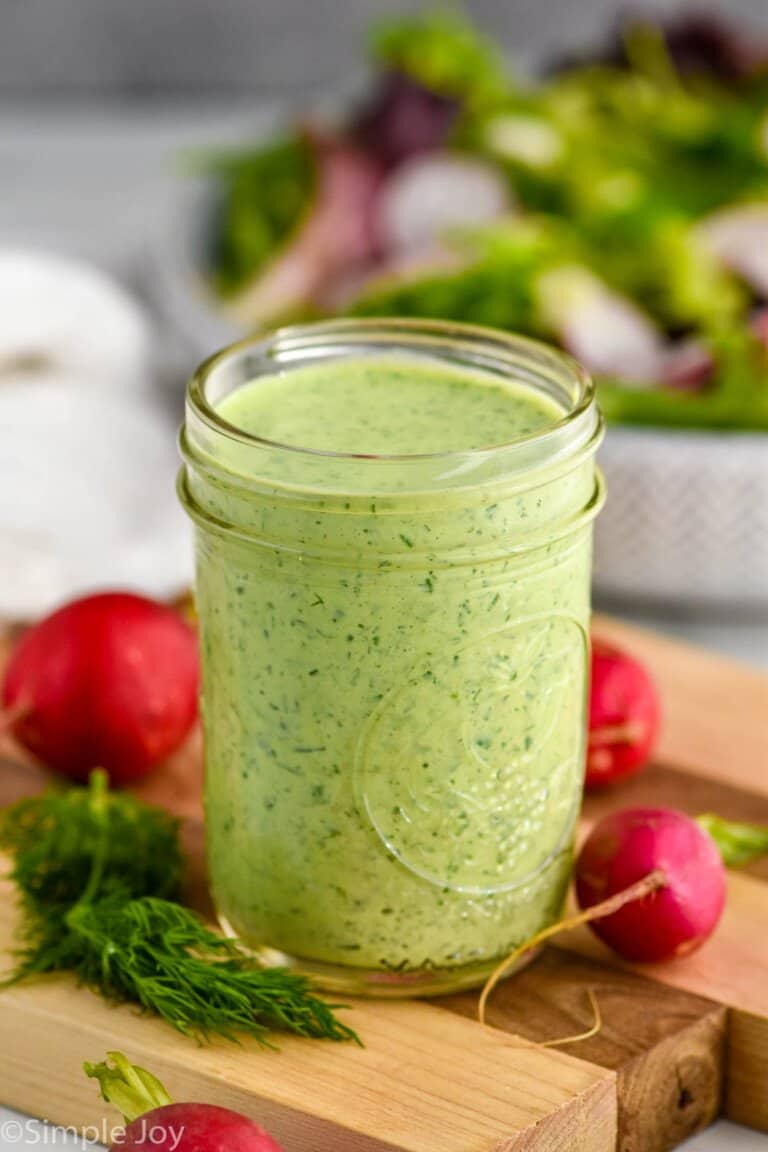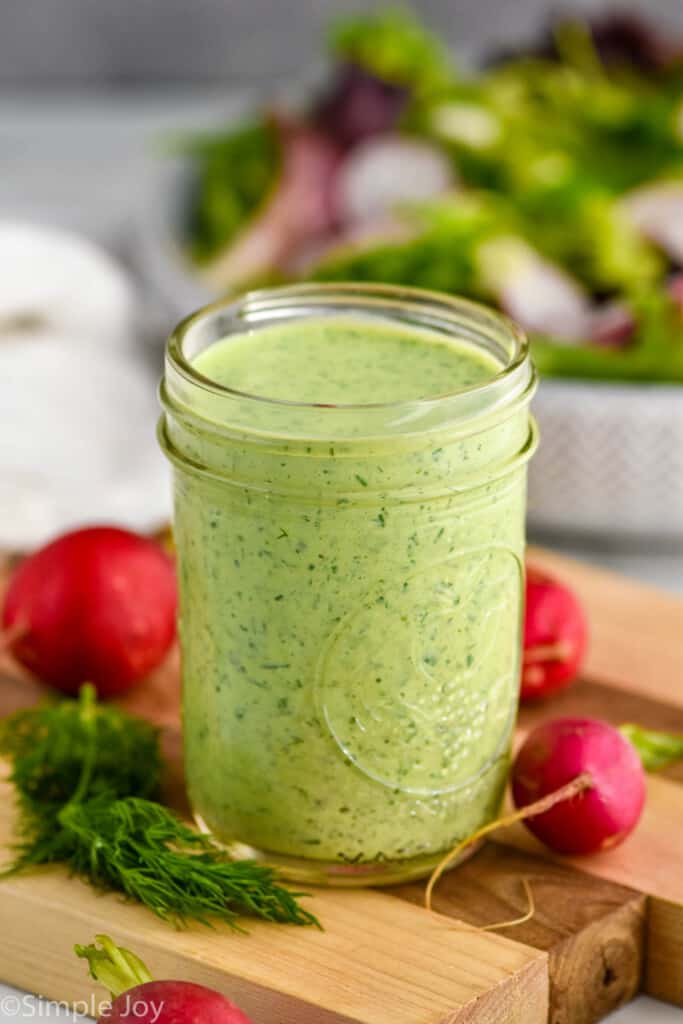 Switching Up the Herbs
The total amount of herbs and greens in this Green Goddess Salad Dressing is about 2 cups. You can really go with any variety of herbs you'd like. I think the combination of flavors here is perfect, but you could always throw in some cilantro or basil too.
Using Stems
As you are measuring out the herbs for this recipe, please note that using some of the stems is fine. It will be really time consuming to try to remove all of them, especially from the parsley and dill. Any stem that is soft is fine to use. Thicker, rougher stems, should be discarded.
Using Honey
Over the years, more and more restaurants have started to sweeten up this dressing recipe. You can taste the faint sweetness in the Panera Green Goddess Dressing. If you look at their ingredients, you will notice they call for some agave syrup.
In my first round of making this dressing, I didn't use any sweetener. It is delicious that way. That being said, I do think that the tiny bit of honey added in this version really balances the tart flavors of the lemon and the sour cream, while also mellowing out some of the intense flavors the herbs bring.
You can experiment with this and try adding just a 1/2 teaspoon of honey at first and more to taste.
Storing Green Goddess Salad Dressing
This salad dressing recipe will last in the refrigerator for 3 to 5 days because of the dairy and fresh herbs involved. It makes 1 1/2 cups, which is a great amount if you are having guests. If you aren't, I suggest that you cut the recipe in half.
Please also note that this recipe is even better after it has been refrigerated for a day.
FAQ
What does Green Goddess Dressing taste like?
This dressing has a creamy base and a wonderful tang brought from the lemon juice, sour cream, and fresh herbs. All of that is balanced by a dash of honey.
How long does Green Goddess Dressing last?
This salad dressing will last in your refrigerator for three to five days. Always use your best discretion when deciding if left overs are still good.
Can I freeze Green Goddess Dressing?
I do not recommend freezing this. The texture of the sour cream and mayonnaise will change dramatically in the freezer.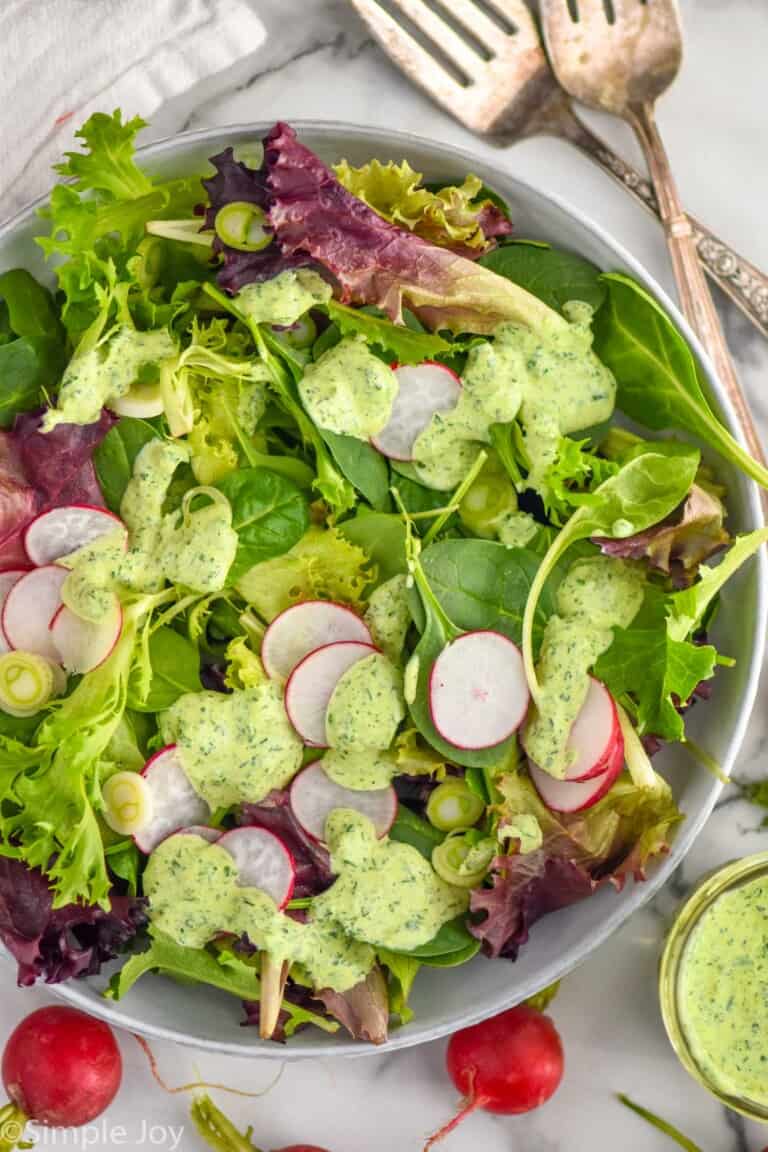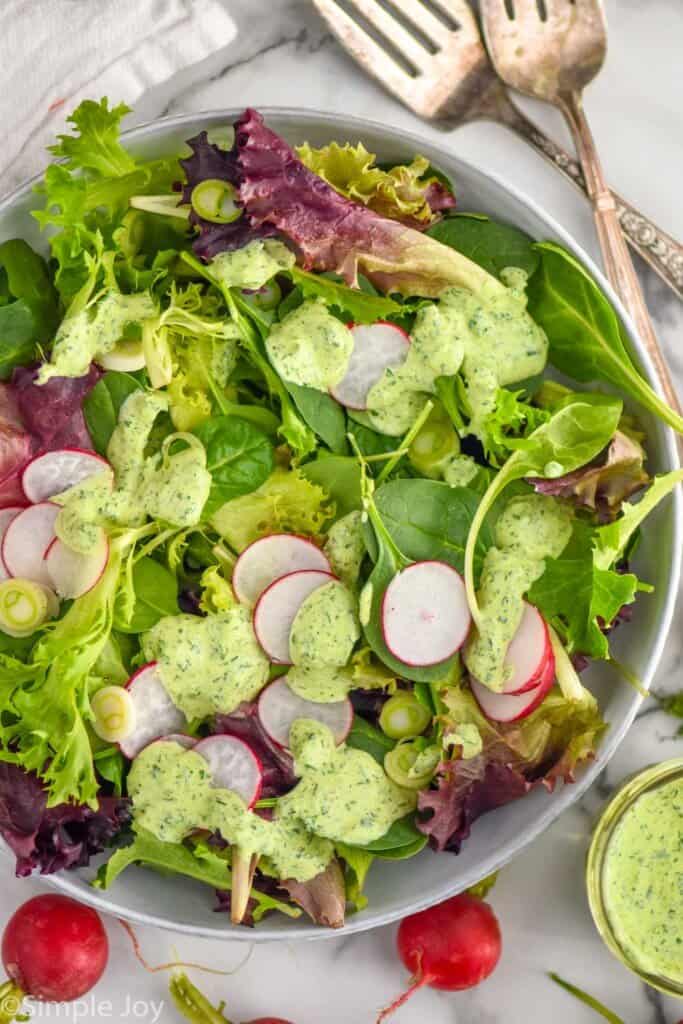 What to Put Green Goddess Dressing on
As mentioned above, this recipe is great as a dip for cut up vegetables. It also is perfect on some mixed greens as you see pictured here.
If you make this Green Goddess Dressing recipe or any of my other recipes, leave me a comment and let me know what you think!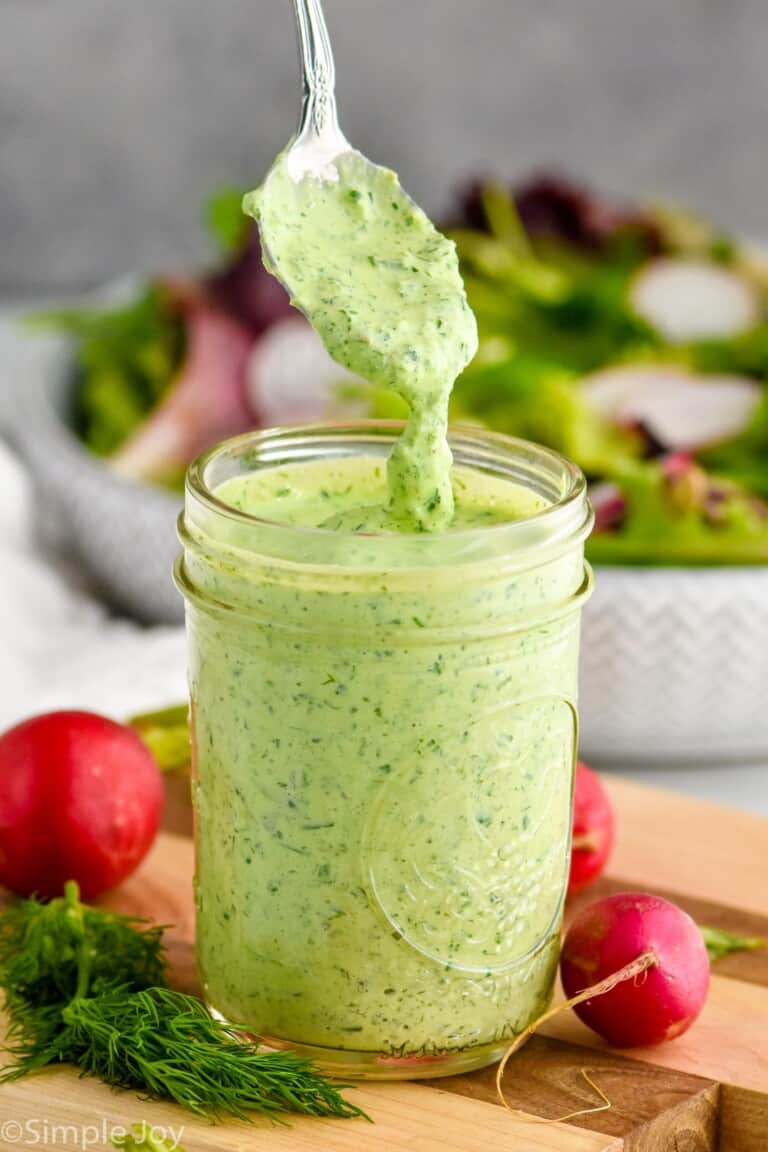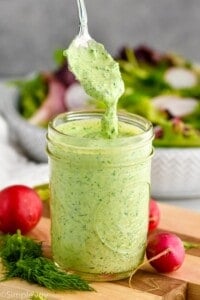 Green Goddess Dressing
Green Goddess Dressing is easy to make and adds a bright and fresh taste to any salad. Use this salad dressing recipe as a dip for veggies for a healthy light snack!
Ingredients
1

cup

parsley

packed (see my note about stems)

1/2

cup

baby spinach

packed

3

tablespoons

chives

roughly chopped

3

tablespoons

fresh dill

1

tablespoon

green onions

chopped two inches into the green (1 small green onion)

1

teaspoon

dried tarragon

1

garlic clove

1/2

cup

light sour cream

1/2

cup

light mayonnaise

(see my notes in the post about alternatives)

1

tablespoon

lemon juice

1

teaspoon

honey

1/2 – 1

teaspoon

kosher salt

dash

freshly ground black pepper
Instructions
In a blender or food processor, blend the parsley, spinach, chives, dill, green onoins, garlic, and dried tarragon.

Add the sour cream and mayonnaise to the food processor. Add in half the amount of lemon juice, honey, salt, and black pepper called for. Blend the salad dressing and then taste it. If it tastes too bitter, add more honey. If it doesn't taste bright enough, add more lemon juice, if it is too bland, add more salt and pepper. The amounts above reflect what I ended up using.
Serving:
2
tablespoons
Calories:
41
kcal
(2%)
Carbohydrates:
3
g
(1%)
Protein:
1
g
(2%)
Fat:
3
g
(5%)
Saturated Fat:
1
g
(6%)
Trans Fat:
1
g
Cholesterol:
5
mg
(2%)
Sodium:
274
mg
(12%)
Potassium:
70
mg
(2%)
Fiber:
1
g
(4%)
Sugar:
1
g
(1%)
Vitamin A:
629
IU
(13%)
Vitamin C:
8
mg
(10%)
Calcium:
26
mg
(3%)
Iron:
1
mg
(6%)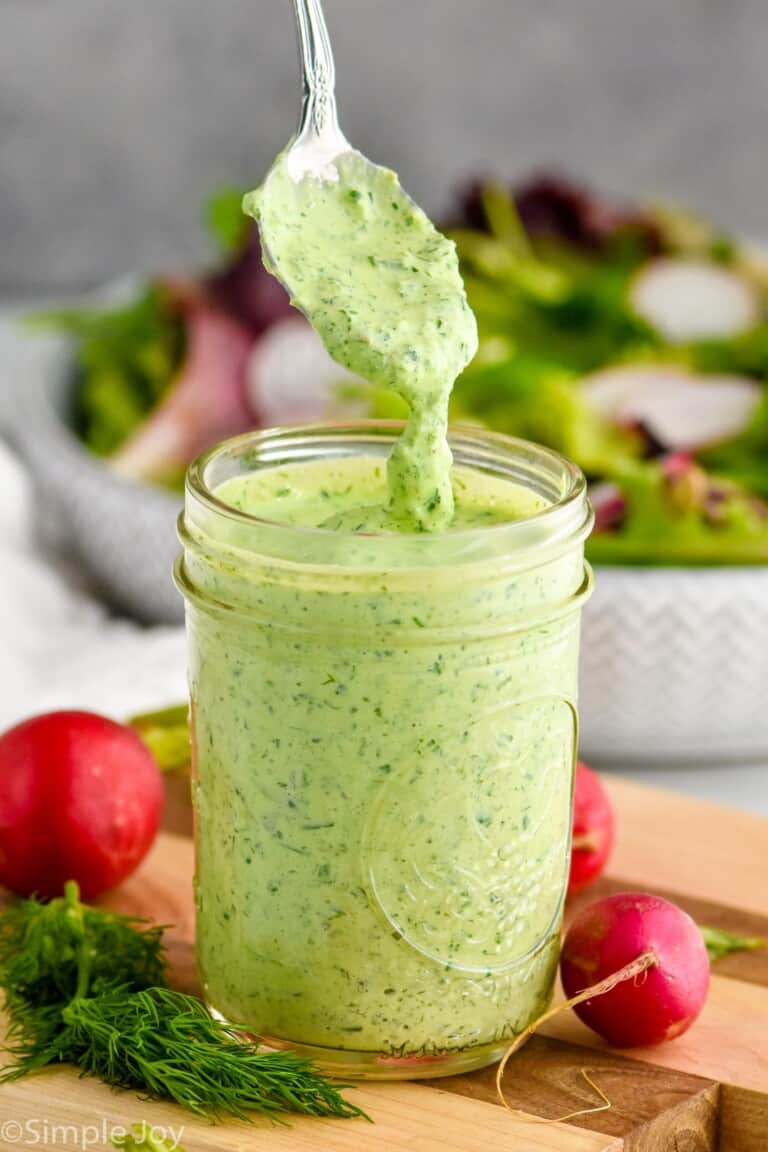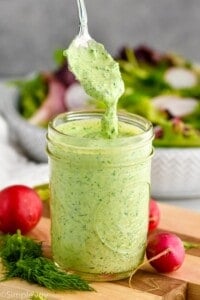 did you make this
Green Goddess Dressing