Nothing is quite as satisfying as a Reuben Sandwich. This simple corned beef sandwich comes together with just a few ingredients, and is so delicious. Don't want for St. Patrick's Day, make this delicious sandwich recipe year round.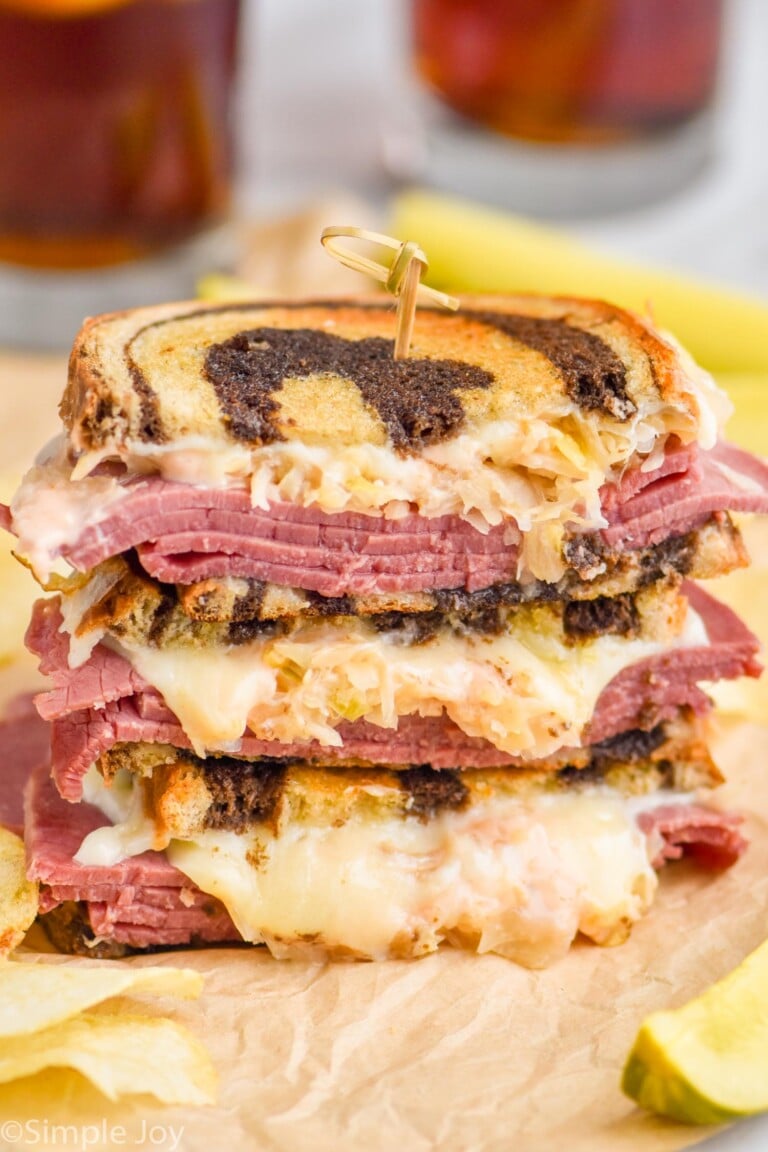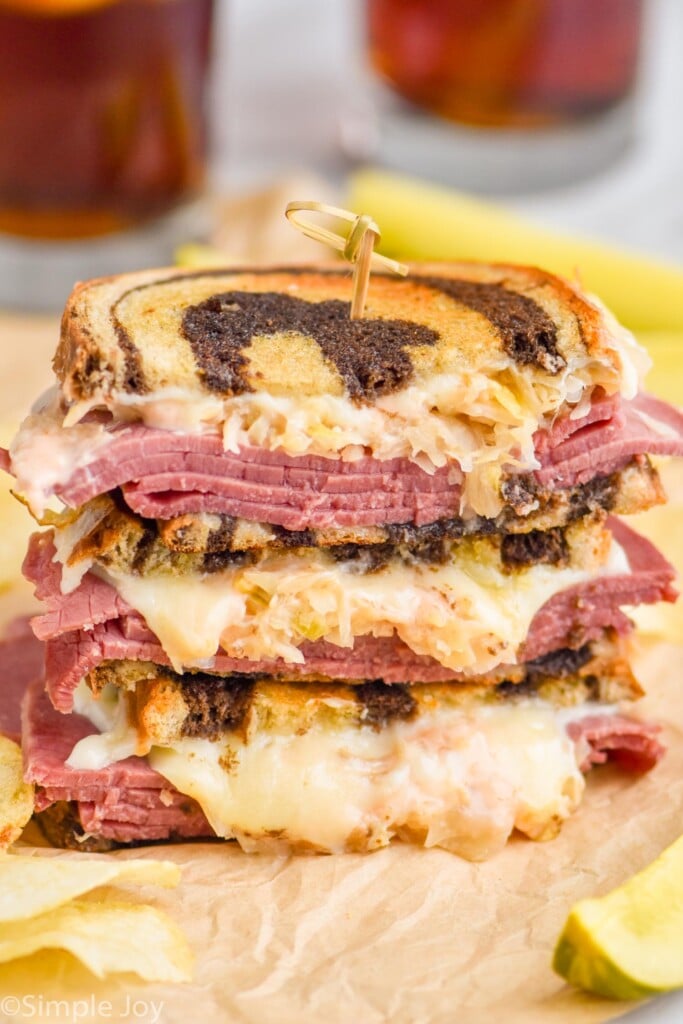 If you have been following along for some time, you might now that my family grew up vegetarian. My mom was a great vegetarian cook, and I have been slowly adding some of her great recipes to my vegetarian recipes section.
That being said, if there was one thing that could make my mom quickly forget she was a vegetarian, it was a hearty Reuben Sandwich. Once or twice a year she would allow herself to indulge in this delicious lunch.
This grilled sandwich comes together very quickly, and is perfect for an easy dinner for the family. You can grab some corned beef from the deli, or if you happen to have any left over Crockpot Corned Beef left, this is the recipe you should make.
What is a Reuben Sandwich
A Reuben Sandwich is a grilled cheese sandwich that is made with Swiss cheese, sauerkraut, corned beef, and Russian dressing between rye bread. The origins of the sandwich are somewhat unknown, though some believe that the first one was made at the request of a man named Reuben in the 1930s.
In my version of this delicious classic sandwich, I am going to use a rye and pumpernickel swirl bread. I think that the combination of the two flavors lends to the perfect texture of bread.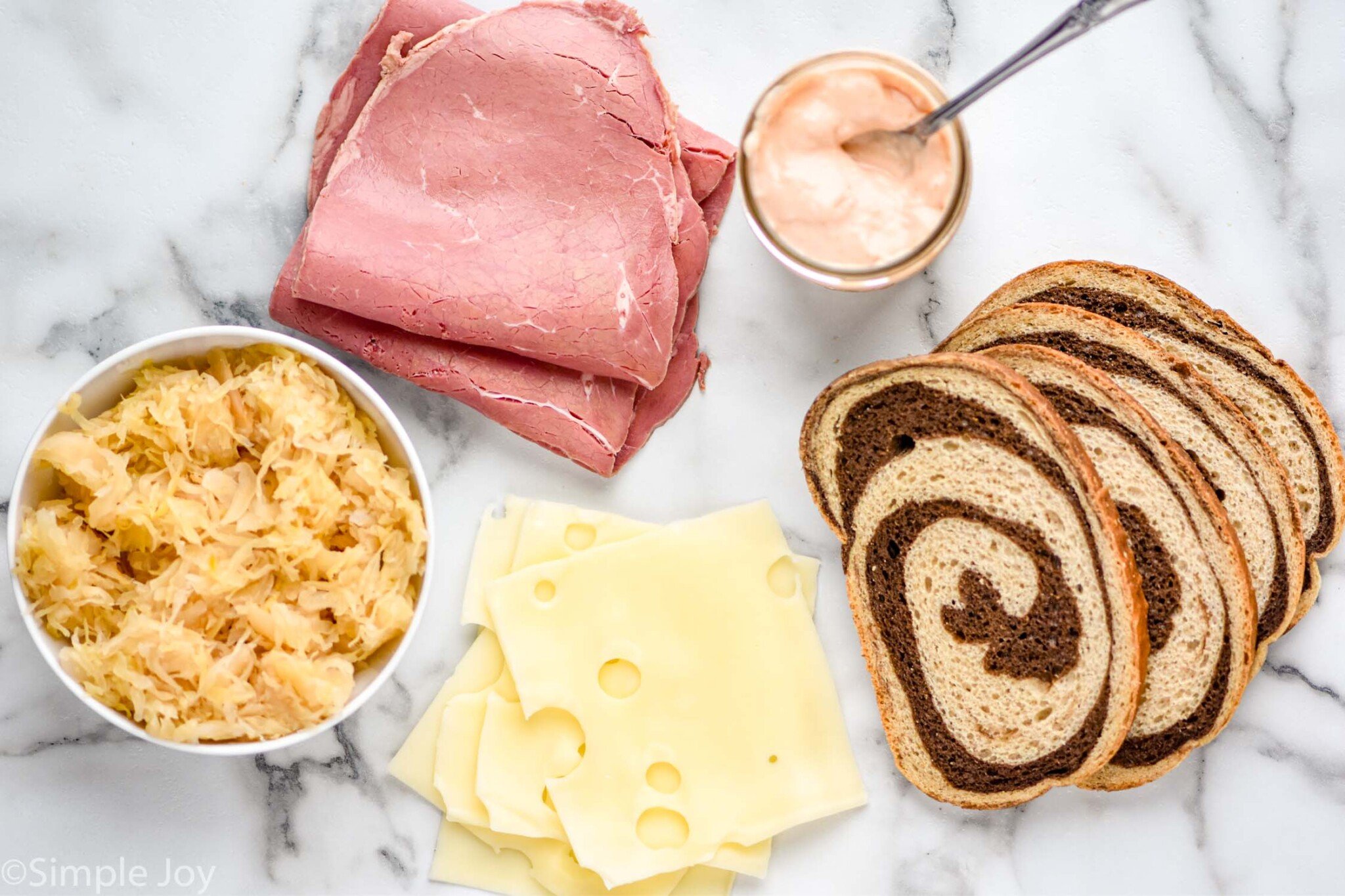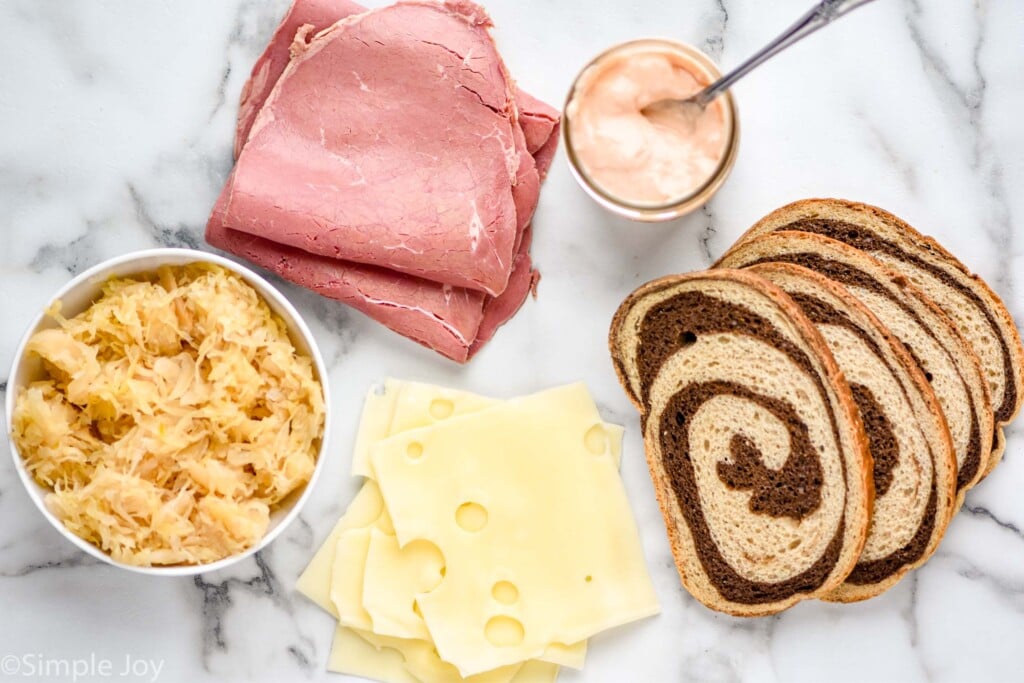 What goes on a Reuben Sandwich
Corned Beef: The signature ingredient of this great sandwich is corned beef, a salt cured beef brisket.
Swiss Cheese: You just can't make a proper Reuben without Swiss cheese. You will likely be happiest with this sandwich if you get your cheese freshly cut from the deli of your grocery store or slice your own from a block.
Sauerkraut: Finely cut and fermented cabbage makes sauerkraut the unique ingredient that it is. It can be bought canned or jarred, and will last for several months in the refrigerator in an air tight container.
Russian Dressing: This American made dressing (which isn't Russian at all) is easy to make with a few simple pantry ingredients.
Russian Dressing
Russian Dressing is such an easy condiment to make. Whether you want it for a salad or a Reuben Sandwich, whip this easy salad dressing up in minutes.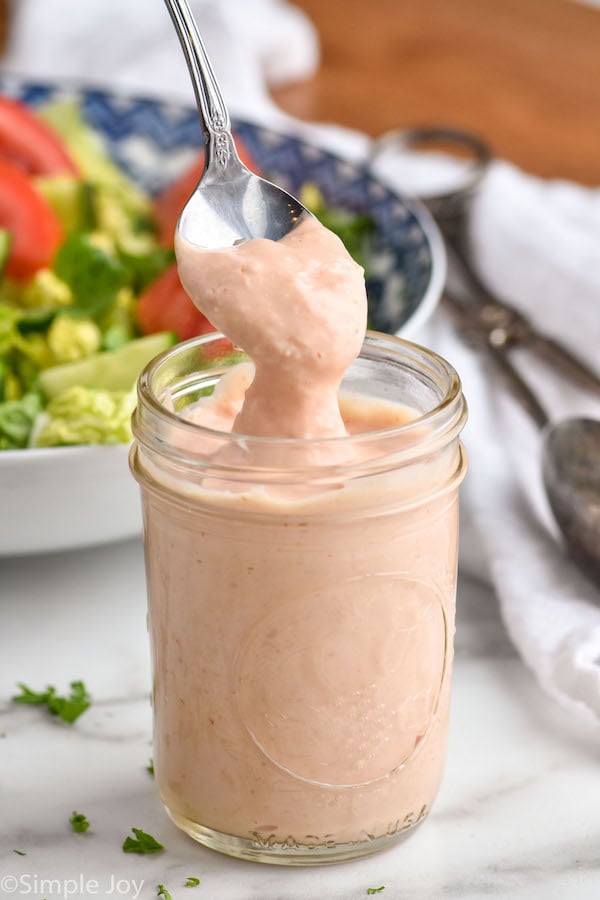 How to Make a Reuben Sandwich
This is a brief overview of how to make this delicious recipe. For the full recipe with all of the measurements, see the recipe card at the bottom of the post.
Heat up the sauerkraut and the meat. In a skillet, with a small amount of olive oil, heat up the sauerkraut and meat. It only needs to be warmed for about two minutes. I love the way this makes the sandwich warm throughout.
Prepare the bread. Slather one side of each piece of bread with butter.
Grill the sandwiches. In a hot skillet that has a lid, place four pieces of bread, butter side down. Add two pieces of cheese to each piece of bread, then some dressing, some of the warm sauerkraut and beef, and finally top it with the other pieces of bread, butter side up. Cover the skillet and grill for 4 minutes on each side over medium low heat.
Enjoy immediately.
Substitutions and Variations
Replace the sauerkraut with coleslaw. If you just can't stomach the idea of sauerkraut, grab some coleslaw instead.
Make a Rachel. Swap the corned beef for turkey and the sauerkraut for coleslaw and you have a Rachel Sandwich.
Use Thousand Island Dressing. Skip the Russian dressing and use Thousand Island, a little sweeter, less spicy dressing, instead.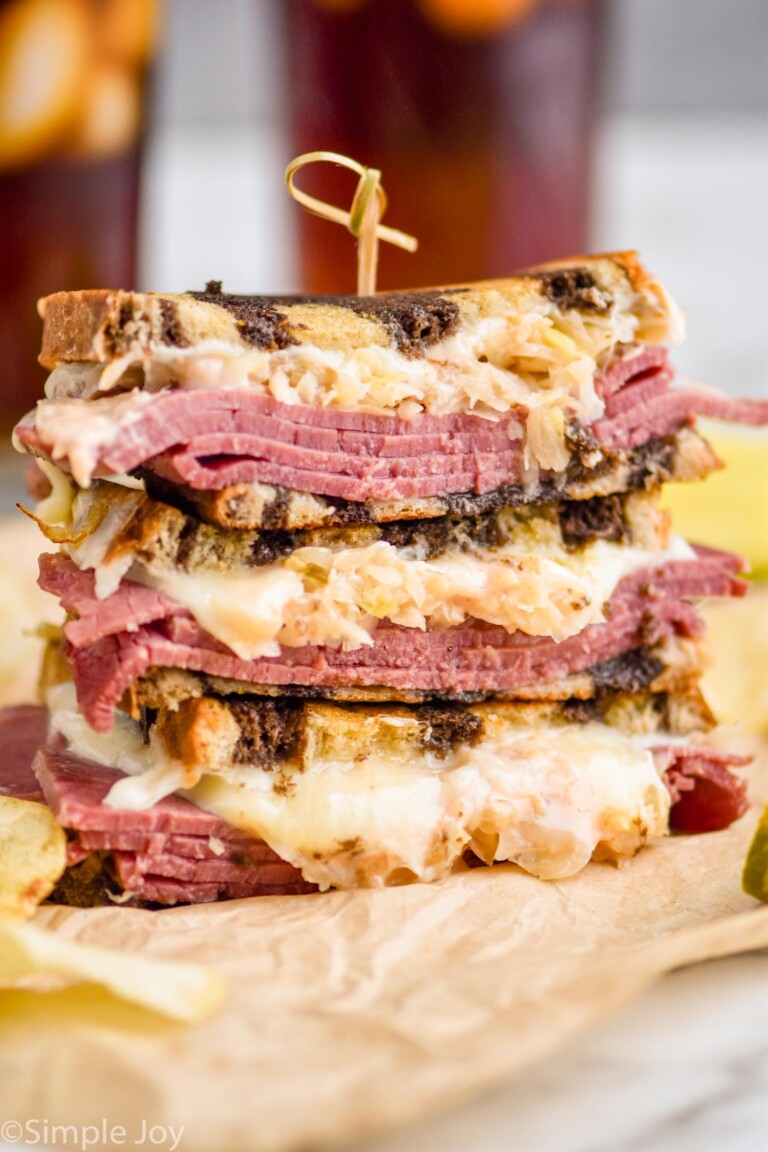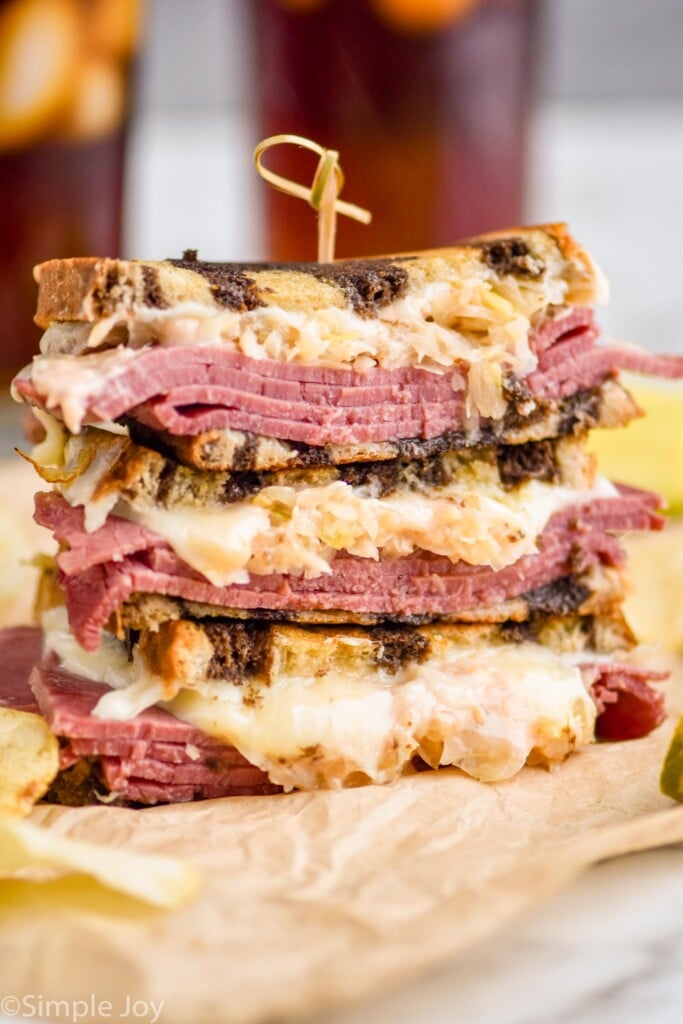 Tips for Making Grilled Cheese
Grilled cheese seems like the easiest thing in the world to make, but there are a few things to keep in mind.
Pass on holey bread. If you grab a piece of rye bread that has a big hole in it, go on to the next piece. This will keep your cheese inside your sandwich.
Low heat is your friend. There is nothing worse than a burnt grilled cheese. Use low heat to ensure that your cheese has plenty of time to melt while your bread does not burn.
Cover the pan. This is another thing that will help your cheese melt before your bread burns.
Don't go light on the butter. Using a room temperature butter for easy spreading, make sure that the bread is fully covered. It doesn't need to be ultra thick, but it does need to cover the full surface area of the bread.
Grab a panini press. If all else fails, use a panini press. It is the easiest way to have a fool proof grilled cheese sandwich.
Can't Get Enough?
If you can't get enough of the flavors of a Reuben Sandwich, try these two easy delicious recipes: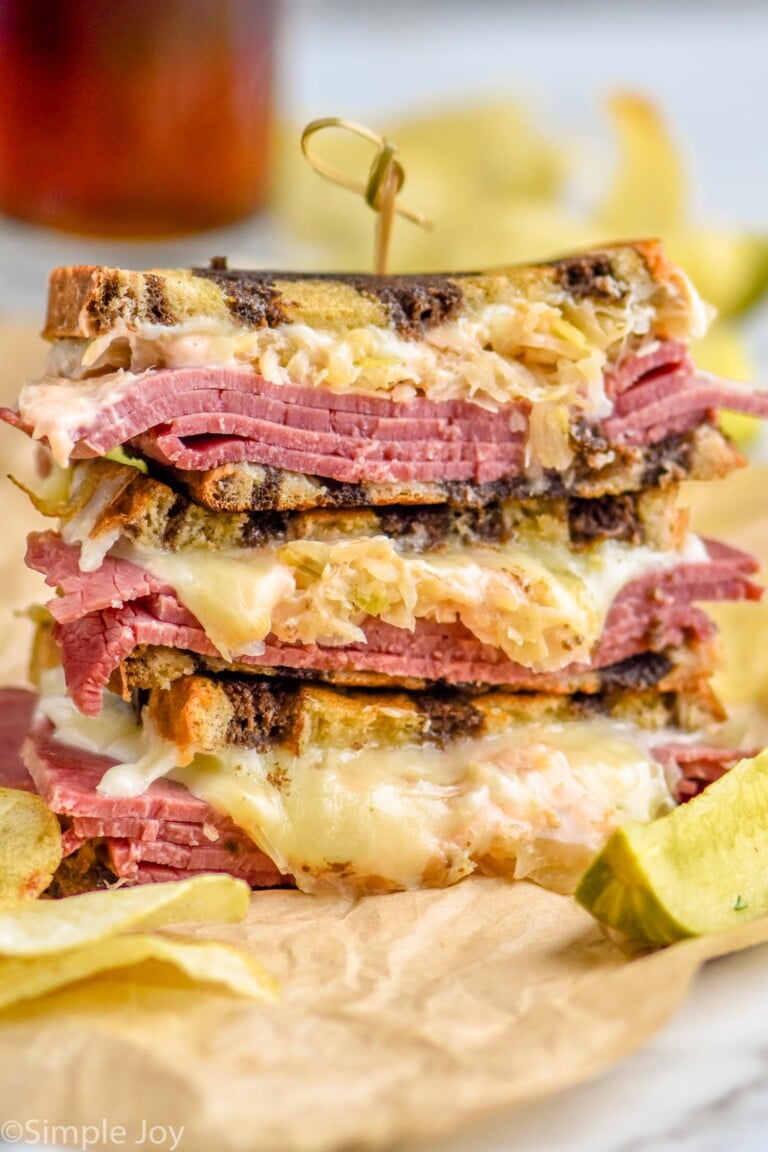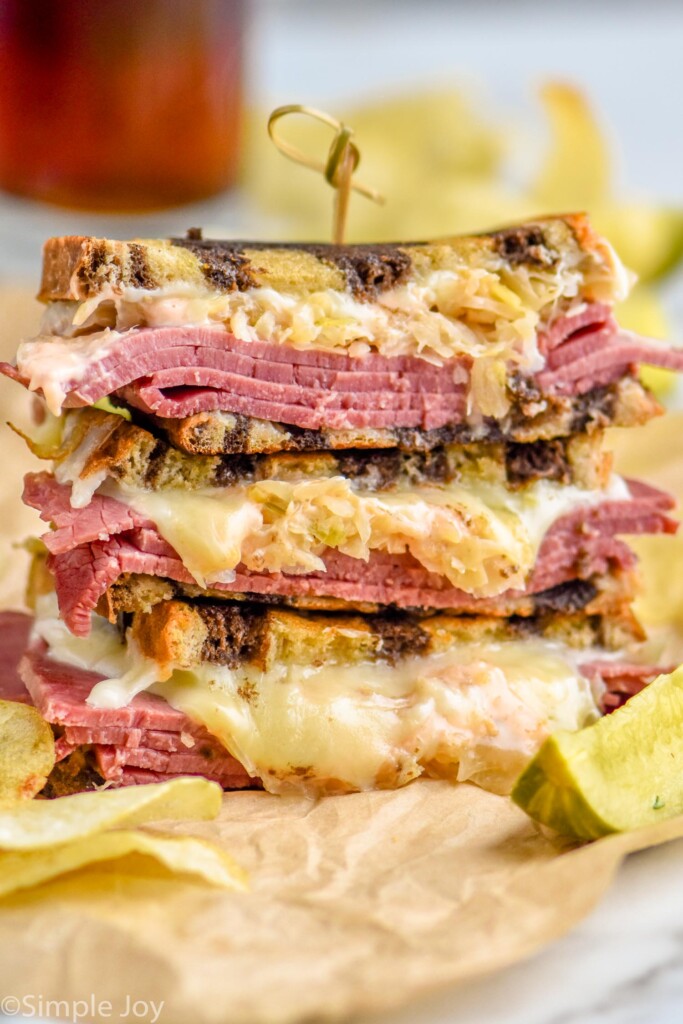 Complete Your St. Patrick's Day Menu
If you are making this for St. Patrick's Day here are a few ideas to complete the menu.
Colcannon – These over the top mashed potatoes should really be a part of your life all year.
Bailey's Brownies – I don't actually think this requires an explanation of why you need them in your life.
Irish Coffee – This is easy to make, and certainly will make you enjoy your Reuben Sandwich more.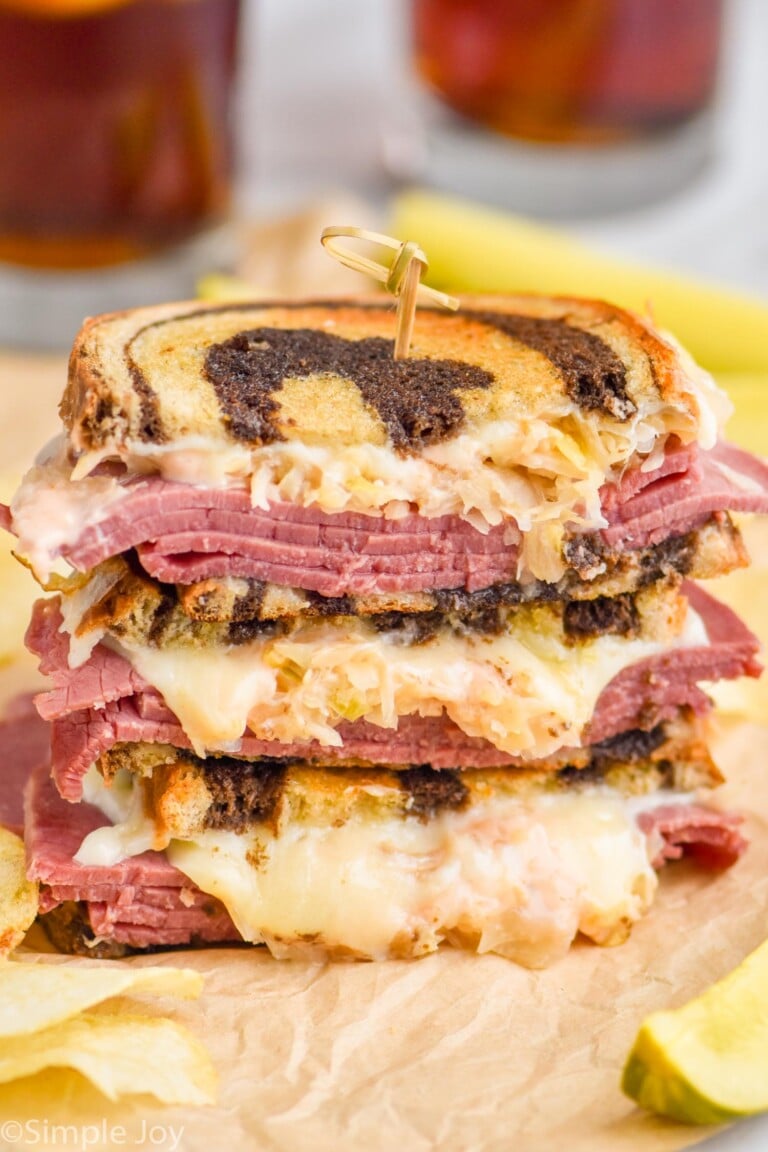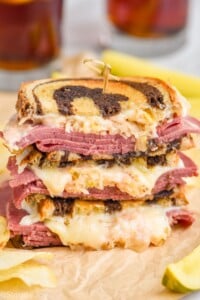 Reuben Sandwich
Nothing is quite as satisfying as a Reuben Sandwich. This simple corned beef sandwich comes together with just a few ingredients, and is so delicious. Don't want for St. Patrick's Day, make this delicious sandwich recipe year round.
Ingredients
1

teaspoon

olive oil

1

cup

sauerkraut

very well drained

20

ounces

sliced corned beef

(5 ounces per sandwich)

8

slices

pumpernickel rye bread

8

slices

Swiss cheese

1/3

cup

Russian dressing
Russian Dressing
1

tablespoon

grated onion

1

cup

low fat mayonnaise

2

tablespoons

ketchup

1

tablespoon

fresh ground horseradish

1

teaspoon

hot sauce

dash

kosher salt
Instructions
Whisk together the ingredients for the dressing.

In a skillet over medium heat, heat the olive oil. Add the sauerkraut and the meat. Cook until it is just warmed through, about 2 minutes.

To construct the sandwiches, butter one side of each piece of bread. Place four slices butter side down. To eacy piece of bread add two slices of cheese, a little dressing, and the warm sauerkraut and beef. Top with the remaining four slices of bread, so the butter is face up.

In a skillet, heat the sandwiches over medium low heat for 2 to 3 minutes with the pan covered. Flip the sandwiches and cook for an addtional 2 to 3 minutes or until the cheese is melted and the bread is crisp. Serve warm and enjoy.
Serving:
1
sandwich
Calories:
668
kcal
(33%)
Carbohydrates:
38
g
(13%)
Protein:
36
g
(72%)
Fat:
41
g
(63%)
Saturated Fat:
14
g
(88%)
Cholesterol:
113
mg
(38%)
Sodium:
2591
mg
(113%)
Potassium:
636
mg
(18%)
Fiber:
5
g
(21%)
Sugar:
7
g
(8%)
Vitamin A:
337
IU
(7%)
Vitamin C:
44
mg
(53%)
Calcium:
340
mg
(34%)
Iron:
5
mg
(28%)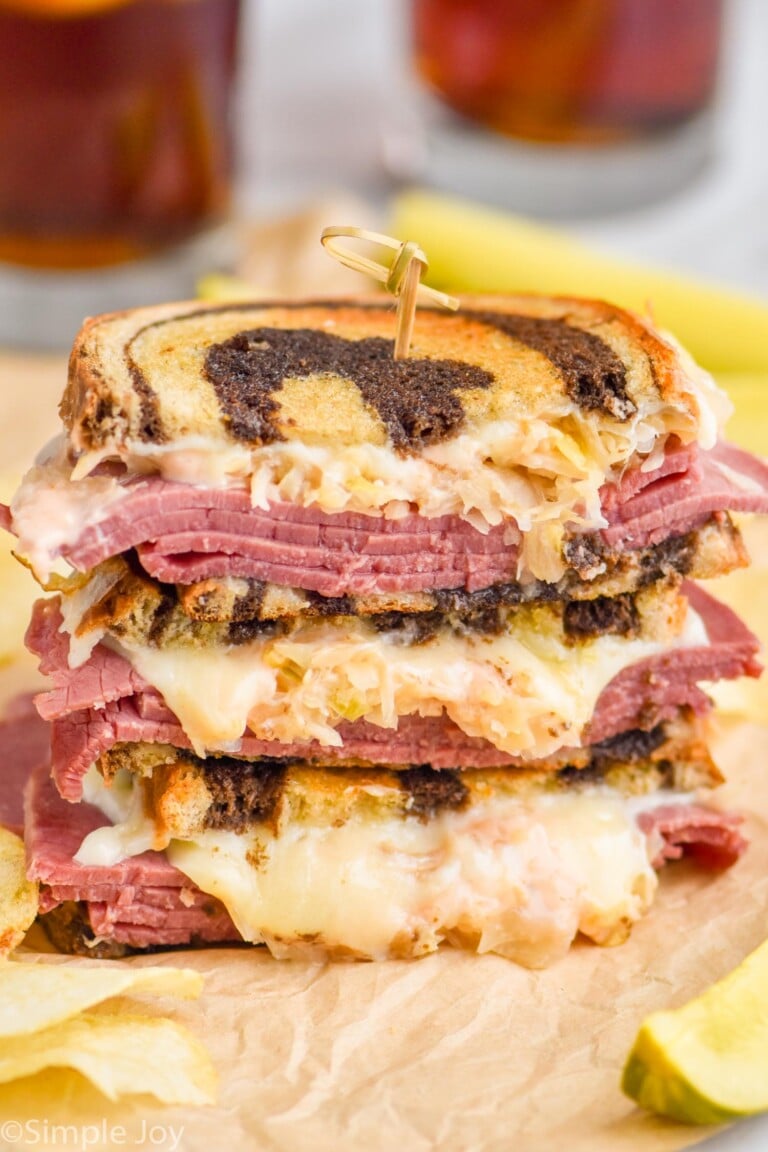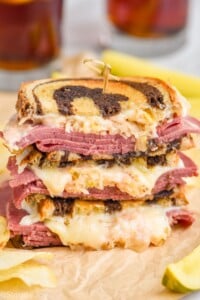 did you make this
Reuben Sandwich