Air Fryer Whole Chicken is so easy to make and it creates the most moist delicious chicken. Skip the oven, and pull out the air fryer for this great chicken recipe.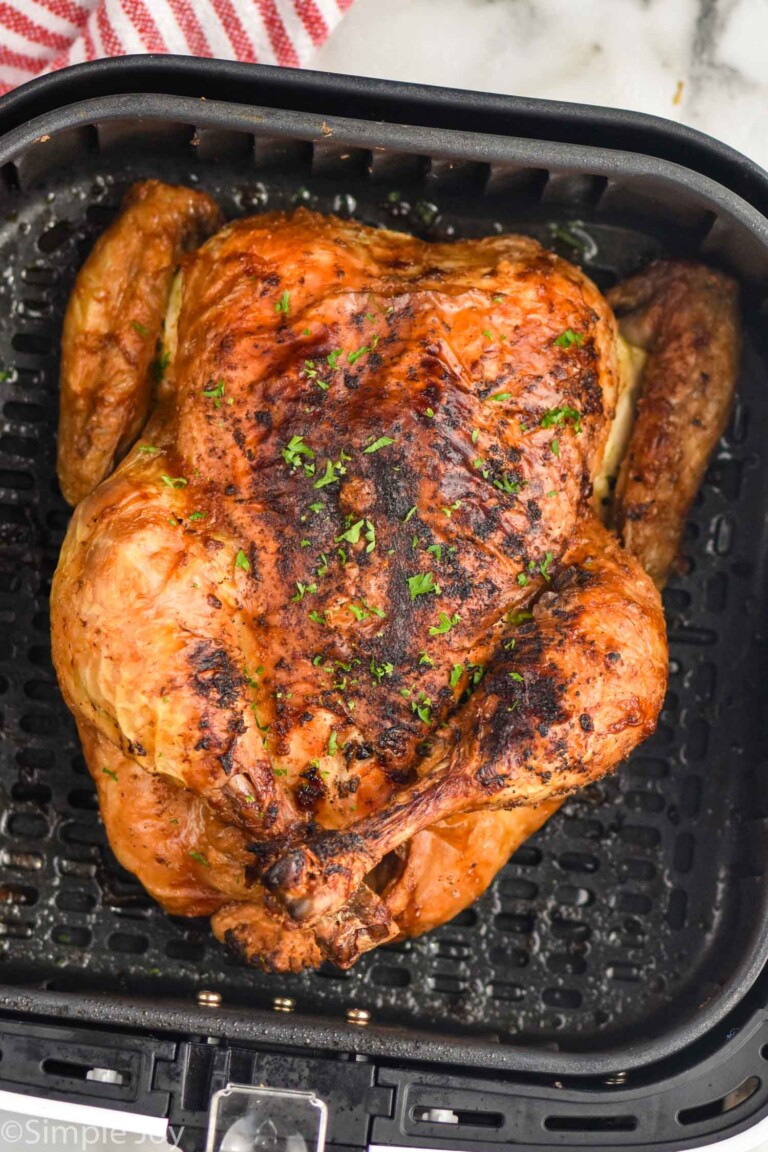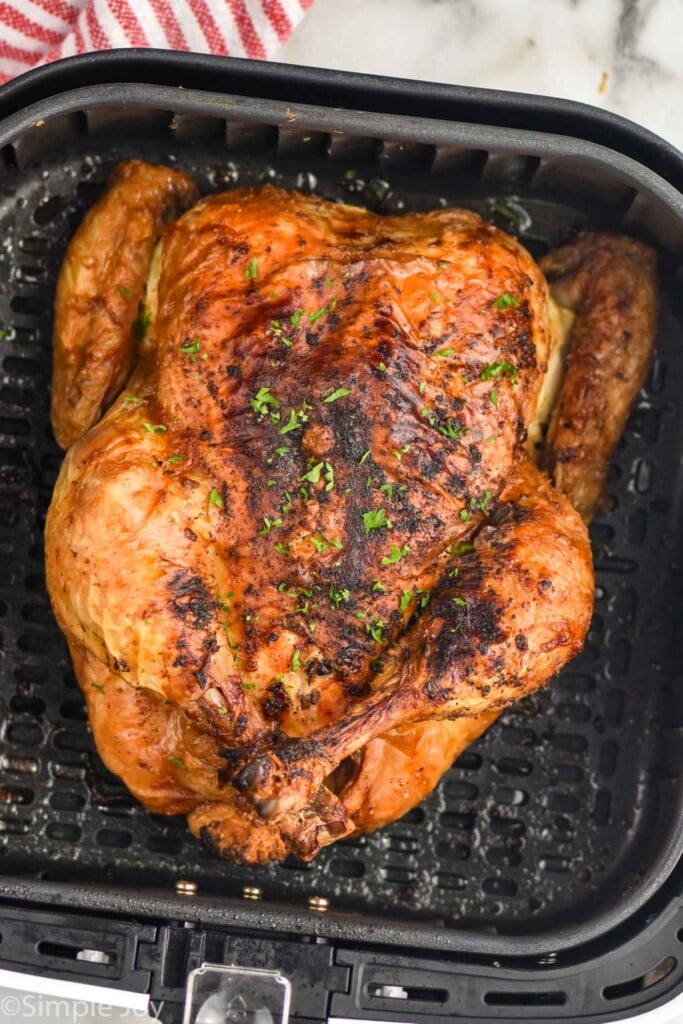 One thing my readers are always asking me for is more air fryer recipes. So I have been working away, air fryer in hand, coming up with new delicious recipes that can be made easily in your air fryer. If you want to see some of the other gems, you can check them out here: Air Fryer Recipes.
Today I'm going to teach you how to make an entire whole chicken in the air fryer. This Air Fryer Whole Chicken is only about 5 minutes of prep for a perfect hands off meal that your family will love.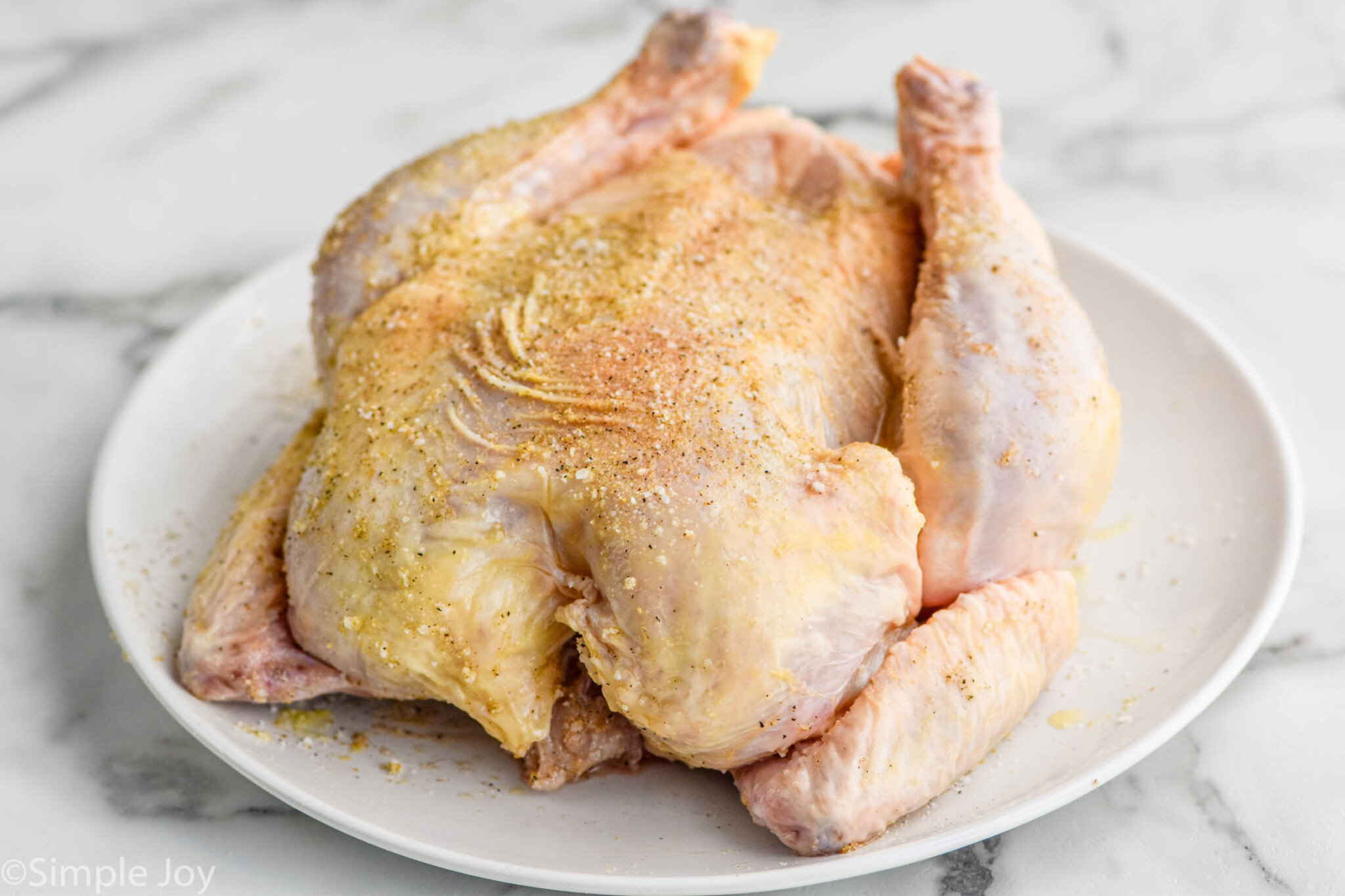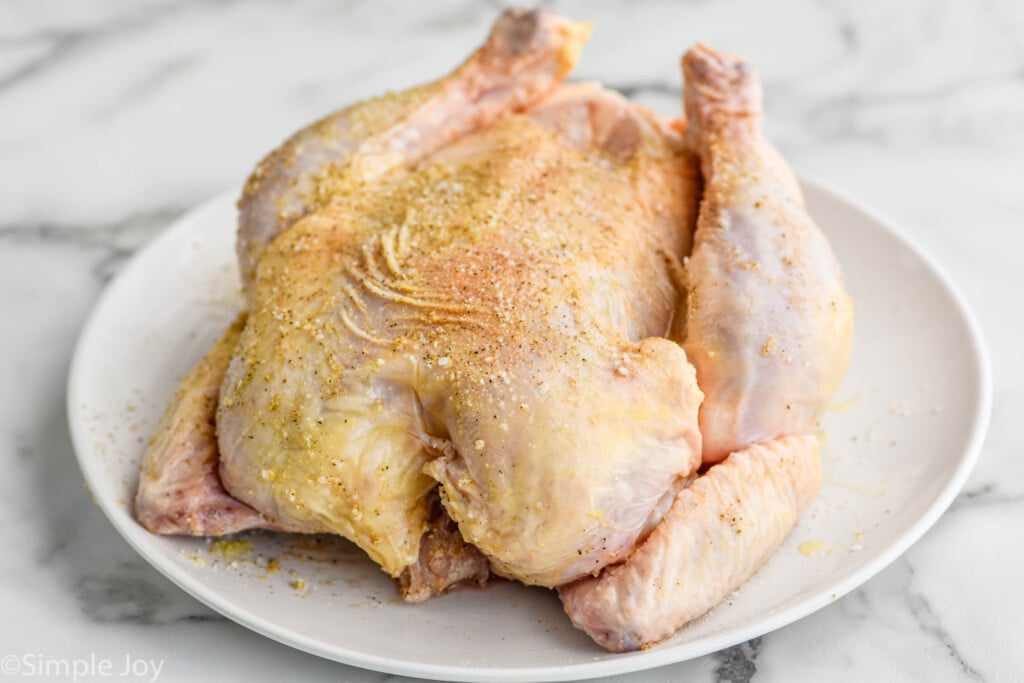 How to Cook a Whole Chicken in an Air Fryer
This is a brief overview of how to make this air fryer whole chicken. For the full recipe with all of the instructions and measurements, please see the recipe card at the bottom of the post.
Preheat the air fryer.
Prepare the chicken. First, remove any giblets that might be in the cavity of the chicken. Pat the chicken dry. Tuck the chicken's wings behind the body and then tie the legs together. Then, rub olive oil all over the chicken and season it.
Cook the chicken. Place the chicken in the air fryer, breast side down. Cook for 30 minutes. Then flip the chicken over and cook it for 30 more minutes or until the chicken registers 160 degrees on an instant read thermometer.
Cut the chicken, and serve it. This video is a great resource for step by step how to cut a whole chicken.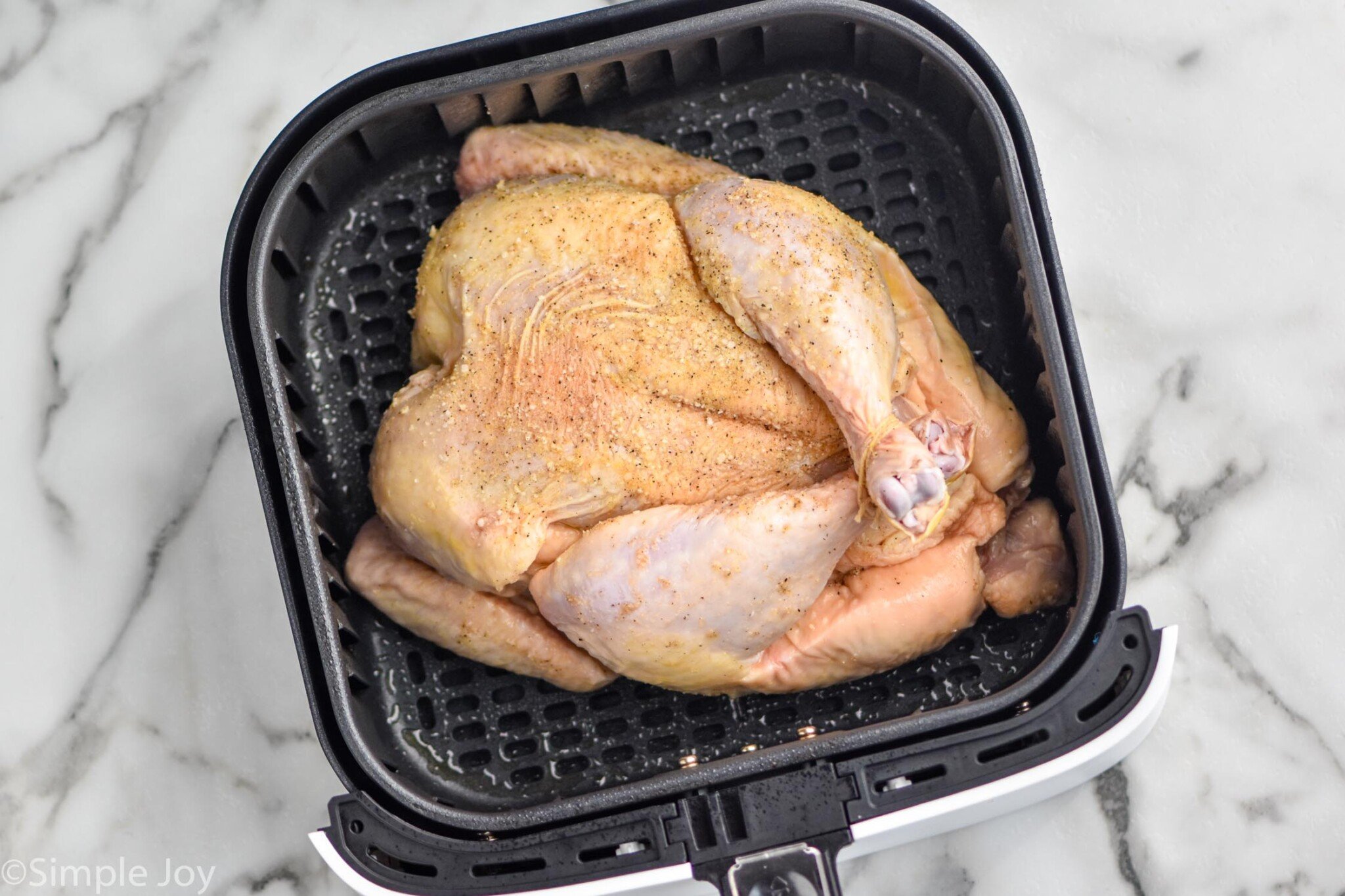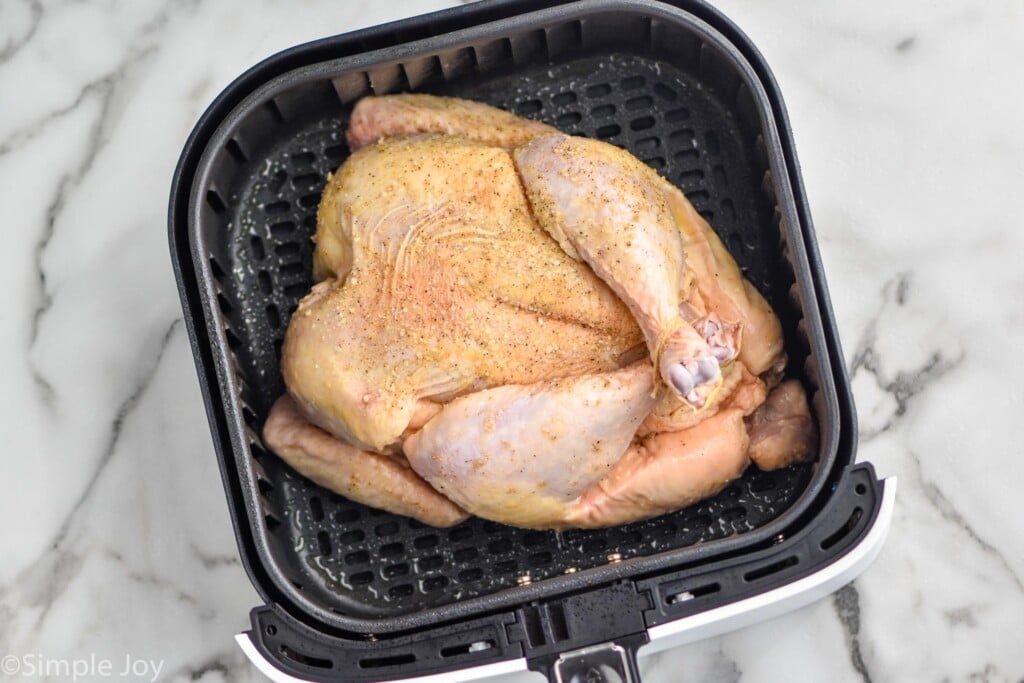 Prepping a Whole Chicken for Air Frying
You'll notice that we are both tucking the chicken wings and also tying the legs together. The reason for this is twofold. First, it prevents the wings and the legs from getting overcooked. This is a great tip whether you are cooking in the air fryer or making a roast chicken in the oven. Second, this prevents too much air from circulating in the cavity of the chicken and drying out the breasts before the rest of the chicken is fully cooked.
TOP PICK
My Favorite Air Fryer
We've tried different air fryers, and I just love the one. It has a nice big basket, and it cooks so evenly.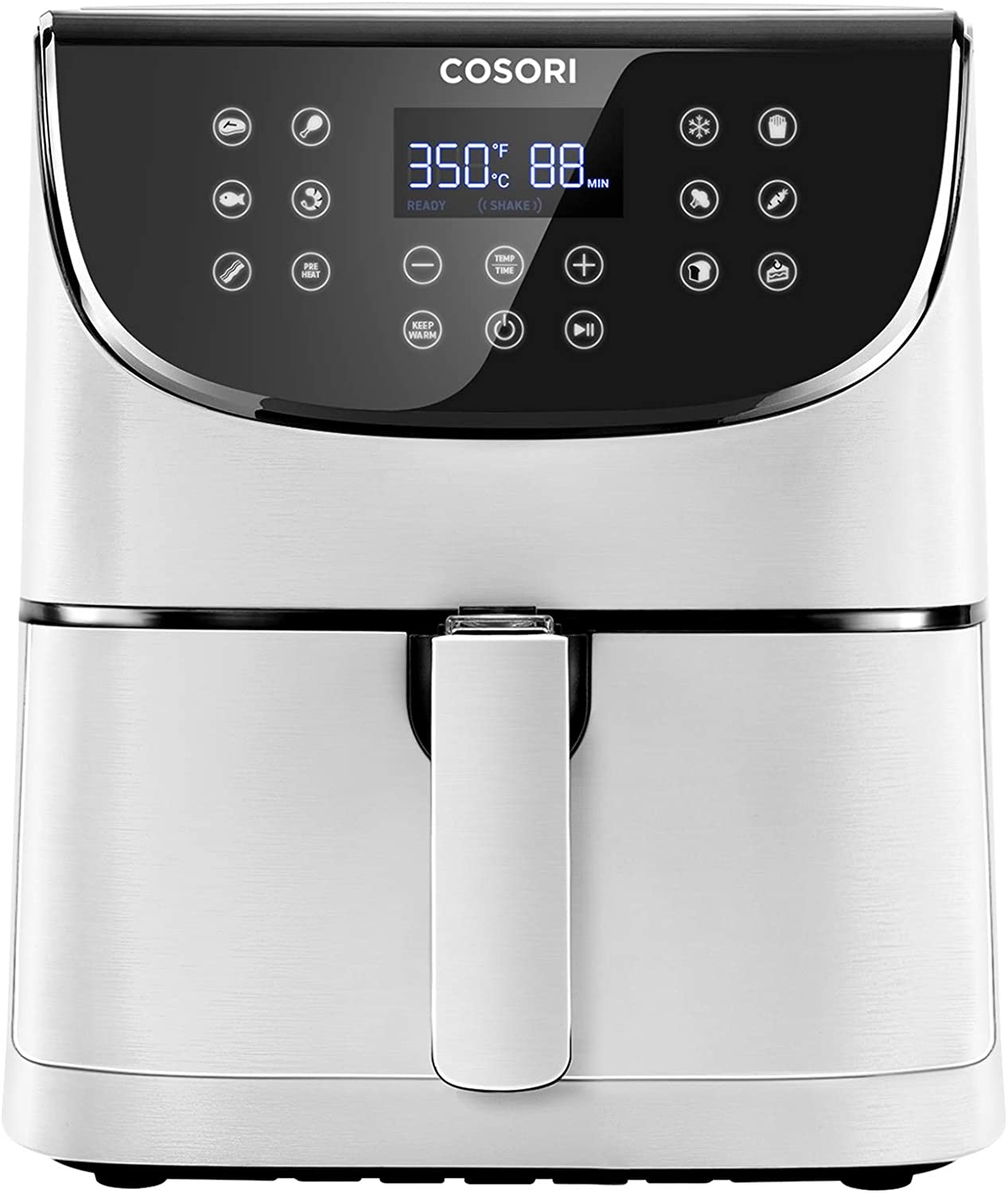 Tips and Tricks
There are a few things that will help this air fryer chicken turn out perfect. Here are my suggestions:
Skip rinsing your chicken. This is an old school step that has been proven not necessary in recent years. It also prevents you from spreading bacteria around your kitchen.
Start with the chicken breast side down. This is a simple trick that keeps the breast meat from drying out.
Tuck those chicken wings. With the chicken wings tucked behind the chicken, it will help keep them from burning.
Invest in an instant read thermometer. While the cooking time for this is pretty accurate, air fryers vary. Your best bet is to use a thermometer that can stay inside the chicken as it cooks. I love this Instant Read Thermometer.
Take the chicken out at 160 degrees Fahrenheit. While chicken needs to be 165 degrees to be safe to eat, carry over cooking will finish it off. Read more about carry over cooking below.
Let the chicken rest. Once the chicken is done cooking, it really needs to rest for 12 to 15 minutes. If your chicken is bigger than 4 pounds, it will need to rest even longer. Read about why we let meat rest below.
Air Fryer Chicken Breasts
Air Fryer Chicken Breasts are so fast to make, done in about 15 minutes, and they come out perfectly juicy every time.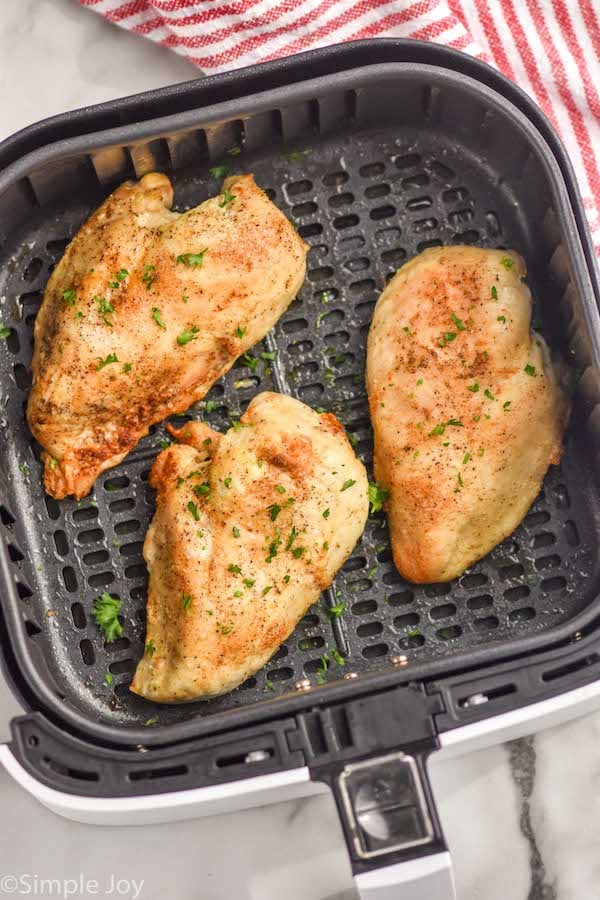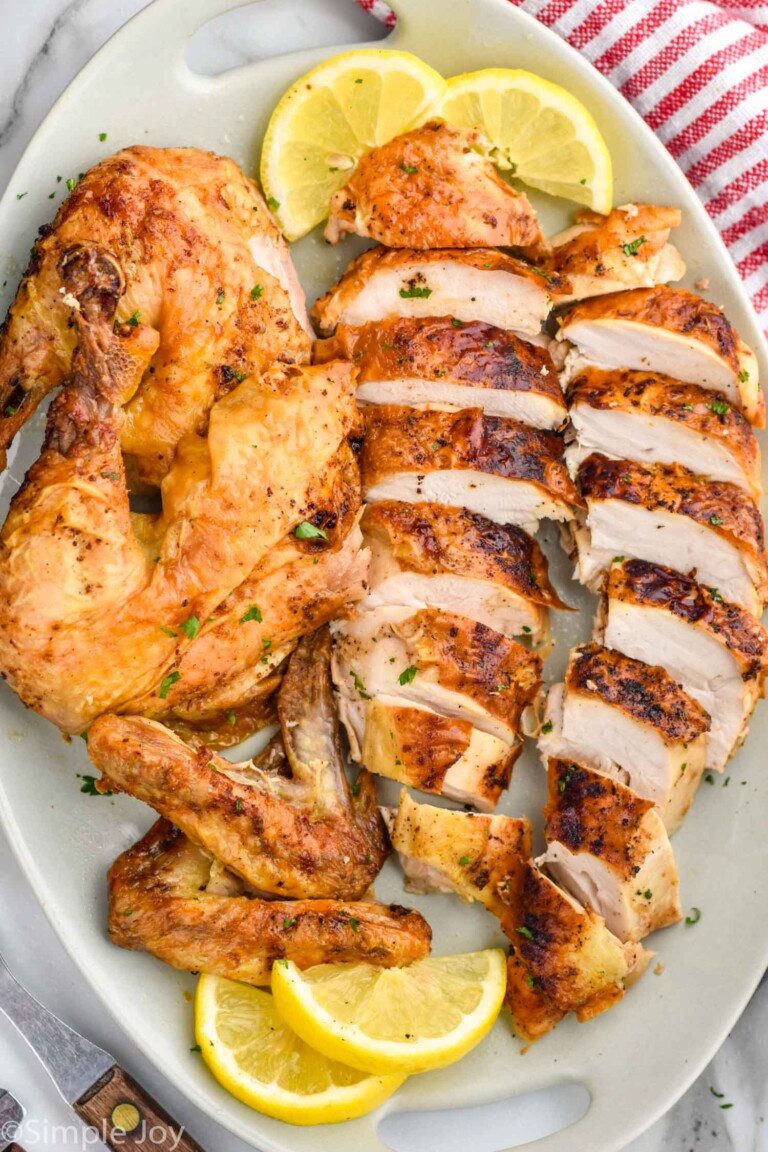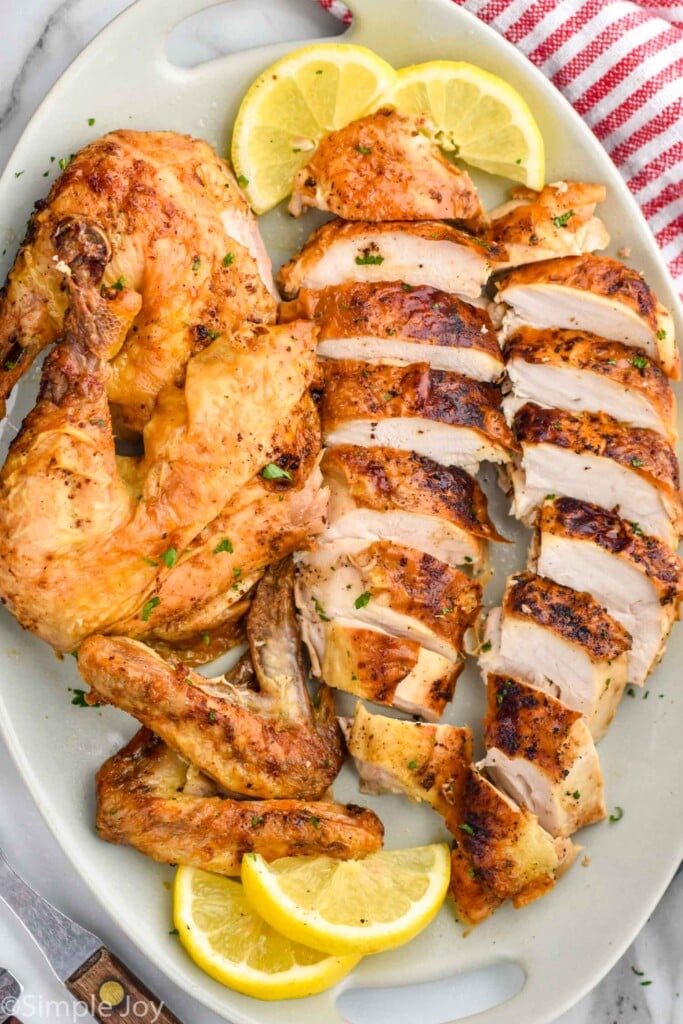 Carry Over Cooking
A trick that I use often in cooking meat is carry over cooking. This is the process of taking meat out of the oven (or in this case the air fryer) just before it reaches its done temperature. The reason for this is that the meat will continue to cook while it is out of the oven.
If you let chicken only hit 160 degrees Fahrenheit, it will reach 165 degrees before you eat it, but pulling it out early will prevent it from drying out. If you are nervous about this, invest in that thermometer linked above, and watch the temperature climb with the chicken out of the air fryer. It's pretty magical.
Letting Air Fryer Whole Chicken Rest
I'm sure you've read many recipes that instruct you to let your meat rest before you start slicing it. But do you know the reason why?
We are letting meat rest for two main reasons. The first is that if you immediately slice it – no matter what the meat is – a lot of the juices from cooking will run out of the meat. The second reason we let chicken rest is that slicing it too early will shred the meat. See these beautiful, clean slices below? Those come from letting the chicken rest.
Using Other Seasonings
This recipe is minimally seasoned, but I find that it is quite perfect. If you are looking to mix it up, you could try 2 to 3 teaspoons of one of the following recipes:
FAQ
How long do you cook a whole chicken in the air fryer?
A whole chicken will need 1 hour in the air fryer at 350 degrees.
What size chicken can you cook in the air fryer?
I find that this recipe works best with a chicken that is between 3 and 4 pounds.
Can I cook air fryer chicken stuffed with stuffing?
I never recommend cooking stuffing stuffed in a bird. If the stuffing is raw that brings concern of it not cooking fully. If the stuffing is precooked, you still have the concern of air not circulating through the bird.
What air fryer do you have?
I have the Cosori, and I really love it. I've had other air fryers and this one is nice and big–perfect for a dinner like this.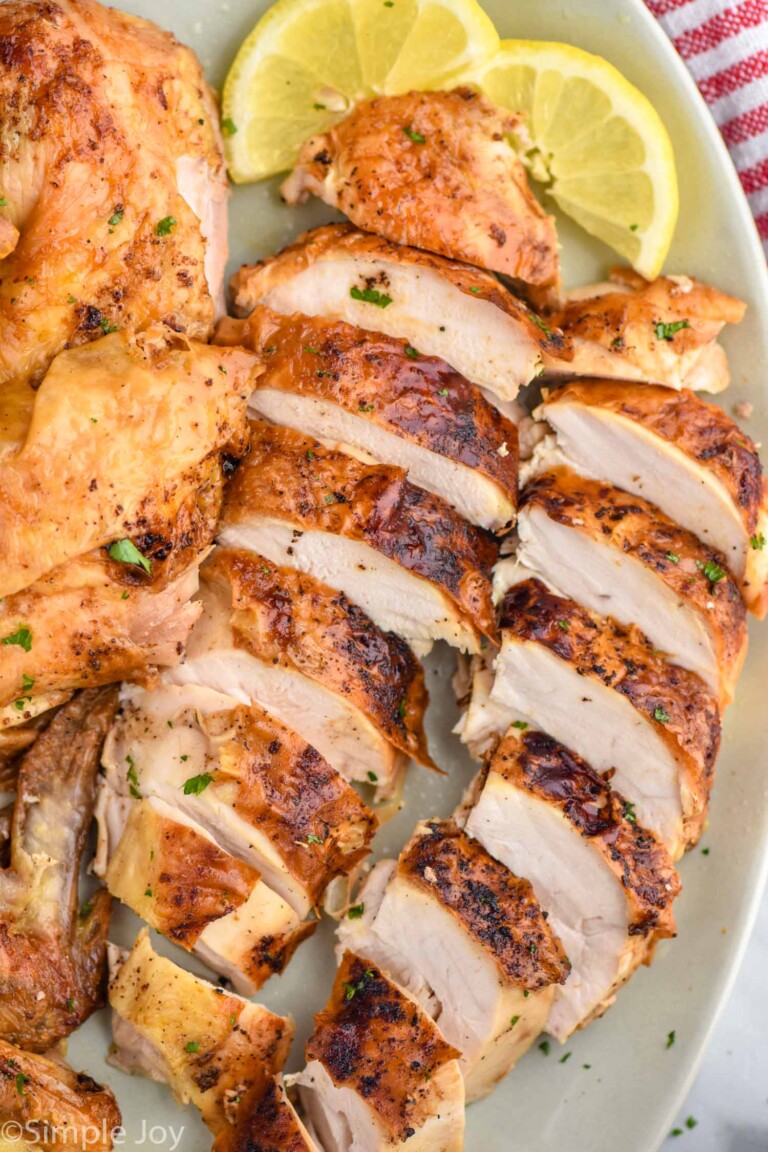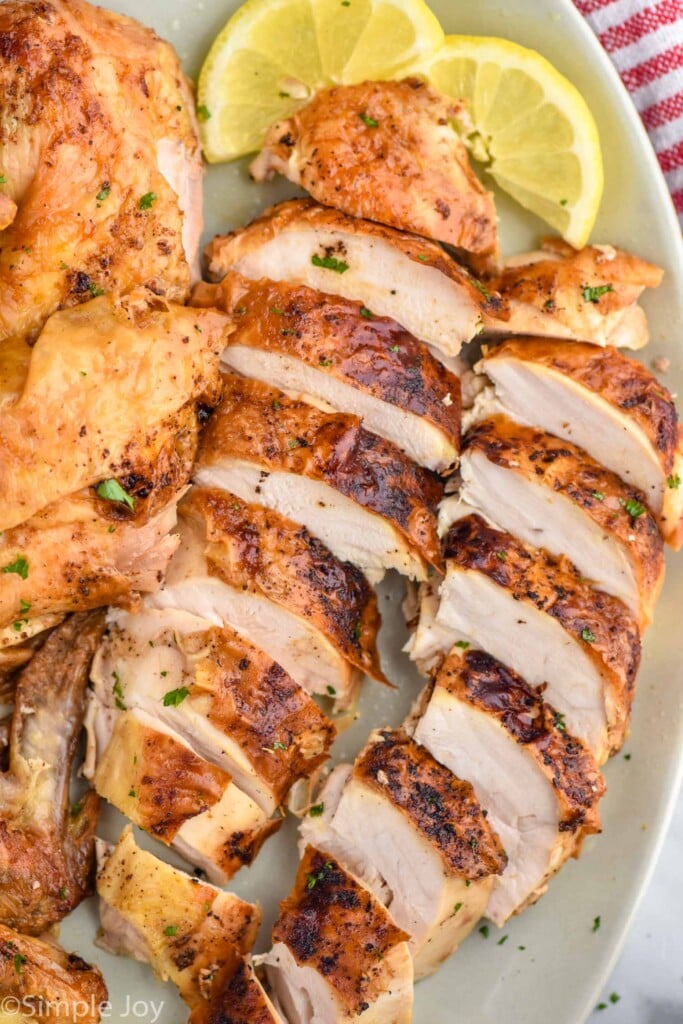 What to Serve with Air Fryer Whole Chicken
If you are using your air fryer to make your chicken, I'm assuming you don't really want to turn on your oven. So I'm going to give you several easy side dishes that would pair well with this without turning on your oven.
If you make my air fryer whole chicken or any of my other recipes, leave me a comment and let me know what you think!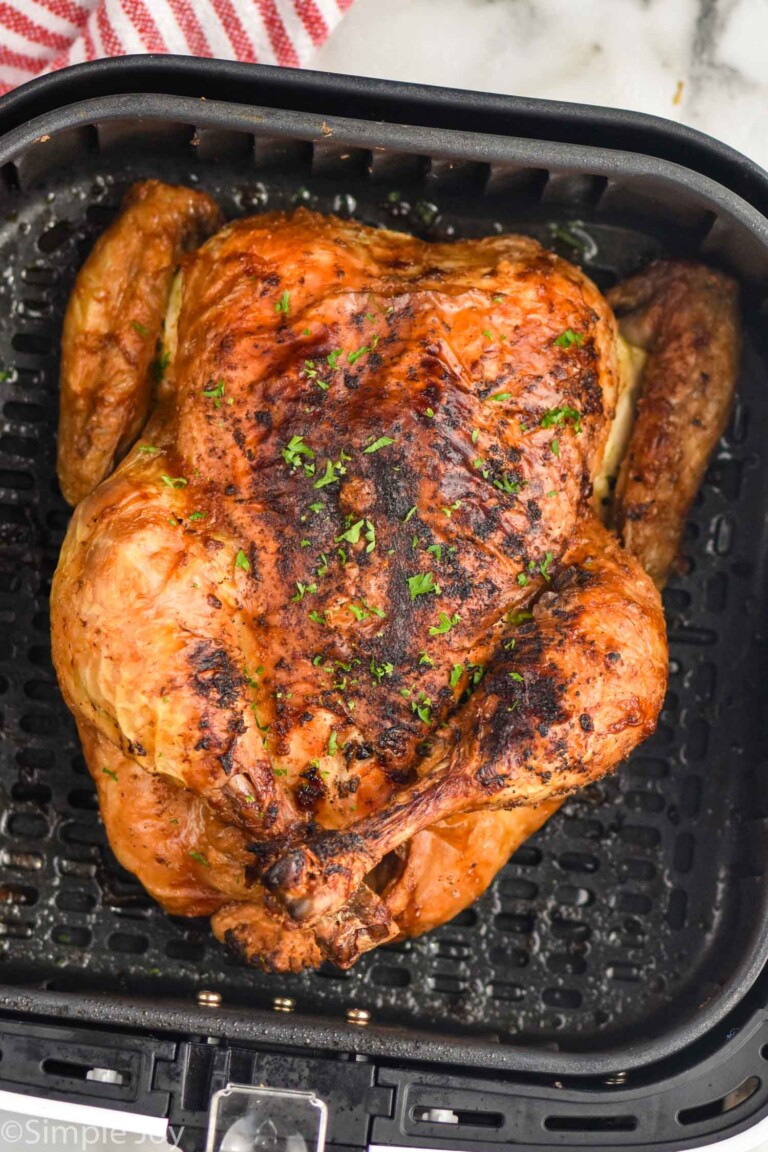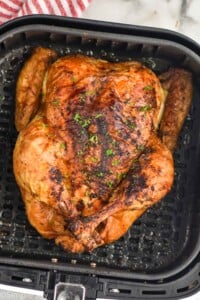 Air Fryer Whole Chicken
Air Fryer Whole Chicken is so easy to make and it creates the most moist delicious chicken. Skip the oven, and pull out the air fryer for this great chicken recipe.
Ingredients
3 to 4

pound

chicken

giblets removed

1 1/2

tablespoons

olive oil

1 1/2

teaspoons

kosher salt

(if you only have table salt, cut this in half)

1/2

teaspoon

garlic powder

1/2

teaspoon

onion powder

1/4

teaspoon

black pepper
Instructions
While the air fryer is preheating, prepare your chicken. Remove any giblets. Pat the chicken dry. Then, using kitchen twin, tie the legs together. Finally, tuck the wings behind the body of the chicken. (See photos in the post and read about why we do this here.) Then, coat the chicken all over in olive oil. Then season it with the salt, garlic powder, onion powder, and black pepper.

Place it in the preheated air fryer, breast side down, and cook for 30 minutes. Flip the chicken and continue cooking for another 30 minutes or until he thickest part of the chicken reaches 160 degree).

Remove the chicken from the air fryer, tent with foil, and let it rest for 5 minutes. During this time there will be some carry over cooking and the chicken will reach 165 degrees. (Read more about carry over cooking here.)
Notes
Please note that the nutritional information is based on a 9 ounce chicken breast.
Serving:
1
serving
Calories:
437
kcal
(22%)
Carbohydrates:
1
g
Protein:
72
g
(144%)
Fat:
14
g
(22%)
Saturated Fat:
3
g
(19%)
Polyunsaturated Fat:
2
g
Monounsaturated Fat:
6
g
Trans Fat:
0.04
g
Cholesterol:
218
mg
(73%)
Sodium:
1267
mg
(55%)
Potassium:
1268
mg
(36%)
Fiber:
0.1
g
Sugar:
0.03
g
Vitamin A:
103
IU
(2%)
Vitamin C:
4
mg
(5%)
Calcium:
19
mg
(2%)
Iron:
1
mg
(6%)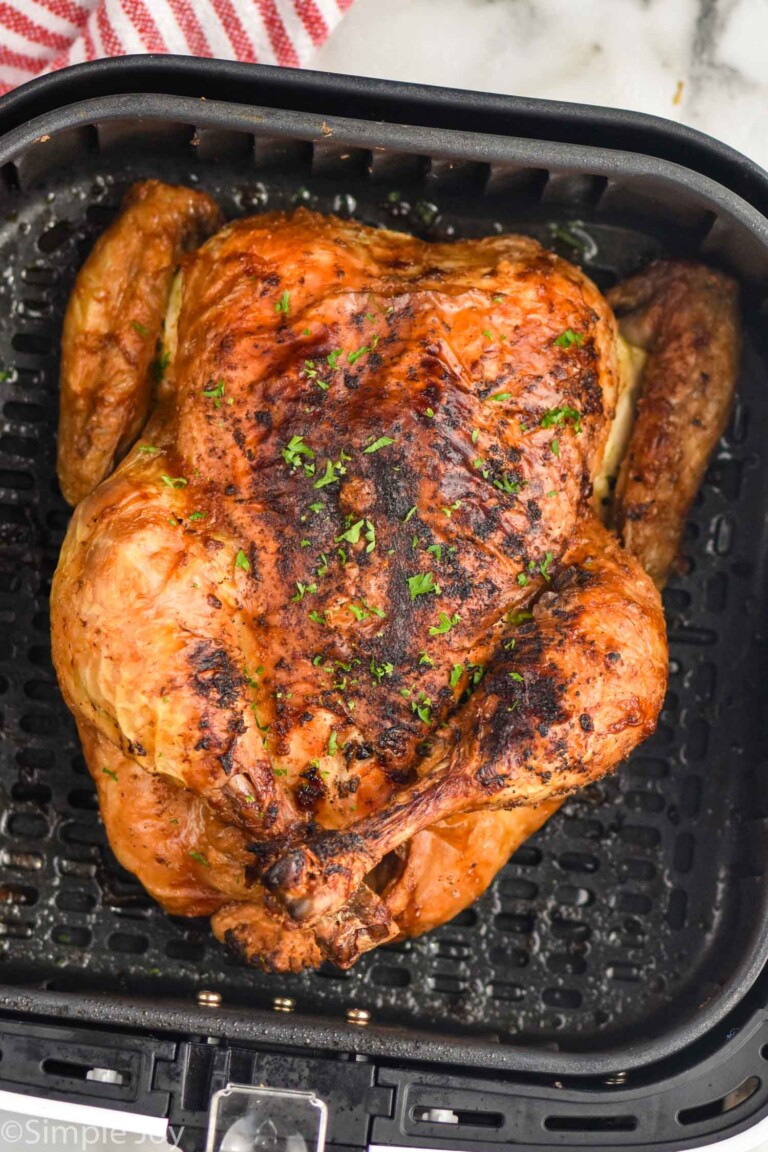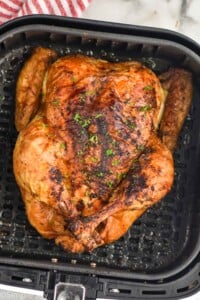 did you make this
Air Fryer Whole Chicken