My Turkey Chili recipe is a flavorful and delicious stew that you will fall in love with. Made with easy ingredients and just a few steps, this will be your go to cozy dinner.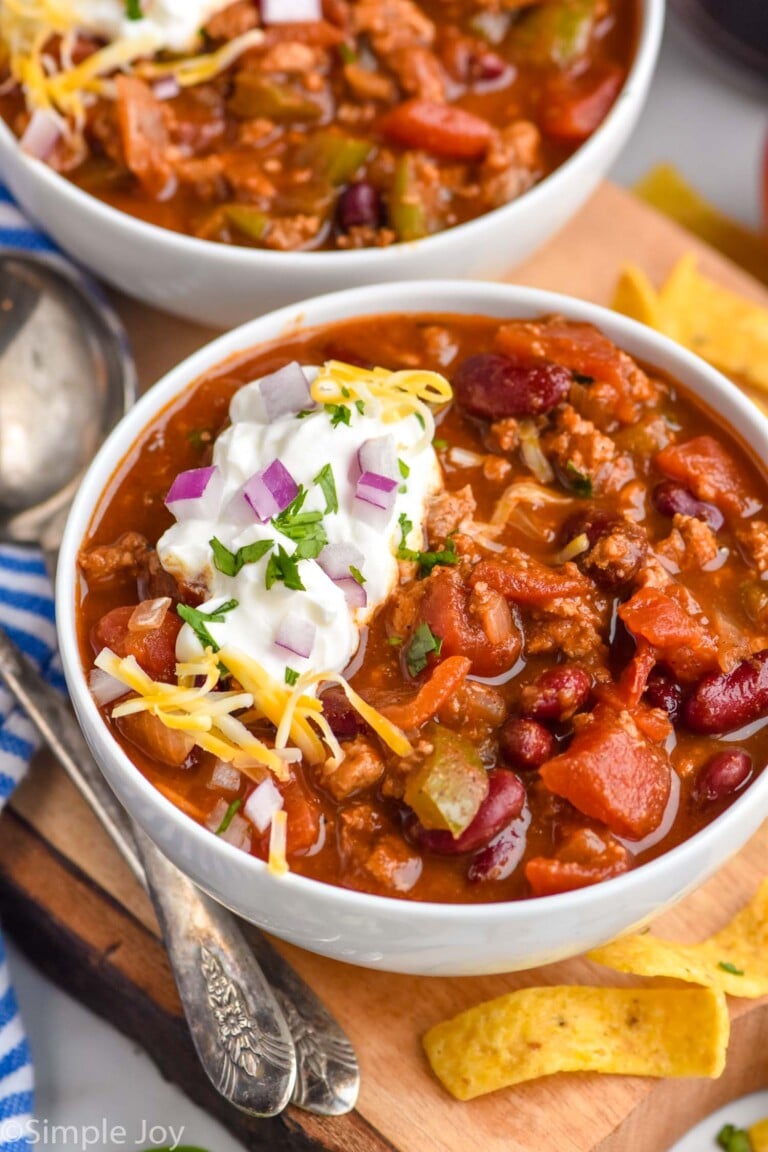 This healthy turkey chili recipe is the perfect family dinner. It is not the least bit difficult to make and delivers the original one-pot meal. You have vegetables and proteins living happily together in one pot.
I love that it is a healthy, filling meal that I feel good about feeding my family. This turkey chili actually is healthy. As the name suggests, it is made with ground turkey, which is a lean and low-fat meat. I piled on the veggies in the form of tomatoes, onions, green peppers, and kidney beans. It comes in at 276 calories a bowl and 26 grams of protein. You don't get much healthier than that!
The seasonings in this recipe, including chili powder, cumin, Worcestershire sauce, and ground chipotle, are just the right combination to give it the perfect flavor. When you let it all simmer together it becomes the most hearty delicious chili recipe.
How to Make Turkey Chili
This is a brief overview of how this easy turkey chili recipe comes together. For the full recipe including all measurements, scroll to the recipe card at the bottom of the post.
Sauté the vegetables. Cook the onions, peppers, and garlic until they are cooked through.
Cook the turkey. Add the turkey and break it up.
Add the seasonings. Stir in the spices and continue cooking until the turkey is browned on the outside.
Add the rest of the ingredients. Stir in the kidney beans, tomatoes, tomato sauce, Worcestershire sauce, and liquid smoke. Bring to a boil, then reduce the heat and let simmer for 30 minutes.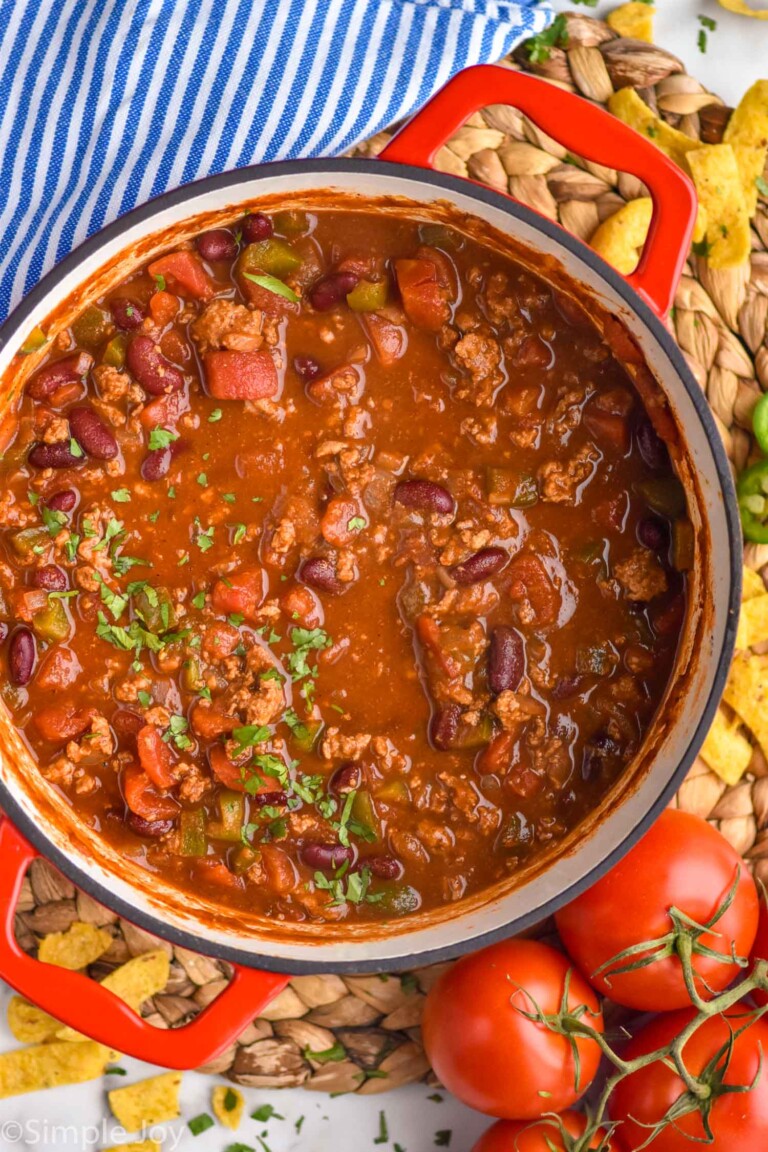 Liquid Smoke
The name of this ingredient is a great description of what it is. Liquid smoke comes from the concentrated liquid you get when you burn wood. It adds a unique and smoky flavor to this delicious chili recipe. It is also amazing in my Chicken Tacos. Liquid smoke can be found in most grocery stores near the condiments. I've also linked a great brand below.
TOP PICK
Liquid Smoke
This is such a great and unique ingredient to add to your chili.

Ground Chipotle
Ground chipotle is the other ingredient that brings a unique and delicious flavor to this recipe. Made from chipotle peppers that have been dried and ground, this brings such a unique flavor. It is a little bit smoky with just a hint of spice. You can find it in the grocery store in the spice aisle.
Variations and Substitutions
Swap the ground turkey for ground beef. Instead of ground turkey, brown some ground beef. Drain off any excess grease and proceed with the recipe as directed.
Double the recipe. If you want to make a large batch of this ground turkey chili, simply double all of the ingredients. The cooking time can remain the same, though I suggest you go for the longer end of the cooking range. This is a great idea to be able to freeze some and have a quick easy meal later. See more on freezing chili below.
Change out the tomatoes. If your family doesn't like tomato chunks, use a can of crushed tomatoes instead. Since crushed tomatoes can be a bit more acidic than diced tomatoes, you may want to add some finely shredded carrots with the vegetables at the beginning or some brown sugar at the end. The sweetness will balance out the acidity.
Add more or swap the beans. If kidney beans aren't your favorite, consider using pinto or black beans. You could also simply add another can of either of those to the recipe as written. Be sure to drain and rinse your beans to control the sodium in the recipe.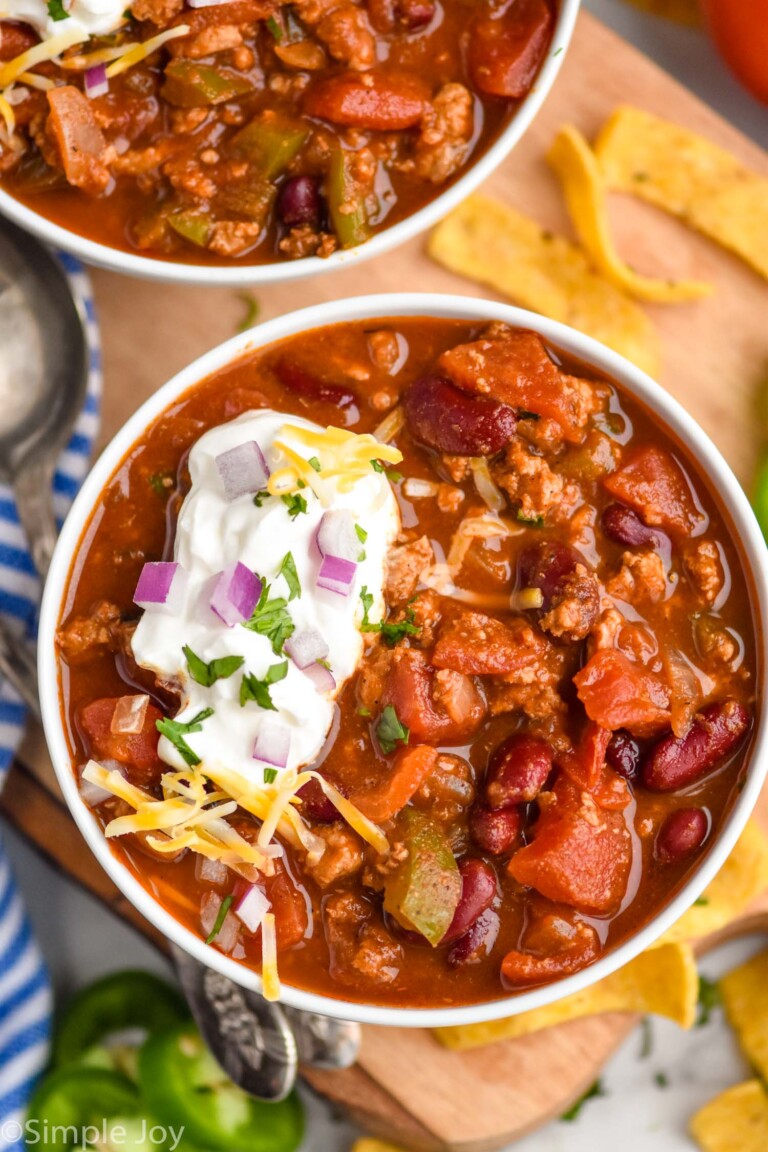 Toppings for Turkey Chili
I feel that given how healthy it is, you can indulge in toppings. I love adding sour cream, shredded cheese, and corn chips to mine.
Light sour cream
Green onions
Red onions
Shredded cheese
Chopped cilantro
Corn chips
FAQ
Is this spicy?
I don't think this recipe is spicy, but tastes vary. If you are worried about it being spicy, I would suggest leaving out the cayenne pepper. If at the end there isn't enough spice or flavor, you can add a dash then.
How long does turkey chili last in the fridge?
Leftovers of this recipe can be kept in the refrigerator for three to five days. When you reheat it, only take out the portion that you want to eat at that meal. Leftovers should not be reheated more than once. Read more on this below.
Can I make this chili recipe in the slow cooker?
Yes! Once you have cooked your turkey and vegetables, combine all the ingredients in a slow cooker. Cook on low for eight hours or on high for four hours.
Can I make this chili recipe with beef?
Yes, ground beef would be delicious in this chili. I would recommend draining any grease off of your beef after cooking it, similar to my Crockpot Chili.
Can you freeze chili?
Yes! It freezes beautifully. See my steps for how to freeze chili below.
Crockpot Chili
This Crockpot Chili recipe is a winner! Hearty and full of flavor, you will love coming home to this great dinner.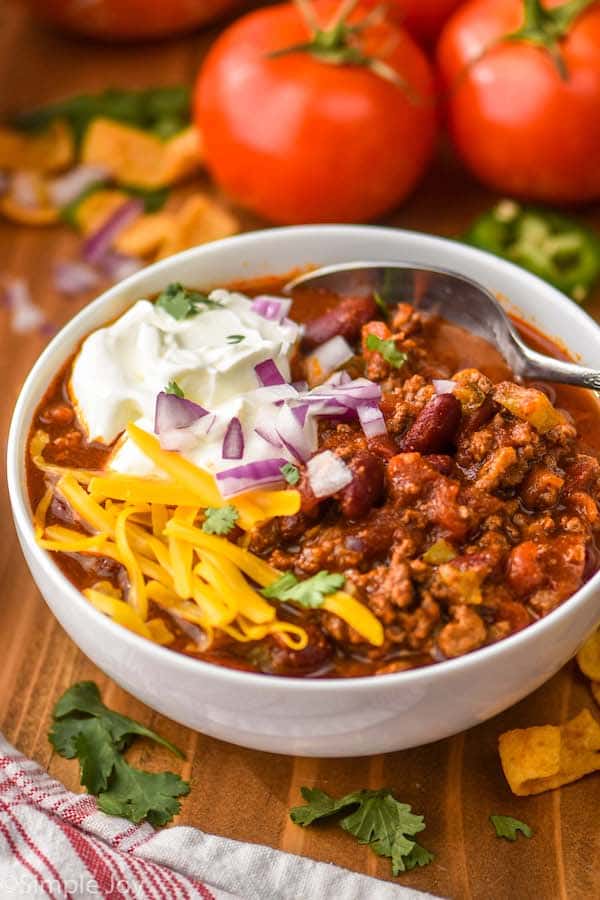 Storing and Reheating Turkey Chili Leftovers
Store any leftovers in an airtight container in the refrigerator for up to three days. This turkey chili recipe reheats beautifully. If you make it the night before, simply put the whole pot over low heat and stir frequently for about a half hour.
If you are just reheating a single serving, microwave covered stirring halfway through. Or, put in a small saucepan and simmer, stirring frequently, until warmed. Always use your best judgment with leftovers.
Freezing Chili
This ground turkey chili is easy to make a double batch to freeze some and pull it out of the freezer for a hearty and healthy meal with no prep. Once it has cooled completely, transfer it to a container leaving an inch at the top for it to expand. Place in the freezer for up to three months. Reheat over low heat on the stovetop or thaw in the refrigerator overnight.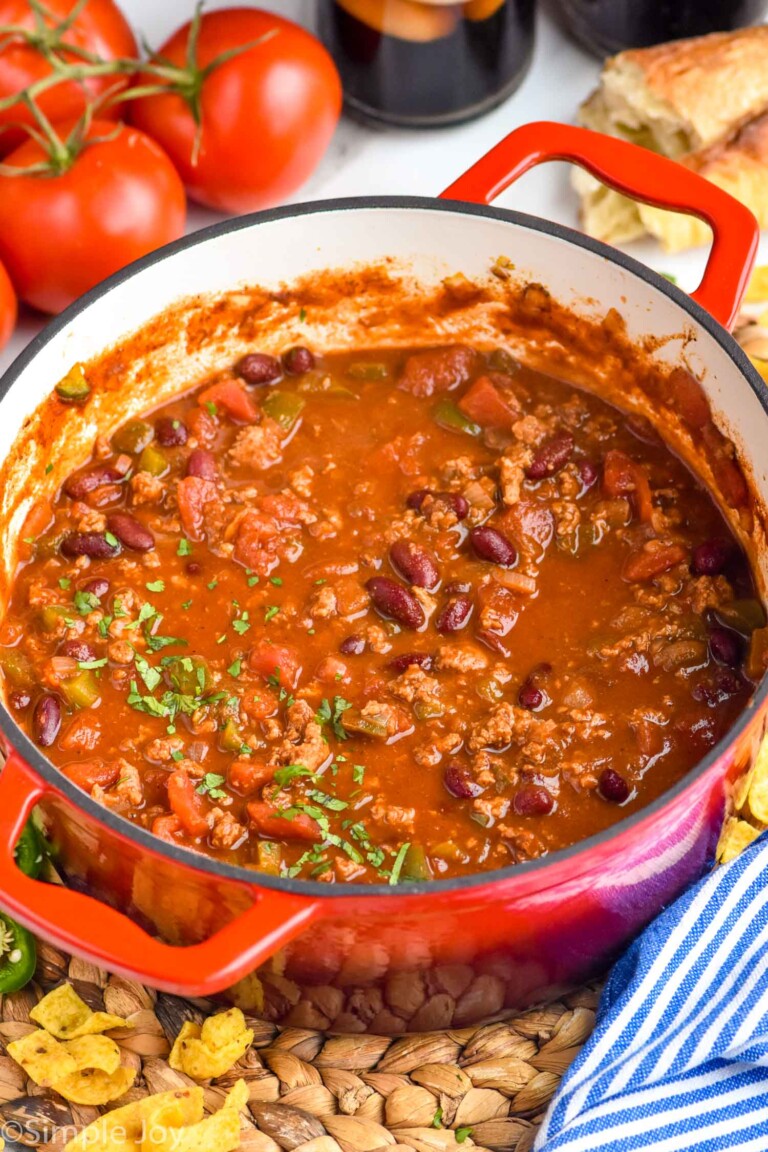 What to Serve With Chili
This healthy chili is a full meal in a bowl but can be rounded out with one of the following sides:
If you make this turkey chili recipe or any of my other recipes, please leave a comment and let me know what you think.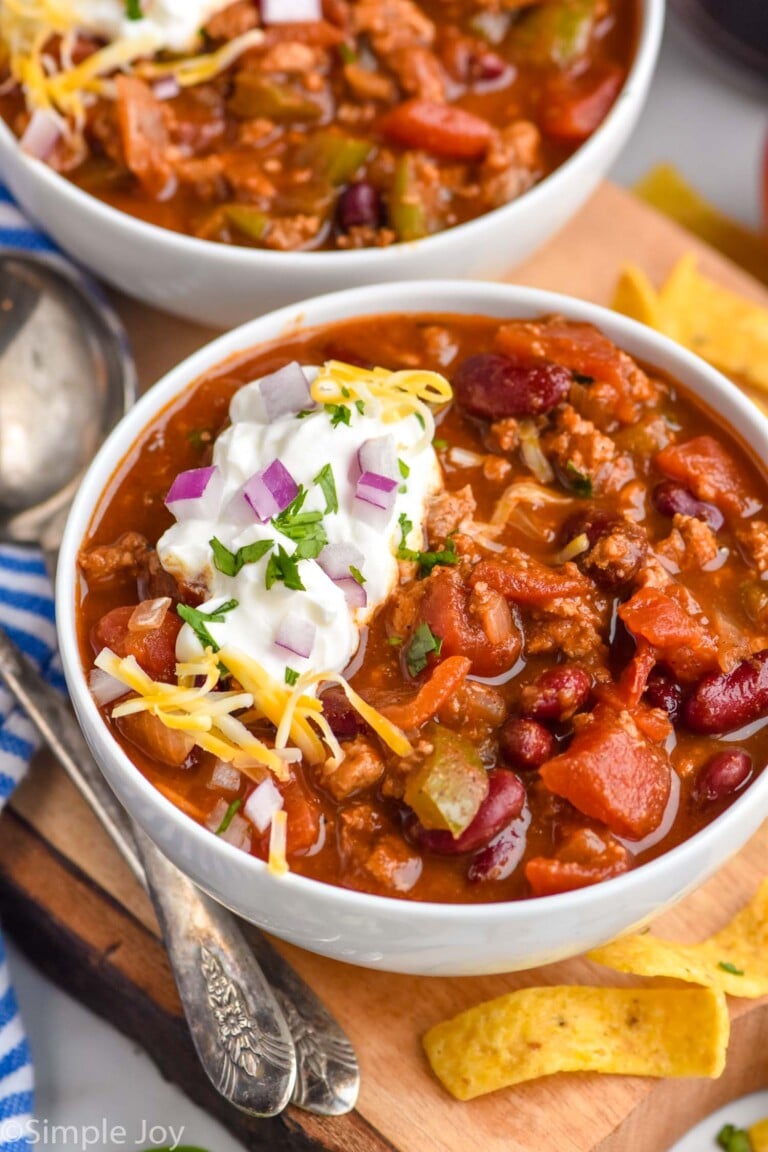 Healthy Turkey Chili
My Turkey Chili recipe is a flavorful and delicious stew that you will fall in love with. Made with easy ingredients and just a few steps, this will be your go to cozy dinner.
Ingredients
2

tablespoons

olive oil

1

yellow onion

diced

1

green bell pepper

diced

2

cloves

garlic

minced

2

tablespoons

chili powder

1

tablespoon

cumin

1

teaspoon

kosher salt

1/2

teaspoon

ground chipotle

1/4

teaspoon

cayenne pepper

1/4

teaspoon

black pepper

1

pound

ground turkey

28

ounces

diced tomatoes

undrained

15

ounces

tomato sauce

1

tablespoon

Worcestershire sauce

1

tablespoon

liquid smoke

14

ounces

kidney beans

drained and rinsed
Instructions
Heat the olive oil over medium-high heat in a large Dutch oven. Add in the onion, green bell pepper, and garlic. Season with kosher salt and black pepper. Sauté the vegetables until they are tender, about 5 to 7 minutes.

2 tablespoons olive oil,

1 yellow onion,

1 green bell pepper,

2 cloves garlic,

1 teaspoon kosher salt,

1/4 teaspoon black pepper

Add the ground turkey, breaking it up. Season with chili powder, cumin, ground chipotle, and cayenne pepper. Cook until the meat is broken up and no longer pink, though there is no need to cook it all the way through.

2 tablespoons chili powder,

1 tablespoon cumin,

1/2 teaspoon ground chipotle,

1 pound ground turkey,

1/4 teaspoon cayenne pepper

Stir in the tomatoes, tomato sauce, Worcestershire sauce, liquid smoke, and kidney beans. Bring to a roaring boil.

28 ounces diced tomatoes,

15 ounces tomato sauce,

1 tablespoon Worcestershire sauce,

1 tablespoon liquid smoke,

14 ounces kidney beans

As soon as the chili comes to a boil, turn down the heat to a simmer. Continue cooking, uncovered, for 30 minutes. You should only see small intermittent bubbles.

Taste the soup and add more salt and pepper to taste. Top with sour cream, red onions, and cheddar cheese.
Serving:
1.5
cups
Calories:
276
kcal
(14%)
Carbohydrates:
29
g
(10%)
Protein:
26
g
(52%)
Fat:
8
g
(12%)
Saturated Fat:
1
g
(6%)
Polyunsaturated Fat:
2
g
Monounsaturated Fat:
4
g
Trans Fat:
0.01
g
Cholesterol:
42
mg
(14%)
Sodium:
869
mg
(38%)
Potassium:
1111
mg
(32%)
Fiber:
9
g
(38%)
Sugar:
8
g
(9%)
Vitamin A:
1445
IU
(29%)
Vitamin C:
36
mg
(44%)
Calcium:
101
mg
(10%)
Iron:
6
mg
(33%)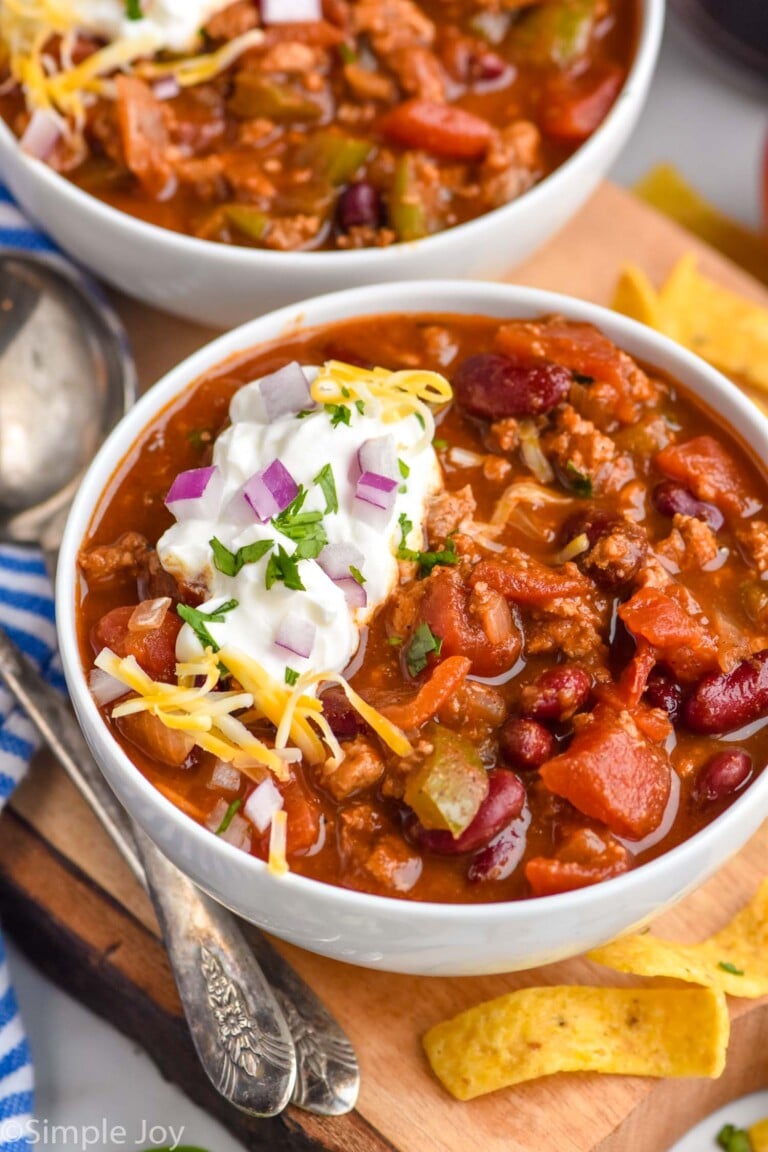 did you make this
Healthy Turkey Chili