This Crockpot Chili recipe is a winner! Hearty and full of flavor, you will love coming home to this great dinner.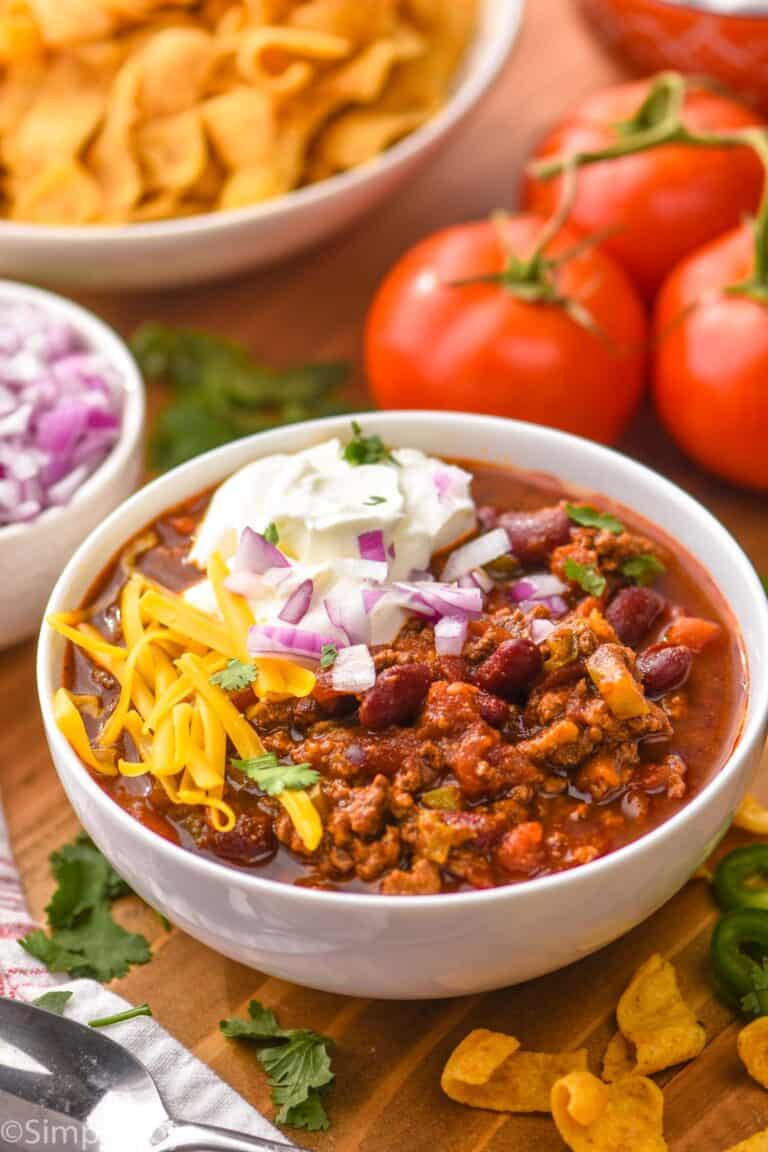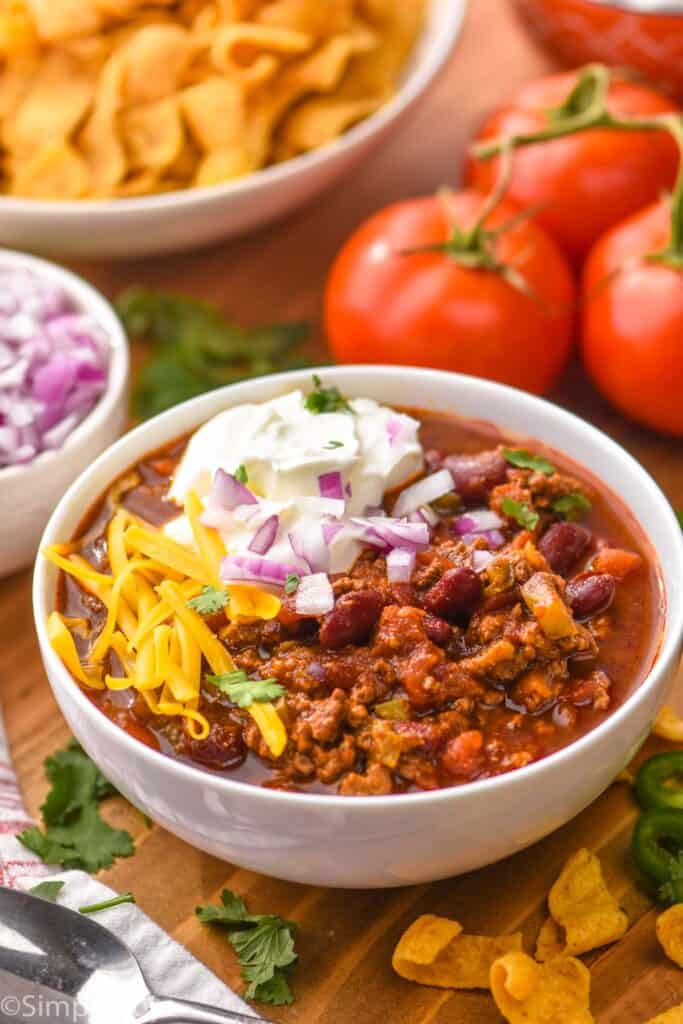 I truly love soup season so much. It brings back memories for me of watching my mom cook in our kitchen, the dark fall sky visible behind her in our steamed up kitchen windows. For me, it is no wonder that soup is so comforting.
The perfect soup to make in the fall, as the days get shorter and the temperature more cool, is chili! It is like a complete meal in a bowl. And making it in the slow cooker means that you can come home from work with a comforting dinner waiting for you. Make a batch of my cornbread the day before, it goes perfectly with this!
Reader Review
Love ..love love..this chili recipe my husband could not get enough of it! Thank you for an awesome recipe and this was the first time making chili! This will be a staple in our house.
How to Make Chili In a Slow Cooker
Nothing warms the soul and stomach like a hearty bowl of rich chili. This is a brief overview of the recipe. Be sure to scroll to the bottom of the post to get all of the measurements.
Brown your ground beef on the stove top. You don't even need to cook it all the way; just until you can't see any pink.
Sauté the peppers and onions with the beef. This will change their flavor in the final dish and make them a little more mild.
Combine everything in the slow cooker. Once you have drained the grease off the meat and veggies, add them to slow cooker with the spices, beans, tomatoes and sauce.
Cook the chili. Letting it cook in the slow cooker all day allows all the flavors to deepen and combine. Cook on low for 8 hours or on high for 4 hours.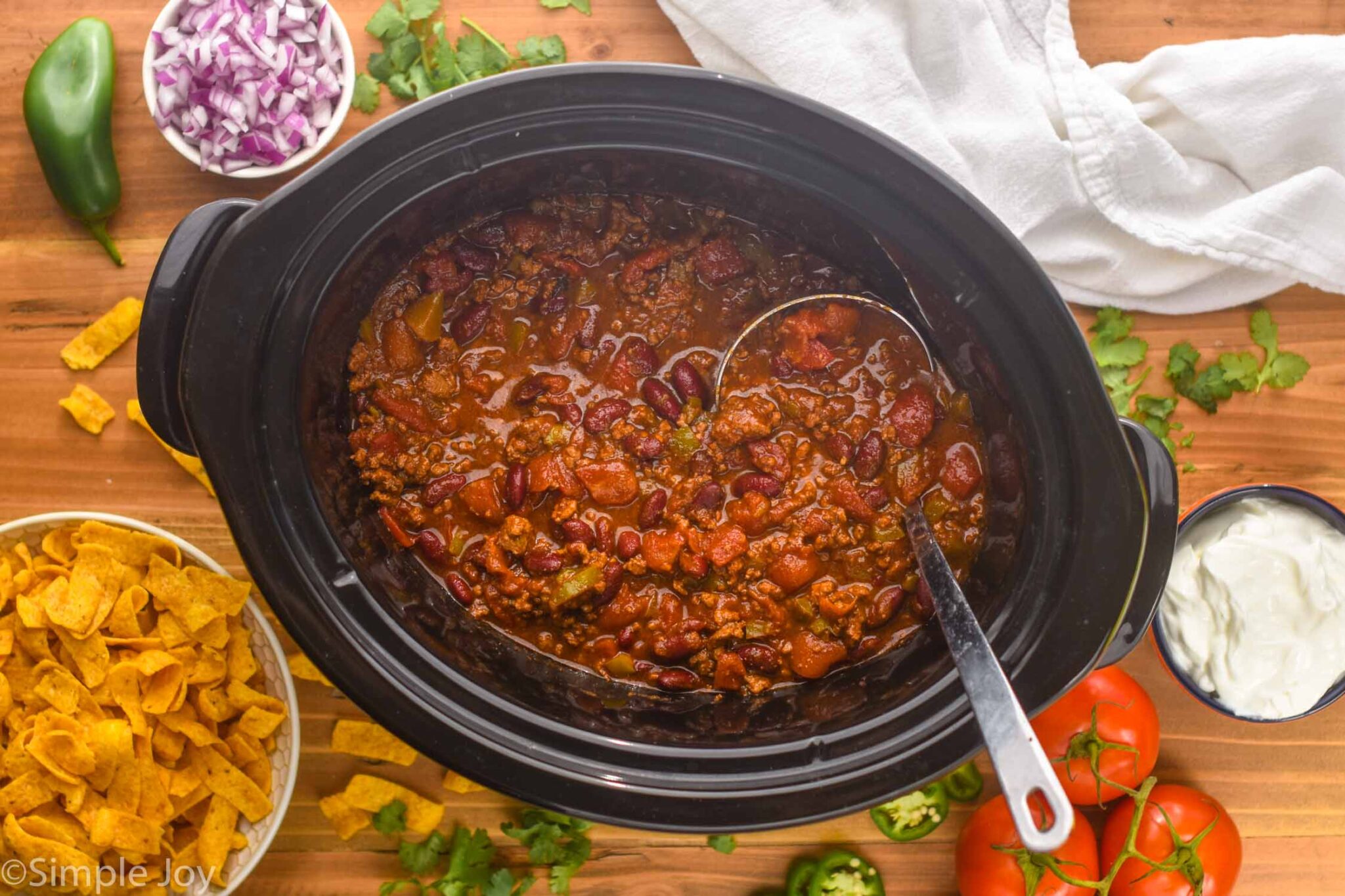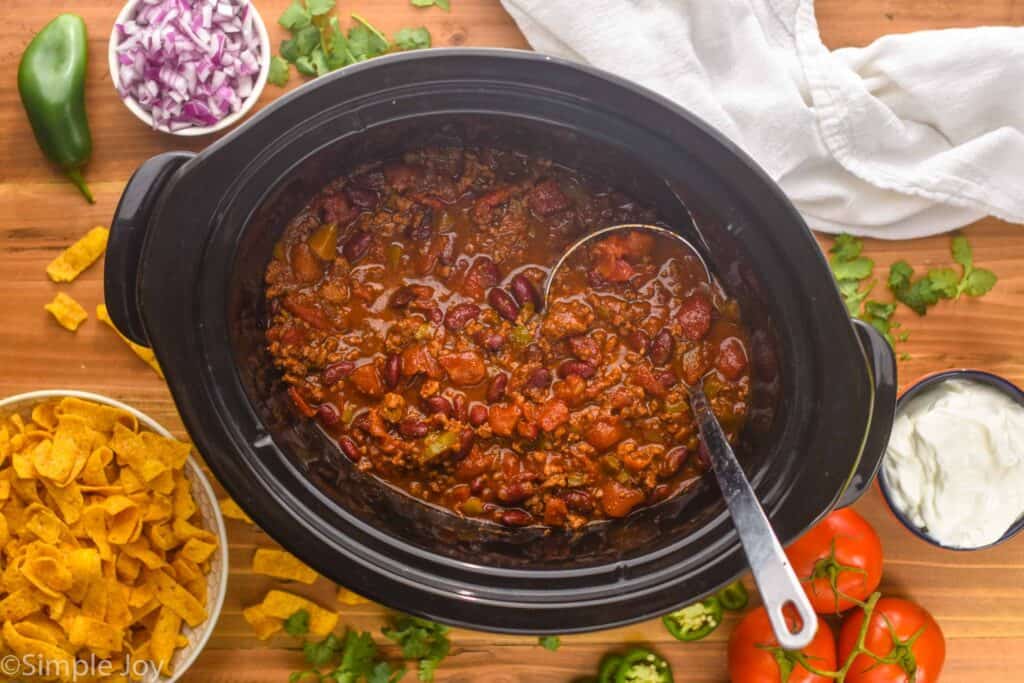 What is Liquid Smoke?
There are two secret ingredients that put this recipe over the top! The first is Liquid Smoke.
Just like the name implies, this ingredient is made from the condensed liquid you get from the smoke of burning wood. You can find bottles of liquid smoke at the grocery store, next to the spices or condiments, and it lasts forever when stored in the refrigerator.
What is Ground Chipotle?
Ground chipotle is the other secret ingredient that you may not have handy in your pantry. But it's easy to find in the spice aisle of the grocery store. I love the delicious flavor that chipotle peppers bring to a recipe.
Like Liquid Smoke, ground chipotle offers a deep, rich smoky flavor that enhances the other seasonings. I love the flavor both of these bring to my Chicken Tacos. I know you will love it in this chili recipe too.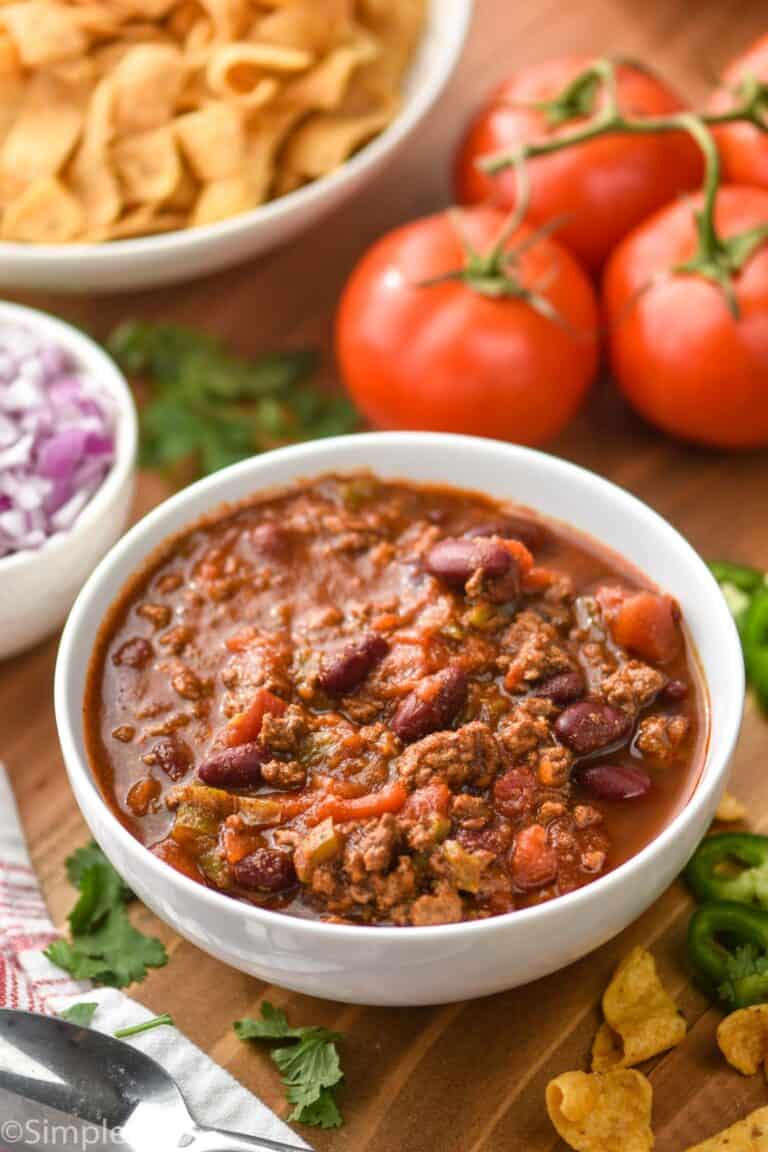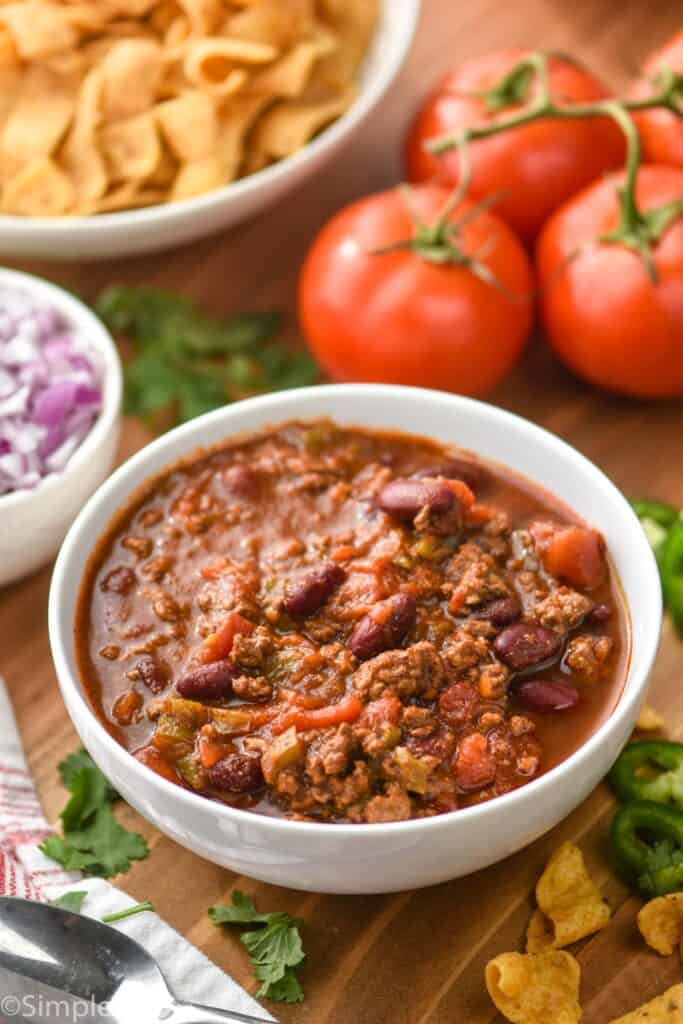 Controlling Spiciness
Too spicy? Not spicy enough? That's what is so perfect about this chili recipe. By adding or decreasing a couple of spices, you can control how hot each batch tastes.
To make this less spicy simply omit the cayenne pepper, or use just a dash for flavor.
To increase up the heat add more cayenne pepper, along with some hot diced green chilis. Find those in the canned goods aisle at the grocery store.
Substitutions and Variations
Swap the ground beef for ground turkey. Read more on how to do this below.
Double the recipe. If you want to make a large batch of this slow cooker chili, simply double all of the ingredients. The cooking time can remain the same, though I suggest, you go for the longer end of the cooking range.
Swap the ground chipotle for smoked paprika. Another option would be to use chipotle peppers in adobo sauce. One or two would be great in this, but consider that it will add more heat.
Change out the tomatoes. If your family doesn't like tomato chunks, use a can of crushed tomatoes instead.
Add more or swap the beans. If you kidney beans aren't your favorite, consider using pinto or black beans. You could also simply add in another can of either of those to the recipe as written. Be sure to drain and rinse your beans to control the saltiness of the recipe.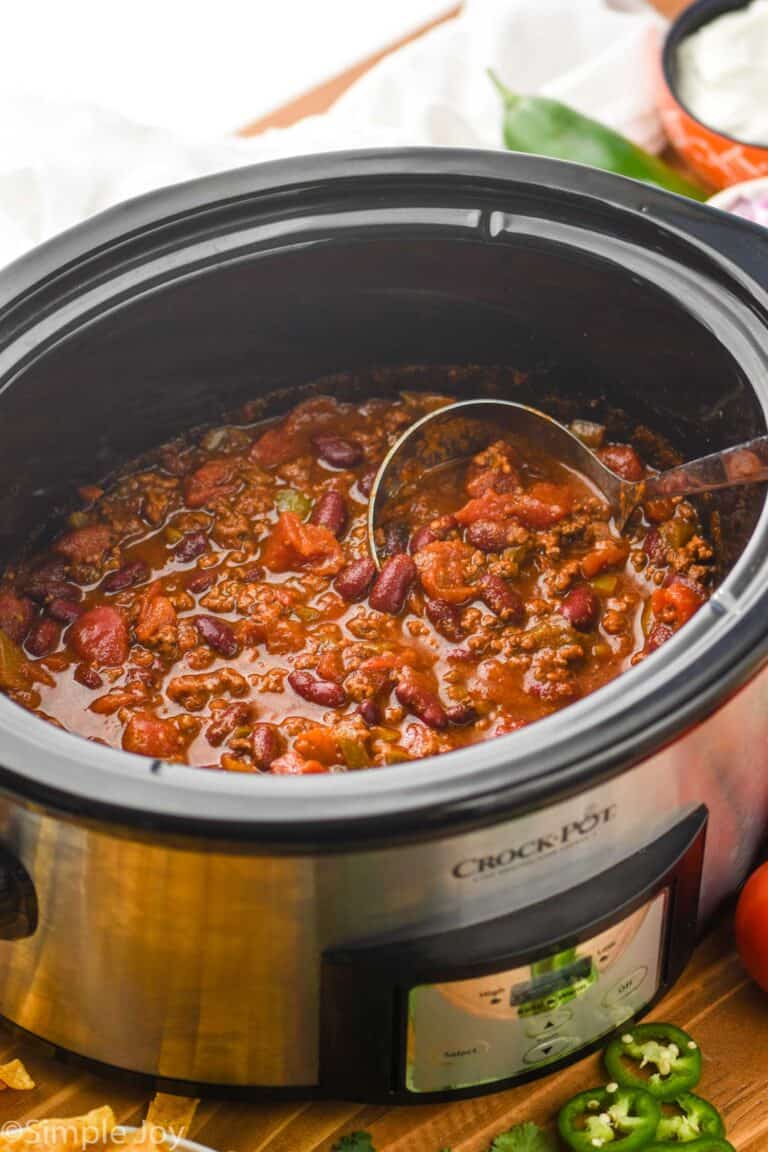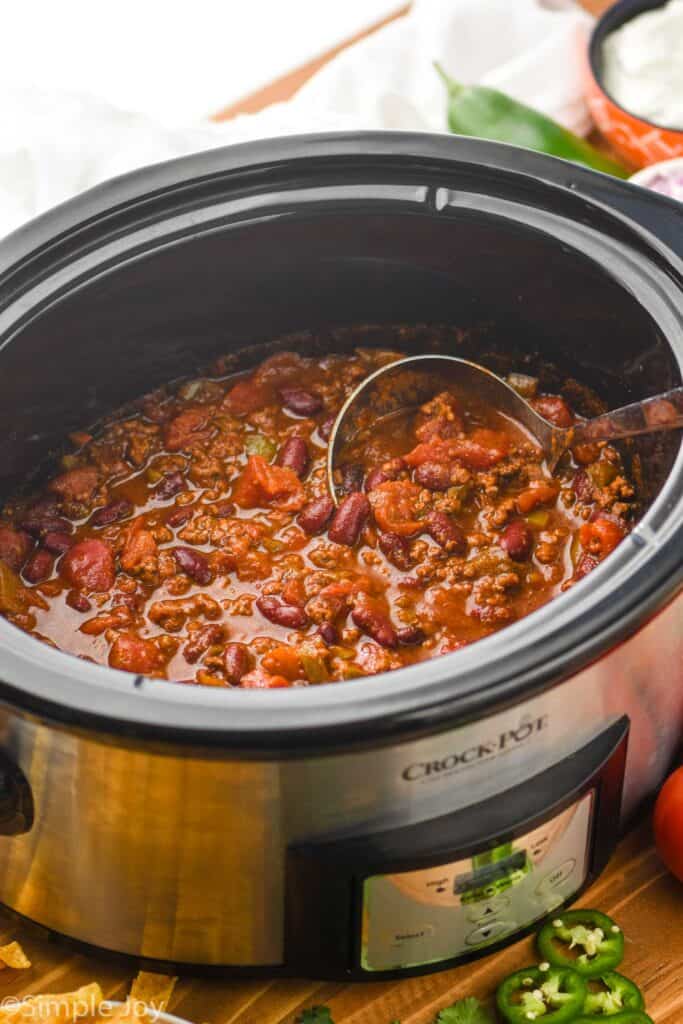 Using Ground Turkey
This easy crockpot chili recipe tastes incredible with ground turkey too! Instead of ground beef, brown up some ground turkey and then proceed with the recipe as directed. Be sure to use a drizzle of extra virgin olive when browning oil to avoid sticking to the pan.
TOP PICK
Crockpot
This is my very favorite slow cooker. So much so that I actually own three!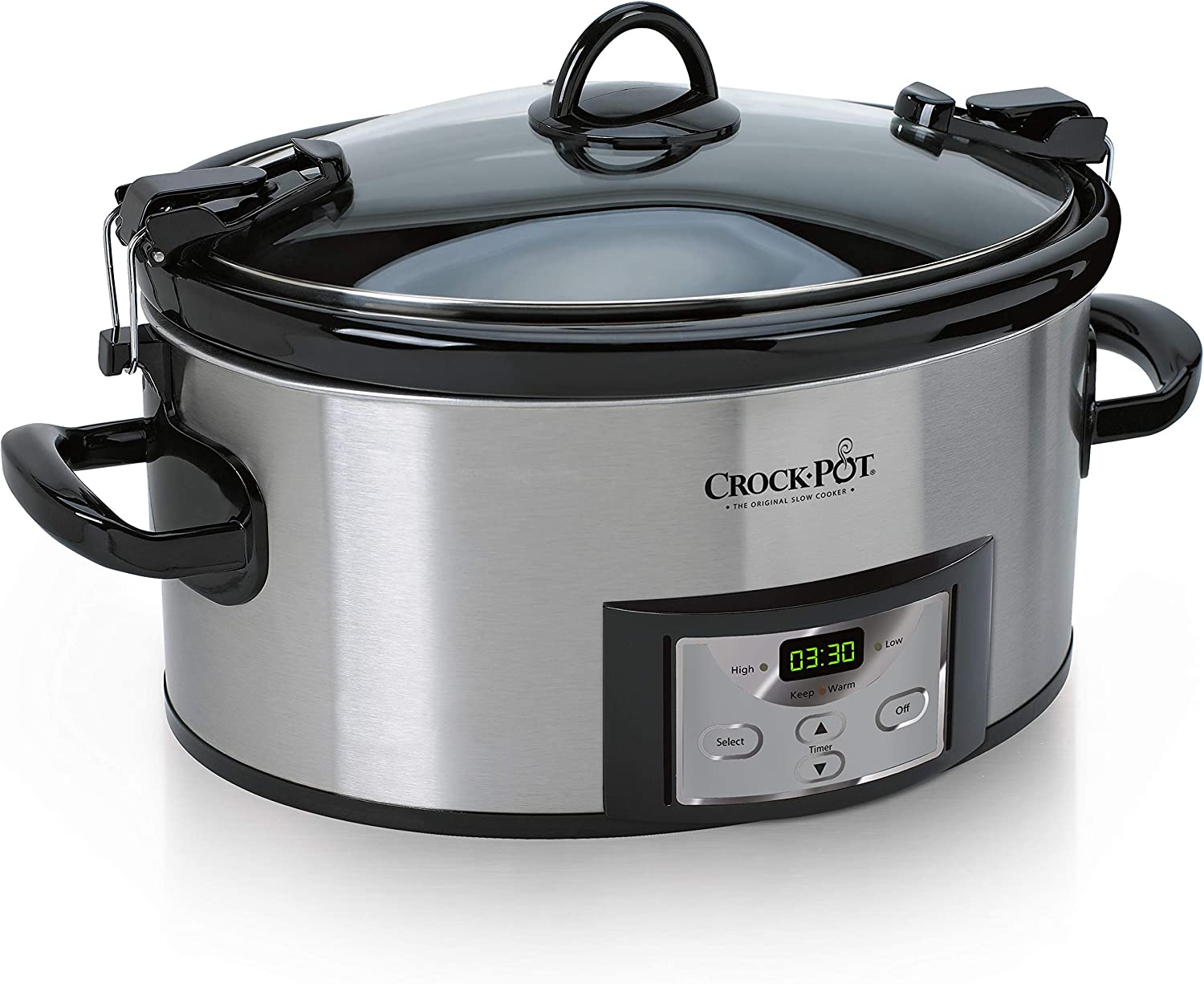 FAQ
How long do you cook Crockpot Chili?
Eight hours on low. When we combine all of the ingredients in this recipe, they are all fully cooked and food safe. But the long and low simmering time is what really pulls all the flavors together and makes this recipe as great as it is.
Is this recipe spicy?
That, of course, is a matter of opinion. My kids are really sensitive to spices and they didn't find it spicy. If you are concerned, see my tips above for making it more or less spicy.
How long do chili leftovers last?
Leftovers of this recipe can be kept in the refrigerator for 3 to 5 days. When you reheat it, only take out the portion that you want to eat at that meal. Leftovers should not be reheated more than once. Always use your best judgement when eating leftovers.
Can chili be frozen?
Yes! Chili is a great recipe to freeze. Once it has cooled completely, transfer to a container leaving an inch at the top for it to expand. Place in the freezer for up to three months. Reheat over low heat on the stove top or thaw in the refrigerator overnight.
Why do you brown the beef?
If you throw raw beef in the slow cooker, it won't have the texture you are looking for in the final dish.
How many does this serve?
This makes 6 bowls of chili that are each 1 1/3 cup. This is a very easy recipe to double.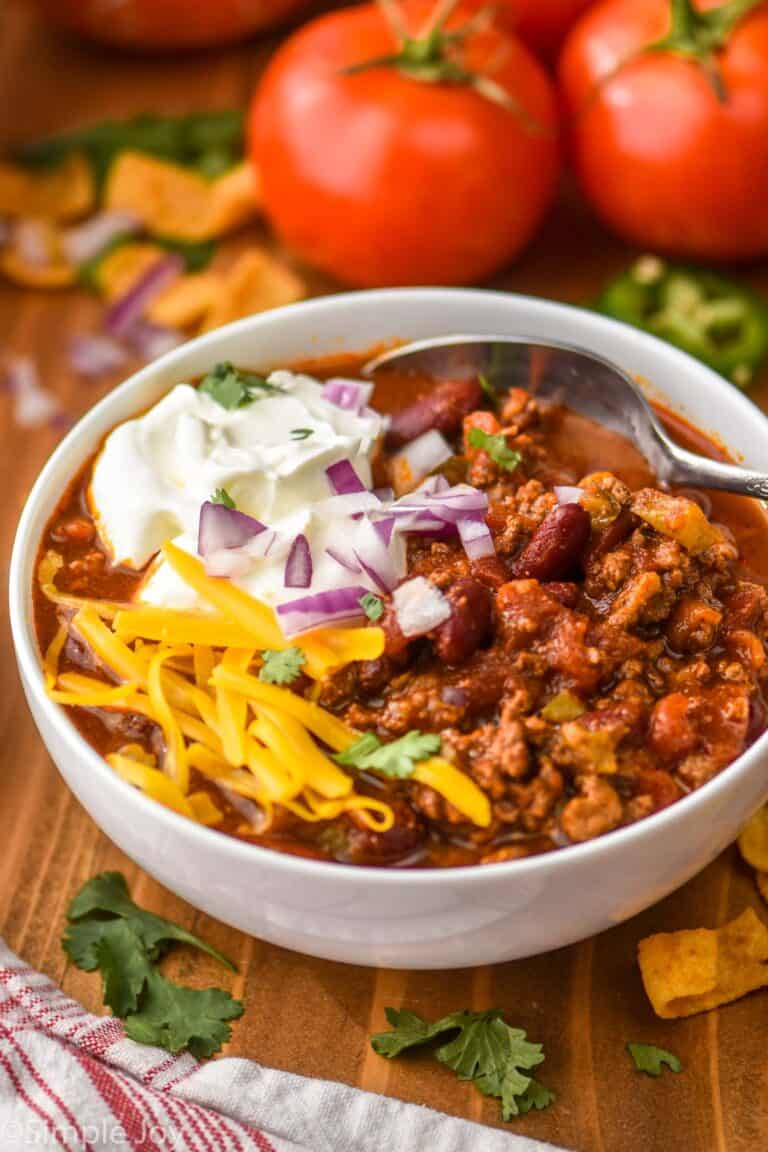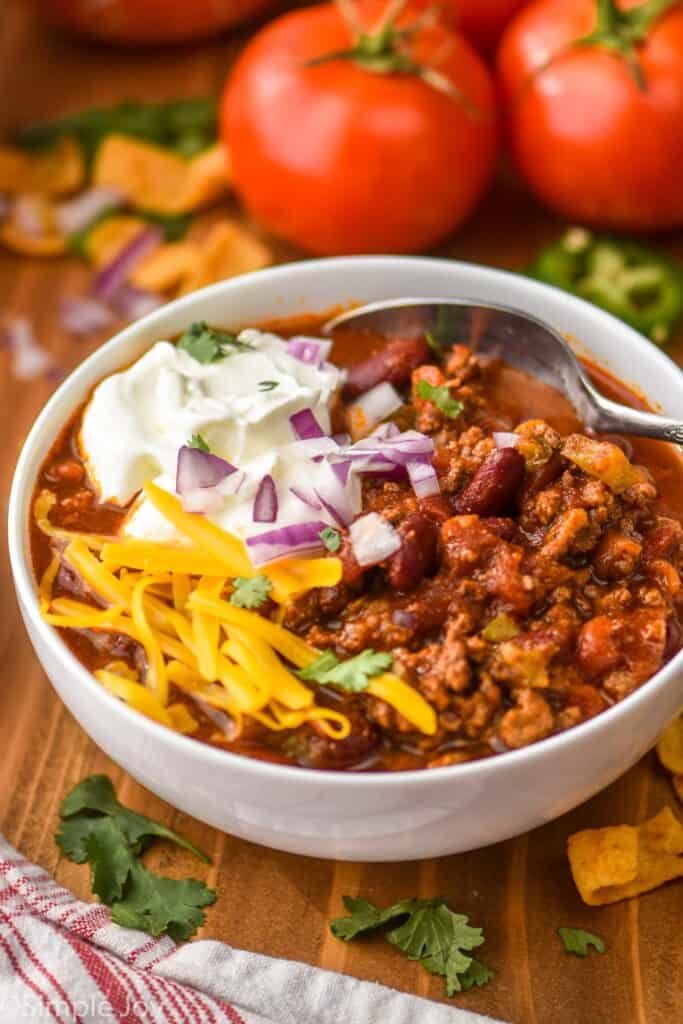 Other Great Soup Recipes
I adore soup season, where a simple supper nourishes your family and makes you feel good too. Soups are easy to make, and there's no end to the possibilities! Try a few of these tried and true recipes:
I can't wait for the next cold evening so I can make this crockpot chili! Let me know what you think of this recipe. I'd love to hear your thoughts. Gather your family, serve up piping bowls of crockpot chili and enjoy being together!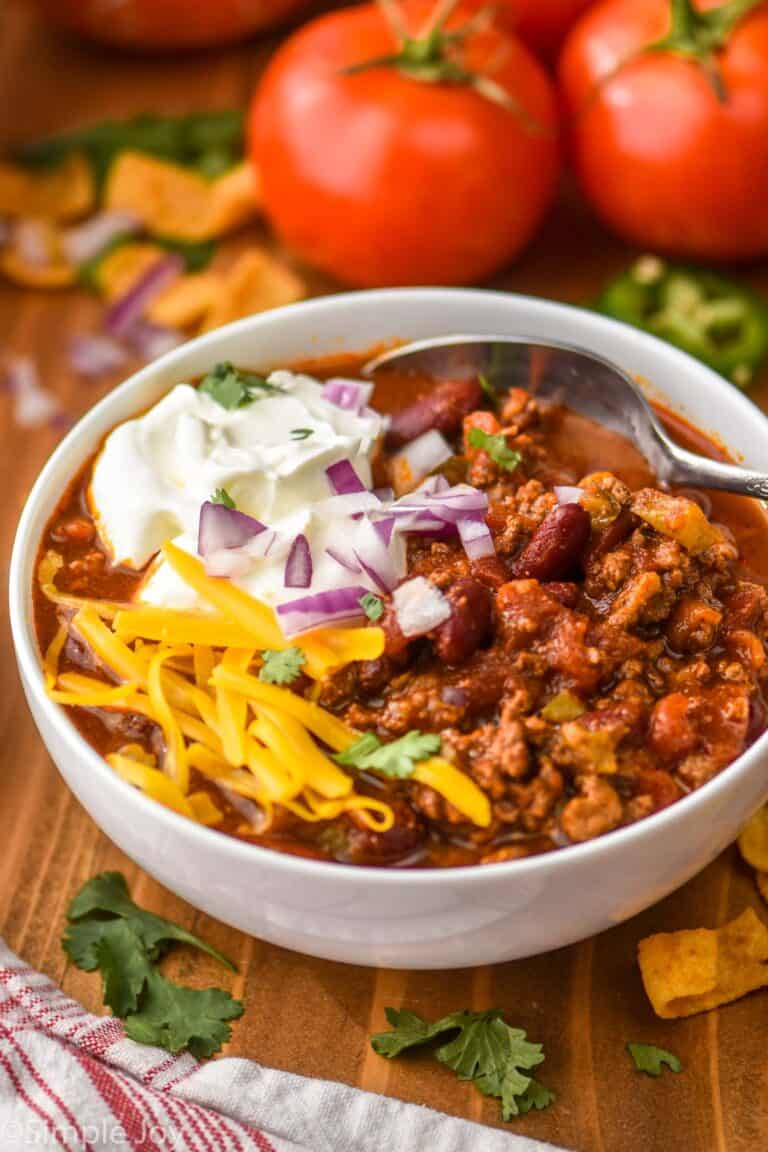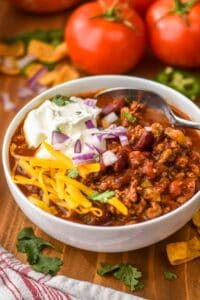 Crockpot Chili
Total:
8
hours
25
minutes
This Crockpot Chili recipe is a winner! Hearty and full of flavor, you will love coming home to this great dinner.
Ingredients
1

pound

ground beef

(read how to use ground turkey)

1 1/2

teaspoon

salt

1/4

teaspoon

black pepper

1

green bell pepper

diced

1

medium yellow onion

diced

2

cloves

garlic

minced

2

tablespoons

chili powder

1

tablespoon

cumin

1/2

teaspoon

ground chipotle

(read what ground chipotle is here)

1/2

teaspoon

cayenne pepper

(read about spice level here)

1

tablespoon

Worcestershire sauce

1

tablespoon

liquid smoke

(learn what liquid smoke is here)

14

ounces

kidney beans

drained and rinsed

28

ounces

diced tomatoes

undrained

15

ounces

tomato sauce
Instructions
1 pound ground beef,

1 1/2 teaspoon salt,

1/4 teaspoon black pepper

Add in the green pepper, onion, and garlic. Cook for 4 to 5 minutes, until you can no longer see pink. There is no need to cook the beef all the way through. Drain the fat from the skillet.

1 green bell pepper,

2 cloves garlic,

1 medium yellow onion

Add the beef mixture to the slow cooker. Add in the chili powder, cumin, ground chipotle, and ground cayenne pepper. Mix in the Worcestershire sauce, liquid smoke, kidney beans, diced tomatoes, and tomato sauce.

2 tablespoons chili powder,

1 tablespoon cumin,

1/2 teaspoon ground chipotle,

1/2 teaspoon cayenne pepper,

1 tablespoon Worcestershire sauce,

1 tablespoon liquid smoke,

14 ounces kidney beans,

28 ounces diced tomatoes,

15 ounces tomato sauce

Cook on low for 8 to 10 hours or on high for 4 to 5 hours. Serve with diced red onion, corn chips, sliced jalapenos, shredded cheese, sour cream, and fresh cilantro.
Serving:
1.3
cups
Calories:
286
kcal
(14%)
Carbohydrates:
29
g
(10%)
Protein:
20
g
(40%)
Fat:
10
g
(15%)
Saturated Fat:
3
g
(19%)
Cholesterol:
47
mg
(16%)
Sodium:
1272
mg
(55%)
Potassium:
586
mg
(17%)
Fiber:
7
g
(29%)
Sugar:
12
g
(13%)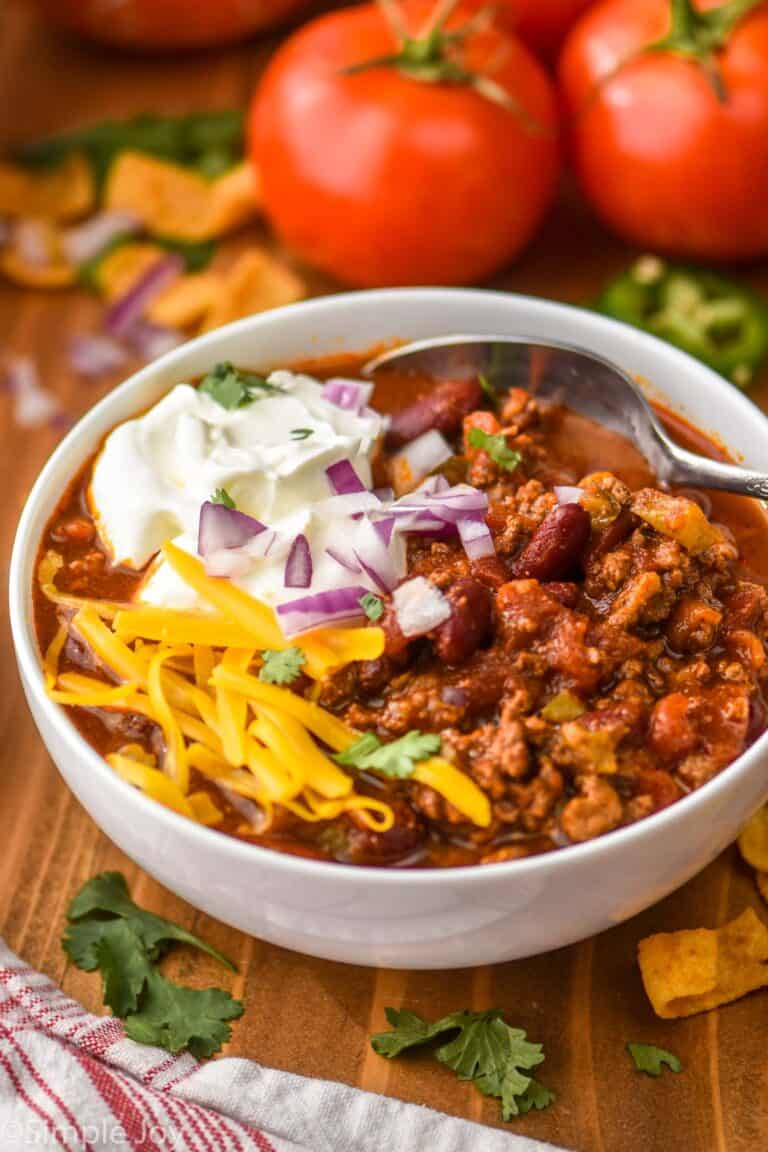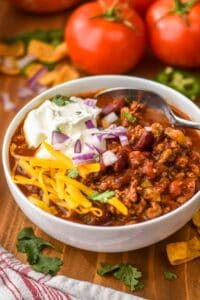 did you make this
Crockpot Chili