A Cheese Ball recipe is a classic appetizer that everyone can get behind. This simple and easy 5 ingredient recipe is the perfect party food.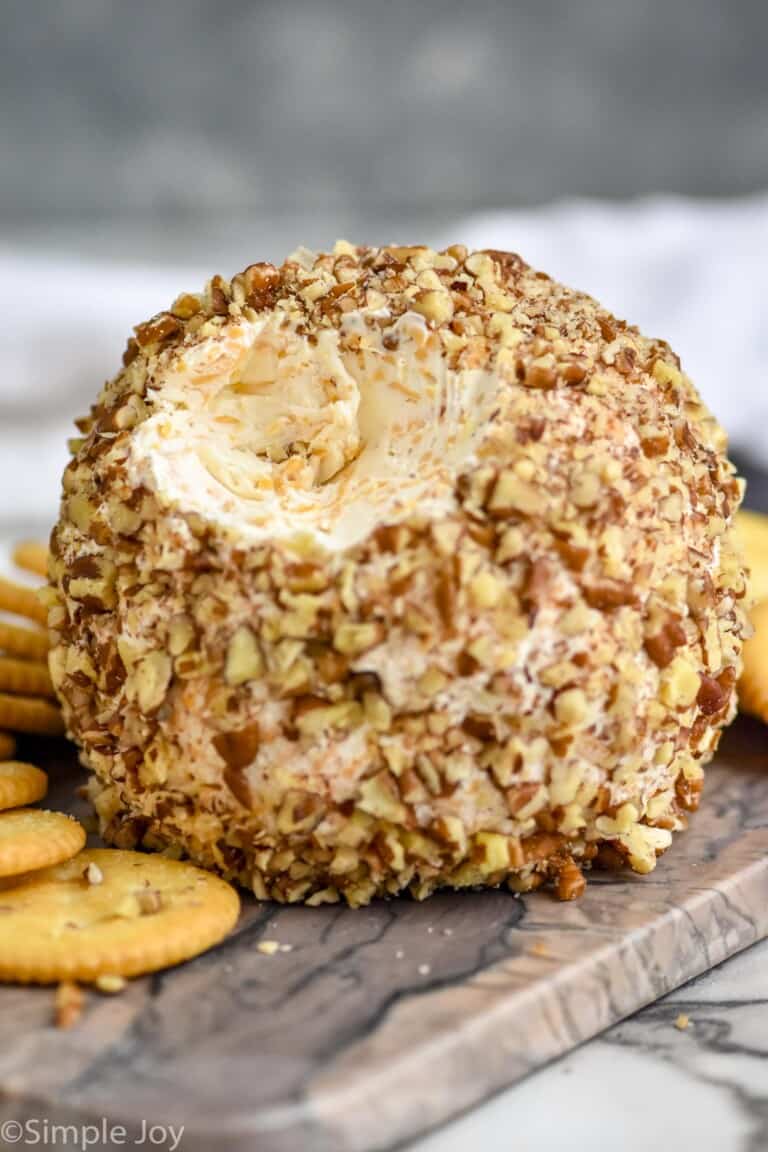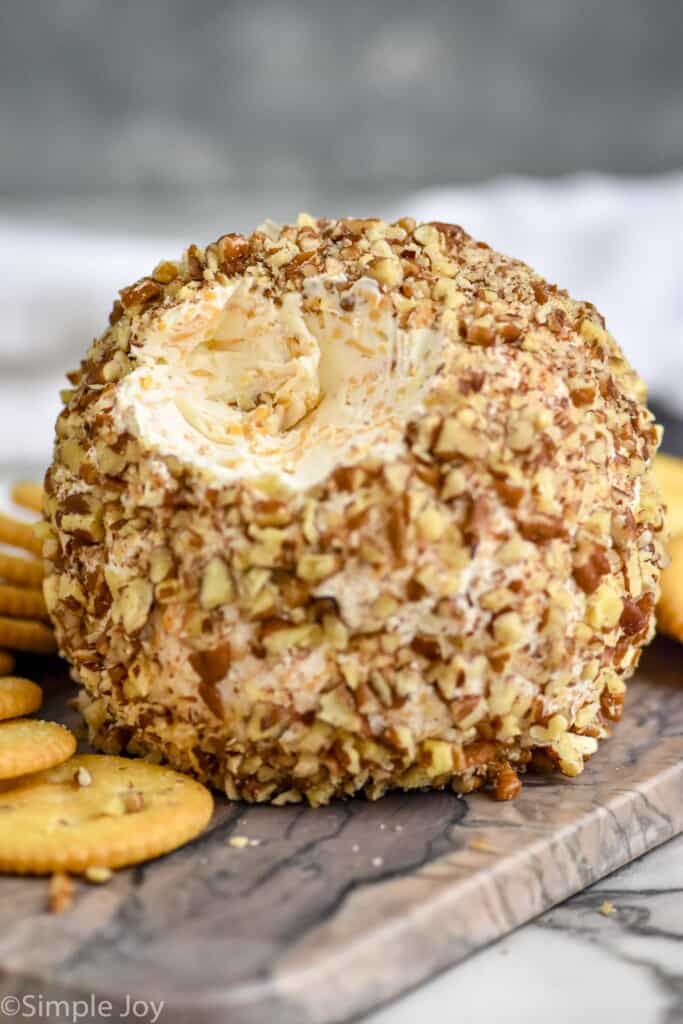 If you are still on the hunt for Christmas appetizers, you are in luck, because I am obsessed with appetizer recipes. These holiday appetizers are great all year round, and are perfect for parties this time of year and especially for New Year's Eve!
On my list next is this classic Cheese Ball recipe. There are so many great ways to do cheese balls. I love savory recipes like my Olive Cheese Ball and sweet recipes like my Cranberry Orange Chocolate Chip Cheeseball. But you really can't beat the classic basic recipe.
Reader Review
I love it! Thank you! Super easy and delicious!
How to Make Cheese Balls
This is a brief overview of how to make this delicious recipe. For the full recipe with all of the measurements, scroll to the bottom of the post for the recipe card.
Blend room temperature cream cheese. Using a handheld mixer, mix it until it is smooth.
Add in the other ingredients. To the cream cheese you will want to add in finely grated cheddar cheese, Worchestershire sauce, and garlic powder.
Roll it into a ball. On a piece of plastic wrap, roll the mixture into a ball. See more on this (and the photos) below. Wrap it completely in the plastic wrap.
Chill the cheeseball recipe. Put the cheese ball into the refrigerator to chill for 8 hours.
Roll in pecans. And then serve.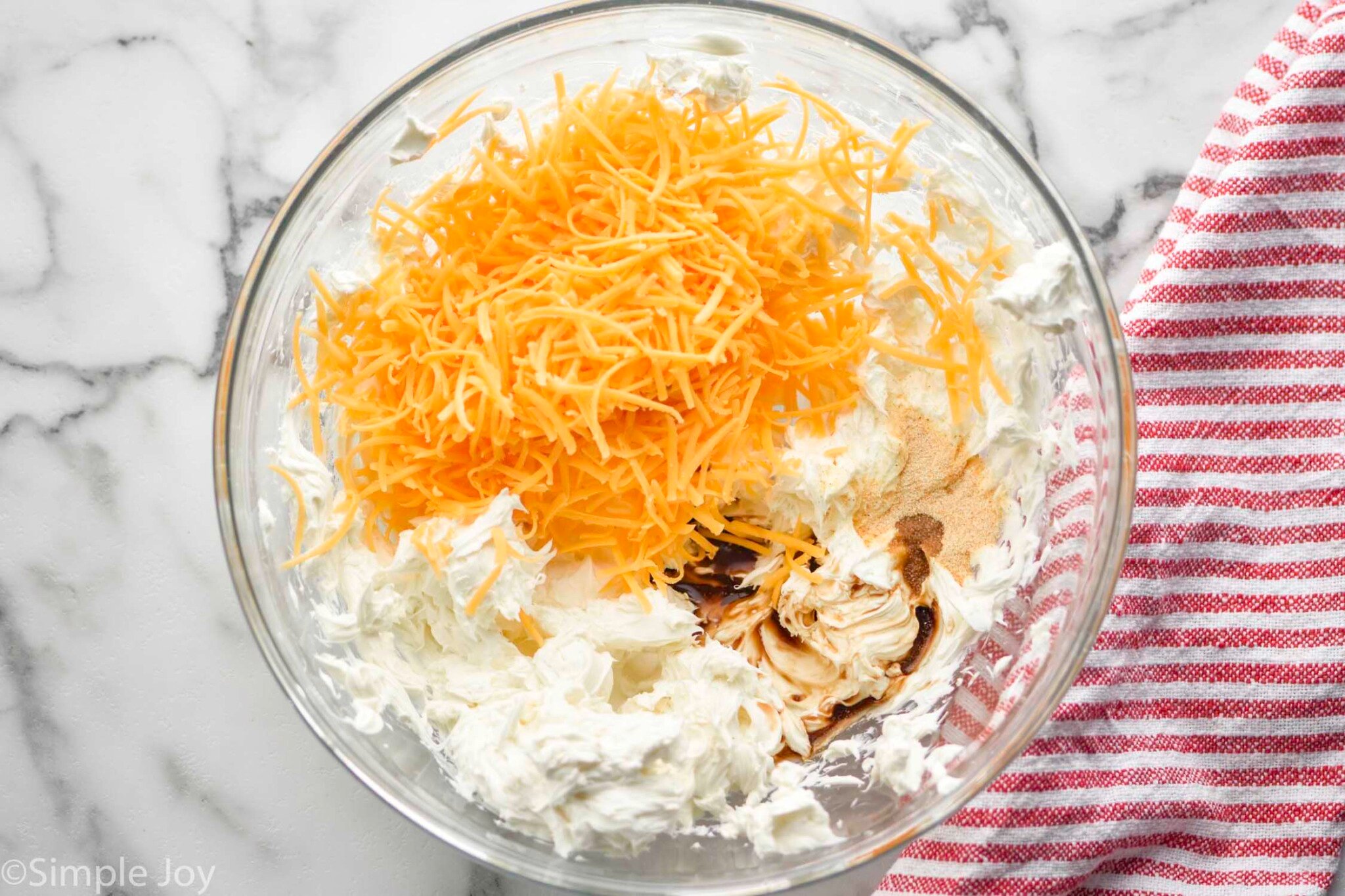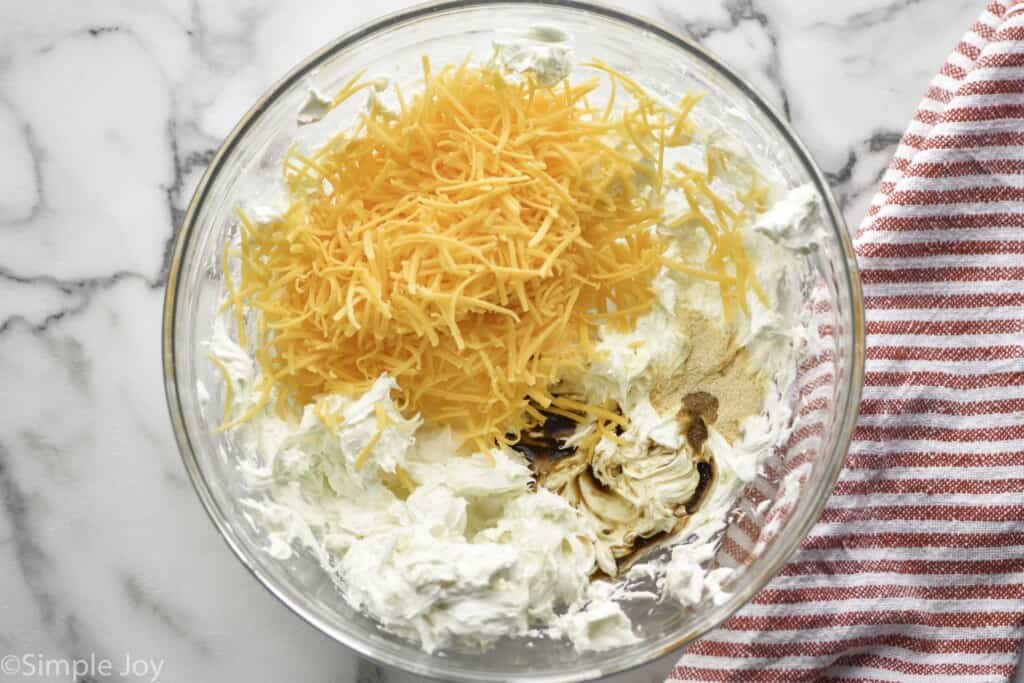 How to Roll a Cheese Ball Recipe
The cream cheese mixture will be very sticky after it is combined. Do your best to pull it together into a ball like shape before putting it on the plastic wrap. Then pull the plastic wrap around the mixture and once it is completely covered, roll it into a ball within the plastic wrap.
When you take off the plastic wrap, there will be dents and creases from it in the cheeseball, but don't worry about that. You are going to be covering the cheeseball with a topping that will hide that.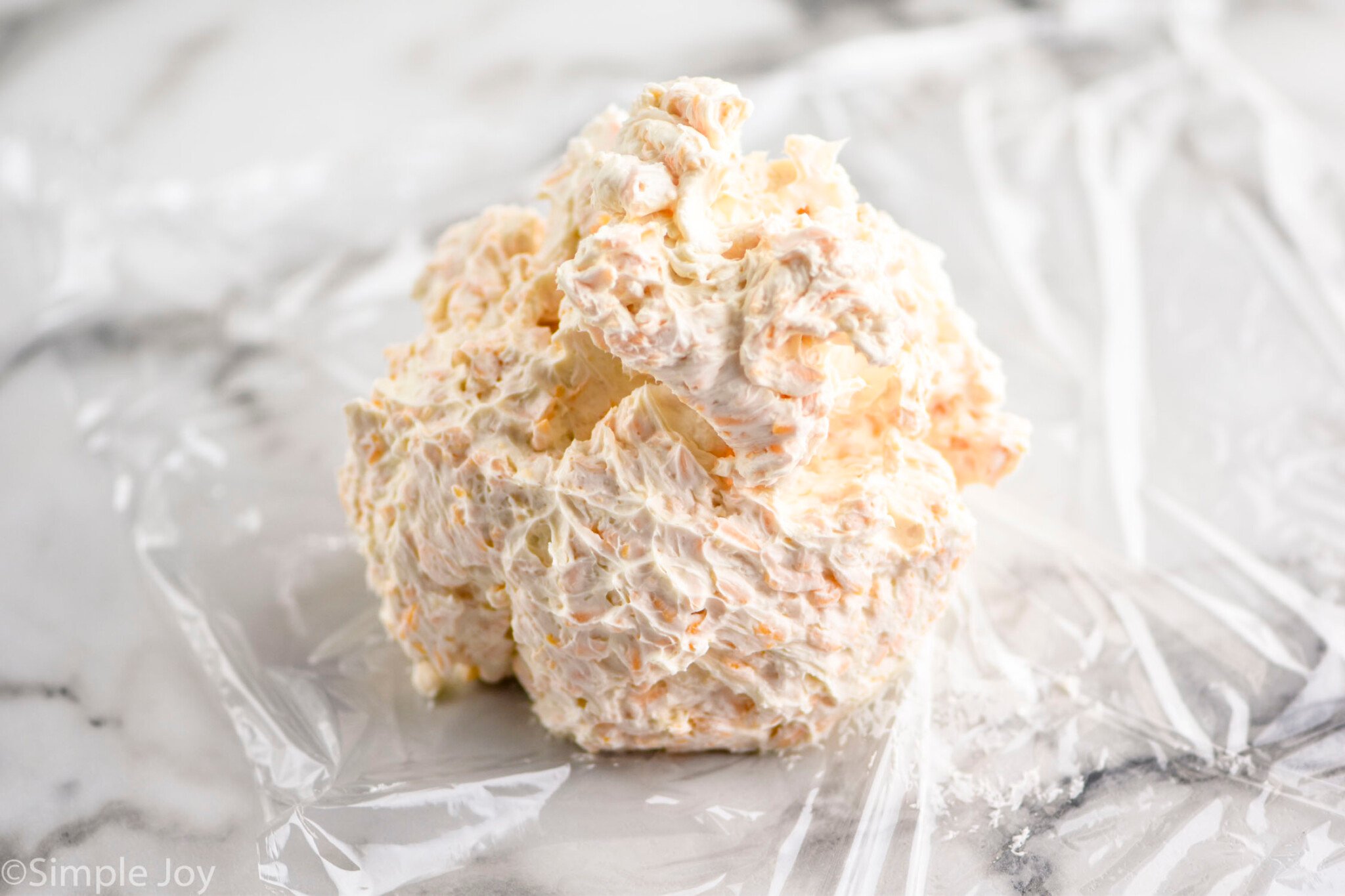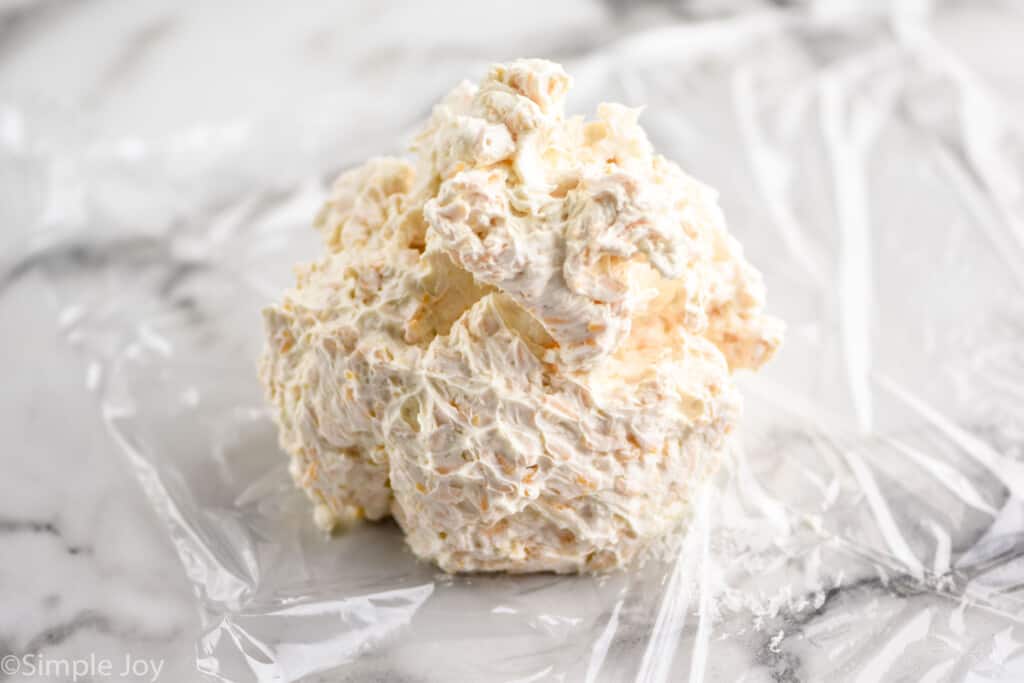 What to Serve with Cheese Balls
I like serving cheese balls with a variety of crackers and a knife for spreading it. The longer it sits out the easier it will be to spread. That being said, you could also put out vegetables, like carrots and celery sticks, for serving.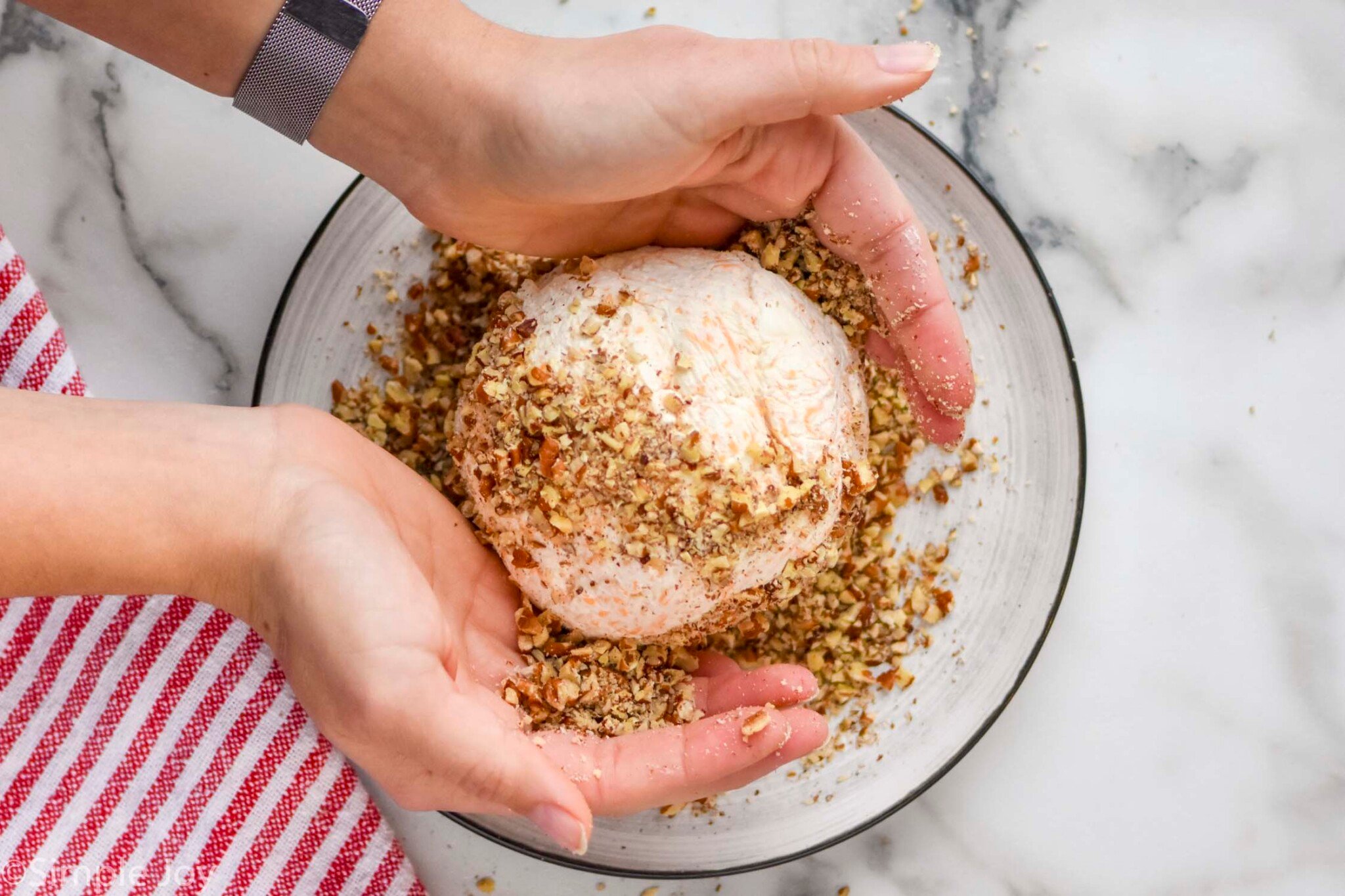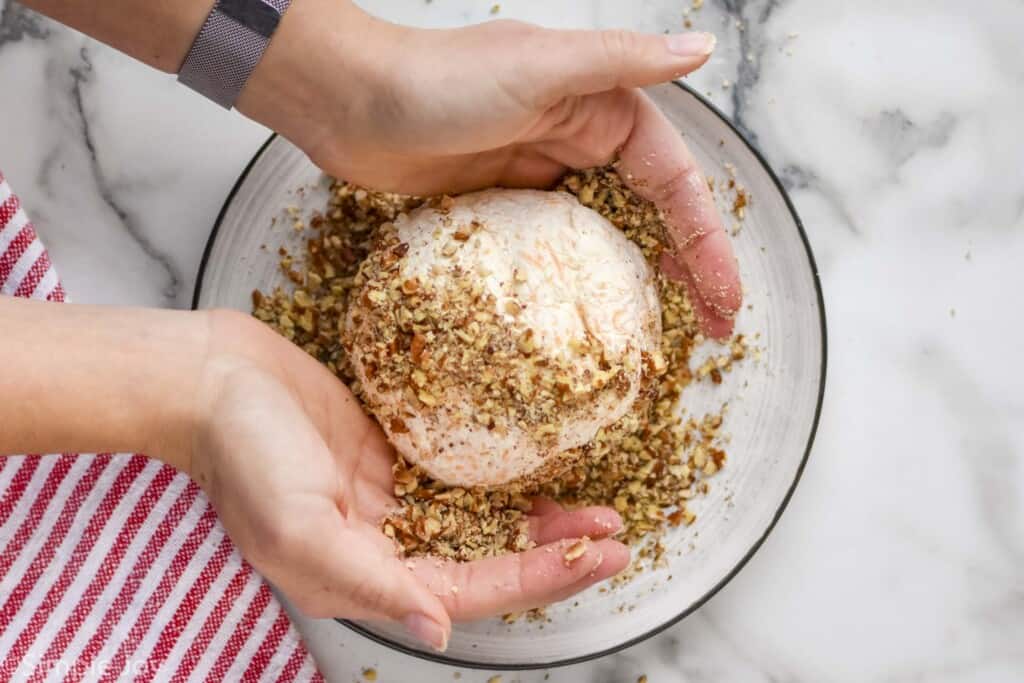 Alternatives to Pecans
If you are serving someone with a nut allergy, you are obviously going to want to avoid the pecans. Below are some alternatives for what to roll a cream cheese ball in. I suggest mixing and matching them.
Fresh parsley
Diced green onions
Minced chives
Diced roasted red peppers
Bacon bits
Toasted breadcrumbs
Parmesan cheese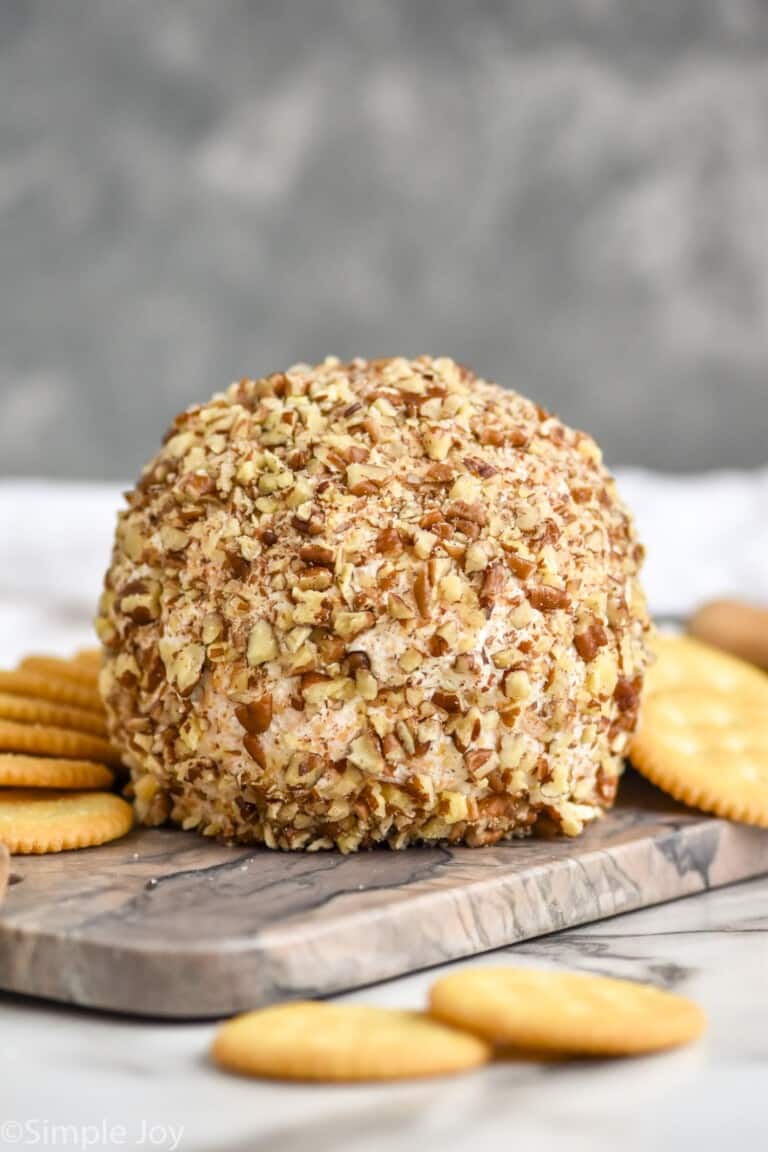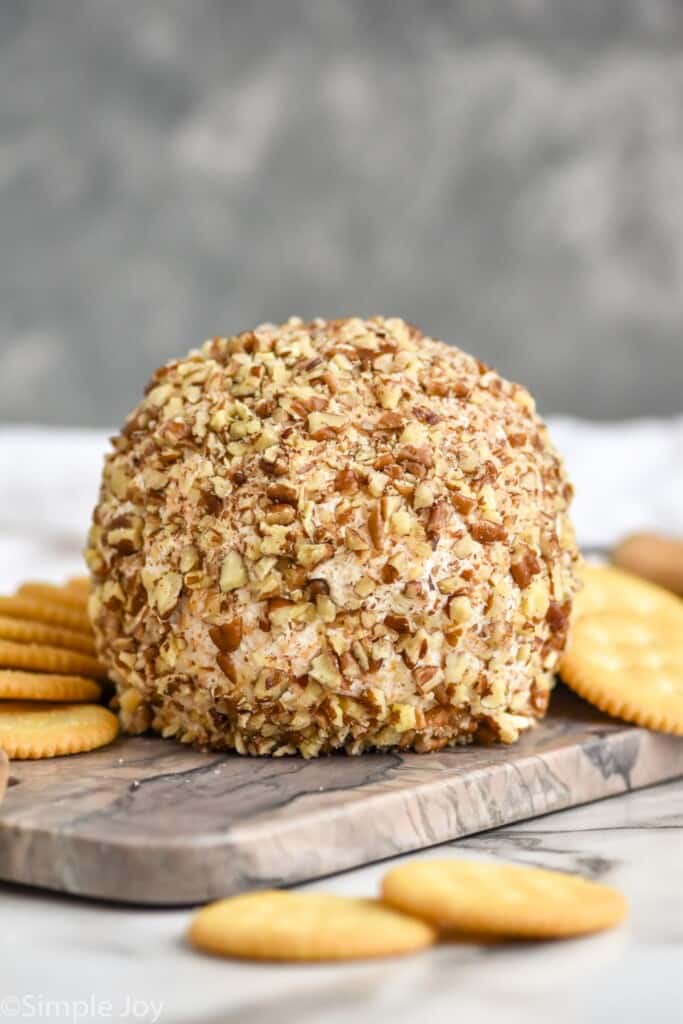 FAQ
How long can a cheese ball sit out?
Don't let your cheese ball sit out longer than 2 hours.
Can you freeze a cheese ball?
While it would be perfectly safe from a food safety standpoint to freeze this, the texture is going to really change after being frozen. This is not my favorite recipe to freeze.
Is this cheese ball recipe gluten free?
Yes! But please keep in mind that you should always double check the ingredients you are using. Additionally, you will want to use gluten free crackers for serving.
Is this recipe vegetarian?
It is not. The Worcestershire sauce has anchovies in it. If you are serving someone who is vegetarian, consider using a combination of soy sauce, lemon juice, and just a dash of hot sauce as a replacement. Note that soy sauce does contain gluten.
Is a cheese ball keto?
Yes, this recipe is keto. Make sure that what you choose to serve it with is keto as well.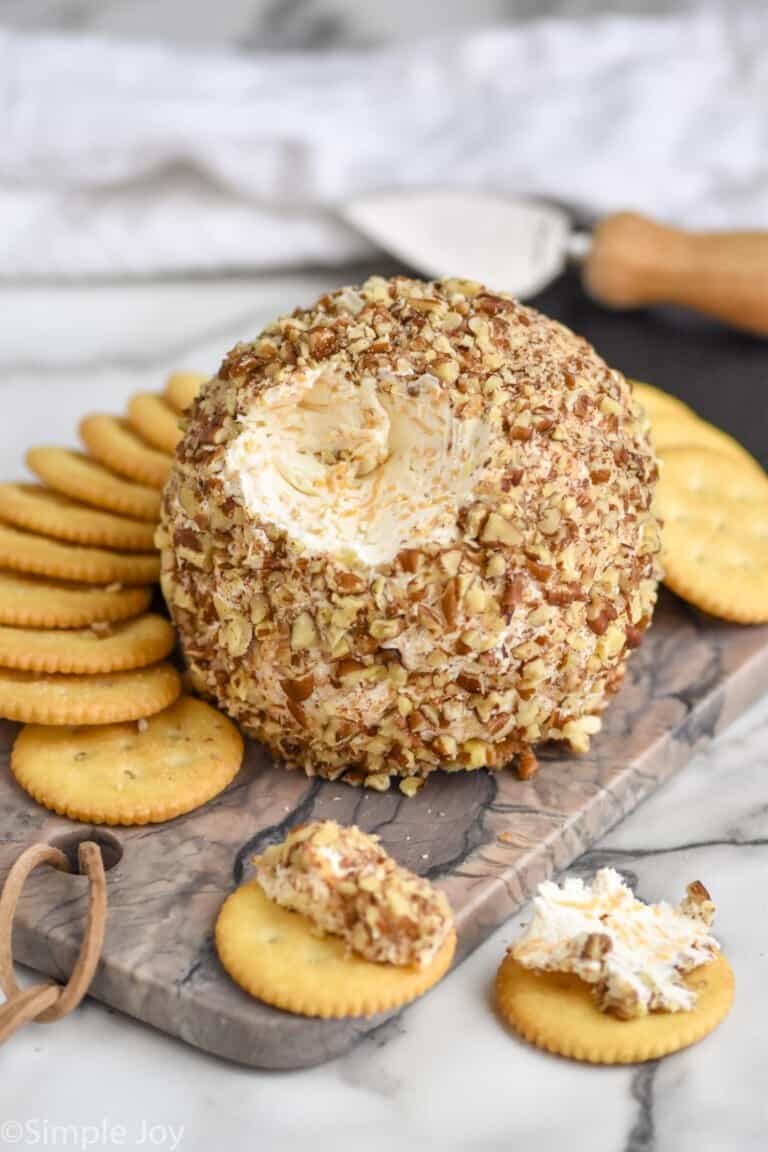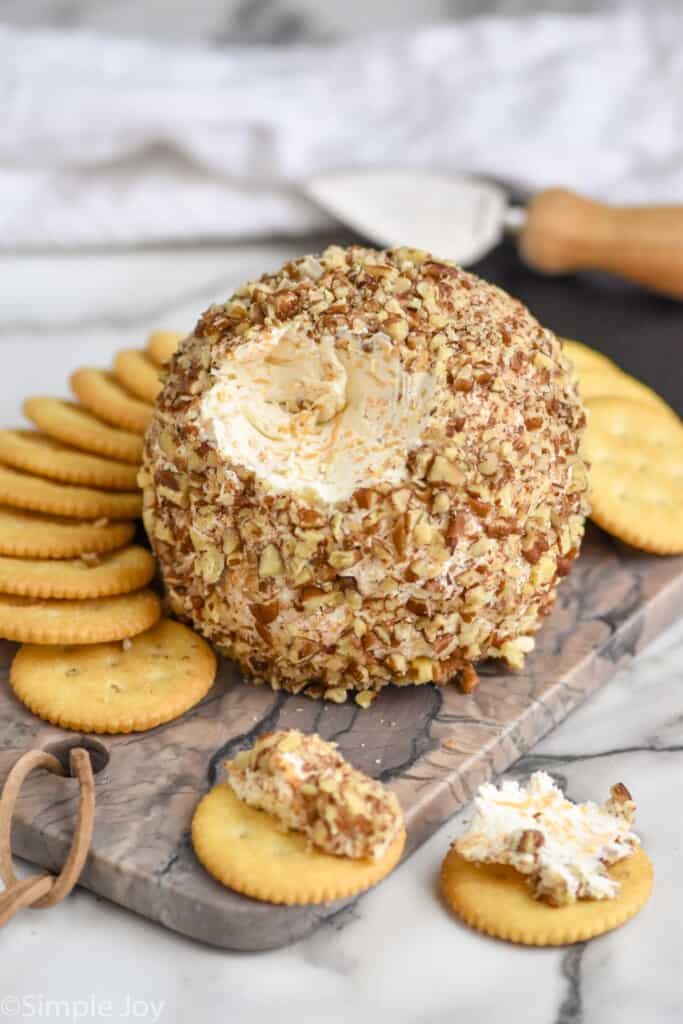 Other Cheese Ball Recipes
If you just can't get enough cheese ball recipes, we have a list of 30 Cheese Ball Recipes. You find all sorts of delicious cheeseballs that everyone will love. We also have these great twists:
If you make this easy cheese ball recipe or any of my other recipes, please leave me a comment and let me know what you think.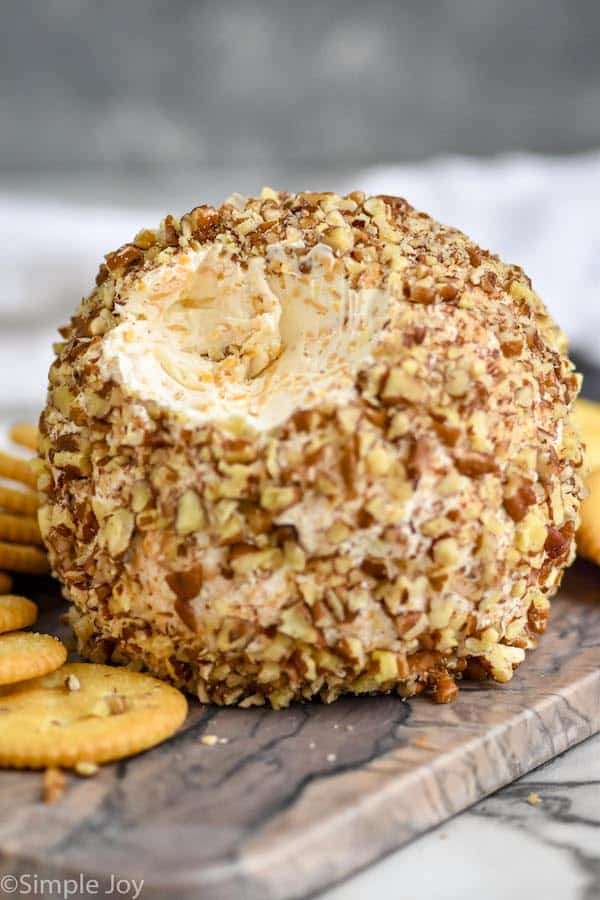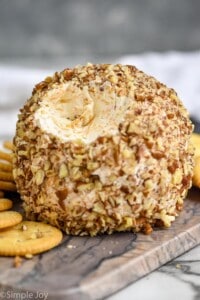 Cheese Ball Recipe
A Cheese Ball recipe is a classic appetizer that everyone can get behind. This simple and easy 5 ingredient recipe is the perfect party food.
Ingredients
16

ounces

cream cheese

room temperature

1 1/2

cup

cheddar cheese

shredded

2

teaspoons

Worcestershire sauce

1

teaspoon

garlic powder

3/4

cup

pecans

chopped small (if you are serving someone with a nut allergy, please see my list of alternatves)
Instructions
In a large bowl beat the cream cheese. Then mix in the chese, Worcestershire sauce, and garlic powder.

Spread out a large piece of saran wrap.  Place the mixture into the middle of it and and then using the plastic wrap form it into a ball. Chill for 8 hours.

Before serving, remove the saran wrap then coat the cheeseball with the pecans.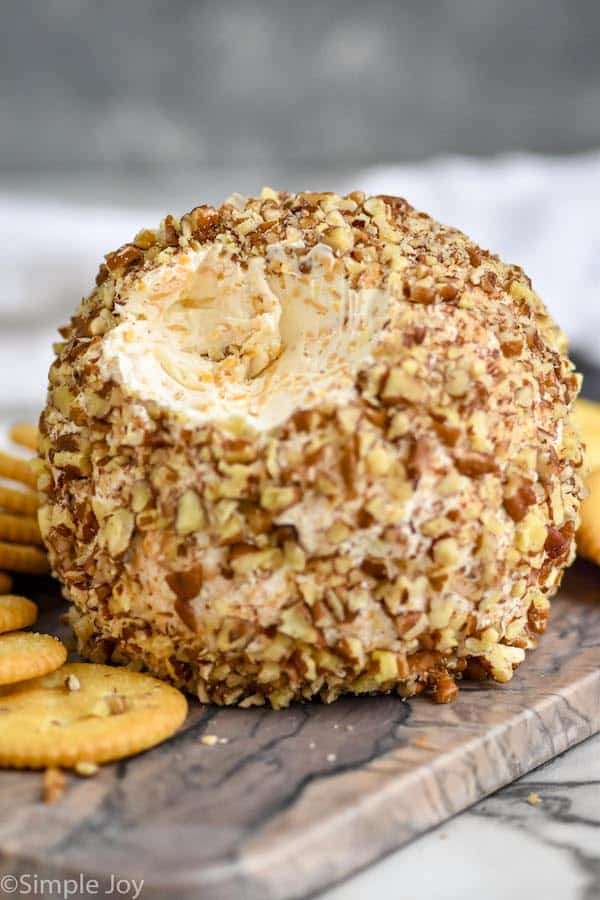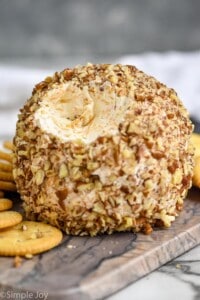 did you make this
Cheese Ball Recipe