Candied Pecans are so simple to make with just a few ingredients. This is the perfect recipe to give as a gift, have as a fun treat, or use in salads.
Eating low carb? Check out our section in the post about making these Keto Candied Pecans!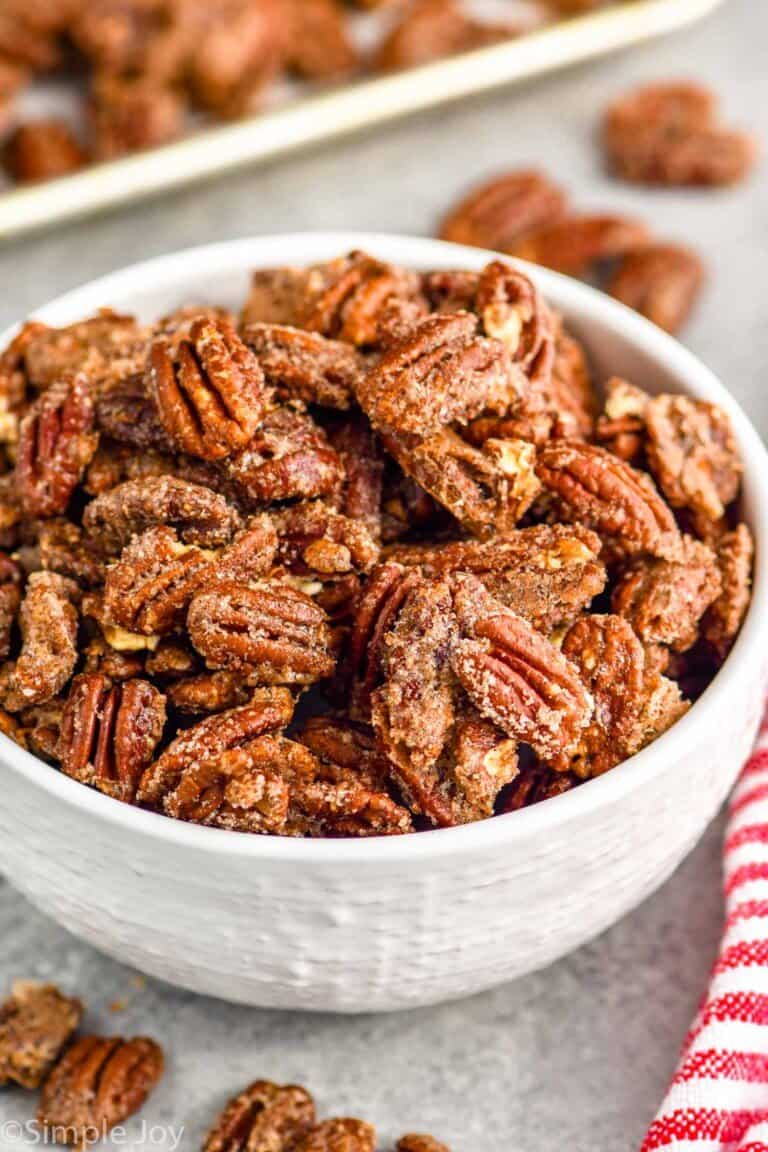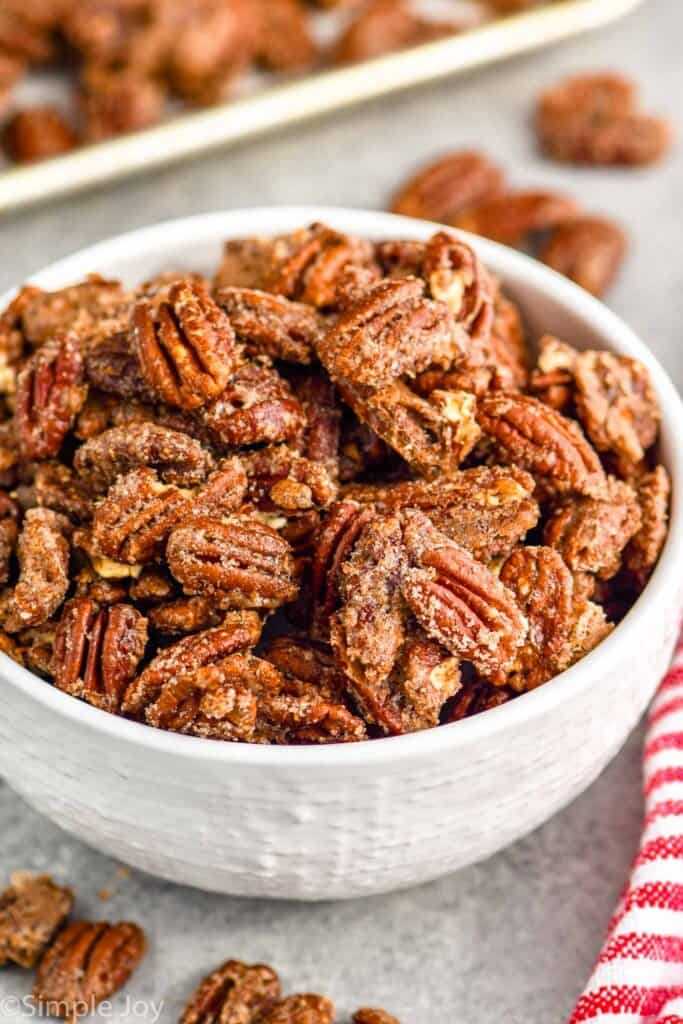 Candied nuts are just about the easiest treat to make and they turn out perfect every single time. This recipe for Candied Pecans is no exception. They are perfectly sweet with the hint of cinnamon and salt.
These easy candied pecans come together with just five ingredients and are done in about 50 minutes. You will love these as a great movie night treat, they are perfect for gifting, and they are phenomenal on salads.
How to Make Candied Pecans
Mix the coating. In a small bowl whisk together the sugar, cinnamon and salt.
Whisk an egg white. In a large bowl, use a fork to whisk the egg white. It should be very foamy.
Coat the pecans. Add the pecans to the bowl and stir them with the foamy egg white so they are entirely coated.
Add in the sugar mixture. Stir it with the nuts and make sure they are well coated.
Bake the pecans. Spread the nuts on a parchment lined baking sheet so they form a single layer. Bake for 30 to 40 minutes, checking on the pecans starting at 30 minutes. Allow them to cool and then break them apart.
Baking Time
You will note that the baking time for this recipe is 30 to 40 minutes. In a recipe like this, a lot of things can factor into baking time, including but not limited to, your oven temperature and your baking sheets.
Some ovens aren't calibrated to the correct temperature. If your oven runs just a little hot, these will cook faster – something you wouldn't necessarily notice in other recipes, like a pot roast. An easy way to check this is with an inexpensive oven thermometer – they are usually less than $10.
Baking sheets conduct heat differently. So in a recipe like this, where what you are baking is so small and thin, that can really impact things. I love these Nordic Ware Baking Sheets. They bake everything to perfection.
TOP PICK
Nordic Ware Baking Sheets
These baking sheets are my absolutely favorite. They hold up for years, and they bake everything perfectly. They are always my top pick.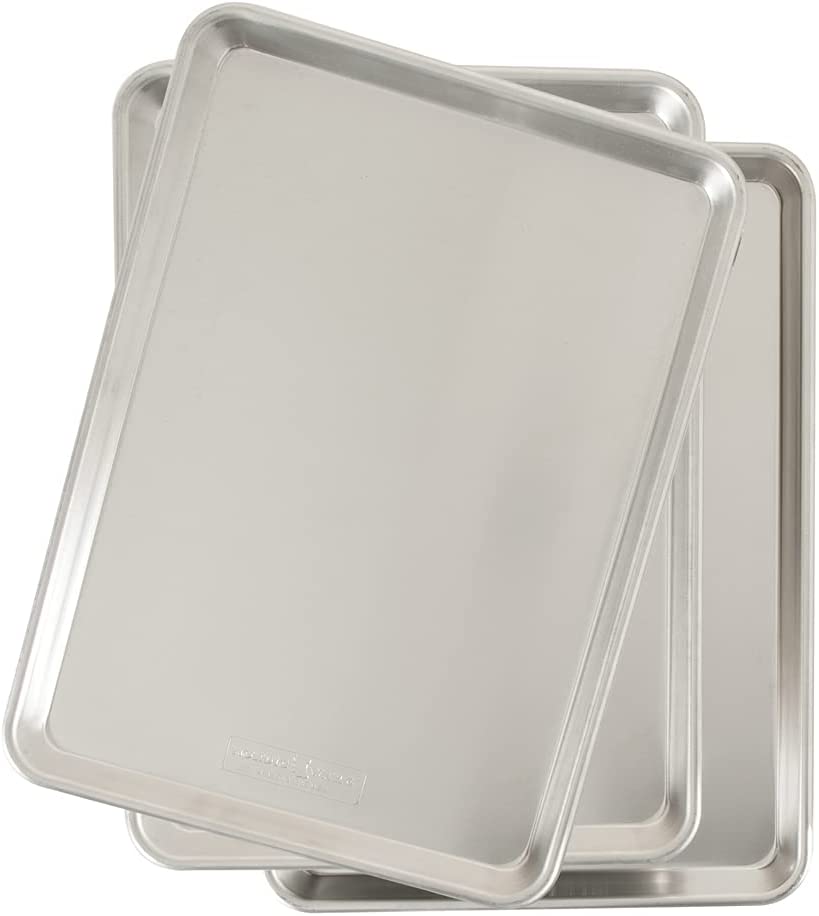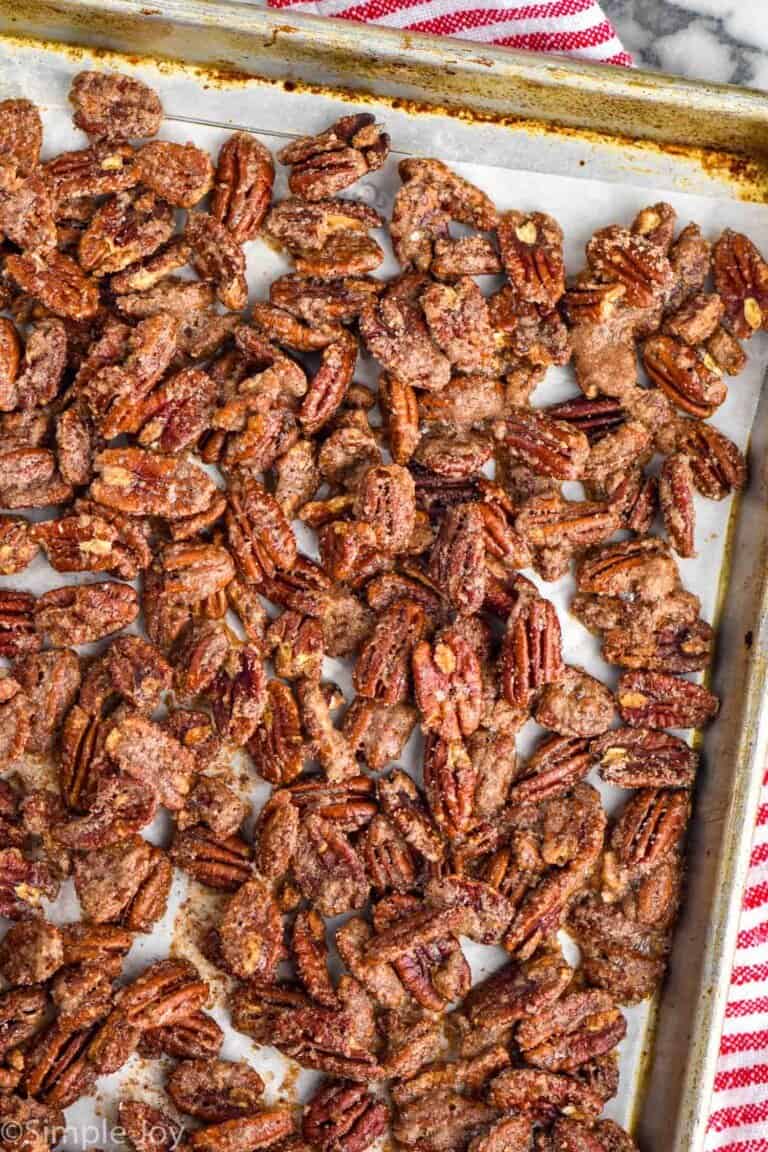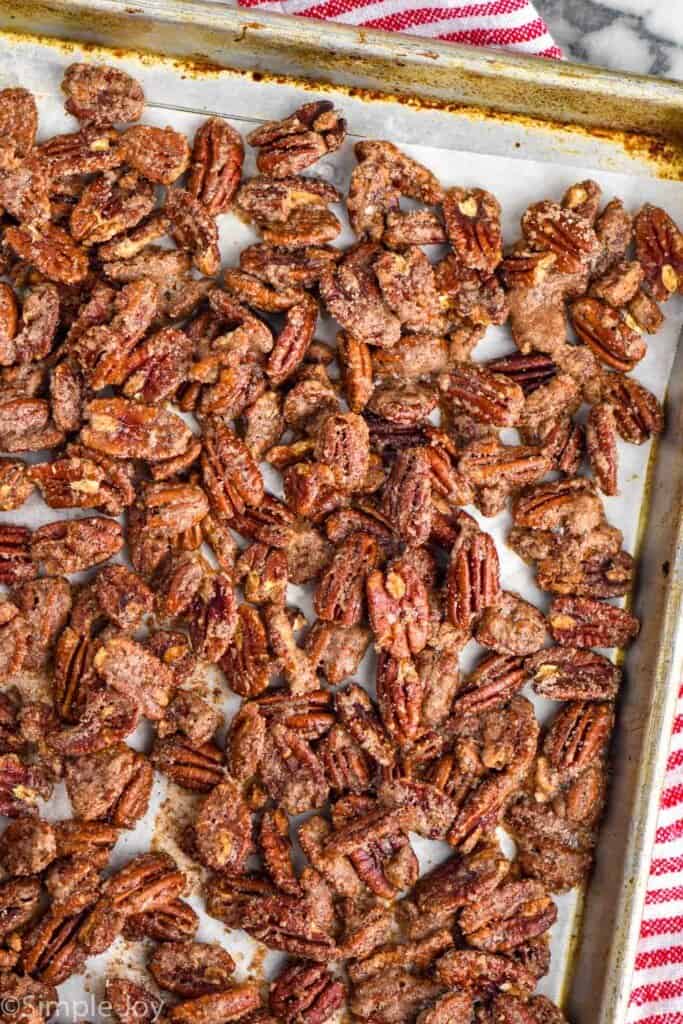 Buying Pecans
When purchasing pecans for this recipe, look for nuts that are unsalted. You also want to buy pecan halves, not pieces. I like buying these in bulk at a store like Costco. It is perfect for making a big batch that you can give as gifts.
Candied Pecans for Salads
This is the perfect recipe to put on salads. While you can throw them on just about any salad, we have so many I think they would be particularly good on.
How to Make Keto Candied Pecans
Of all the nuts you could eat on a low carb diet, pecans are right up there as one of the best. They have 1 gram of net carbs per each 1 ounce serving. So this is the perfect treat to turn Keto.
It is also really easy to make this recipe into a low carb and Keto friendly snack. The only problematic ingredient is the sugar. That is easy to take care of by using a sugar replacement:
Swerve is a great option. It can be used as a 1 for 1 swap with sugar. That being said, I have had readers tell me that when swapped 1 for 1 it is incredibly sweet. You might want to use 6 tablespoons for this recipe instead or a heaping 1/3 cup.
Monk Fruit is another great alternative. This is one that readers recommend to those on a low carb diet all the time. Like Swerve, it can be used 1 for 1.
Stevia is something I use in my coffee every morning and really enjoy. The type that is meant for baking varies on how you use it from brand to brand. The brand linked here is 1 for 1, but make sure you look at the package you buy.
Please keep in mind that the nutritional information here is for the original recipe with the granulated sugar.
Storing
These can be stored in an air tight container in a cool dry place for up to two weeks. That being said, always use your best discretion with food. If it smells or looks funny earlier than that, toss them.
FAQ
How can I make this recipe diabetic-friendly?
If you look in the section above, we have linked several sugar alternatives that are low carb friendly. The other ingredients in this recipe are already good to go!
Can I use this recipe with any nut?
You bet! We already have a Candied Walnuts recipe, but you could use this with cashews and peanuts too! I also know people who love this recipe with almonds.
Can I use brown sugar instead of white sugar?
If you would like to use brown sugar, I would suggest using a combination of the two. Perhaps a 1/4 granulated sugar and 1/4 cup brown sugar.
Can you freeze candied pecans?
Yes! Make sure to let them cool and break them apart before freezing them. Store in an airtight container in the freezer for up to 3 months.
Are candied pecans gluten free?
They sure are! But as with any recipe, make sure you double check the ingredients you use before serving these to someone with a gluten allergy.
Can these be reheated?
I prefer them to only go in the oven once, but if you want to heat them up again put them in for 5 minutes at 350 degrees.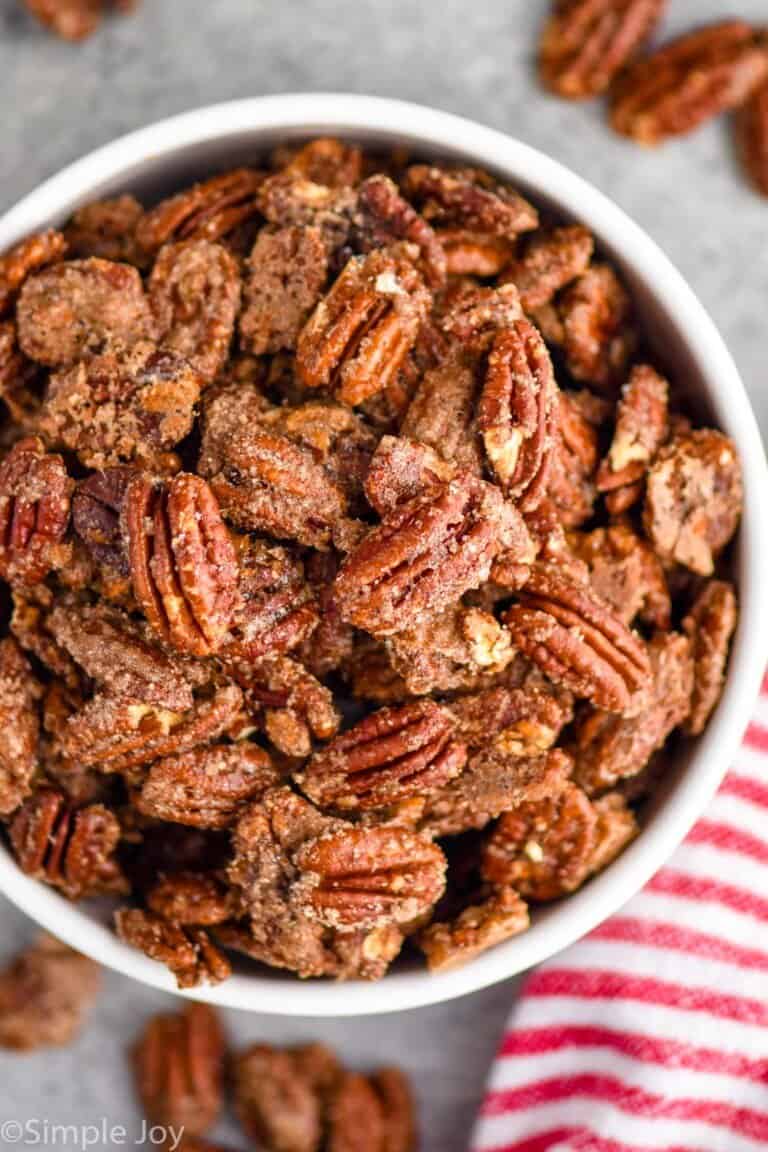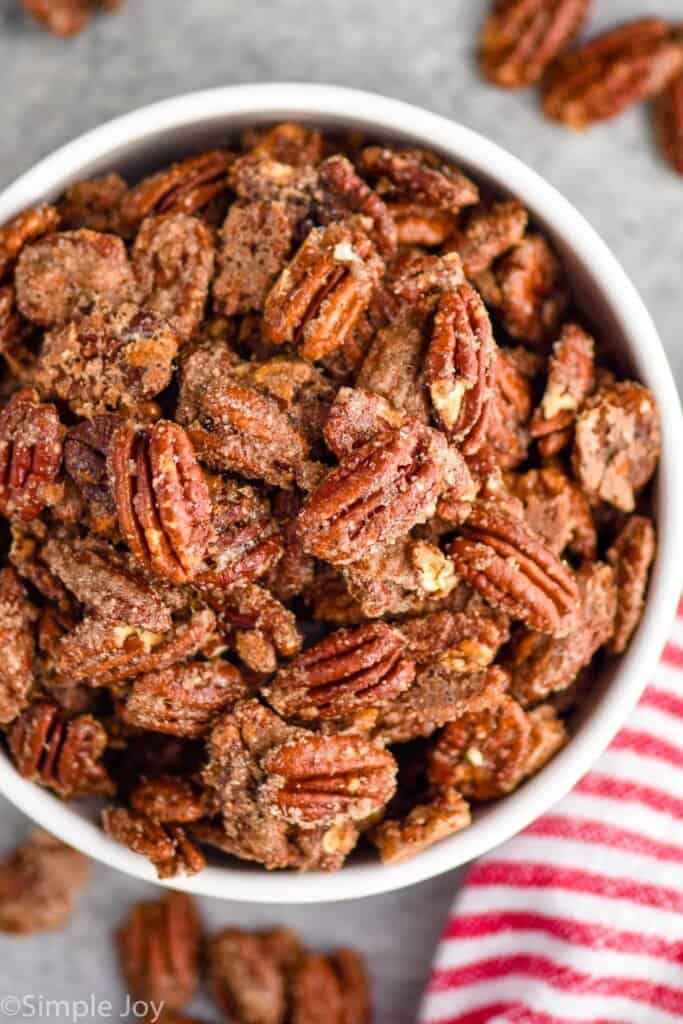 Other Recipes Perfect for Gifting
If you make this Candied Pecans recipe or any of my other recipes, leave me a comment and let me know what you think!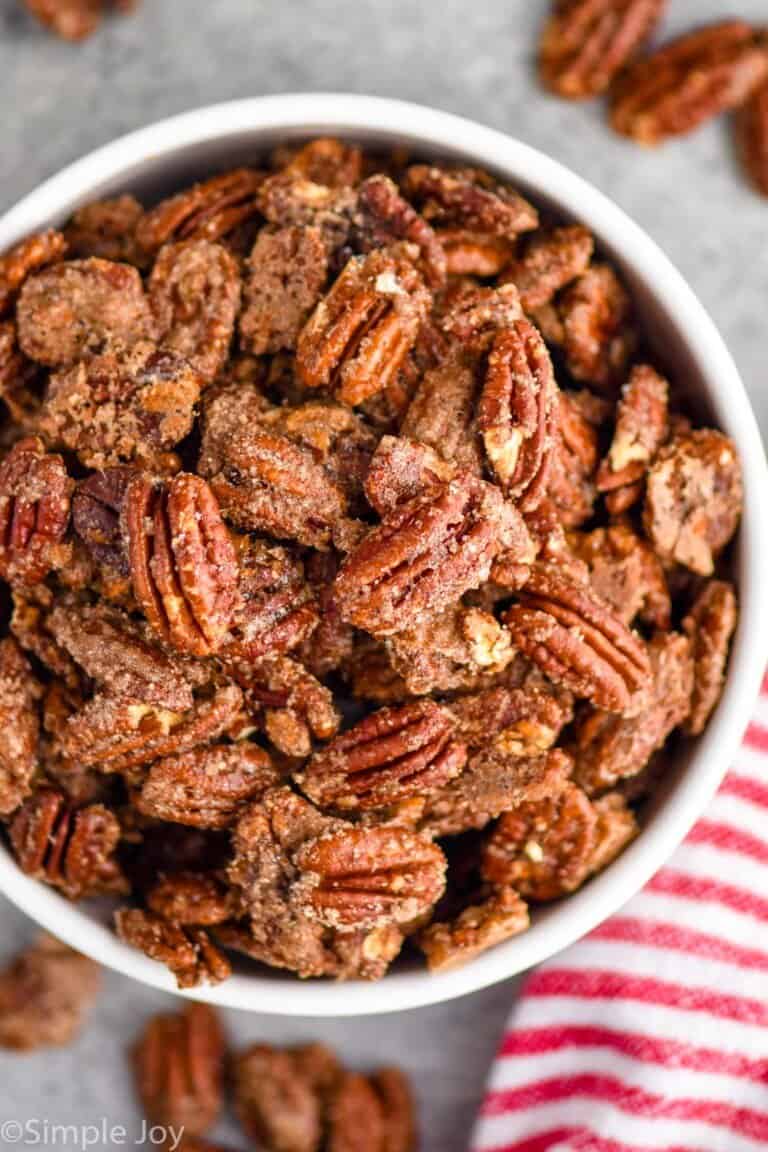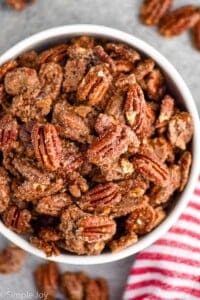 Candied Pecans
Candied Pecans are so simple to make with just a few ingredients. This is the perfect recipe to give as a gift, have as a fun treat, or use in salads.
Ingredients
1/2

cup

granulated sugar

1

teaspoon

cinnamon

1

teaspoon

salt

1

egg white

4

cups

pecan halves

16 ounces
Instructions
Preheat your oven to 300 degrees. Line a rimmed baking sheet with parchment paper and set aside.

In a small bowl whisk together the sugar, cinnamon, and salt. Set aside.

1/2 cup granulated sugar,

1 teaspoon cinnamon,

1 teaspoon salt

In a large mixing bowl, whisk the egg white with a fork until it becomes frothy. Add in the pecans and toss until they are compltely coated.

1 egg white,

4 cups pecan halves

Now add the sugar mixture. Mix throughly. Spread onto the prepared pan in a single layer. Bake for 30 to 40 minutes, checking on the pecans starting at 30 minutes. (Please note that oven temperatures vary and different baking sheets behave very differently, your best bet to avoid burning is to check on them.)

Remove from the oven. Once nuts cool, break apart and enjoy! Store in an air tight container for up to two weeks.
Serving:
0.25
cups
Calories:
131
kcal
(7%)
Carbohydrates:
7
g
(2%)
Protein:
2
g
(4%)
Fat:
12
g
(18%)
Saturated Fat:
1
g
(6%)
Polyunsaturated Fat:
4
g
Monounsaturated Fat:
7
g
Sodium:
99
mg
(4%)
Potassium:
70
mg
(2%)
Fiber:
2
g
(8%)
Sugar:
5
g
(6%)
Vitamin A:
9
IU
Vitamin C:
0.2
mg
Calcium:
13
mg
(1%)
Iron:
0.4
mg
(2%)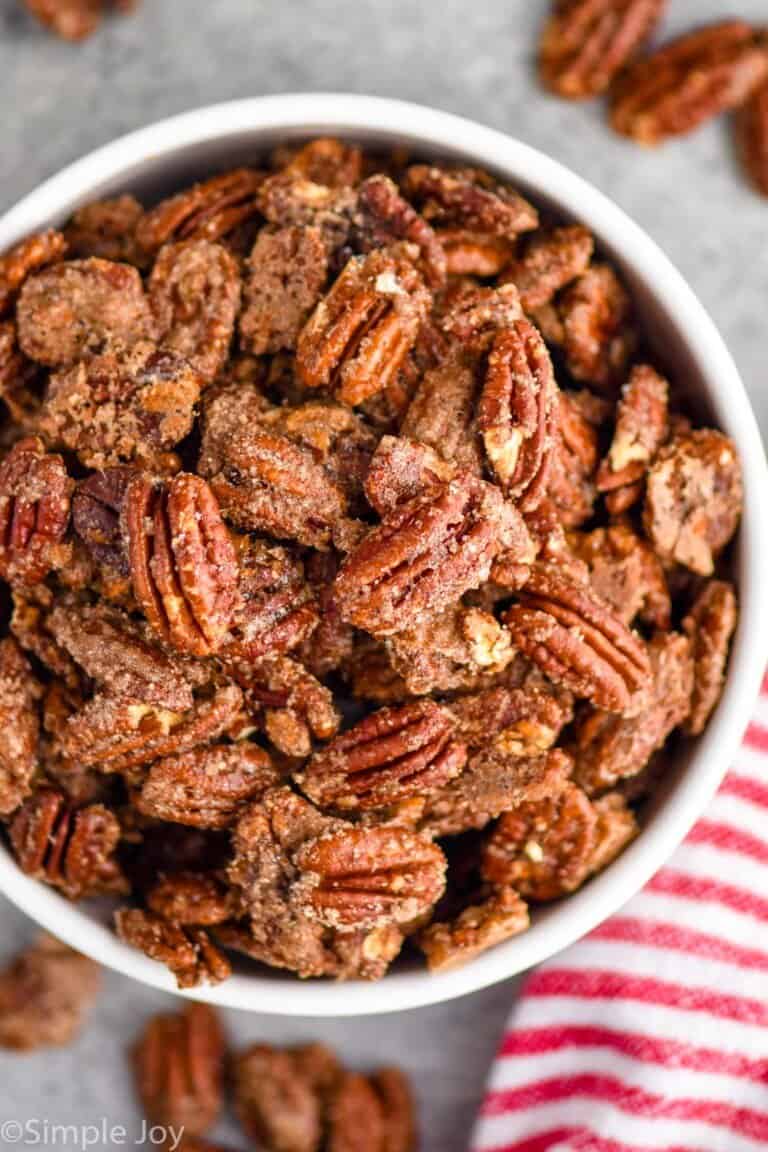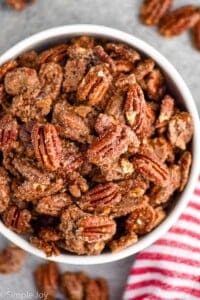 did you make this
Candied Pecans
you might also like . . .