These Honey BBQ Instant Pot Cocktail Meatballs are the perfect easy party appetizer. Make this cocktail meatball recipe using frozen meatballs or make them from scratch – I have included a way for doing either! These easy party meatballs will be a hit! And making them with the Instant Pot makes them so incredibly easy. With the frozen meatball version you have about 5 minutes of hands on time and then they are done in under 30 minutes! If you are looking for other great appetizers to make for your party, try this buffalo popper pull apart bread, these jalapeño popper potato skins, and this meatball sub dip is ALWAYS a hit!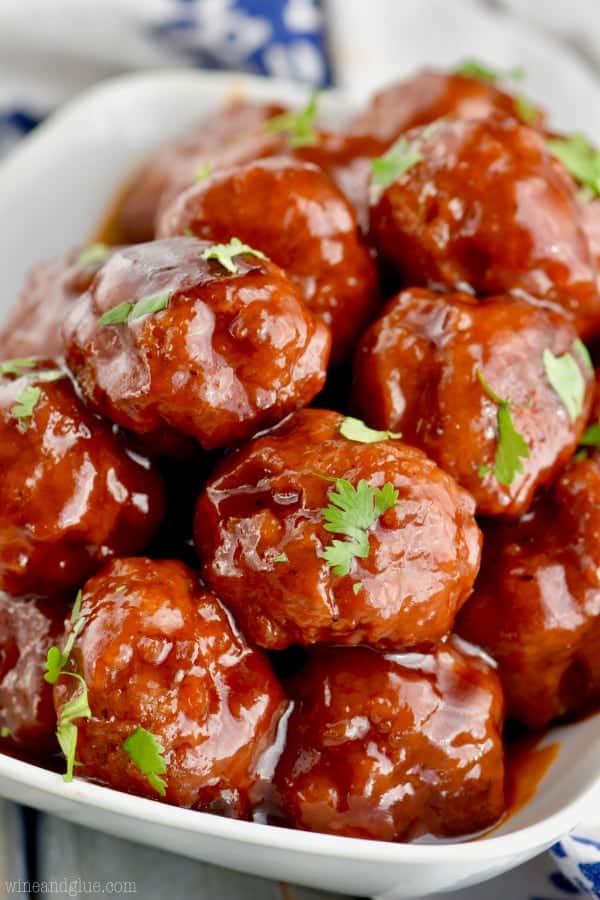 Over the weekend we celebrated Christmas with my husband's family, and I was trying to think of a really easy appetizer that I could add to the mix. You guys? This is totally it! And even better, it's made with an Instant Pot, so the hands on time is minimal, but they still are done FAST!
Last week I was talking to you guys about my new found love for my Instant Pot after getting this cookbook.
I love it so much that I even feel confident now to create recipes with it! So if you are nervous about using your Instant Pot, you first need to buy this cookbook and then read this post and then get going!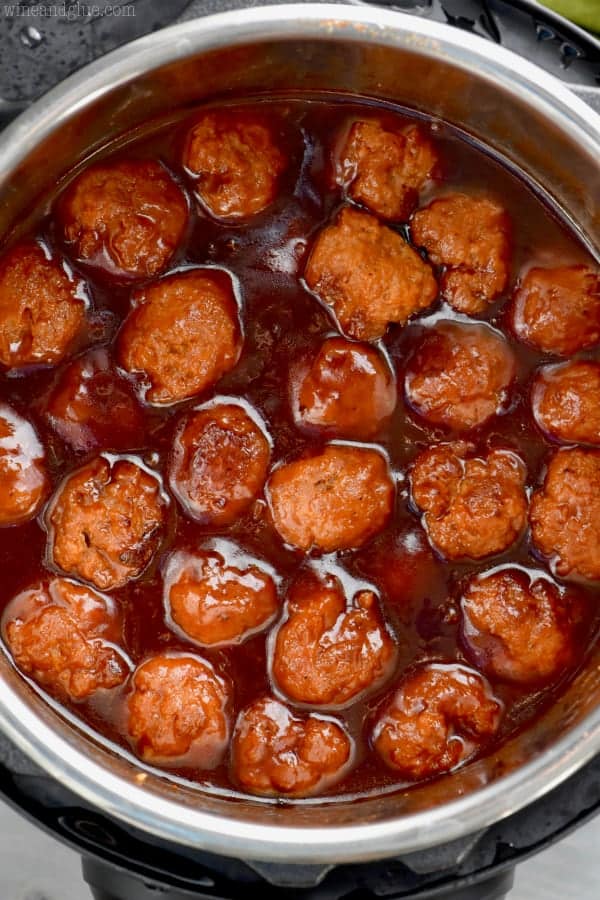 HOW TO MAKE COCKTAIL MEATBALLS IN YOUR INSTANT POT
There are two versions of this recipe, one making the meatballs from scratch and one using frozen meatballs. Obviously the one using frozen meatballs is a lot easier. It's really just dumping three things into your instant pot and getting it going. It will be done in under thirty minutes and everyone will think you are an appetizer wizard.
The meatballs made from scratch take a lot more work, but they are absolutely delicious. The thing I love about the Instant Pot is that you can use it the same way you use your stovetop with the sauté button. You can brown the meatballs in batches and then put them all back in the Instant Pot and finish off the cooking. It's still fast and you still only dirtied one pot.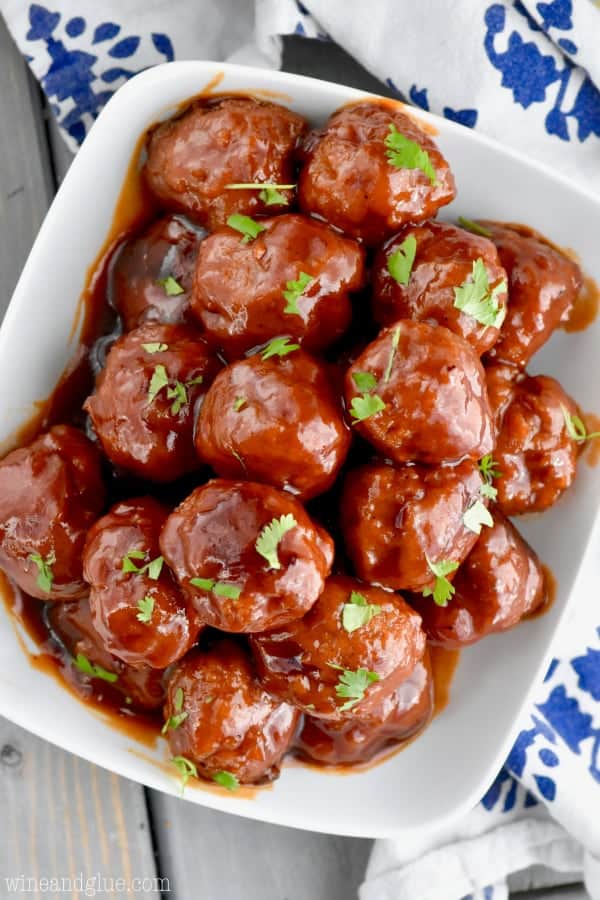 If you are looking for more great appetizers to make in your instant pot, make sure you first try these Pressure Cooker Asian Steamed Dumplings, and then these Instant Pot Steamed Artichokes.  Don't have an Instant Pot? Then make these Slow Cooker Cocktail Meatballs!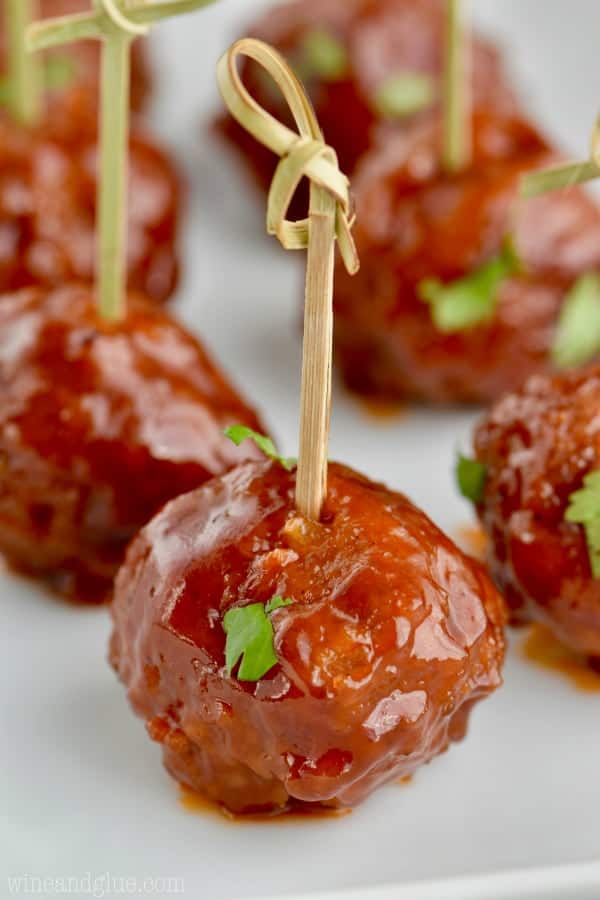 HOW TO MAKE INSTANT POT COCKTAIL MEATBALLS USING FROZEN MEATBALLS
Prep Time: 5 minutes
Cook Time: 25 minutes
Total Time: 30 minutes
Servings: 20 people
1 pound frozen meatballs, homestyle
2 cups BBQ sauce
1 cup honey
Combine all the ingredients in your instant pot.
Seal the instant pot and select high pressure and five minutes cook time. After a moment the instant pot will beep, it will say "on" and it will begin to build pressure. Once the pressure has built, it will count down the time.
After the time ends, turn off the instant pot. Use the quick release on time to vent the steam. When the valve drops, carefully open the lid and serve.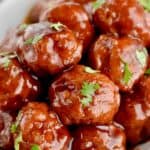 Print Recipe
Honey BBQ Instant Pot Cocktail Meatballs - USING MEATBALLS FROM SCRATCH
These Honey BBQ Instant Pot Cocktail Meatballs are the perfect easy party appetizer. Make this cocktail meatball recipe using delicious meatballs from scratch.
Ingredients
Meatballs
1

egg

beaten

1/2

cup

bread crumbs

1/2

yellow onion

diced small

1/4

cup

parmesan cheese

1/2

tsp

garlic powder (not garlic salt)

1/2

tsp

salt

1/4

tsp

pepper

1

tsp

Worcestershire sauce

1 1/4

pounds

ground turkey

2

TBSPs

butter

more as needed
Instructions
Combine all of the ingredients for the meatballs (except the butter). Using a cookie scoop form them into 1 inch balls.

Select the sauté function on your Instant Pot. When it says that it is hot, add the butter and melt it. Once melted, add the meatballs in batches (about three batches) to brown them. Add more butter if necessary to brown all of them. You do not need to cook them all the way through, just brown a little on two sides. After browning them all, remove any residual bits of meatballs.

Add the bbq sauce and the honey. Return the meatballs to the Instant Pot. Make sure they are all covered by the sauce. Lock the lid in place. Select high pressure and 4 minutes cook time. The Instant Pot will beep and then it will begin to build pressure before it the timer starts counting down.

When the cook time is done, turn your Instant Pot off and manually release the pressure by turning it to vent on the top. When the valve drops, gently remove the top. Serve meatballs!
Other great appetizers your guests will love
Jalapeno Popper Pull Apart Bread

This post contains affiliate links, if you click on them and then make a purchase, I make a small amount of money at no additional cost to you. Thank you in advance for supporting Wine & Glue.
SaveSave
SaveSave