This Easy Lamb Chops recipe comes together quickly with easy-to-follow steps. It is simple enough for a quick weeknight meal, but delicious enough to be the centerpiece of your holiday table.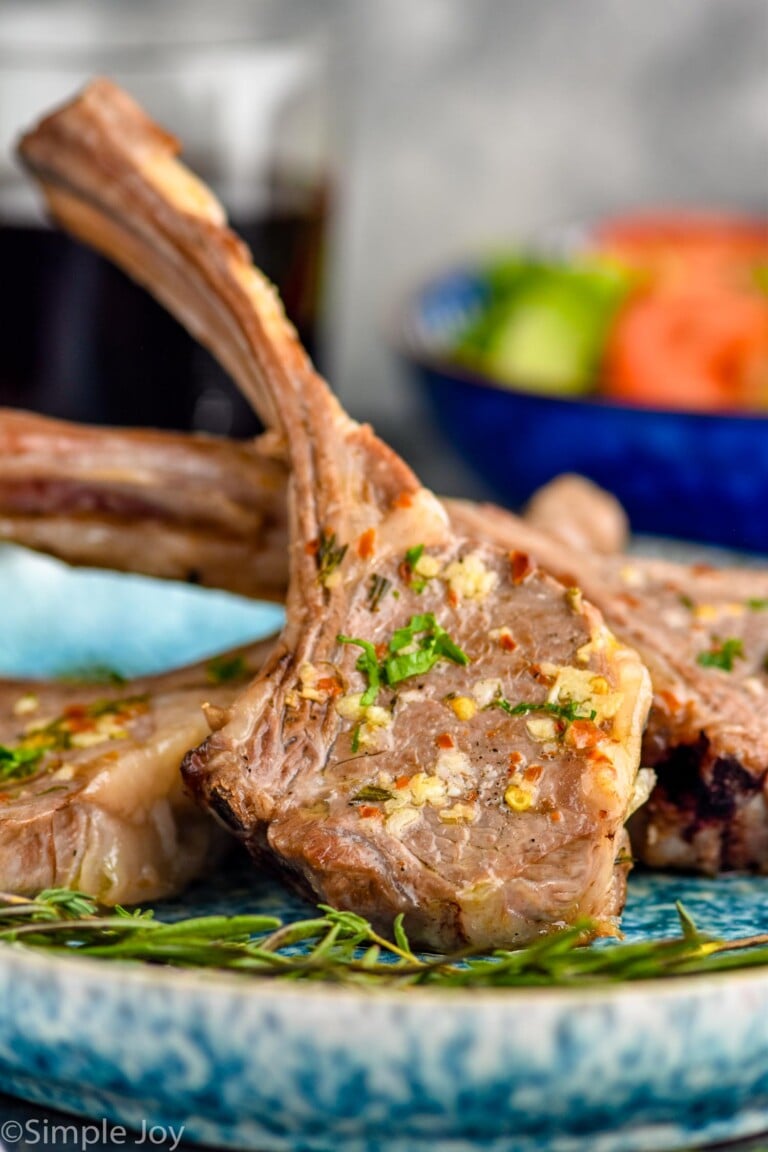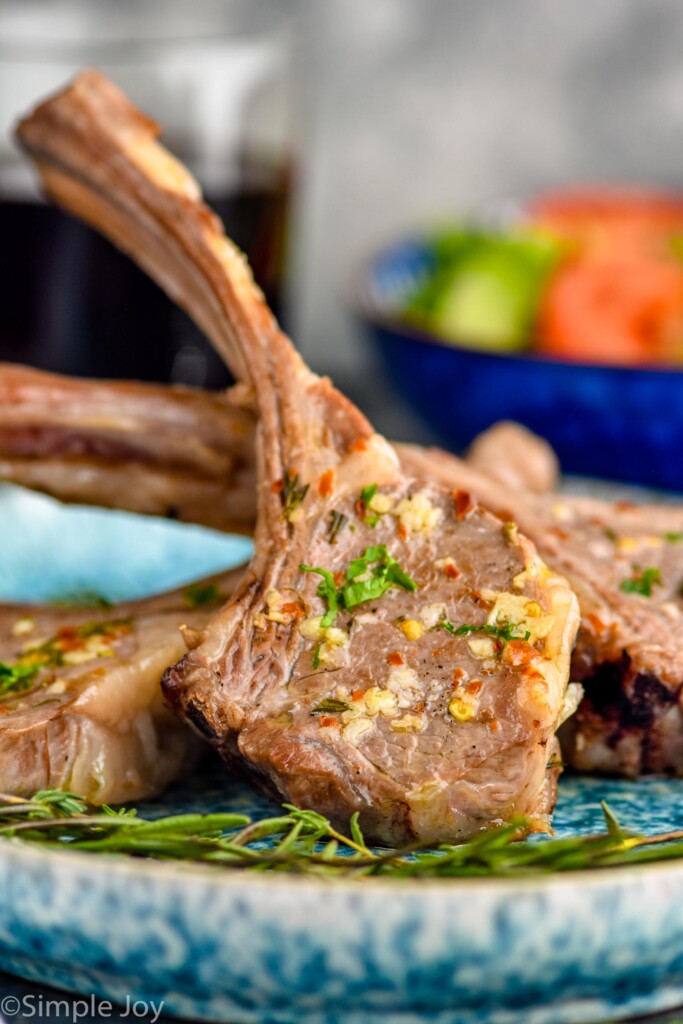 In the hunt to bring you more holiday meals, I made you these incredibly delicious lamb chops. They are marinated overnight in a very easy marinade and then quickly baked in the oven.
While the hands on time for this recipe is quite short, the pay off is huge. These are tender, delicious, and sure to impress. This easy lamb chop recipe is perfect for hosting and will absolutely impress.
What are Lamb Chops
Lamb chops are portions of lamb meat that are cut from various parts of the lamb, including the shoulder chop, loin chop, and blade chop. They are bone-in and very tender meat.
How to Cook Lamb Chops
This lamb chops recipe requires minimal work yet makes a delicious entree perfect for entertaining. Here is a brief overview of how to cook lamb chops in the oven. For the full measurements (including the best lamb chop marinade recipe) and cook time, see the recipe card at the bottom of the page.
Marinate the lamb chops. Combine your seasonings, olive oil, lemon juice, and red wine vinegar in a reusable container. Add the lamb and marinade in the refrigerator. See more on marinating lamb below.
Put in baking dish. Remove your lamb chops from the marinade and place them in a cooking dish that has been sprayed with cooking spray. Discard the marinade.
Bake. Bake in a preheated oven until the internal temperature of the lamb chops reaches 145 degrees, approximately 35 minutes, flipping halfway through.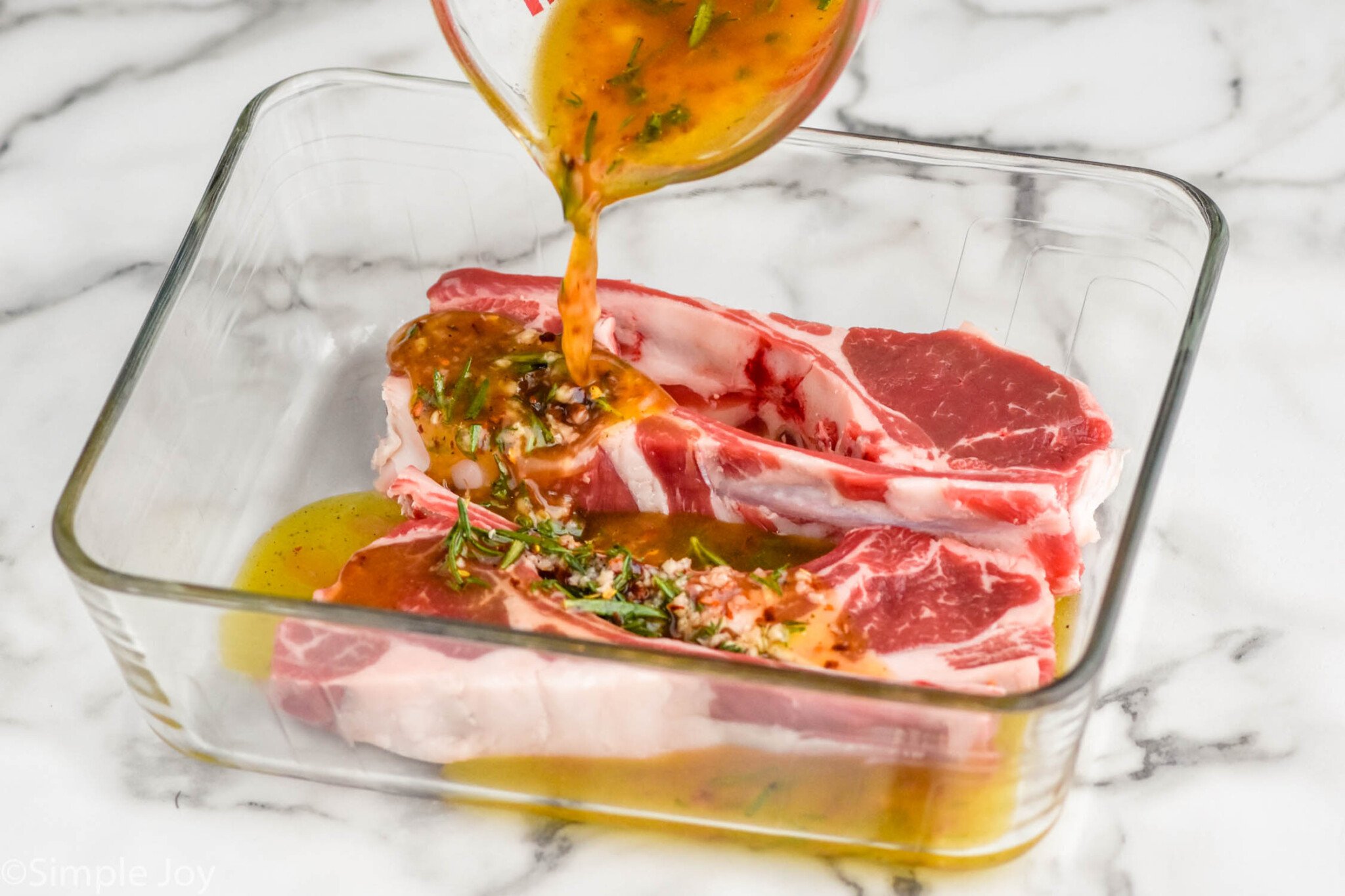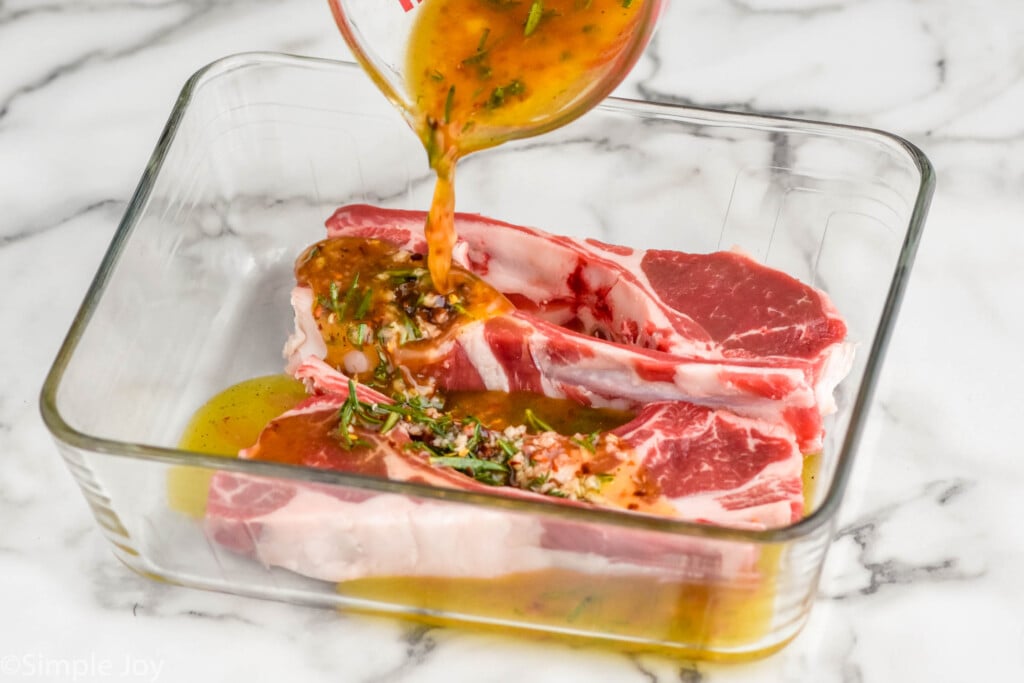 Marinating Lamb
Marinades are the perfect way to add flavor and tenderness. Any good marinade will have a balance of acid and other flavors to slightly break down the meat and bring in flavor.
This lamb chop marinade recipe contains acidic lemon juice and red wine vinegar and flavorful seasonings of garlic, rosemary, thyme, and a slight kick of red pepper flakes.
Lamb should marinate for a minimum of four hours or as long as 24 hours. At least four hours is required for the lamb to break down just enough to absorb the liquids and flavor of the spices and tenderize. But longer than 24 hours and the lamb will start to break down too much. Marinated lamb chops are moist and full of delicious flavor.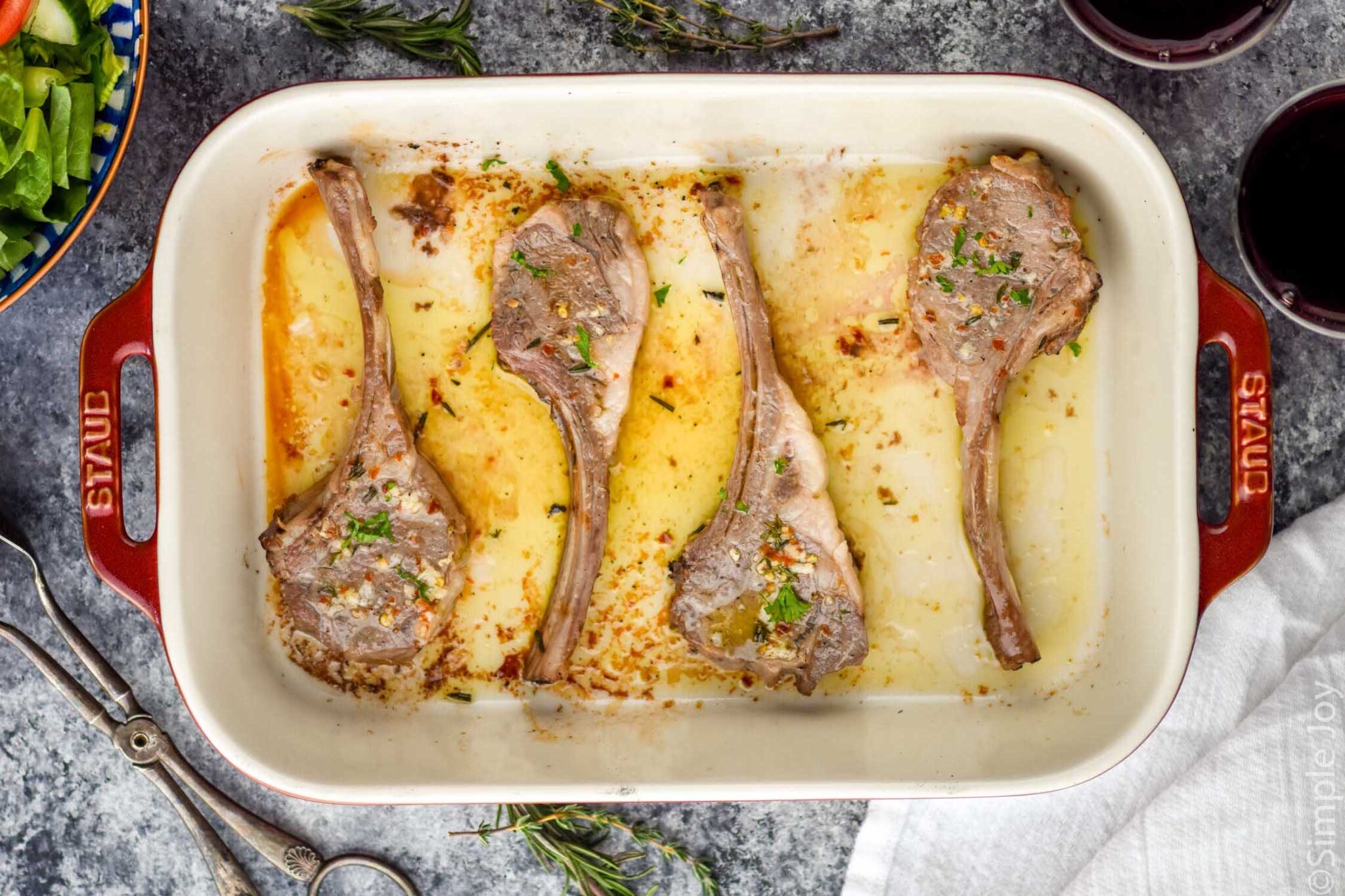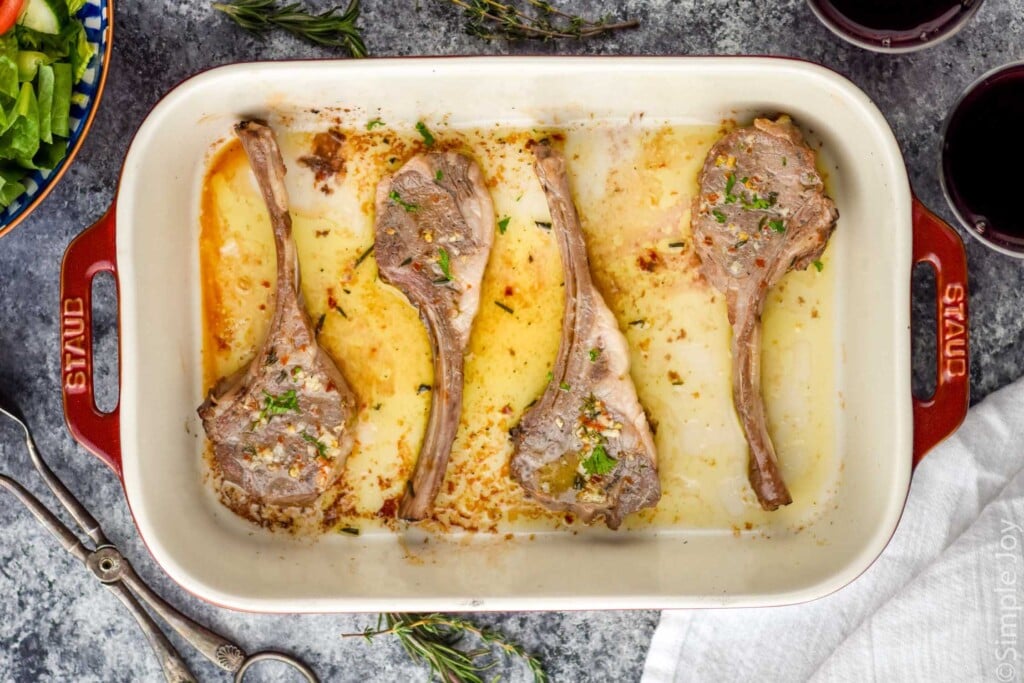 Lamb Chop Marinade
The ingredients for this marinade are very simple. See the recipe card below for the full measurements.
Olive oil is our base for this marinade.
Lemon juice and red wine vinegar are acids and are another way to tenderize the meat.
Rosemary and thyme are fresh herbs that add delightful flavor. If you don't have fresh herbs, you can use dried herbs. Just reduce the amount by half.
Garlic, kosher salt, and black pepper are used to enhance the flavor.
Red pepper flakes to add just enough heat.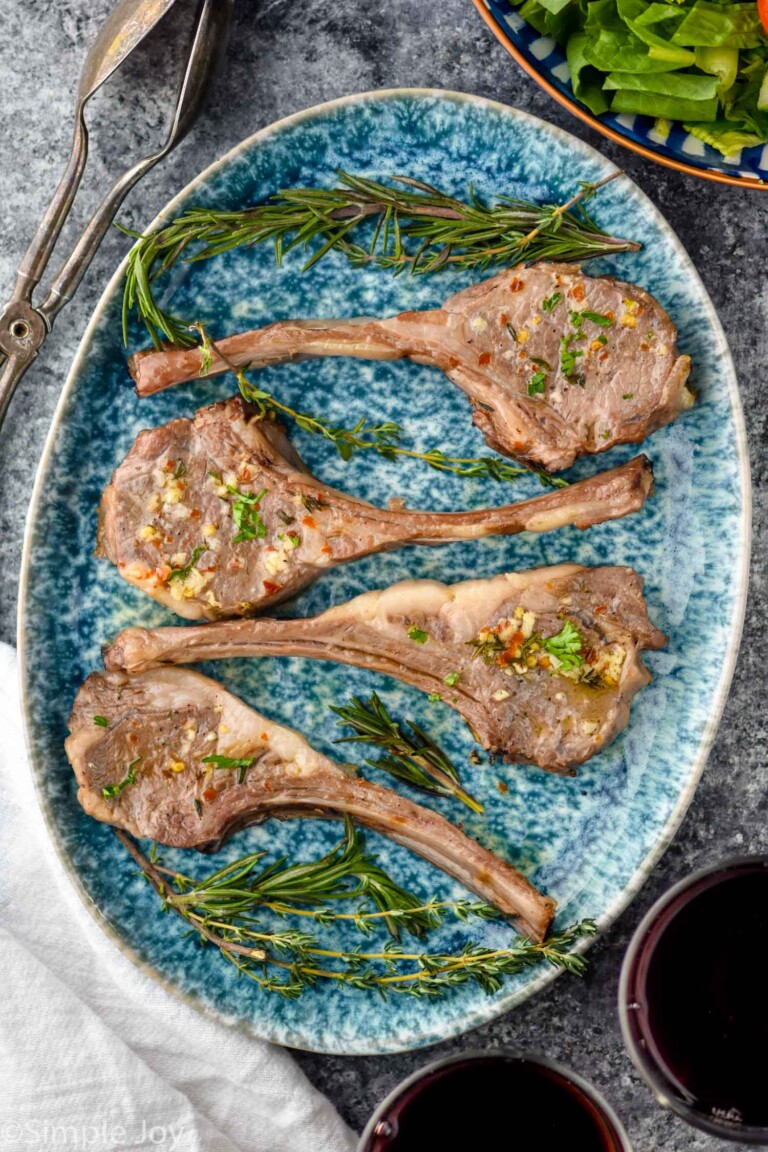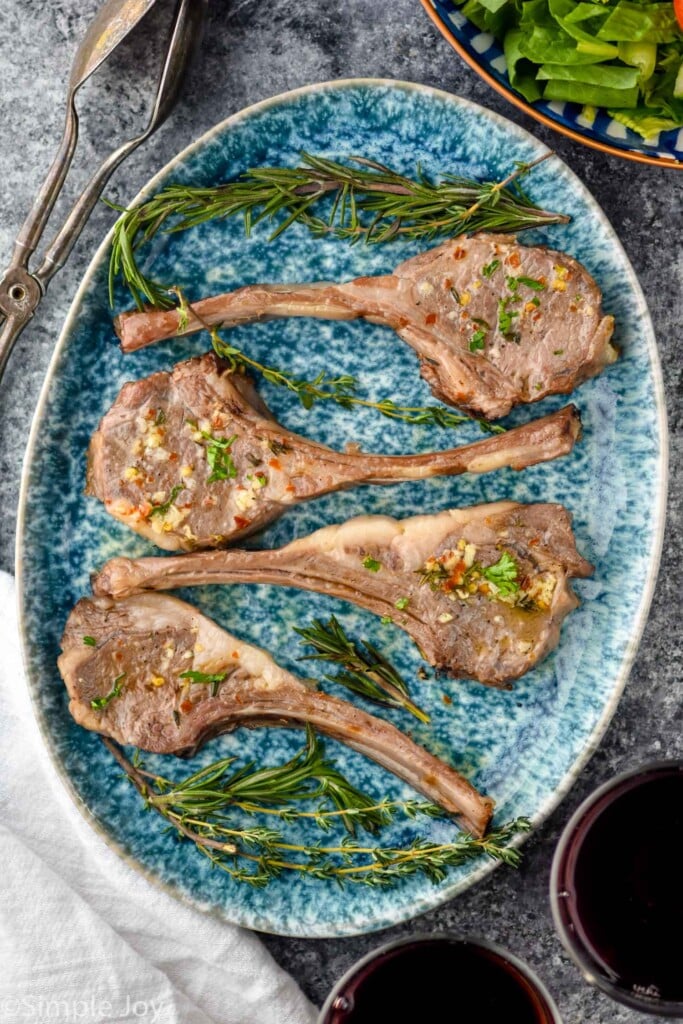 Cooking Lamb
Since lamb is a more expensive cut of meat, it is important to prepare it correctly. Lamb needs to reach an internal temperature of 145 degrees Fahrenheit for food safety purposes. When cooked to that temperature it is moist and delicious. This will take about 35 minutes.
Because cuts of lamb chops will vary in thickness, the cooking time will also vary. I highly recommend using an instant-read thermometer in any meat recipe, including this one. It allows you to end the cooking process at the exact right temperature.
I highly recommend that you get a thermometer that you can leave in the lamb chop inside your hot oven while it is baking to keep you from overcooking or undercooking your meat. You can find my recommendation below.
TOP PICK
Instant Read Thermometer
This thermometer is great because it can be left in your meat while it cooks. You can even set an alarm so you know exactly when the lamb reaches 145 degrees.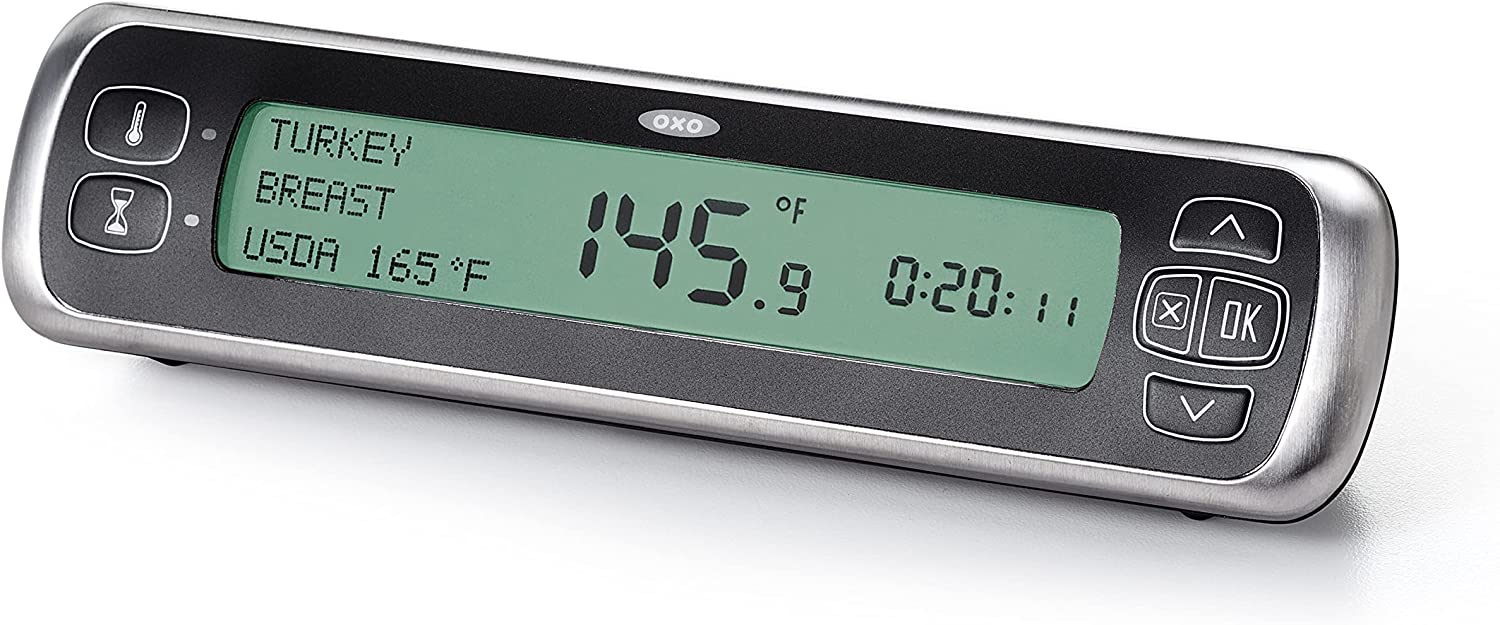 Storing and Reheating
Store your leftover lamb chops in an airtight container for up to three days. To reheat, place in the oven or microwave, covered, until heated through. Always use your best discretion with leftovers.
FAQ
Can I double this recipe?
Yes! This is a perfect recipe to double or even triple if you are entertaining. Simply double (or triple) all of the ingredients.
Is this recipe gluten-free?
Yes, always check your labels to make sure none of the ingredients contain gluten.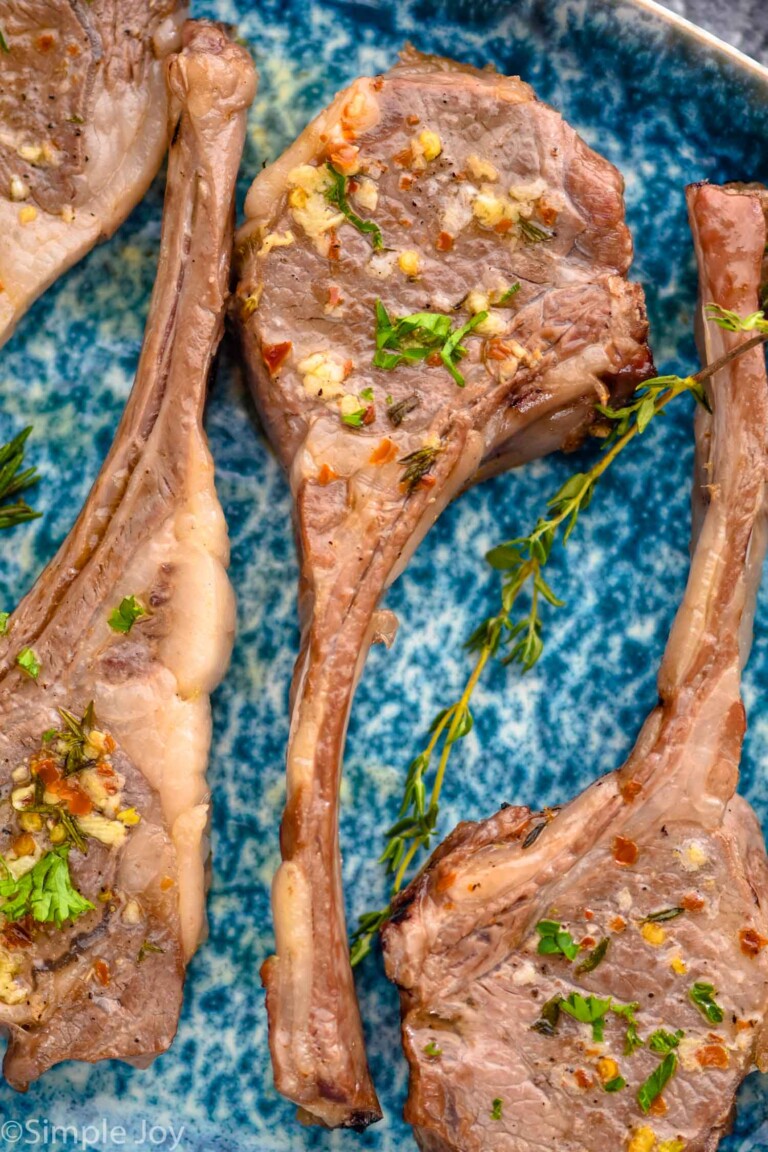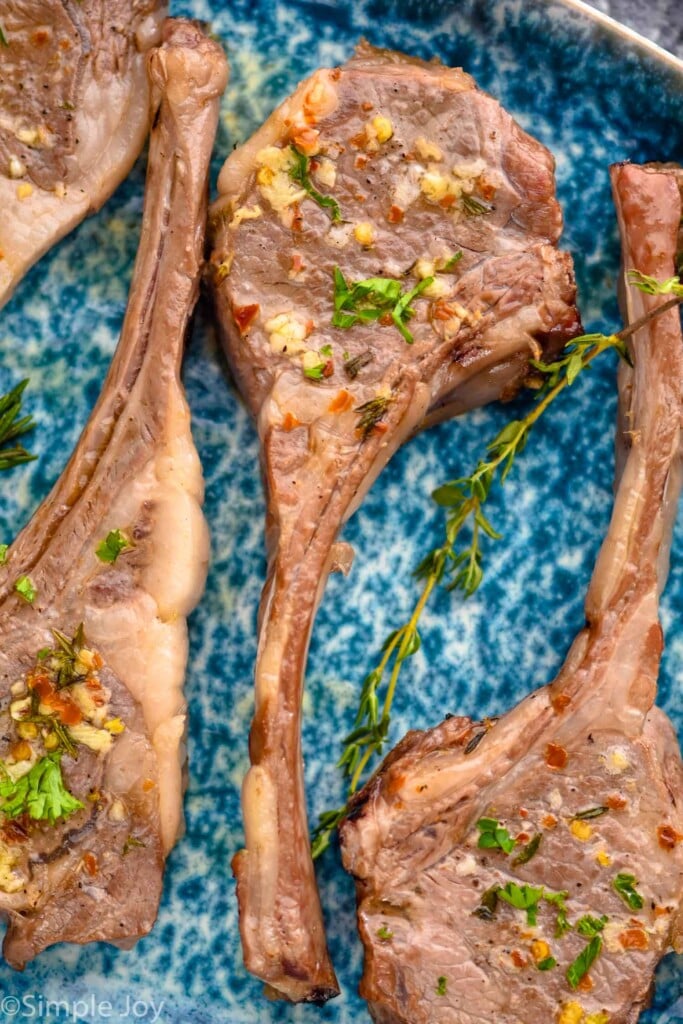 What to Serve with Lamb Chops
The best thing to serve with baked lamb chops is an easy side dish! These sides come together simply which ties together a delicious meal that doesn't require a lot of work from the chef.
If you try this baked lamb chops recipe or any of my others, leave a comment and let me know what you think! I love hearing from you.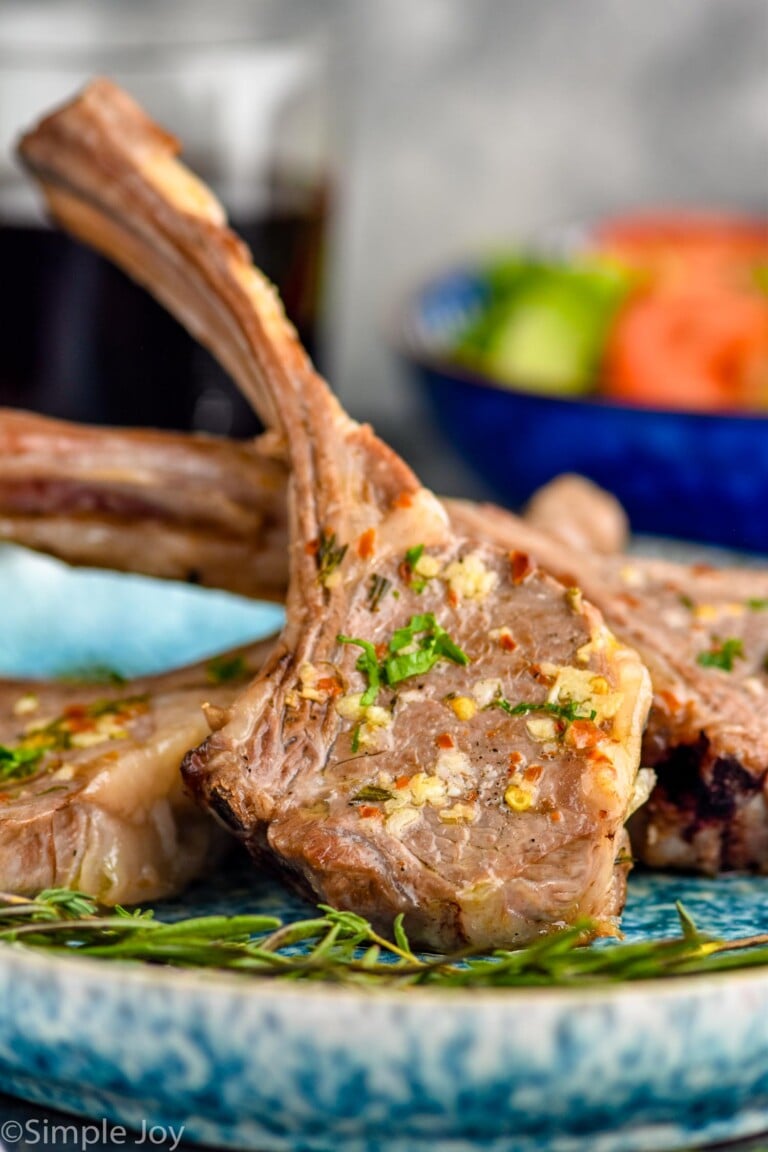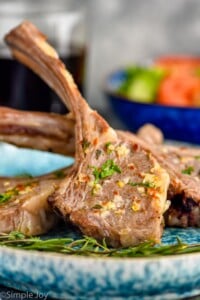 Easy Lamb Chops
This Easy Lamb Chops recipe comes together quickly with easy to follow steps. It is simple and delicious enough for any occasion.
Ingredients
1

pound

bone in lamb chops
Marinade
1/3

cup

olive oil

2

tablespoons

lemon juice

2

tablespoons

red wine vinegar

2

cloves

garlic

minced

1

tablespoon

fresh rosemary

roughly chopped (or 1 tablespoon dried)

1

tablespoon

fresh thyme

roughly chopped (or 1 tablespoon dried)

1

teaspoon

kosher salt

(use 1/2 teaspoon if using table salt)

1/2

teaspoon

crushed red pepper flakes

1/4

teaspoon

black pepper
Instructions
In a reusable container, whisk together the ingredients for the lamb marinade. Add the lamb and toss to combine. Refrigerate, covered, for 4 to 24 hours.

1/3 cup olive oil,

2 tablespoons lemon juice,

2 tablespoons red wine vinegar,

2 cloves garlic,

1 tablespoon fresh rosemary,

1 tablespoon fresh thyme,

1 teaspoon kosher salt,

1/2 teaspoon crushed red pepper flakes,

1/4 teaspoon black pepper

Preheat your oven to 375 degrees Fahrenheit. Spray a baking dish with cooking spray.

Remove the lamb from the marinade and discard the remaining marinade. Place in the baking dish and bake, uncovered, for 35 minutes, flipping the lamb chops halfway through baking (at about the 17 minute mark). Lamb should be cooked to an internal temperature of 145 degrees Fahrenheit. (Please note that thinner lamb chops will need much less time, thicker lamb chops will need additional time. Your best bet is to use an instant read thermometer.)
Calories:
266
kcal
(13%)
Carbohydrates:
1
g
Protein:
23
g
(46%)
Fat:
19
g
(29%)
Saturated Fat:
5
g
(31%)
Polyunsaturated Fat:
2
g
Monounsaturated Fat:
10
g
Cholesterol:
75
mg
(25%)
Sodium:
84
mg
(4%)
Potassium:
312
mg
(9%)
Fiber:
0.1
g
Sugar:
0.1
g
Vitamin A:
38
IU
(1%)
Vitamin C:
2
mg
(2%)
Calcium:
16
mg
(2%)
Iron:
2
mg
(11%)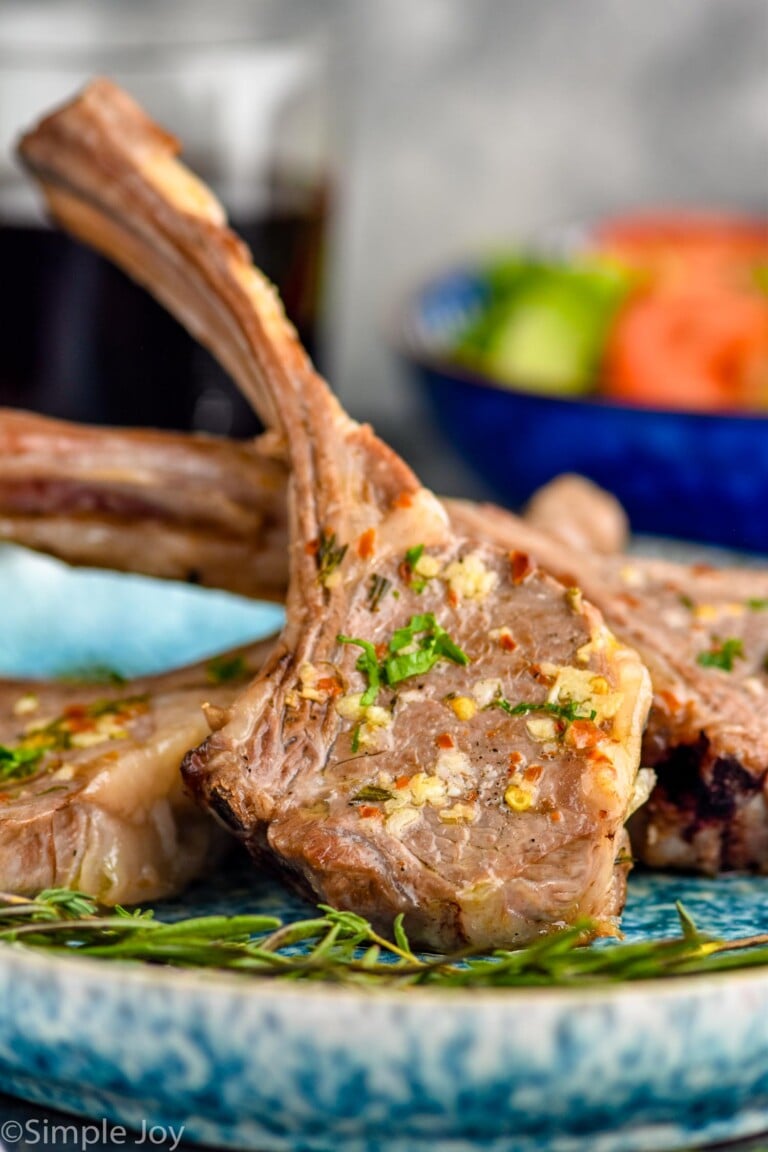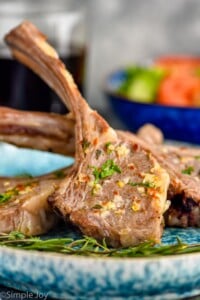 did you make this
Easy Lamb Chops