Candied Sweet Potatoes will be the hit of your holiday table. They look incredibly fancy, but in reality are the simplest side dish recipe.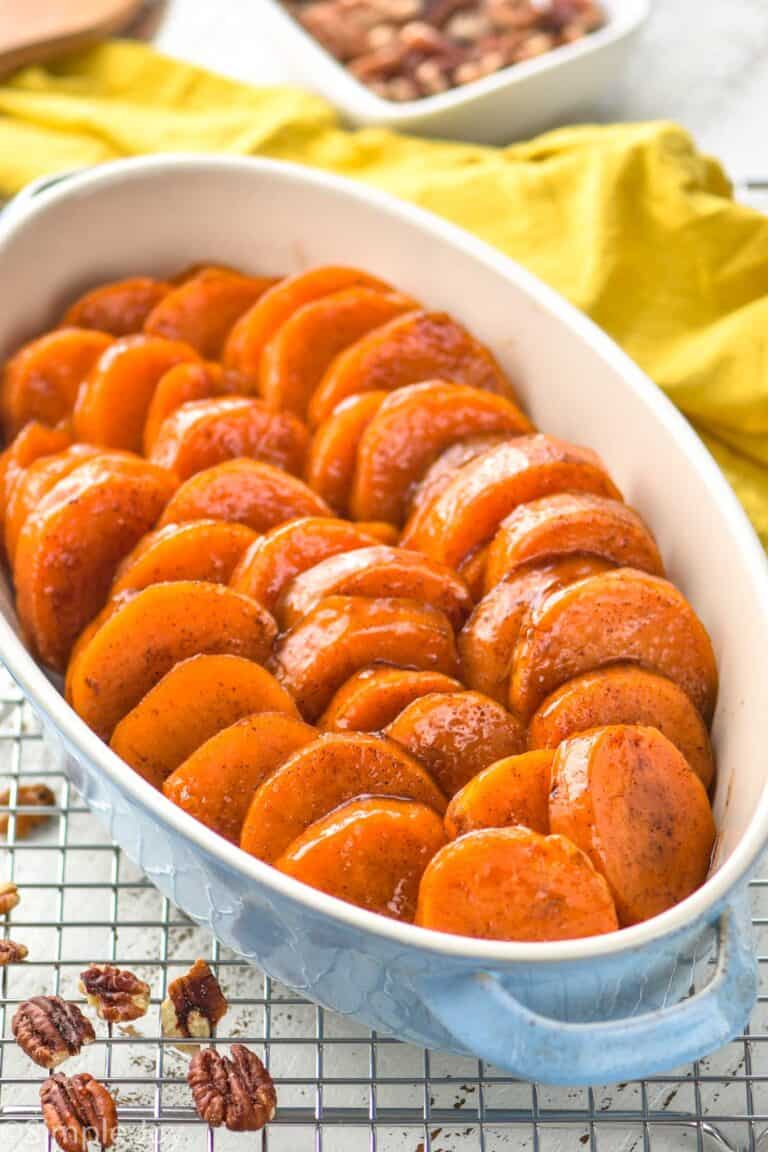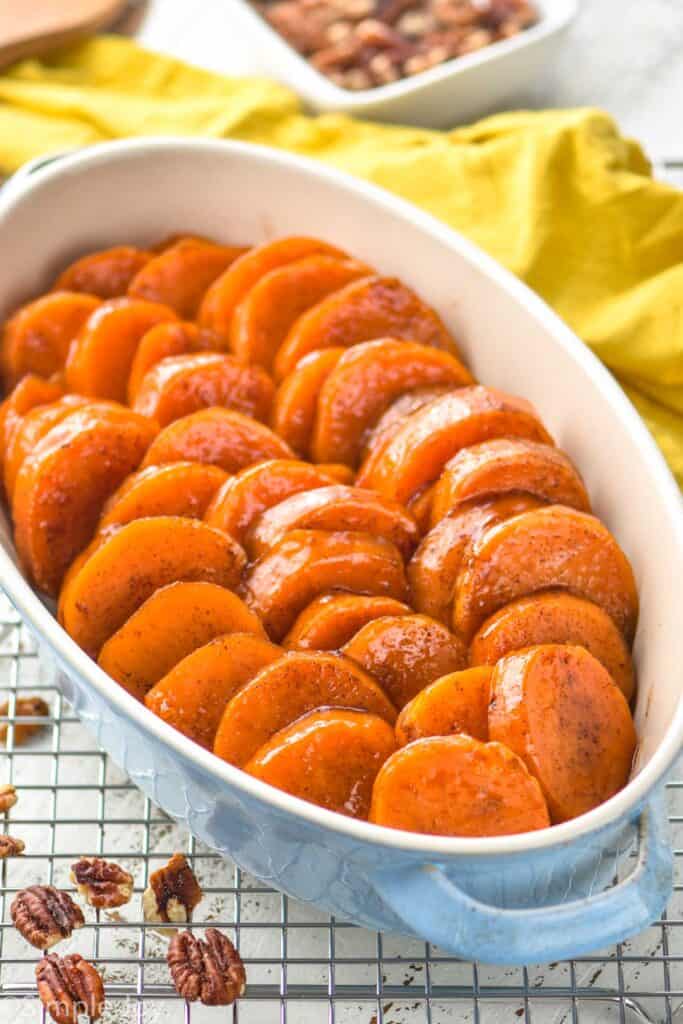 I am obsessed with sweet potatoes. I think they are the most delicious of the root vegetables, and I would happily take a giant plate of sweet potato fries over regular. Which, if we are being honest, makes my husband question my sanity a little.
There are so many delicious side dishes you can make with sweet potatoes for the holidays. Several years ago I gave you these Brown Sugar Roasted Sweet Potatoes that were a huge hit with readers. Two years ago I made you this amazing Sweet Potato Casserole with both pecan and marshmallow toppings. And last year I gave you the best Mashed Sweet Potatoes.
This year, you should make the most beautiful Candied Sweet Potatoes. This recipe is super simple to make and will easily be the star of the show with how beautiful and delicious it is.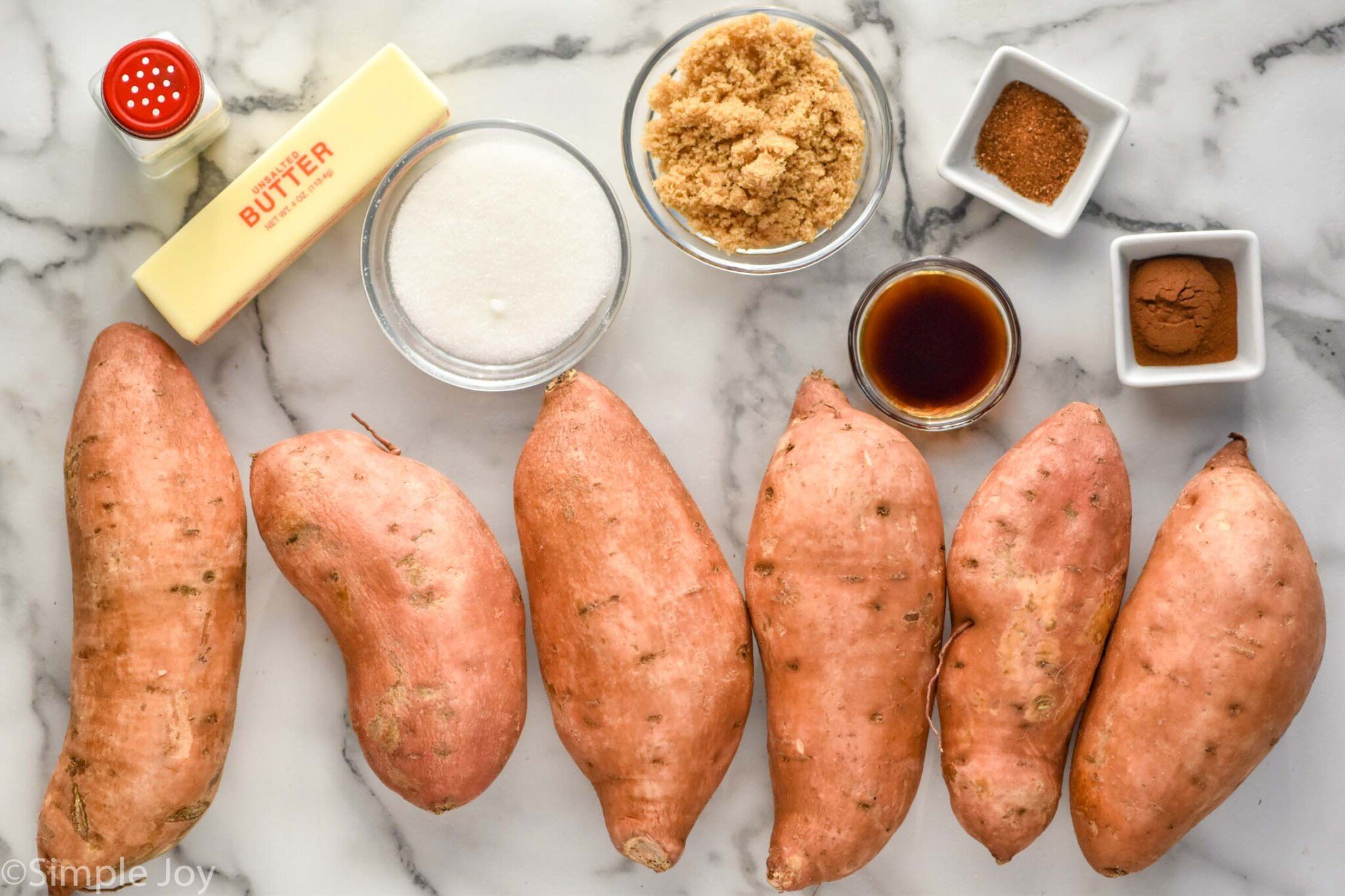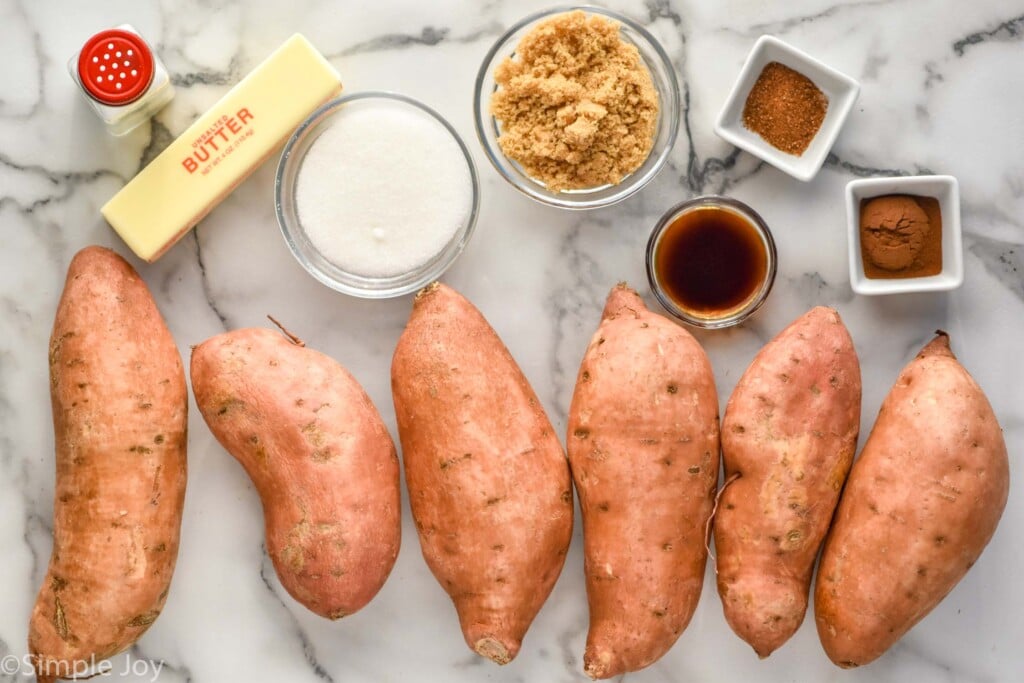 How to Make Candied Sweet Potatoes
Save your oven space for turkey, stuffing and rolls. This recipe can be made in under an hour on the stovetop! All the ingredient measurements are listed below in the recipe card, plus a video to show you how simple the process is!
Prep the sweet potatoes. Peel and cut six sweet potatoes into one inch rounds. (See more on prepping the sweet potatoes below.)
Melt the butter. With the melted butter, add the brown sugar, granulated sugar and spices.
Stir in the sweet potatoes. Do this very gently.
Cook for 40 minutes. They will need to be covered, and you will want to stir them a few times, very carefully.
Finish them off. Finally, add some salt and vanilla to the tender potatoes, stir and serve!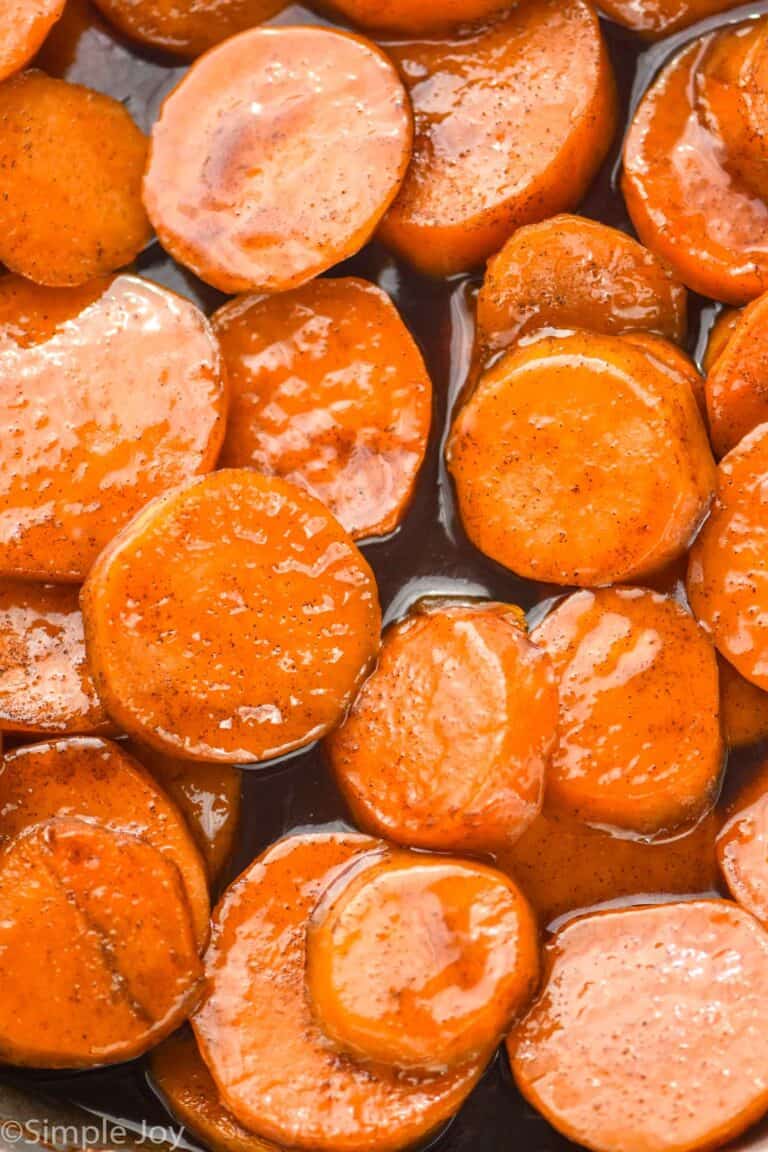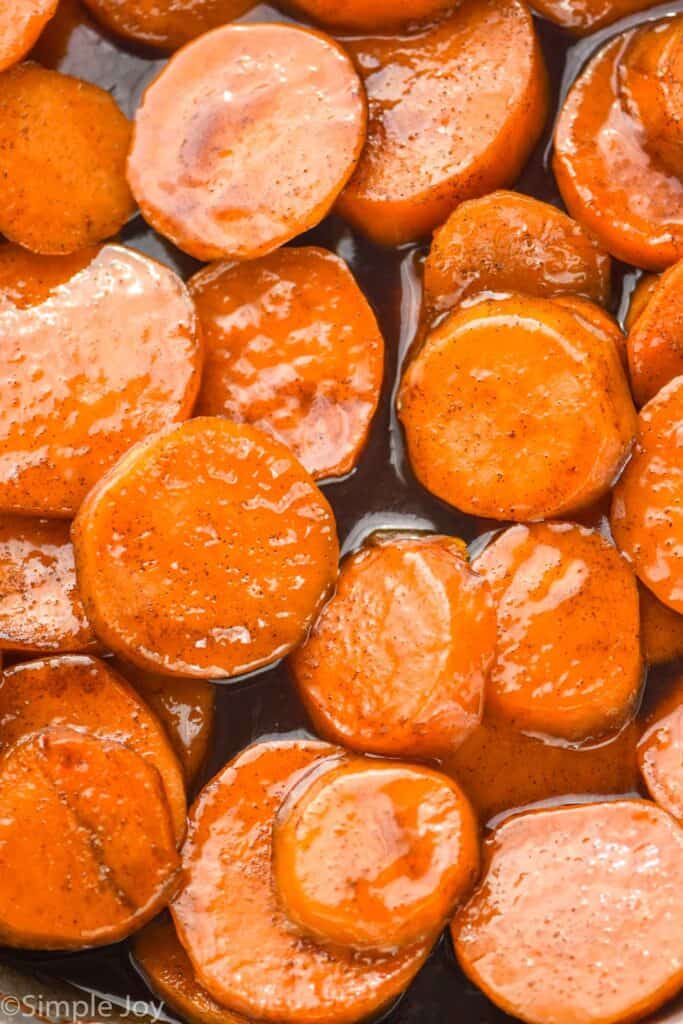 Prepping Sweet Potatoes
When you're slicing your sweet potatoes, take extra care to make sure they're all at least half an inch to one inch thick. Too thin and they'll burn or take on a crispy texture. Too thick? They won't cook evenly.
The sweet spot is just about an inch thick. They'll cook nice and even, and will come out perfectly tender every time.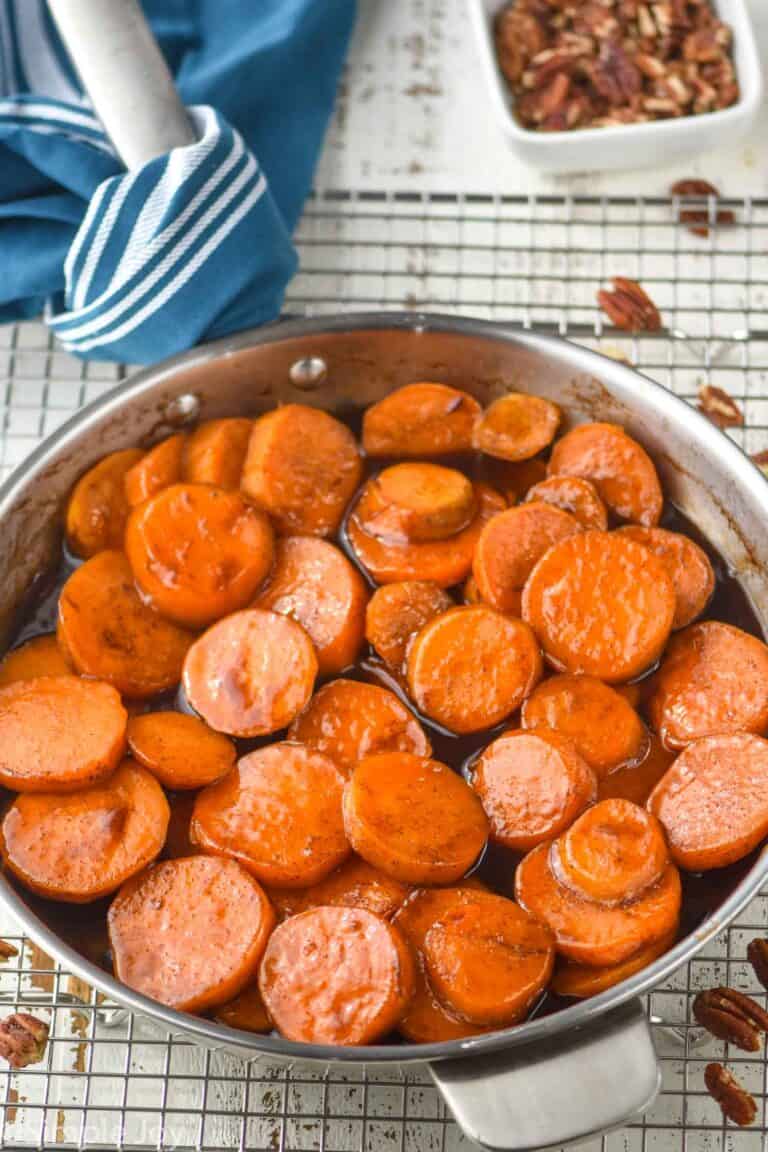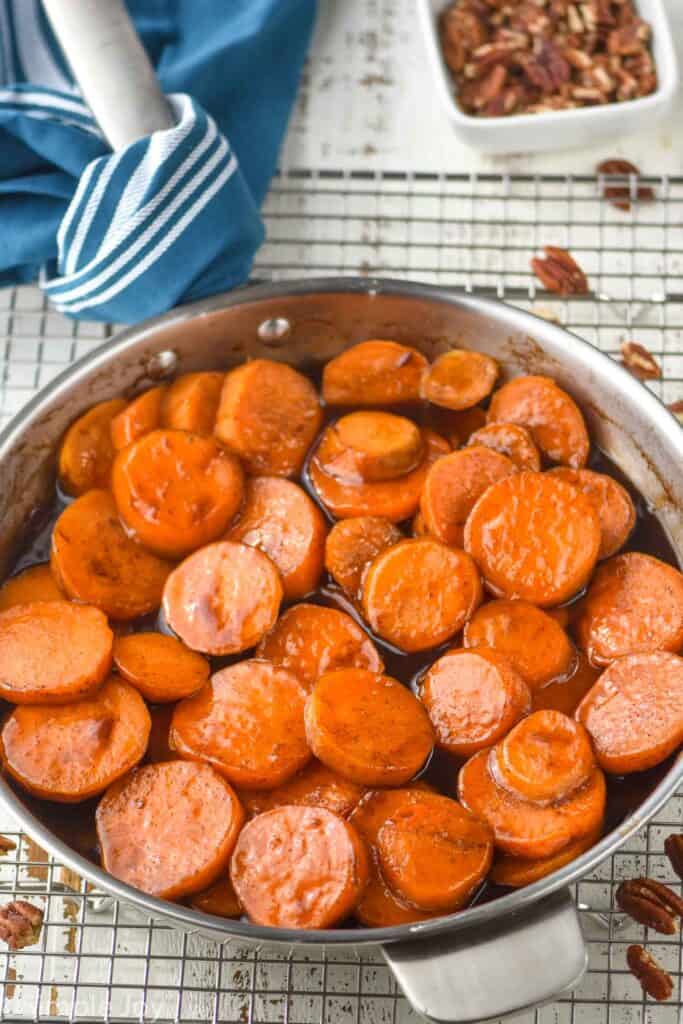 Easy Does It
Take care when stirring these candied sweet potatoes so they don't break apart. I find using a wide spatula to gently turn the slices over works best.
Serving
You can serve this great Thanksgiving side dish recipe right from the skillet and no one will even notice because the smells and tastes of it will overwhelm them. That being said, if you want a pretty presentation, you can line them up in a casserole dish as you see pictured here.
Work with three or four potatoes at a time, angling them into a dish from one end to the other. At the end, pour the remaining sauce over the top.
Variations on Candied Sweet Potatoes
Want to really dress up this side dish? Make it the star of the holiday table? Try some of these additions to the candied sweet potato recipe:
Add in maple syrup. Stir in a tablespoon or two of maple syrup when you add the sugar for an added layer of flavor.
Bring some bourbon to the party. Add a shot of bourbon (or two!) for a rich flavor.
Think about toppings. Top the sweet potatoes with pecans, walnuts or even shredded coconut.
Storing and Freezing
Leftovers can be stored in an air tight container in the refrigerator for up to four days. Warm them up in the oven in a covered baking dish for approximately 20 minutes at 350 degrees. Please keep in mind that they will be softer as this is the second time they are being cooked.
You can also freeze the leftovers. Place them in an airtight container and freeze them for up to three months. When you are ready to eat them, place them in the refrigerator overnight to thaw and warm them in the oven.
As with all recipes, use your best discretion when it comes to leftovers.
FAQ
Can candied sweet potatoes be frozen?
Yes. Candied sweet potatoes can be frozen after being made and stored in the freezer for up to three months.
Can candied sweet potatoes be made ahead of time?
I do not recommend making this recipe the day before. They are pretty hands off, and they will taste best fresh.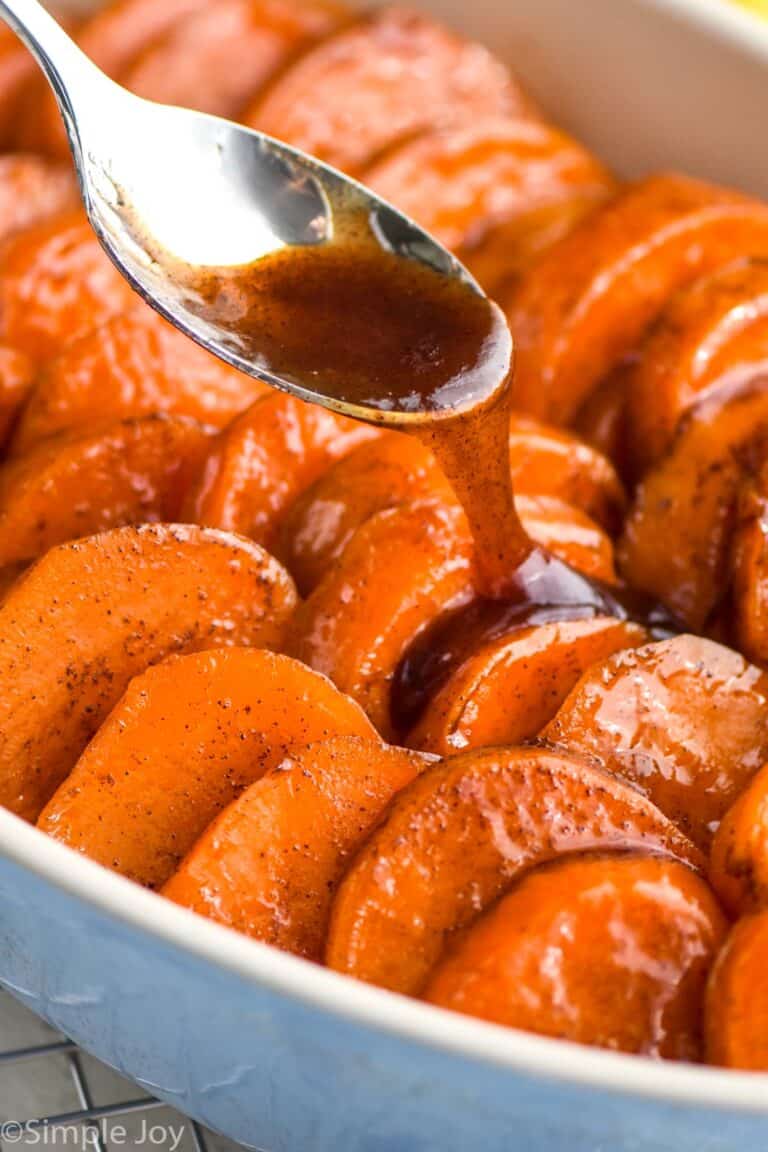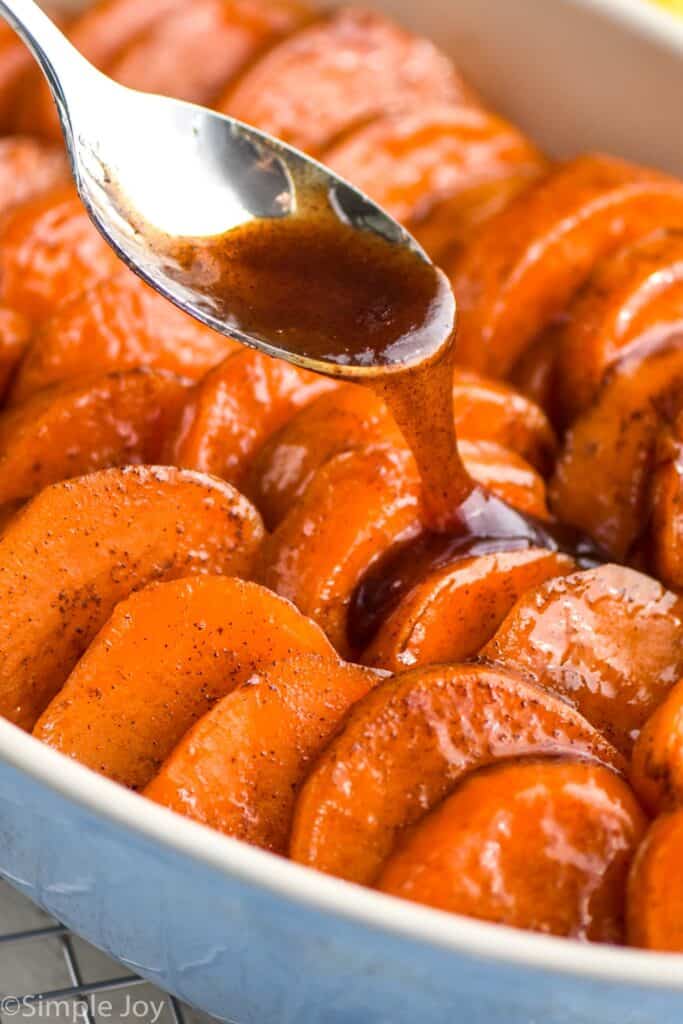 Other Great Holiday Sides
These candied sweet potatoes are probably my favorite holiday side dish! They're the perfect balance to heavier, savory foods of the season. If you make these or any of my other recipes, please leave me a comment below.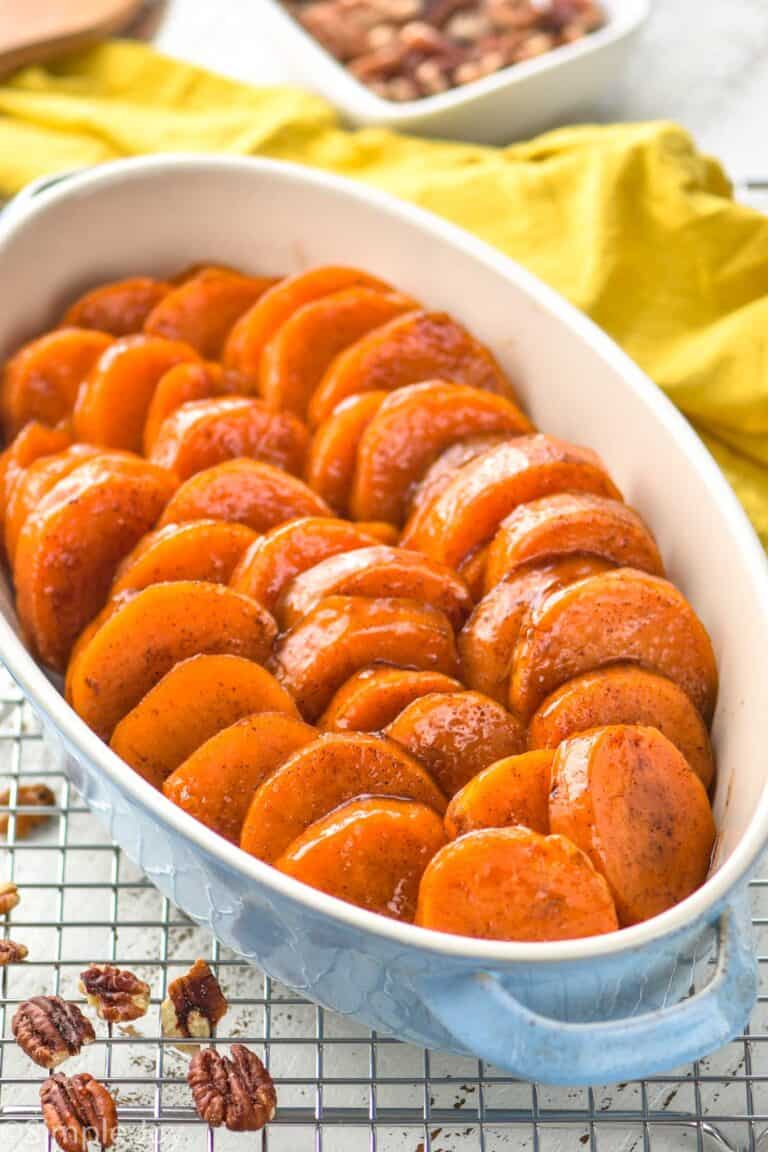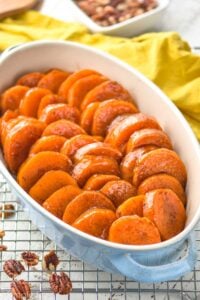 Candied Sweet Potatoes
Candied Sweet Potatoes will be the hit of your holiday table. They look incredibly fancy, but in reality are the simplest side dish recipe.
Instructions
Melt butter in a large skillet over medium low heat.

Stir in the sweet potatoes, then stir in the brown sugar, granulated sugar, cinnamon, and nutmeg. Gently stir to combine. Bring to a simmer and cover.

6 large sweet potatoes,

1 cup granulated sugar,

1 cup brown sugar,

1 teaspoon cinnamon,

1/2 teaspoon nutmeg

Cook, covered, for 40 minutes or until the sweet potatoes are fork tender. Stir 2 or 3 times while they are cooking, being very gentle as you stir so as to not break up the potatoes as they cook.

When the potatoes are tender, add in the salt and vanilla. Gently stir one more time to combine. Serve and enjoy.

pinch of salt,

1 tablespoon vanilla
Calories:
305
kcal
(15%)
Carbohydrates:
58
g
(19%)
Protein:
2
g
(4%)
Fat:
8
g
(12%)
Saturated Fat:
5
g
(31%)
Polyunsaturated Fat:
0.4
g
Monounsaturated Fat:
2
g
Trans Fat:
0.3
g
Cholesterol:
20
mg
(7%)
Sodium:
73
mg
(3%)
Potassium:
410
mg
(12%)
Fiber:
4
g
(17%)
Sugar:
40
g
(44%)
Vitamin A:
16268
IU
(325%)
Vitamin C:
3
mg
(4%)
Calcium:
53
mg
(5%)
Iron:
1
mg
(6%)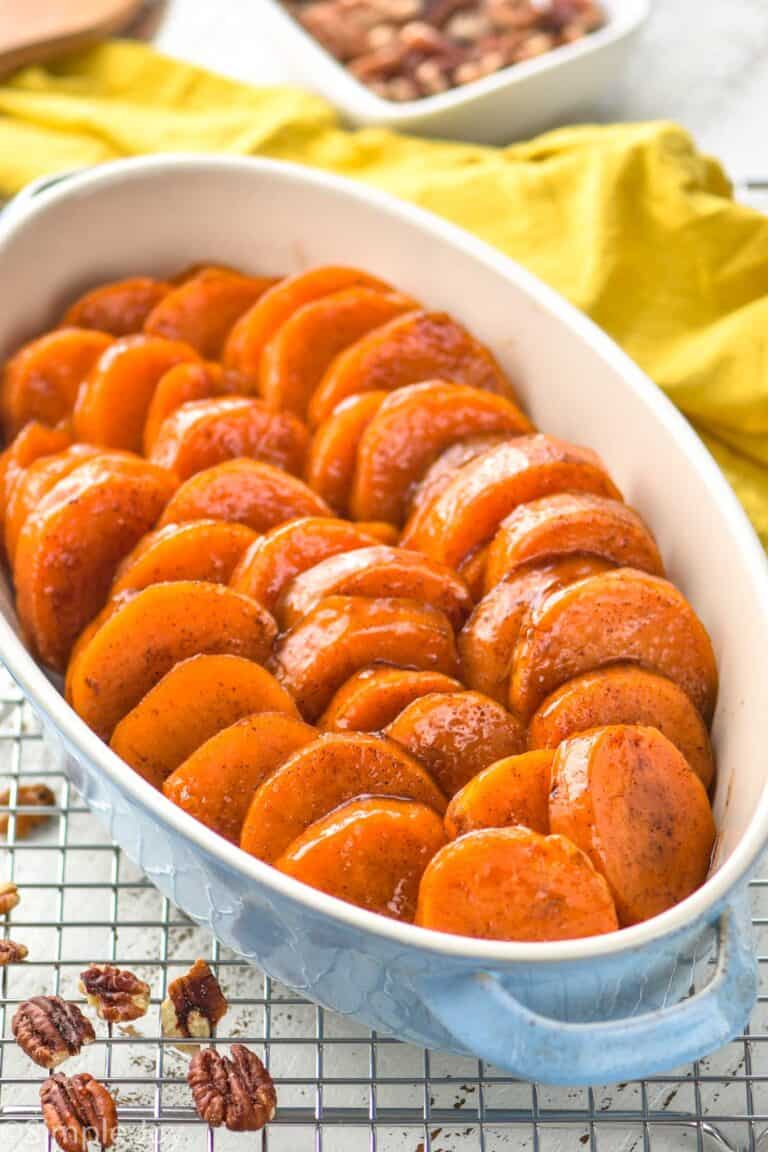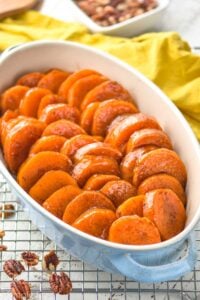 did you make this
Candied Sweet Potatoes