Candied Sweet Potatoes will be the hit of your holiday table. They look incredibly fancy, but in reality are the simplest side dish recipe.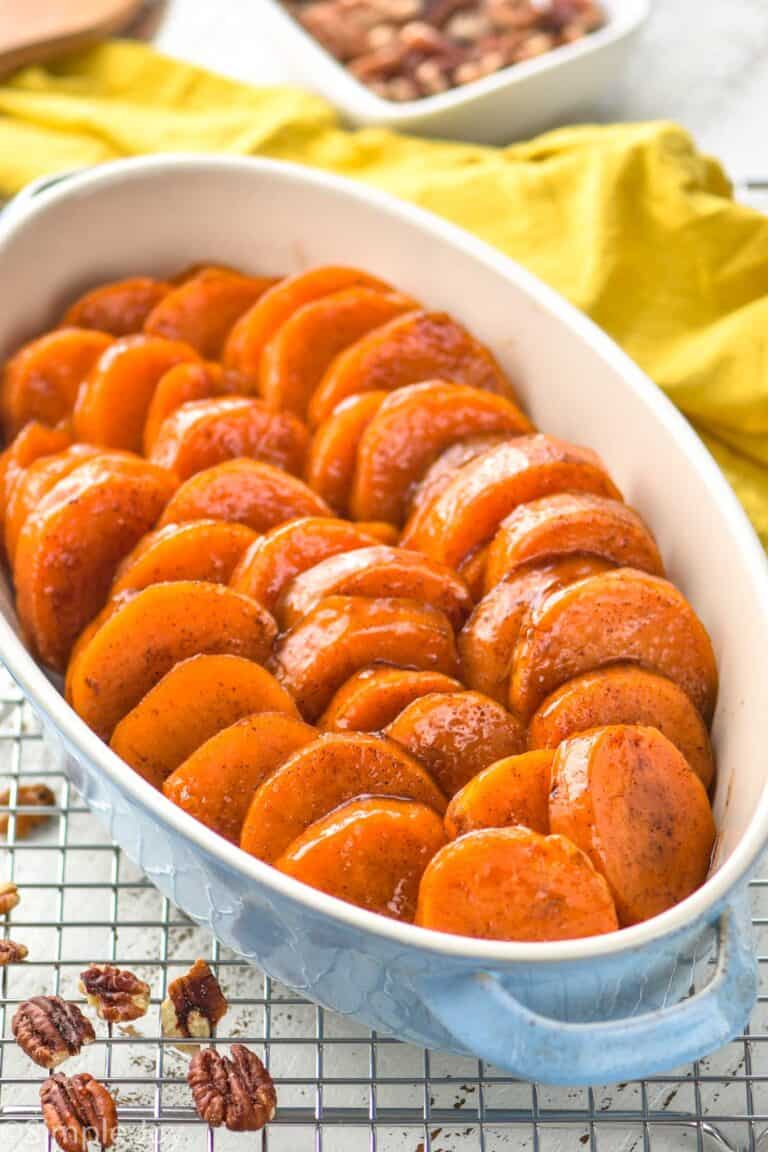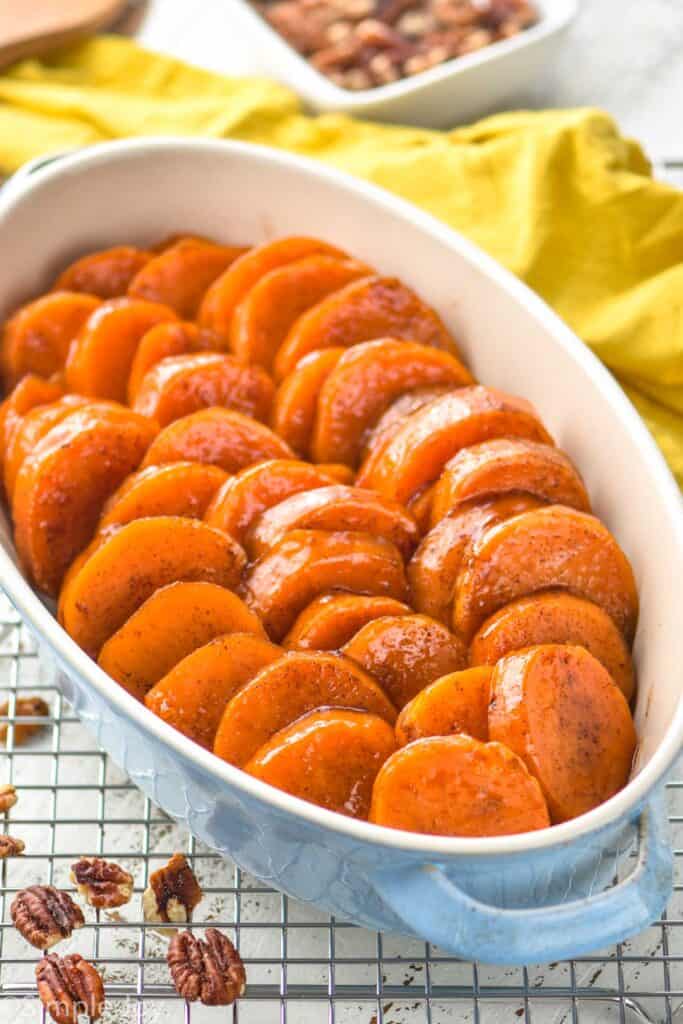 I am obsessed with sweet potatoes. I think they are the most delicious of the root vegetables, and I would happily take a giant plate of sweet potato fries over regular. Which, if we are being honest, makes my husband question my sanity a little.
There are so many delicious side dishes you can make with sweet potatoes for the holidays. Last year I made you this amazing Sweet Potato Casserole with both pecan and marshmallow toppings. And several years ago I gave you these Brown Sugar Roasted Sweet Potatoes that were a huge hit with readers.
This year, I am giving you the most beautiful Candied Sweet Potatoes. This recipe is super simple to make and will easily be the star of the show with how beautiful and delicious it is.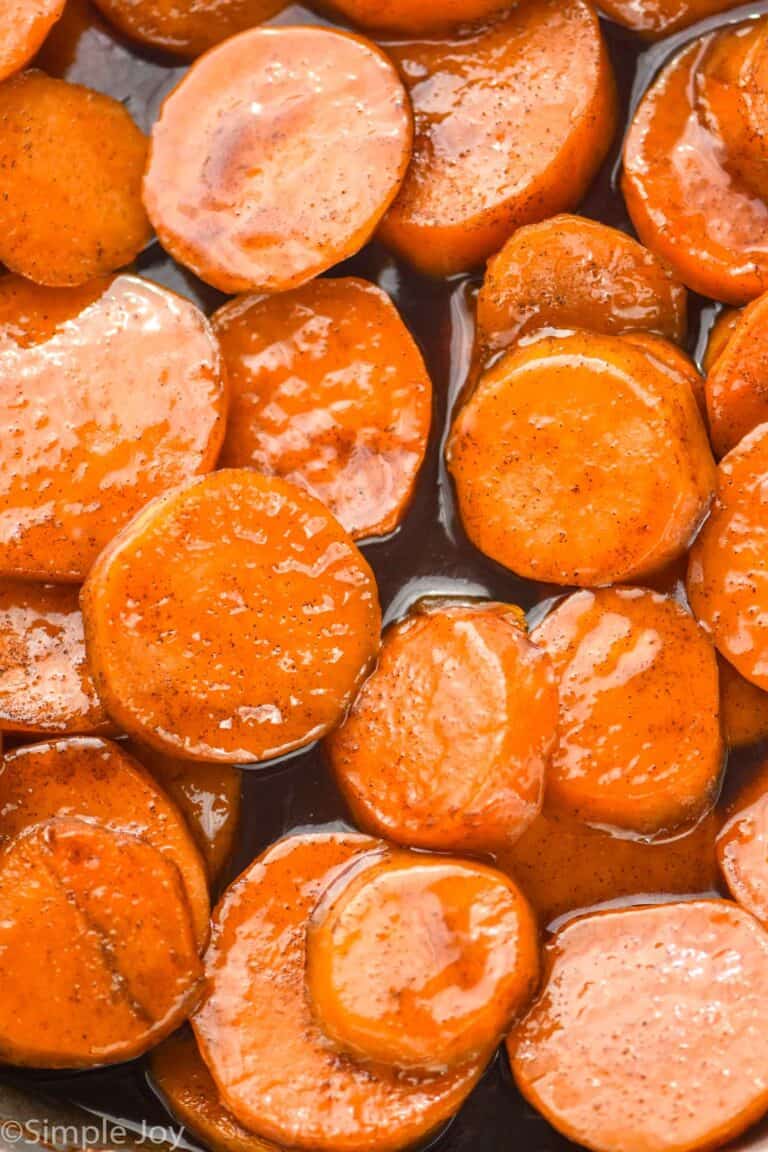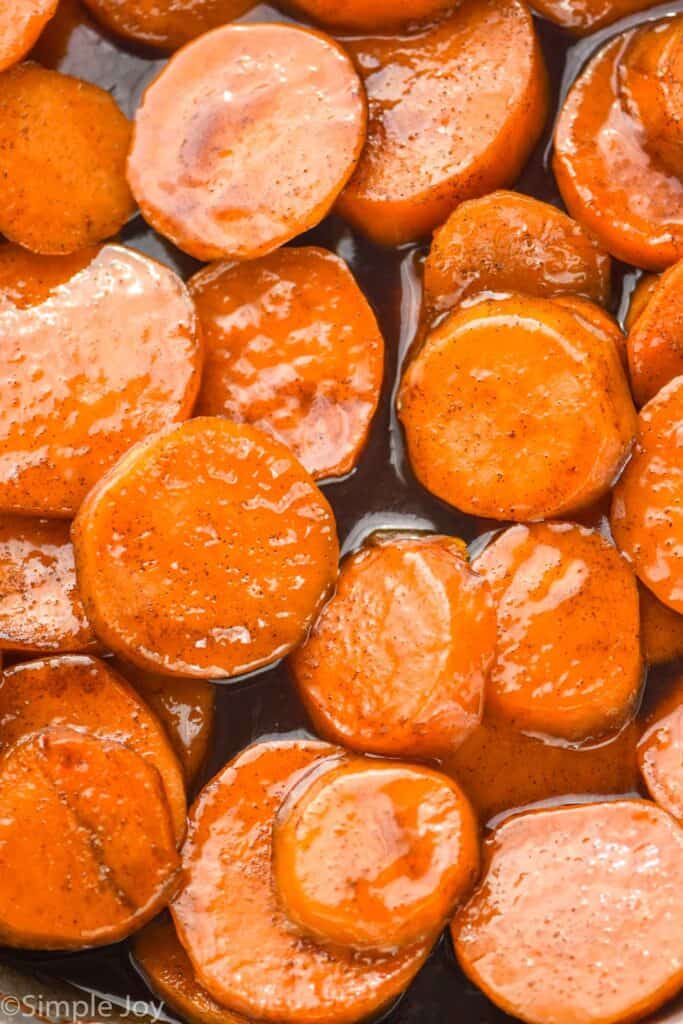 How to Make Candied Sweet Potatoes
Save your oven space for turkey, stuffing and rolls. This recipe can be made in under an hour on the stovetop! All the ingredient measurements are listed below in the recipe card, plus a video to show you how simple the process is! Here's what to do:
First, peel and cut six sweet potatoes into one inch rounds. (see more on prepping the sweet potatoes below)
Then gently stir the slices in a hot skillet with melted butter, sugars, and spices.
Next, cover the skillet and cook for abut 40 minutes, stirring a couple of times to make sure they don't burn.
Finally, add some salt and vanilla to the tender potatoes, stir and serve!
Prepping Sweet Potatoes
When you're slicing your sweet potatoes, take extra care to make sure they're all at least half an inch to one inch thick. Too thin and they'll burn or take on a crispy texture. Too thick? They won't cook evenly.
The sweet spot is just about an inch thick. They'll cook nice and even, and will come out perfectly tender every time.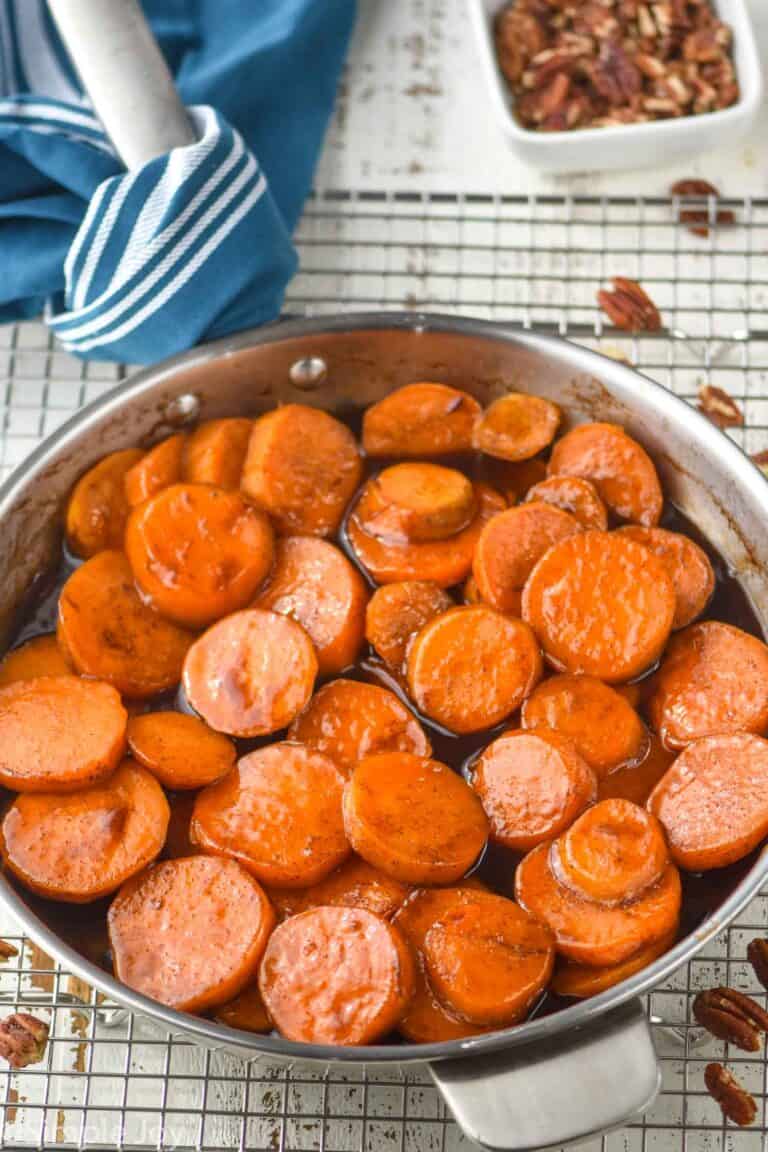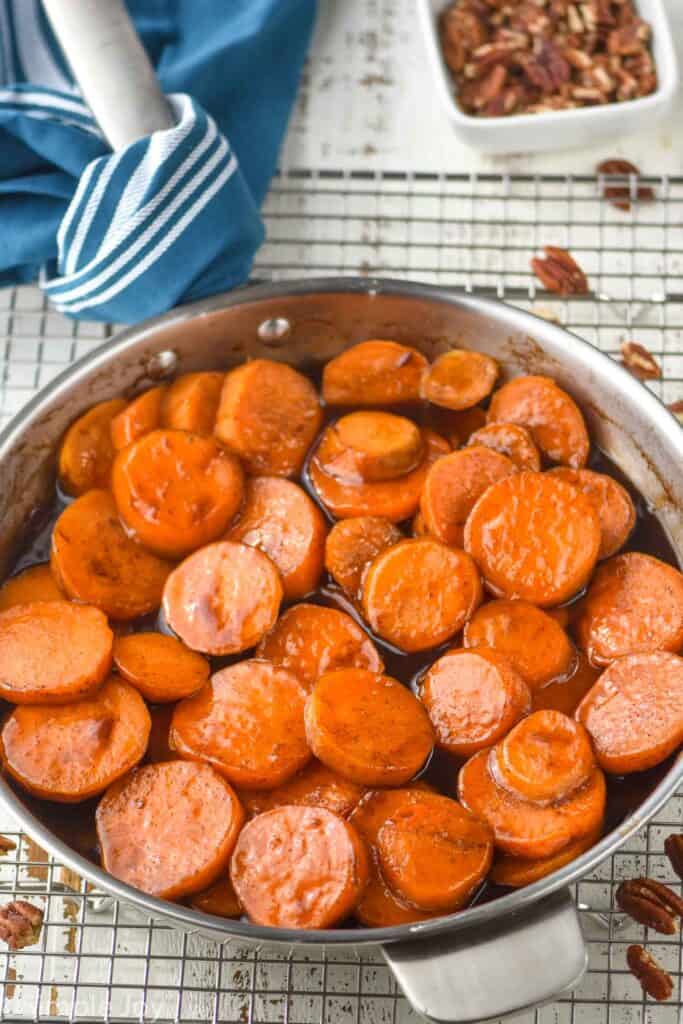 Easy Does It
Take care when stirring these candied sweet potatoes so they don't break apart. I find using a wide spatula to gently turn the slices over works best.
Serving
You can serve this great Thanksgiving side dish recipe right from the skillet and no one will even notice because the smells and tastes of it will overwhelm them. That being said, if you want a pretty presentation, you can line them up in a casserole dish as you see pictured here.
Work with three or four potatoes at a time, angling them into a dish from one end to the other. At the end, pour the remaining sauce over the top.
Taking It Up a Notch
Want to really dress up this side dish? Make it the star of the holiday table? Try some of these additions to the candied sweet potato recipe:
Stir in maple syrup to the mixture
Add a couple shot of bourbon for a rich flavor
Top the sweet potatoes with pecans, walnuts or even shredded coconut.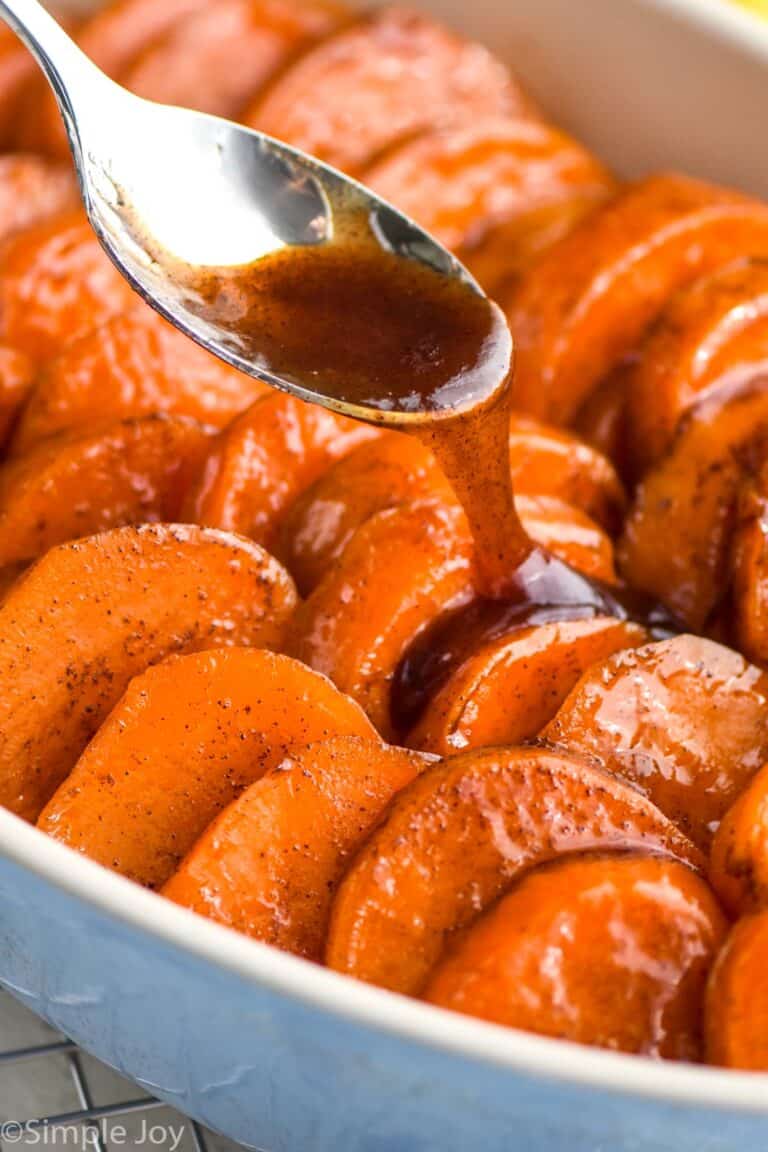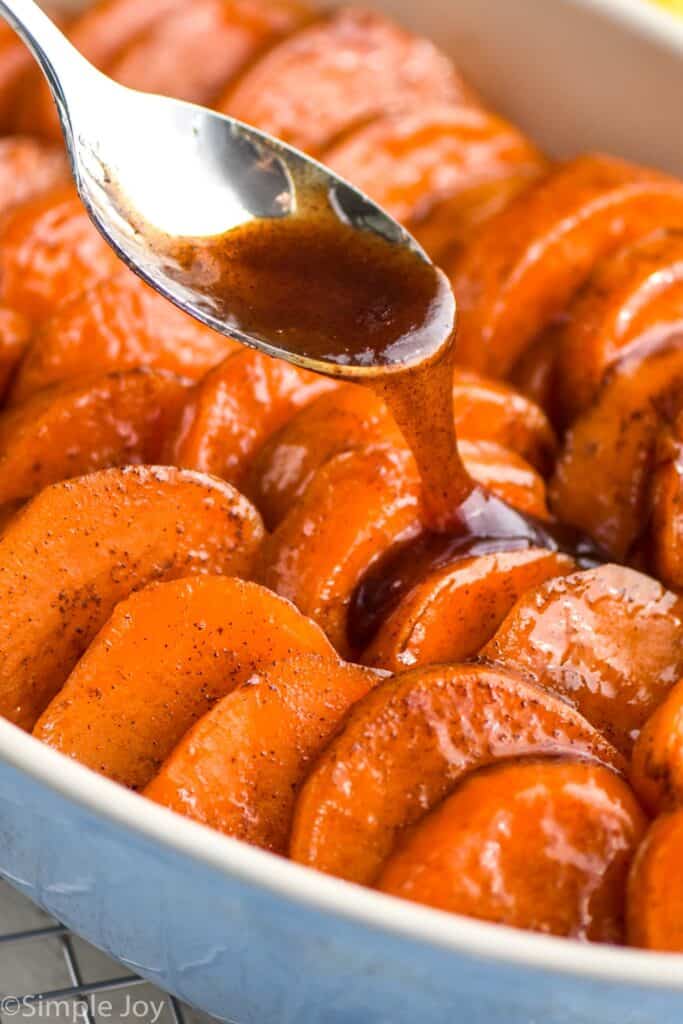 Other Great Holiday Sides
These candied sweet potatoes are probably my favorite holiday side dish! I hope you love the tender, colorful potatoes, spiced with holiday aromas of nutmeg and cinnamon. They're the perfect balance to heavier, savory foods of the season. Please feel free to leave any questions or comments below and enjoy this delicious side!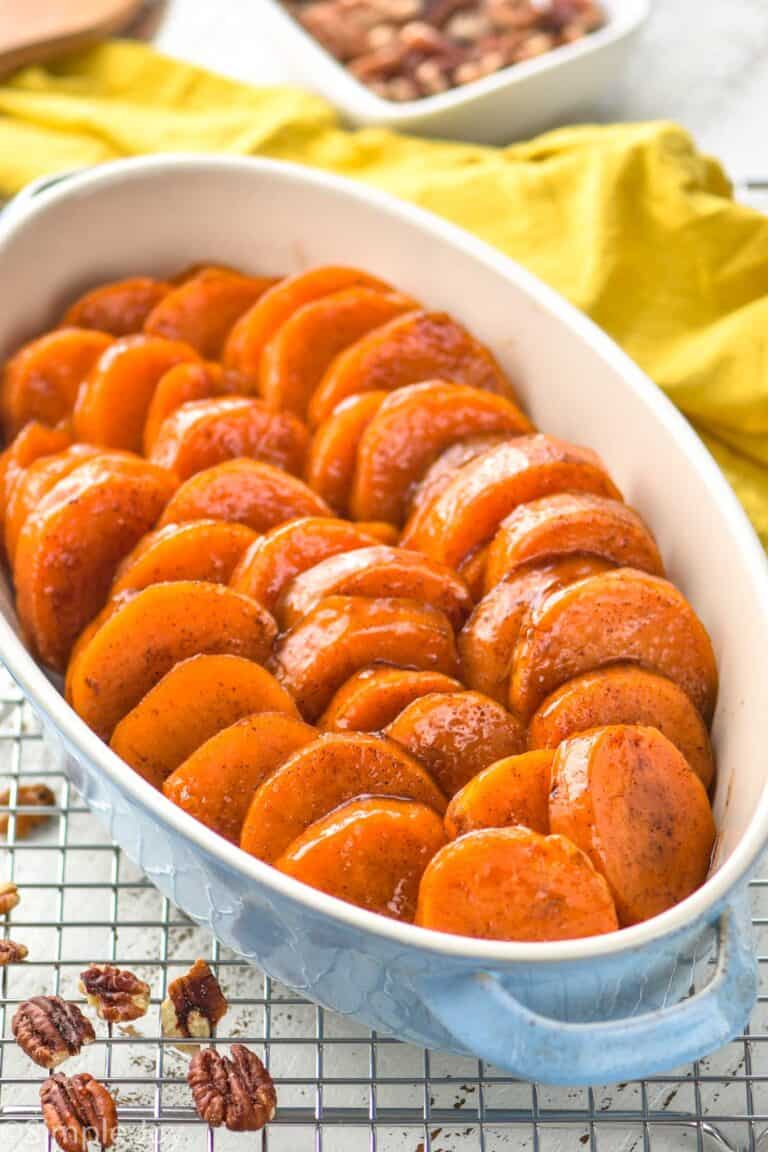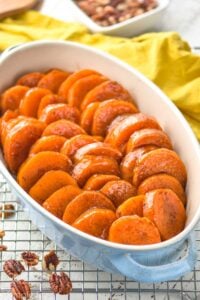 Candied Sweet Potatoes
Candied Sweet Potatoes will be the hit of your holiday table. They look incredibly fancy, but in reality are the simplest side dish recipe.
Ingredients
6

large sweet potatoes

peeled and cut into 1 inch rounds

1/2

cup

unsalted butter

1

cup

granulated sugar

1

cup

brown sugar

packed

1

teaspoon

cinnamon

1/2

teaspoon

nutmeg

pinch of salt

1

tablespoon

vanilla
Instructions
Melt butter in a large skillet over medium low heat.

Stir in the sweet potatoes, then stir in the brown sugar, granulated sugar, cinnamon, and nutmeg. Gently stir to combine. Bring to a simmer and cover.

Cook, covered, for 40 minutes or until the sweet potatoes are fork tender. Stir 2 or 3 times while they are cooking, being very gentle as you stir so as to not break up the potatoes as they cook.

When the potatoes are tender, add in the salt and vanilla. Gently stir one more time to combine. Serve and enjoy.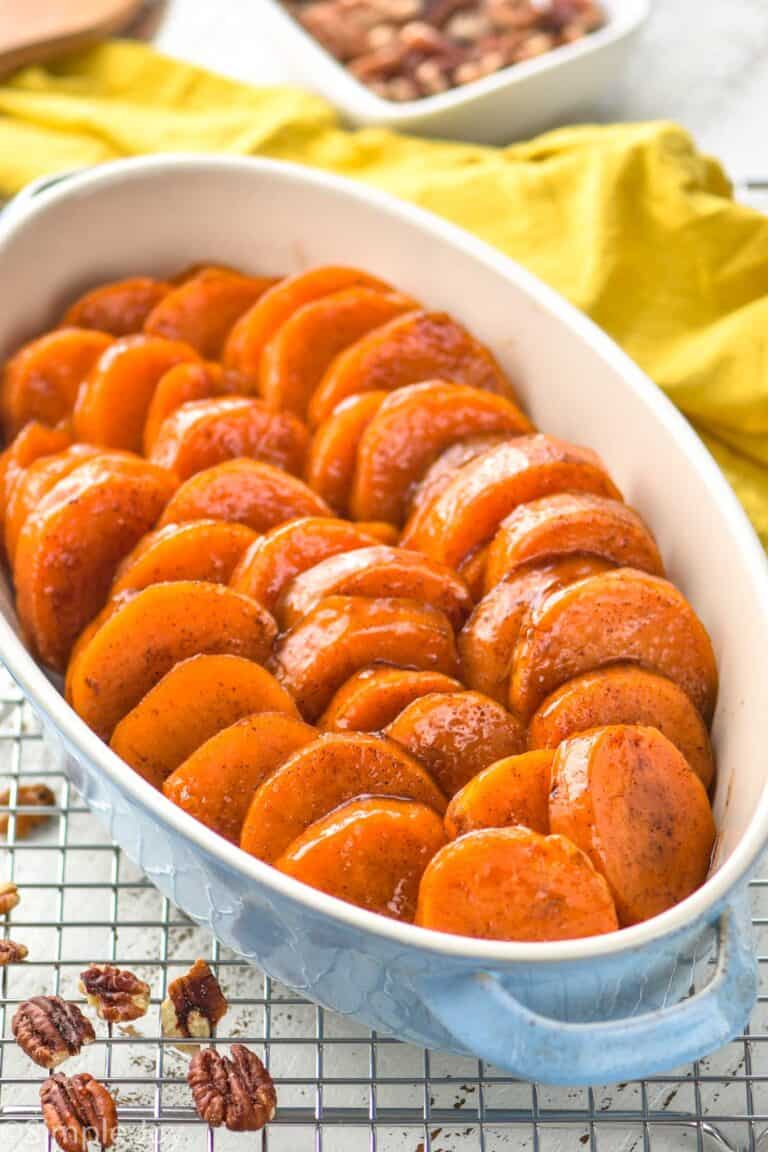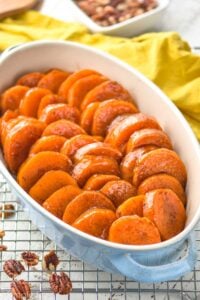 did you make this
Candied Sweet Potatoes