Prime Rib is the perfect centerpiece for a holiday table or a Sunday dinner with the family. This Prime Rib Roast recipe is flavored perfectly and roasts easily in the oven leaving you with the most tender beef recipe.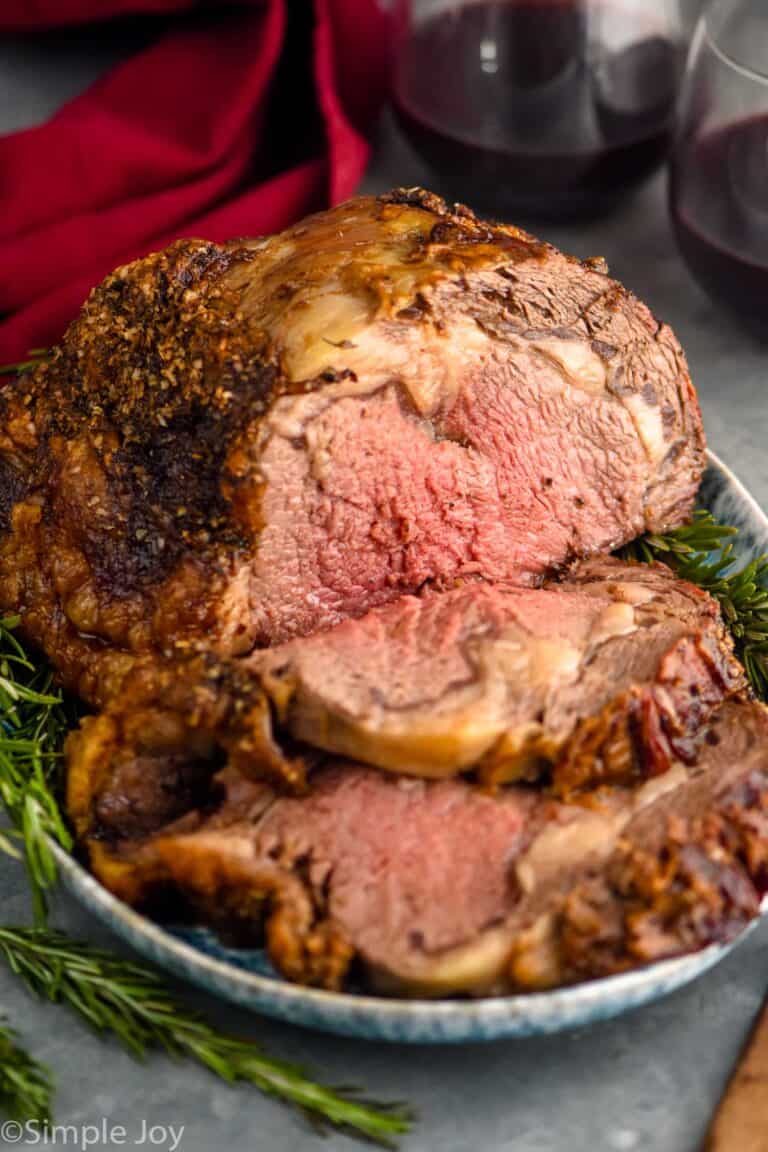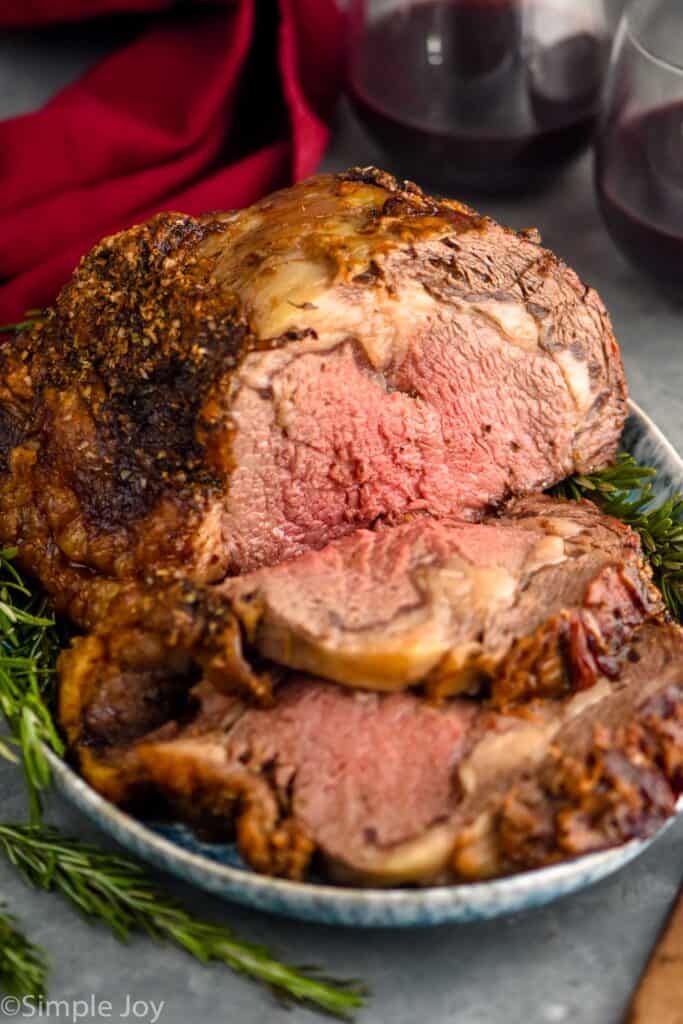 Sometimes it still feels like Nathan and I are a young married couple, though we have been together for more than twenty years. This is especially true around the holidays as we try to figure out our own holiday traditions. I can tell you what each of us ate on Christmas growing up, but my kids still wouldn't be able to give a definitive answer.
This year though, our table will most definitely be graced by this delicious and tender prime rib recipe. This amazing prime rib roast only takes about 10 minutes to prepare and then cooks away in the oven. When you pull it out, it is the most tender and moist piece of flavorful meat. Your family will fawn over it, and you will be a holiday hero.
Reader Review
I made this prime rib recipe. It came out perfectly cooked and delicious. My husband ate 2 portions, that's a lot for him, but it was that good!!
Prime Rib Rub
I am in love with the flavor of this prime rib recipe. It comes together with four simple ingredients:
Kosher Salt
Black Pepper
Italian Seasoning
Fresh Garlic
I have my own Italian Seasoning recipe that I really love. But if you don't have time to make it, just buy a bottle of Italian seasoning in the spice aisle of the grocery store.
Italian Seasoning
This Italian Seasoning Recipe makes a big batch that allows you to have it on hand anytime you want to make a great recipe. Skip buying the Italian seasoning packet all together and just make a batch of this!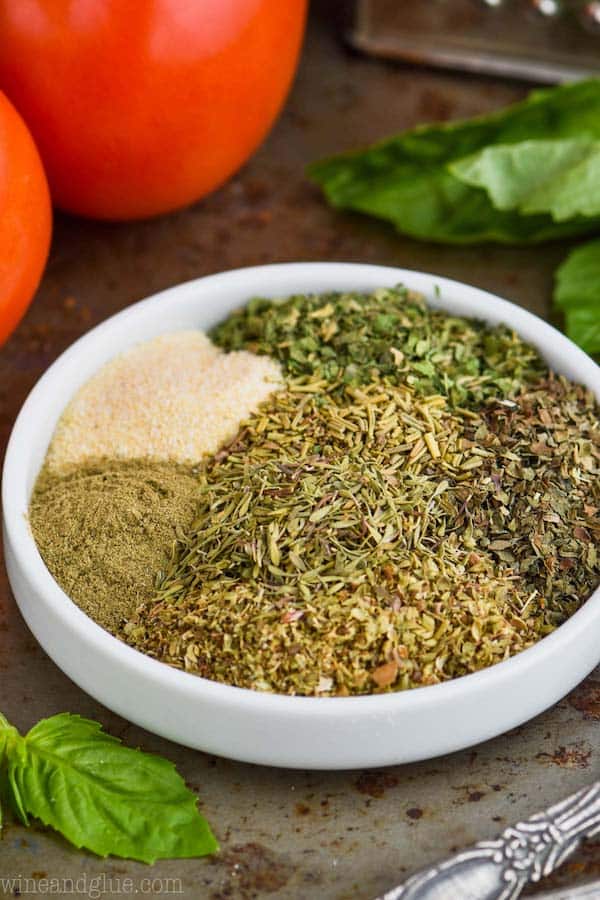 How to Cook a Prime Rib
As I mentioned, it only takes 10 minutes to prepare this delicious recipe. Though, don't let the short time frame fool you. This tastes like it was slaved over.
The full instructions and measurements can be found at the bottom of the post in the recipe card. You can always get there quickly by clicking "Jump to Recipe" above.
Preheat your oven: The starting temperature of this recipe is important, so make sure you preheat your oven to a roaring 450 degrees before you do anything else.
Rub the Prime Rib with Oil and Garlic: Given the fattiness of this cut of meat, you can actually skip using the olive oil, but then you should also skip the fresh garlic.
Make the Prime Rib Rub: In a small bowl combine salt, pepper, and Italian Seasoning and rub it into the roast.
Put a Wire Rack in a Roasting Pan: Another key to this recipe is roasting the prime rib on a wire rack. This allows the air to circulate around the meat.
Cook at a high temperature for 15 minutes: Cooking the prime rib for 15 minutes at 450 degrees sears the outside of the meat. It gives the outer edge the most delicious tastes and texture.
Cook at a low temperature for the remainder: Turn the oven down to 325 degrees and cook for another 2 hours. This will result in the most tender prime rib recipe.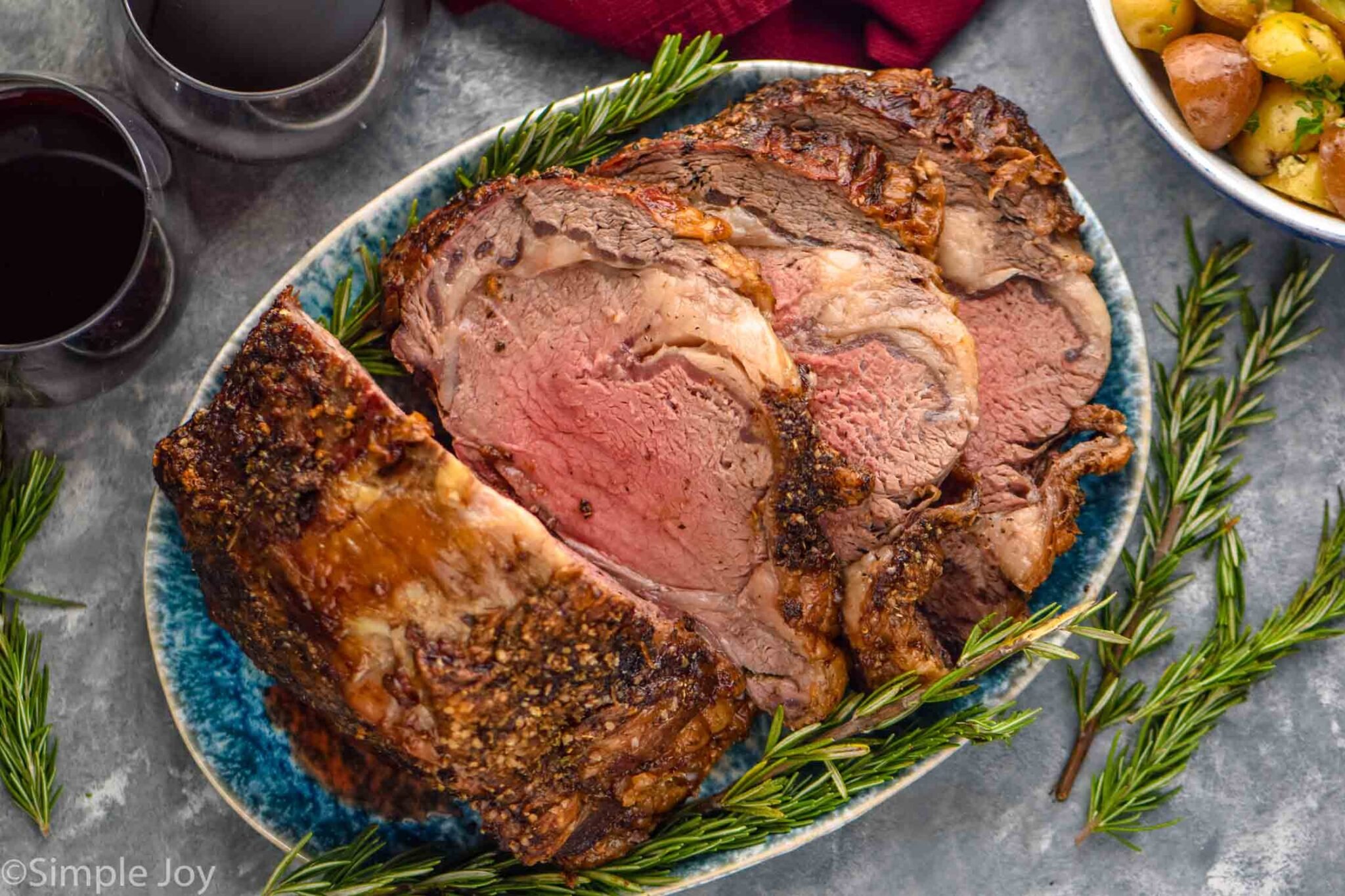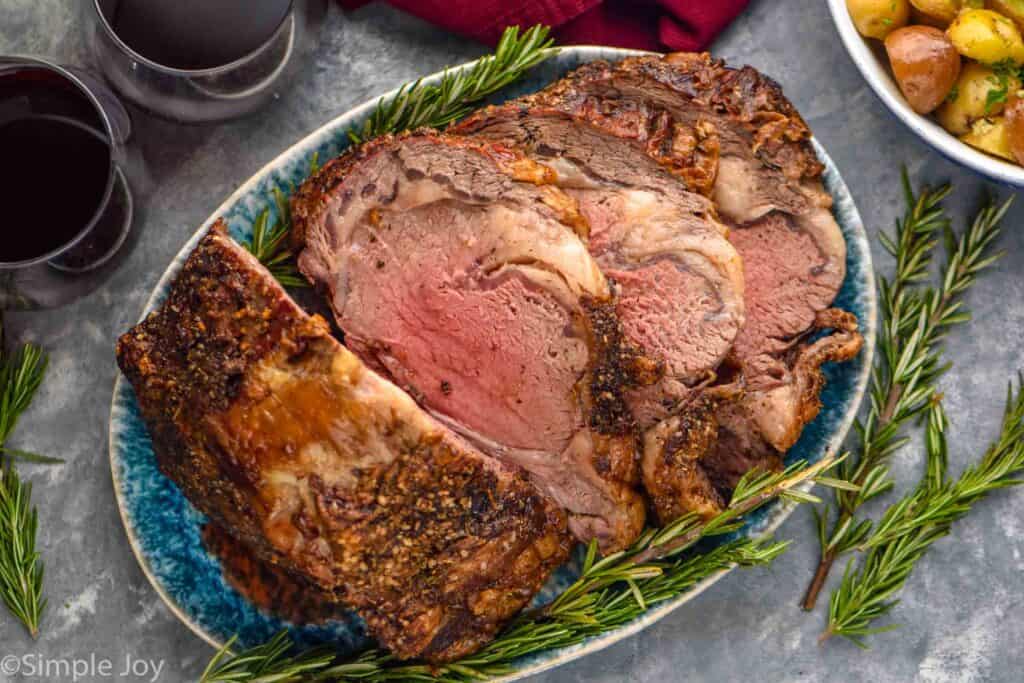 Roasting Pan with Wire Rack
As mentioned above, it is important to roast the prime rib on a wire rack in a roasting pan. This allows the air to circulate around the meat. When not cooked this way, it can really impact the cooking time.
Please note that the cooking time of this recipe is based on a wire rack and a roasting pan. If you don't have a wire rack and go with a baking dish for this recipe, I urge you to use a meat thermometer to check on your roast. This way you will still be able to pull it out of the oven at the correct time.
TOP PICK
Roasting Pan with Fitted Rack
This is such a great investment if you plan on making roasts. We use it for so many of our recipes.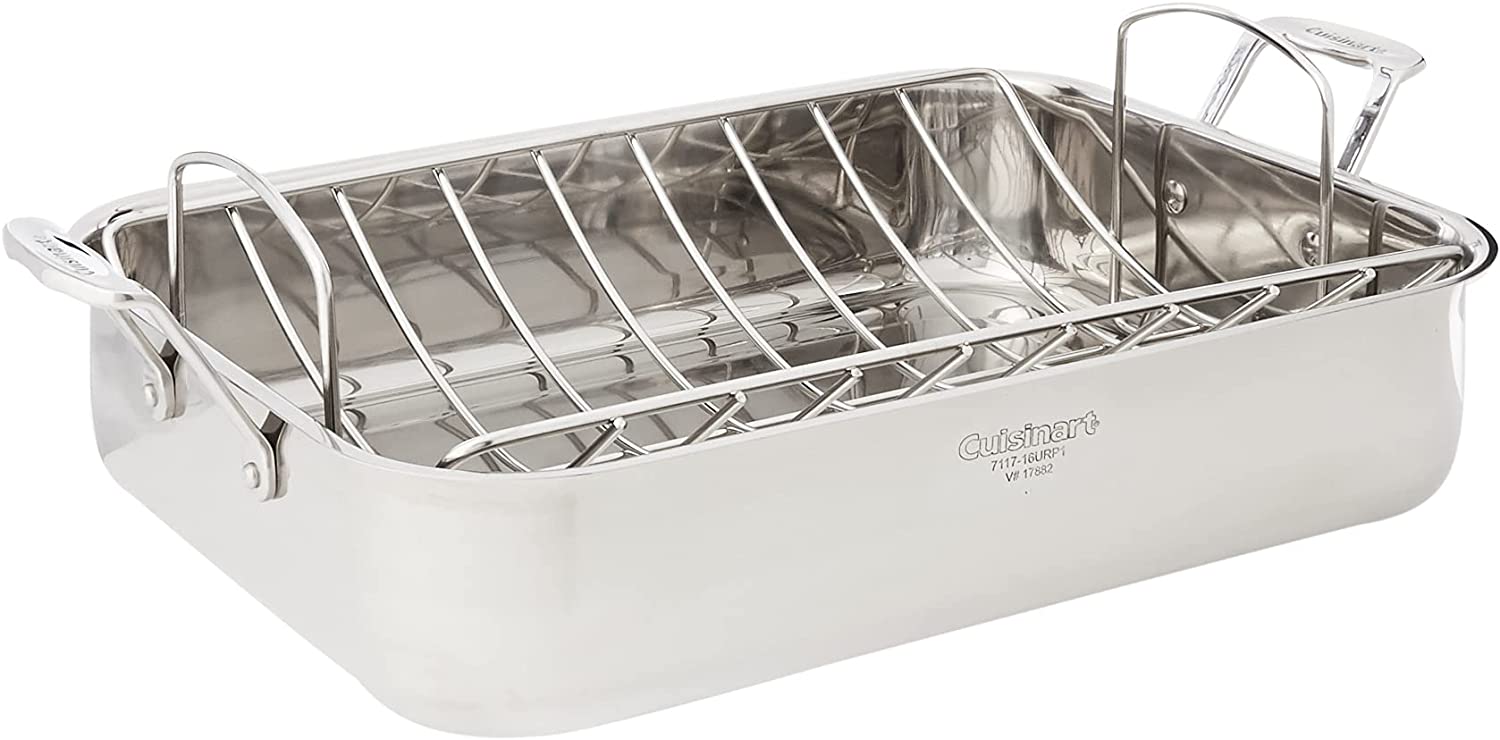 Pounds Per Person
It is important to think about what else you are serving when considering how much prime rib per person. Additionally, since we are working with boneless prime rib here, the general rule of 1 pound per person doesn't quite apply. We are weighing all meat and no bones.
Consider between 3/4 a pound and 1 pound per person for this recipe if:
There are no other main dishes.
You are planning on making only two to three side dishes to go with it.
If you are making other main dishes or many other sides, you can work off of the rule of 4 ounces to 1/2 a pound per person.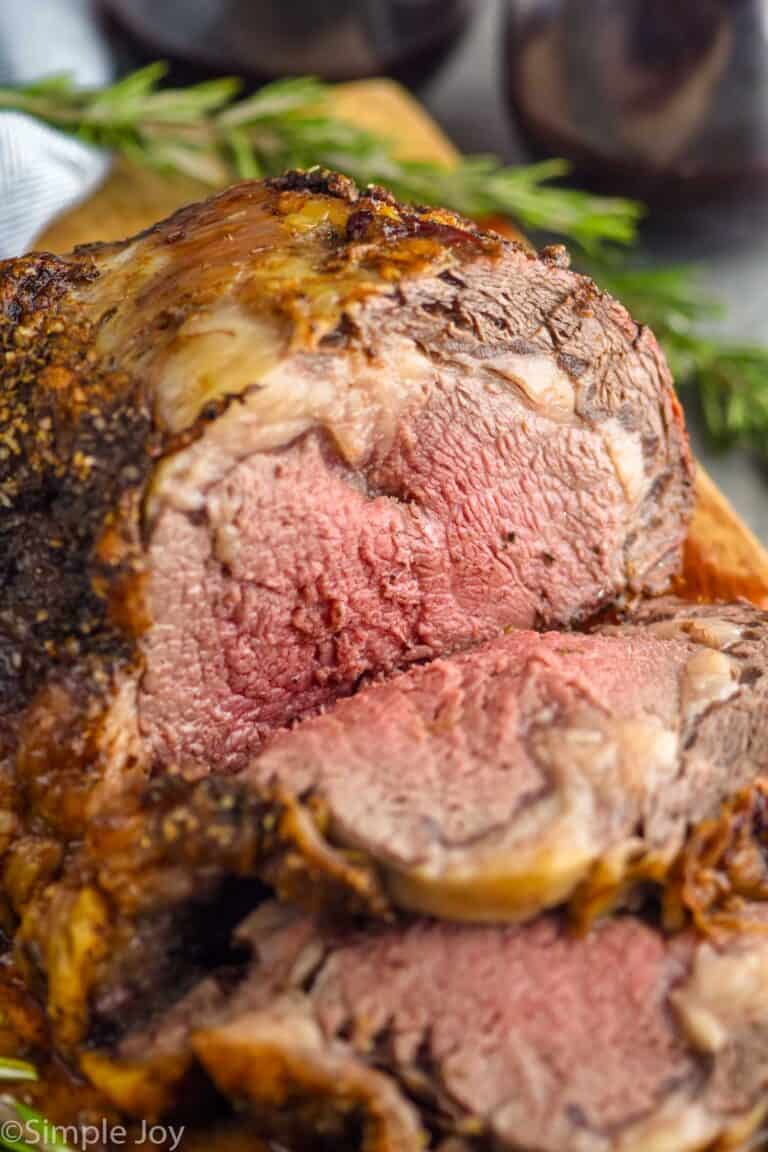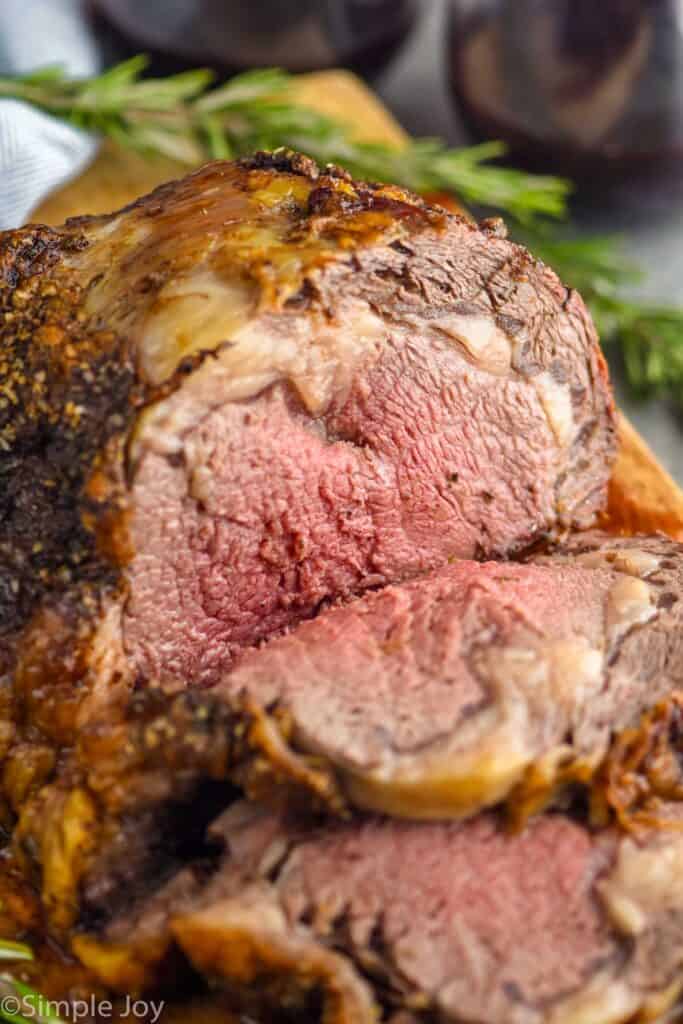 Investing in an Instant Read Thermometer
I highly recommend buying an instant read thermometer for this recipe. It is the best way to ensure that you end up with a tender piece of meat cooked to the exact doneness you are looking for. Please see the box below for my recommendation.
TOP PICK
Instant Read Thermometer
This amazing thermometer can be left in the meat while it is in the oven. I use it in so many of my recipes!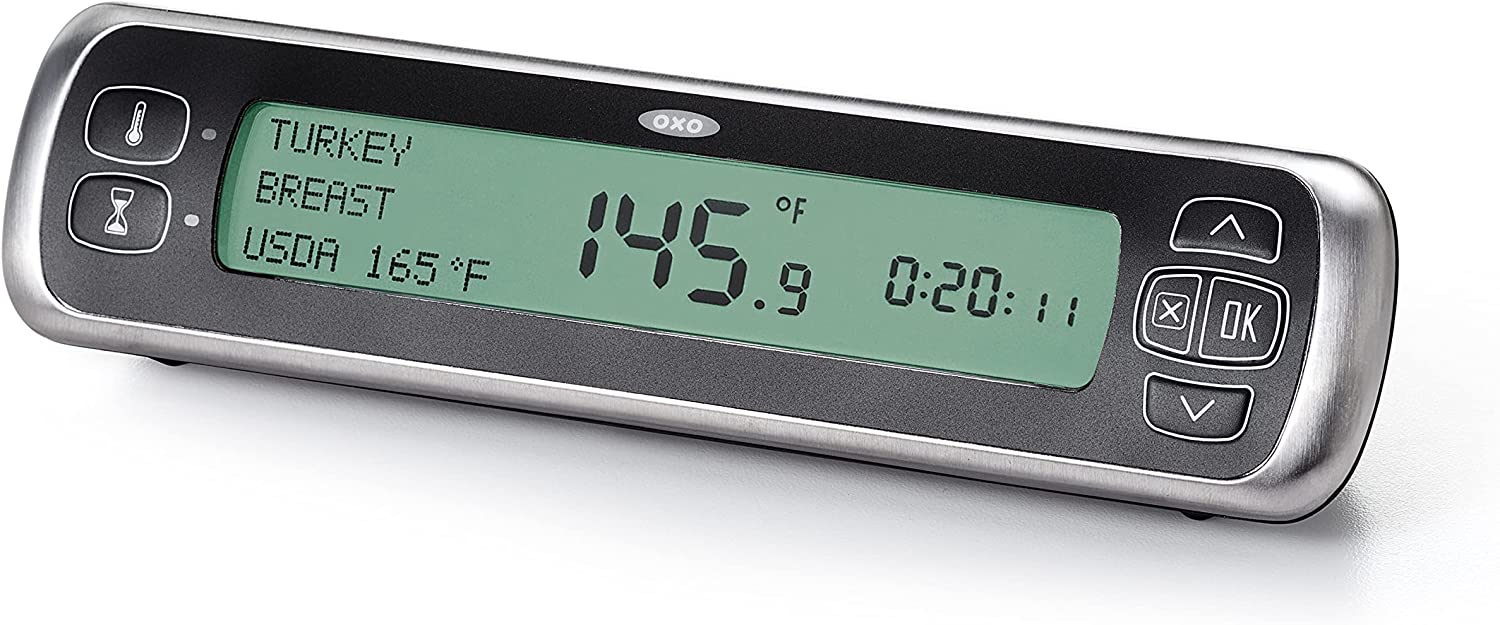 How Long to Cook Prime Rib
Prime rib roasts in about two and a half hours, though the cooking time will vary depending how done you would like it. These times are after the initial 15 minutes of high heat.
2 hours or 130 degrees from medium rare.
2 1/4 hours or 140 degrees for medium.
2 1/2 hours or 150 degrees for medium well
As stated above, for the best results, use an instant read thermometer in the center of the meat. Keep in mind that there will be some carry over cooking after removing from the oven and that the end pieces will be a little more done than the center.
Letting the Meat Rest
It is really important to let the meat rest after pulling it out of the oven. This allows the the juices to redistribute resulting in a more tender piece of meat. If you cut into it immediately after pulling it out of the oven, the juices will run right out.
Horseradish Sauce for Prime Rib
One of the main questions I get with this recipe is, "Do you have a good Horseradish Sauce to go with this?" Now I can finally answer that I do! This sauce recipe went through so many rounds of testing until it was just perfect. I love it on a sandwich with thin slices of my Easy Top Round Roast too!
Horseradish Sauce
Horseradish Sauce is the perfect condiment for Prime Rib or if you are making a sandwich from Roast Beef. Made with simple ingredients, this will quickly become a staple!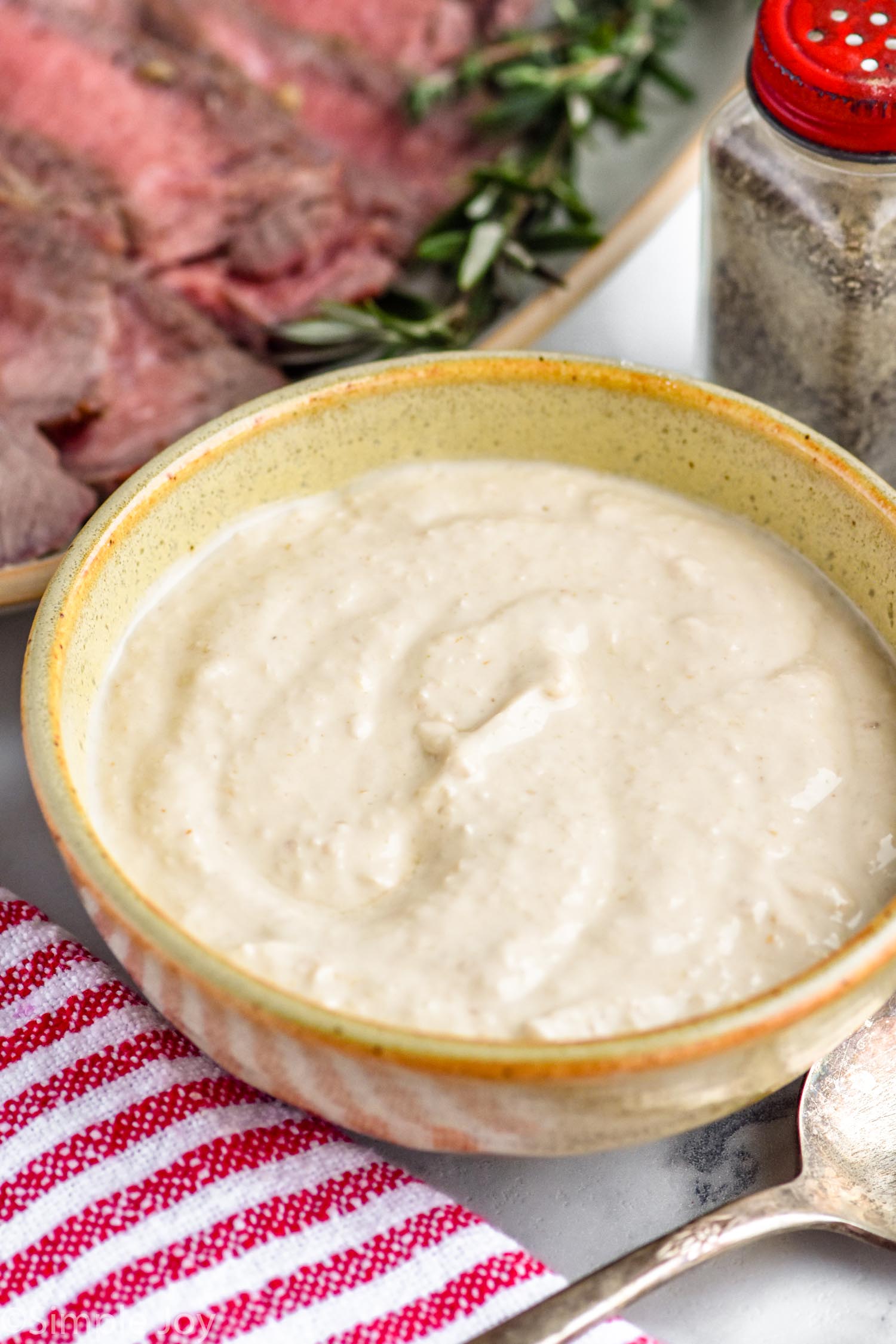 FAQ
When does prime rib go on sale?
The price of prime rib can vary greatly. It tends to go on sale right before Thanksgiving and Christmas. You can ask your butcher when they expect it to go on sale, and most will tell you along with the price per pound.

If prime rib is out of your price range, you might consider buying some top round and making my Easy Top Round Roast. It is also delicious.
How long do you cook prime rib?
If using the cooking method below, you can cook a prime rib in 2 hours and 15 minutes for medium rare.
Are prime rib and ribeye the same thing?
They are not, actually. They come from the same general area on the cow, but prime rib is a roast and ribeye is a steak. They have different textures and require different cooking methods.

Prime Rib and Boneless Ribeye Roast are, however, the same thing.
When is prime rib done?
This is a matter of taste. If your guests like their meat medium rare, you will want to take it out when the center of the meat is 125, there will be some carry over cooking to bring the meat to 130 to 135. For medium, remove when it is 130 to 135.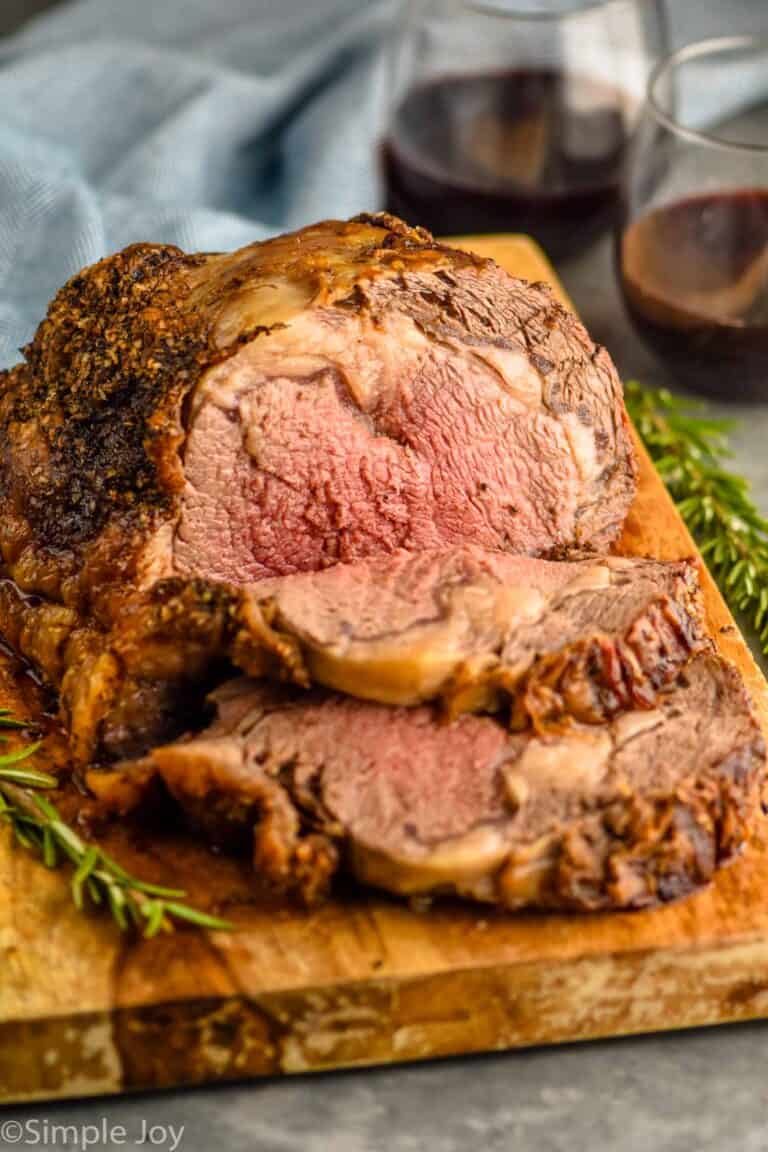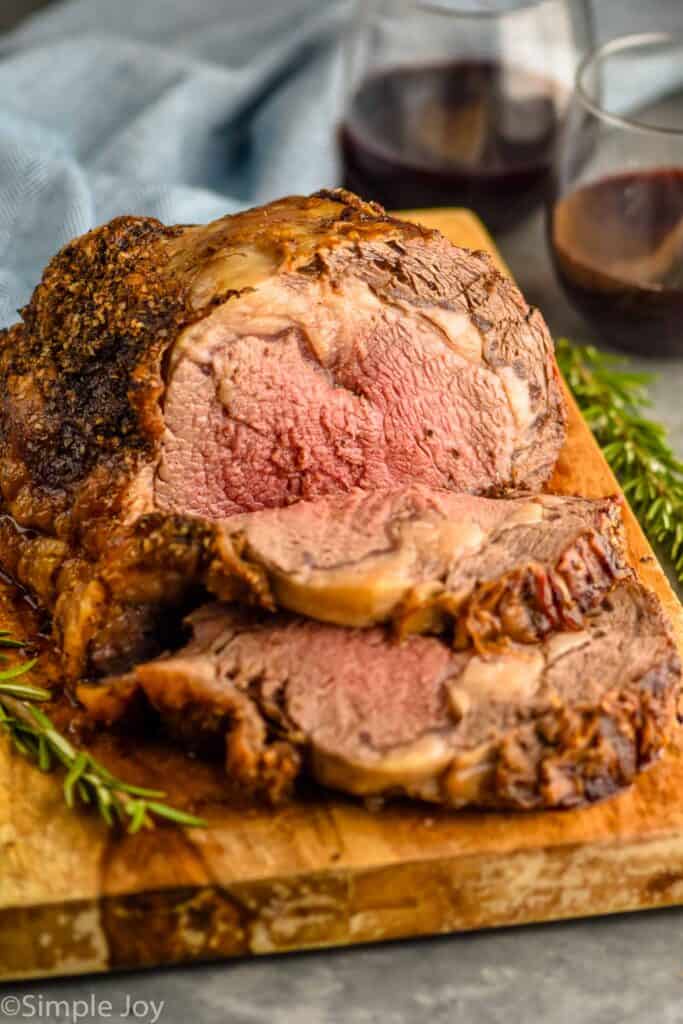 What to Serve with Prime Rib
If you make this delicious prime rib recipe or any of my other recipes, please leave me a comment and let me know what you think!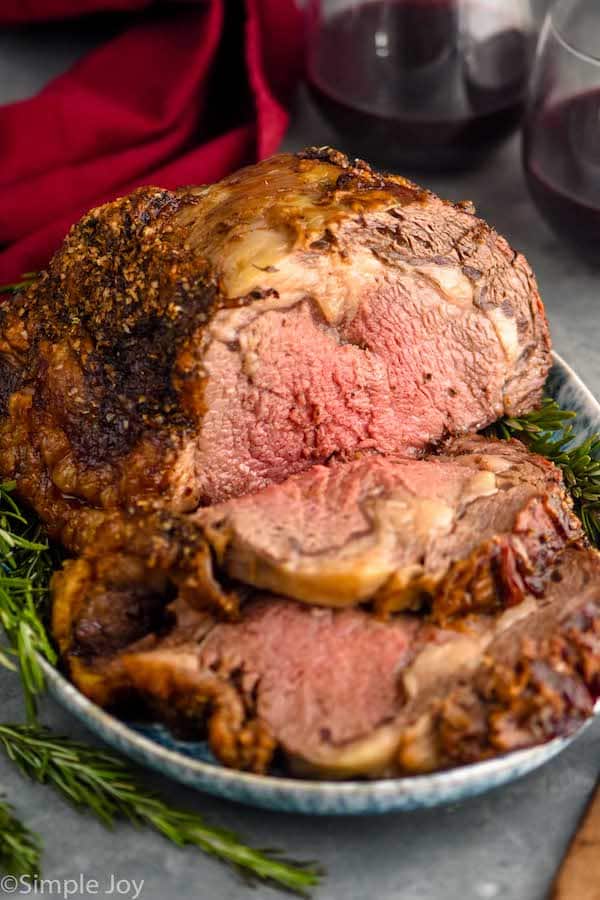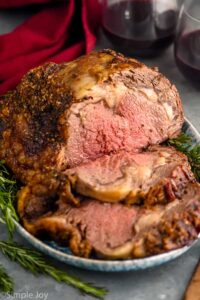 Prime Rib
Prime Rib is the perfect centerpiece for a holiday table or a Sunday dinner with the family. This Prime Rib Roast recipe is flavored perfectly and roasts easily in the oven leaving you with the most tender beef recipe.
Ingredients
5

pounds

boneless ribeye roast

2

tablespoons

olive oil

see note

3

cloves

garlic

minced

1

tablespoon

kosher salt

2

teaspoons

Italian seasoning

crushed with your thumb into your palm

1/2

teaspoon

black pepper
Instructions
Preheat your oven to 450 degrees. Set a wire rack in a roasting pan and set aside.

Brush the roast with olive oil. Rub in the garlic, kosher salt, Italian seasoning, and black pepper. Set in the roasting pan.

Roast the meat at 450 degrees for 15 minutes. Reduce the oven temperature to 325 degrees. Continue to cook the meat until it registers 130 degrees for medium rare (approximately 2 hours), or 140 degrees for medium (approximately 2 1/4 hours). See section in the post about cooking times for prime rib.

Remove from the oven, tent loosely with foil, and let rest for 15 minutes before slicing and enjoying.
Notes
This is a fatty piece of meat and does not necessarily need the extra oil. You can can forgo the oil, but then you should also forgo the garlic so it does not burn.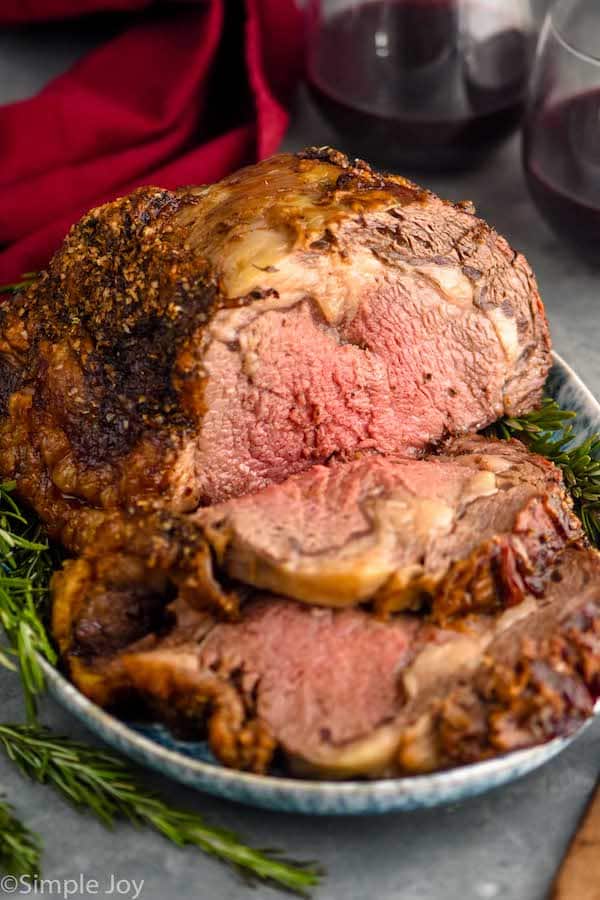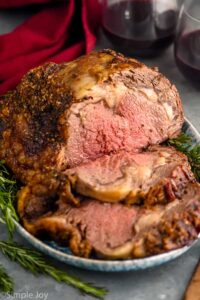 did you make this
Prime Rib