Mexican Chocolate Thumbprint Cookies | Delicious spicy chocolate ganache set inside a sweet buttery sugar cookie! Thank you Silpat for providing me with a mat to make these cookies!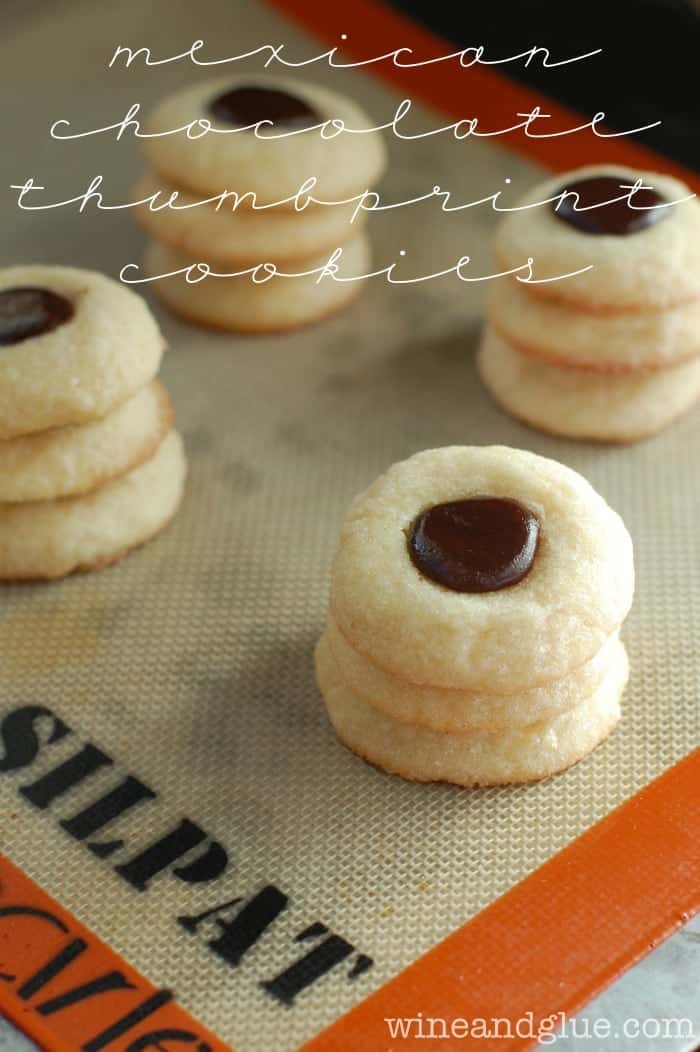 Lots of my blogging friends have been putting together must have kitchen items for the blogger or foodie type posts lately, and when they ask for suggestions, on my list all the time is my Silpat. I was lucky enough to win a Silpat during Online BlogCon 2012, and I was PUMPED.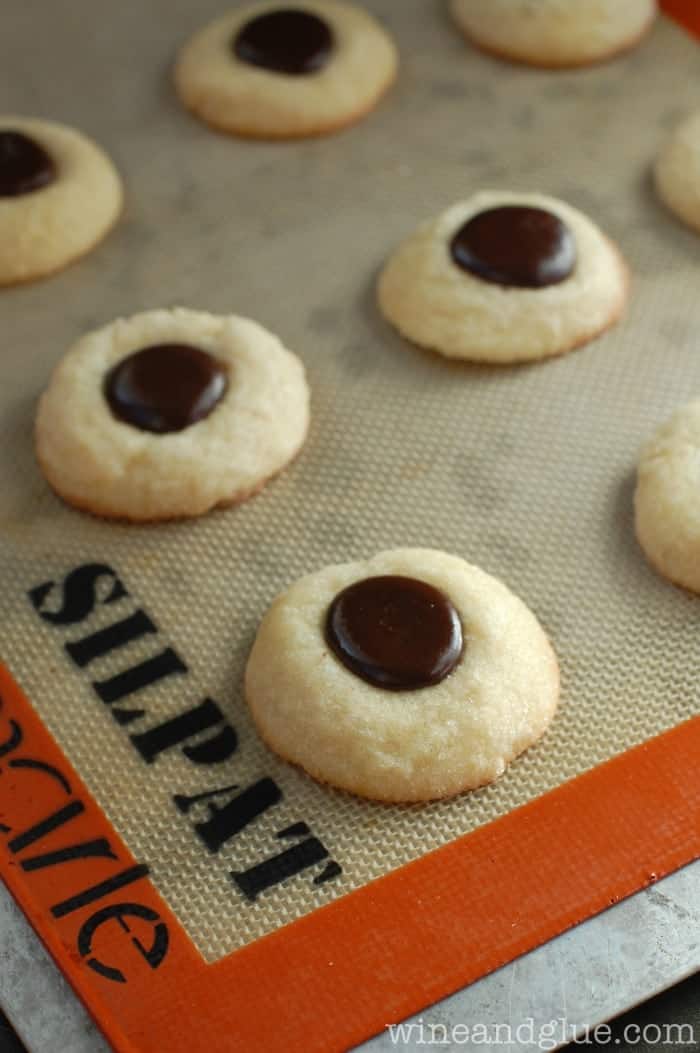 At the time I won it, I asked my FaceBook friends what was the first thing that I should make with it. The resounding answer was the stickiest thing I could think of. And what was that?
Marshmallow Fondant.
Okay, for real, the Silpat worked WONDERS. I had heard horror stories about fondant and the process of making your own fondant. But I had my eyes set on a special cake for my kiddos fifth birthday, and I really wanted to conquer fondant.
And the Silpat totally made it a breeze! By using it as the surface to kneed and roll out my fondant, it didn't create a huge mess in my kitchen, it didn't stick to every single surface, and my first attempt at this crazy dessert went off without a hitch!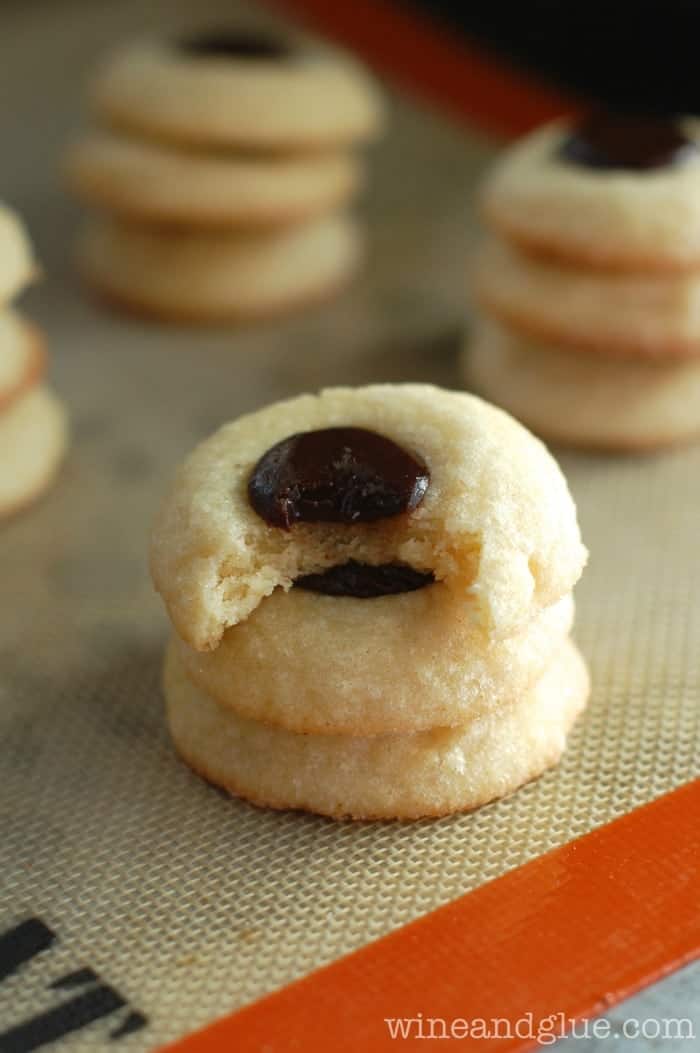 From there, I started using my Silpat for ALL my baking needs. Everything from my 15 Minute Mini Calzones to my cookies to hand pies to my meatballs went in the oven on the Silpat and came out perfect every time. It's like a miracle worker of the kitchen.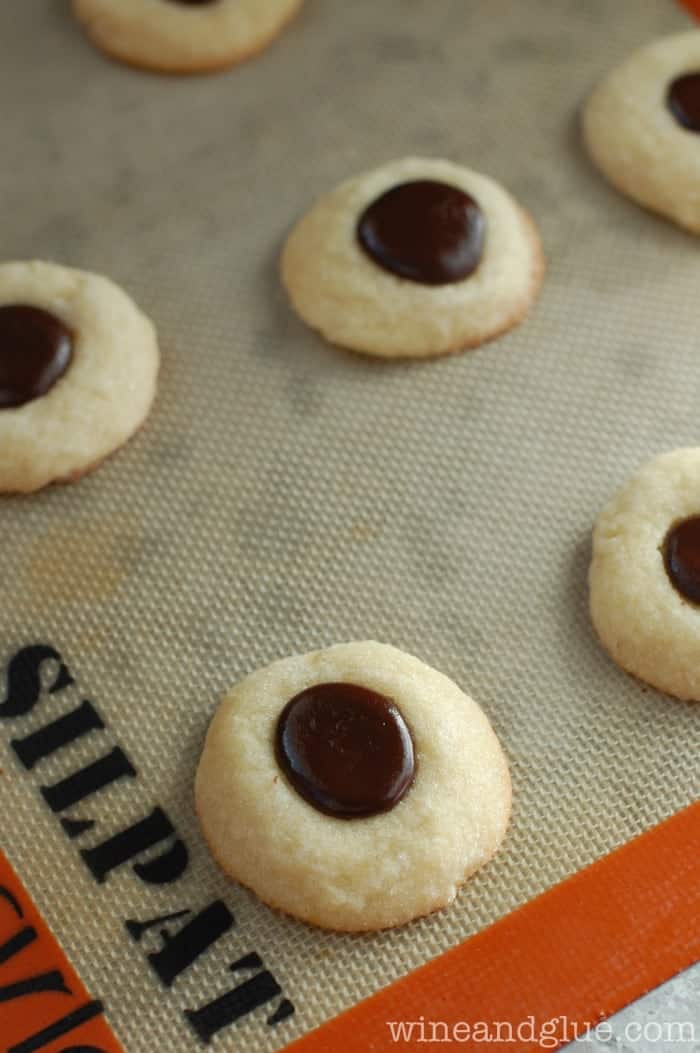 A friend of mine asked me last year on Christmas cookie making day if I thought it was worth the money. I told her that even though I hadn't bought my own, I would easily hand over the money for a Silpat. I love that it's environmentally friend, no wasting parchment paper on each batch of cookies, and that every single thing I cook on it comes out perfectly.
So remember that little giveaway I mentioned on Friday . . . keep your eyes peeled, because it just might include one of these kitchen wonders!
These cookies are aMAZing! The base is my absolute favorite soft sugar cookie recipe from the incomparable America's Test Kitchen, made into a thumbprint cookie and then topped with some spicy ganache. The two pair so well together, the buttery sweetness and the spicy chocolate . . . YUMM! Just make sure that you start these the night before so the ganache can set.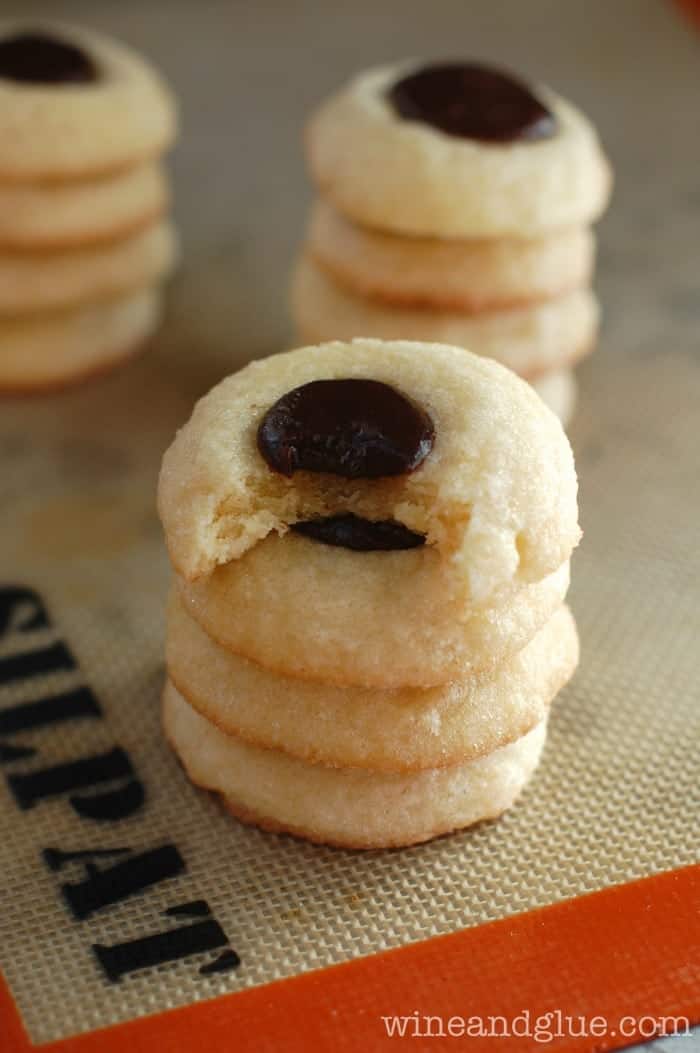 Mexican Chocolate Thumbprint Cookies
1/2 cup heavy cream
1 tsp cinnamon
1/4 tsp cayenne pepper
8 oz milk chocolate chips
2 cups sugar, divided
2 1/2 cups flour
1/2 tsp baking powder
1/2 tsp salt
1 3/4 stick of unsalted butter, softened
2 tsps vanilla extract
2 large eggs
In a small saucepan over low heat, bring the heavy cream to a boil, stirring consistently. Stir in the cinnamon and cayenne pepper.
Pour the boiling heavy cream and spices over the chocolate. Stir it in with a spoon. Continue stirring until the mixture is smooth. Put in the refrigerator overnight.
Preheat your oven to 350 degrees.
In a large bowl, mix together the flour, baking powder, and salt.
With your mixer set on medium, mix together the butter and 1 1/2 cups sugar. I like to leave my butter out overnight. It makes it perfect for mixing. Mix until light and fluffy. About three minutes.
Mix in the vanilla, and eggs, one at a time until incorporated.
Slowly mix in the flour mixture, scraping down the sides as necessary.
Create 1 inch dough balls, and roll them in the 1/2 cup of sugar remaining. Set them about two inches apart on your Silpat, and push them down slightly with your thumb.
Bake for 10 minutes, turning the baking sheet half way through baking.
While the cookies are baking, use 1/2 tsp of ganache to make small little round truffles.
When the cookies are done cooking, pull them out of the oven and create indentations in the middle of each cookie with the back of a spoon. Remove the cookies from the pan, to a cooling rack, and press a small ganache ball into the center of each cookie.
The heat from the cookie will smooth and melt the ganache into place. Either eat right away and enjoy the gooey chocolate or let cool completely before storing to ensure that the chocolate stays pretty.
Recipe adapted from America's Test Kitchen.
Looking for more awesome ways to use your Silpat?
Cinnamon Roll Cheesecake Cookies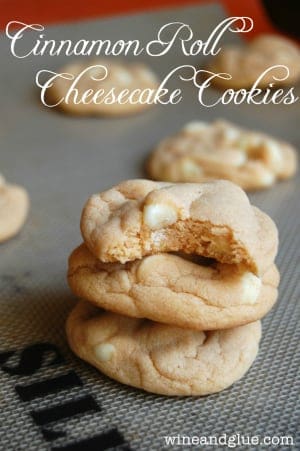 Pumpkin Nutella Roll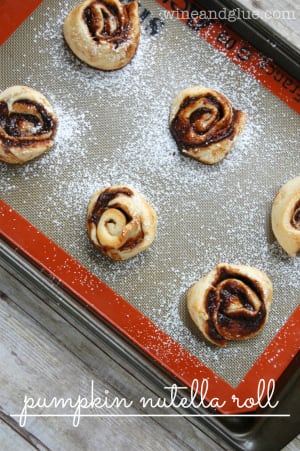 15 Minute Mini Calzones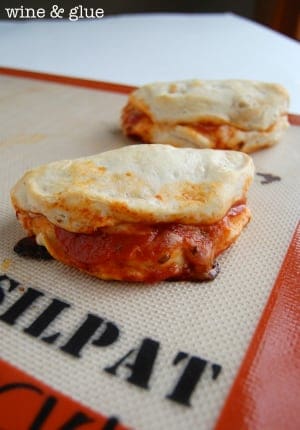 This post may contain affiliate links which won't change your price but will share some commission.