This recipe for Oatmeal Chocolate Chip Cookies that are soft, chewy, and the perfect mix of flavors is a keeper! Grab all my tips and tricks for making these the best oatmeal chocolate chip cookies.
Looking for another great oatmeal cookie? Make my Chocolate Peanut Butter No Bake Cookies!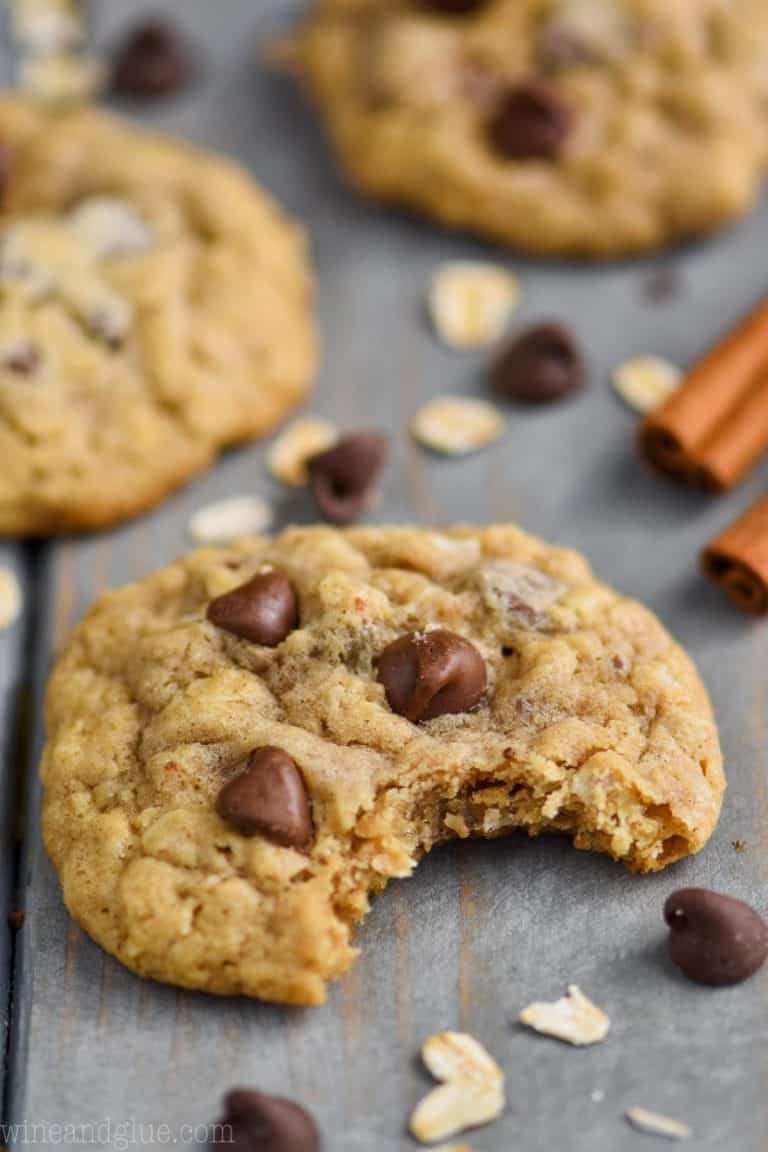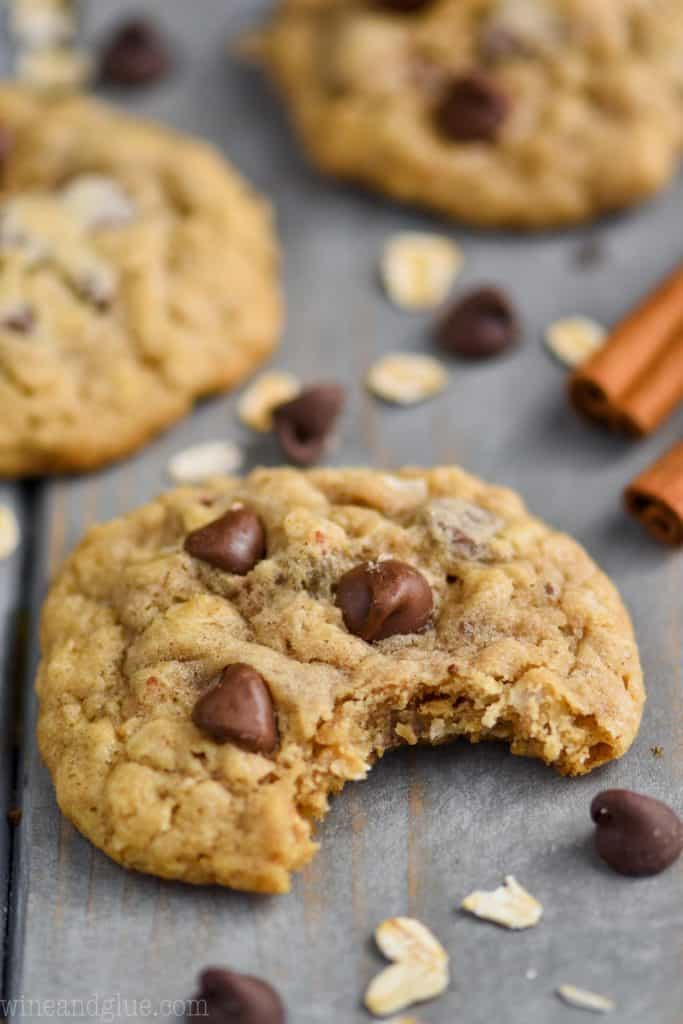 Nathan's favorite cookie is an Oatmeal Raisin Cookie. Loves them. Can't get enough of them. So naturally . . . . I'm the jerk who decides to make an Oatmeal Chocolate Chip Cookie. I mean, why would you pick raisins when you can have chocolate chips??
I made these Oatmeal Chocolate Chip Bars last fall and they were a huge hit with all of you. Some people asked if they could just use the same recipe and make them into cookies. The answer is nope! Baking is full of all sorts of reactions with the ingredients and changing up something simple, like the shape of what you are making, makes a big difference.
What Makes These the Best Oatmeal Chocolate Chip Cookies
I went through so many different batches of cookies to come up with the Perfect Oatmeal Chocolate Chip Cookies for you. What makes this the perfect recipe:
They don't spread too much.
The dough doesn't need to chill.
The cookie texture is the perfect amount of soft and chewy.
There is a hint of cinnamon that is magical without being overbearing.
How to Make Oatmeal Chocolate Chip Cookies
The three most important steps to this cookie dough recipe are:
Creaming the butter and sugar together.
Integrating the flour, baking soda, and cinnamon mixture.
Stirring in the oats and chocolate chips.
It is pretty important that you follow the prompts in each step to make sure that these cookies turn out perfectly. It is critical you cream the butter and sugar enough and not over mix the flour when you add it.
Why Brown Sugar?
This recipe uses both white sugar and brown sugar. While the white sugar is great in this recipe – it brings sweetness and helps the cookies spread – the brown sugar is critical. It is the brown sugar, with the molasses it brings to the party, that keeps these cookies soft and chewy.
What Type of Oats
I've made this recipe with both quick cooking and old fashioned oats. Some recipes will tell you that old fashioned oats will yield a chewier cookie, but honestly, I'm not sure that's what's making it chewy. I think that has more to do with the ratio of white to brown sugar and how the ingredients were combined. I think you can use either type of oat and both work well.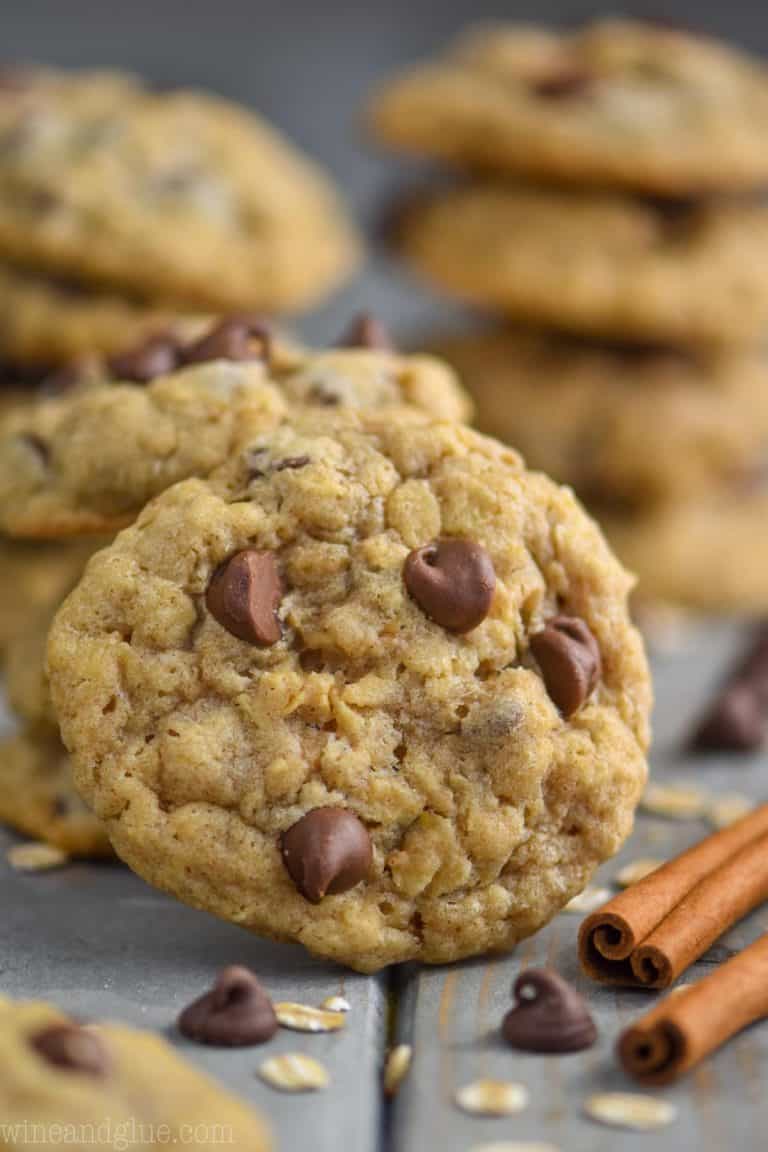 Oatmeal Chocolate Chip Cookies Tips and Tricks
These are tips that are great for all cookie recipes!
Use room temperature butter. Do not soften it in the microwave! Let it sit on the counter, cut into one inch pieces, for a half hour. You should be able to press your finger in and dent it easily without pushing it all the way through.
Scoop the flour from the container using a spoon. Flour packs really easily, creating more flour in your recipe than you really want (which is a great way to ruin cookies). To prevent that, don't use the one cup measure to scoop it from the container. Use a spoon, scoop it into your measuring cup and then level it off.
Thoroughly cream the butter and sugar together. This process of combining the butter and sugar, or creaming it, is critical. The sugar is adding air to the butter which will not only puff up in the oven, it will actually make it so you get more cookies out of your batch of dough than if you just mixed them together. (Did your mind just explode?) You need to beat the sugar and butter together until it is light and fluffy and this will take about 5 minutes.
Properly add the flour mixture. For years and years, I gradually added my flour to my creamed butter and sugar so as to not overbeat it, developing the gluten too much, and creating though cookies. You can find dozens of recipes on my blog that read that way. Recently I read something that sort of blew my mind: Adding it slow actually makes the gluten issue worse! Now I add all of the flour at once, give it a really slow quick mix so it doesn't fly everywhere, and then a quick high speed mix to integrate it. It adds the flour quicker – win – and it means less over all mixing – double win.
Make sure you scrape your bowl! Sounds basic, but it's easy to forget and then during different steps the dough doesn't stay together as it should.
Invest in a cookie scoop. I love my cookie scoop! The benefits of using a cookie scoop are that it makes all the cookies the same size so they bake at the same rate. It makes scooping very quick. This is great since your ingredients are already combined and science is already happening in that bowl! Finally, it keeps you from heating up the dough a ton with your hands.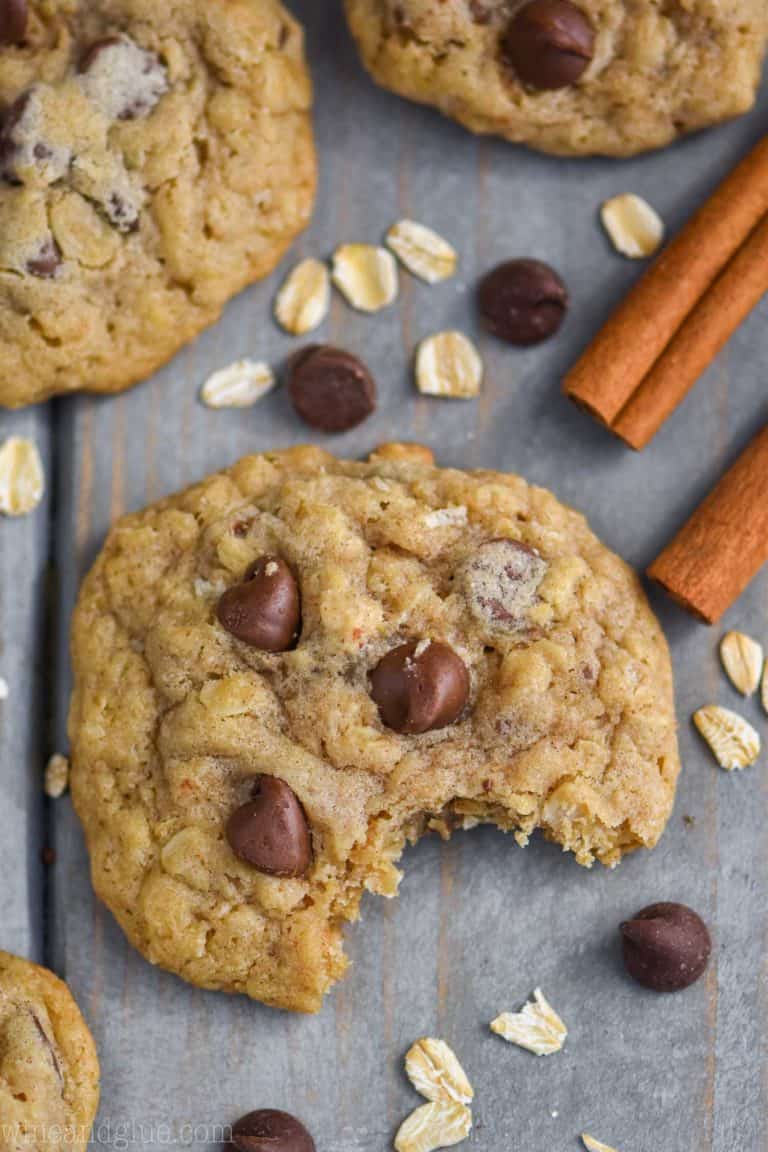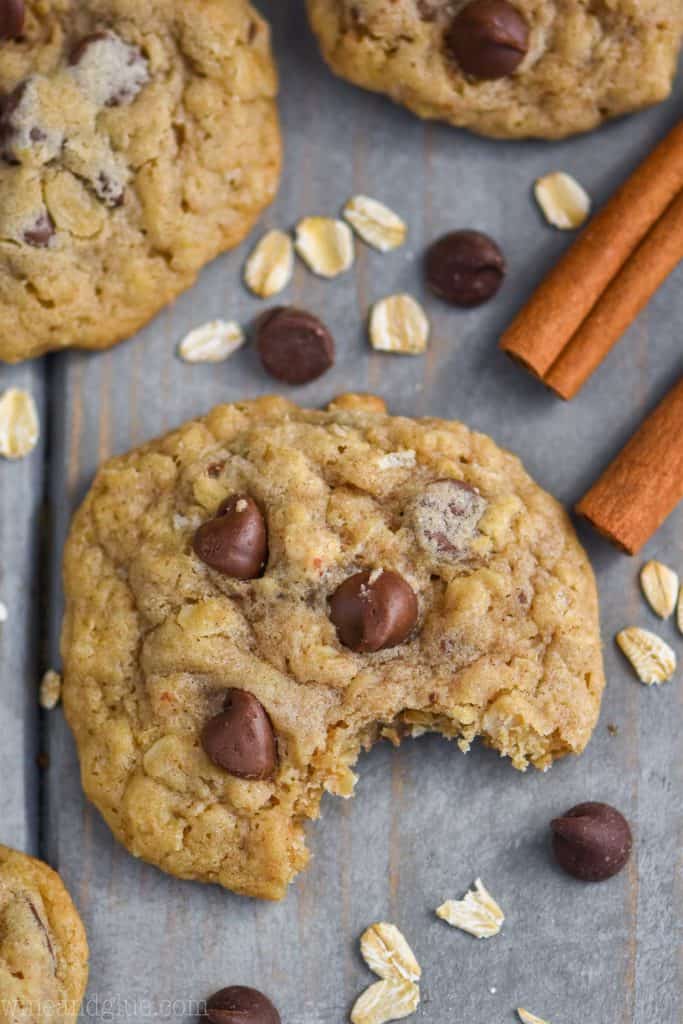 Other Great Cookie Recipes
Now that you have all these great tips, do you want to make all the cookie recipes you can?? I don't blame you.
If you make these Chocolate Chip Oatmeal Cookies or any of my other recipes, please leave me a comment and let me know! I love hearing from you!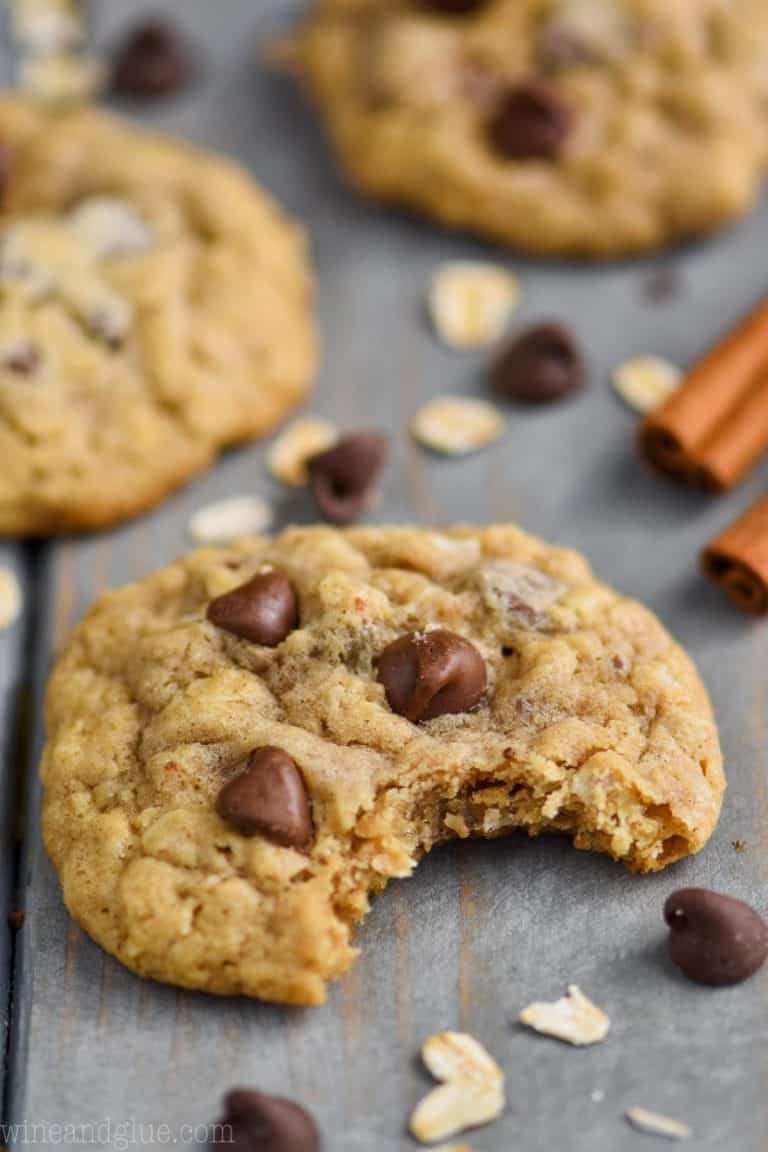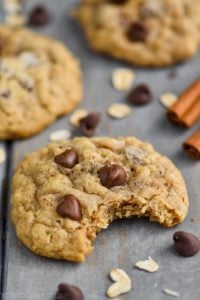 Chewy Oatmeal Chocolate Chip Cookies
This recipe for Chewy Oatmeal Chocolate Chip Cookies that are soft, chewy, and the perfect mix of flavors is a keeper!  Grab all my tips and tricks for making these the best oatmeal chocolate chip cookies.
Ingredients
2

cups

all purpose flour

see note 1

1

teaspoon

baking soda

1

teaspoon

cinnamon

14

tablespoons

unsalted butter

room temperature (see note 2)

3/4

cup

light brown sugar

packed

1/2

cup

granulated sugar

2

large eggs

room temperature

1

teaspoon

pure vanilla extract

2

cups

quick cooking oats

(old fashioned will also work)

1

cup

milk chocolate chips
Instructions
Preheat your oven to 350 degrees. Line baking sheets with parchment paper and set aside.

In a medium bowl whisk together the flour, baking soda, and cinnamon.

In a large bowl beat together the butter and the brown and granulated sugar. The mixture should be light and fluffy. This will take between 3 and 6 minutes.

Scrape down the bowl and one at a time beat the eggs into the mixture. Then beat in the vanilla.

Scrape down the bowl and then add all of the flour mixture into the butter-egg mixture. Beat very low until just incorporated, then turn up the speed to fully incorporate, beating until just combined. Do not over mix.

Gently fold in the oats and then the chocolate chips.

Using a 1 1/2 tablespoon measuring scoop to make the cookies consistent in size, scoop out the cookies, gently roll, and then place one to two inches apart on the parchment lined baking sheet.

Bake for 10 to 12 minutes rotating the sheet half way during the baking process.

Remove the cookies from the oven. Let the cookies sit on the tray for two minutes and then remove to a cooling rack.

Enjoy right away or store in an airtight container for up to one week.
Notes
Flour should be scooped into the measuring cup and then leveled off, not scooped directly out of the container.
Room temperature butter means that you should be able to easily dent the butter but not push your finger all the way through.
Serving:
1
cookie
Calories:
149
kcal
(7%)
Carbohydrates:
20
g
(7%)
Protein:
2
g
(4%)
Fat:
8
g
(12%)
Saturated Fat:
5
g
(31%)
Monounsaturated Fat:
1
g
Cholesterol:
24
mg
(8%)
Sodium:
47
mg
(2%)
Potassium:
32
mg
(1%)
Fiber:
1
g
(4%)
Sugar:
11
g
(12%)
Vitamin A:
300
IU
(6%)
Calcium:
20
mg
(2%)
Iron:
0.5
mg
(3%)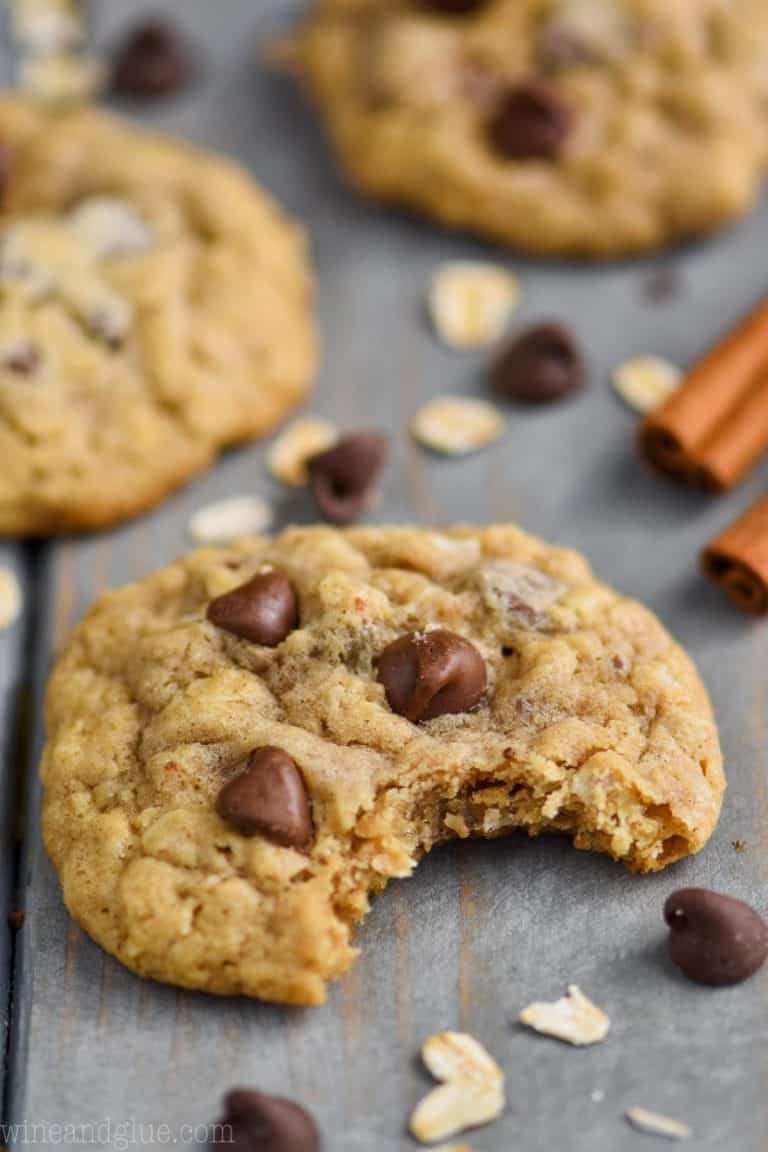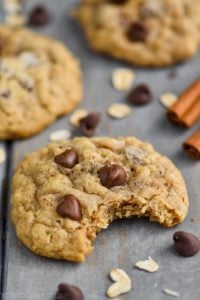 did you make this
Chewy Oatmeal Chocolate Chip Cookies