Mint Creme Brownie Bombs | Irresistible brownie truffles filled with mint creme!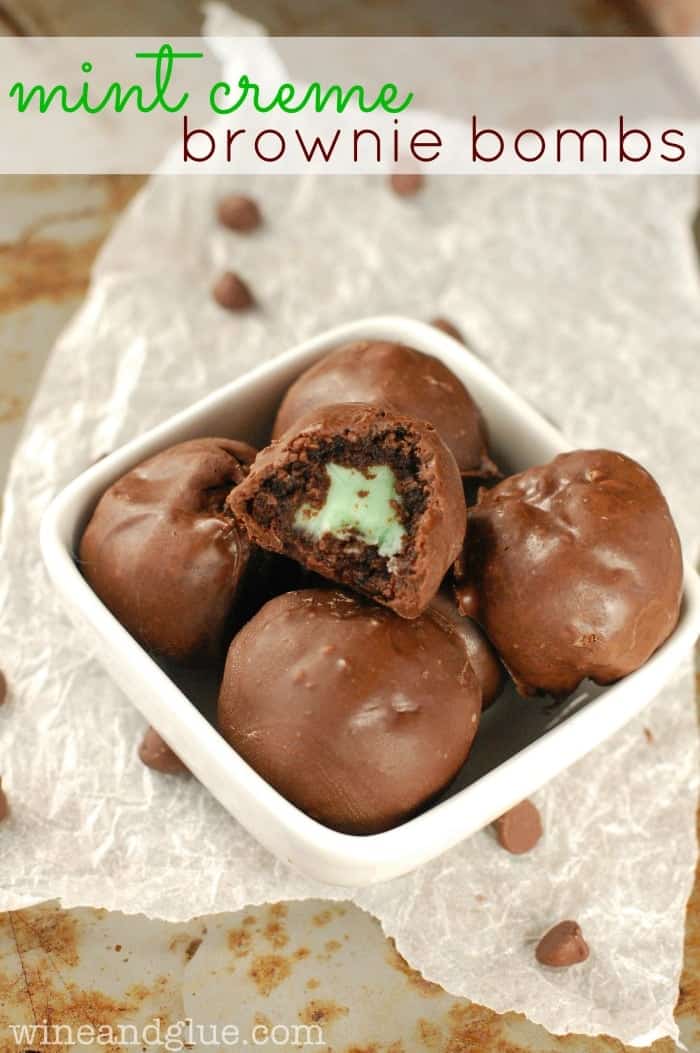 So . . . my weekend didn't really go as planned.
We have Quinn's surgery scheduled for later this week, so I had all these grand plans of getting ahead on the blog this weekend, doing some more work on the baby's nursery set, and getting the house clean.
I had been feeling sick all week, with a horrible cough and cold, but I thought I was sort of starting to feel better.
And then Saturday afternoon I was hit with a BRUTAL version of the stomach flu.
Nathan was actually gone, and I had to text him saying, "I just threw up. Come home."
Things got worse and worse Saturday afternoon and finally we called my OB who told us that we needed to go to Labor and Delivery to get me IV fluids. I got two bags of IV fluids, and thank goodness, because I was a whole lot more dehydrated than I had realized. They also gave me some medicine to get me to stop throwing up.
Thank goodness for modern medicine!
And the baby, through all of it was as happy as a clam. It was kind of nice and relaxing to sit there and listen to her heartbeat for two hours.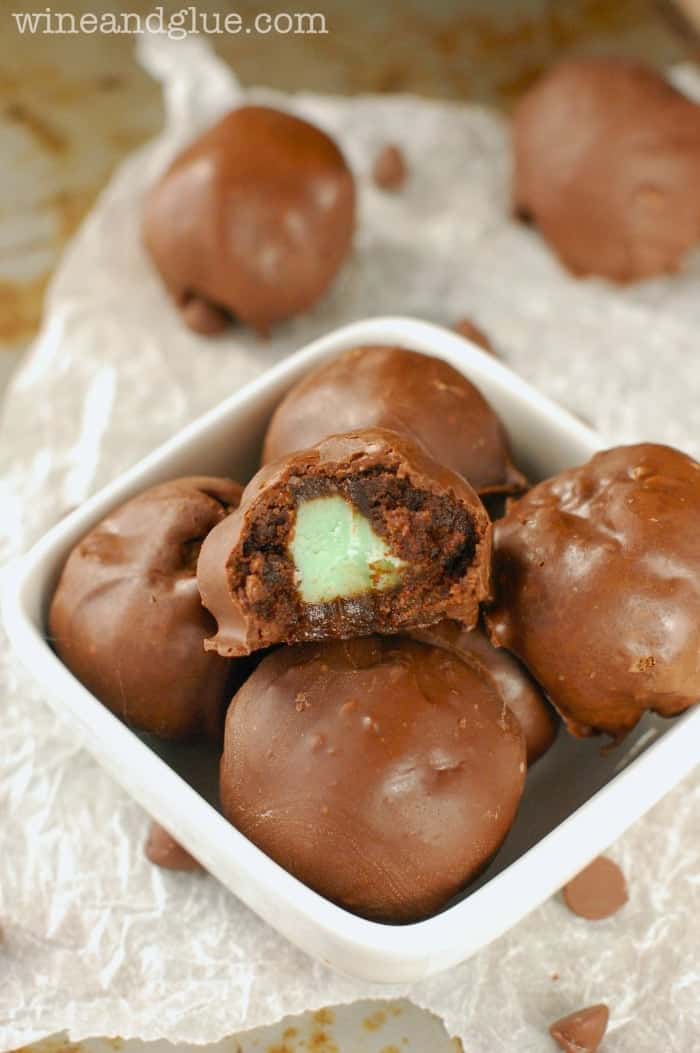 Today I'm feeling better, and I can thankfully keep food and fluids down. But I still don't feel awesome. Nathan has been a super champ and taken over with everything with the kids and even took them out of the house to get groceries!
You'll have to forgive me this week if things get a little behind and blogging takes a back seat. I have been sick so much this pregnancy, and trying to keep things going with the blog. But this week, as I recover and we get ready for Quinn's surgery, blogging will probably put on the back burner.
But! I already had these little beauties whipped up for you and ready to go from last week. These sound complicated to make, but they really aren't. And they are super delicious! I am kind of addicted to mint desserts right now. Have you noticed? So you might get only green between now and St. Patty's Day.
Wondering about the genius behind the Brownie Bomb? Then you will want to make sure you meet Hayley.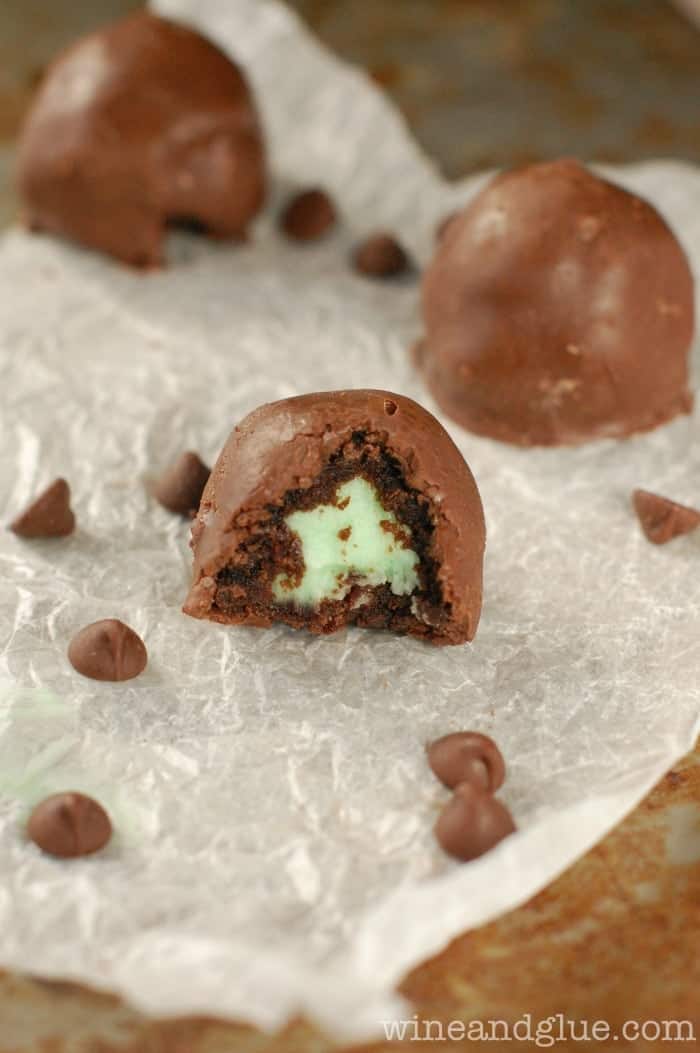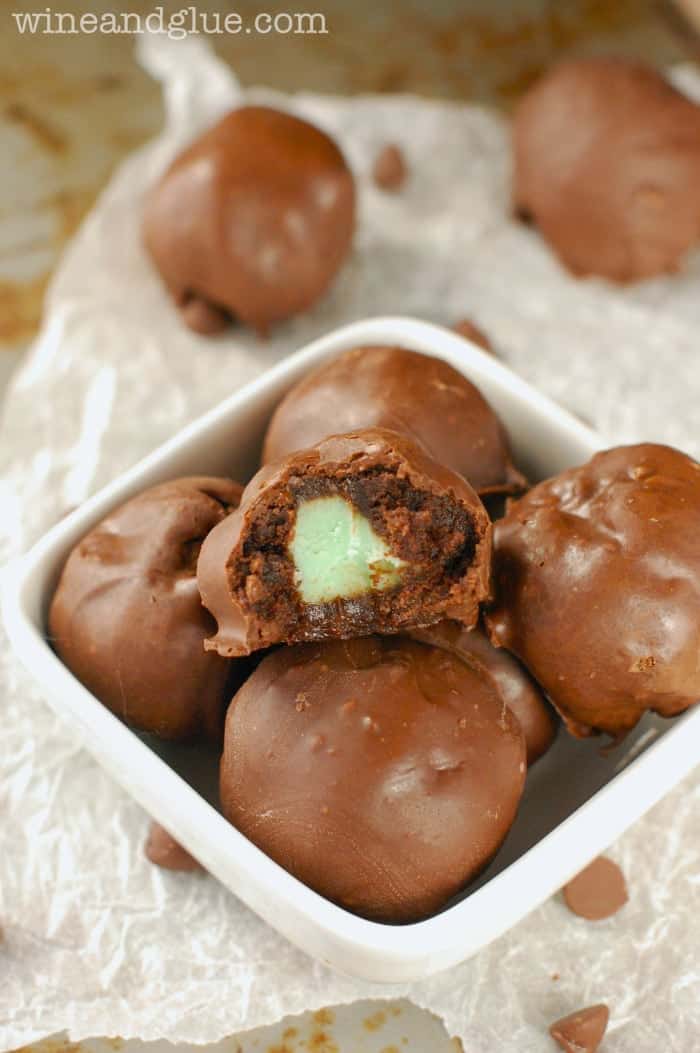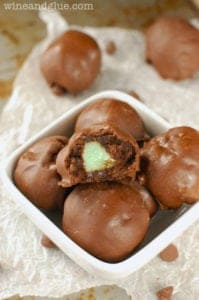 Mint Creme Brownie Bombs
Ingredients
brownie mix with ingredients needed

I used Duncan Hines Chewy Fudge Brownies, the two egg version

1/4

cup

chocolate frosting

1

cup

powdered sugar

1/2

cup

butter at room temperature

1/4

tsp

mint extract

green food coloring

2

cups

of milk chocolate chips
Instructions
Bake brownies according to box directions and let cool completely, overnight on the counter or four hours in the refrigerator. (Note: You can use your favorite homemade brownie recipe here, you just might need to adjust how much chocolate frosting you use.)

Beat together the powdered sugar, butter, mint extract, and green food coloring. Place the frosting in a piping bag.

Break up the brownies with the back of a spoon in a large bowl. Gradually add the frosting until you get the right consistency. You want it to be able to stick together in ball form, but not be too sticky.

Make one inch balls out of the brownie mixture, and then make a crater in the middle of it. Pipe in the mint frosting. Take an additional small piece of the brownie mixture and place it over the top, sealing in the mint frosting. Roll it into a smooth ball and set aside.

Once all the brownie bombs are formed, freeze them for 15 minutes. Transfer them from the freezer to the refrigerator.

Microwave 1 cup to begin with of the chocolate chips (melt the second cup once you've used up the first). Taking out two brownie bombs at a time, submerge them in the melted chocolate and take them out with a fork, tapping off the excess chocolate. Place on wax paper and allow to dry completely before storing in an airtight container in the refrigerator.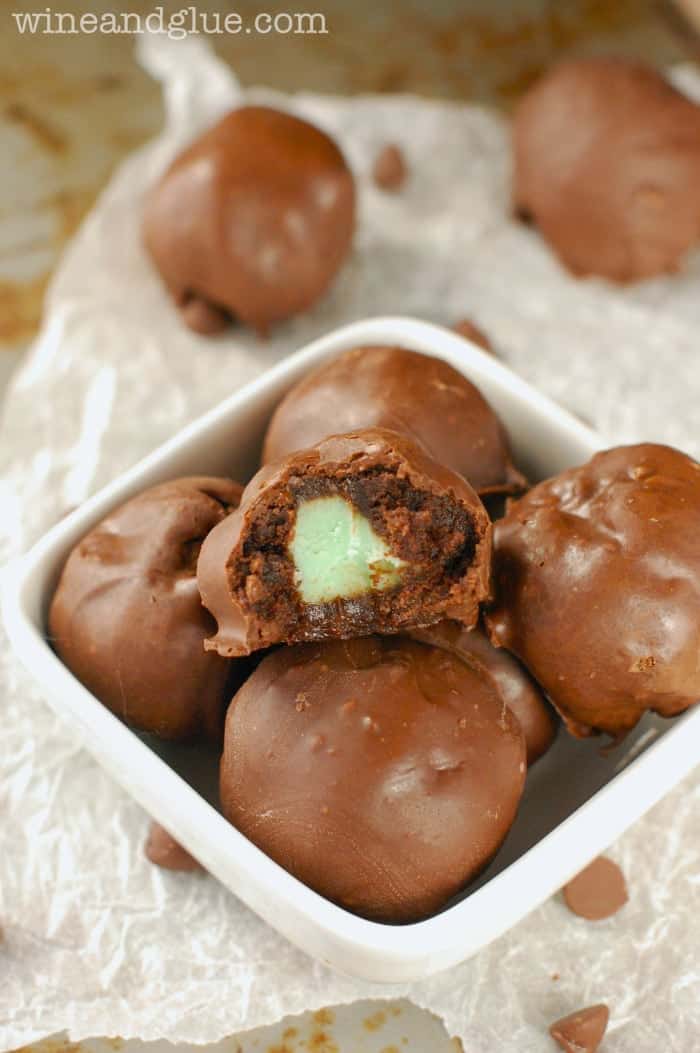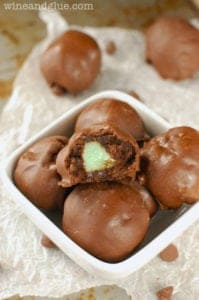 did you make this
Mint Creme Brownie Bombs
You might also like
Chocolate Covered Cherry Brownie Bombs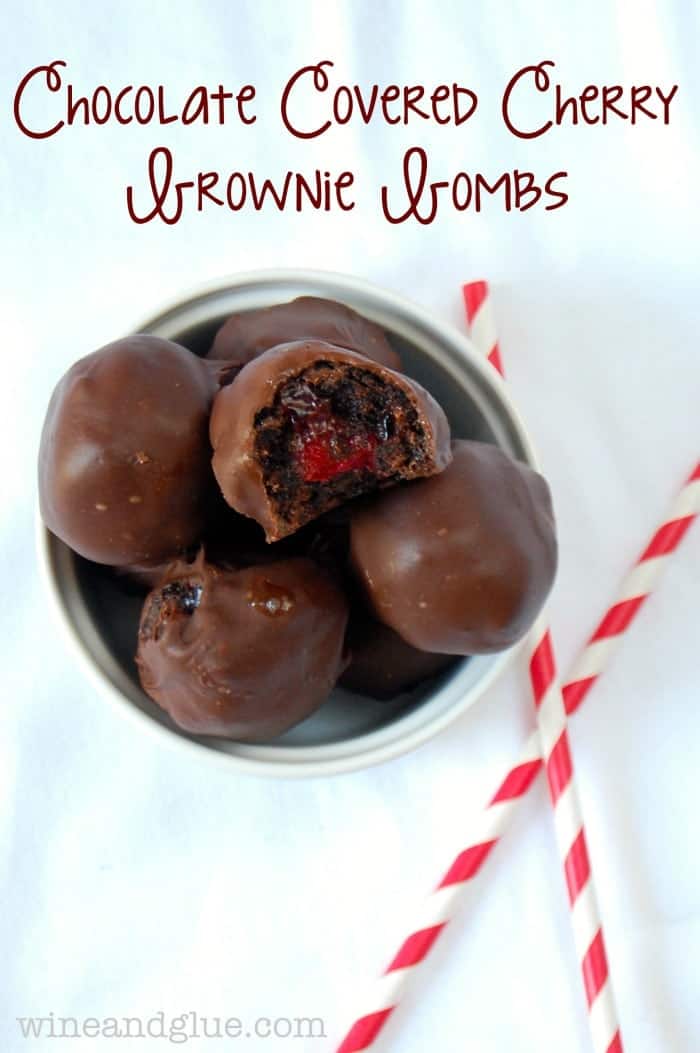 Mint Chocolate Sugar Cookie Pudding Cups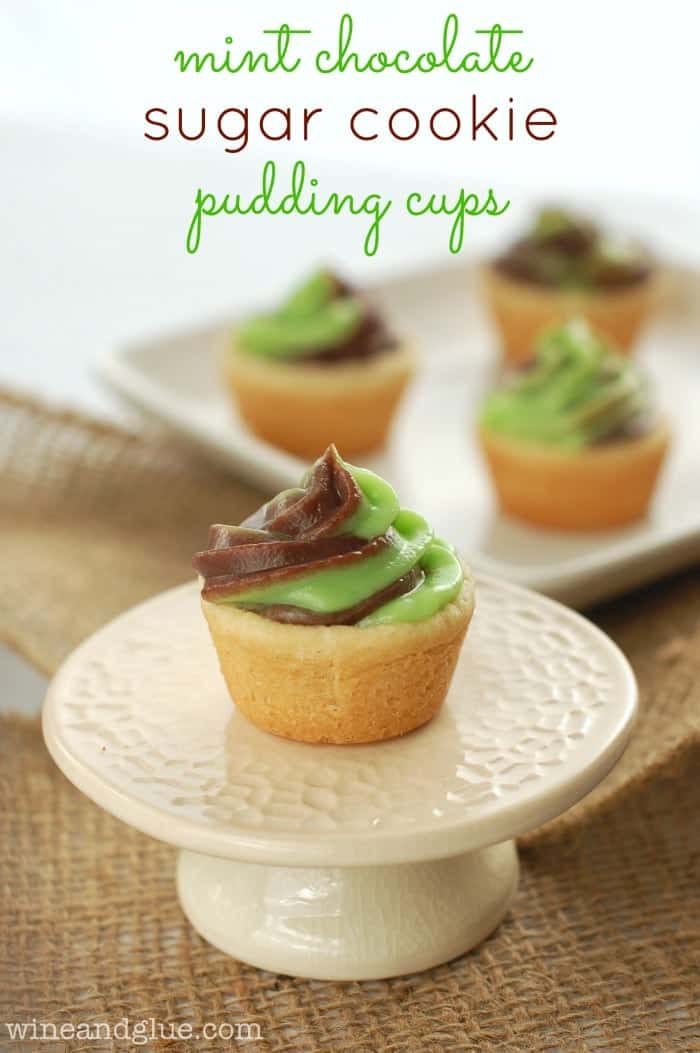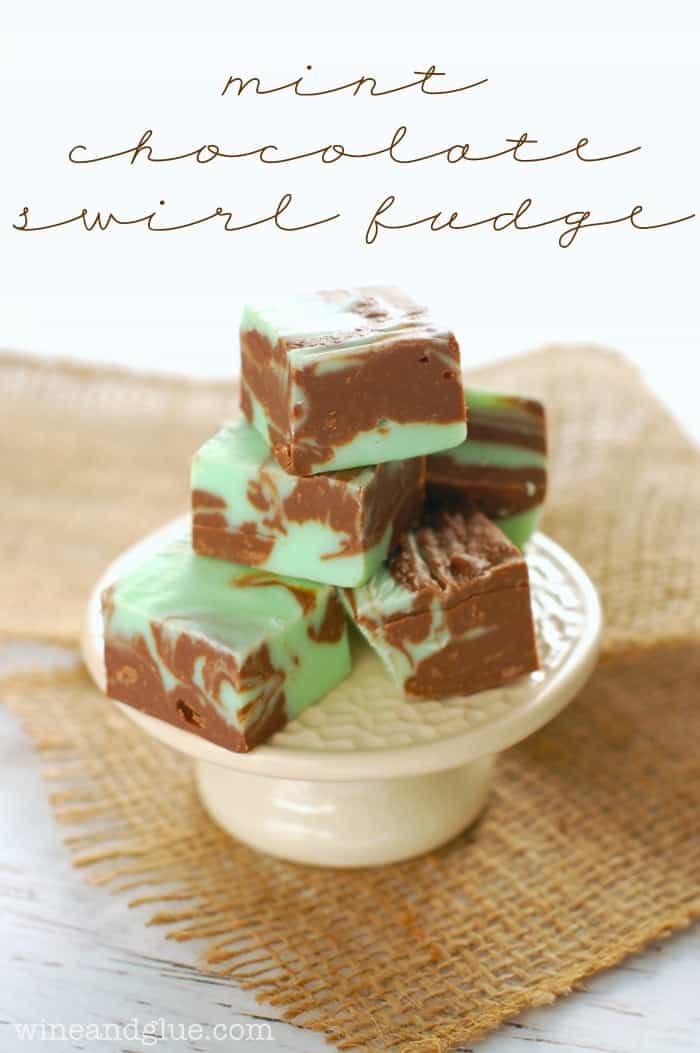 Copycat Shamrock Shake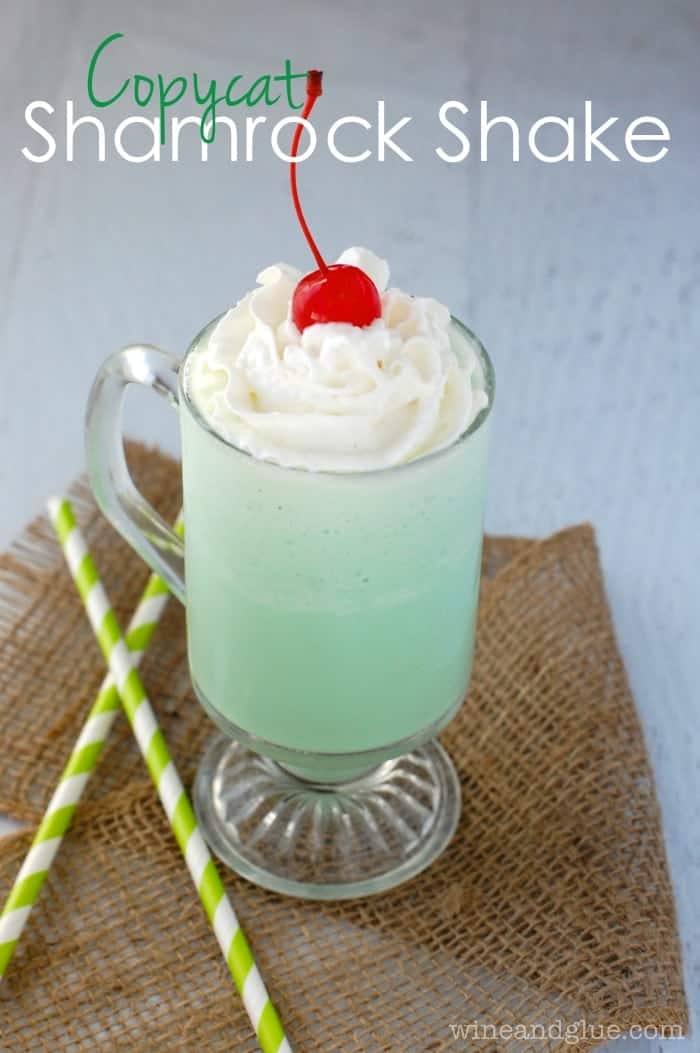 Mint Oreo Bark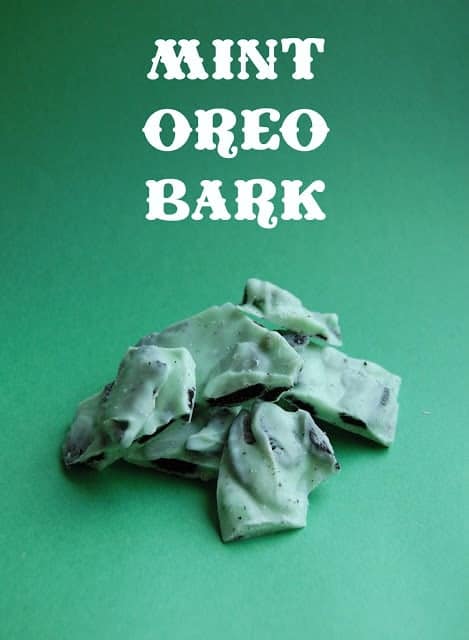 Mint Chocolate Truffles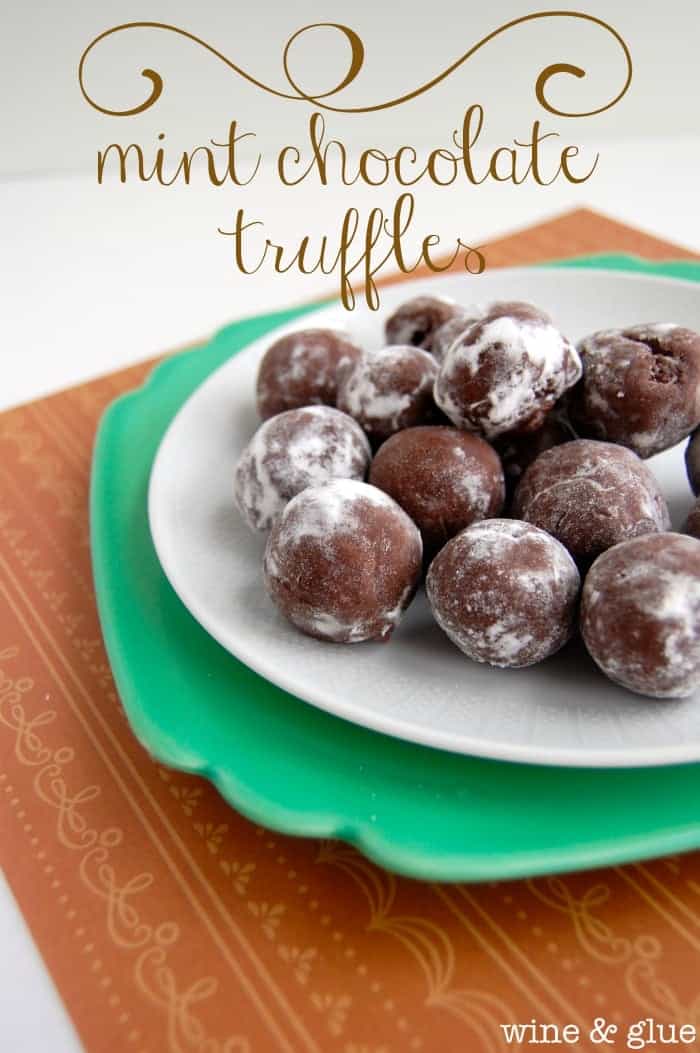 Mint Chocolate Brownies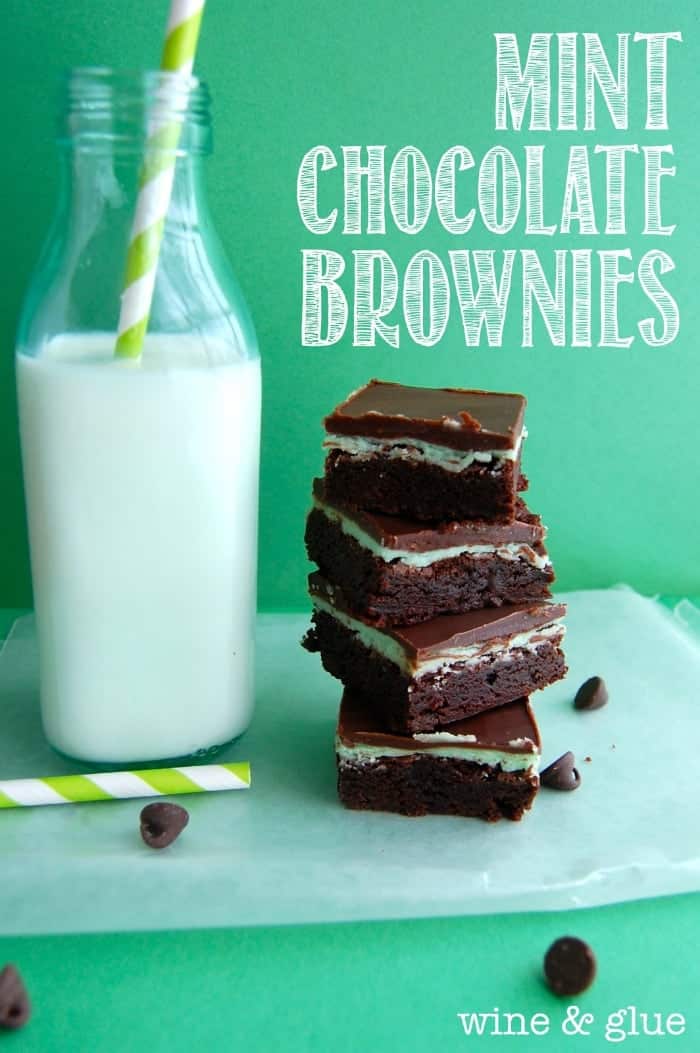 SaveSave