This Mint Oreo Bark is only FOUR INGREDIENTS and is always the first to go on dessert plates!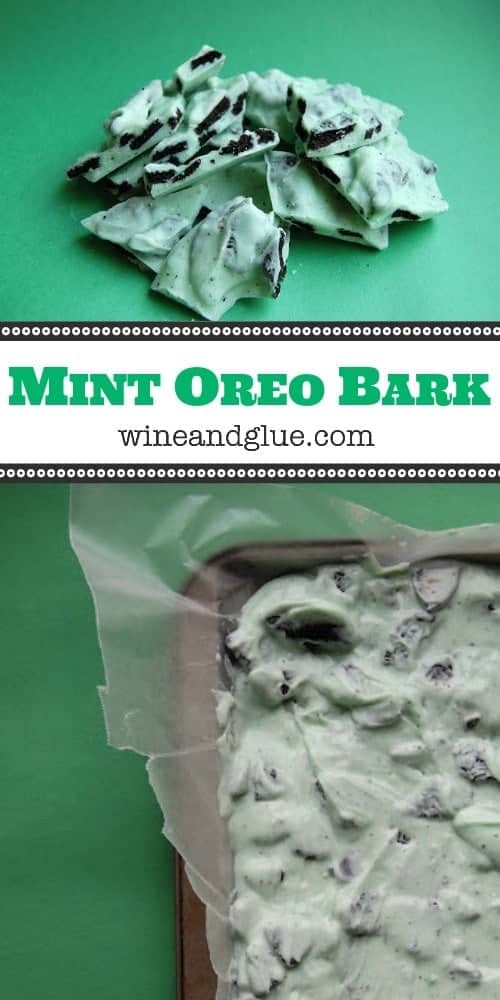 My brother and I (along with Nathan and my brother-in-law) are in a weight loss competition. The goal is to be the first one to lose 8% of your starting weight. My brother, John, looks pretty innocent and nice, doesn't he? All lovey dovey with my newborn baby Quinn.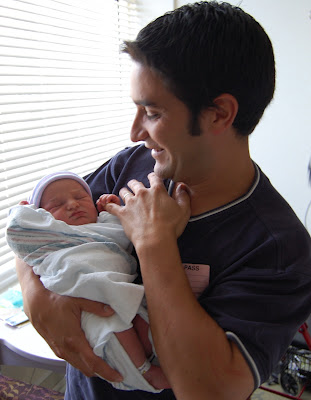 He's not. He's crushing me in this competition. In week 5 of this stupid competition, he's almost at 7%. Something had to be done. Extreme measures had to be taken. Mint Oreo Bark had to be made. It's deliciously addictive qualities were the perfect kryptonite for this competitive and dedicated weight loss machine.
And just to give you a sense of the stubbornness I'm dealing with here, I will share my favorite John story. I was in high school at the time, and so John must have been in his mid-20's. We were eating spaghetti at the dinner table, and I mentioned to him that he had some red sauce on his t-shirt. It was just a little spot, and I thought he might want to wipe it off before it set. After I said, "Hey, you have a little sauce on your shirt," without even looking down, my brother took a full forkful of sauce covered spaghetti and slammed it into his chest. Then looked down and said, "Yup." He still cracks me up.
Anyway, on to DESTROYING HIM!
I came up with this recipe a couple of years ago when I was trying to think of no bake recipes to make in a cookie exchange at Christmas. I made this bark with my husband's favorite shake at our favorite custard place in mind. Since that first time I made it, the bark has become a holiday favorite in my house. I always have to make two batches, one for Nathan and one to give away in the exchange. It is insanely simple (surely I am not the first to come up with this).
Start with half of a package of broken Oreos.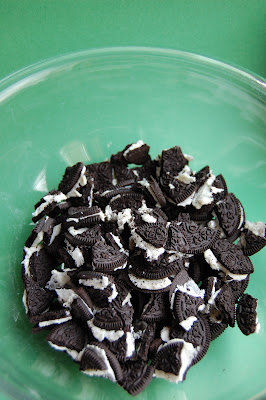 Then melt a large package of white chocolate. When I first started making this, I was a novice when it came to working with chocolate. Okay, I'm still a novice. But I was even more of a novice. My chocolate seized all the time. The main reason was because I was using a double boiler, and I would have the heat on the water too high, causing steam to come out of the pot and get water into my chocolate. Just the smallest bit of water can make your chocolate seize. I find that it's much easier to make the white morsels seize than the milk chocolate ones, but that's just me. If you should find your self in this seizey situation, the answer is Crisco. Throw some of that stuff in and it will help the chocolate smooth back out.
Now, because of the seizing factor, melt your chocolate in an absolutely bone dry bowl in the microwave. Don't use full heat, and go slow. Meaning, microwave on half power and only do 30 seconds to a minute at a time, stirring in between. You all are chocolate melting experts, aren't you? Okay, ignore this.
Once you've melted the chocolate, you work really quickly adding peppermint extract, green food coloring and your broken Oreos. This is where it gets tricky. The food coloring and the peppermint extract, because they have water bases, can make your chocolate seize. I choose to go for it anyway and just get it all done quickly and in to my pan. But you might want to use less peppermint and a food coloring gel (the ones I use, like most, are oil-based). Once combined, pour into a pan lined with wax paper (or two pans if you want thinner bark).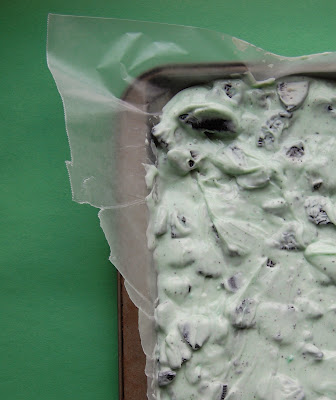 Put it in the freezer for about two hours. Then take it out and break it apart, resisting the urge to eat yummy piece after yummy piece. After all, if you do that, your entire plan will back fire and you will be the one to lose rather than your older brother that you have never beat at anything!!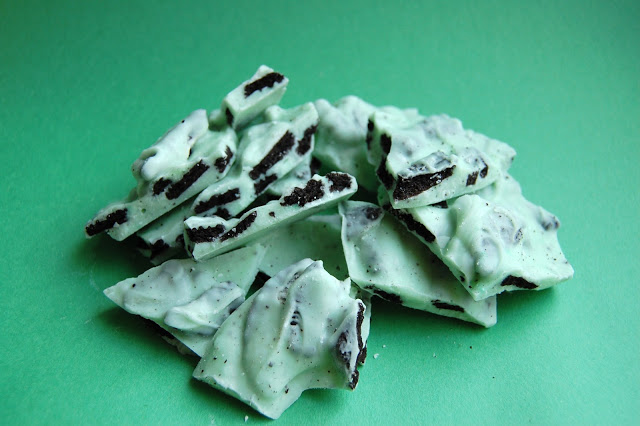 The winner of our competition gets $25 dollars from all the losers. (I'm pretty sure that I spent more than that on ingredients and shipping the damn bark to my brother. Bark is yummy, but heavy.)  More importantly, the winner gets bragging rights. I. MUST. CRUSH. HIM!!
I got a text right after my brother got the package saying that he was planning on taking the bark to his co-workers and claiming that he made it for them. Jerk. And word on the street is that there is a care package coming my way. Hmmm . . . I must find an even better kryptonite.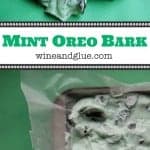 Print Recipe
Mint Oreo Bark
Ingredients
1/2

of a 15.5 oz package of regular Oreos

about 20 cookies

24

oz

bag of white morsels

1/4 to 1/2

tsp

of peppermint extract

depending on how pepperminty you like it

green food coloring
Instructions
Break the Oreos into a bowl.

Melt the chocolate according to the directions on the bag.

Quickly add the peppermint and food coloring. Then stir in the Oreos.

Pour the mixture into a wax paper lined pan. Put it into the freezer for two hours.

Break it up and enjoy!
SaveSave