Mint Oreo Bark is my husband's absolute favorite holiday treat. It is only four ingredients and is always the first to go on dessert plates!
This will quickly become a family favorite in your house too!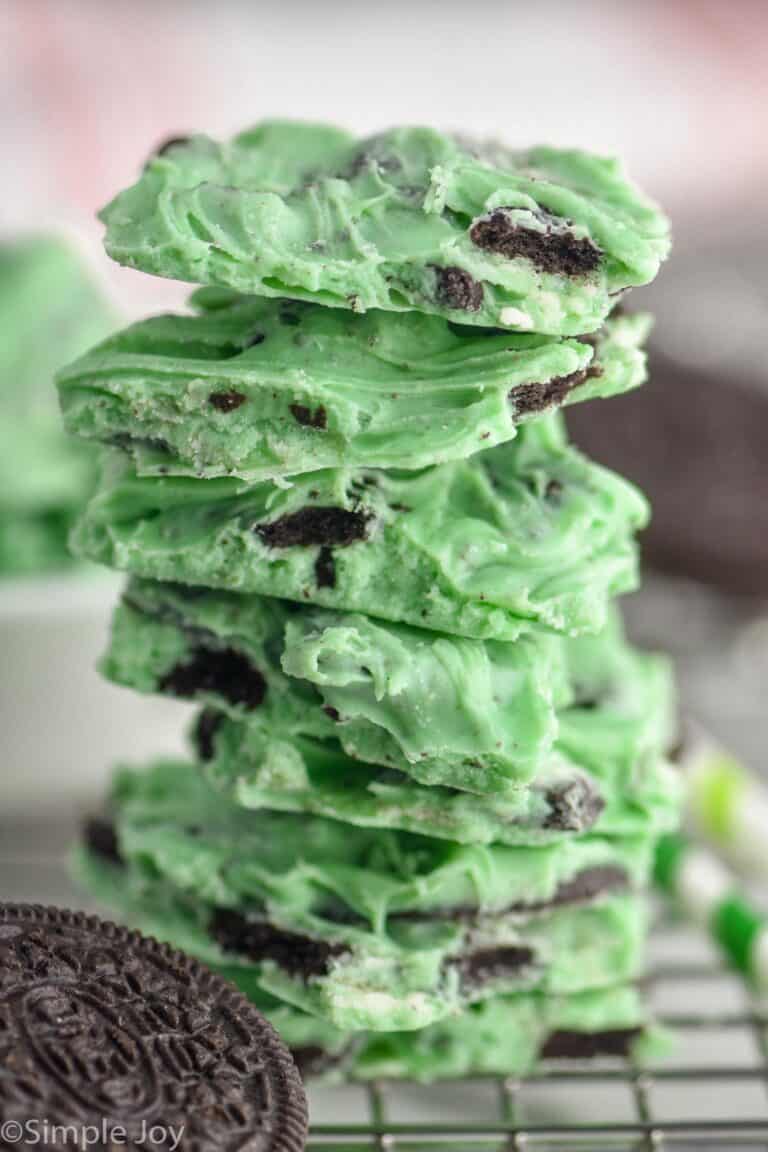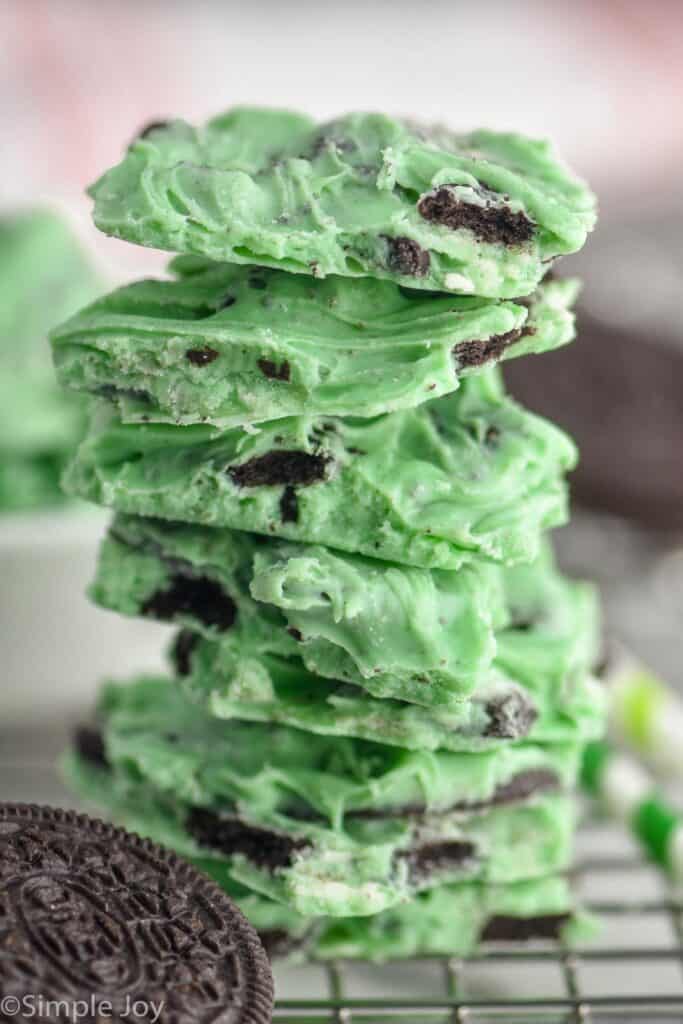 This Mint Oreo Chocolate Bark is always on our list of treats to make around the holiday season. This is a recipe that I dreamt up in the early days of blogging. It was meant to be reminiscent of a shake that Nathan loved from his favorite ice cream place.
I must have hit the nail on the heat, because it is favorite treat of all time. He requests that I make a double batch so that we have plenty to keep even after making treat boxes for friends and neighbors.
He's not wrong, this easy bark recipe is delicious and addictive.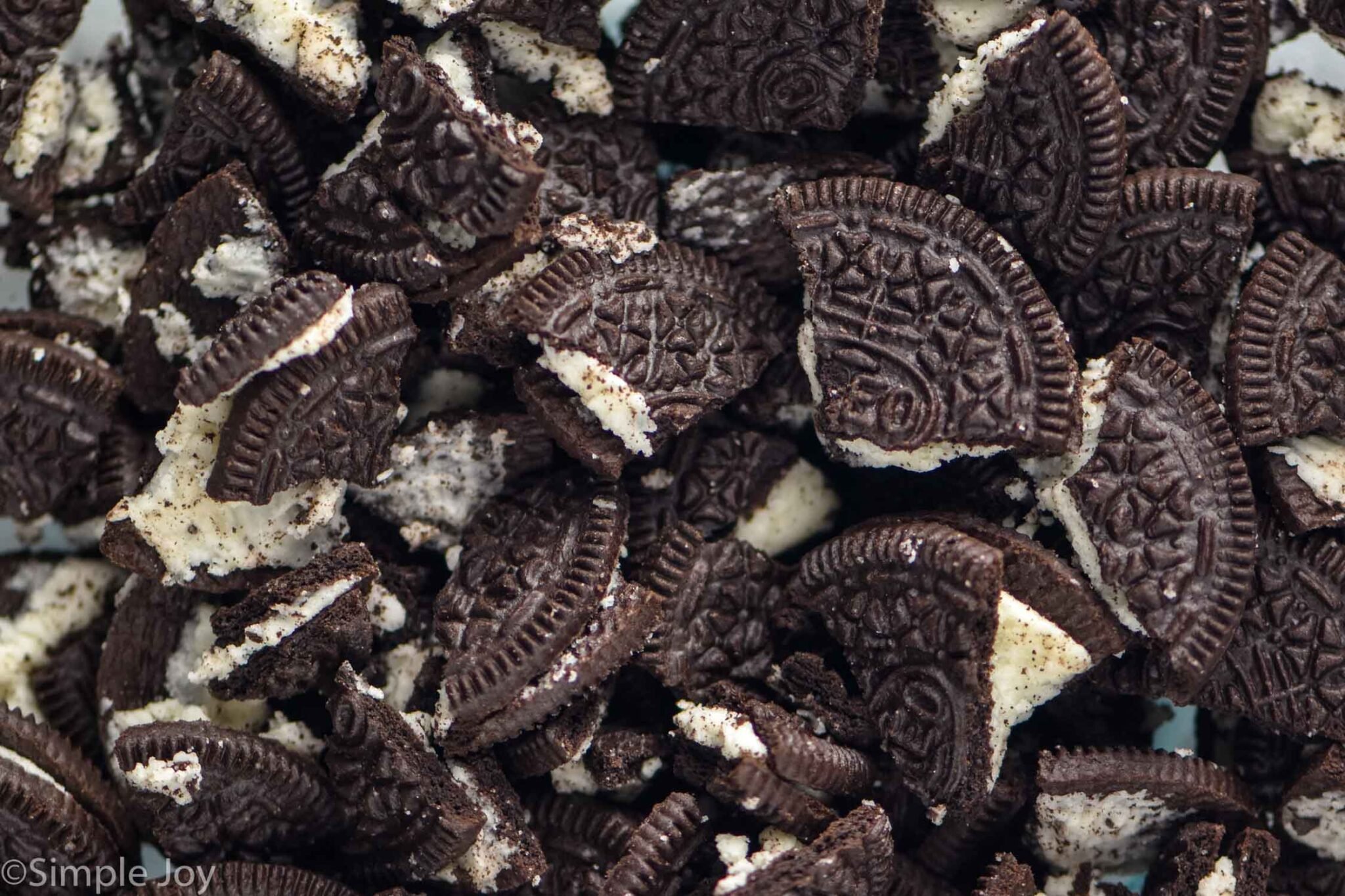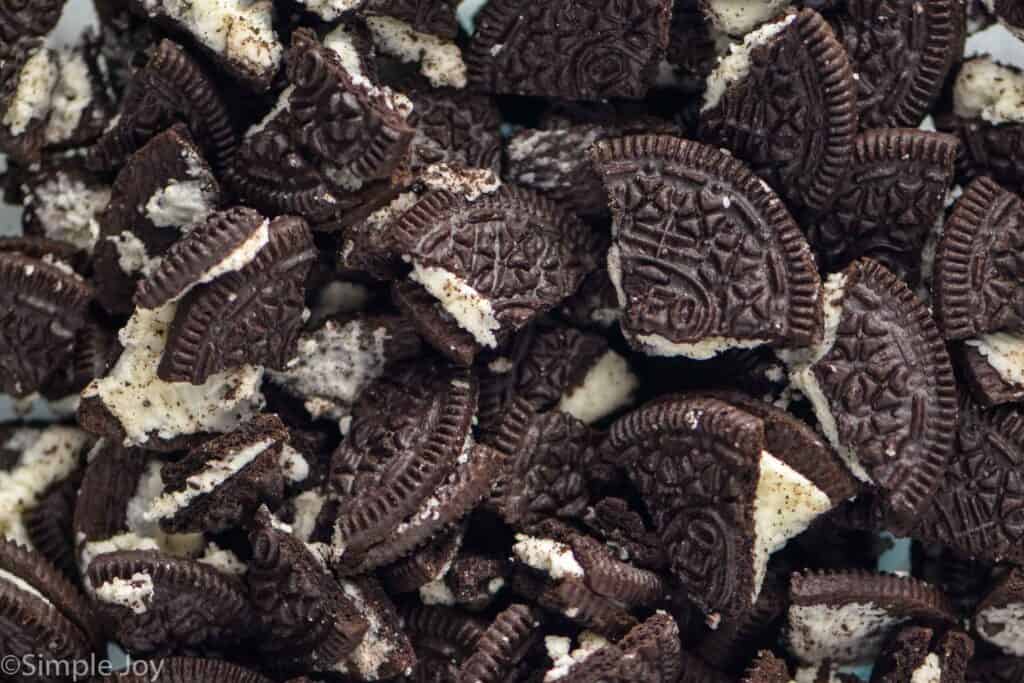 How to make Mint Oreo Chocolate Bark
As mentioned above, there are only four ingredients to this easy treat. Check out the full measurements and directions in the recipe card below.
Prepare the Oreos: Break them up into small chunks. This is easy to just do with your hands, no need to break out the food processor.
Melt the white chocolate: More on this below with tips and tricks.
Add in color and flavor: We Are going to ad din some green food coloring and mint extract.
Spread it and let it set up: This bark doesn't take long to set up, so minimal patience is required.
Break it up and enjoy!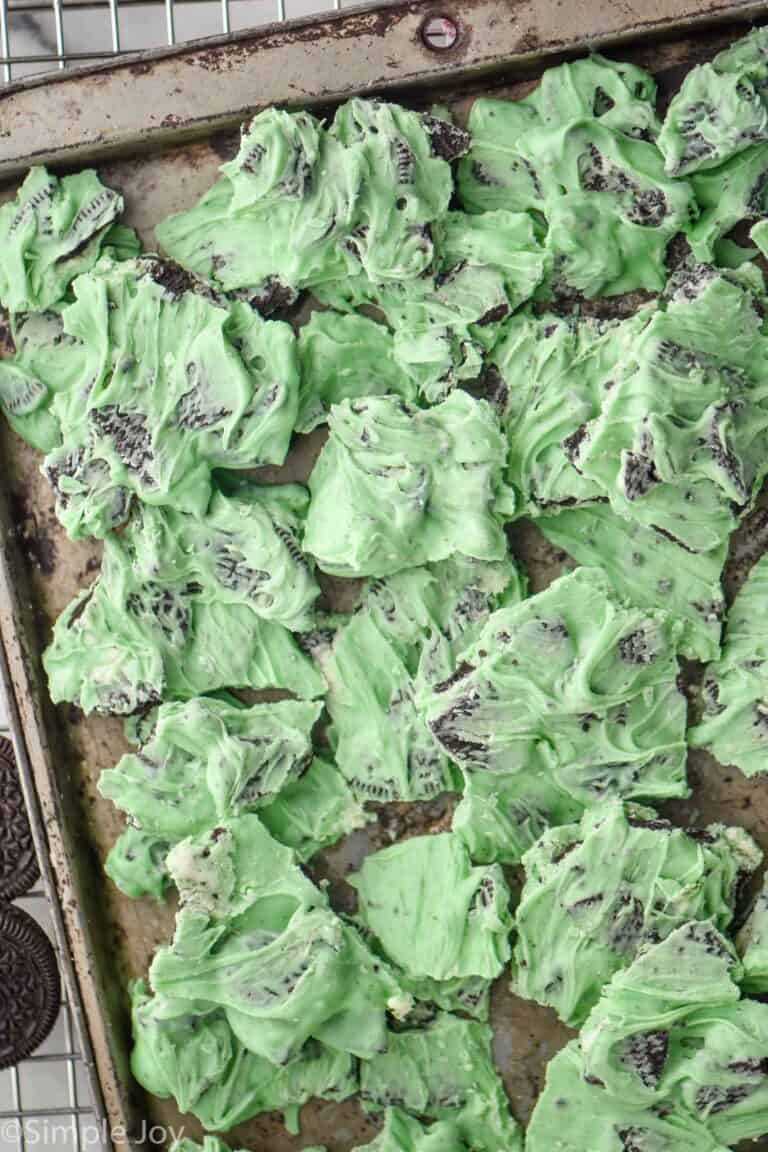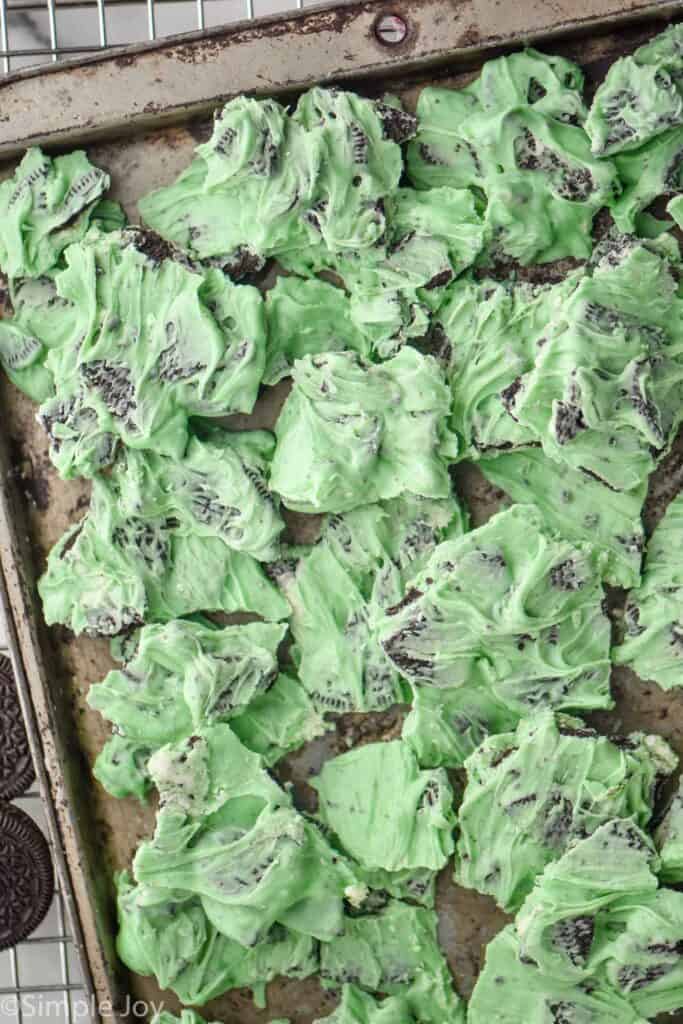 Melting White Chocolate
The only tricky part of this recipe might be the melting of the white chcolate chips. Occasionally, if white chocolate is overheated or gets water in it, it can seize up. In other words it goes from being smooth and luscious to being rough and hard to work with.
Here are some tips and tricks to keep your white chocolate happy.
Follow the directions on the package. This will be your best bet at making this turn out well.
Stir like you've never stirred before. If there are still lumps in your chocolate, resist putting it back in the microwave before stirring REALLY hard. It likely just needs a little more stirring and not more melting.
Melt in the microwave instead of on the stove top. If you use a double boiler there is much higher risk of moisture getting into the chocolate and making it seize.
What to do if your chocolate does seize?
If you do everything right above and your chocolate still seizes it, you can fix that really easily. Just add a little vegetable shortening, stirring it in really well. It should help fix the situation.
Mint vs. Peppermint Extract
This recipe is technically called Mint Oreo Bark. So, we should probably use mint extract. I will tell you that I have made this recipe with both and both are delicious.
That being said, I know there are some people that really prefer one over the other. So you may want to check with who you are making it for.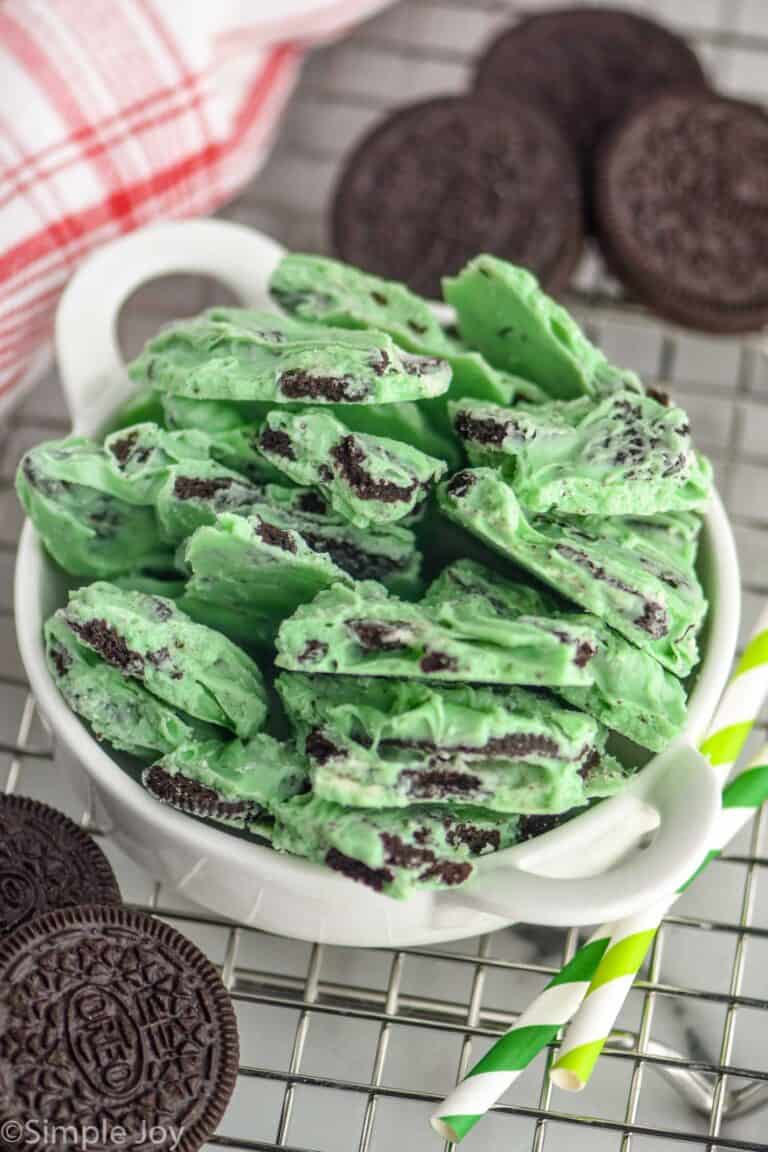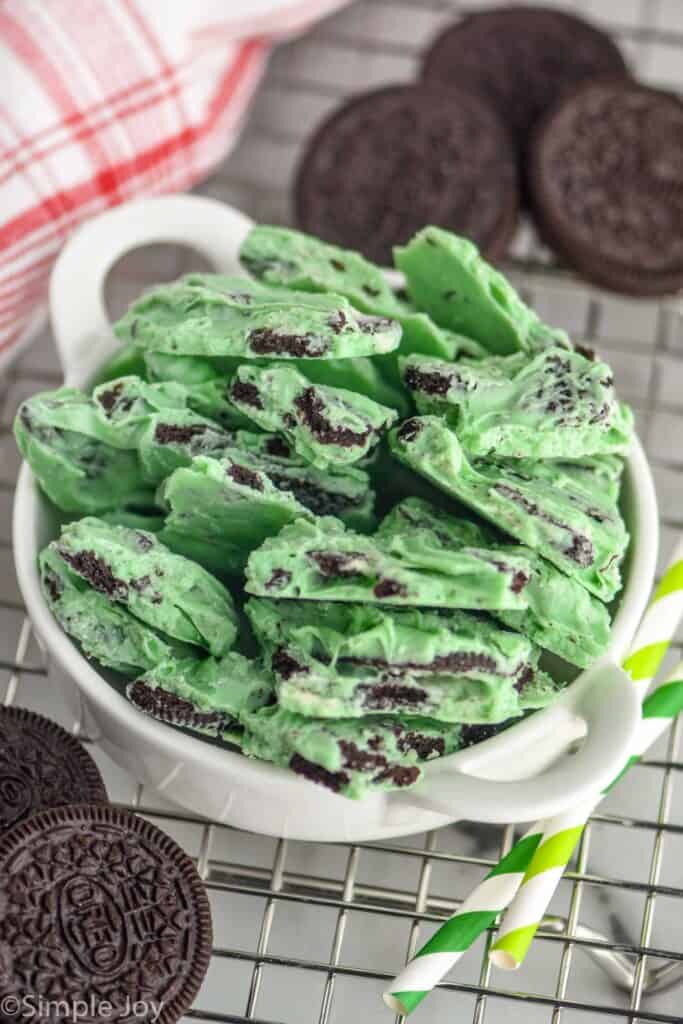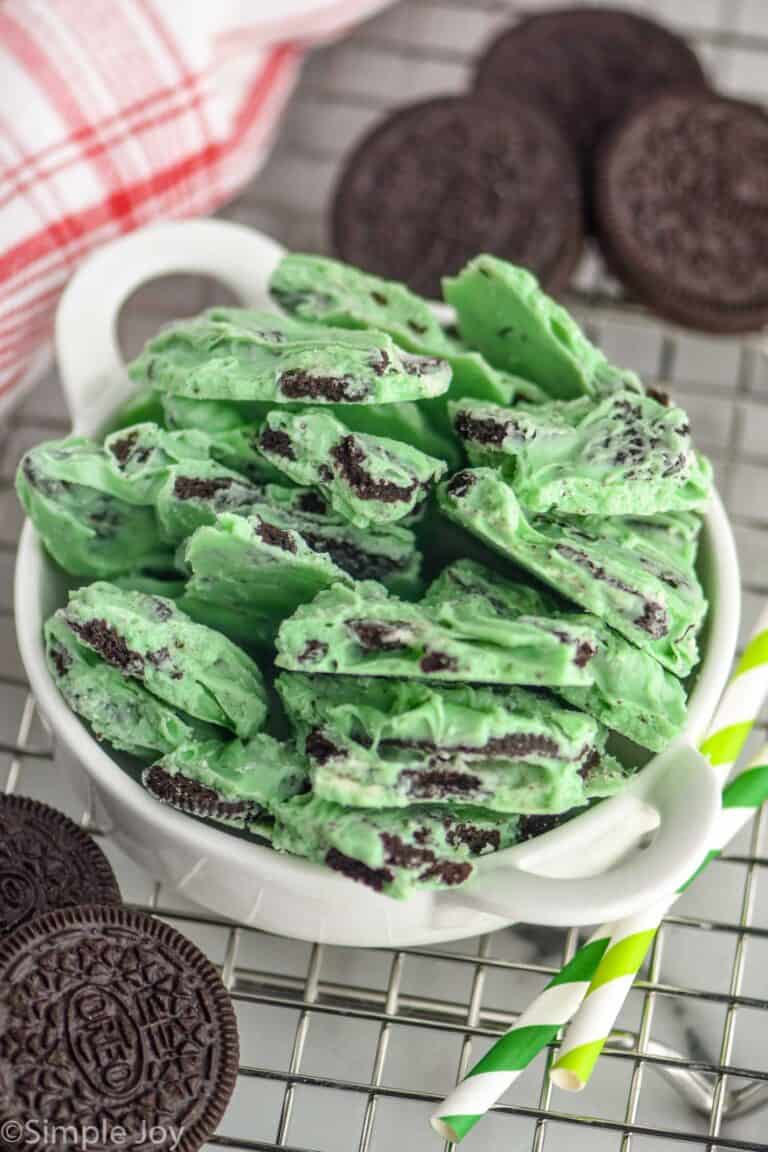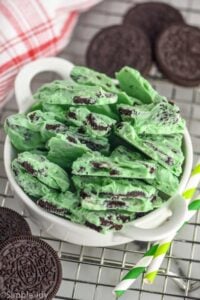 Mint Oreo Bark
Mint Oreo Bark is my husband's absolute favorite holiday treat. It is only four ingredients and is always the first to go on dessert plates!
Ingredients
1/2

of a 15.5 oz package of regular Oreos

about 20 cookies

24

oz

bag of white morsels

1/4 to 1/2

tsp

of mint extract

depending on how minty you like it

green food coloring
Instructions
Break the Oreos into a bowl.

Melt the morsels according to the directions on the bag.

Quickly add the mint and food coloring. Then stir in the Oreos.

Pour the mixture into a wax paper lined pan. Put it into the freezer for two hours.

Break it up and enjoy!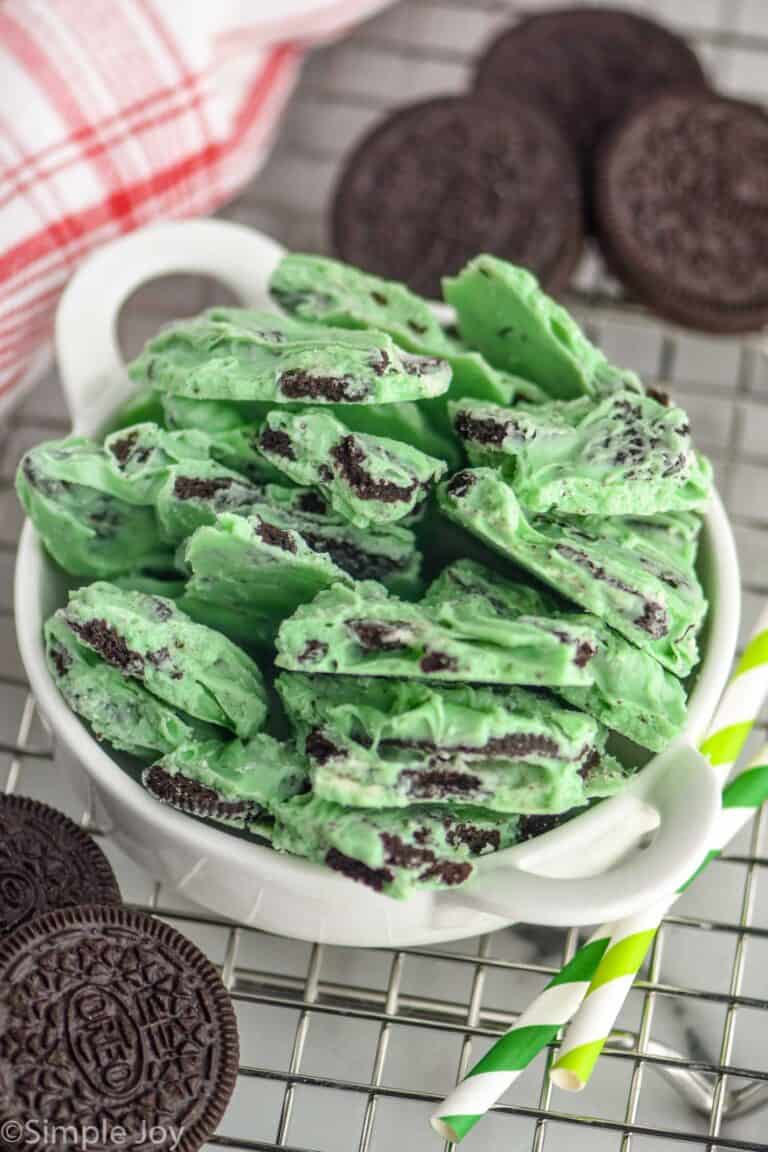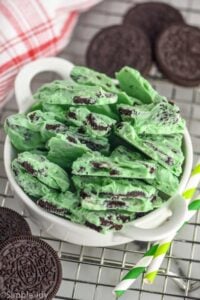 did you make this
Mint Oreo Bark