Mint Chocolate Fudge is a delicious and easy treat to make. Good luck eating only one piece! This quick spin on my Easy Fudge Recipe is bound to become a family favorite.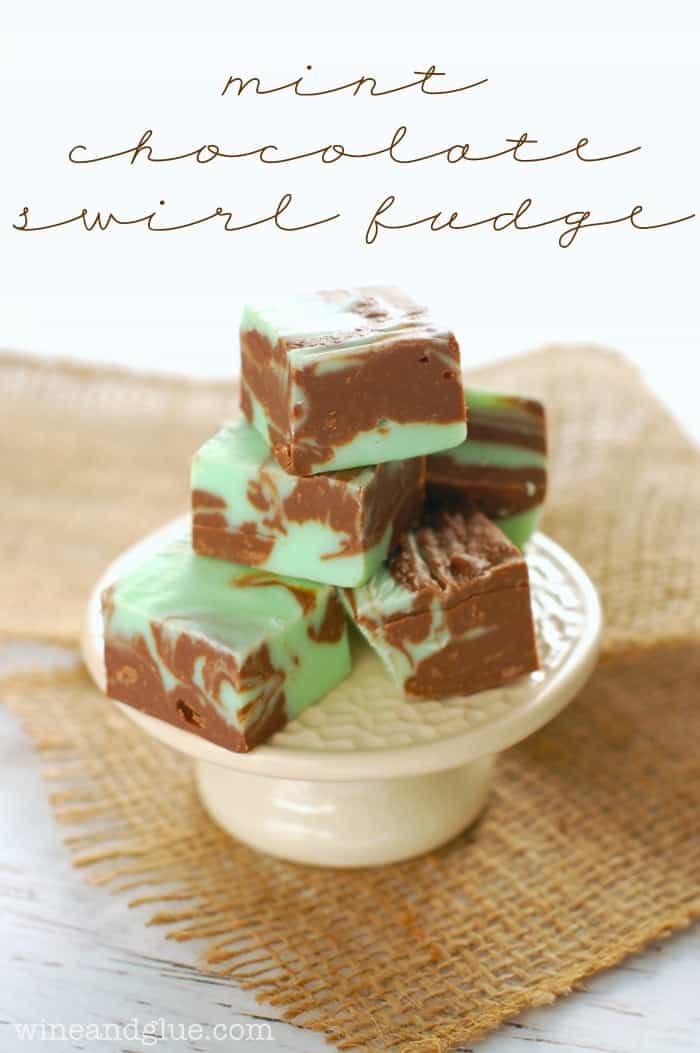 One of my favorite desserts to make is this super easy fudge. It's almost impossible to screw up and there are so many different things that you can do with it. It's like a blank canvas.
I've made it so many different ways now (you can check out my fudge recipes here) that I tend to think that I won't have another one in me. But then I will be laying in bed at night and more fudge will creep in.
Reader Review
These were amazing! It reminds me of my moms mint brownies she always made for Christmas! I have made this twice in one week already! Thank you for sharing this recipe.
How to Make Mint Chocolate Fudge
Prepare the pan. Line an 8 by 8 inch pan with aluminum foil. You can also cut two pieces of parchment paper and lay them across each other in the pan making an X. This helps lift the fudge out of the pan. You can see an example of this in my Carrot Cake Fudge video.
Melt the chocolate chips. You are going to be working with both chocolate and white chocolate chips. Melt them (separately) in the microwave, according to the instructions on the package. (See my tips for melting chocolate below.)
Add in the mint extract and the green food coloring. Working quickly, you want to stir in the mint extract to the chocolate chips and the green food coloring to the white chocolate.
Combine the chocolate. To get the beautiful swirls you see here, add a few spoonfuls of each at a time to the prepared pan. Once you've added all the chocolate, give the pan a little shake to make the whole mixture is even.
Make the swirls. Very gently, run a butter knife through the chocolate to make a swirl pattern.
Let set overnight. Cover the pan with foil and let the fudge set up on the counter or in the refrigerator overnight. Then remove from the pan and cut.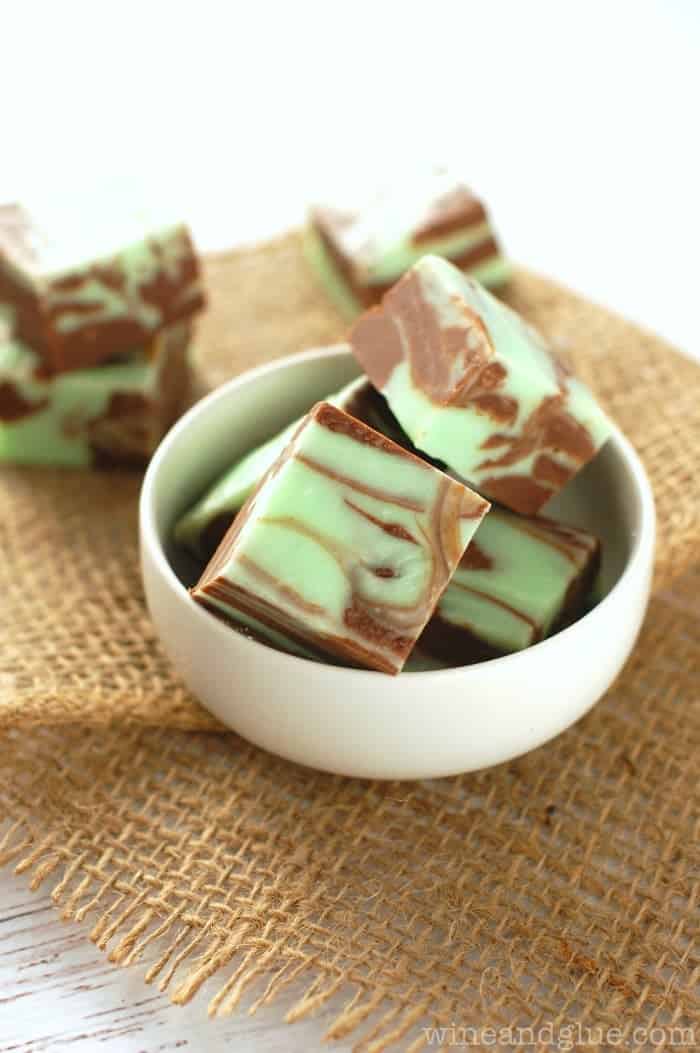 Melting Chocolate
Melting Chocolate Chips
It is important when you are melting chocolate that you don't overheat it. The bags of chips you buy at the store typically have instructions on them for melting, but if they don't, you can melt these in the microwave.
Start by melting for 1 minute at half power. Stir very well and then put it back in the microwave for 30 seconds at full power. When you take it out stir again very well. If there are still lumps, put it back in for another 30 seconds.
It is very important to stir well between intervals. This stirring will do more for melting the chocolate than having it in the microwave and will keep you from overheating over scorching the chocolate.
Melting White Chocolate
White chocolate isn't actually a thing, as there is no such thing as a white cocoa bean. The white chip morsels that you buy are much more fragile to work with than actual chocolate. When you add liquid to them it is very easy for them to seize up. When that happens it becomes an unlovable ball of goo.
As with the chocolate above, melt for 1 minute at half power. Then do a lot of stirring and let the melting that already happened in the microwave and your stirring power do the work. Put the chocolate back in the microwave if you need to, but focus on getting it as smooth as possible out of the microwave.
Then work really quickly adding the green food coloring and combining it in the pan with the other chocolate. See below for what to do if your chocolate does seize.
When White Chocolate Siezes
If your white chocolate does seize up, add a little bit of vegetable shortening or Crisco to it. A little will go a long way, so add only a teaspoon at a time until it becomes smooth again.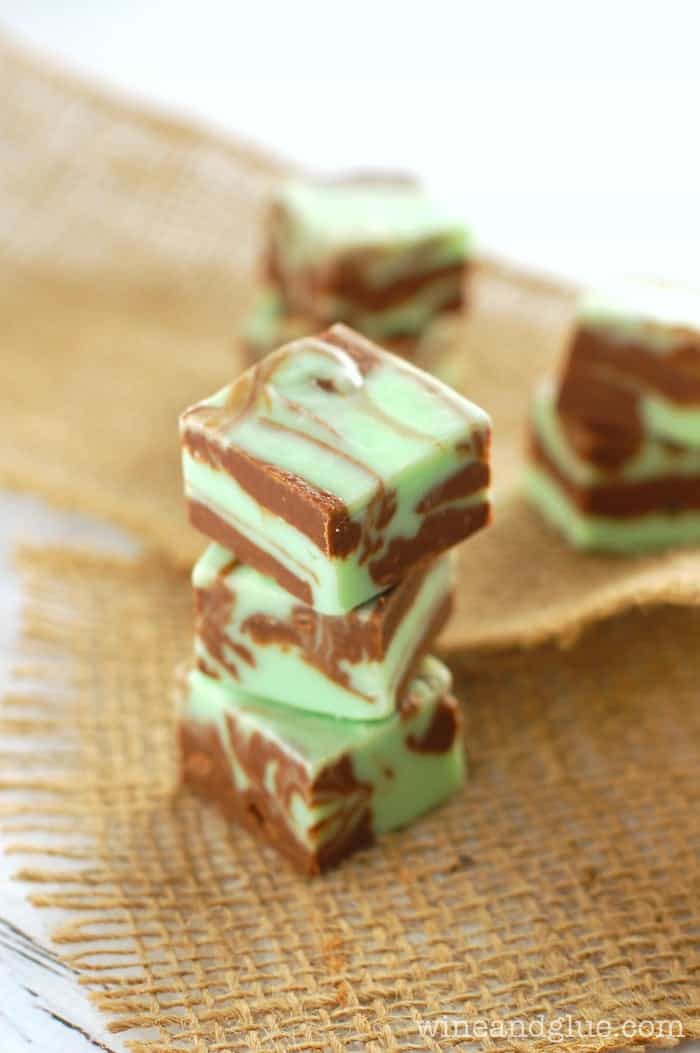 Other Great Fudge Recipes
If you can't get enough fo fudge, try some of my other favorites.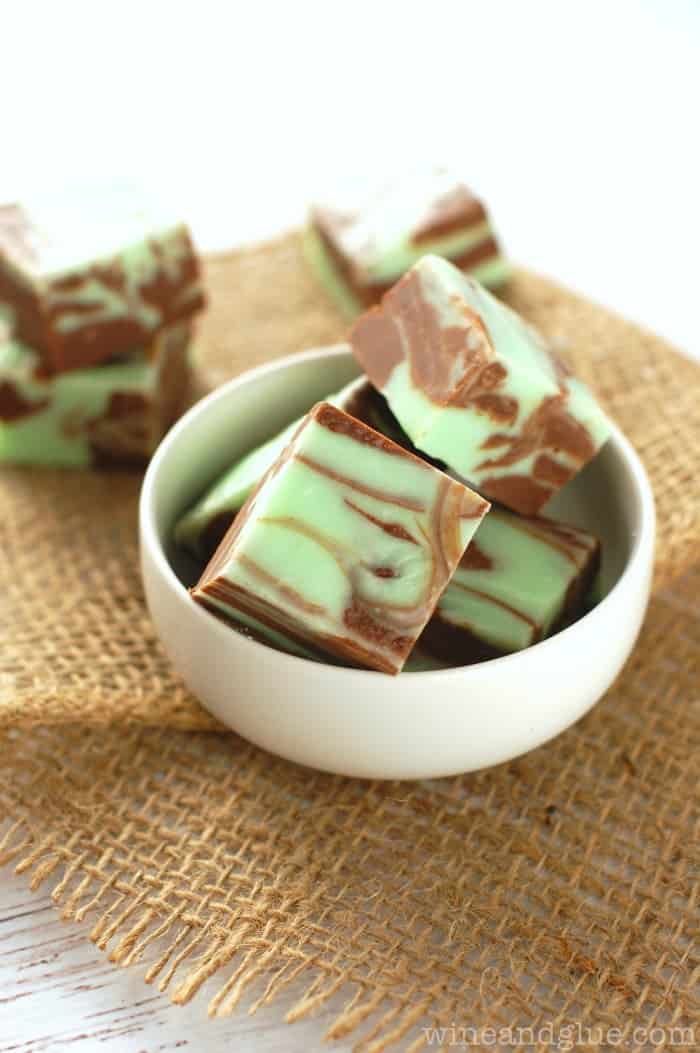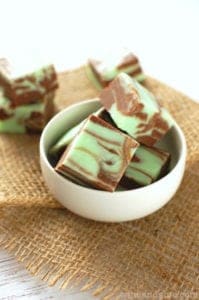 Mint Chocolate Fudge
Total:
8
hours
10
minutes
Mint Chocolate Fudge is a delicious and easy treat to make. Good luck eating only one piece!
Ingredients
1 1/2

cups

milk chocolate chips

1 1/2

cups

white chocolate chips

14

ounces

sweetened condensed milk

be sure not to buy evaporated milk

1

teaspoon

mint extract

green food coloring
Instructions
Line an 8×8 pan with foil so that it is sticking out over the edges.

Seperately, and following the instructions on the bag, melt the chocolate in the microwave. A lot of the melting will occur from stirring the chocolate, stir very well after every 30 second interval, and be careful not to over heat the chocolate. It will likely be melted after less than a minute.

Add half of the sweetened condensed milk to one bowl of melted chocolate and half to the other.

Add the mint extract to the chocolate bowl, and add the green food coloring to the white chips. Stir until fully combined.

Randomly add the fudge mixture from each bowl to the prepared pan. Shake the 8×8 pan a little to make it even. Very gently run a butter knife a few times through to give it a swirled effect.

Refrigerate overnight. Pull the foil (with the fudge) out of the pan and away from the fudge. Cut off the rough edges (just a very small amount to make a clean edge). Then cut the block of fudge into four large pieces. Cut each fourth into 9 pieces for a total of 36 pieces of fudge. Serve or store in an airtight container.
Calories:
101
kcal
(5%)
Carbohydrates:
14
g
(5%)
Protein:
1
g
(2%)
Fat:
5
g
(8%)
Saturated Fat:
3
g
(19%)
Polyunsaturated Fat:
0.1
g
Monounsaturated Fat:
1
g
Cholesterol:
7
mg
(2%)
Sodium:
23
mg
(1%)
Potassium:
63
mg
(2%)
Fiber:
0.02
g
Sugar:
13
g
(14%)
Vitamin A:
32
IU
(1%)
Vitamin C:
0.3
mg
Calcium:
46
mg
(5%)
Iron:
0.04
mg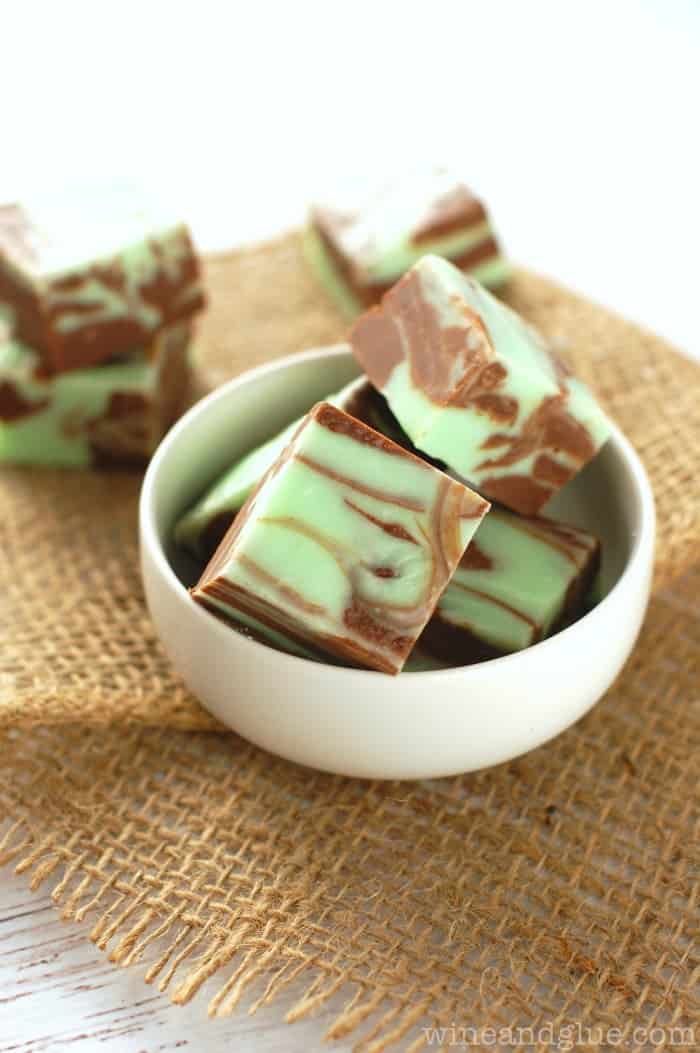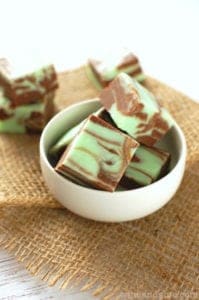 did you make this
Mint Chocolate Fudge
you might also like . . .