Mint Chocolate Truffles are such an easy treat. Cure your chocolate cravings with this four ingredient chocolate truffle.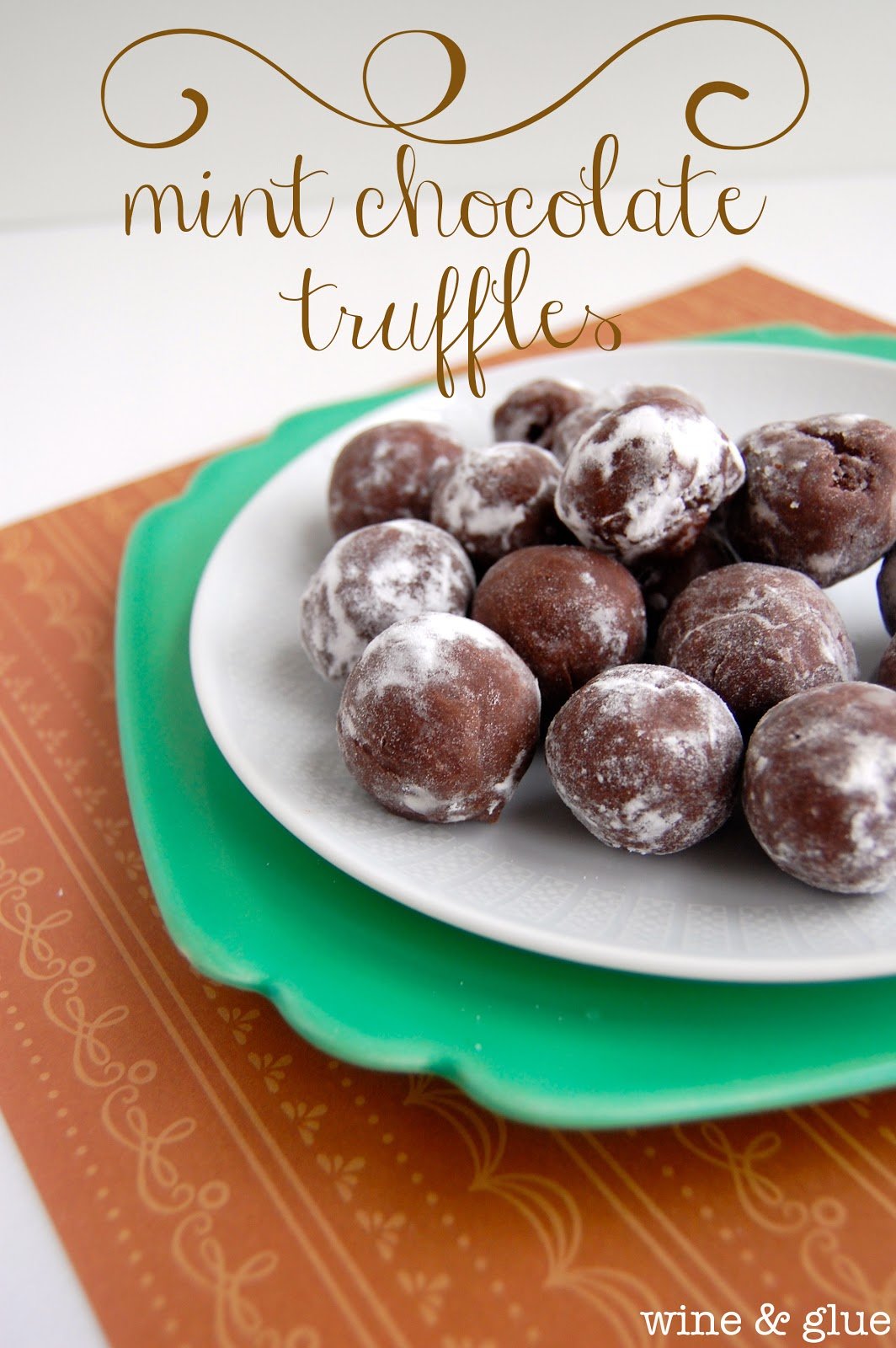 My husband is, for all practical purposes, an extreeeeeemly patient man. I mean, he is married to me after all.
He has a couple . . . let's call them triggers, that call his patience into question.
To name a few:

Rush hour traffic.
Onions.
Teenage girls who talk loudly in public.
People who say a lot of things, but actually say nothing at all.
And . . . Quinn.
Yes, our sweet adorable little one year old daughter, who really does have her father wrapped around her tiny little goo covered fingers is able to push Nathan's buttons to no end.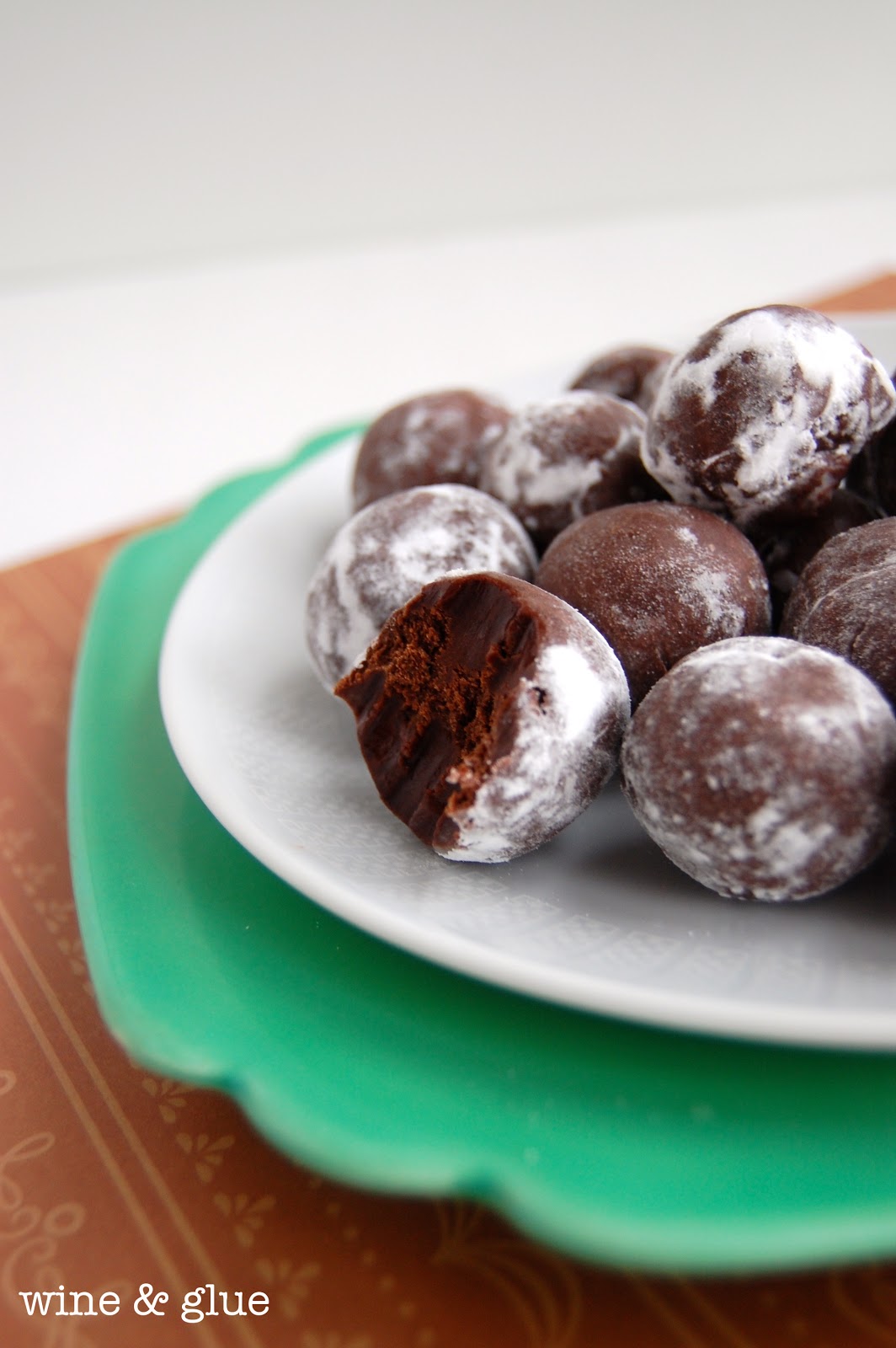 Just this past Sunday as Nathan was sweeping the floors, he started to have the following conversation with Quinn (can you really call something a conversation when only one person has verbal skills?):
"Quinn, when you are grown up, I'm going to come to your house and just throw food all over the floor. For example, if you serve me something I don't like, I'm just going to toss it on the floor." (Nathan's not actually insane, it's just that Quinn happens to toss 95% of the food we give her on the floor.)
I quickly chimed in and told Quinn that if she, as an adult, happens to tell us that she's not spending Christmas with us, but is actually spending it with her husband's family, I'll respond by throwing my wine glass across the living room. You know, because when we tell her that she can't have cookies for dinner we get sippy cups flying at our heads.
And then we started talking about how we would walk around her house with plates of food, holding on to them with one hand as crackers and chips carelessly spill all over her living room floor. Then we'll walk over the mess. Repeatedly.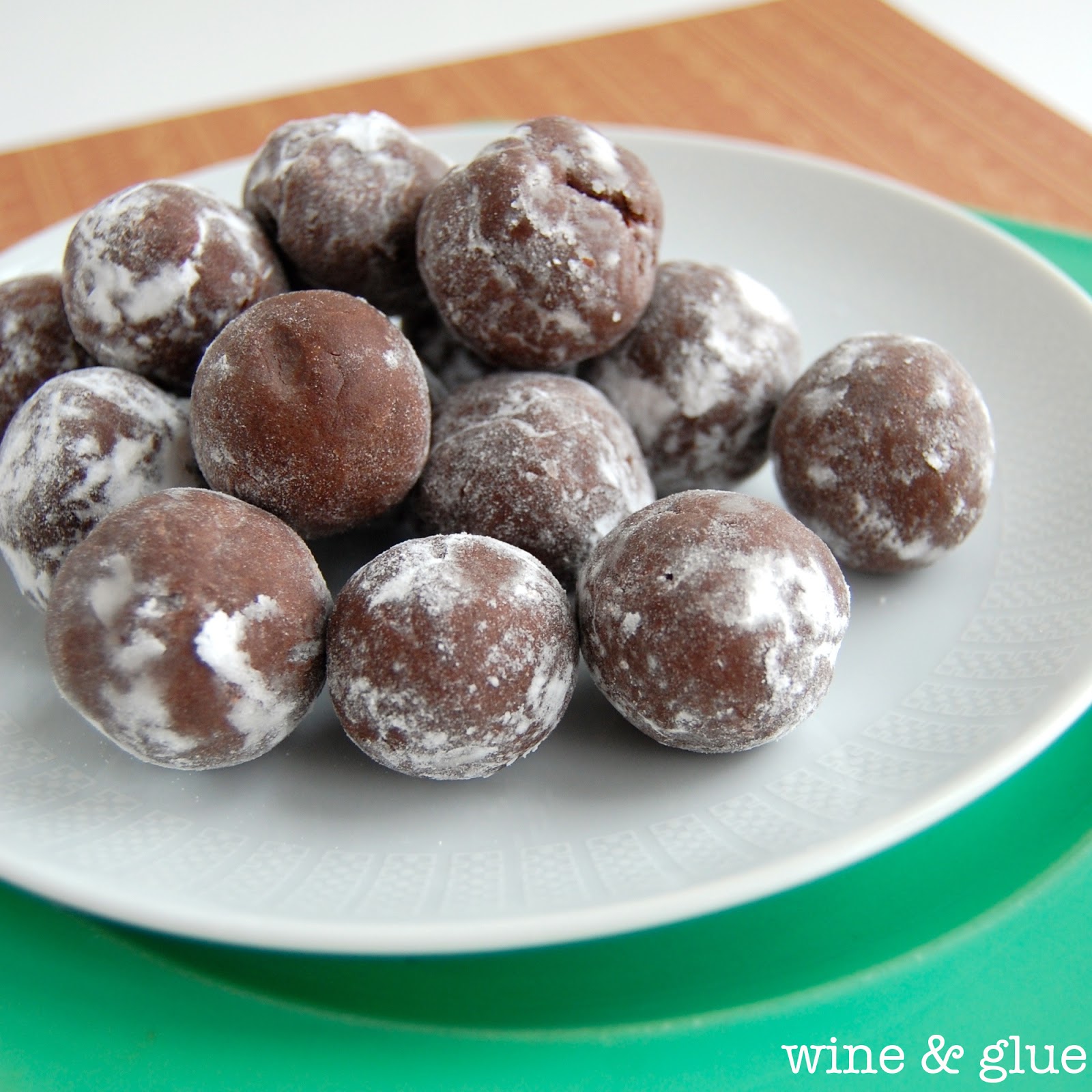 And each and every question she asked us over the lovely dinner she prepared for her elderly parents would be answered with a stern and swift, "No."
Nathan and I went on and on like this for a while, cracking up over our own hilarity while Gavin just eyed us suspiciously, and Quinny rolled with the laughter, not realizing that she was the butt of each and every joke.
Then we said that when we went to visit Gavin, we would make a point of asking him questions, not listen to the answer, and then say "What??" about twenty times in a row.
It was at this point that our five year old looked at us and said, "Okay. That's enough, you two."
And that's when we realized that we weren't really ready to turn the tables.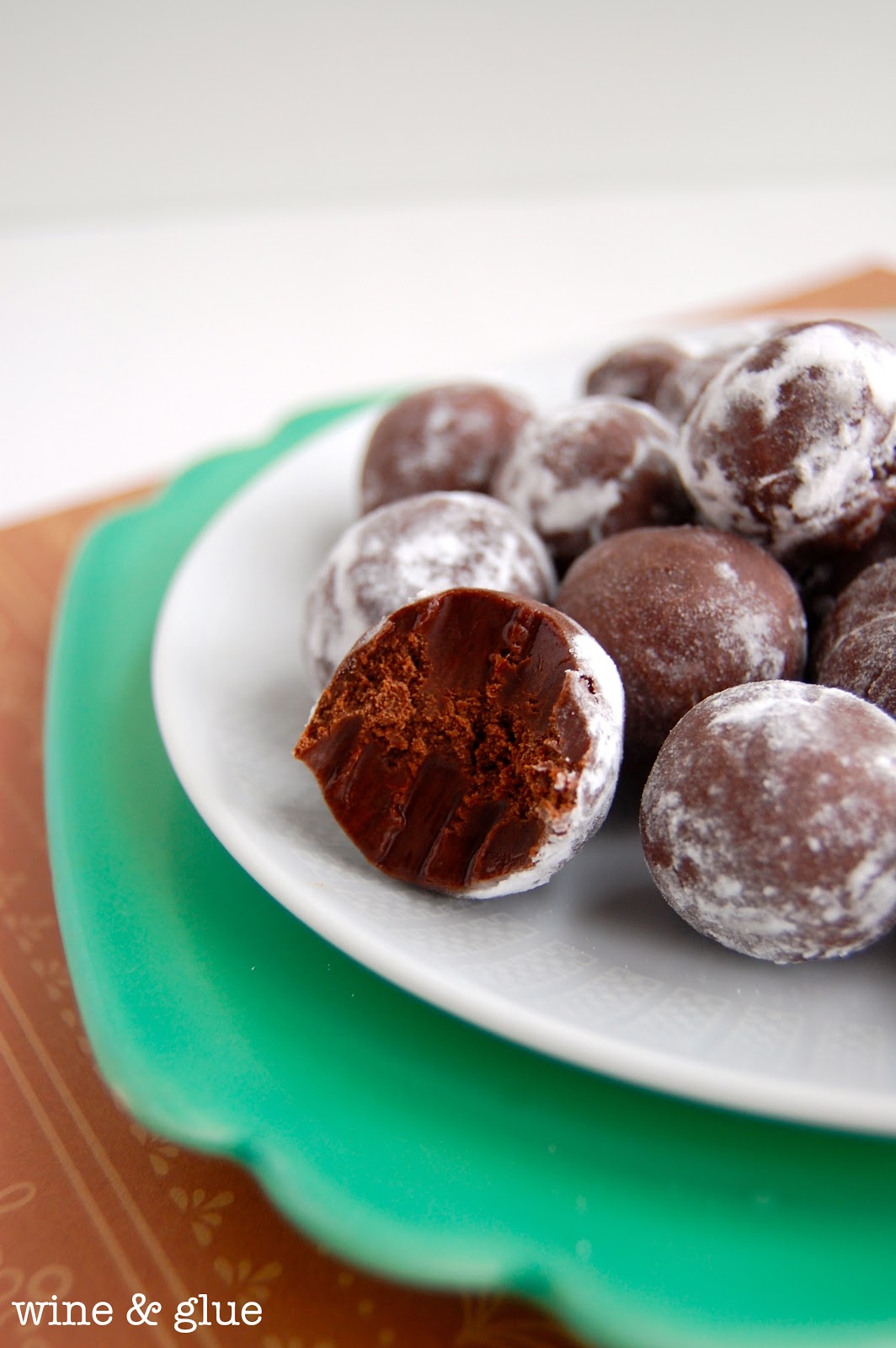 Are you being tortured by a one year old with a chip on her shoulder? Then you are going to want this recipe. Keep in mind that it pairs best with any alcohol, a cartoon on the TV, and the blissful silence that comes when you use Dinosaur Train as a babysitter.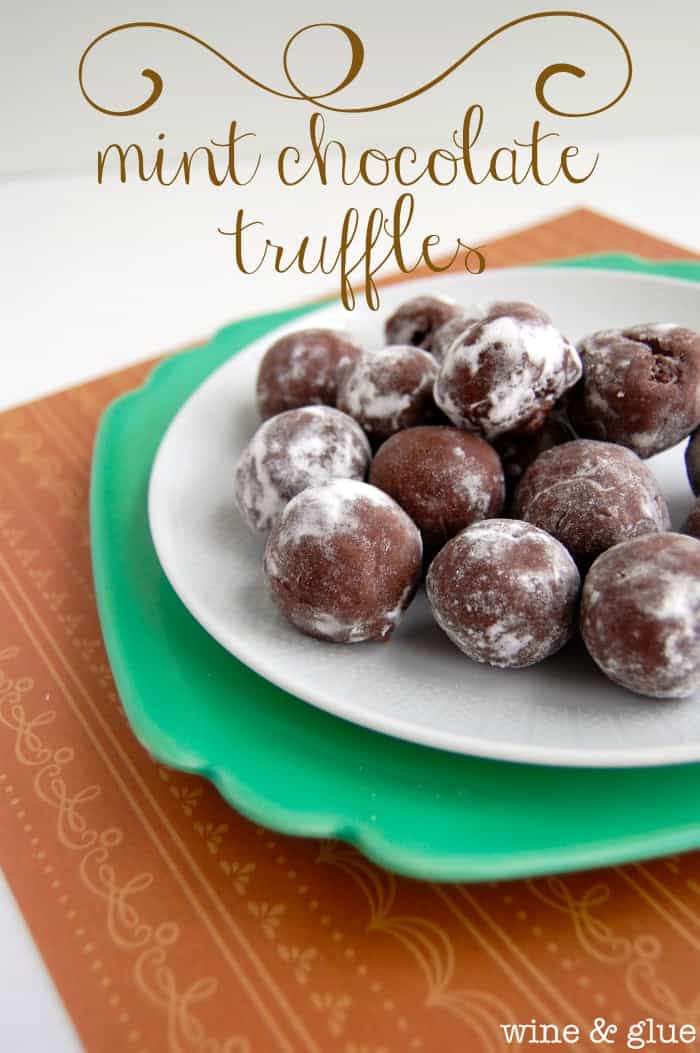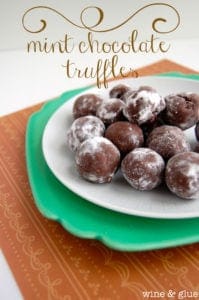 Mint Chocolate Truffles
Ingredients
8

ounces

semi-sweet chocolate morsels

if you go fancy here, your truffles will be that much better, but straight up chocolate chips work fine

1/2

cup

heavy cream

1/2

tsp

mint extract

1/2

cup

powdered sugar or cocoa powder
Instructions
Bring the heavy cream to a boil in a small saucepan over low heat, stirring constantly.

In a separate bowl, pour in your chocolate, and add your mint extract.

Once the cream has come to a boil, pour it over the chocolate, and stir vigorously until the chocolate has melted. Do not use a whisk. Trust me.

Put the chocolate in the refrigerator for several hours until it sets. When you bring it back out, you will want to let it come to room temperature to form it into one inch balls.

Roll it lightly in powdered sugar. Eat. Enjoy. Forget your troubles. And if you manage to have some left, store them in the refrigerator.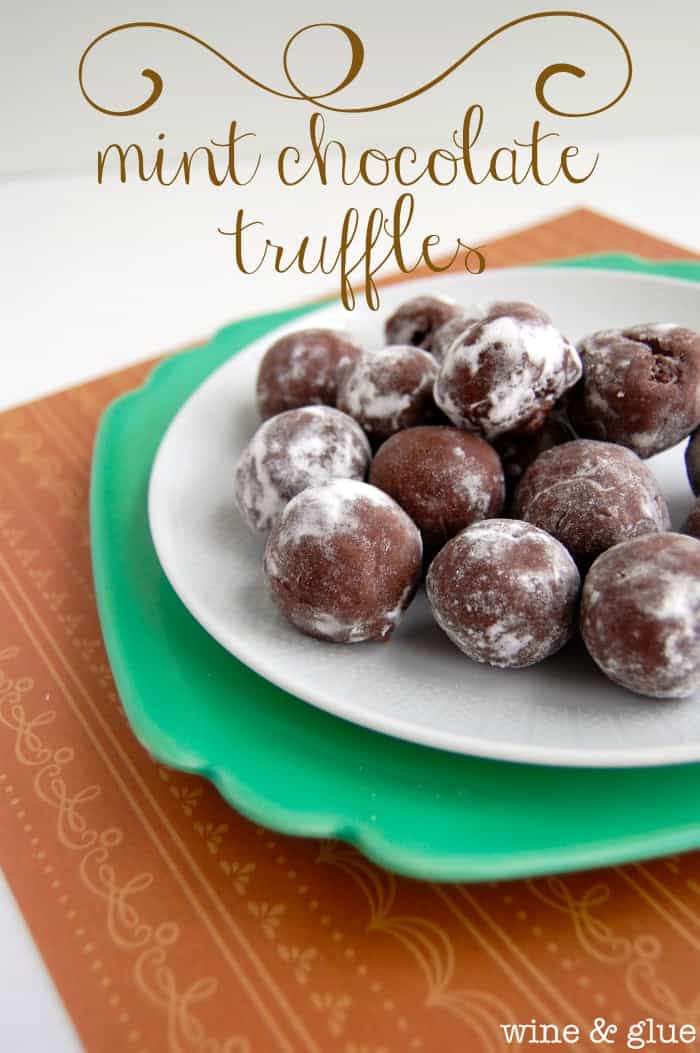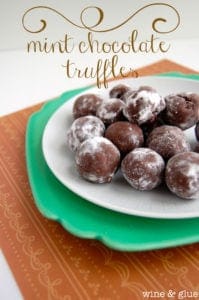 did you make this
Mint Chocolate Truffles
Looking for more mint chocolate deliciousness?