Mussels make for an amazingly easy dinner recipe or the perfect appetizer. With just a few simple ingredients and our tips and tricks, you can make this amazing mussels recipe.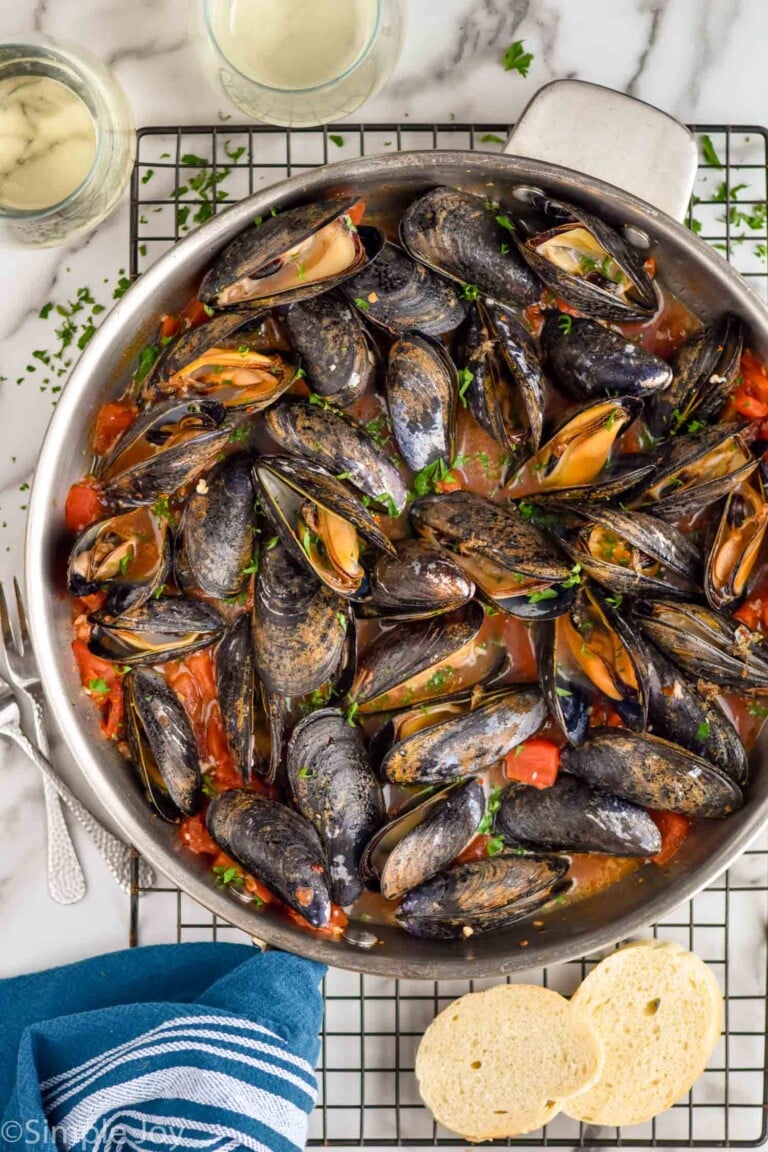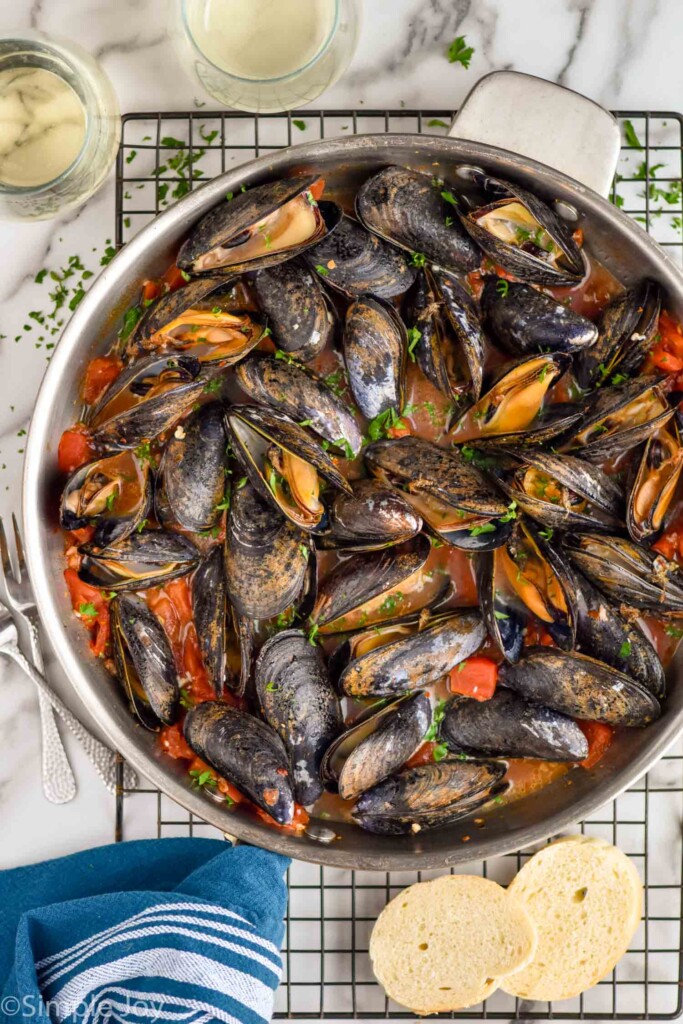 There were so many years when Nathan and I didn't have a reliable baby sitter when our kiddos were little. It made date nights few and far between, even when we really needed them. Dates have always been a priority for us, so when we couldn't go out, date nights at home were the answer. And this mussels recipe was often part of that answer.
This recipe is very simple, but it comes with such a big wow factor. If you are nervous about making mussels, this needs to be your go to recipe. It is made with accessible ingredients and easy to follow steps. Whether this is a date night main dish or an appetizer for a party, these are going to be a huge hit!
Reader Review
Simply delicious and very easy to make.
What are Mussels
Mussels are a type of mollusk, a seafood similar to oysters and clams. While they may seem like an intimidating item to prepare, they are quite simple and very delicious. Their taste is quite mild, slightly sweet, and like the ocean. This allows them to take on the flavors of what they are combined with, like the garlic white wine sauce in this mussels recipe.
Buying and Storing Mussels
Fresh mussels are sold and cooked while still alive. Because they spoil so quickly, when buying mussels, be sure to follow these tips.
Look for some that are tightly closed and that look and smell fresh and like the sea. If any of them are open or have a funky smell, move along.
Try to buy them as close to when you will be cooking them as possible. They can be stored in the fridge for a day or two, but you may lose some if they die during that time so buy a few extra than you think you will need.
Discard any broken or open mussels. If there is a mussel that is slightly open (before cooking), tap it with your finger. If it doesn't close right away, this means it is dead and should be thrown away.
Store them in a cool area where they can breathe. Do not put them in an airtight container, covered in plastic, or in water.
When fresh mussels aren't available, buy frozen. If you live in a rural area and it is hard to get fresh seafood, use frozen mussels.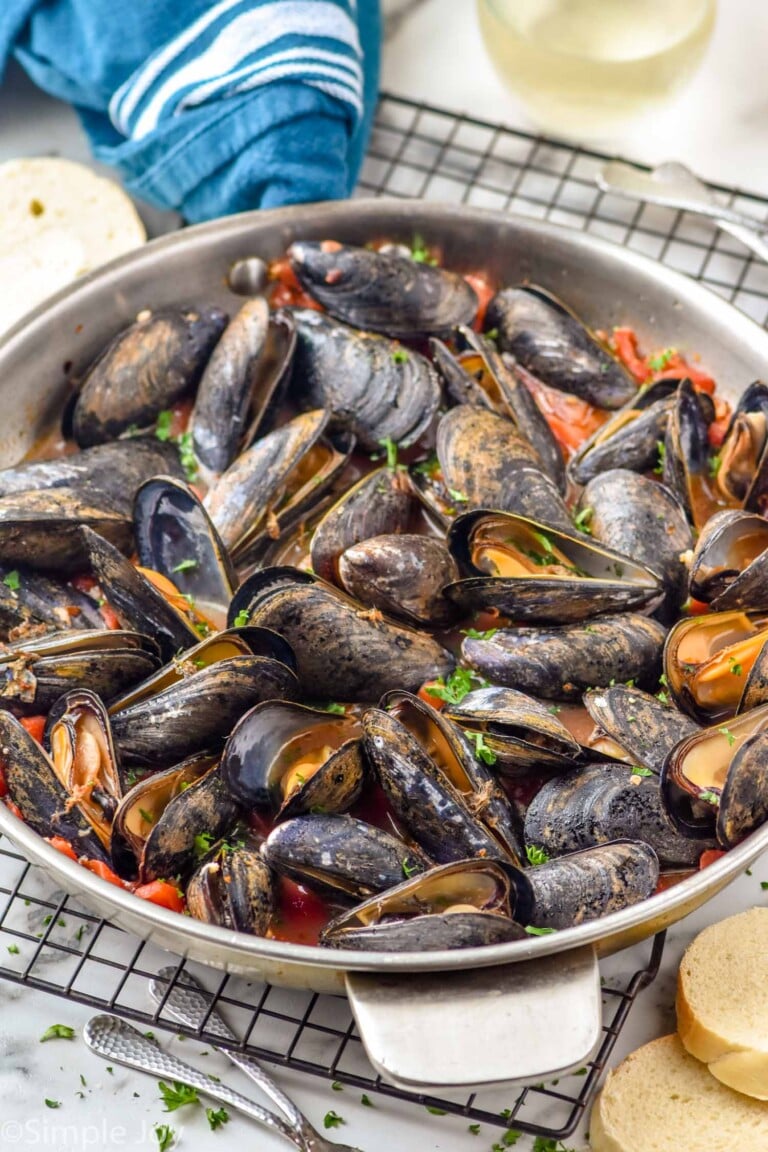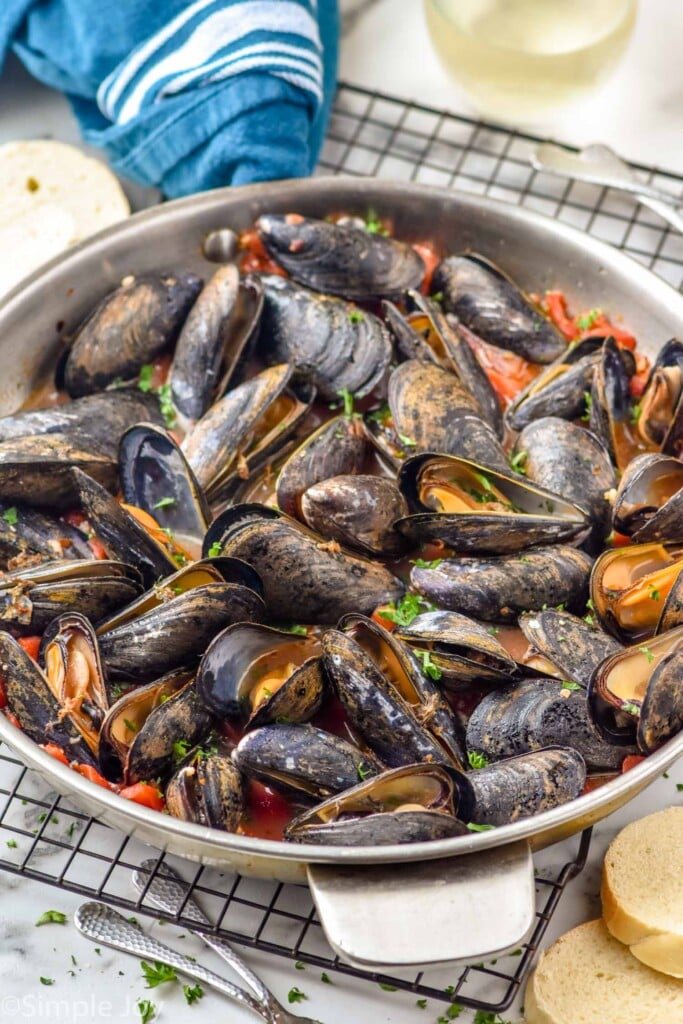 How to Clean Mussels
Cleaning your mussels must be done right before you cook them, not in advance or the mussels will die.
Simply rinse the shell under cool water (one mussel at a time), removing any debris. Do not place the mussels in a bowl of water or have them submerged while cleaning.
To de-beard the mussel (remove the little rope hanging out of it), pull it down toward the narrow part of the shell and it should come out with a firm tug. If this doesn't work, use scissors and cut it as close to the shell as possible.
How to Cook Mussels
Here is a brief overview of how to cook mussels in white wine sauce. For the full mussels recipe including all of the measurements and simple instructions for cooking mussels, scroll to the recipe card at the bottom of the page.
Make garlic butter. Sauté your garlic in butter on a skillet just until the garlic is fragrant, be careful not to burn it. If you do happen to burn the garlic, start the sauce over in a clean skillet.
Make the sauce. Whisk in the white wine then add the tomatoes (with the liquid) and salt and pepper. Bring to a boil.
Add the mussels. Reduce the heat and let it boil, while covered, until the mussels open, given the whole dish a slight stir half way though.
Garnish with parsley and serve.
When Garlic Burns
One of the cardinal sins of cooking is burning garlic. Unfortunately, it is very easy for this to happen. Sometimes it is because your heat is a little too high, or sometimes it is because you cooked it just a little too long. Regardless of the reason, the answer is always to start over.
Garlic only takes about 30 seconds to saute, so it is important that before it meets the heat, you are ready with whatever comes next.
If you did happen to burn your garlic, you will want to toss the butter and the burnt garlic. Clean the skillet really well. Then start over. The taste of burnt garlic will overpower the dish in a really bad way, so it's best to cut your losses and start the dish over.
Mussels in White Wine Sauce
This recipe calls for white wine to make a delicious sauce. Here are a few tips.
We used Pinot Grigio. It has a really mild flavor that is perfect in this dish, and so many others. It also pairs really well with the meal itself.
Do not use cooking wine. The flavor of wine intensifies when you cook with it, so you want to pick a wine you'd want to drink. Cooking wine is often vinegar based and won't add the flavor you are looking for to the dish.
There is no need to break the bank. You can buy an inexpensive drinking wine for this recipe. You won't notice the difference between this and an expensive bottle in the final dish.
If you aren't a wine drinker, consider buying a four pack of small bottles. This way you can use them just for cooking and not waste the majority of a bottle after using just one cup in this.
The wine can be replaced. If you are serving someone who is sober or you don't cook with alcohol, replace the wine with 1 cup of chicken stock and 2 teaspoons of lemon juice.
Clams vs. Mussels
While both are shellfish, clams and mussels are different in taste and appearance, including shell shape and color. Clams have a more fishy flavor and can be eaten raw. Mussels must be cooked and have a more mild flavor and are somewhat bland. This allows them to be better served with a garlic butter sauce for a delightful flavor.
How to Serve
If you are eating this with one other person as a main dish, you can eat it right from the pan they were made in with some crusty bread. Use small forks to pull the mussels from their shells and enjoy!
Alternatively, these are delicious over fettuccine as seen below. Boil some pasta while the mussels are cooking, and then spoon some of the sauce from the mussels over the noodles. Add some mussels on top and enjoy!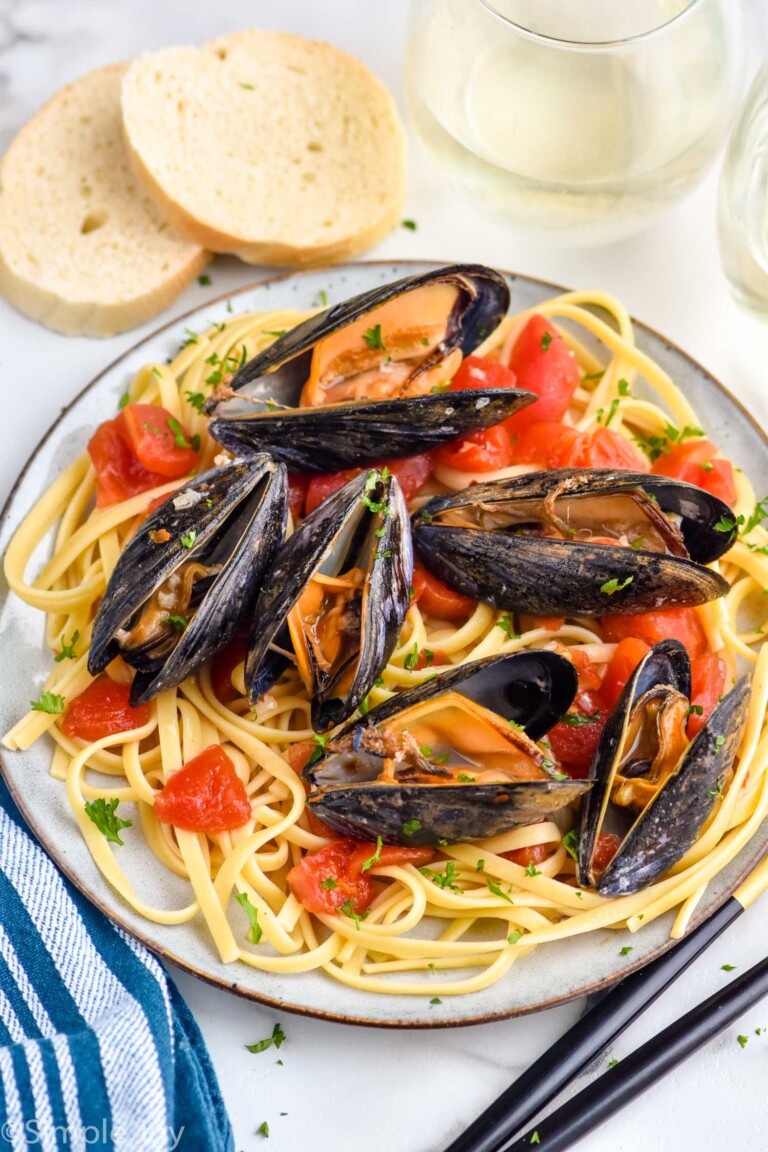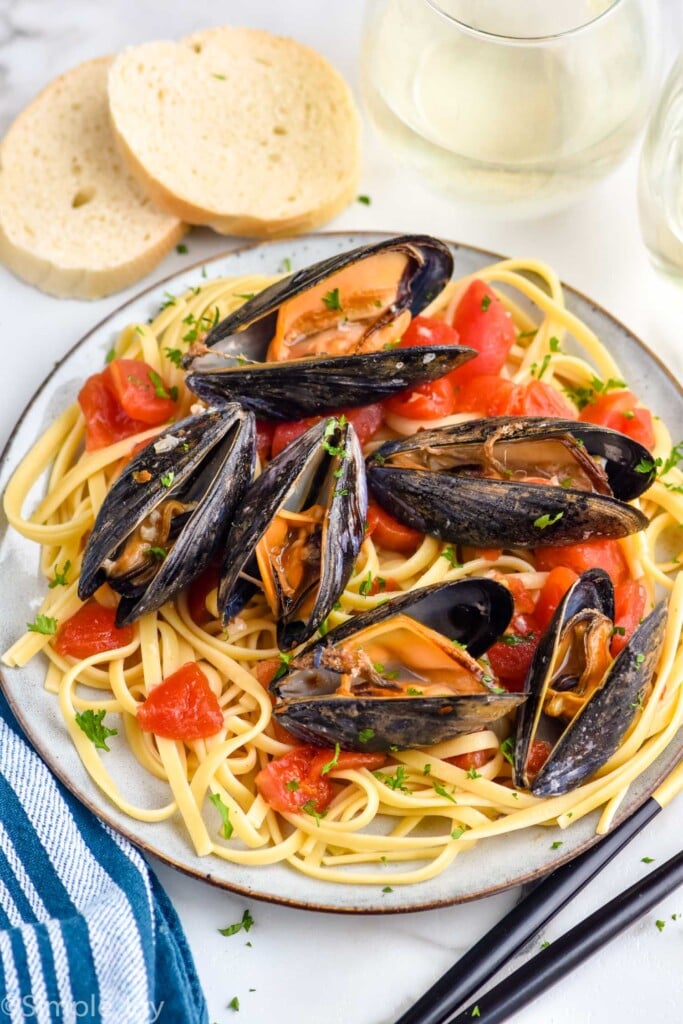 What To Serve with Mussels
Mussels in white wine sauce aren't just a menu item for fancy restaurants. This Mussels recipe is simple to make at home as an appetizer or dinner, and great for hosting. Serve your mussels over pasta or with these other popular appetizers:
If you try this mussels recipe or any of my others, leave a comment and tell me what you think. I love hearing from you and how you enjoy my recipes!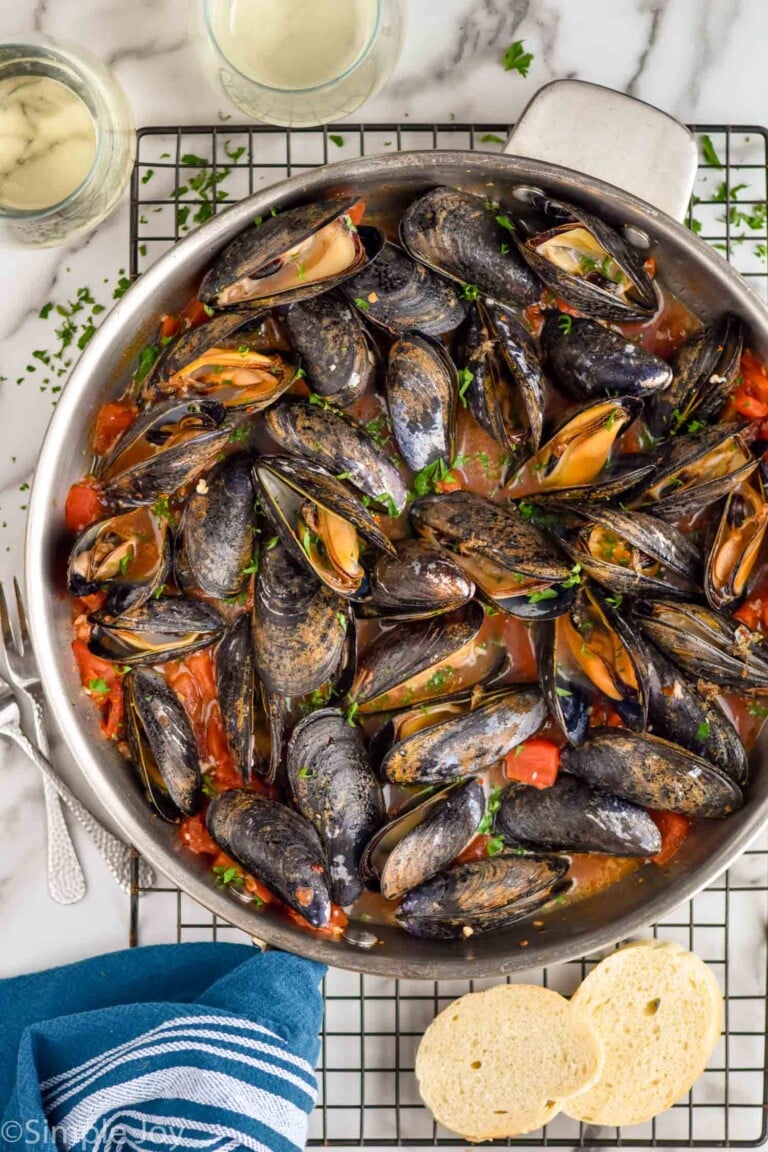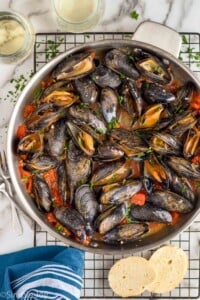 Mussels Recipe
Mussels make for an amazingly easy dinner recipe or appetizer. With a few simple ingredients and our tips, make this amazing mussels recipe.
Ingredients
2

tablespoons

unsalted butter

4

cloves

garlic

minced

1/2

teaspoon

red pepper flakes

1

cup

white wine

(read more here)

14

ounces

diced tomatoes

undrained

1/2

teaspoon

kosher salt

dash

ground black pepper

2

pounds

mussels

fresh parsley

for garnish
Instructions
2 tablespoons unsalted butter,

1/2 teaspoon red pepper flakes,

4 cloves garlic

Add in the white wine, whisking to combine. Stir in the diced tomatoes. Season with salt and pepper, raise the heat and bring to a boil.

1 cup white wine,

14 ounces diced tomatoes,

1/2 teaspoon kosher salt,

dash ground black pepper

Add the mussels, reduce the heat to medium low, and cover. Let boil for for 3 minutes, or until the mussels open, stirring once.

Top with parsley, serve and enjoy.
Calories:
221
kcal
(11%)
Carbohydrates:
11
g
(4%)
Protein:
15
g
(30%)
Fat:
8
g
(12%)
Saturated Fat:
4
g
(25%)
Polyunsaturated Fat:
1
g
Monounsaturated Fat:
2
g
Trans Fat:
0.2
g
Cholesterol:
47
mg
(16%)
Sodium:
640
mg
(28%)
Potassium:
618
mg
(18%)
Fiber:
1
g
(4%)
Sugar:
3
g
(3%)
Vitamin A:
550
IU
(11%)
Vitamin C:
19
mg
(23%)
Calcium:
74
mg
(7%)
Iron:
6
mg
(33%)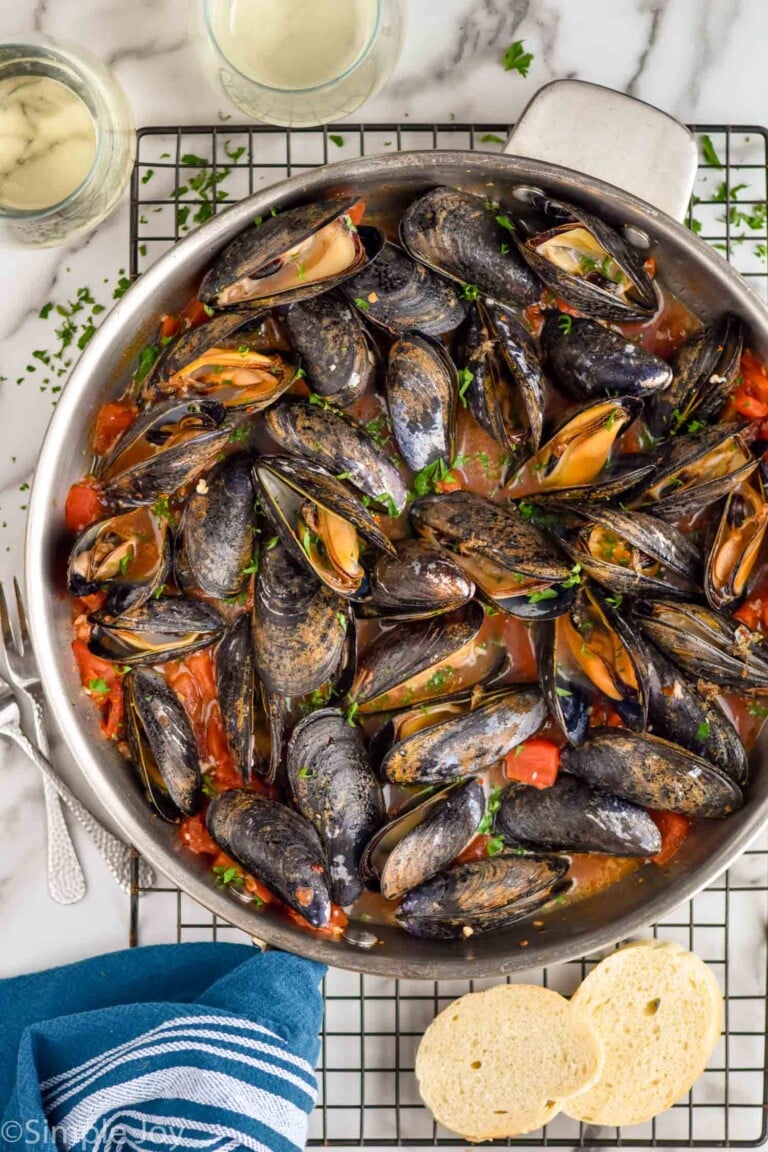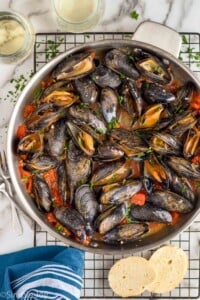 did you make this
Mussels Recipe